Going to Disney and trying to figure out the best hotels for Families at Disney World? You are in luck! There are lots of great hotels and 3 hotels we think are the Best Disney World Resorts for Families.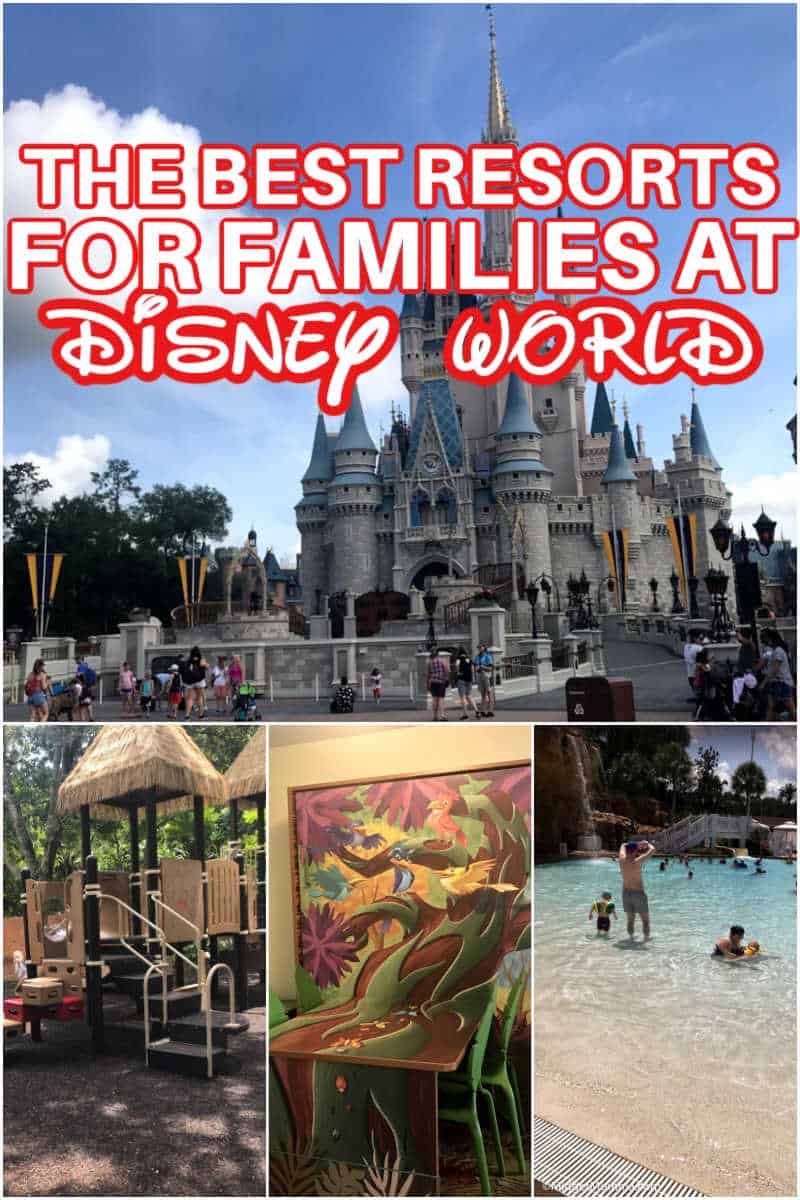 The Best Disney World Hotels for Families
Every Disney World resort is great for a different audience, from families to couples to singles, there is a place for everyone. Families are always interested in spots that are fun, offer on site entertainment, have child friendly options, plenty of space, and a staff that is patient with children.
I know there is a large list of resorts to look at when you are planning your Disney World vacation and it can be totally overwhelming. To help you I have narrowed it down to the 3 Disney World resorts that I think are best for families.
I have visited many Disney Resorts while having my kids with me and these recommendations are based on personal experience.
What Makes the Best Disney World Resort for Kids?
There are several Disney World options that fit the bill, but there are some that really excel at putting together the perfect space for the family. These are the top three Disney World hotels for families that should try and book for your next stay.
For me, I do not suggest the value resorts as being best for families because they do not have things like a fridge or a coffee pot and for me, as a parent, those are must-haves for me. I also am not a fan of double beds and the value resorts at Disney World have double beds instead of Queens.
I also include the theming, the ease of walking to and from transportation, and the room space when picking what resorts we think are the Best Family resorts at Walt Disney World.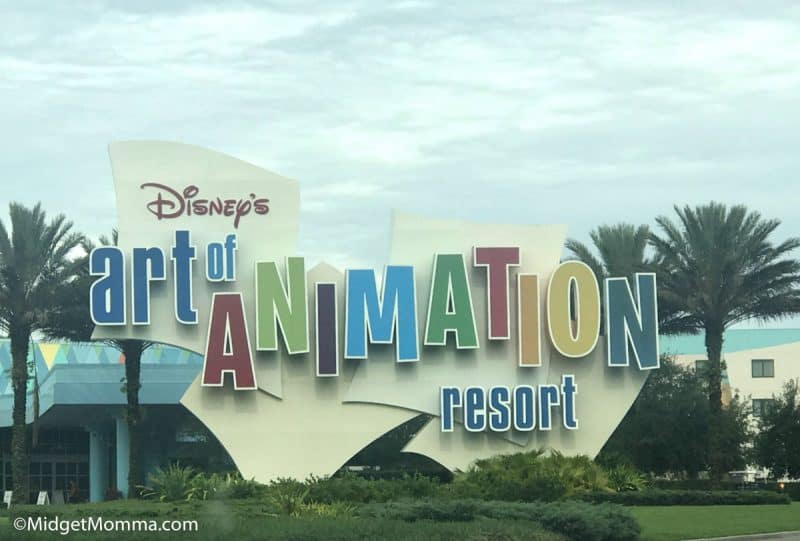 Art of Animation Resort
The Art of Animation Resort is one of Disney World's budget options, where a lot of families know they will be super busy book for their stay. This resort is popular with my family because of all the additional options and amenities that make it easy to do Disney with little kids. Art of Animation Disney World Resort is also one of the few resorts with designated family suites, where you can fit more people into a single room than the average Disney hotel.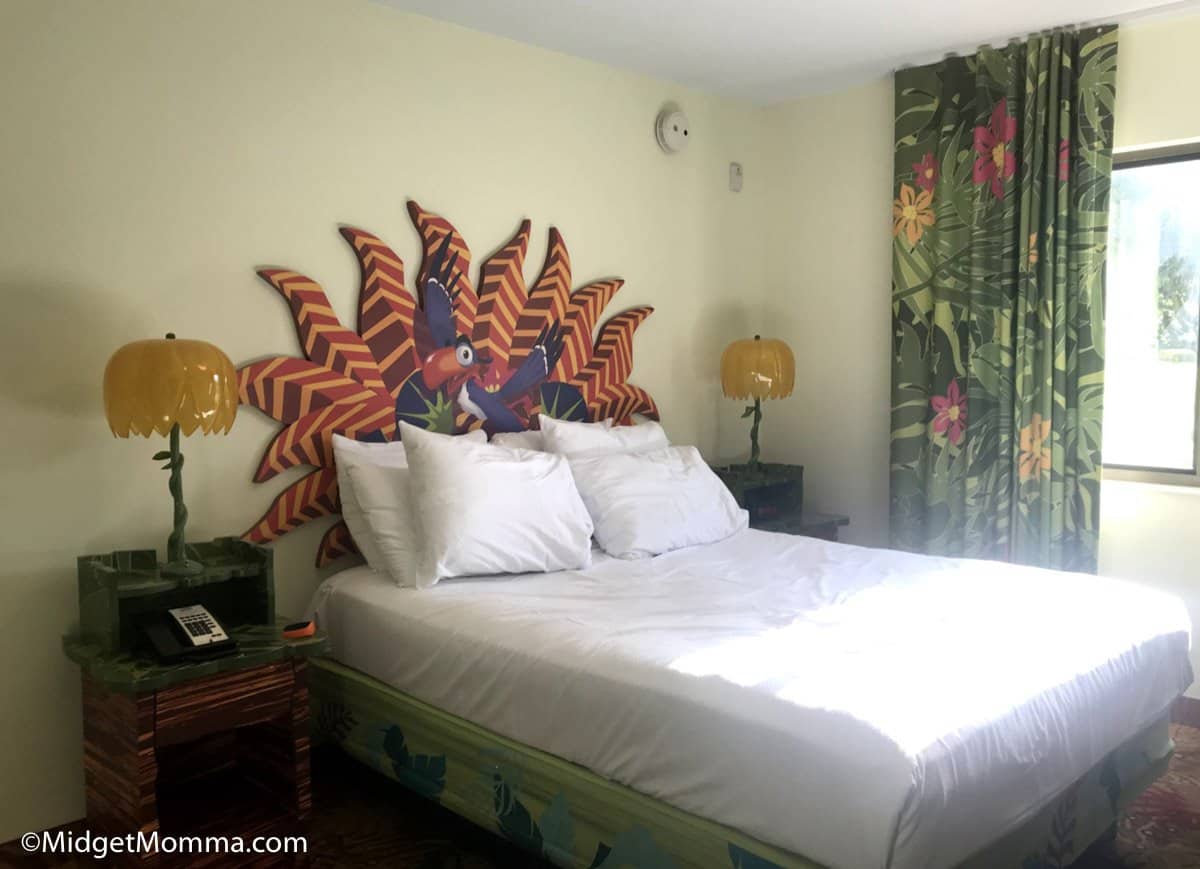 Themed Rooms. All of the rooms are kid-themed, making them fun to stay in. Everywhere you are at this Disiney Worlld Resort you have the full Disney fun feel.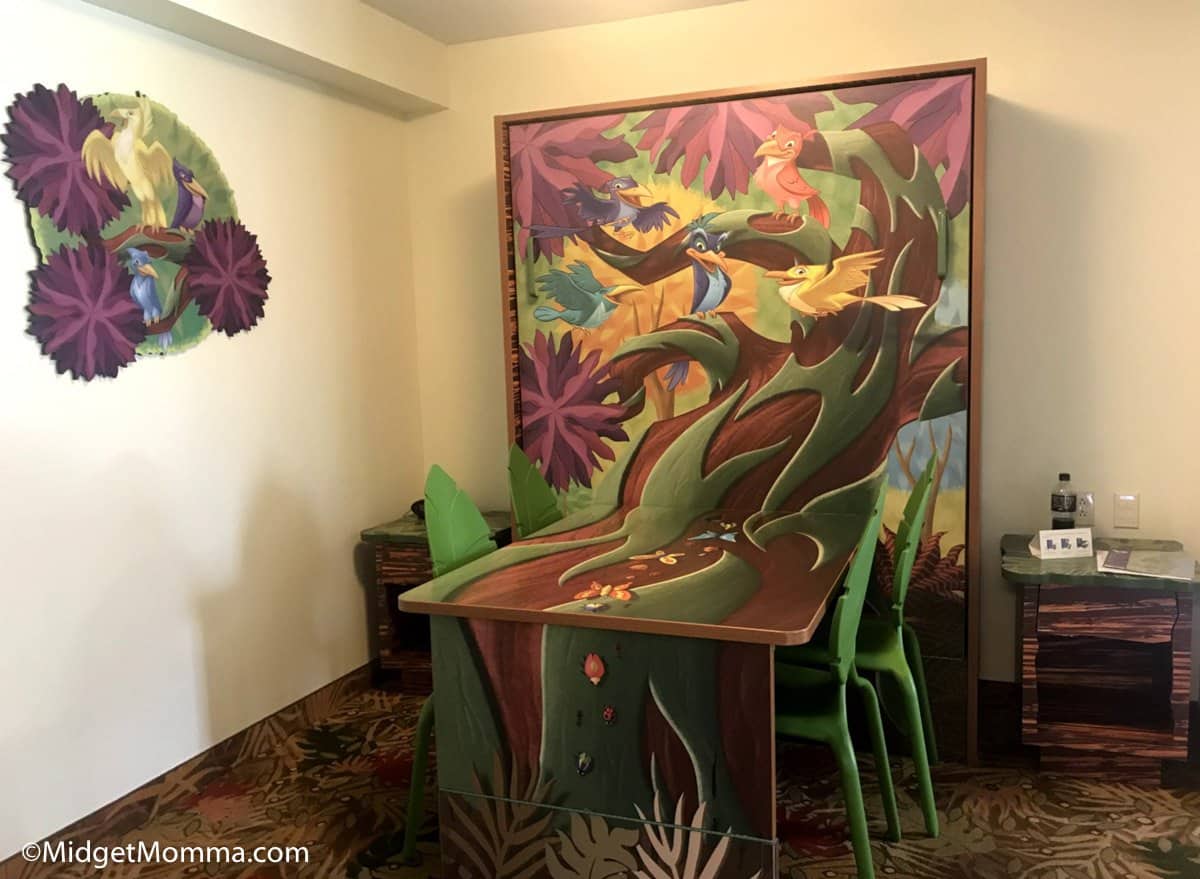 We did a video of the room when we stayed at the Lion King Rooms at Art of Animation that gives you a good look at the suite rooms.
Large Rooms. We have stayed in both Finding Nemo Suits and The Lion King Suites and both are set up exactly the same, as are the Cars suites. The only difference between them is how they are decorated.
Room Layout. The rooms are laid out great in the family suites with plenty of room and the mini kitchenettes make those snacks kids seem to always be hungry for right before bed super easy.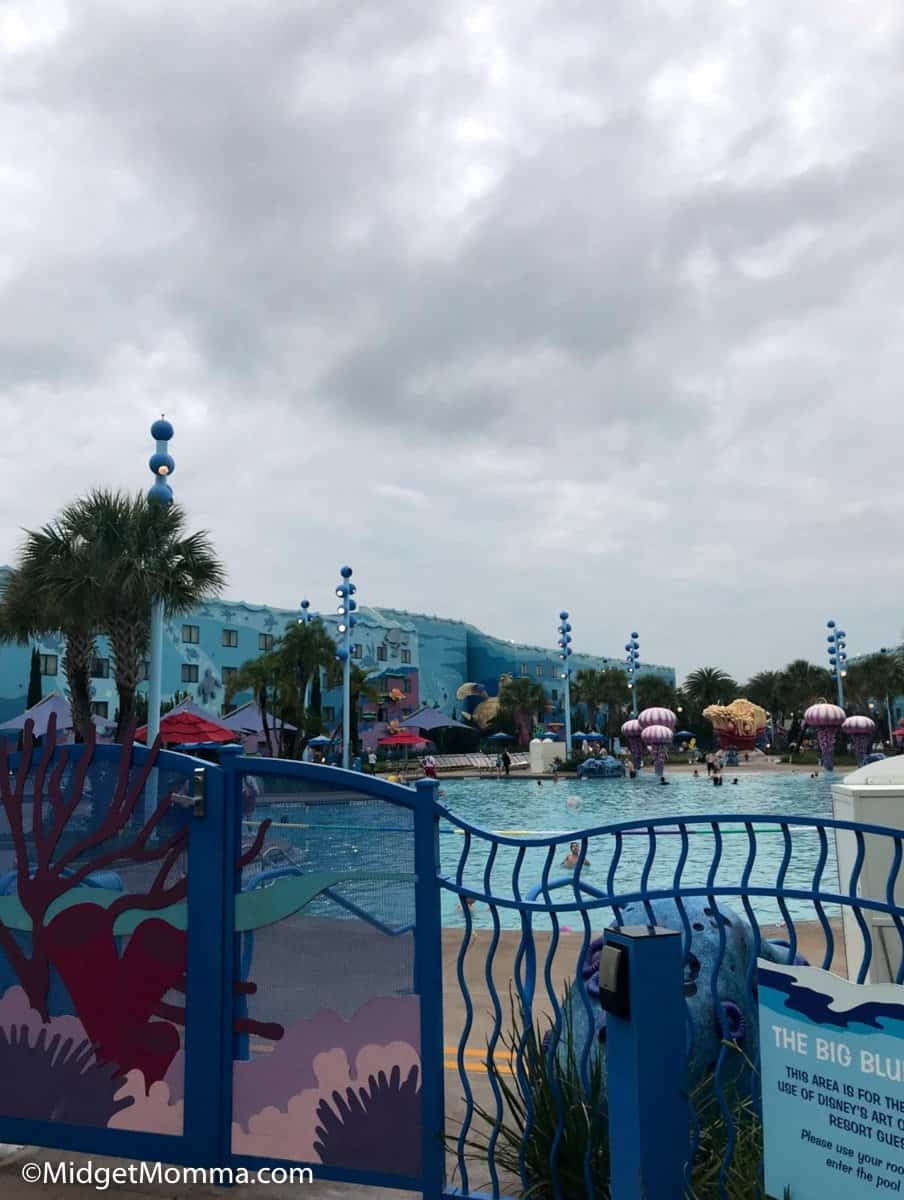 Resort Activities. There are lots of kid-friendly activities at this resort. In fact, we made a day of just being at the resort for one of our nights because there is so much to do and it is great for taking a day off from going to the parks.
Pools. The biggest draw for this resort is the Nemo pool. When you put your head underwater you can hear characters talking.
Jogging trail. This trail is super fun and is filled with large Disney character statues that are perfect for taking photos.
Playground. The playground is perfect for getting some energy out and keeping the day low key.
Movies under the stars. Depending on the night they have different movies playing where you can sit outside and watch them on a big screen.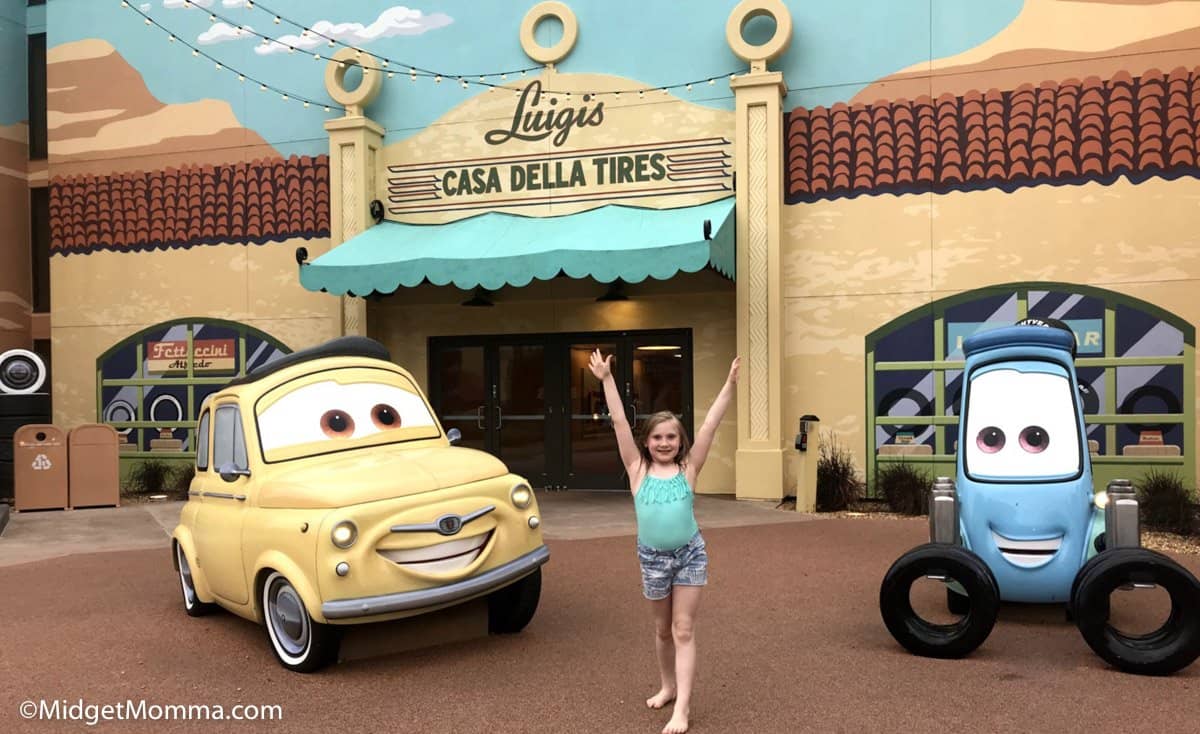 There are people who will say the resort is large and there is a lot of walking, but we timed it and with 4 kids (one being 2 years old) we walked the whole property to see each theme of the resort, stopped to takes pictures with every statue and we were back to our room in the Nemo area in under 30 minutes.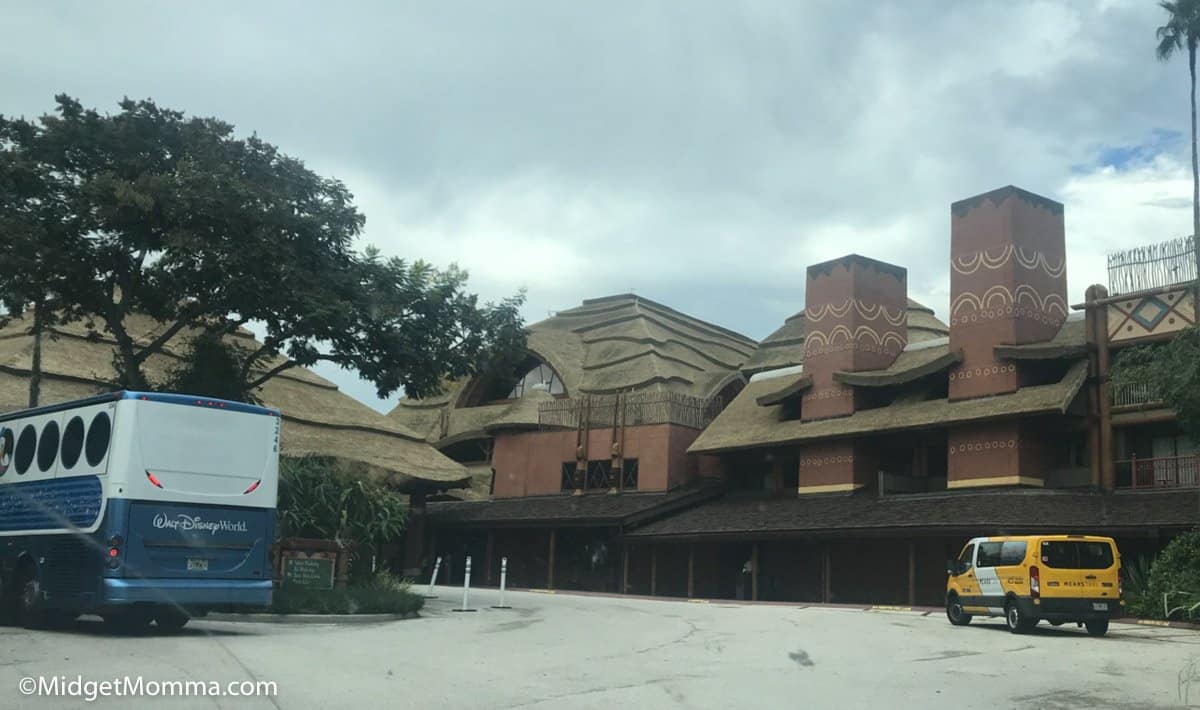 Disney Animal Kingdom
The Disney Animal Kingdom resort is the hotel closest to the Animal Kingdom park, with that it also makes this one the furthest from all the other resorts. They have their own busses and so we never ran into any issues with long wait times to get a bus to where we wanted to go.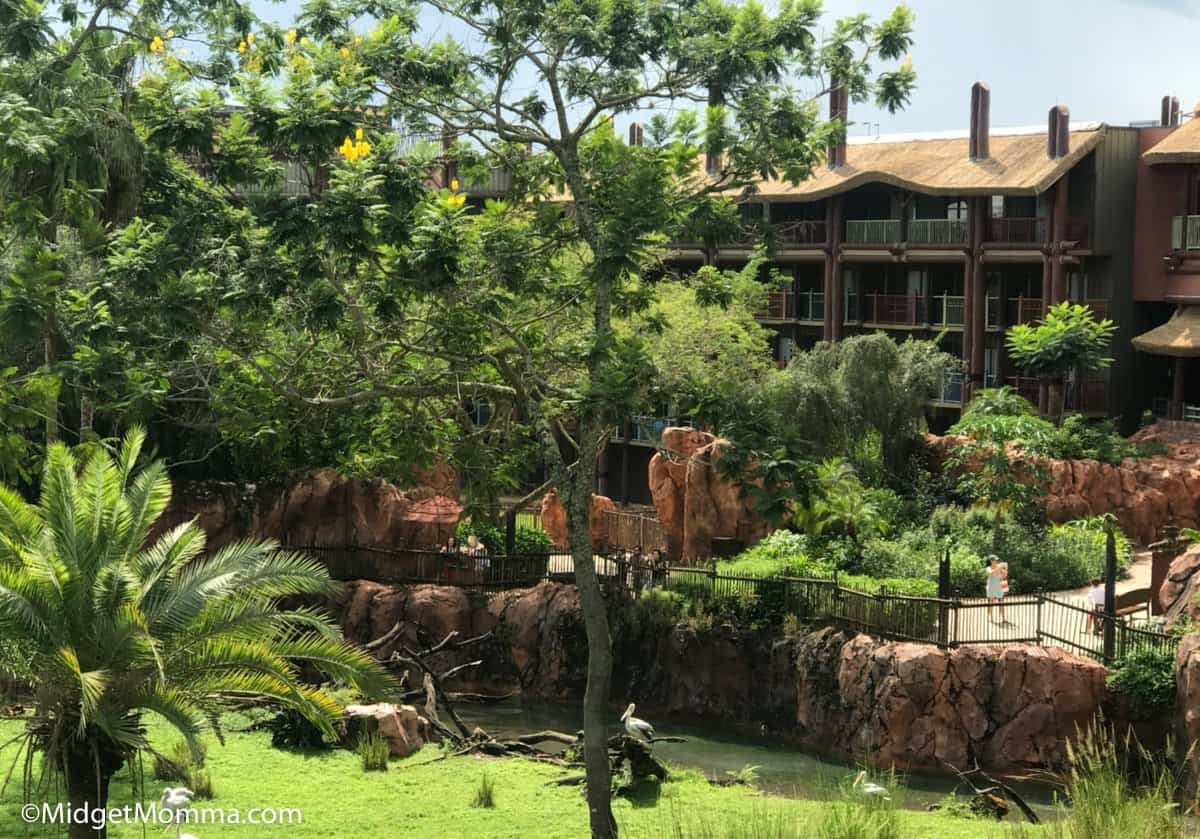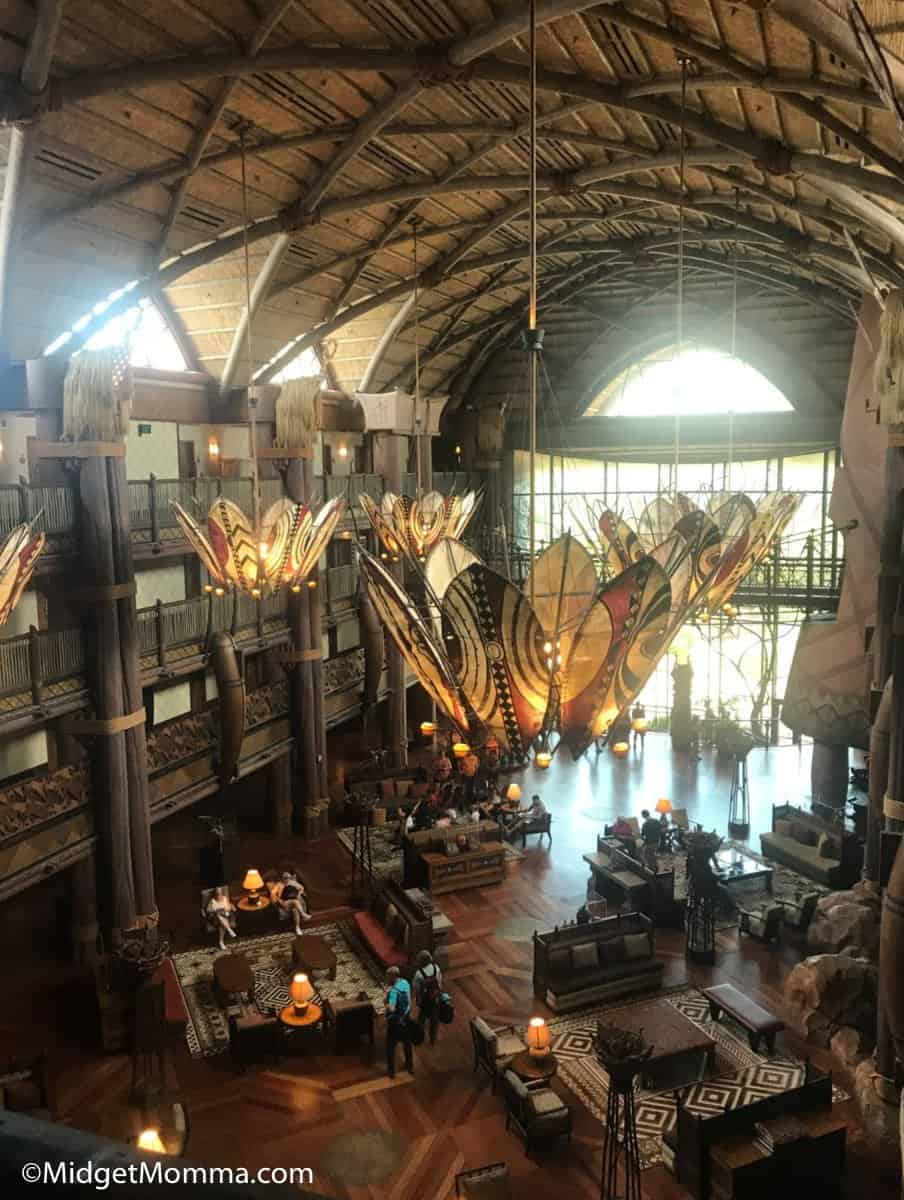 Resort Activities. This resort has the most activities of all the resorts we have been too. While they aren't as advertised as other resorts there is so much to do you can spend 2 days and still not get to all the activities the resort has to offer.
Floor Tracing. At the front of the Hotel there is a large medallion, go to the front desk and when the tracing time is. Kids will be given paper and crayons and get to trace the animals that are on the floor.
Scavenger hunt. At the front desk, you can get the Animal Kingdom lodge scavenger hunt paper and find everything through out the resort.
Pool.
Playground.
Cookie Decorating. On certain days of the week there are free cookie decorating times.
Educational learning. There are a few different places around the resort that you can spend time talking to and listening to people talk about Africa, living there, and the animals that are there done by people who actually live there and are on a short work trip at Disney.
Campfire Activities. At night you can roast marshmallows around the campfire.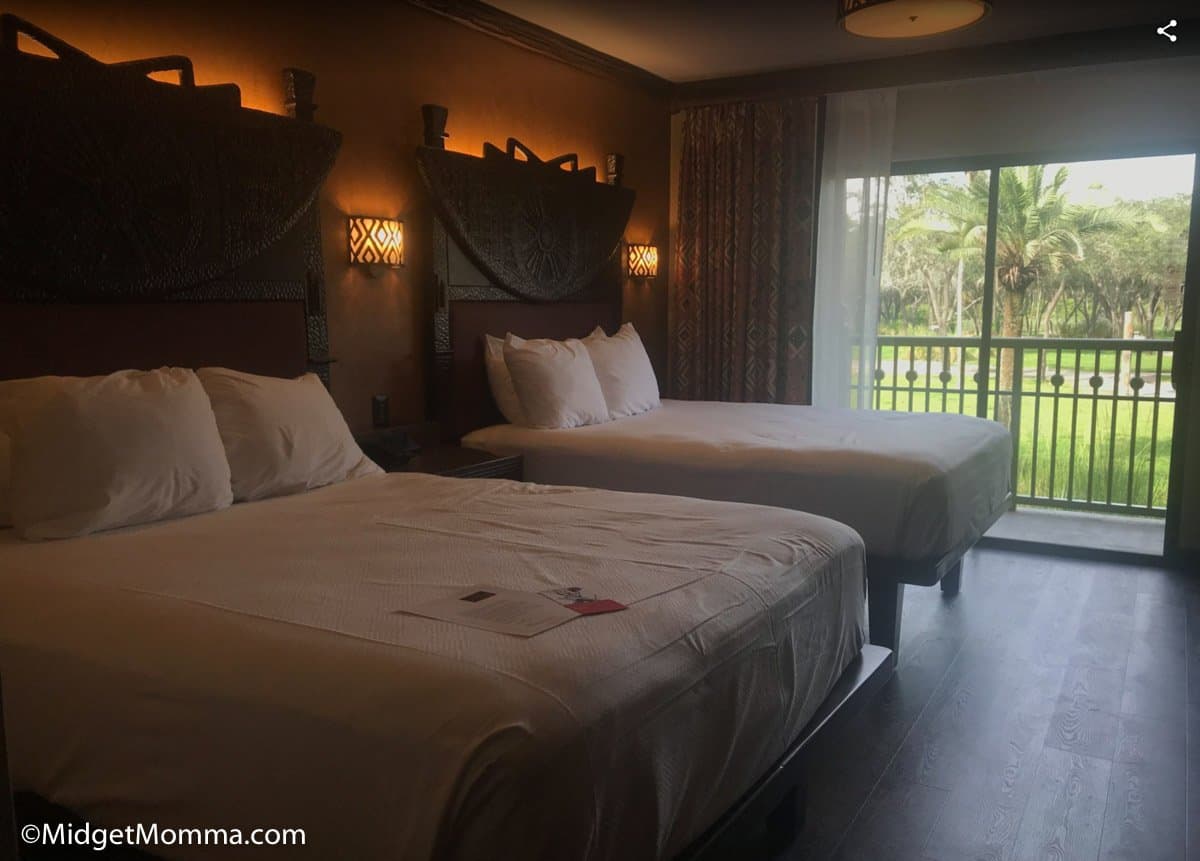 Large Rooms. The rooms are plenty big for us, our stuff and when we had a large double stroller with us.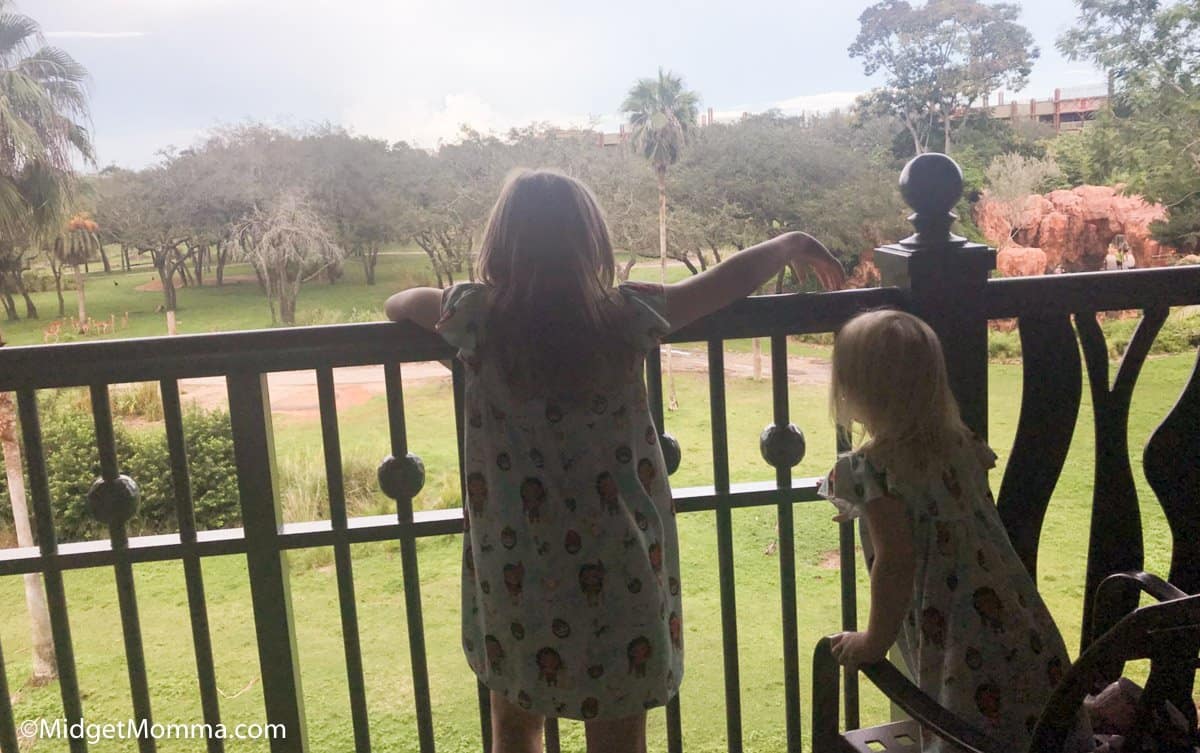 Seeing the animals. Yes this could be counted as an activity but not all the rooms have views of the animals. However you can go many places around the resort to see them.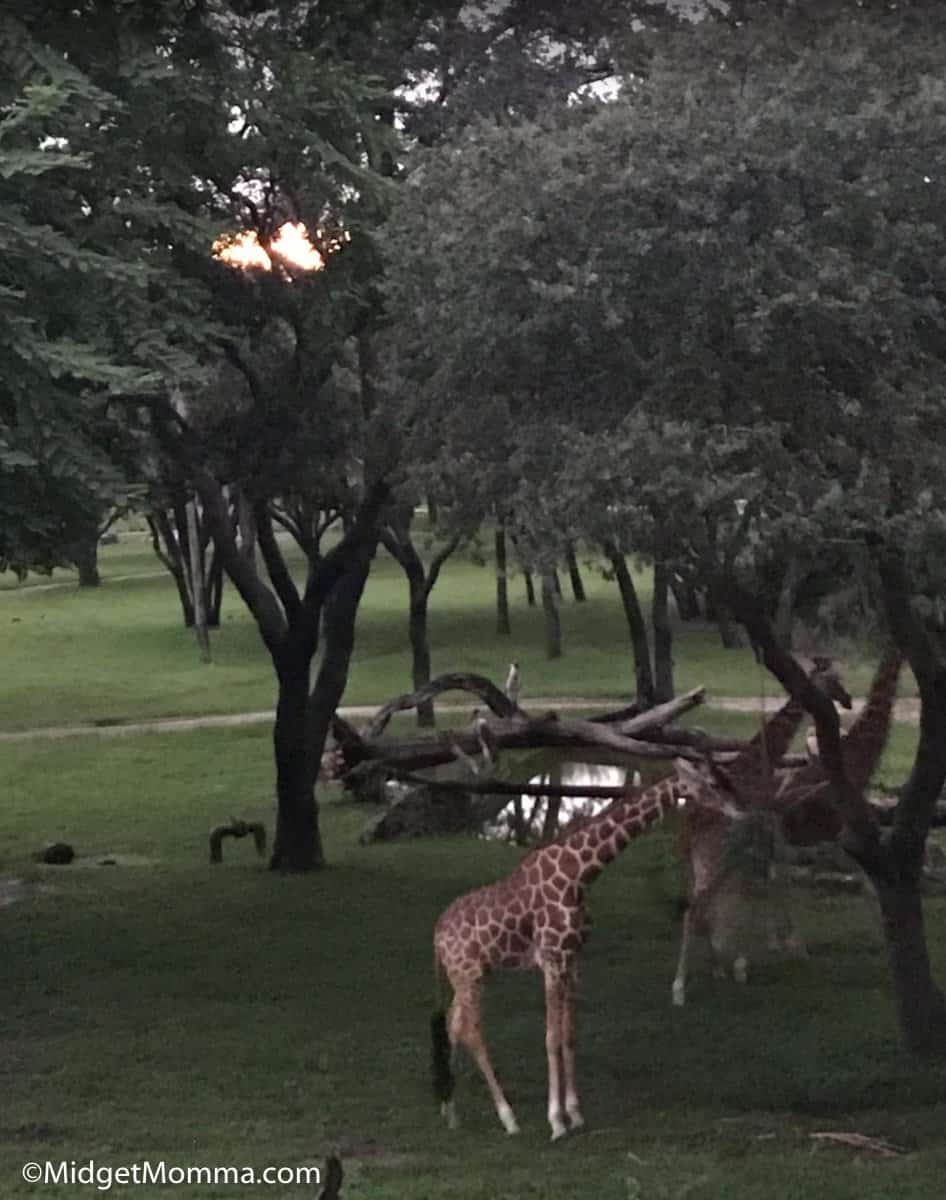 I do suggest staying at least one night in a room with a view, watching the animals from the balcony of our room was one of my kid's favorite things to do.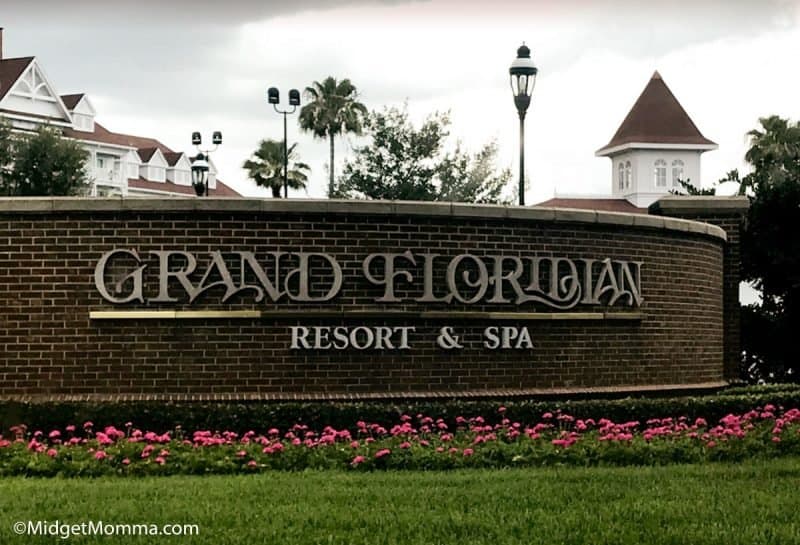 Disney Grand Floridian
This one makes the list as our family's favorite Disney Resort however it is not as kid-focused as some of the others. But there are quite a few things that make this Disney Resort one of our favorite's for families.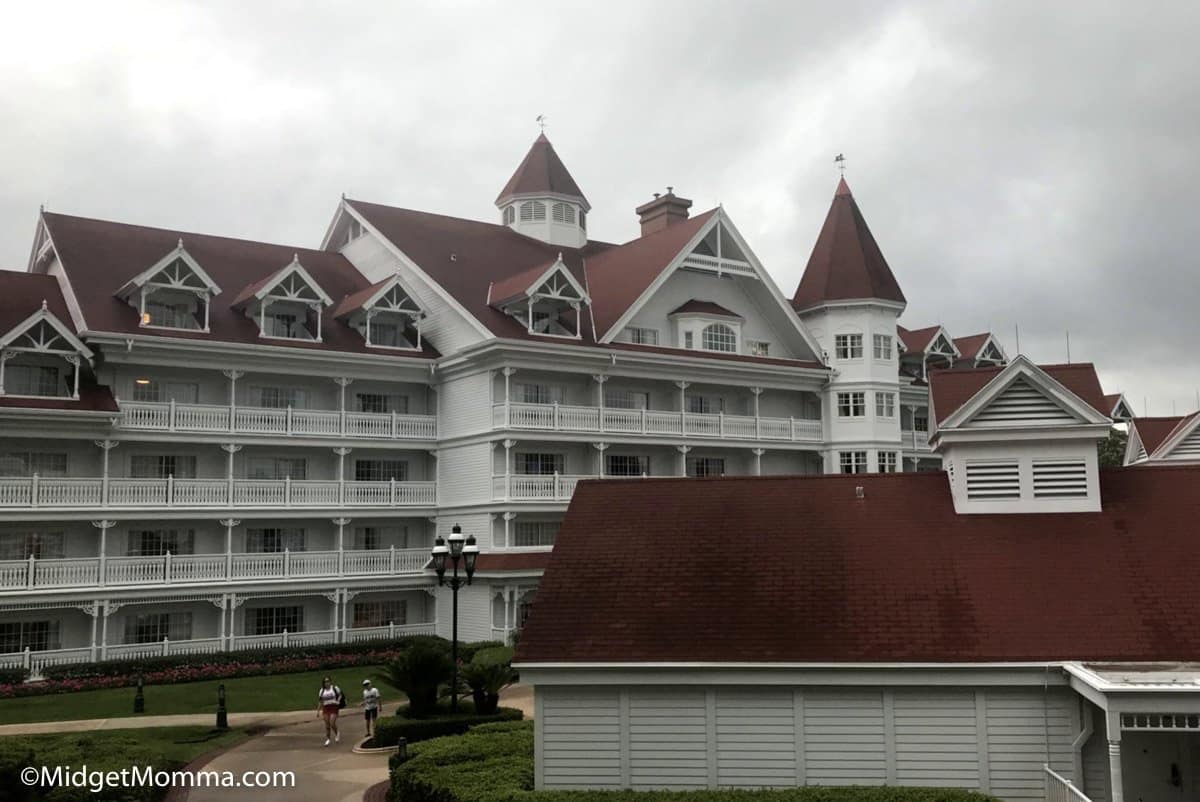 This one is a fancier resort and with kids I suggest requesting a room that is not in the main hotel. The outer resort buildings I have found best for anyone who is is traveling with a family and kids.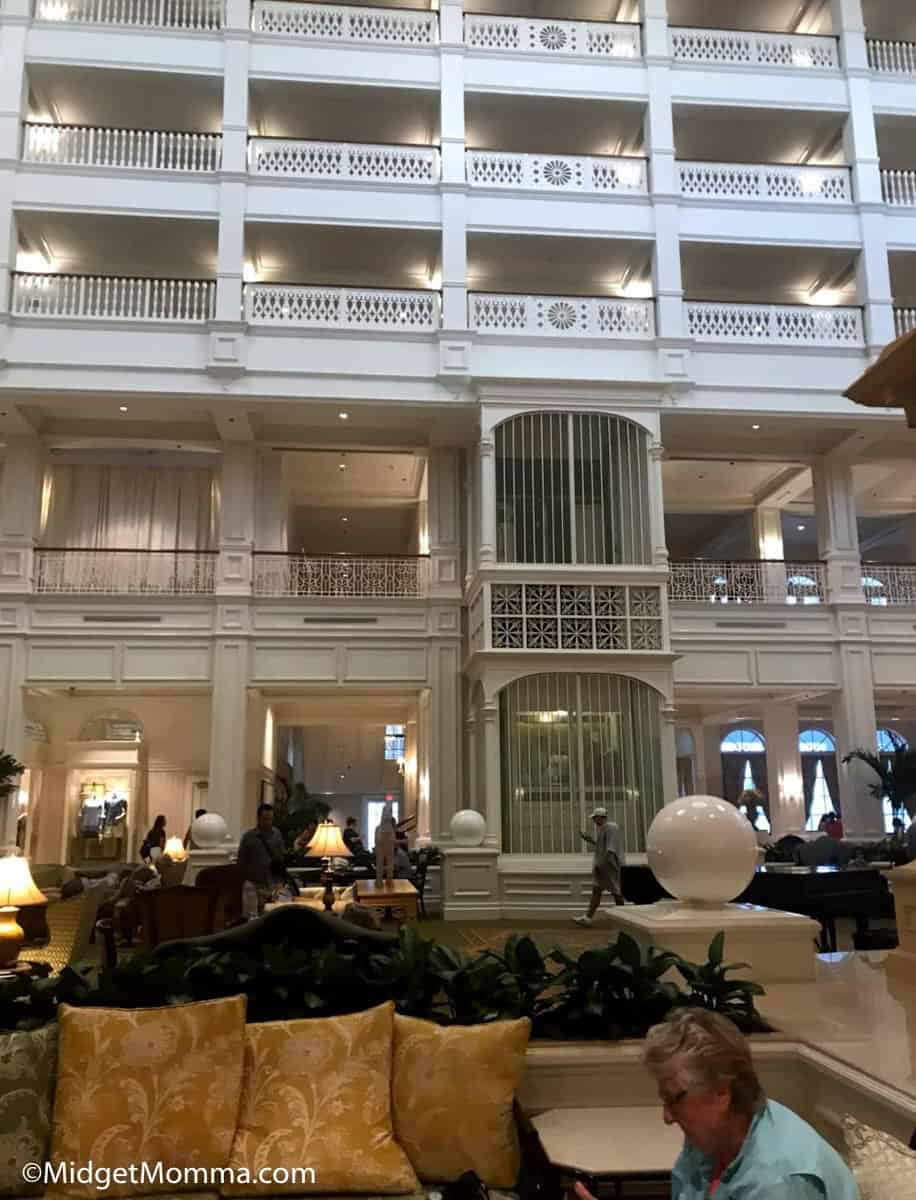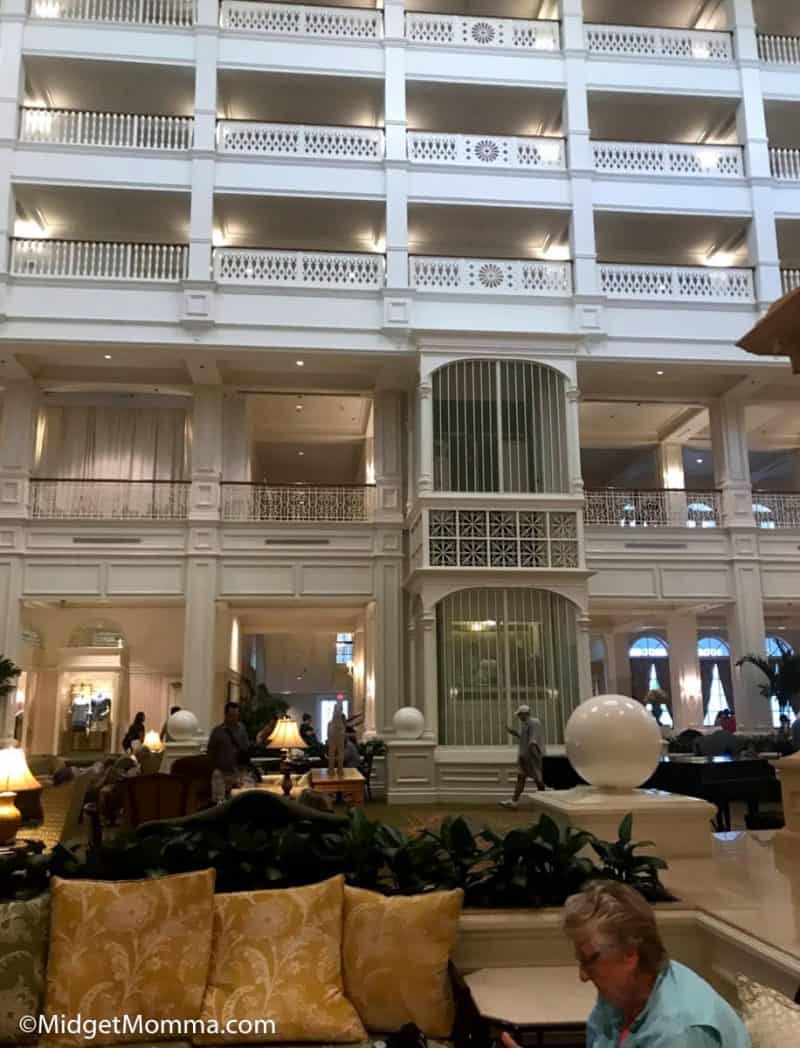 Cinderella. Nightly Cinderella comes down the stairs and the kids get to see her.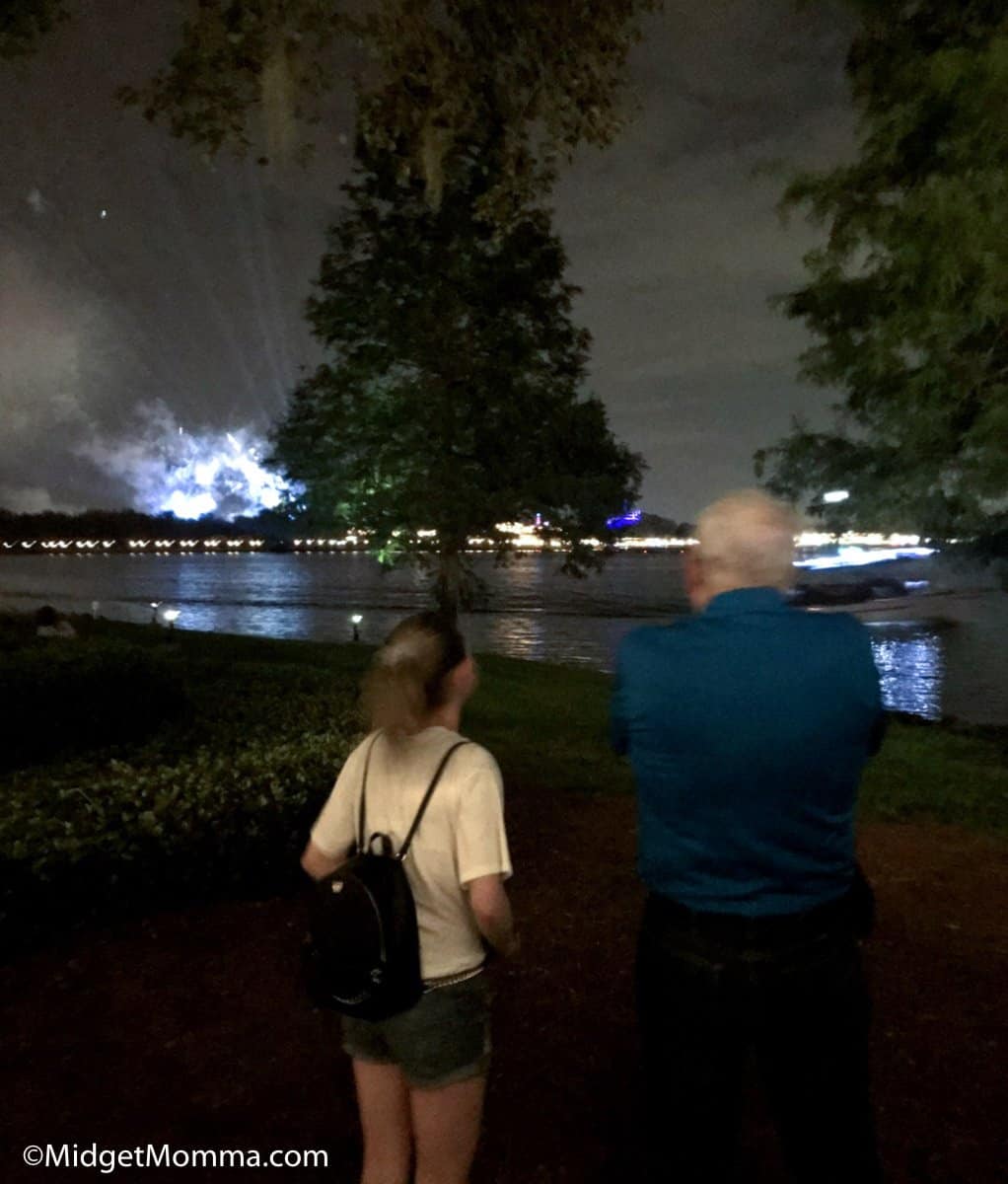 View of the Water Parades. If you walk to the back section of the resort property you will come to a few different buildings, (these buildings are actually our favorite ones to stay in) and you can stand by the waters edge and see the water parade at night.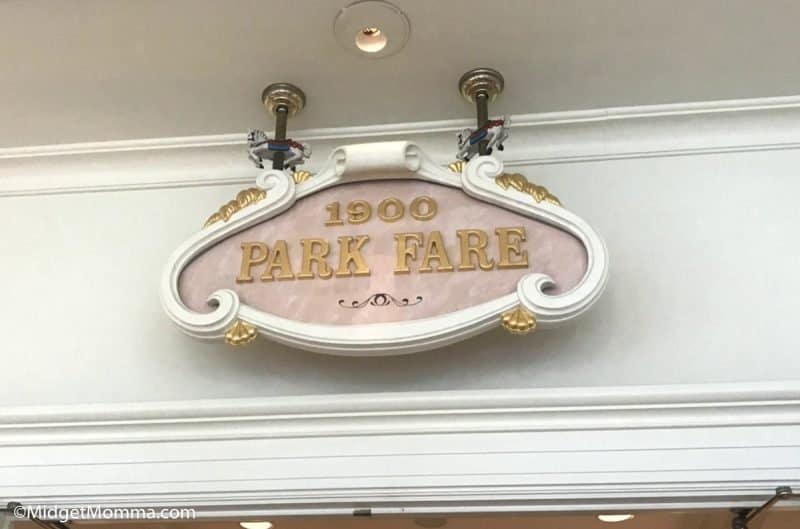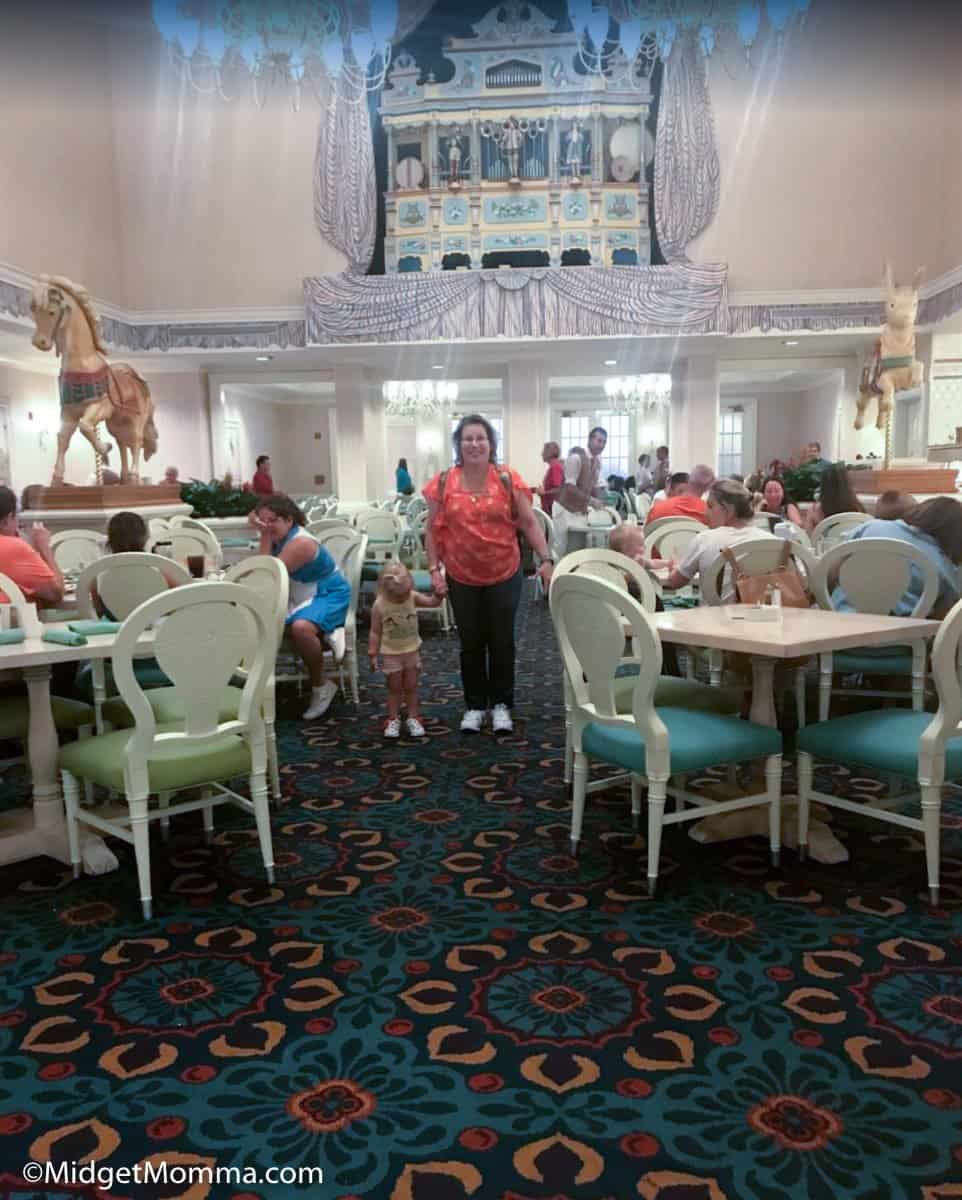 Character dining at the Resort. You can go to Park Fare, which has a character breakfast right at the resort.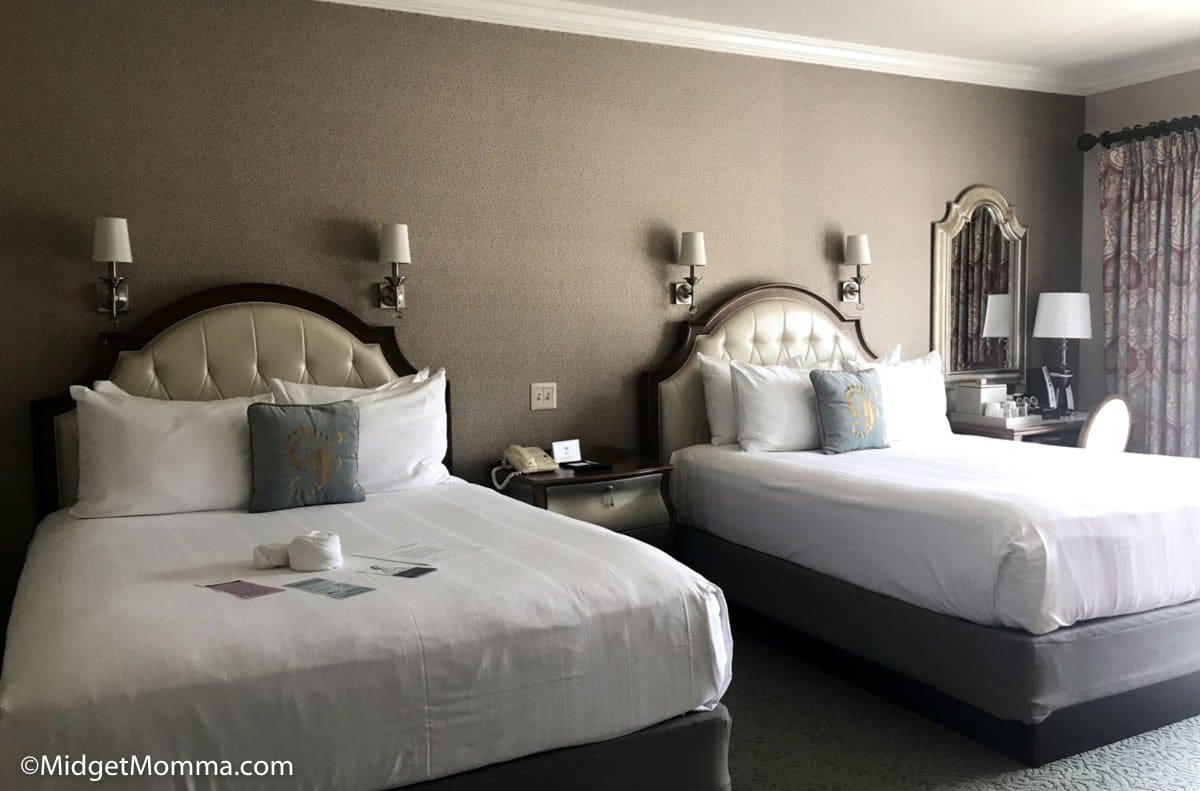 Large Rooms. The rooms are spacious and if you have a family of 5 you are good with just one room. They have 2 queen beds and then also a couch in the room that pulls out to be a bed.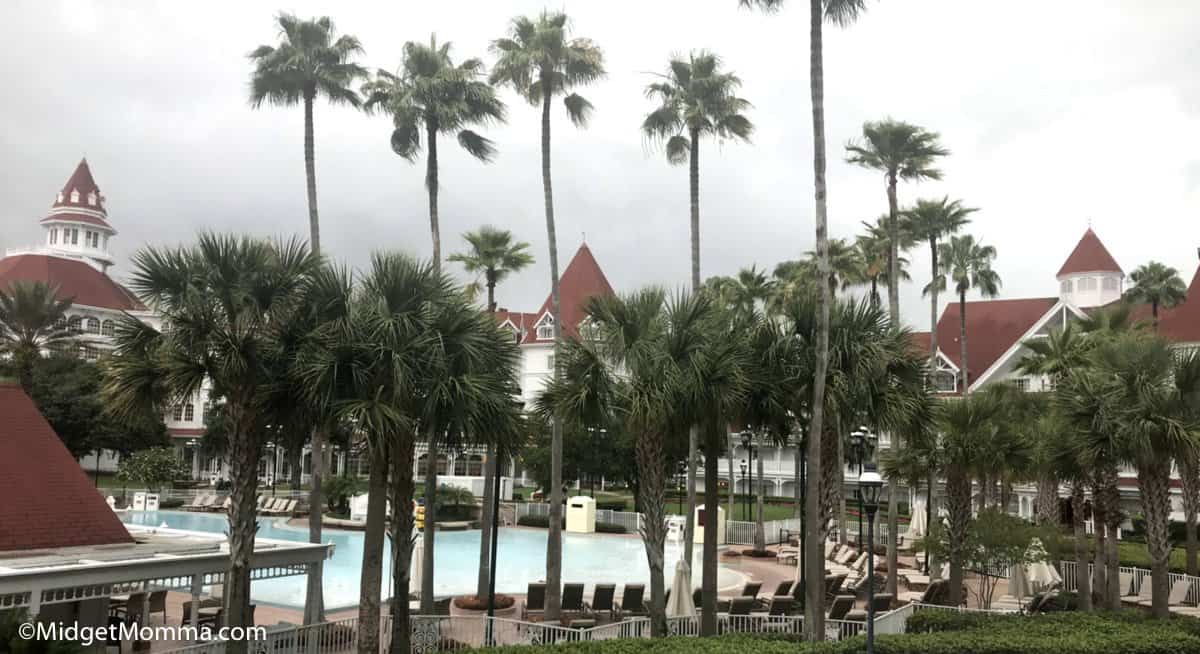 Resort Activities.
Pool. There are actually 2 pools at this resort and if you time it right they have kids activities at the pool.
Jogging trail.
Movies under the stars.
Basketball court.
Night time campfires.
Disney Tips and Tricks you HAVE to know about!
While you are planning your Disney Vacation trip make sure you check out these other posts to help with your planning after checking out the Disney World Hotels for Families.