Every Disney World resort is great for a different audience, from families to couples to singles, there is a place for everyone. Families are always interested in spots that are fun, offer on site entertainment, have child friendly options, plenty of space, and a staff that is patient with children. There are several Disney World options that fit the bill, but there are some that really excel at putting together the perfect space for the family. These are the top three Disney World hotels for families that should try and book for your next stay.
While you are planning your Disney Vacation trip make sure you check out these other posts to help with your planning after checking out the Disney World Hotels for Families.
Disney Tips and Tricks you HAVE to know about!
Cheap Eats at Disney World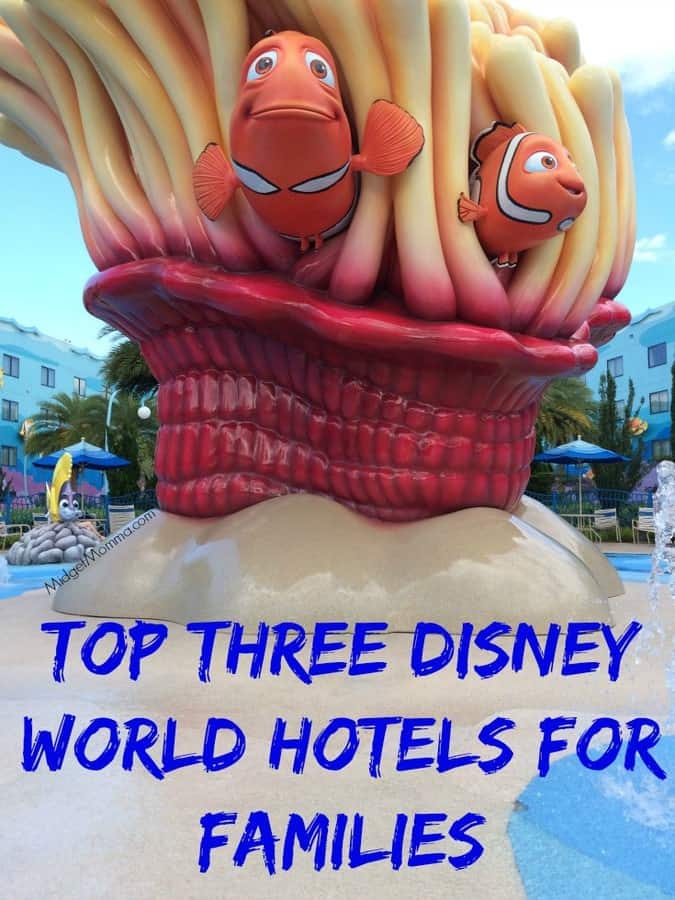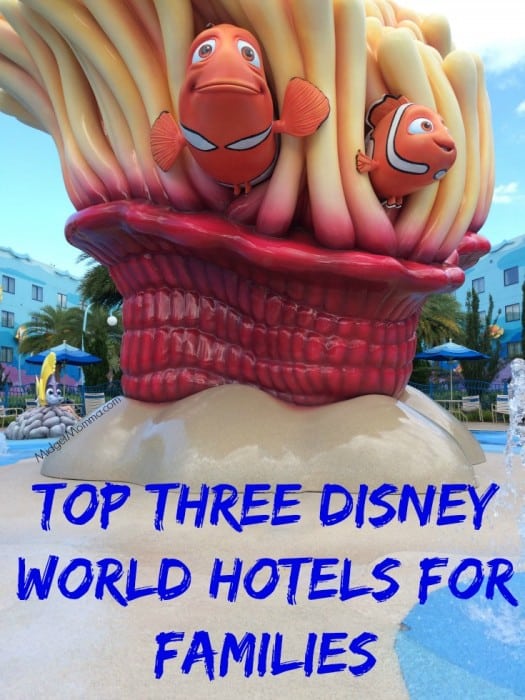 Disney World Hotels for Families
Disney's Wilderness Lodge
There are several options that are great at the Wilderness Lodge for families, but staying in the actual lodge, as opposed to the villas or campsite, really is the best option. The rooms and resort are large, giving families plenty of space to spread out and make the place their temporary home for however long you are visiting. The grounds are part of the overall draw for families, placing you in a national park setting of sorts, where the kids can explore and you feel like you are in two vacation destinations in one. The pools, kid center and bunk beds in the rooms make everything kid and family friendly without you even having to try to entertain them once you have left the parks.
Art of Animation Resort
The Art of Animation Resort is one of Disney World's budget options, where a lot of families that know they will be super busy book for their stay. This resort is popular with the family because of all the additional options and amenities that make it easy to do Disney with little kids. This location is also one of the few resorts with designated family suites, where you can fit more people into a single room than the average Disney hotel. All of the rooms are also kid themed, making them fun to stay in and family friendly areas and activities right on the resort give every family a lot of options for filling in time away from the parks- or just places to unwind away from each other.
Port Orleans Resort
For the family that likes to be active, get outside and have fun, or is interested in more activities to do together, the Port Orleans Resort is a fun and exciting. The theme here is a backwater bayou, in the best way, with carriage rides, French Quarters- which is the option you want for the family- and outdoor entertainment. The family can go fishing, canoeing, bike the grounds, or play in the pools. This is a great option for families with children that are a little older, or families that like to split up for activities with one parent enjoying their day doing something different with each of their children. The small size of this property, compared to other resorts, ensures that your family gets great service and is in a welcoming atmosphere where you get to know the other families on the property over the days you are there.