Wondering how to go about a day at Disney World while it is raining? You are in luck! We have some great tips on how to keep the day magical and fun even though there is rain.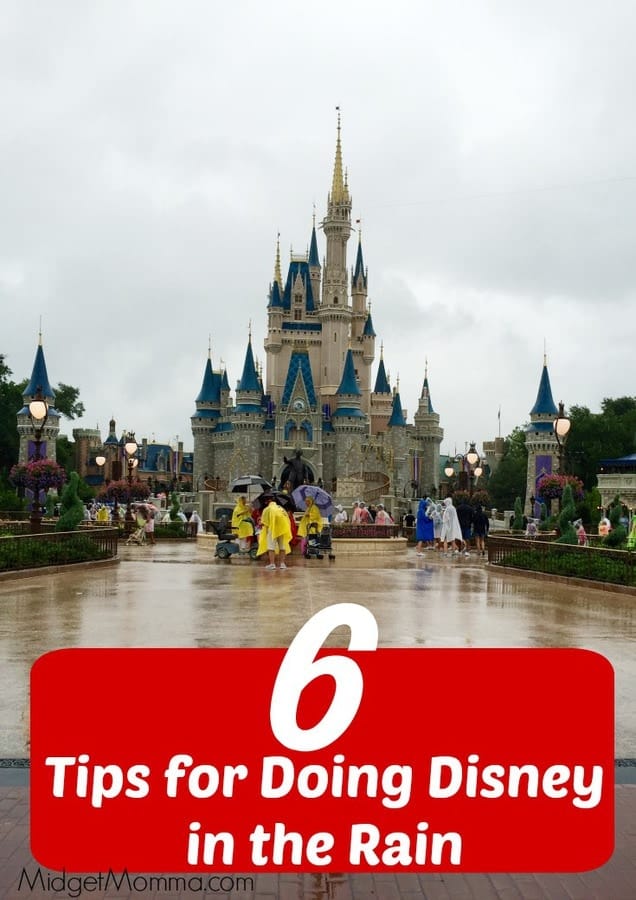 So you have spent months and months planning your dream Disney vacation. Then when your vacation comes up and the weather report calls for rain every single day, the first thought is to be bummed out! Do you cancel the whole trip or try to reschedule your trip?
Well I hate to say it but rain is very very common in central florida. The good news is it normally doesn't last long and if it's hot outside the rain will help bring some relief. On our last trip to Disney it called for rain every day so I decided to share my 6 Tips For Doing Disney In The Rain.
6 Tips For Doing Disney In The Rain
Rain reduces the crowds. Most people think oh no it's rain we better pack up and head back to the hotel you want to take advantage of that! That meant much shorter lines! We were able to ride Pirates of the Caribbean three times without having to wait! Not only were the line for the rides were short but they were for character greetings as well! My daughter got in to see Anna and Elsa in less than 15 minutes!!! Normal the waits run from 60 to 120 minutes! Now the rain didn't stop some very popular rides like Peter Pan the wait was still over 120 minutes long.
Memory maker. I own a very expensive camera so I was very worried it might get wet. I saw the ad for the memory maker on the Disney app. If you haven't heard of the Disney memory maker check out here to learn all about it. Now since I bought it the first day I was there I end up having to pay $20 more. So if you see it is going to be raining during your trip I recommend getting it before to save yourself that extra money. To me, this was very worth it because I didn't have to worry about my camera getting wet. As a bonus, I was able to be in the pictures instead of always being the one taking them.
Pack some ponchos. If you wait till you get in the park you will be paying an arm and a leg for them. As I mentioned in my Prepping for Disney trip at dollar tree article you an find ponchos here for only a dollar. You might want to bring an extra one with you because they are on the cheaper side and can rip. We were able to use them then throw them away at the end of our trip. For the kids, those ponchos would be way to large. We were able to find these great Disney themed kids ponchos at the target down by Disney. It helped our son keep it on because it had Mickey on it.
Cover for your stroller. Since the rain normally doesn't last long you don't want to get stuck with a wet stroller all day long. Some brands of strollers make a rain cover for your stroller. I didn't want to buy something I was going to use just for our Disney trip so we took a shower curtain from the dollar tree and clipped it over the top of the stroller. I saw people who only had an umbrella stroller use an extra poncho over the stroller to keep it dry.
Stop in for a show. If you didn't bring a poncho and you are not willing to buy them at the park then shows are a great stop for you. Most of the shows are inside so but the time they are done the rain might have stopped or at least slowed down.
Bring ziptop bags. If you have any item you don't want to get wet like your phone or an autograph book you can place them into a ziptop bag to keep them dry.
Hopefully these 6 tips for doing Disney in the rain help you if you get stuck with some rainy weather on your Disney trip.
Disney Tips and Tricks you HAVE to know about!