A weeklong Disney vacation is the dream trip for so many families, deemed the perfect amount of time, and really gives you the chance to see as much as you can handle. We have done 2 Disney trips one was a few days, the other one was a week and you really do need that week to make the most of it and give yourself enough time to see it all. I hope these Weeklong Disney Vacations tips will help you with your planning. While a week at Disney might seem like the perfect amount of time, it is often hard to plan out, can become overwhelming, and gets expensive. With a little work and knowledge of the parks and help from the family, it is possible to get everything planned out as much as possible.
Disney Tips and Tricks you HAVE to know about!
Cheap Eats at Disney World
5 Weeklong Disney Vacations Tips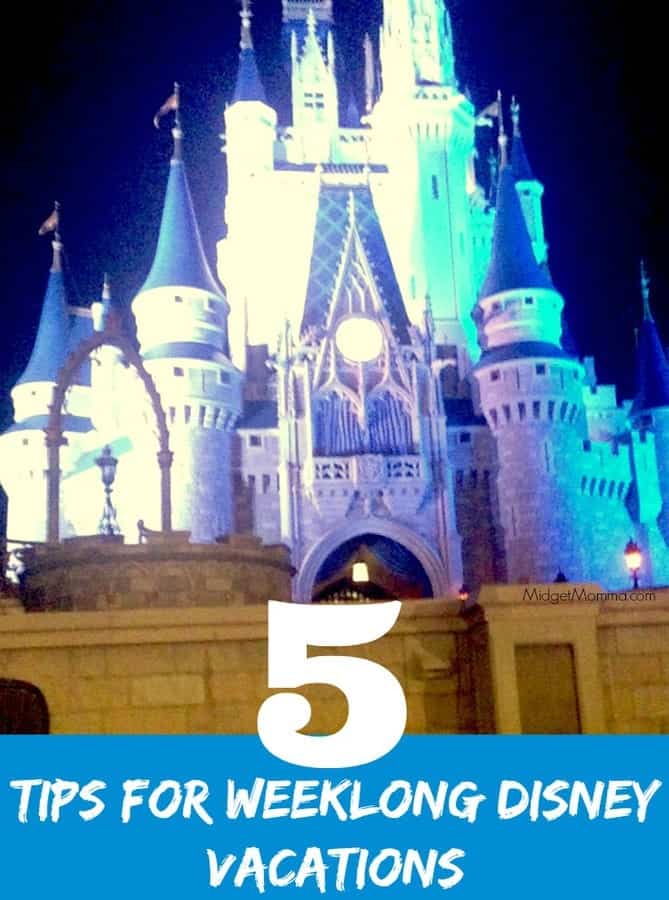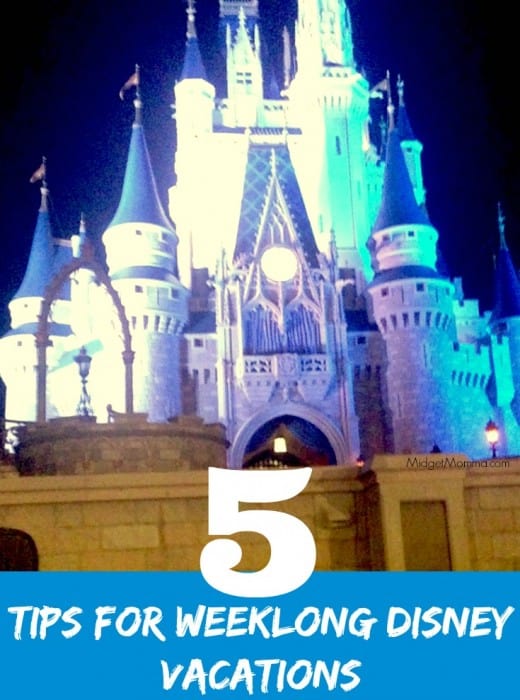 I hope these Weeklong Disney Vacations tips help you so that the whole family will enjoy your magical trip to Walt Disney World.
Make sure you also check out these ways to save on a Disney Vacation as they will help with using along with the Weeklong Disney Vacations tips.
Things you can get for FREE at Disney World
How to Save Money on Food at Disney World
Weeklong Disney Vacations Tips
Stick To One Park a Day
A lot of families purchase park hoppers for a couple days worth of tickets in order to have the chance to hop between parks. When you are at the parks for the week this really isn't necessary because you have enough time to visit each park, and can dedicate as much time in a day to each one as possible. This also ensures that you do not feel as flustered and rushed in your days, because it can take a lot of time and energy to go from park to park.
Leave Free Time In Each Day
While you want to plan out as much of your day and time at Disney, it is important to leave free time in each day. There are undoubtedly things that are going to come up each day that disrupt your schedule so you want to ensure that there is some free time in a day to get those things in that are super important to you. Its also a great way to make sure you have time to do those new things you learn about while you are in the parks without having to cut out anything that is important to you.
Plan Each Park in Threes
The best way to plan out a day in each park is to divide into three. Leave slots for three types of activities in order to ensure that you round out each day without overdoing yourself on time or energy. Your three slots should consist of experiences, rides, and shows for each park. Rides should fill in the most time, as there are several in each park and they are included in the price of your ticket. Shows are important too, because they give you a big dose of entertainment and are also included in the price of your ticket. Finally, the experiences that you are able to include in your trip really add to your overall time at Disney, and these can be paid or free experiences.
Give Each Family Member a Say
It is important that you include each family member in the planning of your outing, or at least plan their activities into your day. With a large family it can be hard to balance out time, but a week is plenty of time to get everyone's preferences in. Give family the chance to choose up to three special activities or rides that they want to do, and then add those to each park's itinerary in your time.
Give Yourself Off Disney Opportunities
Even if you want to spend every day at Disney, it is a good idea to give yourself the opportunity to go off park at Disney, if only for practical reasons. This option gives you a lot of flexibility and the chance to save some cash with things as simple as stocking up on snacks and drinks to keep the family fueled. It also leaves alternate entertainment options in the evenings when you have had enough Disney for one day.