My daughters two favorite things are blocks and puzzles. She loves to be able to create something out of different items and I wanted to incorporate those items into her home schooling day. I also what to make sure there was a lesson to these puzzles so I made it so she would have to match the color of the paper to the color of the blocks. As they get used to do these you can start to change up what items you use for the puzzle. You can use smaller legos or wooden blocks that have different shapes.
This activity is a great one to use for when you are doing homeschool with young kids. Being hands on helps them learn better then just being quizzed on what color something is and the kids have a lot more fun and they don't even realize that they are learning while doing them. This activity will teach kids their colors, counting and shapes.
DIY Block Puzzle Learning Activity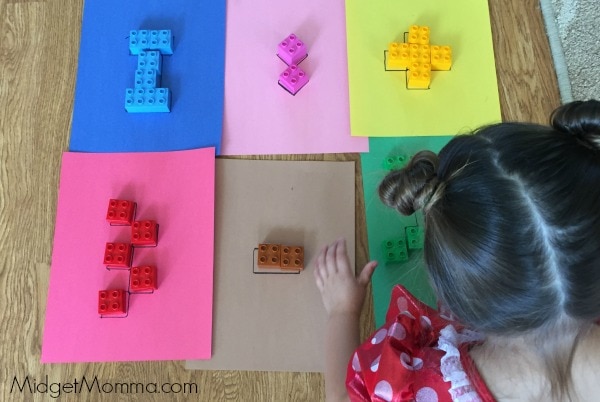 DIY Block Puzzle Learning Activity
Multi colored construction paper
Lego Duplo blocks
Black marker

DIY Block Puzzles for Kids Directions
Arrange blocks to make different patterns on each sheet of paper.
Trace the blocks with the black marker.
Remove the block and mix them up on the table.
Let your child fill in the puzzle using the blocks making sure to match up the color of the paper.
As your kids get older using ones with different shapes like these wooden blocks will give them more of a challenge and you can then work on knowing shape names as the focus. Plus you can even trace them and then write on smaller pieces of paper the names of the shapes and have them also match the shape to the name shape and keep the process of learning going with out having to buy new supplies.
Join the newsletter
Subscribe to get our latest recipes right in your inbox every time we post a new one!