Now this savings tip on How to Pay Your mortgage off faster in the 31 Ways to Save $100 or more Per Year series is not going to save you immediately, BUT it will save you  alot more than $100 or more a year over the course of time.
When buying a house there are many things that are important to know. Do the numbers and you will find you are paying 3 times the cost of your house after the interest of a 30 year mortgage. That is right, by the time 30 years comes you will have paid triple the cost!
It might make you cringe thinking of paying triple the cost and it should. However there are ways that you can pay down your mortgage quicker. On top of paying off your mortgage faster you will save money on your overall costs. These tips on How to Pay Your mortgage off and Save Money will help you if you are a home owner.
How to Pay your mortgage off faster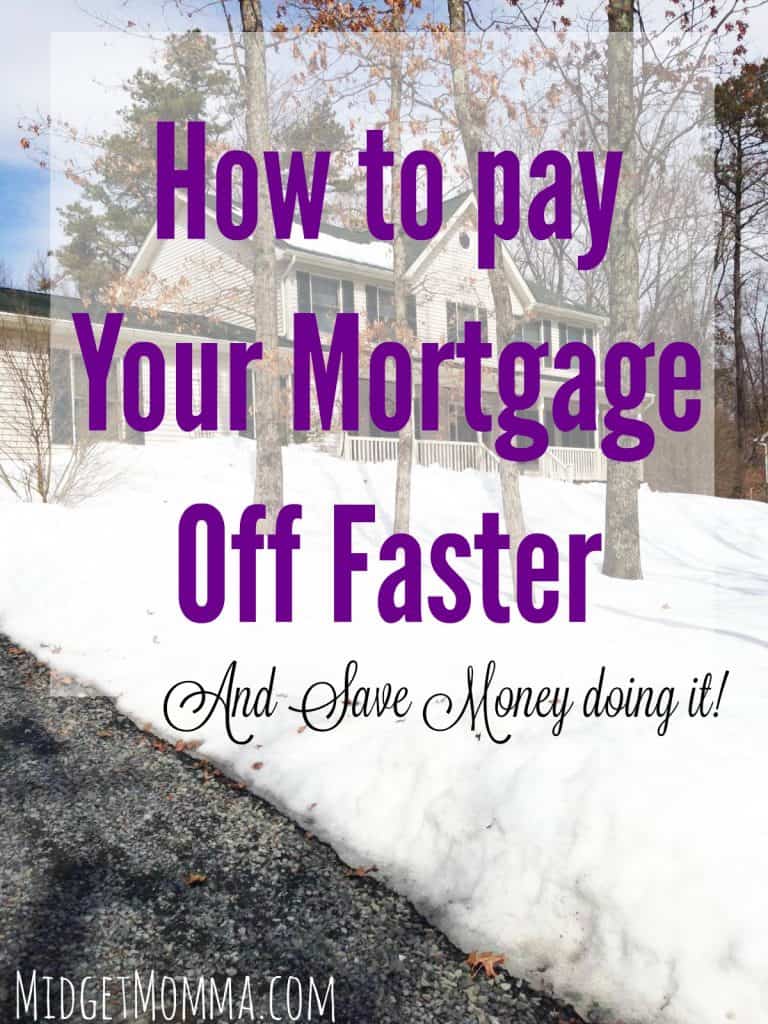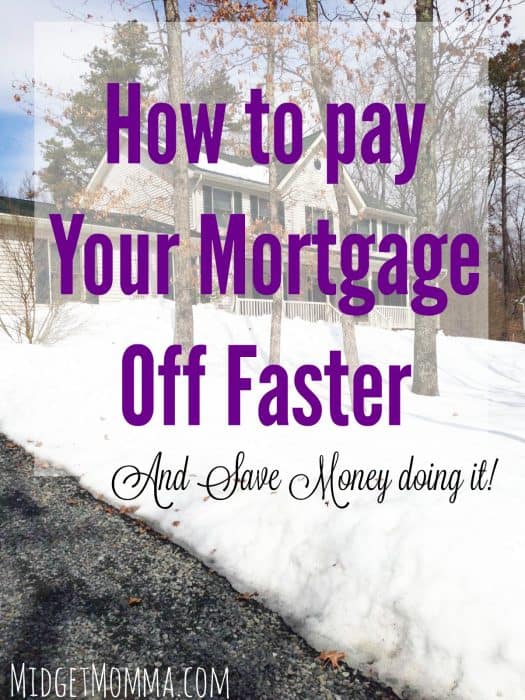 How to Pay your mortgage off faster
Start with a 30 year loan and set it up so you make bi weekly payments. Doing this you will end up paying 13 months of payments each year instead of 12. This will make your 30 year mortgage paid off in 23 years. That is 7 years of mortgage and interest payment savings.
Each year make 1 extra payment on your mortgage. Doing this each year you will drop your mortgage. Plus combining it with the biweekly instead of monthly payment you will knock your mortgage down to being paid off in 20 years instead of the 30 year length of the mortgage!
Pay your taxes with escrow instead of paying them yourself. While this might sound crazy because you will pay each month along with your mortgage payment. You will then have them all ready set for when you need to pay your taxes each year. Also you won't ever be late on paying your taxes and get a penalty because your mortgage company will handle paying them for you.
Paying your closing costs instead of having them rolled into you loan. I know this might not be possible for everyone, but if you can do it you will save a lot of money. You will save yourself from paying the cost over time and paying the interest. So you will save money by not having to pay the interest on your closing costs.
If you have extra money make an extra mortgage payment. Doing so this will knock down the amount of interest that you are paying over all.
Buying a house is something exciting but the high cost of the final number you will pay on a 30 year mortgage is not. That is a lot of extra money that you are spending! It is stressful to see that you are paying 3 times the cost of your house after paying a 30 year mortgage. By doing these simple things you can drastically reduce how much you will end up paying for your house and save yourself a lot of money in the end.
Everyday for the month of October we are sharing a different way to save money. Each of these ways can help you save over $100 each per year! See the rest of the 31 Ways to Save $100 or More Per Year posts here. Using these ways to, you can save $100 in 31 different ways and you have a savings of $3100.00 in a year (if not more!)!
Check out these other Money Saving Ideas: