This past year I was blessed to have been able to visit my husband when he was in Germany for work. I insistently fell in love with everything about Germany. The best part was all the amazing food! It is not just sausages like its prorated at every Oktoberfest here in America. My favorite side dish is a egg noodle dish called spaetzle. To me it was like a noodle and a dumpling had a baby. Spaetzle was severed at so many of the local restaurants with so many variations. Check out my tips on getting around Germany . If you can't make it out to German don't you worry this recipe will be able to get you a little taste of the food out there. I bet you are thinking eight eggs just to make one dish is a lot but you will not regret having any left over. It is great the next day cold or you can just heat it up in a pan with some butter to make them fresh again.
Authentic German Spaetzle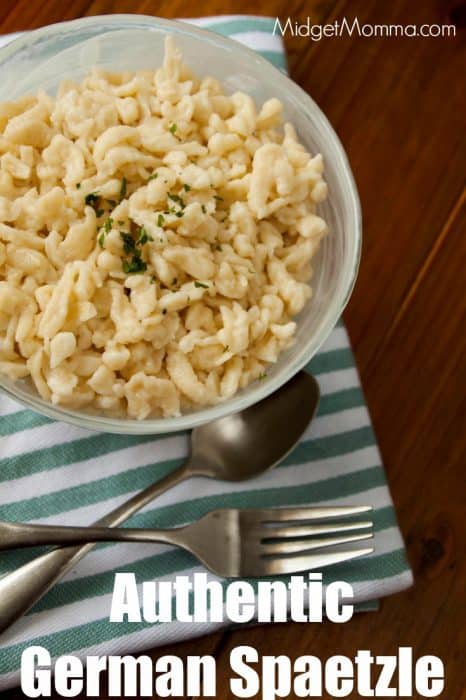 Authentic German Spaetzle Ingredients
4 cups all-purpose flour
1 tbsp salt
8 large eggs
2/3 cup milk
Authentic German Spaetzle Directions
In a large bowl, mix together the flour, salt, eggs and milk until they are well combined. You want your batter to be thin enough for it to be pushed though the holes but not to thin its watery. If your dough is to thick just add a tablespoon of water at a time until its the right texture.
Fill a large pot full of water and some salt to season the water. Bring the water up to a boil.
Place a colander over a bowl to transfer the noodles to.
Place your spaetzle maker or another colander with large holes over the top of the pot of water. Pour in some of your batter and press it through the holes. Make sure your work in batches so you don't over crowd the pot. Allow the noodles to cook for 2-3 minutes. Remove the noodles and place them in the colander to drain the extra water away.
Sever with some melted butter and a glass of German beer.