Homemade Cheez-It Crackers Recipe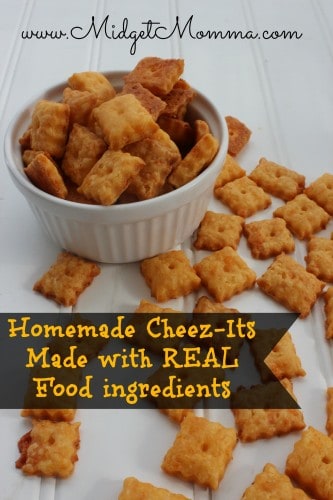 If your kids love cheeze-its then this is the perfect recipe for your house!!! Not only are their easy to make, the kids can help with them and they are made with real ingredients. If you are an organic household you can use all organic ingredients to keep them in line with how you eat 🙂 These are made with real food ingredients, nothing that you can not pronounce 🙂
Homemade Cheez-It Crackers Recipe Ingredients:
1 tsp Kosher or Sea Salt
1 cup Flour – will work with white or whole wheat flour.
2 tbsp Ice Cold Water
8 oz Shredded Cheddar Cheese
2 tbsp cold Butter cut into small pieces
2 tbsp Shortening (if you do not have shortening you can use 2 tbsp of butter instead of the shortening)
Homemade Cheez-It Crackers Recipe  Directions:
In a food processor, blender, mixer or a bowl with a hand mixer, mix the cheese, butter, shortening and salt together until blended. Then slowly add the flour. If you are using a mixer make sure it is on low speed or you will have flour flying everywhere (and that is a mess no one wants to clean up lol)
Your dough will be dry after adding in the flour, so add in the water gradually just until your dough comes together in a ball. Round out the ball of dough and wrap in saran wrap. Refrigerate for one hour.
Get out your baking sheets and then after an hour remove the dough from the fridge and preheat your oven to 375. Line your baking sheets with parchment paper and sprinkle flour on whatever area you are going to be working on. I tend to use the kitchen table so the kids can see what I am doing but not be to confined where we are all bumping into each other while trying to work.
Place your dough on your floured area and with your rolling pin (I have this Kitchen Aid one and I love it!) roll your dough to be less then 1/8 inch thick. Grab your pastry cutter and cut them into 1″ squares (easiest way is to just make lines, if you do not have a pastry cutter a pizza cutter should work just fine) Then use a skewer or toothpick to put a hole in the center of each cracker.
Place crackers on to your prepared baking sheet, this is a step the kiddos can do while you finish up cutting the crackers out. sprinkle with salt and then bake for 12-15 minutes or until light brown at the edges.
Transfer to a cooling rack to cool. Store them in an air tight container. These are great for snack time and school lunches!! Best thing is they are not made with weird ingredients that you can not pronounce 🙂