This homemade Chick-Fil-A themed dinner is so much fun and super tasty to make at home! With a copy cat Chick-Fil-A chicken sandwich, mac and cheese, fruit salad and homemade lemonade is the perfect Copy Cat Chick-Fil-A meal at home!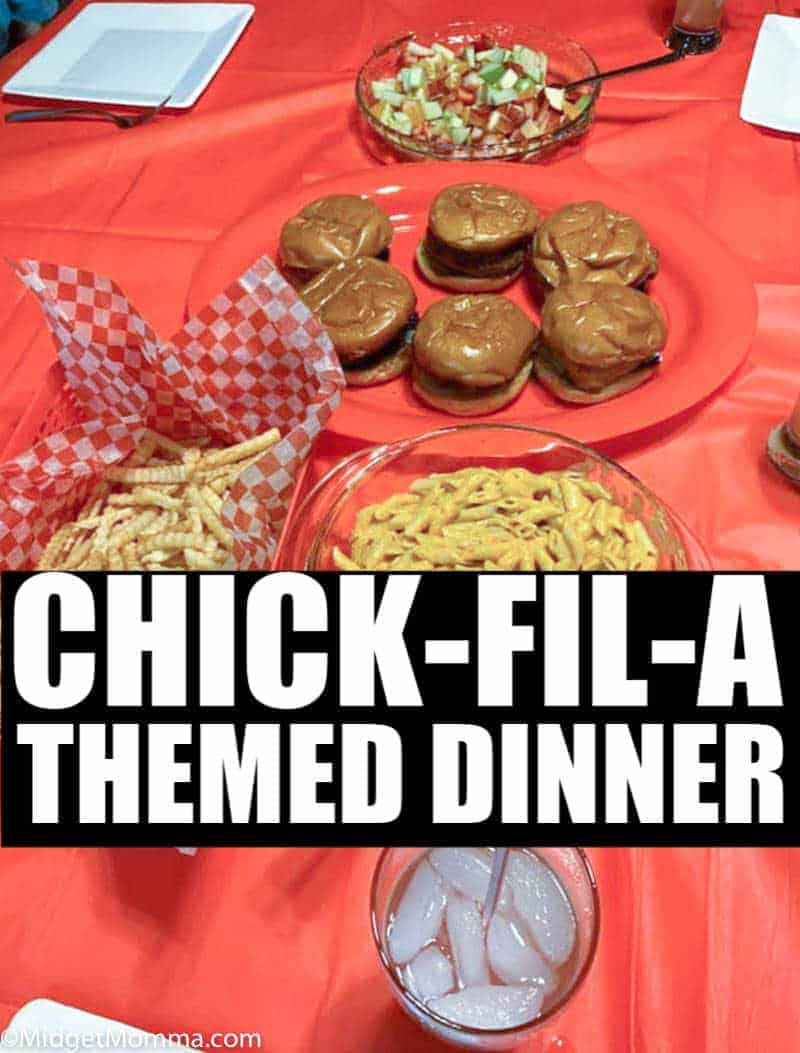 Homemade Chick-Fil-A Themed Dinner
We love Chick-Fil-A however it is about a 30 minute drive for us to get there. If we are wanting to have Chick-Fil-A then we need to load everyone up, drive the 30 minutes and there is no way to eat at home with out it being cold or soggy. My solution making a copy cat Chick-Fil-A at home! Plus it is SUPER easy to do and I can get the kids involved.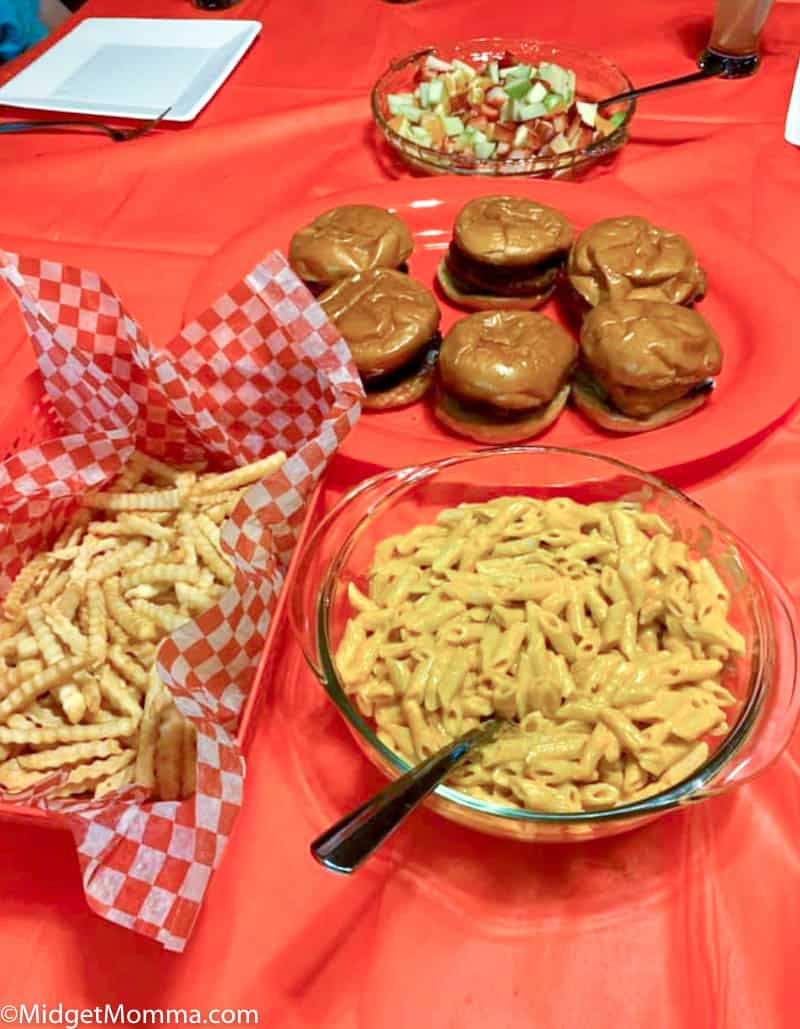 Chick-Fil-A Themed Dinner at Home Menu
Copy Cat Chick-Fil-A Chicken Sandwiches. For our sandwiches we used the Aldi Red bag chicken, Aldi Brioche buns, dill pickle slices and butter. All you have to do is cook the chicken according to the package. Toast the buns just a little bit in the oven and when they are done spread a thin layer of butter on them. Build the copy cat Chick-Fil-A chicken sandwich by placing 2 dill pickles on the bottom piece of the roll, then a piece of chicken and then the top of the bun.
If you do not have an Aldi near by this recipe could be made instead. I have never tried it but it does look like a great copy cat Chick-Fil-A Chicken Sandwich.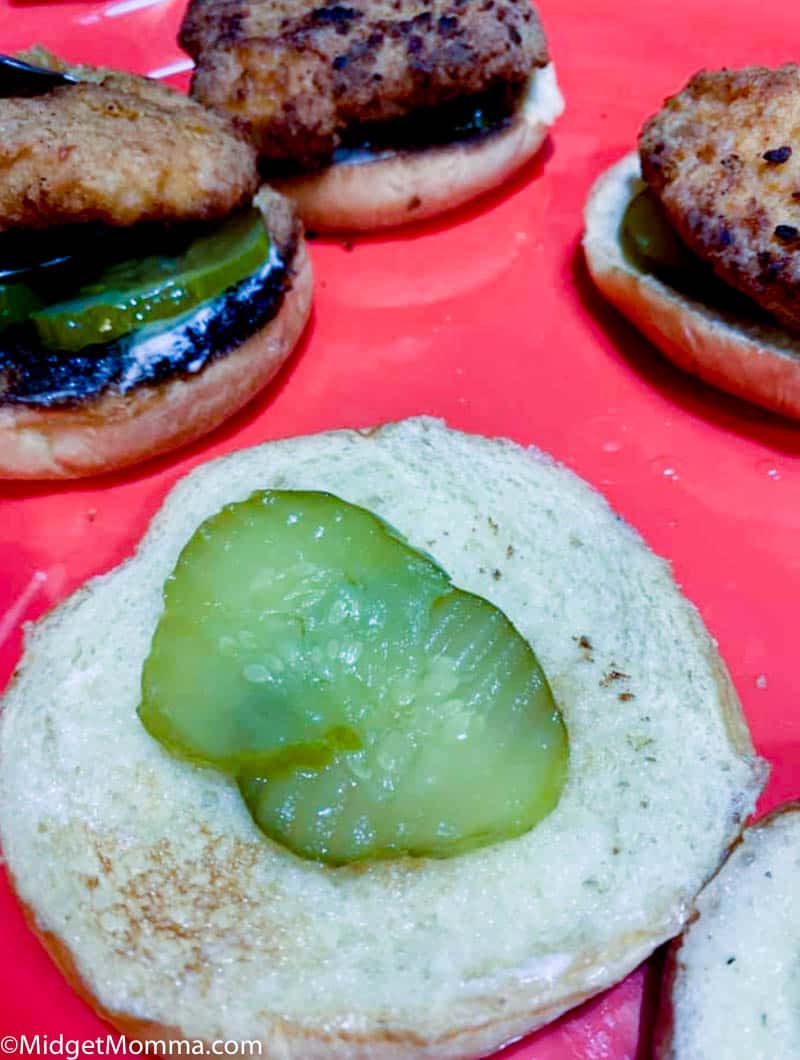 Macaroni and cheese. Mac and cheese is one of the tasty sides that you can get at Chick-Fil-A so we included it in our themed dinner. This is the only time in the last 3 years that I have used box mac and cheese because I ran out of time to make homemade mac and cheese. Next time we will be for sure using homemade!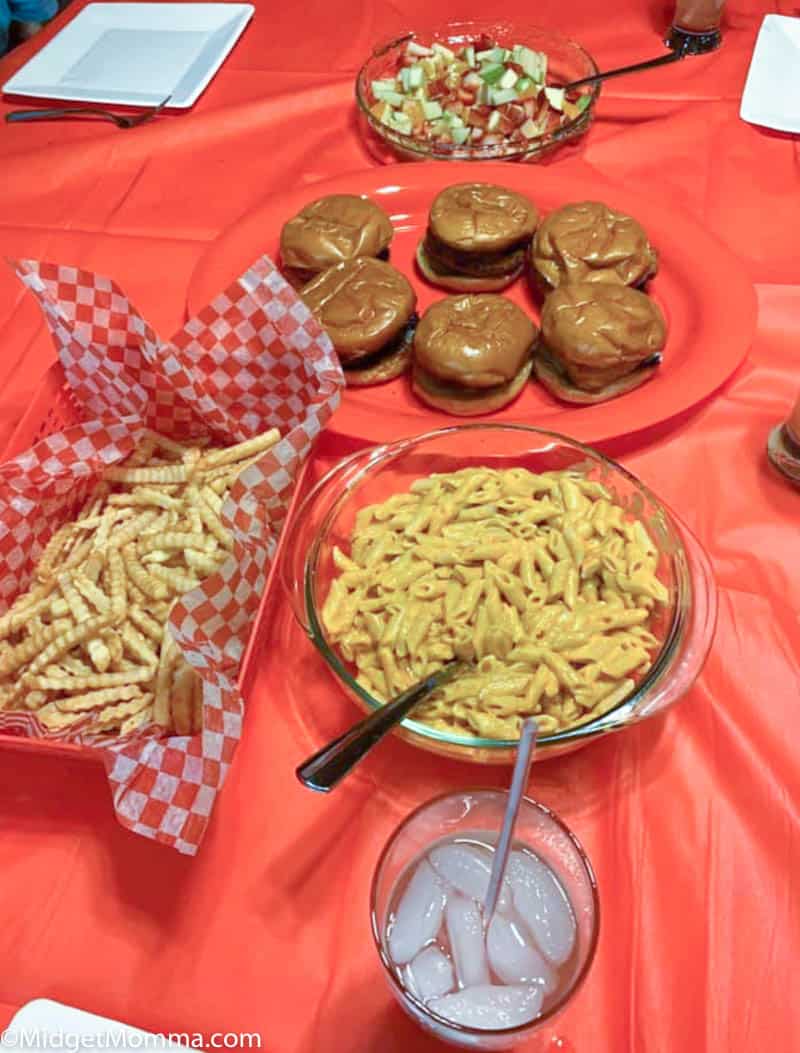 Fries. I went on the hunt with no luck to finding waffle fries, my waffle fry piece for my mandoline slicer was mia so we went with a bag of crinkle fries. If you are wanting to make copy cat Chick-Fil-A waffle fries check out this recipe.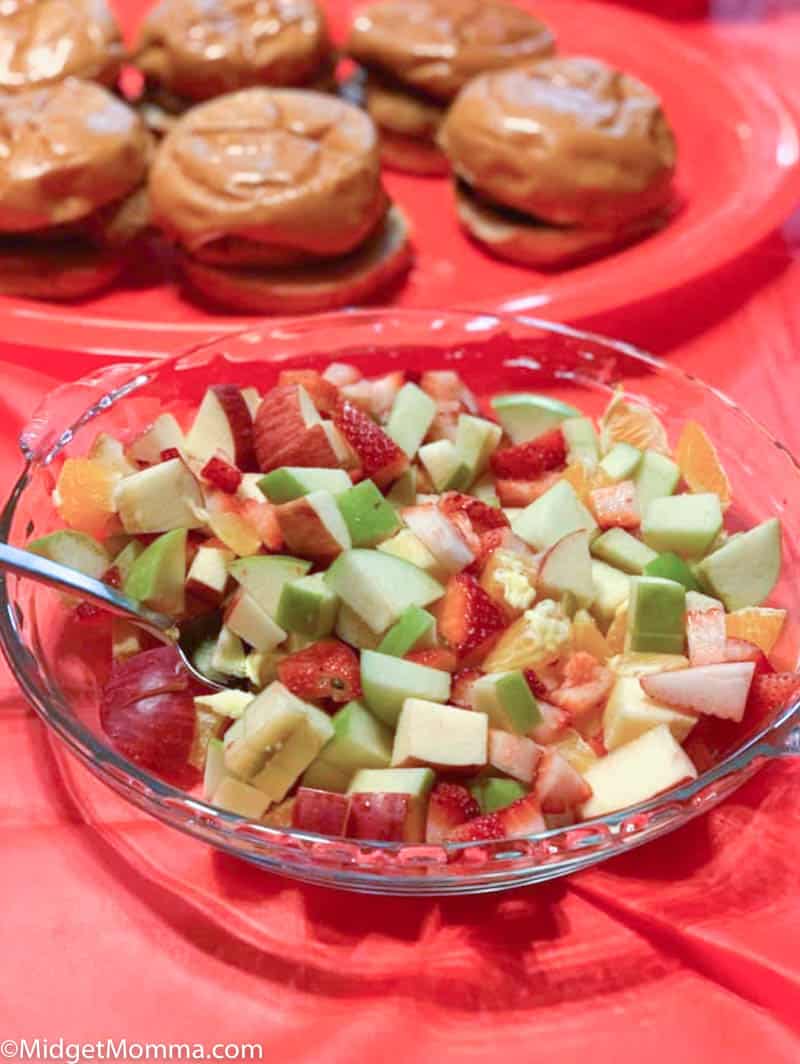 Fruit Salad. The fruit salad at Chick-Fil-A is easy to remake at home! All you need is red and green apples, mandarin oranges, blueberries, and strawberries. Just slice them up and toss them all together.
Homemade Lemonade. When enjoying Chick-Fil-A no one can argue that lemonade is a must have to drink when you are there. We made the homemade lemonade that tastes JUST like Chick-Fil-A Lemonade as out drink!
Chick-Fil-A Themed Table Setting
The colors for Chick-Fil-A are red and white so we went with a red table cloth and white paper plates that I got at the Dollar Tree. The red plastic bin, red tray and the red and white liners you can find at the Dollar Tree or on Amazon.
I planned ahead of time to do a lot of themed dinners, and there will be more themed dinner idea posts coming soon, so I bought a few different style glass cups from the Dollar Tree to use with any of our themed meals. I can't help but to love that everything is just $1 at the Dollar Tree! If you don't have one locally you can order from the dollar tree online too!
We had so much fun making this easy Chick-Fil-A copy cat meal! Of course we also had a lot of fun eating this copy cat Chick-Fil-A meal as well! Let us know if you make a themed dinner and how it turns out!
Love Copy cat recipes? Check these out! 
Join the newsletter
Subscribe to get our latest recipes right in your inbox every time we post a new one!