Having a baby on a Military budget is something that can be rather tricky. If you are in the military then you know the budget you have to work with is not large by any means but with a little creativity you can make it work. In fact Tom and I had 3 kids while he was a low ranking airmen. While it was tough at times it is not impossible to have a baby on a military budget.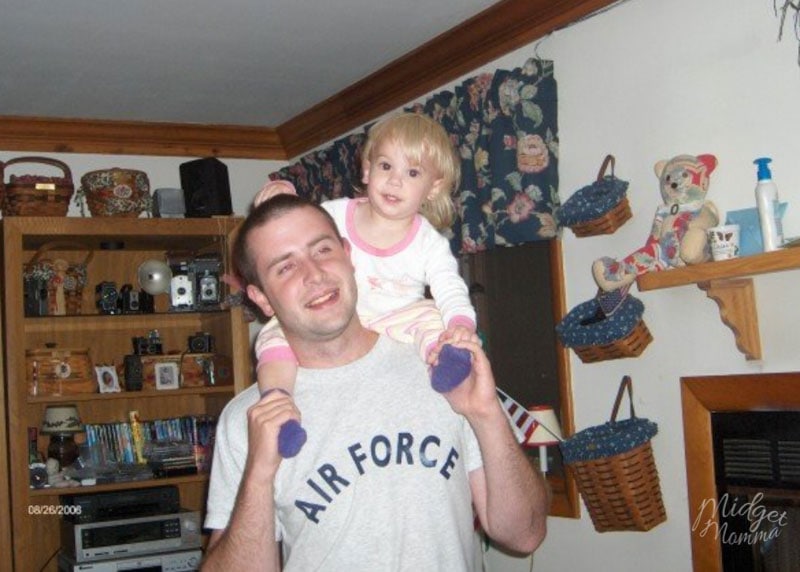 I did have to get creative at times, to make having a baby on a military budget work, and I am going to share my secrets with you. Many people might think that it is to hard too have multiple kids or even one baby on a military budget, but it totally can be done. I am not going to say it will always be easy, but it is totally worth it! Tom and I had 1 kid when he was an E-1/E-2, 2 kids when he was an E-3 and then 3 kids when he was an E-4 so I definitely had to get creative with my resources to make it work.
I found it easy to decorate a nursery on a budget and still have it look amazing. It doesn't take much to do and if you have a little bit of sewing skills you can make your own adjustable crib skirt to match the look you are going for. Babies don't need comforters, because it is unsafe for them to sleep with blankets, so a solid colored sheet and the DIY Crib Skirt make for a perfect crib set on a budget!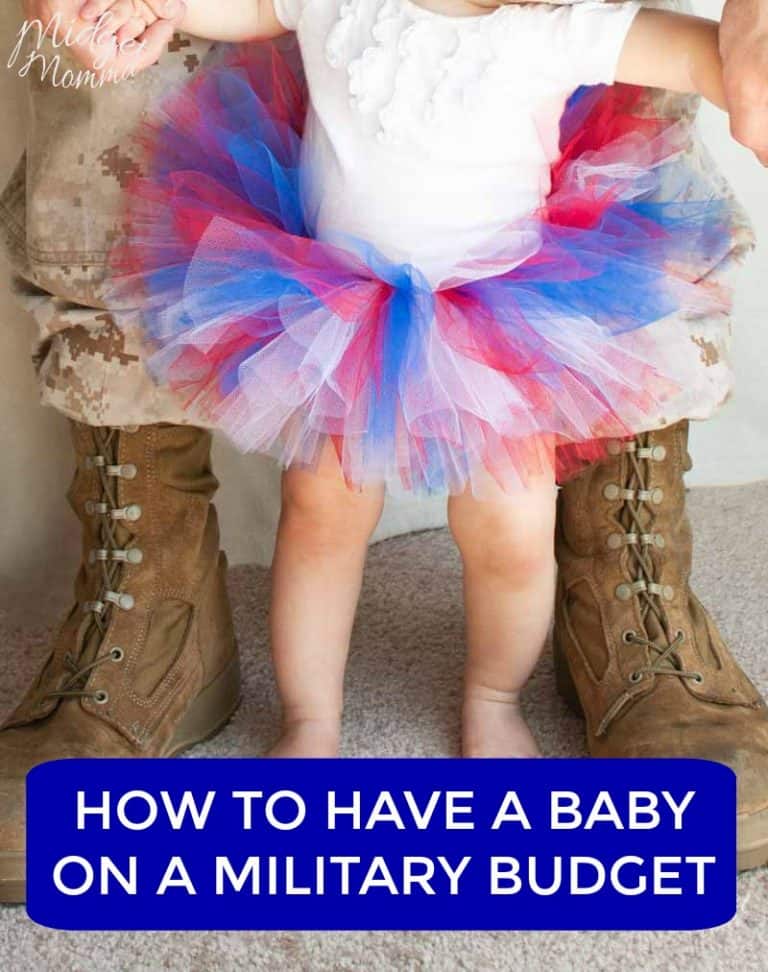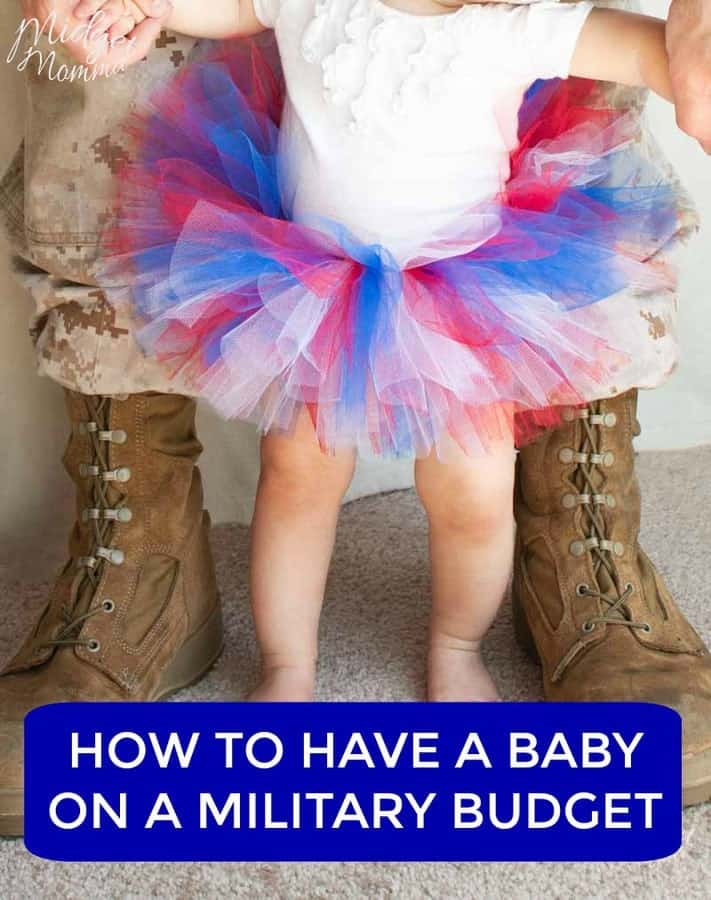 How to Have a Baby on a Military Budget
Utilize the base thrift store. Many military bases have their own thrift stores, this is a great place to find baby items on the cheap. I always found great items, in great condition at our base thrift store. As you know military members tend to move a lot, so holding onto things that they don't need right away is hard to do, so many people (myself included) sold items at the base thrift store that were no longer needed.
If you are in the Air Force use the Airmen's Attic. The Airmen's attic is a nonprofit on many Air Force bases that is for Airmen and their families ranks E-5 and below. It is a store that relies on donations, that Airmen and their families can shop free of charge for many house hold items including clothing, furniture and more. This is a great place to shop and also to donate your items once you are done with them. Not only is this a great place to shop, it is also a great place to volunteer. When we were stationed at McGuire Air Force base I spent many volunteer hours at ours and on top of helping the budget I also made a few friends who I have kept in contact with since then.
Trash Picking. Now before you think I am totally crazy hear me out. Come PCS season people have to move, they sometimes end up with items that they don't have time to bring to the thrift store or to donate and so they leave them by the dumpsters. Perfectly good useful items, I actually had the best yard ever when my kids were younger (before we left the military and I gave away most of our backyard stuff because it wouldn't fit on the truck) that included 3 playhouses, a climber, 4 different large slides, a kitchen and a bunch of other things all from finding them by the dumpsters on base. My friends kids always loved coming to our house because my backyard and playroom were amazing from my trash picking finds! If you look at the picture, the washer and dryer, grocery cart and the toy box were all things I found while trash picking!
Share with friends. It was not uncommon for multiple people in a group of friends to be having babies close together. Many of my friends had kids my age or a few months older or younger. Things like exersaucers, bouncers and toys could easily be shared amongst us. In fact one friend of mine and I basically rotated baby items because we had babies a few months apart from each other twice so when I got done with using something for McKenzie (who was under a year old when Tom and I moved to McGuire), I passed it to her. Then I got pregnant with Logan and she passed a bunch of stuff back to me and after I had Logan she found out she was expecting again and so I passed things back to her!
Don't buy unnecessary items. In the world of baby products there are so many things out there, many of which look amazing, but they are on the expensive side and totally not needed. If you are unsure on what is needed and what is not, be sure you check out this list of baby items you don't need  and this list of newborn must haves.
Get all the baby freebies! There are so many companies that give out freebies to new moms, it is fantastic! However it is not always know just how many freebies for babies that you can get, so make sure you check out our free baby stuff list! Plus you are going to want to have pictures and keepsake items for baby's memories, so make sure you check out the Shutterfly Coupon codes list for how to get FREE items from Shutterfly!

Get your breast pump from 1 Natural Way! 1 Natural Way is an in-network Tricare breast pump provider for all Tricare plans. All breast pump models are covered under your Tricare insurance plan at no out of pocket expense. They provide the highest quality breast pumps from Medela and Spectra to TRICARE members, including the Medela Freestyle and the Spectra S1 Breast Pump, and the Medela Pump in Style Tote/Backpack.You may also receive extra breastfeeding supplies covered (at no cost to you) under your Tricare plan. In addition to breast pumps, 1 Natural Way also offers breast pump accessories, compression socks and postpartum care supplies. The process only takes about 5 minutes to get set up to get your breast bump from 1 Natural Way, just head on over here and fill out your information, select your breast pump (All models they offer are covered by TRICARE) and then send them a copy of your prescription from your doctor. They will then send you your breast pump and supplies!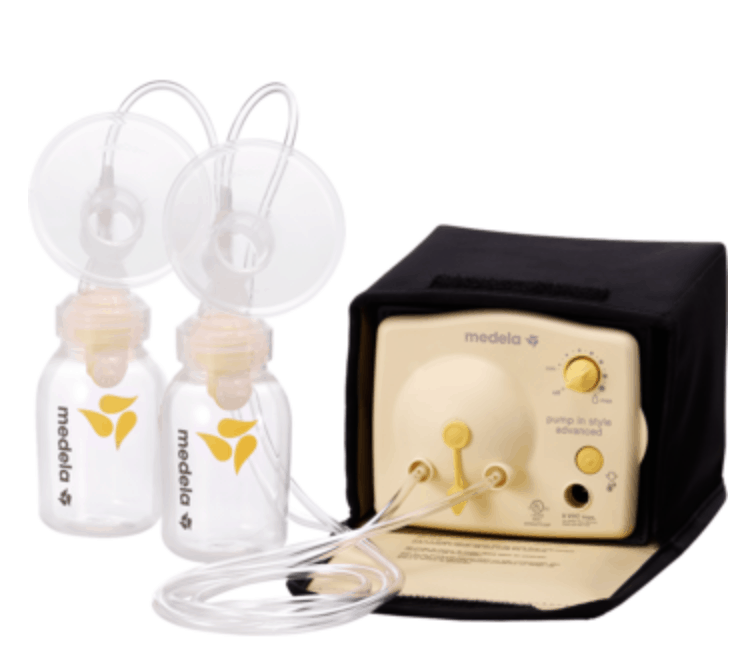 To stay organized while getting ready for your baby on a military budget, use this free baby check list  that you can print off and check things off the list as you get them. It is important not to stress, you have 9 months to get everything together that you need for when baby first arrives and then there are items you won't need for a few months like the highchair and excersaucer that you can wait to get until you need them.
This is a sponsored post written by me on behalf of 1 Natural Way, a TRICARE breast pump provider. All opinions are entirely my own.