Need to Know How to Peel Butternut Squash? Trying to peel butternut squash? It can be extremely difficult if you don't know how. If you have ever struggled to peel a squash, wait until you try this method. Not only can you peel a squash safely, you can skip buying the pre peeled, pre chopped ones at the grocery store.
How to Peel Butternut Squash
Now that fall is here I wanted to start cooking with more squash. I have had butternut squash at other people houses but I have never cooked on before. I had not clue where to even start! I tried to just peel it with my normal peeler but it was so hard. I needed a easy way to peel it that didn't precook it. This is the easiest way I found to peel it. So I am sharing my tips and tricks with you on How to Peel Butternut Squash.
I love butternut squash, but I don't want to cut off a finger when I am trying to make it. Most people come at a squash like this trying to cut the skin off using a large knife. Even people who think about using a vegetable peeler, so not realize there is an easier way to get the skin off.
If you have never eaten butternut squash, there are simple ways to enjoy it. You can replace butternut squash in many pumpkin recipes as well as simply roasting the butternut squash in the oven. If you choose to roast the squash, you will place the squash on a baking sheet. Sprinkle the squash with oil and make sure it is all covered. Salt and pepper and then roast at 400 degrees for 25 minutes.
How To Soften Butternut Squash Skin
Softening the skin is key to removing the skin easily and safely. A lot of people have but themself by trying to remove the hard skin. I pierce the skin with a fork and microwave it the butternut squash in order to make the skin softer and therefore easier to remove. Piercing the skin and using the microwave is key to peeling a butternut squash easily.
What to Do With Butternut Squash Seeds
Once you know how to peel a butternut squash, you can use it in a lot of different recipes, like Roasted Butternut Squash Soup, or use it by roasting it. Since you are processing the squash yourself, you will have leftover butternut squash seeds. You can throw them away or you can dry them out to plant them, or you can roast them. Roasting the seeds are similar to roasting pumpkin seeds. The process is the same and the taste is very similar. If you want to try a twist, you can also try this pumpkin seed recipe, Cinnamon Sugar Pumpkin Seeds, and use it with your butternut squash seeds.
How to Store Peeled Butternut Squash
If you want to peel the butternut squash before you need it, you can peel it the day before you are going to use it. Once the squash is peeled, place it in an airtight container. You can store the peeled raw butternut squash in the refrigerator. The butternut squash will last for about 5 days when it is stored properly.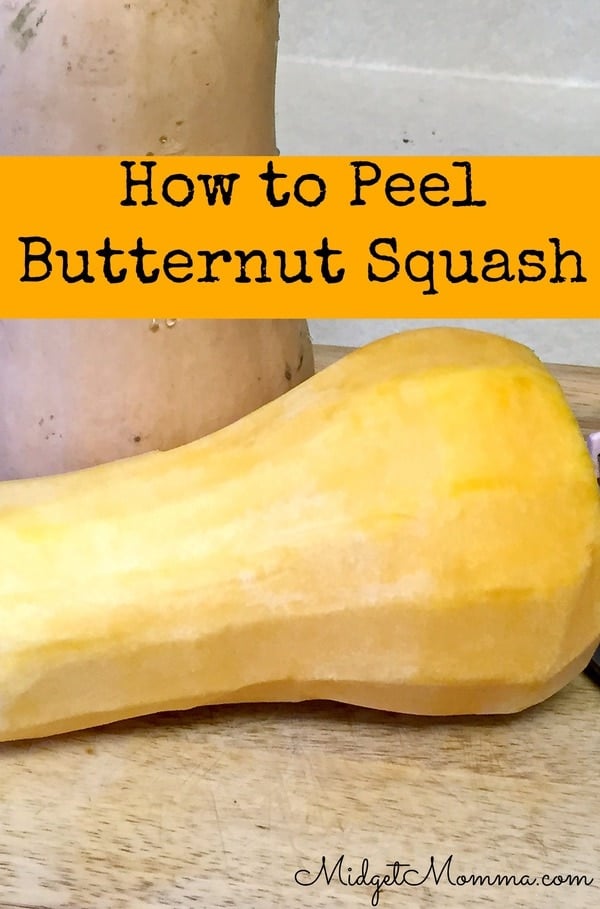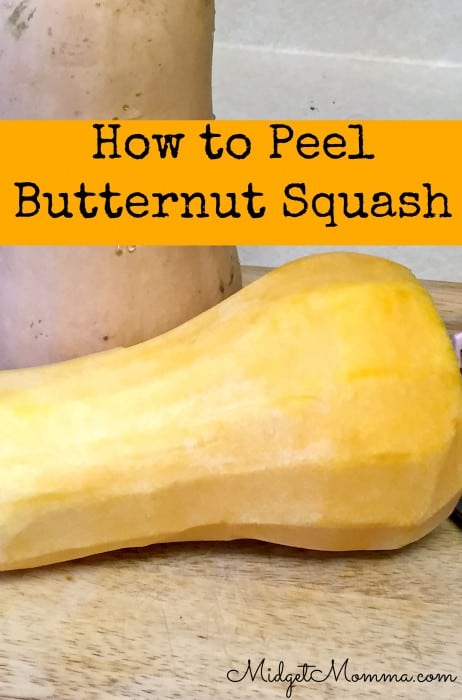 How to Peel Butternut Squash Supplies
Fork
Cutting board
Chef knife – Make sure the knife is sharp
Peeler
Butternut squash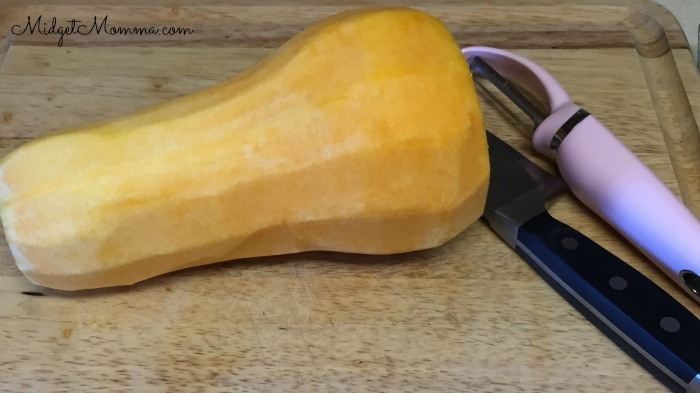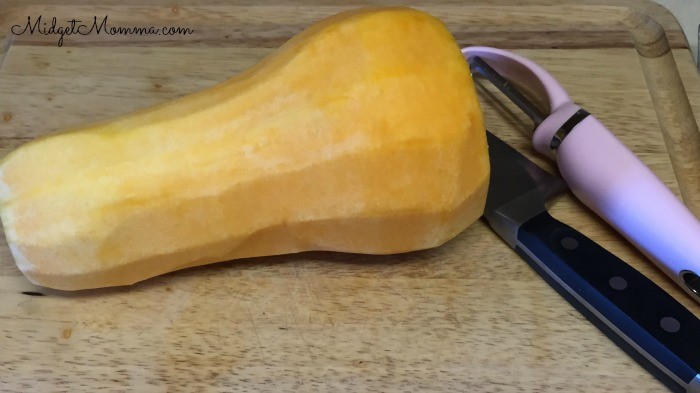 Step by Step How to Peel Butternut Squash Directions: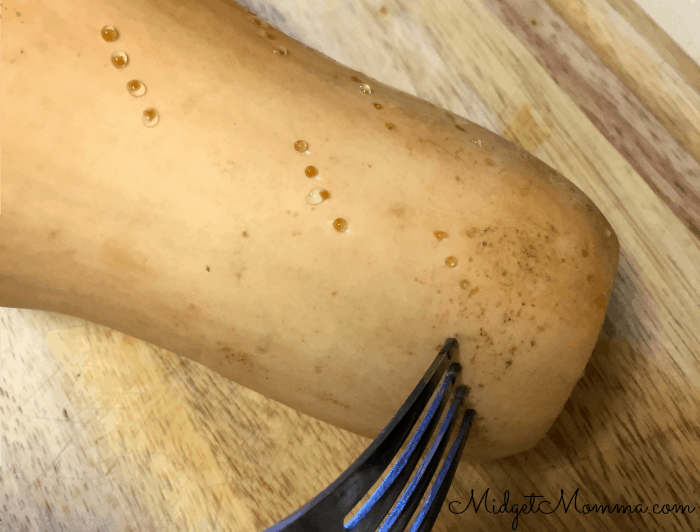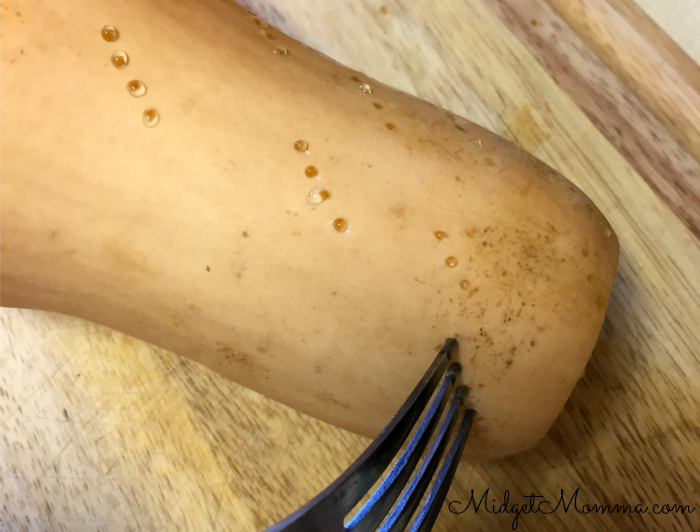 The first thing you want to do it piece the skin of the butternut squash. make sure to pierce it all over the squash.
Next, cut off the top and the bottom of the squash.
Microwave the squash for about 3 1/2 to 4 minutes. This will soften the skin.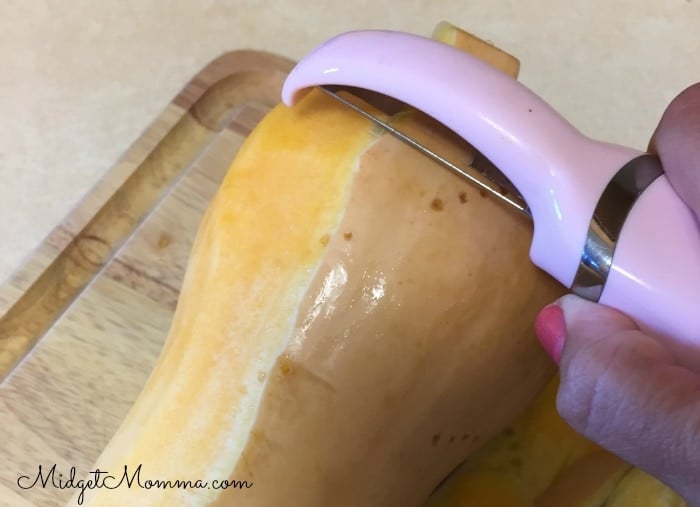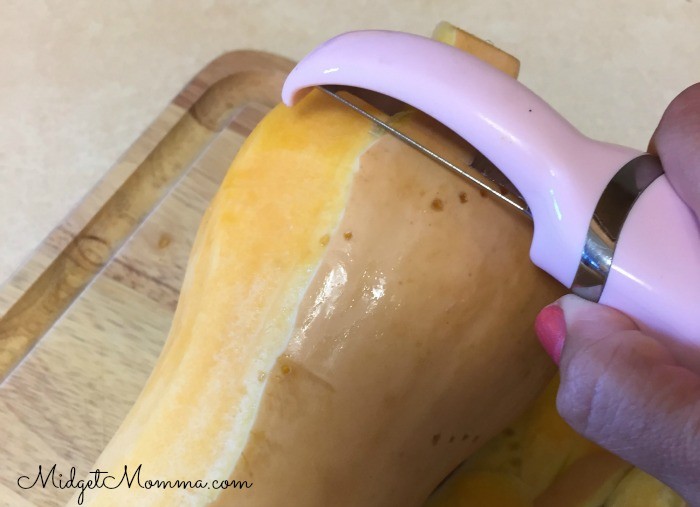 Once the butternut squash is cool enough to handle, remove the skin by using a vegetable peeler.
Once the skin is removed, cut the squash down the middle, lengthwise. Use a spoon or scoop to remove the seeds and membranes from inside.
Once the insides have been removed, simply cut the butternut squash however you need for the recipe.
More Delicious Fall Recipes
Butternut squash is amazing all year long, but it is often considered a fall vegetable. If you are craving more incredible fall recipes, I know you are going to love some of my favorites.