This week after the power went out for 4 days and I had to empty my deep freezer into my parents freezer and fridge to save the food I ended up with 40 pounds of blueberries that needed to be cooked. So this weekend we went on a baking adventure and made all kinds of blueberry goodness. One of the biggest hits of all was this Low Carb Blueberry Cobbler. This I think is the best low carb blueberry dessert that I have come up with yet!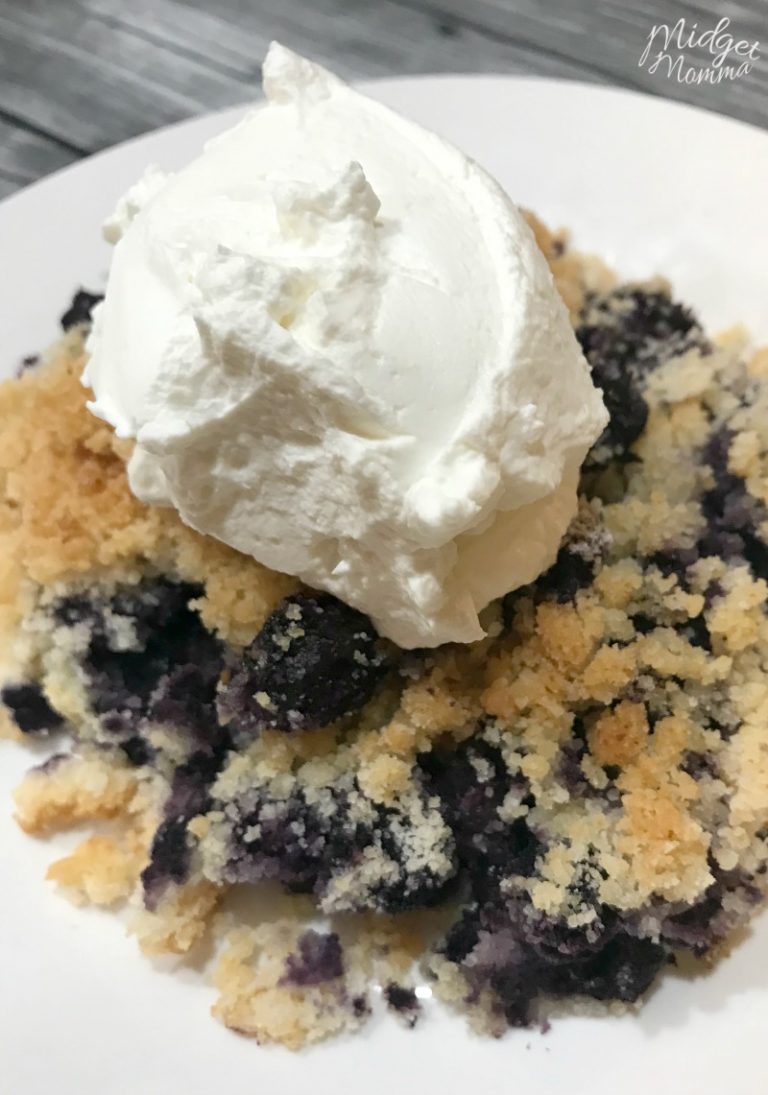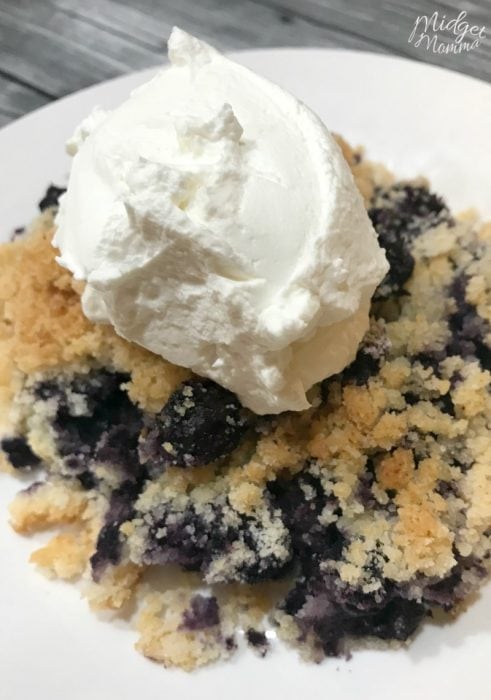 This very tasty keto friendly blueberry dessert was devoured by my kids. To be honest I was quite sad that they loved this keto blueberry cobbler so much because I had hoped there would be some for me to enjoy the next day too. Sadly that didn't happen because this easy blueberry cobbler was gone before I realized it!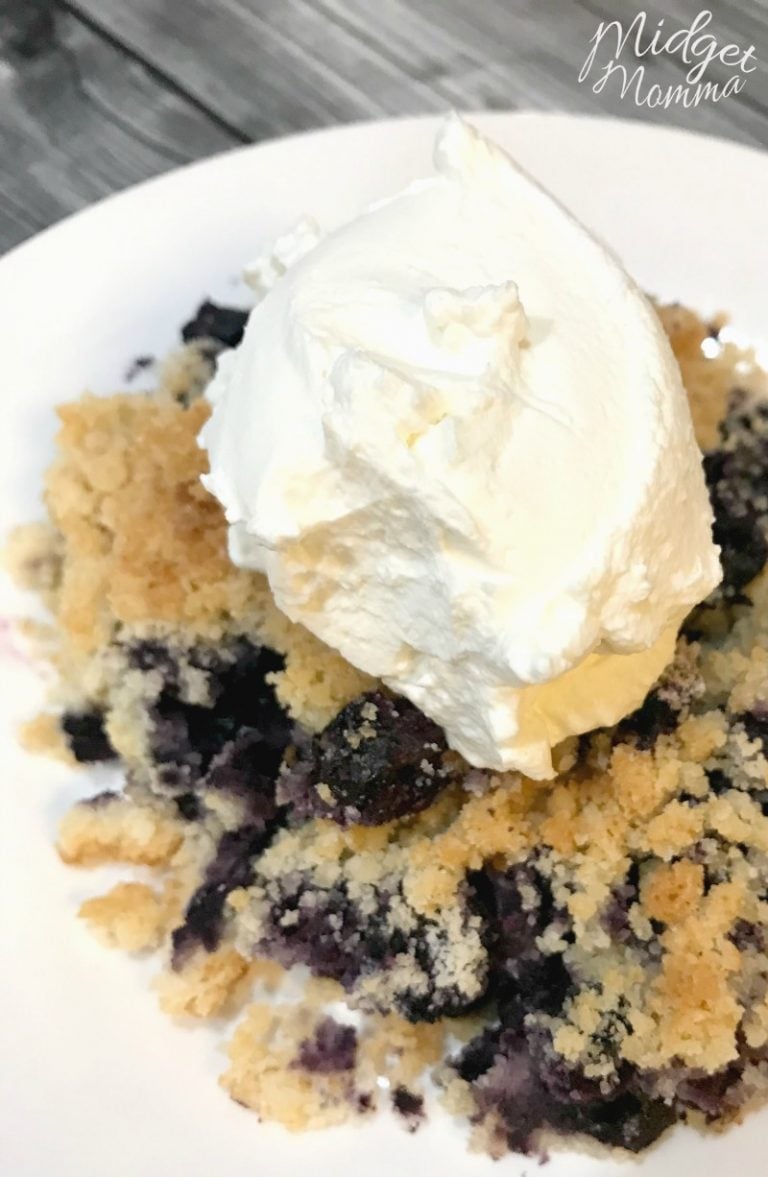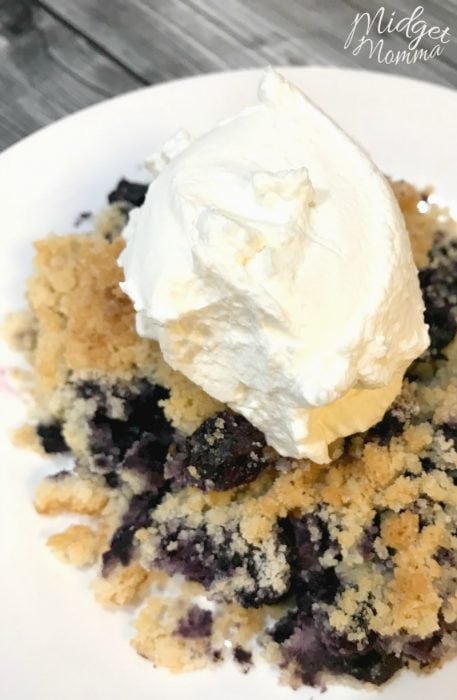 If you are eating keto blueberries are a great fruit option because the net carbs in blueberries is low compared to other fruits. This keto dessert recipe uses almond flour, swerve and butter to make the tasty crumb topping.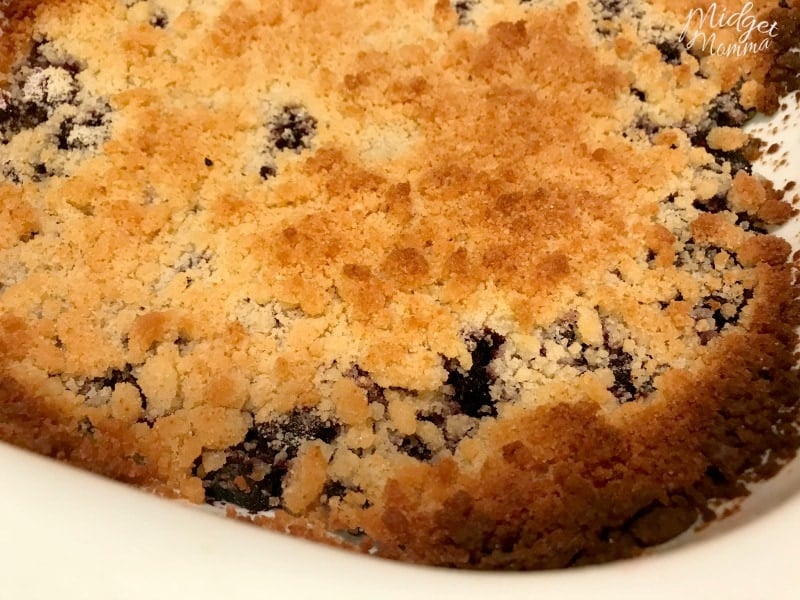 When making the crumb topping you want to have your butter be room temperature, but not melted. When you are done making the crumb topping for this easy blueberry cobbler dessert it should look like the photo below.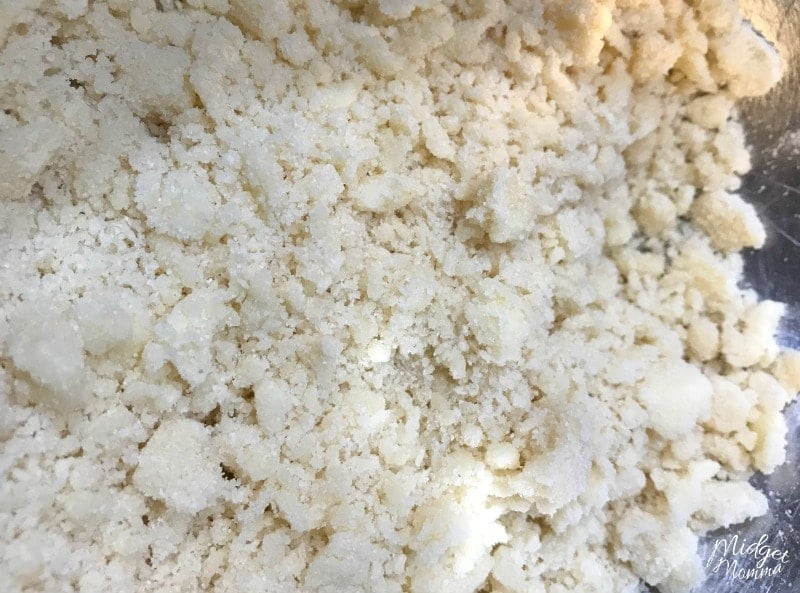 While I used defrosted blueberries you can totally make this keto blueberry recipe with frozen blueberries too!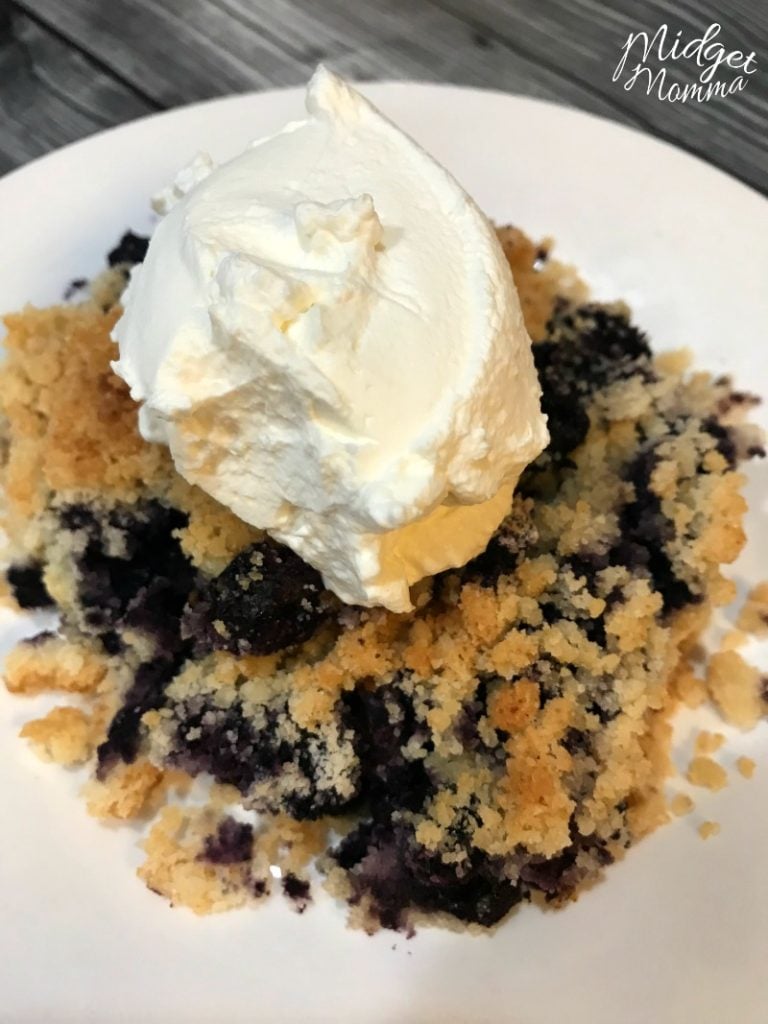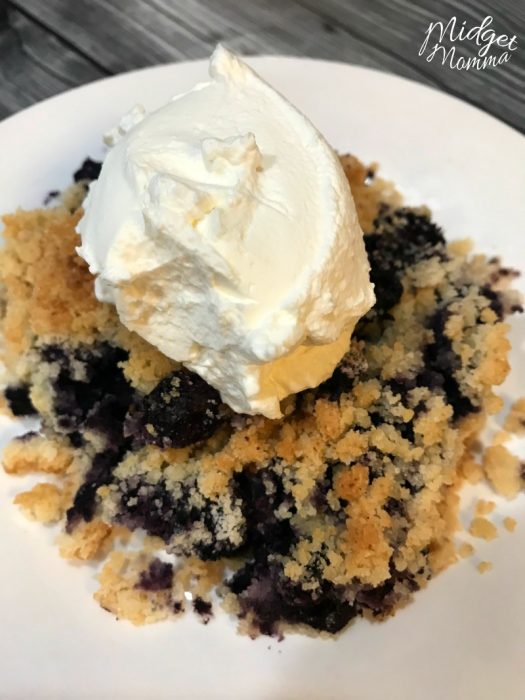 We made homemade whipped cream to put on top of this low carb blueberry treat, but a I think it would also be amazing with a homemade keto ice cream on top too. (Which is one of the next things I am working on creating. 😉 ).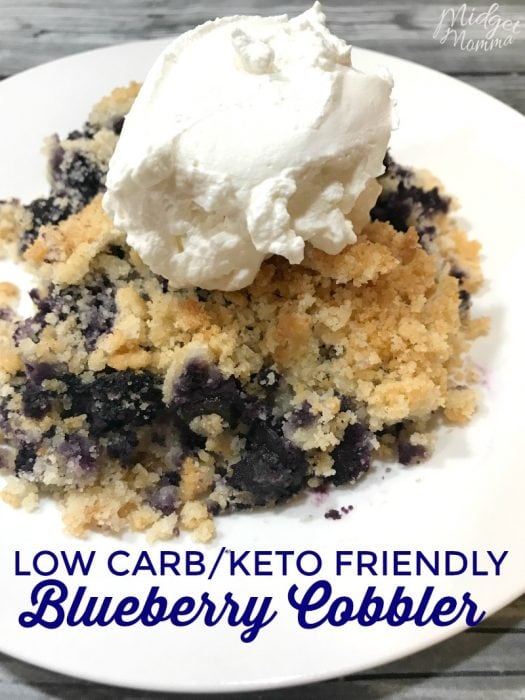 How to make Low Carb Blueberry Cobbler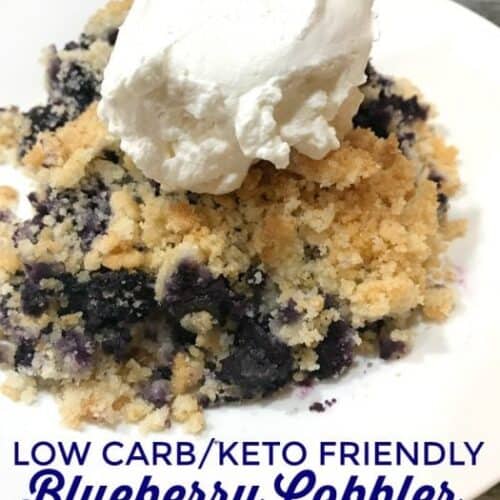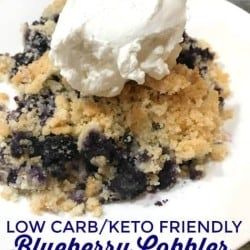 Low Carb Blueberry Cobbler
Servings
This Low Carb Blueberry Cobbler is simple to make and a great Keto dessert. Topped with homemade whipped cream while still warm this easy blueberry cobbler recipe will be devoured by everyone.
Instructions
In a small bowl add butter sliced into pieces, 2/3 cup almond flour, 1/3 cup swerve, salt and baking powder. Mix until you have a crumble. This is best done using a fork and smashing the butter chunks into the flour.

In a second bowl mix 3 cups of blueberries, 1 tablespoon almond flour and 1/2 teaspoon Xanthan gum to coat bluberries.

In a small baking dish, spray non stick spray.

Pour blueberries into dish.

Top with the crumble mixture

Bake at 350 for 30 mins.
Calories: 129kcal | Carbohydrates: 11g | Protein: 2g | Fat: 9g | Saturated Fat: 6g | Cholesterol: 18mg | Sodium: 164mg | Potassium: 55mg | Fiber: 5g | Sugar: 5g | Vitamin A: 250IU | Vitamin C: 5.4mg | Calcium: 11mg | Iron: 0.4mg
Low Carb Blueberry Cobbler
Dessert
Notes
Net Carb Calculations - 11g carbs - 5g dietary fiber = 6g net carbs   Any nutritional analysis on the Site is based on an estimate, calculated by WP Recipe Maker plugin (or other third-party source) from the individual ingredients in each recipe. Variations may occur for various reasons, including product availability and food preparation. We make no representation or warranty of the accuracy of this information. This recipe is created by MidgetMomma.com. All photos are copywrite protected. Sharing this recipe with friends and on social media is encouraged, however copy/pasting any part of the recipe is prohibited. Please use the share buttons above to share with your friends.
3 Weight Watchers SmartPoints per serving on the Freestyle Program
If you are looking for awesome deals on Keto Friendly products live Swerve, Miracle Noodles, Lily's Chocolate and more then head on over here to Thrive Market! You can order all your Keto goodies online AND save 20% off your first 3 orders!
More Keto to check out:
Make sure you also check out this Keto Shopping list for Aldi! It will totally make your shopping for Keto items so much easier!