Being a parent means teaching the kiddos lots of things that they are going to need in life. If you have a pet in the house or your child wants their own pet it is important to teach children how to be responsible pet owners. Teaching kids to be responsible pet owners is important in making sure their pets are well taken care of. There are many things that go into teaching kids to be responsible pet owners.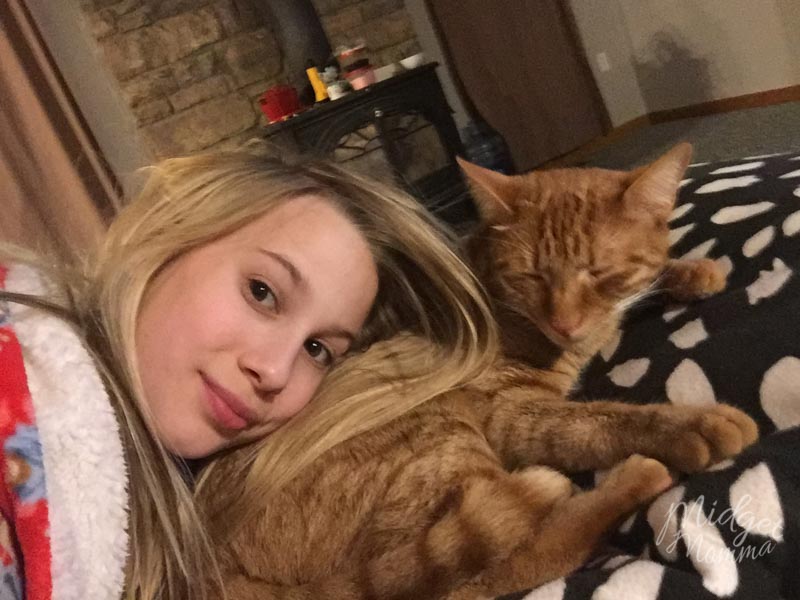 When McKenzie was 10 she started asking us for her own cat, it took until she was 11 for us to finally give the okay for her to have the responsibility of her own pet. During that time we had many talks about the responsibilities of having a pet of her own. We talked about how to care for a cat, how to care for a kitten (we covered both because at the time we didn't know how old the pet she got would be), we talked about how to feed cats, how to make sure cats are getting enough exercise, how often to clean the litter box, how often a cat needs to go to the vet, how much a cat actually costs and many other things that are important to know when being a cat owner. We went over everything that is involved in having a cat both physical responsibility and financial responsibility.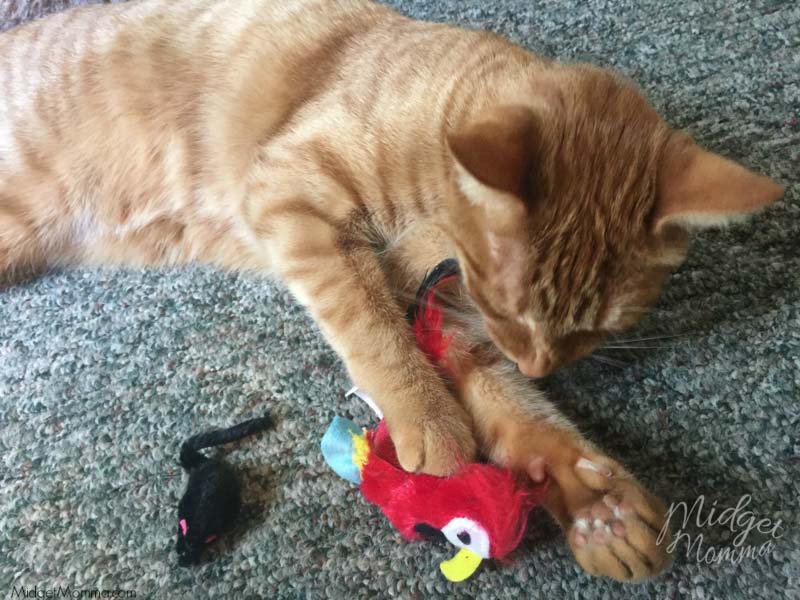 When McKenzie was 11, Tom and I allowed her to get a cat. One of my family members in-laws had a cat that just had kittens. It was the perfect timing, a few days before hand had Tom and I had discussed that it was the perfect time to start looking for a cat for McKenzie. We had discussed that we would begin the cat search soon and then found out about the kittens.
Before bringing McKenzie to meet her kitten and bring him home we had a few weeks to get everything ready for him. We talked some more with McKenzie about what her responsibilities were going to be when it came to her cat. We also discussed with her what additional things would be done by her to cover the financial portion of cat ownership. Being 11 she can't get a job so it was agreed upon that she would do extra things for Tom and I to earn the money she needed to care for her own pet. Then came the waiting game, which I am pretty sure was torture for McKenzie because she had everything set up to bring Tiger home weeks before he actually got picked up. However, there was a lot to be done before we could bring him home.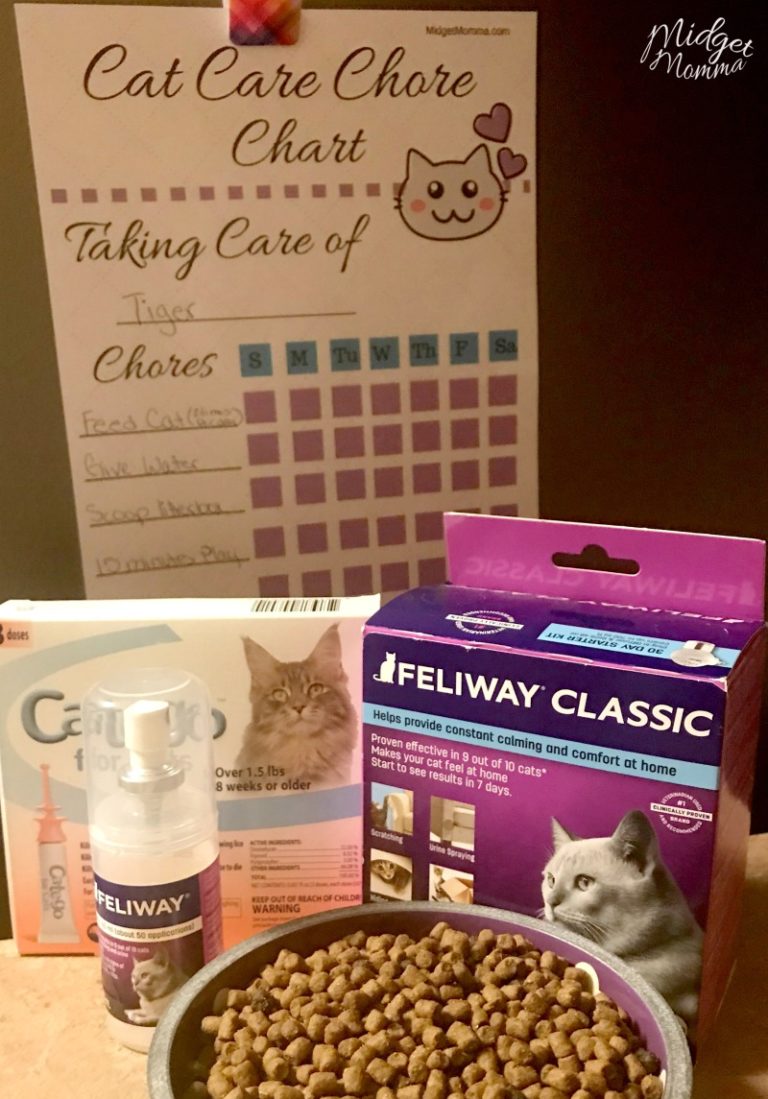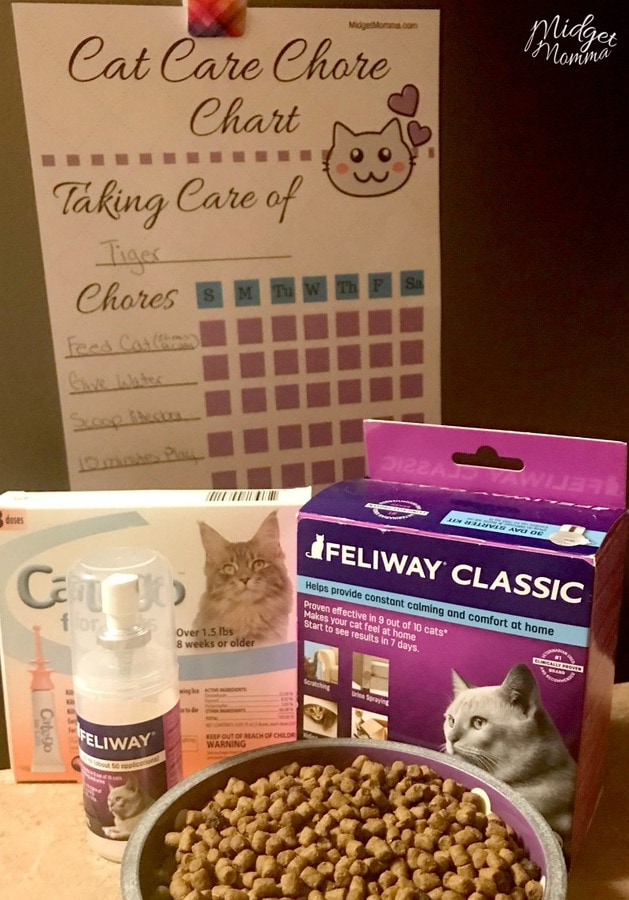 Now I know, you might not be wanting to get your child a cat of their own, but many of the same responsibilities come with any pet you are getting your child not matter what type of animal it is. I am these tips on teaching kids to be responsible pet owners will help all of you. We did make a few mistakes along the way while navigating our adventure in having our kids be a pet owner but hopefully our mistakes and tips will help you when your child gets their own pet. One of the biggest things was not having a list of her responsibilities. Getting into the swing of new habits is so much easier when you have a reminder with a list.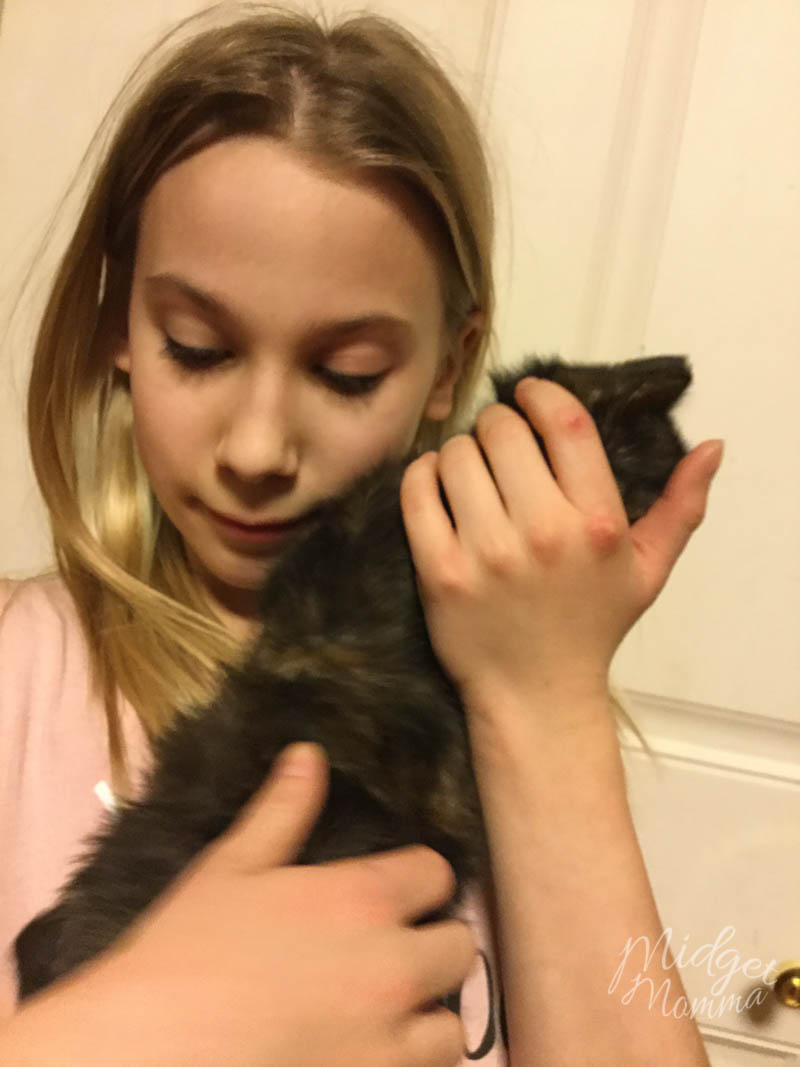 How to Teaching Kids to Be Responsible Pet Owners
1. Provide them with LOTS of information about pets and pet ownership before getting their pet. We had 2 cats already before McKenzie got her own, but if you do not have any pets then you are going to want to learn about the pet they are getting along with your child. Google will be your best friend here, there is so much information right at your finger tips and your kids, that learning about the pet they are wanting is fairly easy. I also suggest having your child learn about how to train a pet, if they are getting a dog or a cat. If your child is getting a cat then make sure you check out these helpful tips:
2.Make sure everything they need to care for their pet is on hand. Getting everything they need for their pet is important. I found that while it may have been easier to just shop on Amazon and have everything delivered McKenzie learned a lot just by walking around the pet supply store. She was able to touch and feel things, she was able to read the packages of products to learn what they were for and why she needed them. If you can, I highly suggest taking a trip to the pet supply store before getting your pet and letting your child just explore and learn hands on. Then take them back to the store to purchase their supplies later. This gives them time to let what they learned the first trip to sink in and then being able to make informed choices about what they need for their pet. If you have never had a cat before, and your child is getting a kitten, make sure you have all of the kitten supplies that you are going to need. This is a great list of things needed for a kitten that will help you to be sure you have everything you need. I also highly suggest things that you might not think about adding to your list, like FELIWAY® CLASSIC Diffuser, and FELIWAY® CLASSIC Spray.
3.Show them step by step. Depending on the age of your kiddo you will want to show them step by step how to do each task. Some kids will take a bit longer then others to fully grasp things and be able to do it on their own, however with time they will have it down and be able to do it all on their own. However things like clipping nails, changing litter boxes, putting on a leash are all things kids are going to need to know how to do if they have their own pet.
4.Be patient. Becoming a pet owner for the first time is a learning experience and kids will take a bit longer then an adult to get into the swing of things when having a pet to take care of. There will be times they forget to feed their pet in the beginning, so it is important to double check that they are doing everything that is needed. One thing I wish we had done was make a check list to make it easier for McKenzie to remember, because of this I have made a Kids Pet Chore Chart printable for you that you can print out and make your life easier.
5.Enjoy the time. This is a fun experience for everyone involved, even if it is a bit stressful when your child forgets to do something like clean the litter box. Working with your child hands on to help them learn everything that goes into caring for their new pet and the time spent with your kid during the process makes for great bonding and relationship building time between parent and child.
6. Teach them It is ok to ask for help. Part of being responsible in general is knowing when to ask for help. The same applies to kids having their own pets. There are going to be things that the kids can not do on their own while having their own pet, like driving to the vet, opening a bag of cat food or applying the Catego® For Cats, a flea and tick treatment. Teaching them to know when they need help is a very important part of being responsible.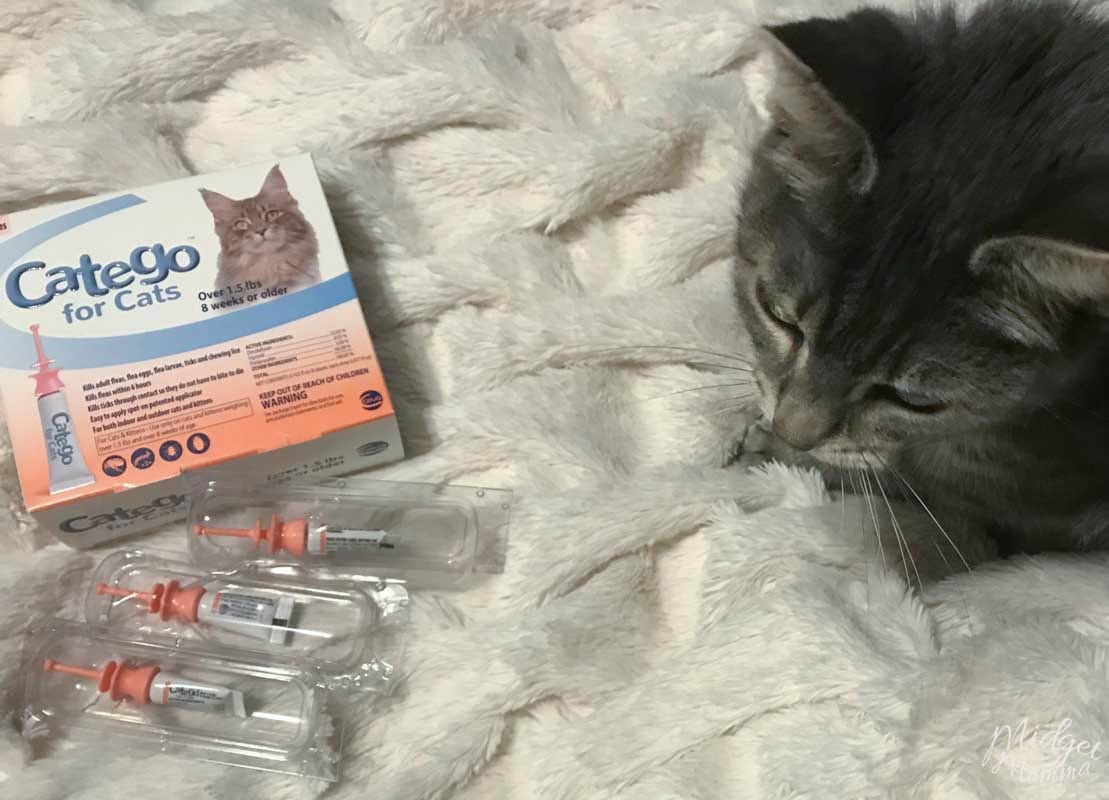 I have to mention that our favorite brand for flea and tick treatment is Catego® For Cats, and for a variety of reasons. Catego® For Cats was designed specifically for cats and only cats. It is the only product with the unique combination of these three proven active ingredients: Dinotefuran, Fipronil and Pyriproxyfen. It has a one low-volume formulation that means I can use it on all of our cats, no matter what their weight is. Since we have a wide range of sizes when it comes to our cats this is a must!
Plus is so easy to use, the applicator is quick and easy which means I am not wasting time fighting to get it open while holding a cat on my lap, who doesn't want to be there. The patented applicator makes it easy to apply and minimizes the risk of skin abrasion. None of the cats put up a fight when it is time to get their treatment.
You can find Catego® For Cats in your local PetSmart and on Amazon. For more information on Catego® For Cats products, make sure you check out their website here.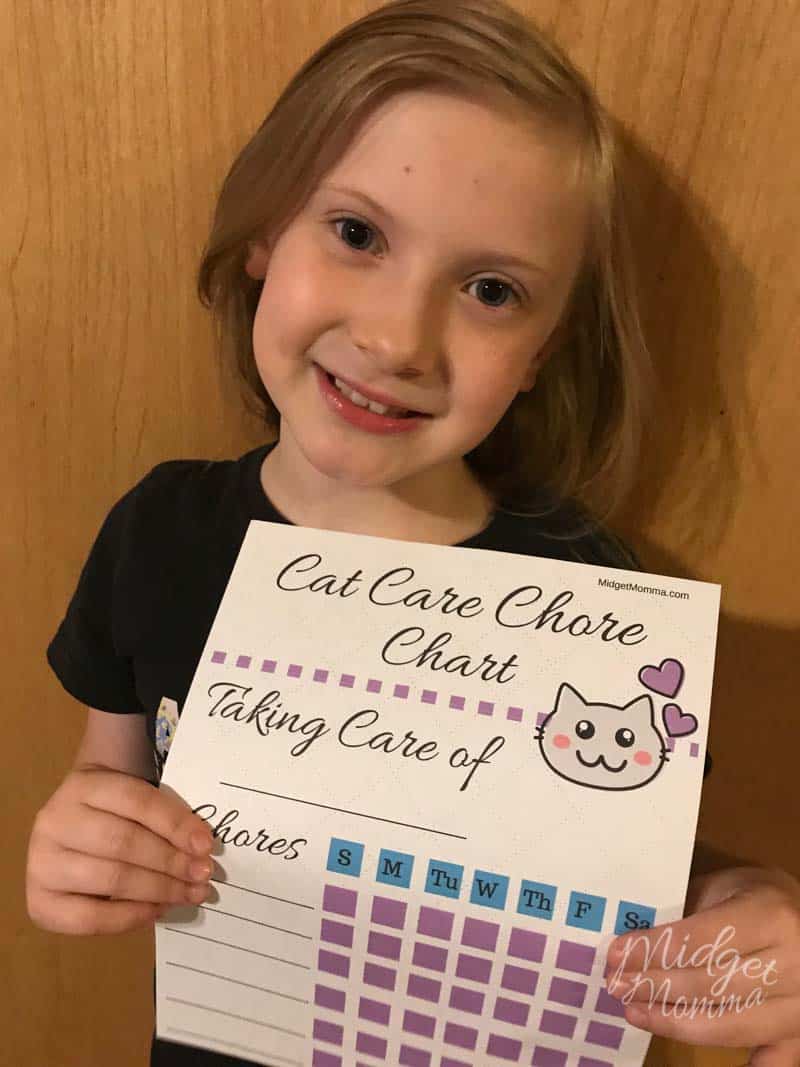 To help you with teaching your kids to be responsible pet owners here are a few printables that will help you! 
Cat Owner Monthly Checklist (to keep track of what needs to be done each month!)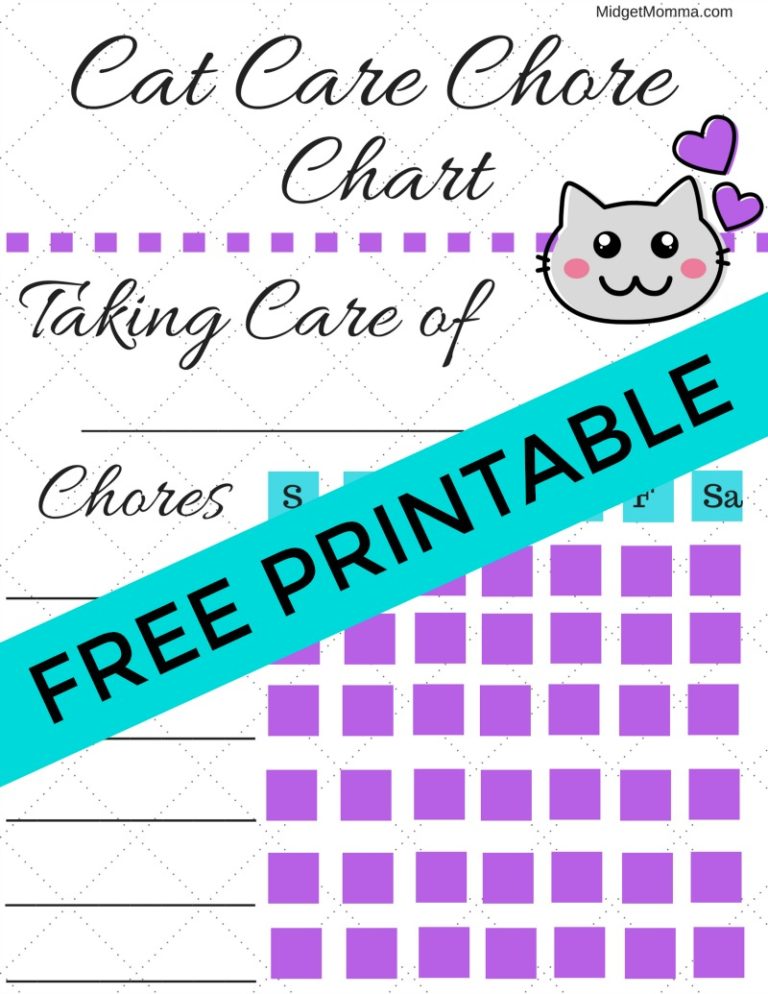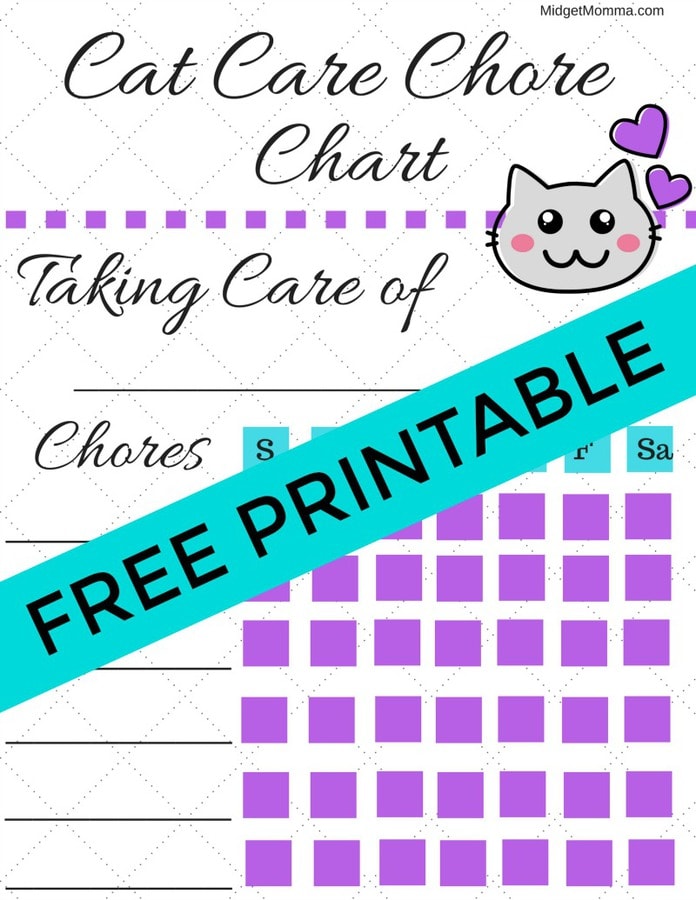 During the whole process of teaching McKenzie how to be a responsible pet owner the trick for us was consistency. At first she needed to be reminded when to feed her cat, how often to change the litter box, to make sure he had water and a few other things (which would have probably been easier if we had the Kids Pet Responsibility Chart), but with in a few months she was 100% perfect at being responsible for her cat.
I think having a pet of their own is a great way to teach kids to be responsible in general. Having a pet of their own also teaches kids to be compassionate, loving and how to enjoy the small things in life. A pet for a child gives them the same love that us adults get from our pets and it also gives them a look into what it is like to be responsible for another living thing.
Disclaimer: This post is sponsored by Catego® For Cats. All opinions are 100% my own.