I love all things bright and colorful. I also love things that are super tasty too! You may or may not have noticed yet or not but we love bright colors and tasty treats around here and unicorn anything fits that bill perfectly! That is why this Unicorn Bark is such a fun treat to make.
Having fun with food that will make the kids happy is on the top of my list when I am making kid friendly foods, especially if I am making it for a party.
After making our amazing unicorn poop cupcakes, Magical Unicorn Cotton Candy drinks and Edible Unicorn Poop slime we couldn't let the fun stop there. That is why we made this amazing Unicorn Poop Bark Candy!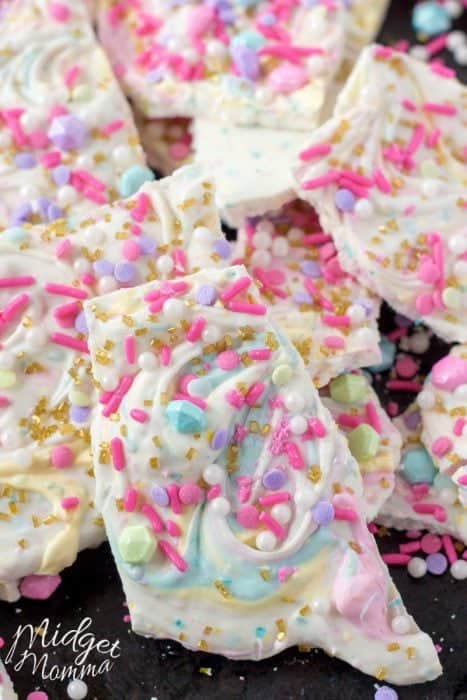 We love bark in our house, and this Unicorn Poop Bark might just be our favorite so far. The combination of chocolate or candy with tasty treats mixed in it is just so easy and so much fun to make! Plus after you are done you have this Unicorn bark, that is one amazing and tasty treat!
Unicorn bark has to have magic in it, which is why I prefer to use the wiltons colorburst pastel candy melts, if you can not find them you can substitute with white candy melts. The great things about the colorburst pastel candy melts is that the sprinkles don't melt when you melt the chocolate!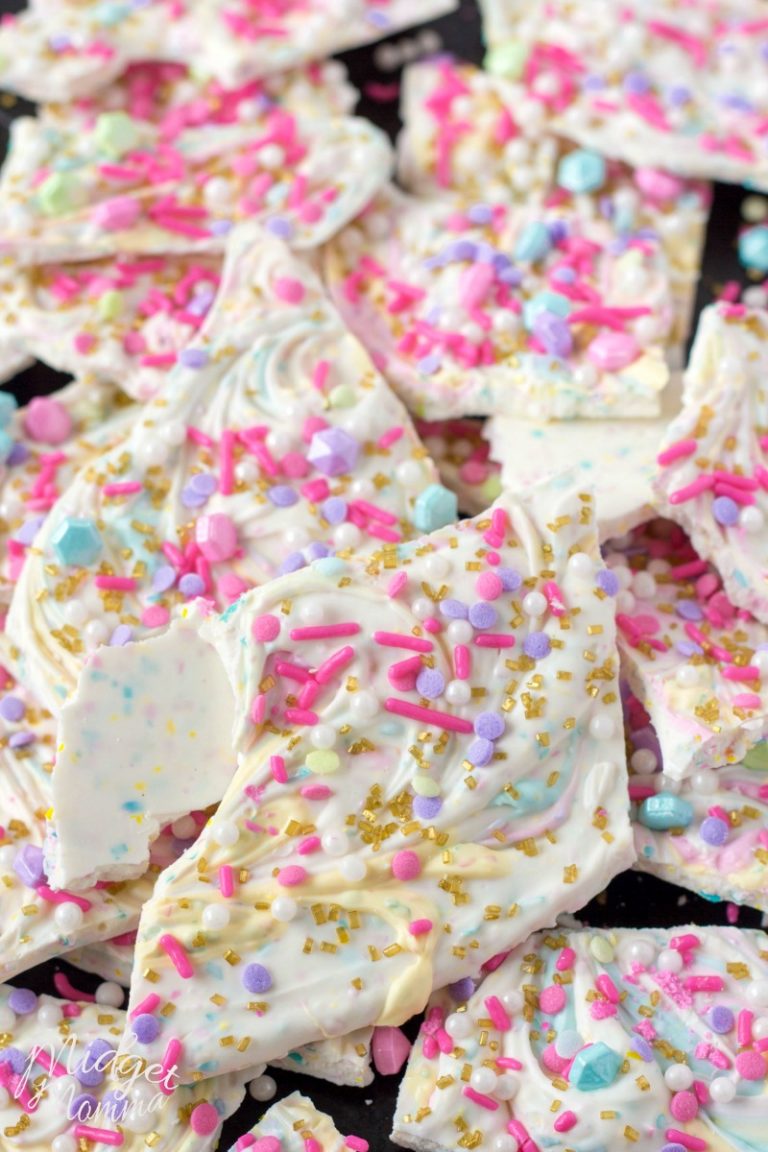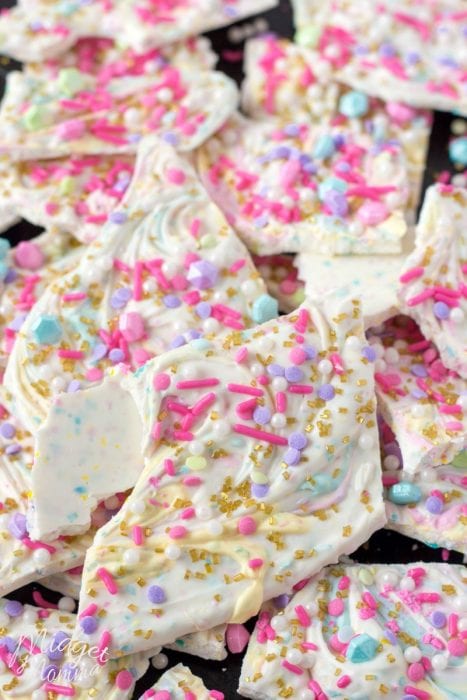 For the sprinkles I used these Diamond Medley sprinkles but if you can not find them then these, these, these or these would work too.
For the magical colors I use candy color oil, you get a smooth color streaked through out the melted candy melts. You are going to want pastel color and primary color oil candy color when making this Unicorn Poop Candy.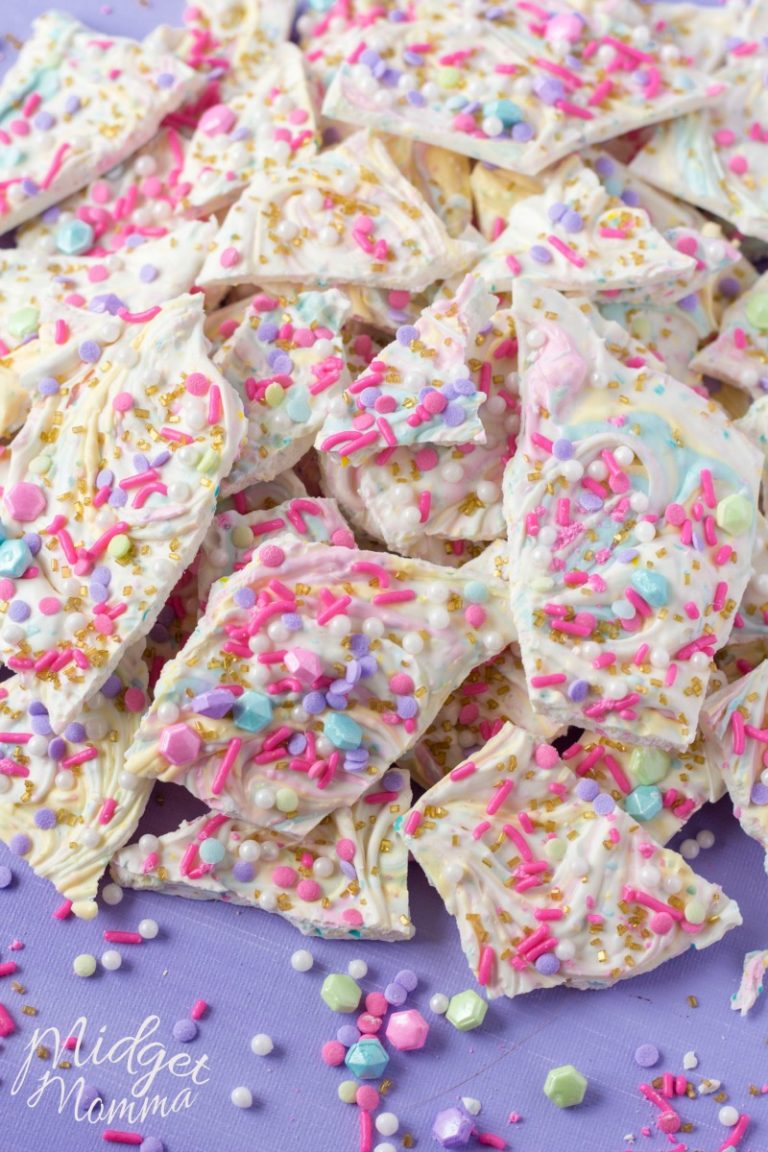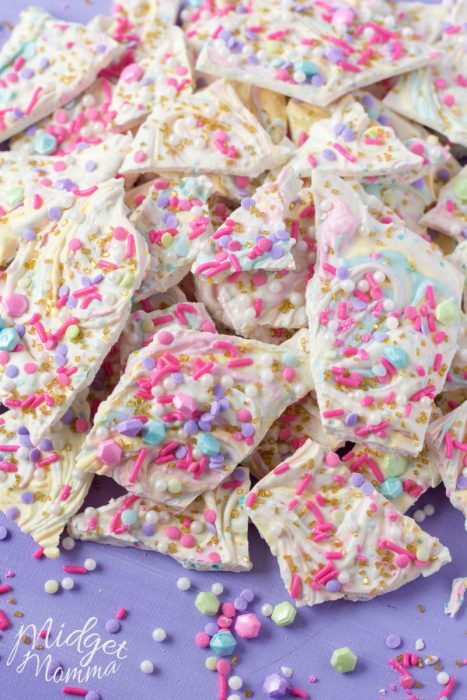 Melting chocolate and candy melts is not hard to do, you can use the microwave however I am not a fan of doing it that way. I find the chocolate and candy melts much better when you use a double boiler. If you have never done it this way, check out how to melt chocolate in a double boiler.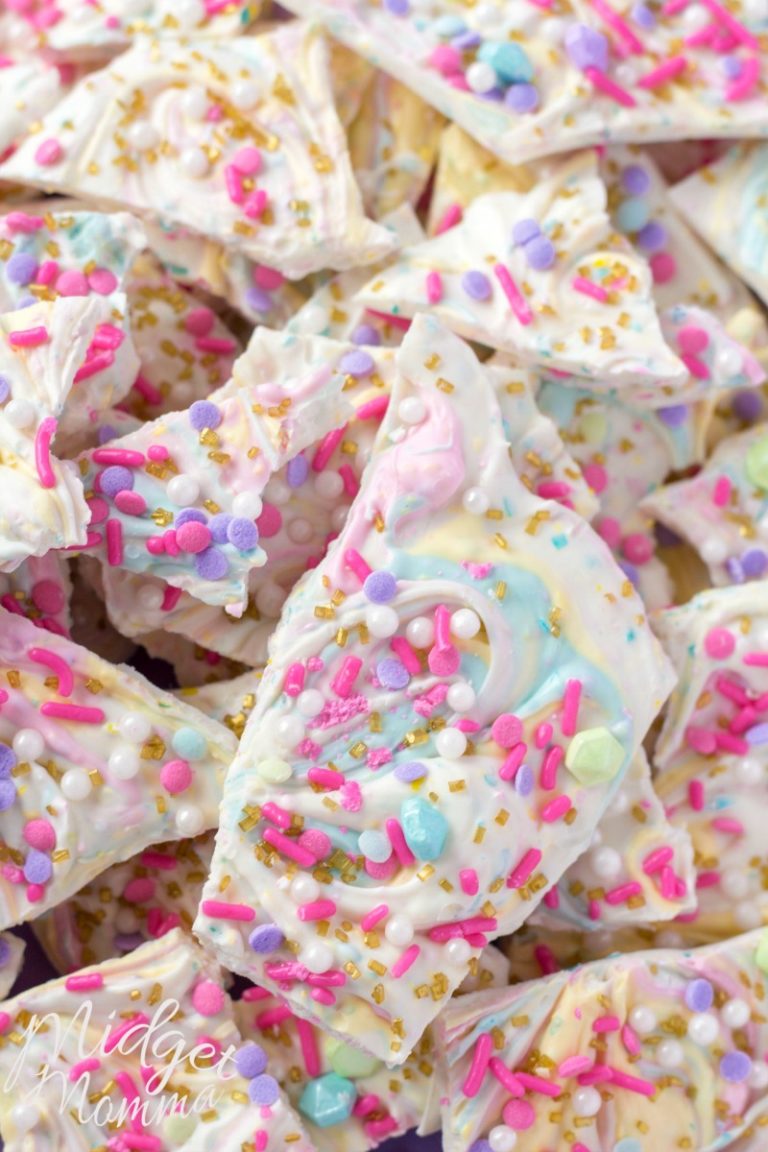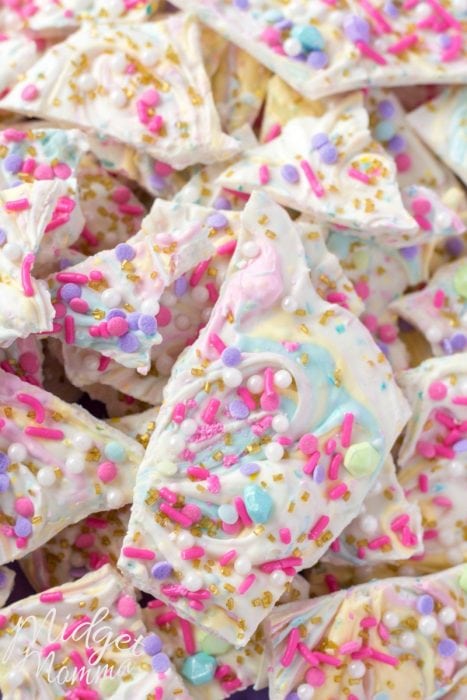 Unicorn Poop Bark Candy
To Make Unicorn Poop Bark candy you are going to need some supplies. Gather all of your supplies before getting started, so you are not running around the kitchen trying to find things as you are making your Unicorn bark.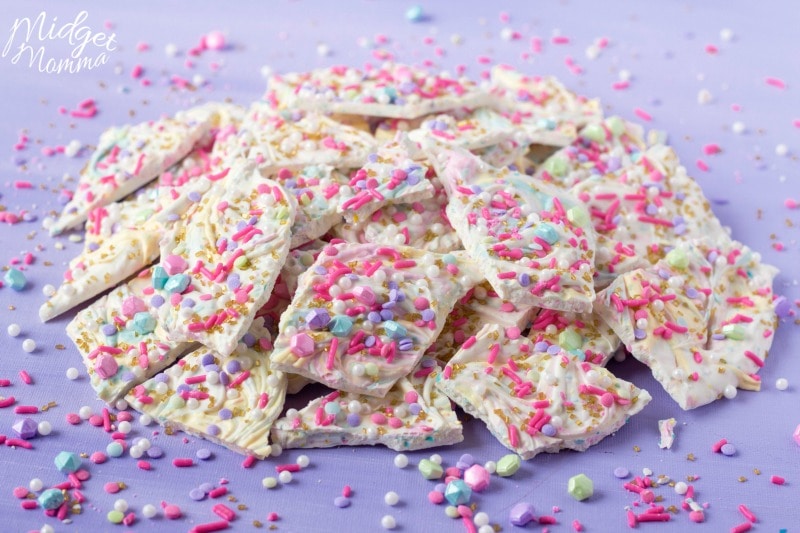 Unicorn Poop Bark Supplies
parchment paper or silicone baking mat – I prefer the silicone baking mats over the parchment paper.
sheet pan
heatproof bowl
3 mixing bowls
toothpicks
How to Make Unicorn Poop Bark Candy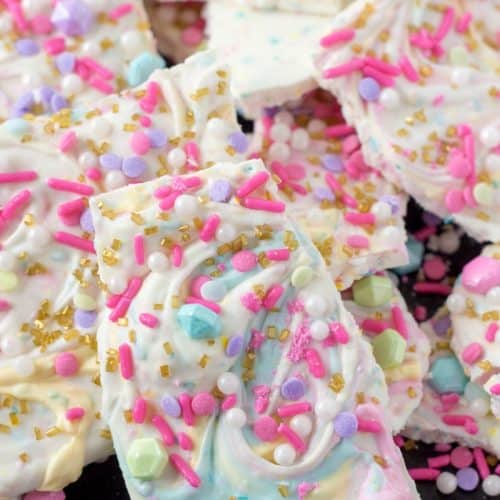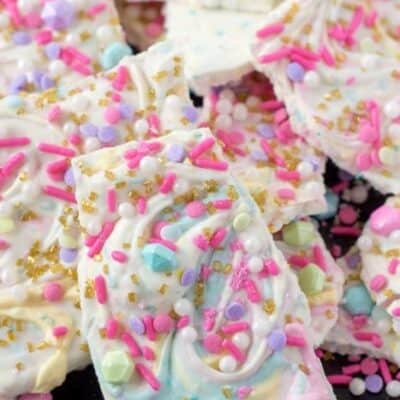 Unicorn Poop Bark
This amazing Unicorn Poop Bark is a must have at any Unicorn party or just because you want a magical treat. Melted candy melts with amazing magical sprinkles makes this an awesome Unicorn candy treat!
Print
Pin
Rate
Servings: 15
Instructions
Line your sheet pan with your parchment paper or silicone mat, set aside.

Carefully melt your chocolate over a double boiler.

Scoop 1/2 cup of the melted chocolate into the three mixing bowls.

Using the candy colors dye one bowl pink, one bowl yellow and one bowl blue.

Spread the remainder of the white chocolate onto your sheet pan and spread it evenly. Drizzle the pink, yellow and blue chocolate over the top of the white chocolate, with your toothpick make circles in the chocolate to create a marbled effect to the chocolate. Sprinkle the top with your sprinkles.

Place the sheet pan in your freezer for 10 minutes.

Once the chocolate has set you can break the bark into smaller pieces.

Store in an airtight container away from direct sun.
Nutrition
Calories: 83kcal | Carbohydrates: 10g | Fat: 4g | Saturated Fat: 4g | Sodium: 16mg | Sugar: 10g
Approximately 8 Weight Watchers SmartPoints per serving on the Freestyle Program.
Make sure you also check out the Edible Unicorn Poop slime ! It is so much fun to make and play with!