Homemade Tartar Sauce Recipe
This Homemade Tartar Sauce Recipe is super easy to make and tastes awesome too! Tarter sauce is one thing I no longer buy premade in a bottle, after making it myself a few years ago I now make my own. You can also easily find the ingredients at home in your pantry and they are often on sale and you can get them for cheap using coupons too.
This is also a recipe that is easy for the kids to help out with and to help get the kids interested in cooking. My 8 year old knows this recipe by heart now and can make it easily. She enjoys being able to help out in the kitchen and do things on her own so this recipe is great for her.
We use it with fish, shrimp and clams and the kids love it 🙂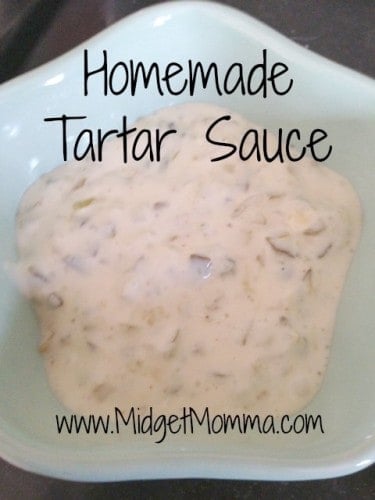 Don't forget to "Pin it"
All you need is 3 simple ingredients to make this yummy recipe!
Ingredients for Homemade Tarter Sauce Recipe:
1/4 mayo
1/4 cup pickle relish
dash of chili powder
Directions for Homemade Tarter Sauce Recipe:
In a bowl mix all ingredients
Enjoy!