If you have a Cinemark Theater near you then you do not want to miss the Cinemark Summer Movies! You will be able to see movies for just 50¢ per person!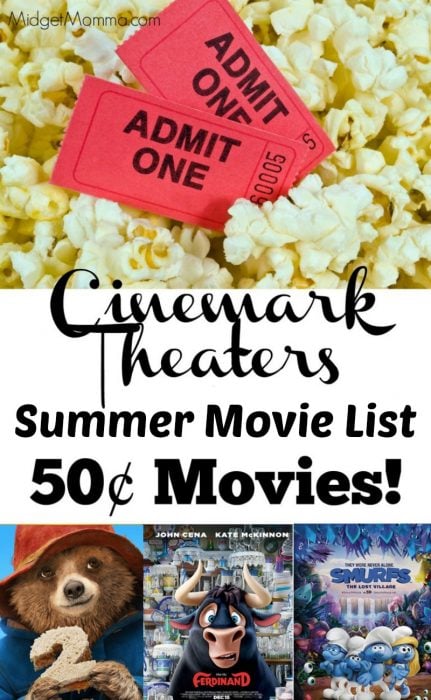 I don't know about you guys but I am excited to have fun, and relax with the kids. One of my FAVORITE things is cheap movies!!! We love going to see new movies, but really we love going to the movies in general. Secretly I think the kids like going to the movies just for the popcorn sometimes LOL. But it is a really fun thing to do and to get out of the house! If you are looking for things to do with the kids on a budget check out these 9 Ways to Have Summer Fun on a Dime! Plus check out AWESOME ways to save money going to the movies for more ways to save on your movie fun!
Make sure you also check out the Regal Cinemas Summer $1 Movies if you have a theater near you for them too!
If you are looking for awesome deals all the time, family fun and more make sure you join our facebook group here ?
Cinemark Summer Movies
Starting June 11th, participating Cinemark theaters will be starting their Cinemark Summer Movie Clubhouse promotion!! You will be able to get 10 tickets to select G or PG-rated movies for ONLY $5 when purchased in advance at the Box Office!! That makes each movie only $0.50! If you would rather only purchase tickets to select shows, you will pay just $1 per ticket at the box office! Find locations near you here
Start times are between 9 and 10am depending on your theater and the movies that are scheduled change based on your theater as well. But here are the movies that will be playing during the 50¢ movie time. Just check here for your local theaters schedule but entering in your zipcode!
Cinemark Summer Movies
June 11th- Smurfs: The Lost Village – SMC
June 18th –The LEGO Ninjago Movie
June 25th – Storks
July 2 – Nut Job 2: Nutty By Nature
July 9th – My Little Pony: The Movie
July 16th –Ferdinand
July 23rd –Paddington 2
July 30th – The Emoji Movie
August 6th –The Boss Baby
August 13th –Captain Underpants: The First Epic Movie
Also don't miss the Barnes and Nobles Summer Reading program where kids can get FREE Books and the Kids bowl FREE Program – the kids can bowl for FREE all summer long! And if you are looking for more summer fun ideas Make sure you also check out the 100+ Fun things to do with kids this summer.
If you are like me and need to write things down so you remember – Erin Condren has 50% off their planners right now, and you get a FREE $10 credit making planners (the monthly ones) as low as $2.50! I keep a planner with all the dates and times of things I want to do with the kids during the summer and it really helps me to not forget to go!
Have a Harkins Theater near you? Check out the Harkins Movies Summer Movies! You can see movies for less then $1!
Want to get crafty? Make some homemade playdough!
Join the newsletter
Subscribe to get our latest content by email.