The Disney Skyliner is the newest transportation system at Walt Disney World Resort. It's a great alternative to the busses or monorail that has a really cool view of Disney World from above. This post will tell you everything you need to know about the new Disney gondolas. How to use the Disney Skyliner, where you can find the Disney Skyliner, where the Disney Skyliner takes you and more!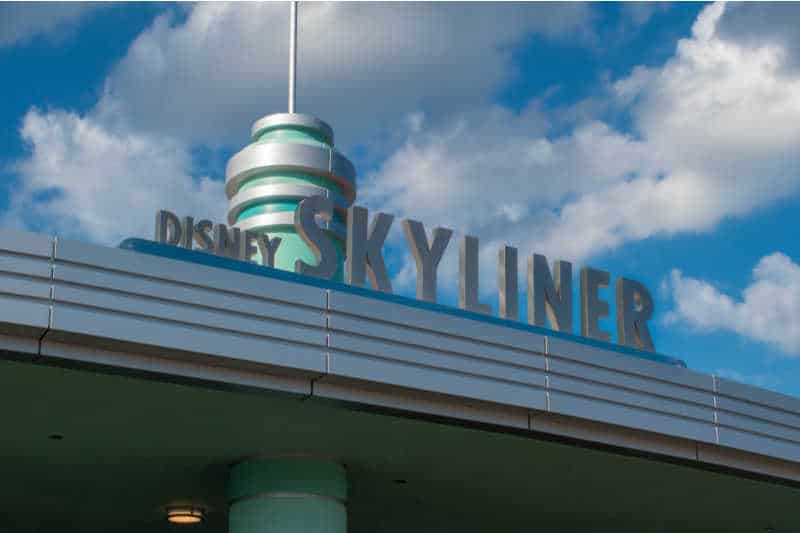 How to Ride the Disney World Skyliner
The Skyliner is a gondola system that will connect Epcot, Disney's Hollywood Studios and the International Gateway at Epcot. It will have 11 stations and three routes with six stops each between them. The fastest route takes 12 minutes to complete one round trip from end to end.
In this blog post we're going to share what you need to know to make your ride on the Disney Skyliner a smooth one.
What is the Disney Skyliner?
This gondola system features both a monorail-style and skyway type of experience. It connects Epcot, Hollywood Studios and Caribbean Beach to the Art of Animation, Pop Century and Riviera Resort hotels. One of the best things about this is that there are no worries about traffic!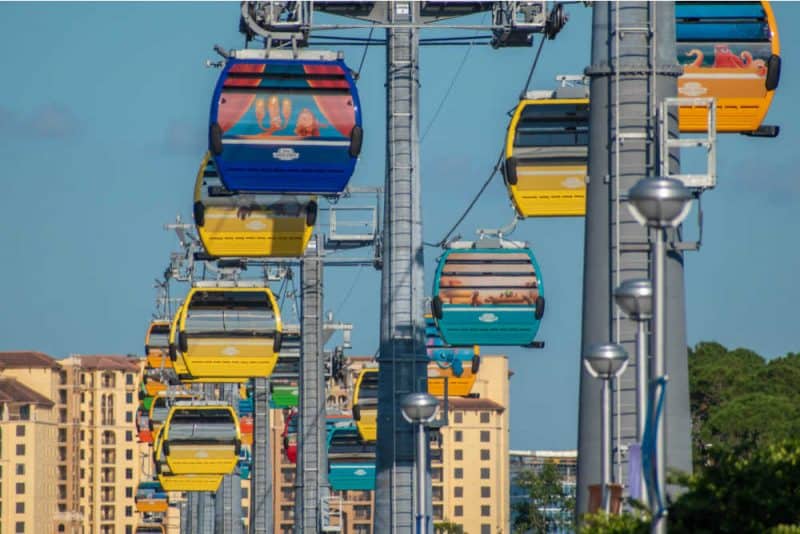 Can anyone ride the Disney Skyliner?
Yes, the Disney Skyliner is a family-friendly means of transportation for all ages and abilities. Each gondola cabin can hold up to 10 guests, or up to 6 if there is a wheelchair or stroller in your travel party.
Can you ride for free?
Like all Walt Disney World transportation, there is no charge for guests to use the Skyliner while at the parks and hotels. You don't even have to be staying on property to use the aerial tram system.
Where does the Skyliner go?
The Skyliner transportation system connects two Disney World parks and 4 resorts. The locations that have access to the gondola-like cabins are Epcot, Disney's Hollywood Studios, Pop Century, Art of Animation, Caribbean Beach, and the Riviera resort.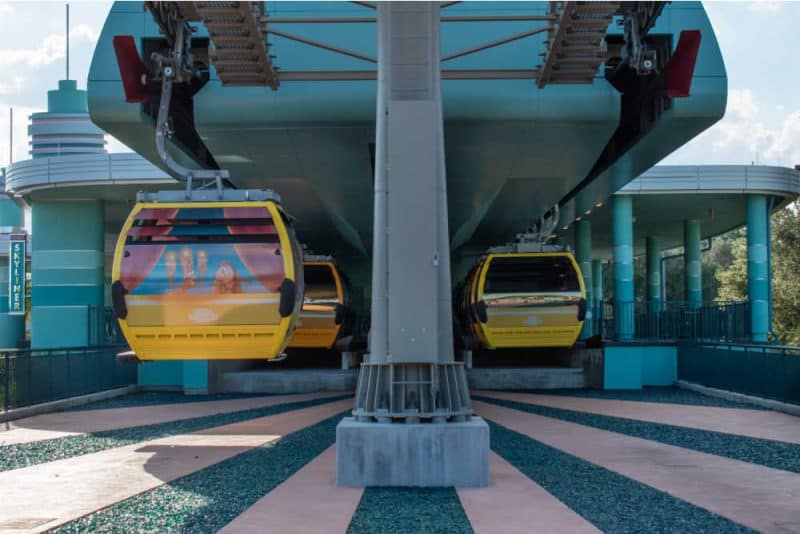 How does the Disney Skyliner work?
The Skyliner gondolas don't stop and will keep moving as they enter and exit the station; this is different from other Disney transportation. The system is similar to several Disney attractions like Under the Seas: The Journey of the Little Mermaid or The Seas with Nemo and Friends.
The Disney Skyliner cabins provide enough space for mobility aids and small strollers between the two benches.
For those with wheelchairs or assisted devices, there are separate queues at each station where an alternate gondola can help people make it onto a carriage. Larger strollers are also accommodated in the wheelchair queue. This allows for continuous operation of the Skyliner system regardless of individual delays.
When do the gondolas run?
The operating hours for the Skyliner gondolas vary depending on what time the park is opening and closing, but you can typically find them starting from as early as 7:30 am and going until 10 or 11 p.m.
How long will the Disney Skyliner take?
Depending on how far you're traveling and your route, riding the Disney Skyliner is expected to take anywhere from 5 minutes to 15 minutes.
The Disney Skyliner is a great alternative way to get around Walt Disney World. Because it is faster than the ferryboats and busses, you get some extra time in the parks to ride your favorite attraction one last time.
It also means you don't have to stress about how long it will take to get to rope drop so you can spend more time in your hotel room relaxing in the mornings or winding down at the end of a long park day.
With no worries about long lines or having to wait for the next bus, the Disney Skyliner is the ultimate way to experience Walt Disney World on your next vacation.
Our recommendation is to ride it at least once on your trip, even if you're not staying at a Skyliner resort. You just might find your family enjoys it more than a ride on the monorail!
Disney Tips For Planning your Trip to Disney World
Join the newsletter
Subscribe to get our latest recipes right in your inbox every time we post a new one!