How to Freeze Homemade Applesauce (2 cooking options)
There are so many things that you can make ahead of time and then freeze that will save you a lot of money and shockingly do not take as long as you think they would to do. One of them is applesauce and you will see just how easy it is to Freeze Homemade Applesauce.
When it comes time for apples to be crazy cheap at the You Pick Farms the kids and I head on out, pick 50-100 pounds of apples (which doesn't take them long either) and then we get cooking. One of our main things to make is applesauce. There are two different ways that you we make it before freezing homemade applesauce, all depending on the time I have, you can choose to use the crockpot Applesauce recipe method or the stovetop homemade applesauce method. Both are amazing, one you have to watch the other you can set up and forget it for a few hours. However when making them leave the spices out, they lose their flavor when you freeze applesauce, so you will just add the spices in when you are going to eat it. The process of how to freeze homemade applesauce it quite simple.
How to Freeze Homemade Applesauce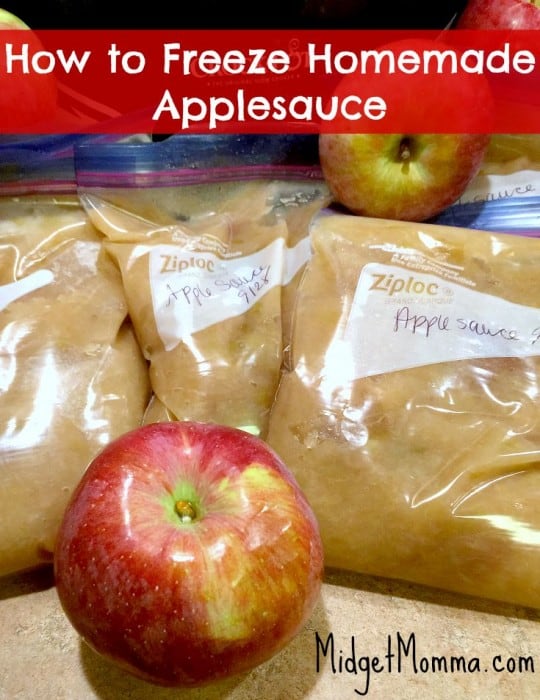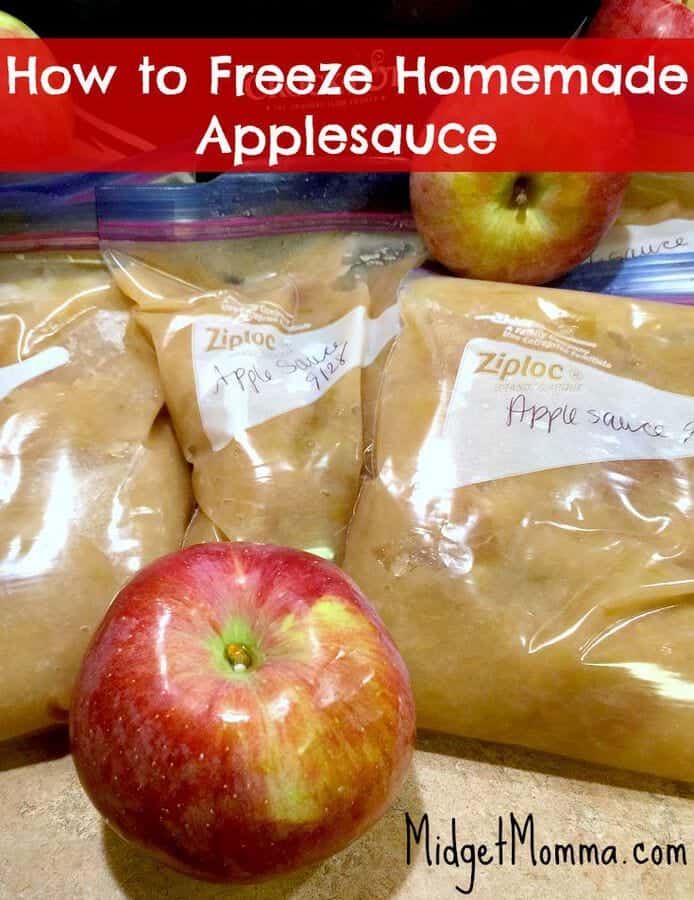 Don't forget to pin How to Freeze Homemade Applesauce on Pinterest!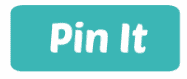 Step by step instructions on how to freeze homemade applesauce
After making your homemade applesauce let it cool to room temperature.
While your applesauce is cooling get your quart sized freezer bags and label them with homemade applesauce and the date that you are freezing your applesauce.
Once your homemade applesauce is cooled you will put it into the freezer bags. I like to portion it into two cup portions when making applesauce to put in the freezer. That is about a meals worth for us. If your house eats more or less applesauce in a meal you might want to put less in the bags. I wouldn't suggest putting more then 2 cups in each bag when freezing applesauce because it does expand in the freezer.
Make sure you squeeze out any air that is in the bags, then lay them flat and smush the applesauce so the bags are flat. When you are making it so you can freeze homemade applesauce it stores better in the freezer and takes up less space when the bags are flat.
Then place your applesauce into the freezer, make sure you lay them flat so they can freeze. Once they are frozen feel free to stand the bags up and fit them where you can to make the most of your freezer space.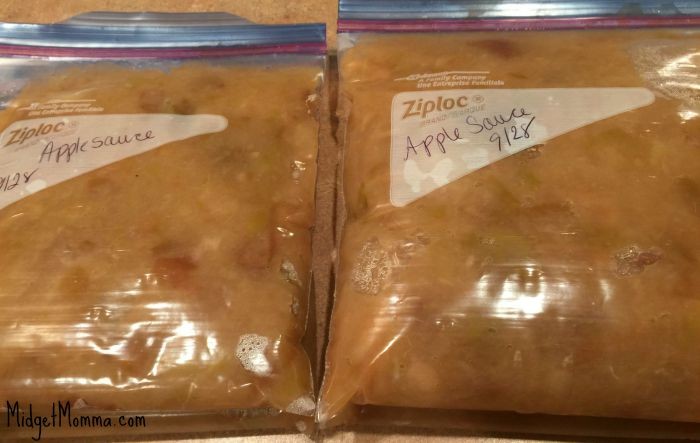 How to use Frozen Homemade Applesauce
When you are going to eat your applesauce, remove the bag from the freezer and put it in the fridge to thaw.
Once thawed pour into a bowl and add your spices if you want them and mix well.
Serve your applesauce cold or sometimes we like to heat it in the microwave and have warm applesauce.
How Long Does homemade Apple Sauce last
Applesauce in the freezer will stay fresh for 6-9 months, if you are using a deep freezer it will last for about a year.
Join the newsletter
Subscribe to get our latest content by email.
This post may contain affiliate links. Please read my disclosure policy here