Mickey Mouse Rice Krispie Treats are an easy Rice Krispie treat recipe that looks just like Mickey Mouse!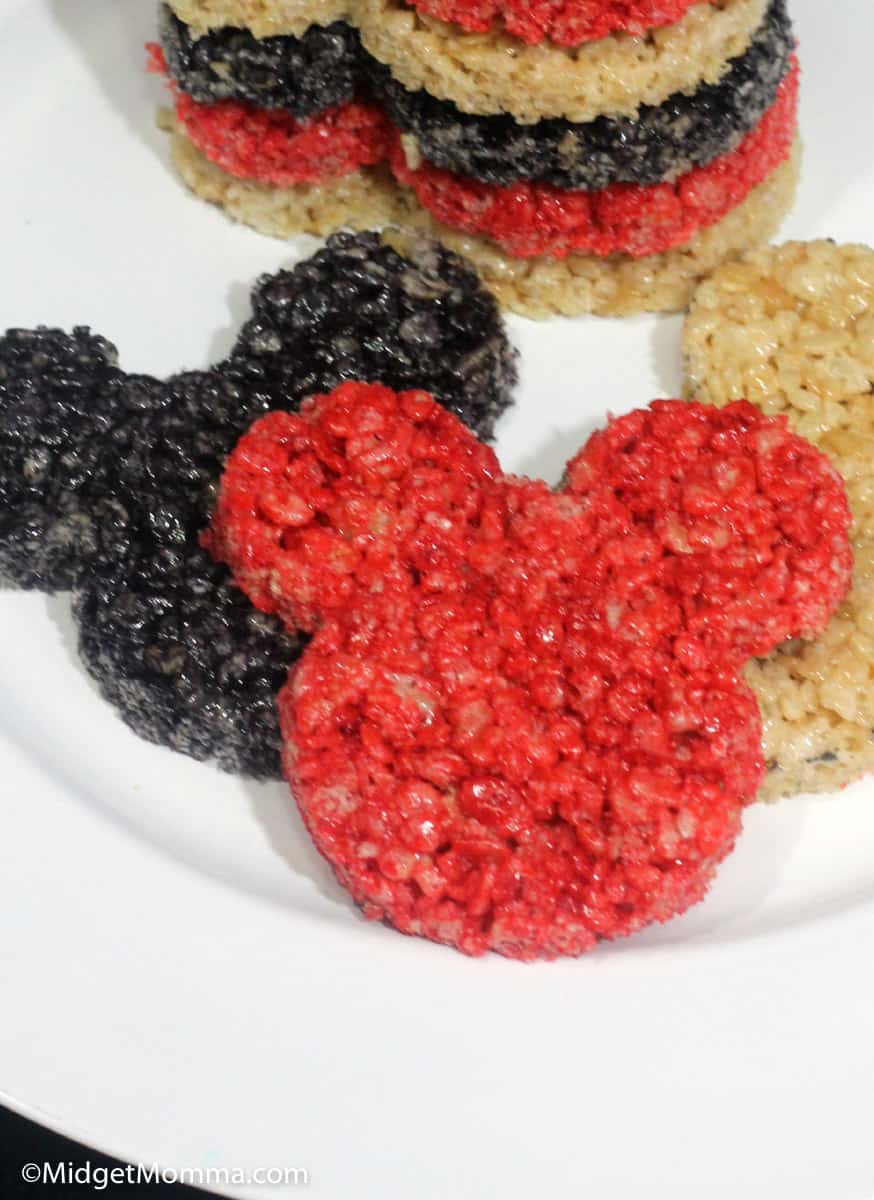 Mickey Mouse Rice Krispie Treats
Having a party that is all things Mickey Mouse? If so then this Mickey Mouse Rice Krispies Treat recipe is going to be perfect! Not only are they easy to make but they are a fun themed treat that is also a very well known and loved treat, the rice Krispie treat.
Using gel food coloring you easily dye the marshmallow mixture to make them the awesome colors of Mickey Mouse. Then using a cookie cutter it is super easy to make them in the shape of Mickey Mouse. I personally like this Mickey Mouse cookie cutter.
For More Mickey Mouse themed snacks check out these!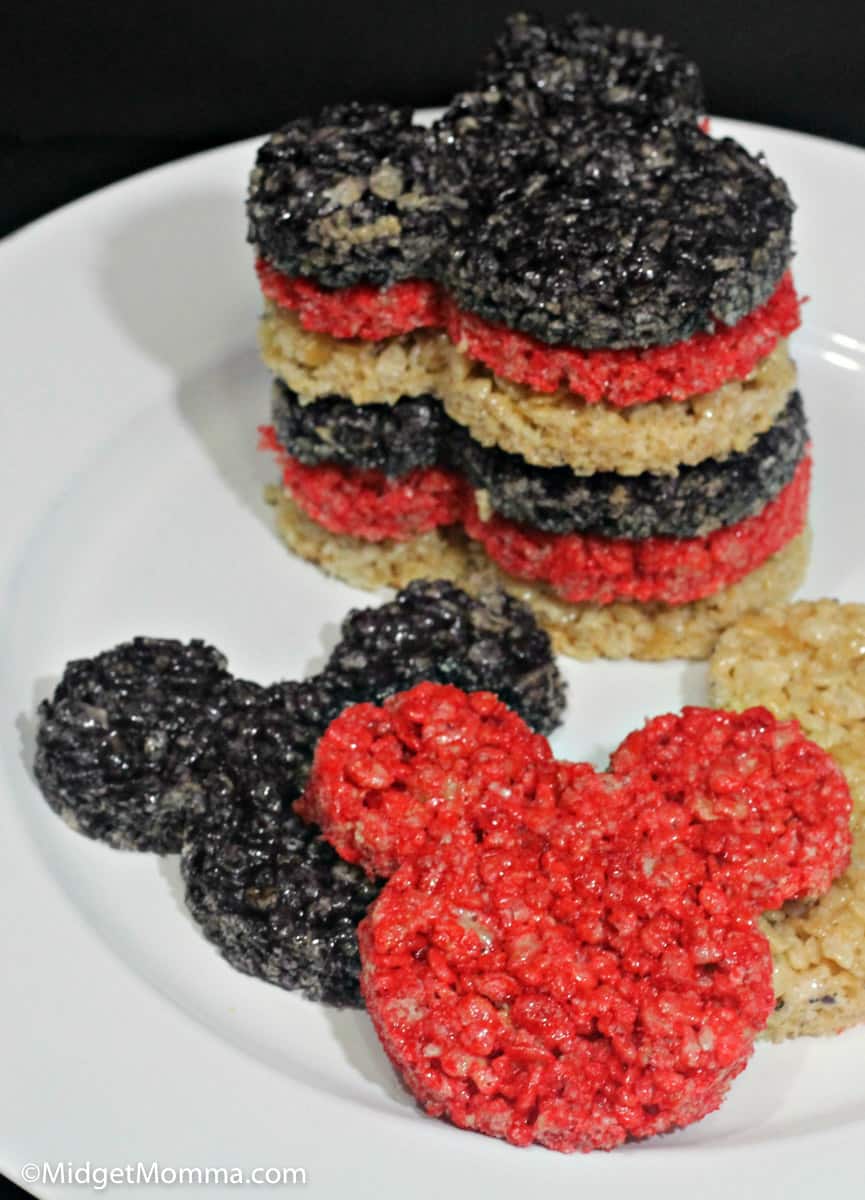 Tips for Making Rice Krispie Treats
Prevent Sticking. I use nonstick baking spray to grease my baking dishes and the mickey mouse cookie cutter.
Do not pack rice krispie treats mixture in to the pan. To achieve soft, and chewy while being crispy marshmallow rice krispie treats you want to be gentle when pressing the mixture into your cookie sheet pans.
Use a silicone spatula. I find it best to use a silicone spatula or spoon and spray it generously with non stick spray. Then I gently spread with out pushing down hard, the cereal and marshmallow mixture into my baking dish. This gives the perfect rice krispie treats with out them being hard.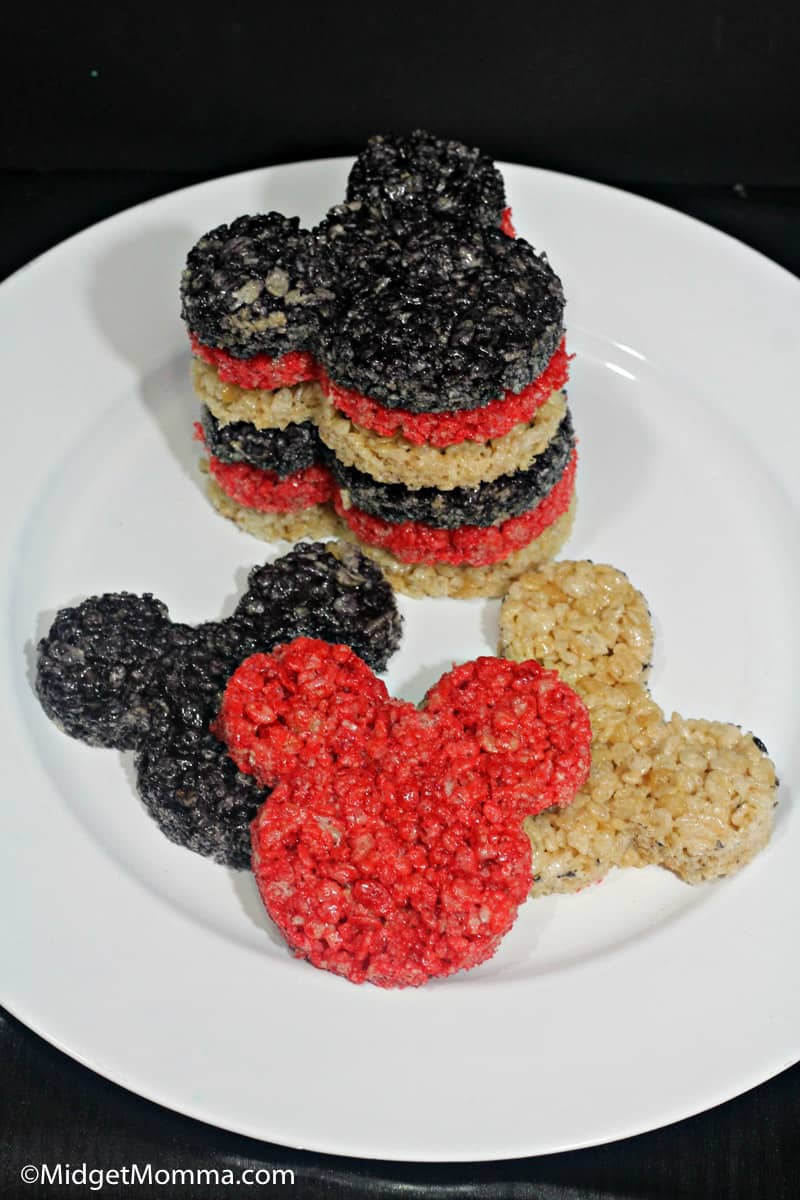 Mickey Mouse Rice Krispie Treats Ingredients
3 tablespoons butter
10 ounces  Marshmallows
6 Cups  Rice Krispies cereal
Red & black gel food coloring
Baking spray
How to Make Mickey Mouse Rice Krispie Treats
Get a large pot and heat your stove on low heat. Melt the butter. Once the butter is melted add in the marshmallows and stir until they are melted. Once melted remove from heat.
Split the mixture into 2 bowls. In bowl #1 add several drops of red gel food coloring and stir well. In bowl #2 add several drops of black gel food coloring. Mix them well and quick so the marshmallow mixture does not harden.
In each bowl add 3 cups of rice krispies and stir well. You might need to use your hands to make sure that the mixture is all over the rice krispies. BUT Be VERY Careful as the mixture will be HOT!
You can skip the 2 above steps if you are wanting them to all be undyed with food coloring and just add all the cereal to the marshmallow mix.
Spray the cookie sheet with the cooking spray. and press each color of rice krispie mixture into its own cookie sheet. Allow the rice krispies to cool.
Using the Mickey Mouse Head cookie cutter begin cutting out mickey one color at a time and then place the rice krispie Mickey on a clean cookie sheet .
Set out on a colored plate for your party, or just enjoy this magical treat!
Rice Krispie Treat Recipes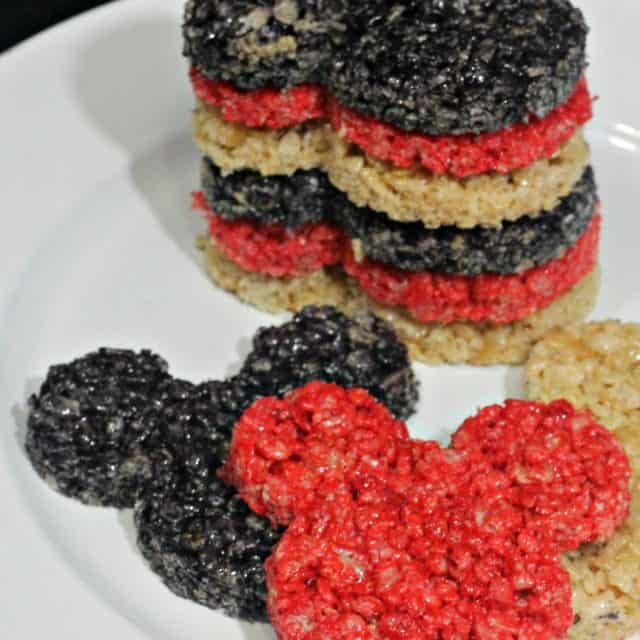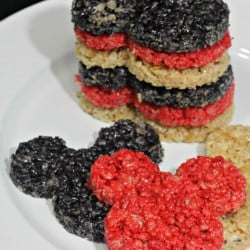 Mickey Mouse Rice Krispie Treats
Servings
Mickey Mouse Rice Krispie Treats are an easy Rice Krispie treat recipe that looks just like Mickey Mouse!
Calories: 154kcal | Carbohydrates: 31g | Protein: 1g | Fat: 3g | Saturated Fat: 2g | Trans Fat: 1g | Cholesterol: 8mg | Sodium: 118mg | Potassium: 20mg | Fiber: 1g | Sugar: 15g | Vitamin A: 1019IU | Vitamin C: 9mg | Calcium: 2mg | Iron: 4mg
Mickey Mouse Rice Krispie Treats
Dessert