No one really wants to get to it when it comes to organizing the house. I know I have been there and honestly parts of the house are still totally unorganized. However it is something that makes the house move smoother, and it is less stressful, so I am trying to get it done. I figure the rest of you are all in the same boat as me, so I figured I would share some tips with you on organizing your home. Yes I know tip number one should be kicking the kids and husbands out ;), but since we can not do that we need to work around them! These Home Organizing tips will help you keep your sanity while you are doing your organizing.
I find it best to do one room at a time. It ends up being pulled apart and things thrown everywhere, doing 1 room at a time means not so much mess and I have more concentration. If you are looking to declutter, check out these Tips for decluttering your house. 
Have a basket for items that do not belong in that room, so as you are sorting things you can just toss them in there. I like to just use a laundry basket for this.
Another thing to remember when you are starting to organize your home, get rid of stuff that you have not worn for many years. Donate items that you do not need to your local charity.
In order to be most productive I suggest finding a way to keep the husband and kids occupied, or kicking them all out of the house while you get to work. When you enter a room, lock the door this way no one can barge in and try to keep everything you are attempting to get rid of.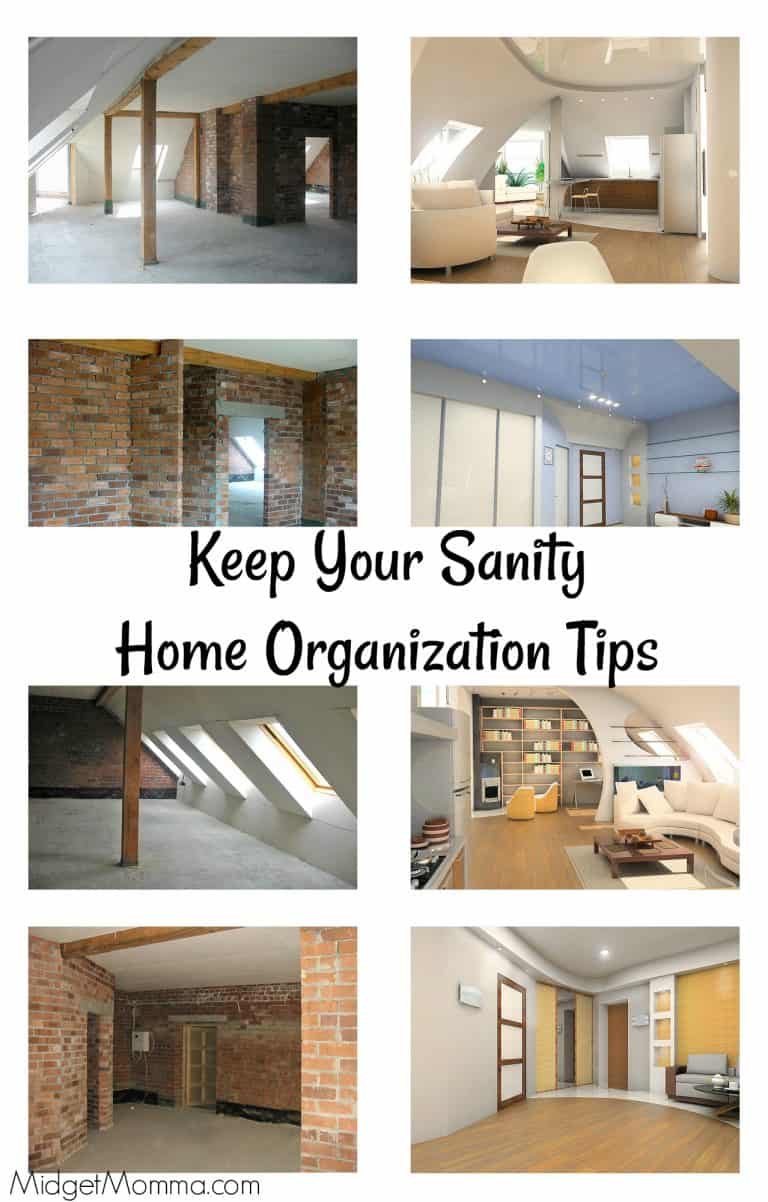 Tips for Organizing Your Home
Laundry Room Organization:
If you have a laundry room this one can be a mess really quickly. Everyone just throws the dirty stuff in the room and leaves it. Making it easy for them to put the dirty stuff in a hamper will save you lots of stress and time.
Make sure to have two laundry baskets, one for clean clothes and one for the dirty clothes.. Once the clean clothes have been taken out of the dryer, fold them and place them in one of the baskets.
Another tip on keeping the laundry room organized is to make sure that each room has its own laundry basket.
Have a shelving unit to store the laundry soap, bleach, sprays, and other laundry essentials. This will help to keep things up off of the floor. If you are like me and have a stock pile of laundry supplies having them organized also makes it easy to see how many you have and when you are running low.
Bedroom Organization:
Organizing the bedrooms with kids can be a challenge and it can take some playing around to see what works best. One thing that is a HUGE pain is kids toys. Make sure you read this post on Organizing kids toys for some tips on how to maneuver thru that mess. We all know that is one that is always a challenge.
I suggest starting with the closest and then working your way thru the rest of the room. Make sure you have trashbags with you so you can easily put items you want to get rid of in them. Then just take them out to the car to bring them to donation. However don't be like me and leave them sitting in the car for weeks because you keep forgetting to bring them to the donation place 😉
Playroom Organization:
If your kids have a playroom, the toys are a hot mess I am sure. I say that because mine is and if you are reading this post then you are trying to get rid of that mess. It is not an easy task, but my biggest tip is do it when the kids are not home. otherwise every single toy you pick up is going to be "their favorite that they can not live with out". There are some great tips for organizing the playroom, that I found really helpful
Bathroom Organization:
The bathroom is a place that is used many times a day. To keep it organized can be tough, aside from keeping the kids out of the bathroom, I suggest keeping the least amount of stuff needed in it. If you have a bathroom product stockpile, of things like toilet paper and shampoo keep that under the counter. It keeps the room looking spiffy but also makes it so you have the things you need in the bathroom. I like to use a toilet paper holder, and keep it in reach of the toilet. No one likes to have to scream for more toilet paper 😉 Plus using these tips for organizing your bathroom cabinet will help you as well.
Organizing other rooms in your home will not take a lot of time especially if everyone pitches in. Once someone uses an item from the fridge or kitchen cupboard, teach them to put it back once they have finished with it. Once they have learned how to do this, then keeping things organized will not take you much time or effort.
Living Room Organization:
If you don't use it then get rid of it or put it away. I wouldn't suggest keeping the remote in the cabinet, but things like DVDS can easily be organized and stored in your TV cabinet or a separate DVD organizer. Fold blankets and put them on the back of the couch if they are used often. You can keep them out and still have the room look nice and organized, but keeping them folded and not in piles on the couch will make a big difference.
Other Places in the home Organization:
Hall closets can be organized according to the season. Heavy coats can be put away into a box when the weather gets warmer. Overshoes and boots can be placed in a box and put away for the season, once winter has passed. Scarves, hats, mittens, and other winter outerwear can be stored on the shelf in your hall closet.
If you have closets that need to be organized, make sure you check out these closet organization tips , you will have a pretty and organized closet in no time!
I also suggest that you if you drink, you grab a bottle of wine and a wine glass to have on hand. You may get frustrated and that wine will come in handy 😉