Crock Pot Hungarian Goulash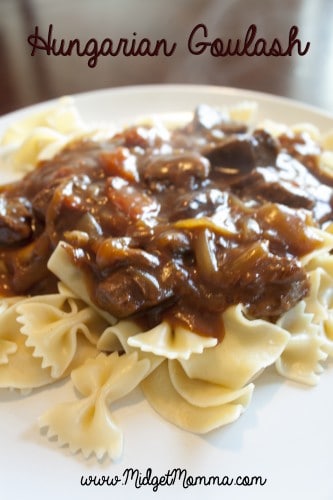 This fall apart goulash is a great set and forget meal! I love doing this in a crock pot because the beef chuck is a piece of meat that needs to be cooked for a long to help break it down. If you can find Hungarian paprika it will help add a great flavor to your goulash but I had a very hard time find it so I just used normal paprika. If you love crock pot recipes make sure you also check out our Crockpot to freezer Plan where you can Prep 16 meals with fresh ingredients in about an hour or our 12 freezer to crockpot meals with fresh ingredients for under $125!
 Crock Pot Hungarian Goulash Ingredients
3 tablespoons vegetable oil
1  pounds mushrooms, sliced
2 medium onions, halved and sliced
2 red bell peppers, chopped
3 garlic cloves, finely chopped
1/2 teaspoon sea salt
2 pounds lean beef chuck, cut into 1 1/2-inch pieces
1/4 cup sweet paprika
3 tablespoons all-purpose flour
2 teaspoons caraway seeds
2 cups low-sodium beef broth
4 teaspoons tomato paste
egg noodles
Crock Pot Hungarian Goulash Directions
Heat oil in a heavy pot over medium and add the beef. Brown the beef. Stir in the paprika, flour, and caraway seeds. Cook for one minute. Add in a cup of the beef broth than transfuse into the crock pot. Place the remainder of the ingredients into the crock pot. Cook on low for 8 to 10 hours until the beef is tender. Serve over egg noodles. If you would like it to be extra thick you can add a slurry of 1 tsp of cold water and 1 tsp of cornstarch to the mixture and bring to a boil.
Get the Crock Pot Hungarian Goulashprintable directions below
[amd-zlrecipe-recipe:102]
This post may contain affiliate links. Please read my disclosure policy here