This Crockpot Stuffed Cabbage Rolls recipe is one of my kid's favorite meals and it is quick and easy to do.  You can make it in the morning and let it go all day and have it ready to go at dinner time. We serve it with bread and a salad, but some prefer to have with added rice or over pasta or potatoes!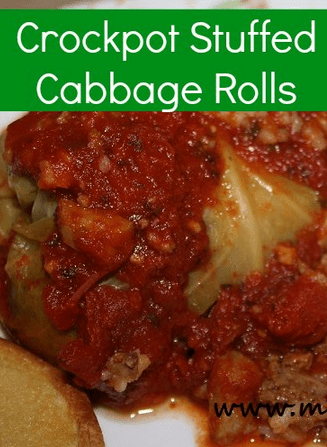 Crockpot Stuffed Cabbage Rolls
This recipe for stuffed cabbage rolls is super easy to make, and one of those seriously budget-friendly recipes that you'll keep in your dinner rotation on a regular basis.  Since you can substitute for any ground meat, you can adjust the points value easily if you are on the Weight Watchers program.  It's also easy to substitute for cauliflower rice instead of regular rice if you are doing a ketogenic diet.
Ingredients for Crockpot Stuffed Cabbage Rolls
1 pound 93/7% ground beef
1 1/2 cups rice cooked
1 head of cabbage
2 squash or zucchini (chopped into bite-sized pieces)
1 20 ounces tomato sauce
1 can diced tomatoes
1 onion diced
Directions for Crockpot Stuffed Cabbage Rolls
Remove cabbage leaves from the head of cabbage
Bring a large stockpot of water to a boil.  Add the cabbage leaves to the boiling water and cook until the leaves are tender and pliable(4-7 minutes depending on thickness of cabbage leaves)
Remove cabbage from water and set aside.
While the cabbage is cooking, saute ground beef in a large skillet until cooked through.  Usually, 7-8 minutes stirring regularly.  You may season the ground meat with salt, pepper, and garlic if preferred but not necessary.
Remove ground beef from heat and drain.
In a large bowl, mix chopped zucchini, diced onion, cooked rice, and ground beef.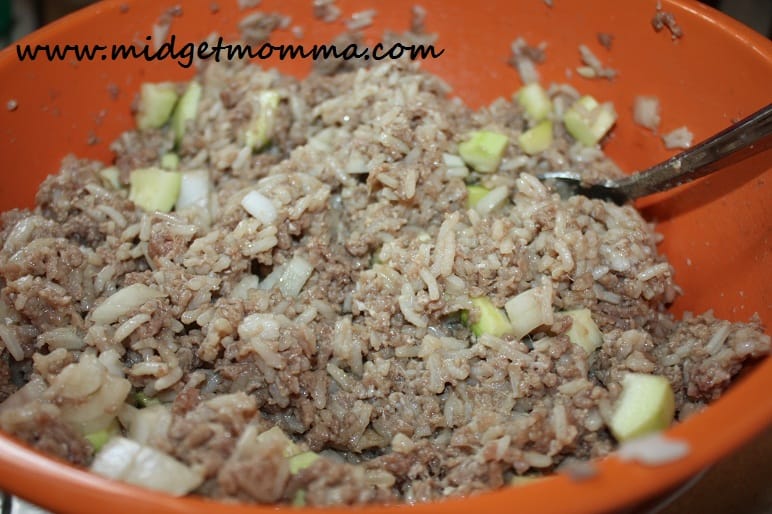 Spray non stick cooking spray on the bottom of the Crockpot
Pour a small amount of sauce on the bottom of the crock pot, just enough to cover the bottom.
Fill the cabbage leaves with the mixture and wrap them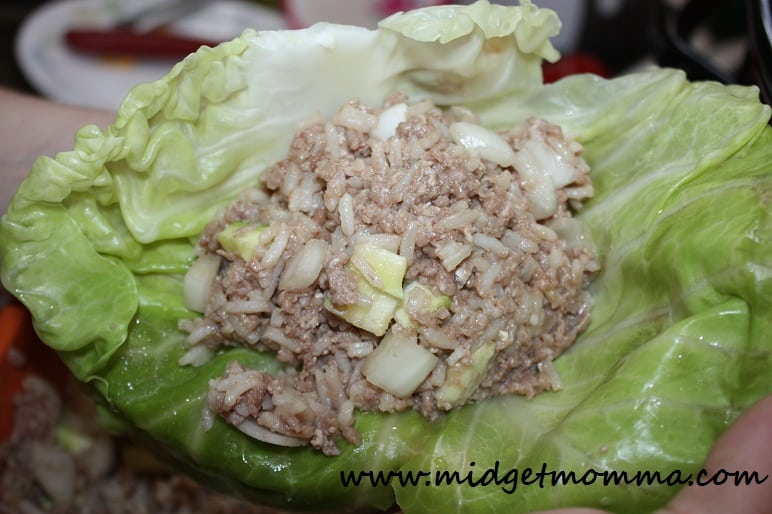 Place cabbage rolls into crock pot one at a time as you make them and stack them on top of each other
Pour rest of sauce on top and add can of diced tomatoes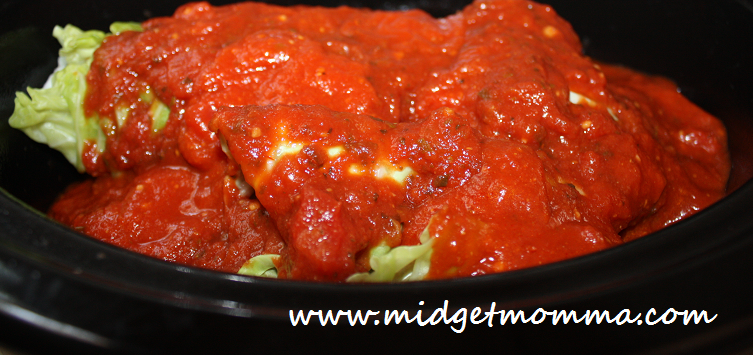 Cook on high for 4-6 hours
This recipe makes approximately 20 cabbage rolls.  Depending on the size of your cabbage leaves and how full you stuff them, it could be more or less.  The total recipe is divided into 8 servings, so depending on how many rolls you manage to make, it could be 2 rolls or 4 rolls per serving.
Makes 8 servings
4 SmartPoints per serving on Weight Watchers FreeStyle Plan
This is a great recipe to use up leftover vegetables, rice, and ground beef.  It's ideal for a delicious meal that is comforting and budget friendly!
More Comfort Food Meals:
Spinach Ricotta Chicken Rollup
Slow Cooker Garlic Ginger Chicken