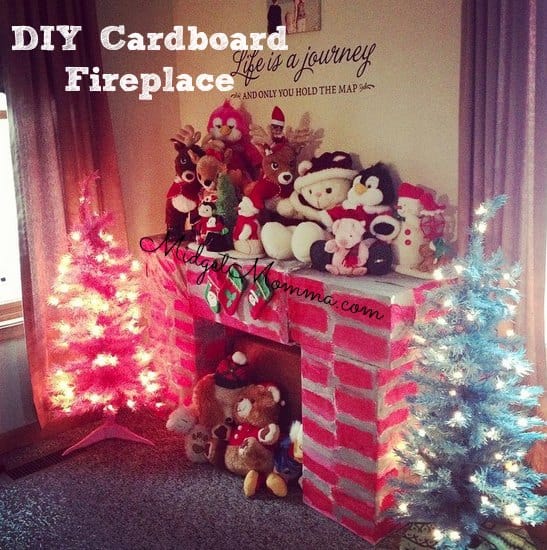 I want a fire place and bad but we have a woodstove and the cost to turn it into a fireplace doesn't fit my budget nor is the reason I want one, one that Tom thinks is worthy of the change. (I want it just so I have a mantle lol) and so the other day a friend of mine share a photo of a DIY Cardboard Fireplace that she saw on facebook (and I wish i could find the link to it but it was just a picture and no link).
I decided that I was going to make my own, at 11pm last night. Tom was thrilled with the idea 😉
First I gathered a bunch of boxes, I have 3 for the mantle and then 1 for each of the sides. Then I took the 2 longer boxes and wrapped them with wrapping paper with the shite side out. Then I taped the other 3 boxes to each other to make the mantle and wrapped them the same way. Once they were all covered in the white paper I put the mantle piece on top of the standing boxes. I didn't attach them because I want to be able to take it down and store it in the attic for next year and need to be able to put it in the attic but you could attach them with tape before wrapping it with the white paper if you want it to all be stuck together.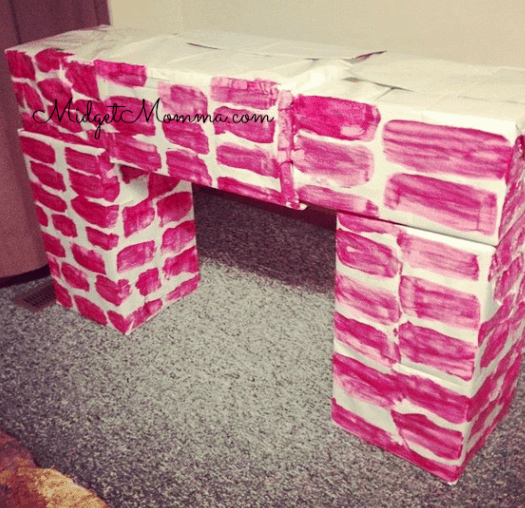 Next I got some red paint and painted red rectangles to look like bricks. No need to be exact here, I am not a crafty person and drawing perfectly rectangles is not going to happen. I let the red paint dry and then filled in the spaces with gray paint and painted the top of the mantle piece all gray.
Let it dry over night, and then this morning I added the stuffed animals and trees around it. It is quite sturdy, just make sure you are using thick boxes and not the flimsy ones.
and tada! The final product!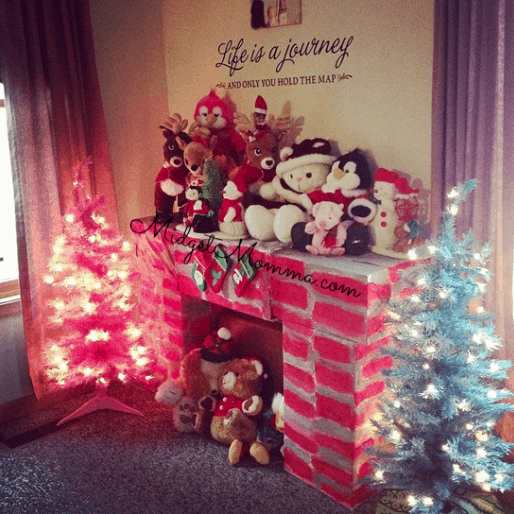 I am going to be adding a back to the fire place with a piece of cardboard wrapped and painted the same way as I did the boxes if I can find the time to and then if you want to add a few pieces of firewood and put a string of lights with them for it to be a "lit fire" that would be super cute too!
What is great is you can make it whatever size you need for your wall, you can make it longer, taller, change the colors up a bit and make it grey bricks ect. This is so easy to make to and fairy quick too. The longest part was letting the paint dry 🙂
Inspired by this picture
This post may contain affiliate links. Please read my disclosure policy here