Summer is just around the corner, I can almost taste it! Which also means that I am planning the fun things I want to do with the kids and when I asked the kids what was on their to do lists they told me that this summer they want to work on helping me create recipes in the kitchen to share here on the blog. Gotta love that the 3 of them enjoy things like that and I can work and hangout with them at the same time!
Dole reached out to us about sharing one of their easy to make pop recipes and I thought it was perfect for getting the kids in the kitchen and having them get a jump on making frozen pops and summer treats like they want to. With this easy recipe, it gave me the chance to talk to them about things that we don't use normally when we are making dinner, things like the blender and ice pop molds. It also gave them the learning on how to make them that they can use to come up with other flavor ideas (which they have a nice sized list of ones they want to try making in the next few weeks 🙂 ) During the summer we like to treat everyday like it is special, even if it is just a few minutes a day we like to do something fun together and enjoy our time together.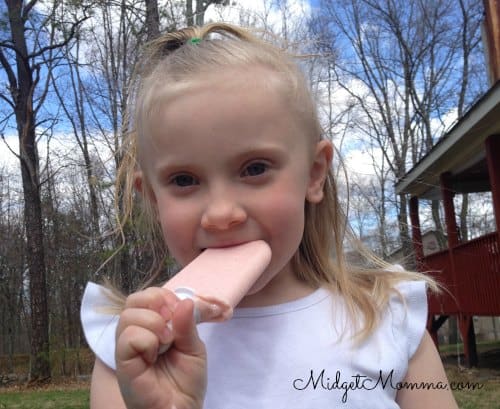 These Fruit pops are SUPER easy to make, the hardest part is having to wait 4 hours until they are frozen so you can take a bite, however licking the spoon after pouring the mix into the pop molds hopefully made up for it while they had to wait;) When we make any pops we use our Zoku pop freezer because it freezes them in just 7-9 minutes 🙂
This recipe is one that all the kids can make, even the littlest ones can put the ingredients into the blender and have the adult or older child put the lid on top and then blend it 🙂 If you are looking for other kid friendly recipes that are perfect for summer treats make sure you check out 3 Ingredient Banana Chocolate Peanut Butter Ice Cream, Easiest Ice Cream Cake, DOLE Fruit in Jars Pineapple Chunks & Raspberry Greek Yogurt Parfait Recipe and Fruit Pizza. Those are some of my kids favorite summer time treats!
Easy to Make Frozen Fruit Pops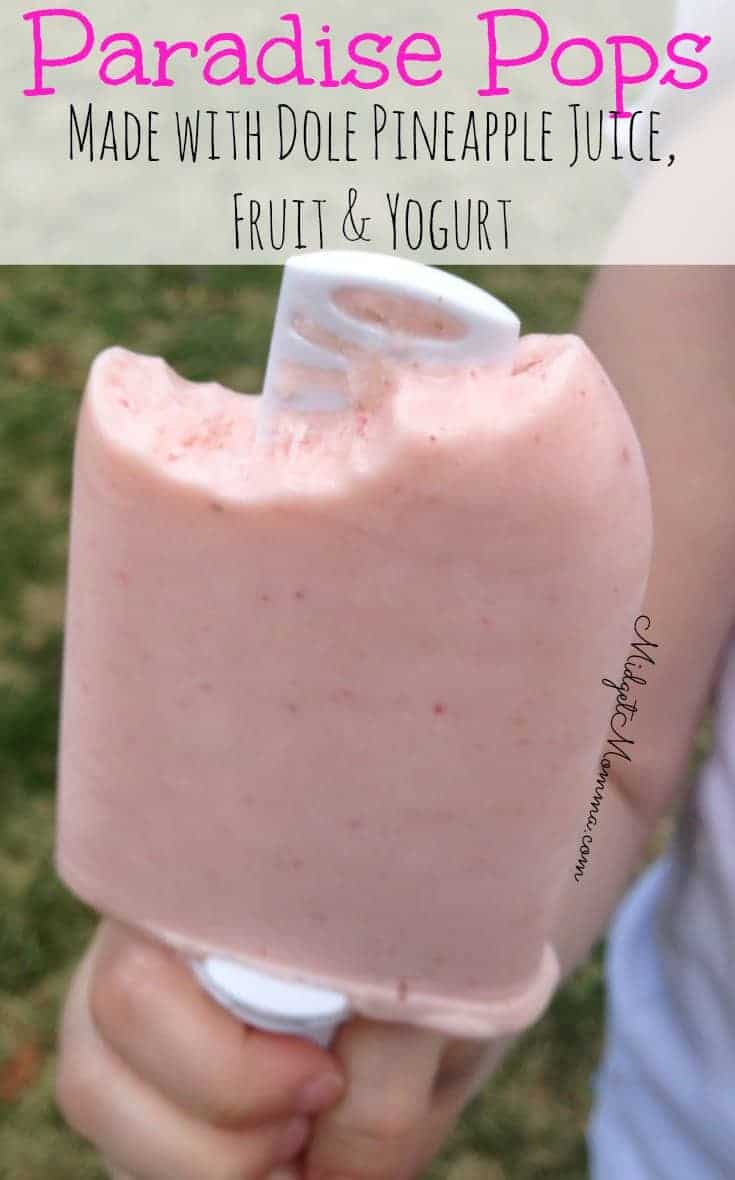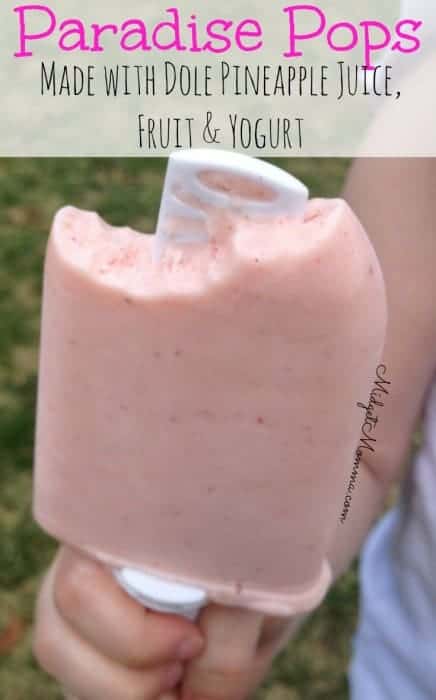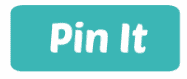 Ingredients for Easy to Make Fruit Pops made with Dole Pineapple Juice and Frozen Blueberries
1 cup DOLE Canned Pineapple Juice
12 oz lowfat vanilla yogurt or use plain greek yogurt
8 oz DOLE Frozen Blueberries and/or Strawberries
4 ripe bananas, sliced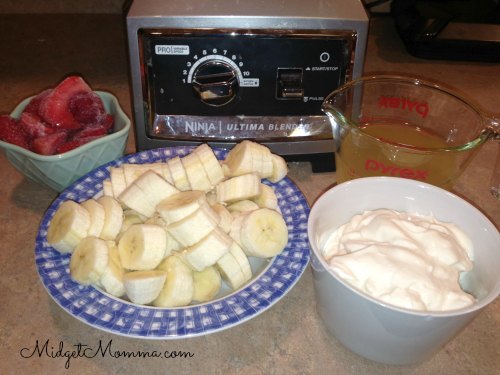 Directions for Easy to Make Fruit Pops made with Dole Pineapple Juice and Frozen Blueberries
Step 1:Combine pineapple juice, yogurt, blueberries and bananas in blender container. Cover; blend until smooth.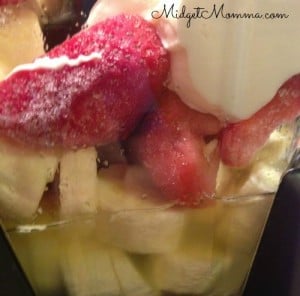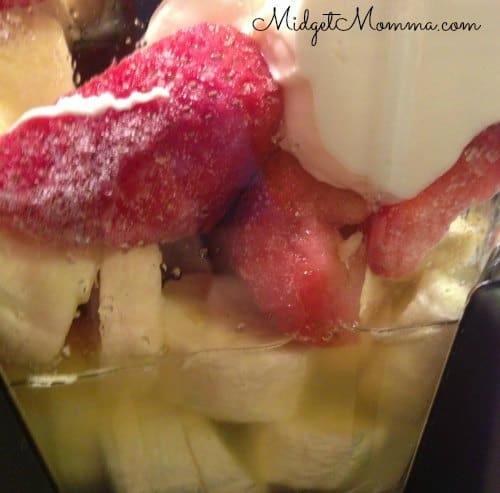 Step 2:Pour into popsicle molds and freeze at least 4 hours.
(We used our Zuko pop maker that freezes pops in 7-9 minutes so the kids can have their pops quicker 🙂 )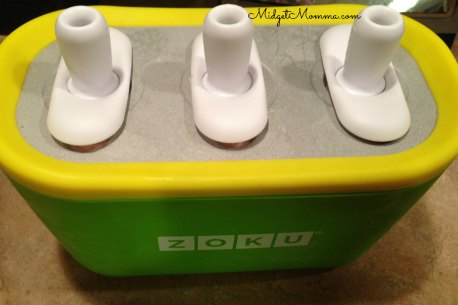 Tada! Yummy pops that all my kids loved! They were super easy to make and they are made with ingredients my kids love and are good for them too!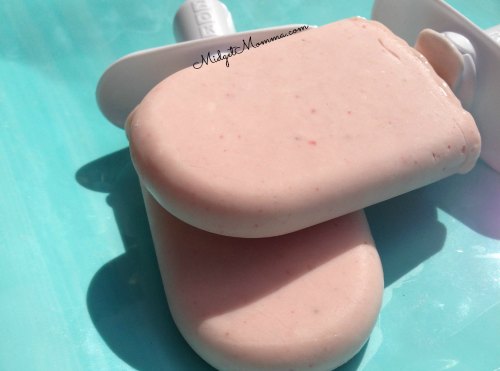 Also make sure you head on over here and print the coupon so you can save money with this $1.00 off #coupon for any 46oz or 6-pack of DOLE Canned Pineapple Juice that you need for this recipe.
Product Details:
100% juice
Not from concentrate
Excellent source of vitamin C
Good source of vitamins A&E
Naturally gluten free
BPA free packaging
Non GMO
A great pantry staple!
• Dole Canned Pineapple Juice can be found in the shelf-stable juice aisle of grocery and super-center stores nationwide. It's available in both a 46oz can or 6oz 6-pack of cans.
Celebrate everyday, special occasions and holidays with DOLE Canned Pineapple Juice. Visit dole.com/sunshine to learn more about DOLE Canned Pineapple Juice's Year of Sunshine, and enjoy bright ideas on mixing tasty tropical cocktails, marinades and other delicious menu items.

Make sure you follow on Facebook and Twitter for more deliciousness from Dole 🙂
3 SmartPoints on Weight Watchers FreeStyle Plan when you use greek Yogurt
More Tasty Treats to try! 
Disclaimer: This post is sponsored by Dole even though they are the sponsor of this post all opinions are 100% my own and I only promote brands that I feel comfortable promoting and sharing with my readers that I think will benefit them.