On those rain cold days I enjoy a nice warm bowl of tomato soap. This year I was lucky enough to have a garden fully for fresh tomatoes. If you are planing on make this soup when garden tomatoes are on hand I suggest using vine ripen tomatoes to give you great flavor.
Fresh Tomato Soup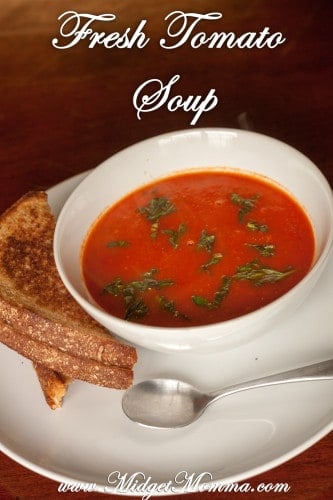 Fresh Tomato Soup Ingredients
1 tablespoon olive oil
1 tablespoon butter
1 large onion, chopped
1 large clove garlic, minced
1 tablespoon all-purpose flour
5 large super-ripe tomatoes about 4 pounds, coarsely chopped
1 teaspoon sugar
4 leaves fresh basil + 1 tablespoon chopped
¾ teaspoon salt
⅛ teaspoon ground black pepper
Pinch of ground cayenne
Fresh Tomato Soup Directions

Warm the oil and butter in a large soup pot over medium heat. Add the onion, and garlic and cook until soft but not browned, 5 to 7 minutes. Stir in the flour and cook for 1 minute. Add the tomatoes with juices, sugar, basil leaves, salt, black pepper, and cayenne. Increase the heat to high and bring the tomatoes to a boil. Reduce the heat to medium and simmer for 15 minutes, skimming off and discarding any foam from the surface. Puree the soup in a blender or with a hand blender, stir in the chopped basil.