Crock Pot Beef Stuffed Peppers Soup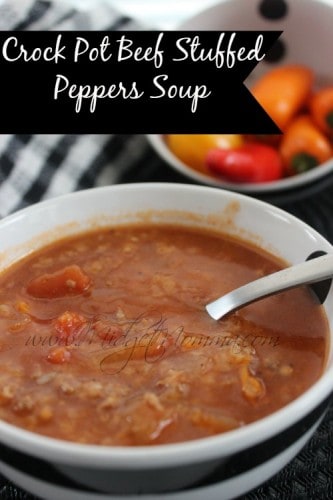 If you love soup and you love stuffed peppers then this crock pot soup is perfect to add into your meal rotation! Combining the easy of crockpot cooking, with the delicious taste of stuffed peppers with the love of soup this Crock Pot Beef Stuffed Peppers Soup is perfect for a winter day or a day you just want to take off from slaving in the kitchen at dinner time!
Crock Pot Beef Stuffed Peppers Soup Ingredients
2 lb Ground Beef (you can use ground turkey if you are not a beef eater)
1 Onion diced (be like me and have the hubby do it ;))
1 tsp Minced Garlic (Fresh or jarred)
2 quarts of Water
28 oz Tomato Sauce (canned or jarred, just use your favorite)
28 oz Diced Tomatoes
1 cup uncooked Rice (brown or white whichever one you like best)
2 cup chopped Peppers (we like to use green and red but you can use which ever colors you like to)
1/4 cup Brown Sugar
2 tsp salt
1 tbsp Beef Base (if you do not have this you can skit it but the beef flavor will not be as strong)
2 tsp Black Pepper
Crock Pot Beef Stuffed Peppers Soup
If you are going to be putting this all in your crockpot in the morning getting it all prepped the night before when you are already going to be doing dishes and  clean up makes putting this in your crock pot in the morning even easier.
All you have to do is Brown the Ground Beef and drain the grease off. Chop your veggies and then add everything into your crockpot. Cook on low for 8-10 hours and serve with bread and salad.
Join the newsletter
Subscribe to get our latest content by email.
This post may contain affiliate links. Please read my disclosure policy here