Slow Cooker Vegetable Beef Soup is a hearty, comforting soup with lots of protein and vegetables that make for the perfect homemade slow cooker soup. Serve this slow cooker soup with some fresh bread and a salad for an easy weeknight meal.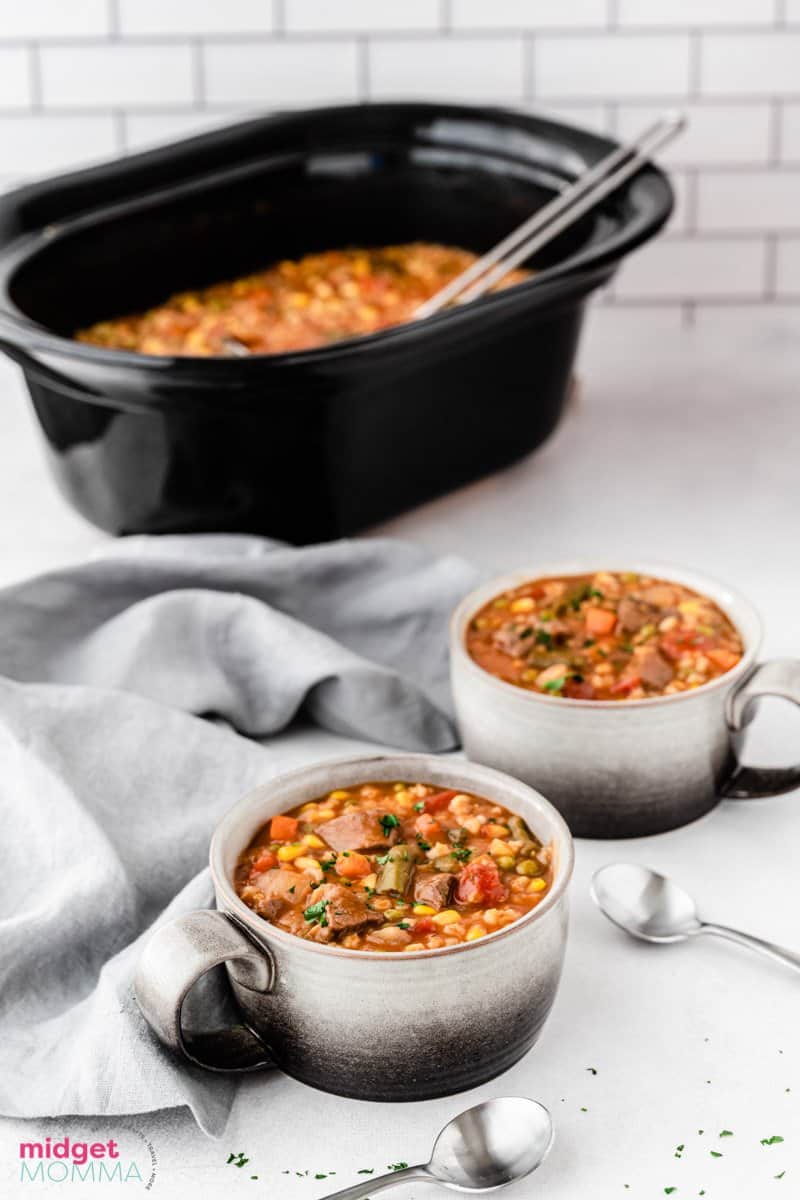 Slow Cooker Veggie Beef Soup
Slow Cooker Veggie Beef Soup is a perfect option that everyone loves. It's super affordable since it makes such a large pot of soup, and it is definitely kid-friendly. In fact, it is a great option to help get your kids to eat vegetables!
This easy to make slow cooker soup is one with little prep time needed and perfect for tossing in the slow cooker to cook all day so it is done in time for dinner. It doesn't matter what season it is, we enjoy this easy Slow Cooker Vegetable Beef Soup recipe all year long.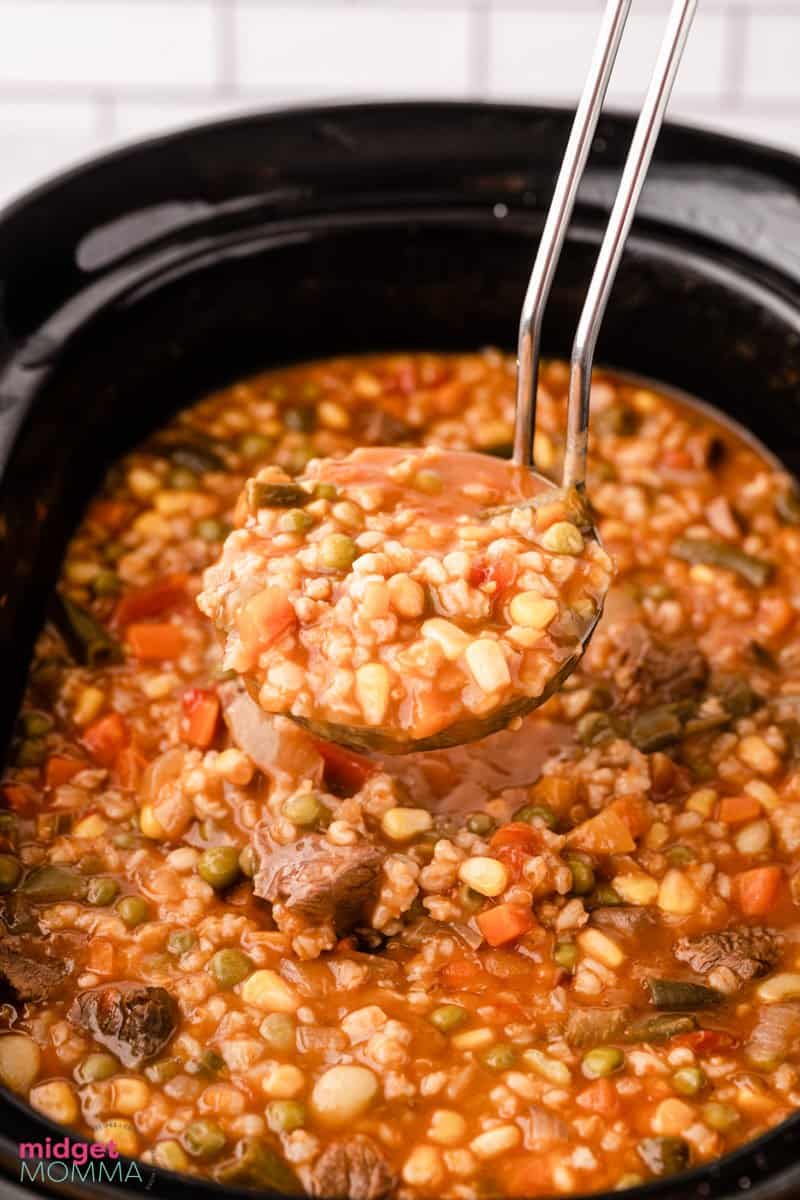 We love crockpot meals in our house, they make life so much easier and if it is during the warmer months I do not have to worry about heating up the house. We have a lot of slowcooker meals that we keep in our rotation of meals no matter what time of year it is including, Crock Pot Beef Stuffed Peppers Soup, slow cooker chili, crockpot taco meat, butter ranch pork chops and Asian Beef wraps.
It is no secret that I like yummy food but I like to make things the easy way. Quick and easy are my 2 favorite words when cooking but I like to have fresh ingredients and a yummy meal at the end of all the work. This Crock Pot Vegetable Beef Soup is easy to make and it tastes great.
Must Try Crockpot Recipes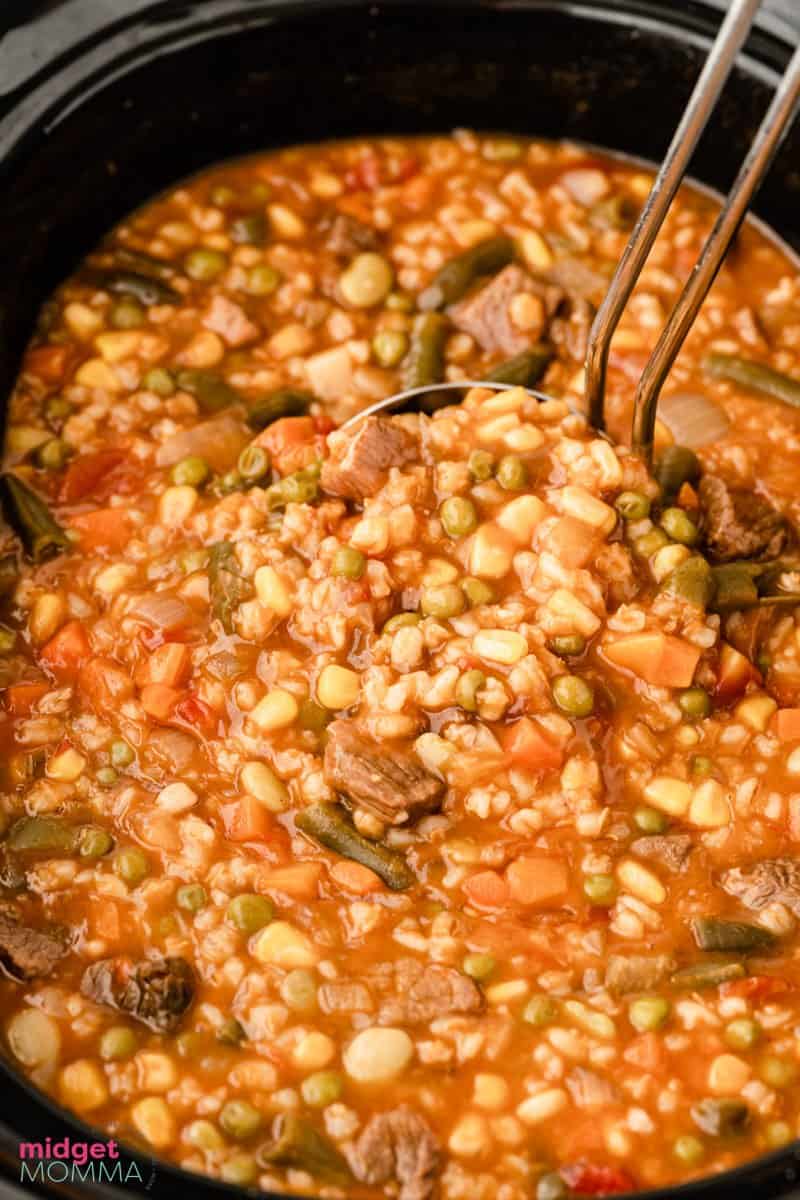 What to serve with Slow cooker Vegetable Beef Soup
This hearty slowcooker soup is perfect with fresh bread and salad. It also works well if you are making soup and sandwiches for dinner. Sandwiches like roasted red pepper and provolone grilled cheese, Spinach Mozzarella Grilled Cheese and Grilled Cheese roll ups are perfect sandwiches to serve with this hearty vegetable soup recipe.
Looking for more side dish ideas? Check out some of our favorites.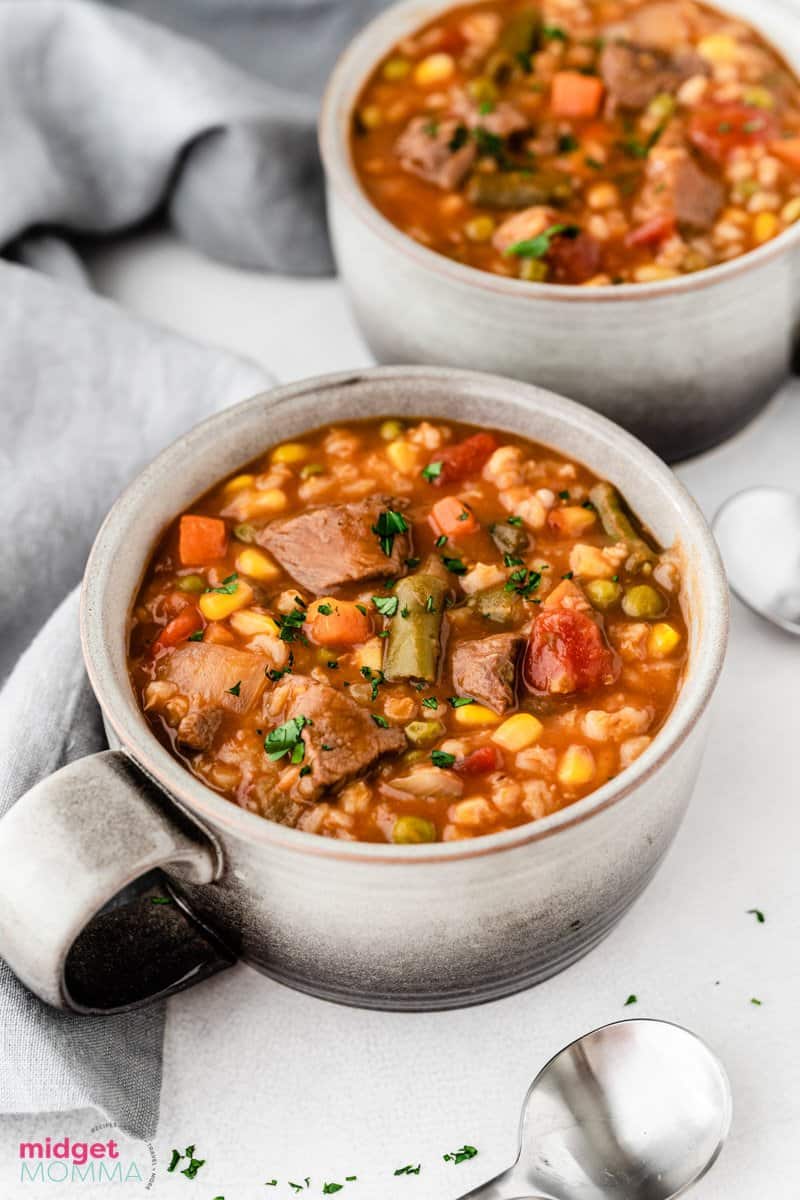 Best Cut of Meat for Slow Cooker Soup
Because the meat will be cooking in broth in the crockpot for a long time you can use a cheap cut of meat. I personally like to use stew meat but you can also use chuck roast or whatever meat is on sale at the store. Just cut it into 1-inch pieces before adding it to the slow cooker. I have also made this say slow cooker soup recipe with ground beef when I have been in a pinch.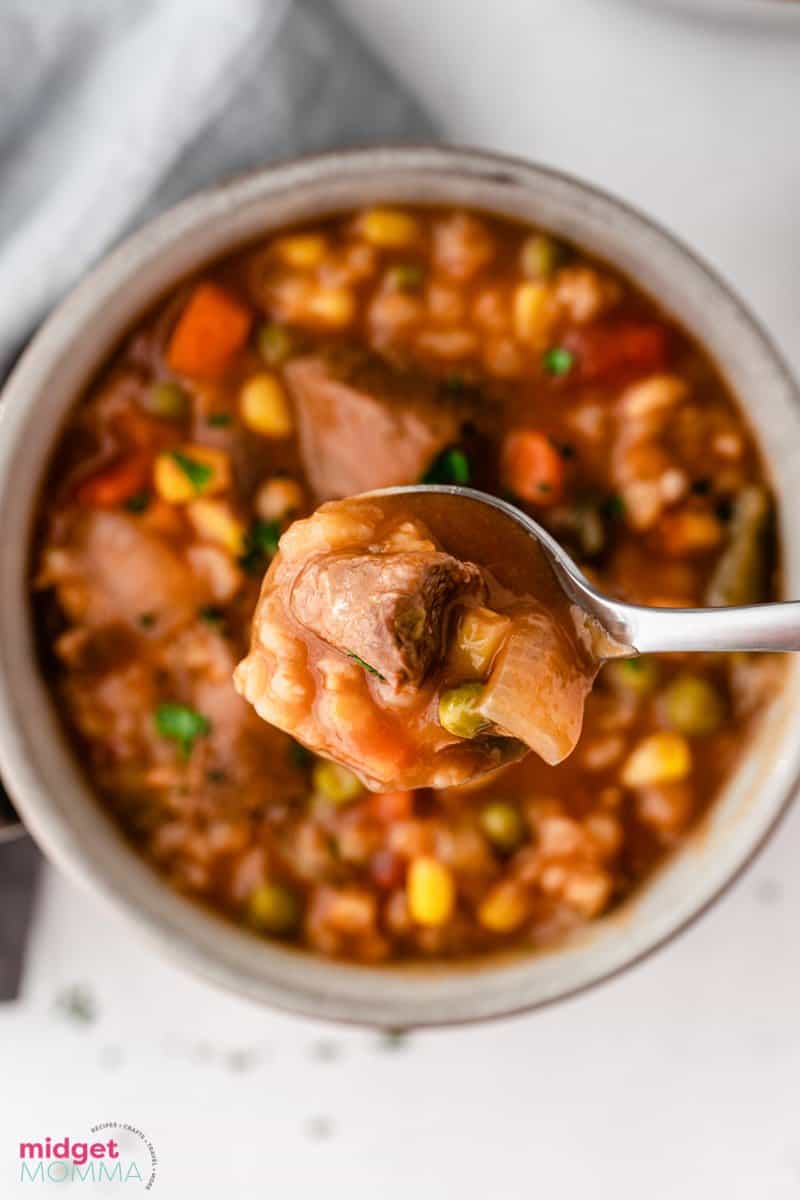 Can I make Vegetable beef soup ahead of time?
Yes! This soup is a great make ahead soup. This homemade soup will keep in the fridge for up to 5 days. Just store it in an airtight container. If you are planning on taking it to work or school for lunches you can store this soup in single serve containers to make packing it easier.
Variations of this Recipe
Change up the grain. If you are not a fan of barley then you can leave it out and instead add 1 cup of rice, Buckwheat, or quinoa. Do not cook them before putting them into the slow cooker.
Change up the veggies. If you prefer to use different veggies in your soup, you can use them instead of the ones that I used. I prefer to use frozen with fresh onions so it is easier to make and I use a bag of frozen mixed veggies and a bag of frozen soup veggies. If you are using fresh veggies I suggest using peas, carrots, onions, green beans, lima beans, okra and corn. If you are a canned veggie household you can use those too.
Make it Low Carb. However, we add barley to this recipe if you want a low carb vegetable beef soup then skip adding the barley. You will also want to skip adding corn to the soup if you are making it low carb.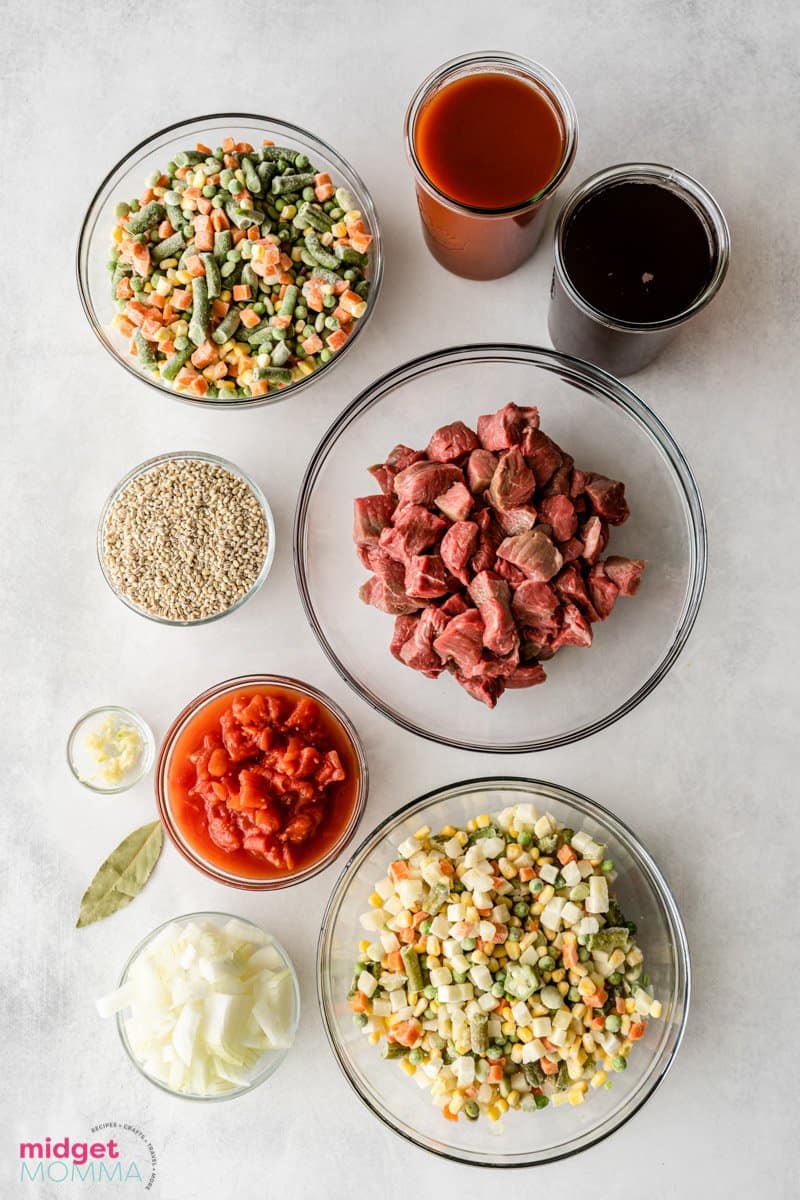 Slow cooker Vegetable Beef Soup Ingredients
Beef Stew meat
Frozen Soup vegetables
Frozen mixed vegetables
Garlic
Diced tomato
Tomato juice
Beef stock
Bay leaf
Onion
Barley
Salt
Pepper
How to Make Slow cooker Vegetable Beef Soup
Chop onion into small pieces, chop beef into 1 inch pieces.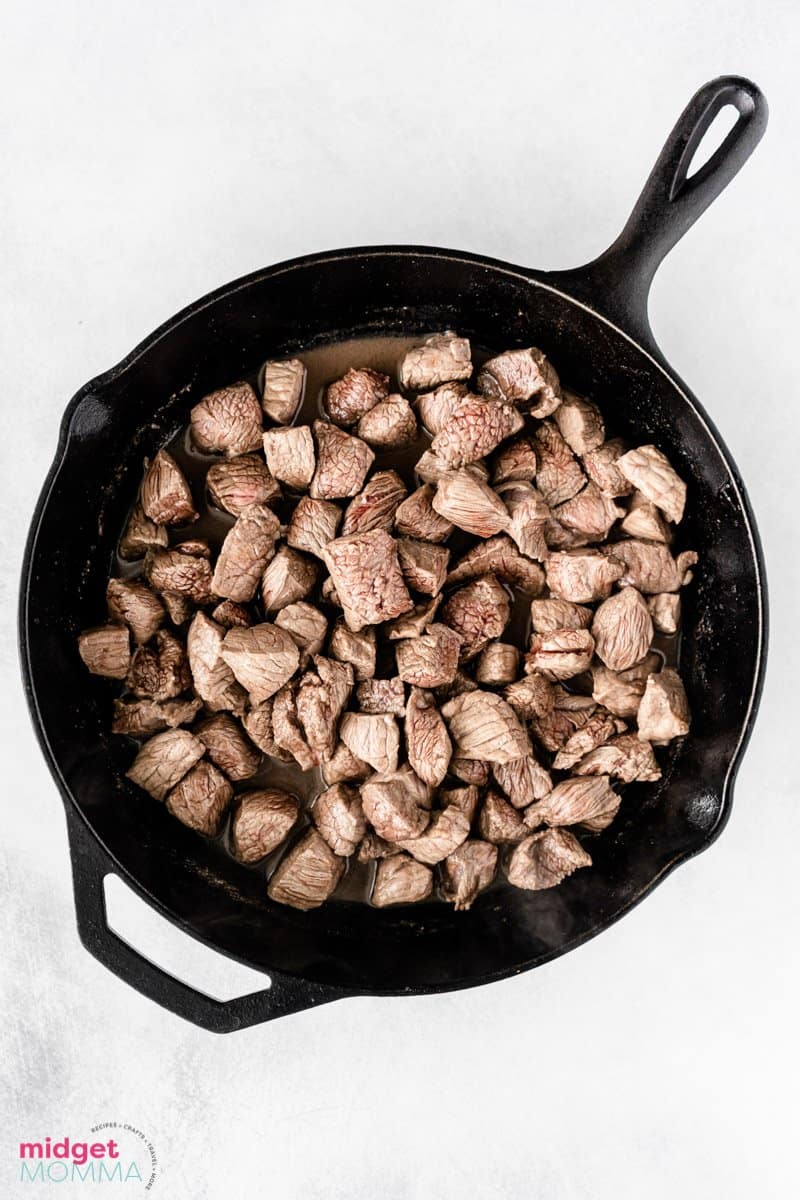 In a large skillet on medium heat with a little bit of oil brown the stew meat.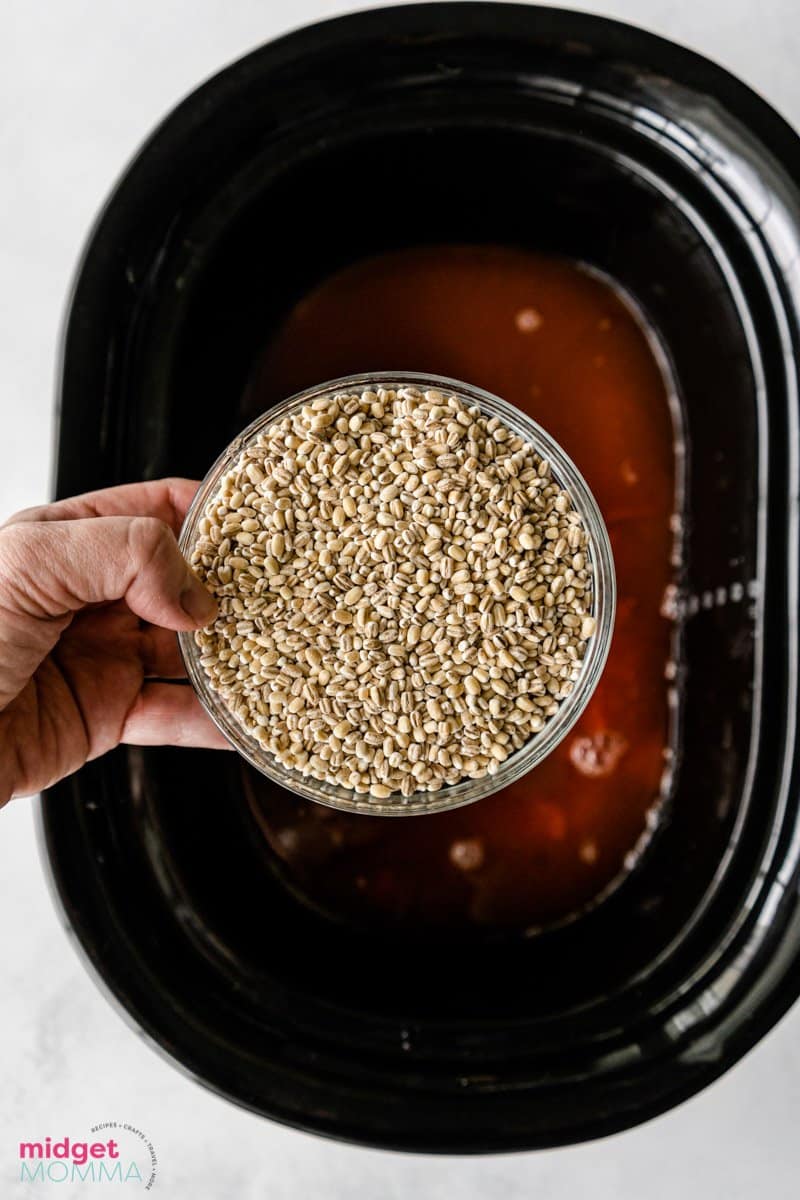 Add liquid ingredients and spices and barley to the slow cooker and give it a quick mix.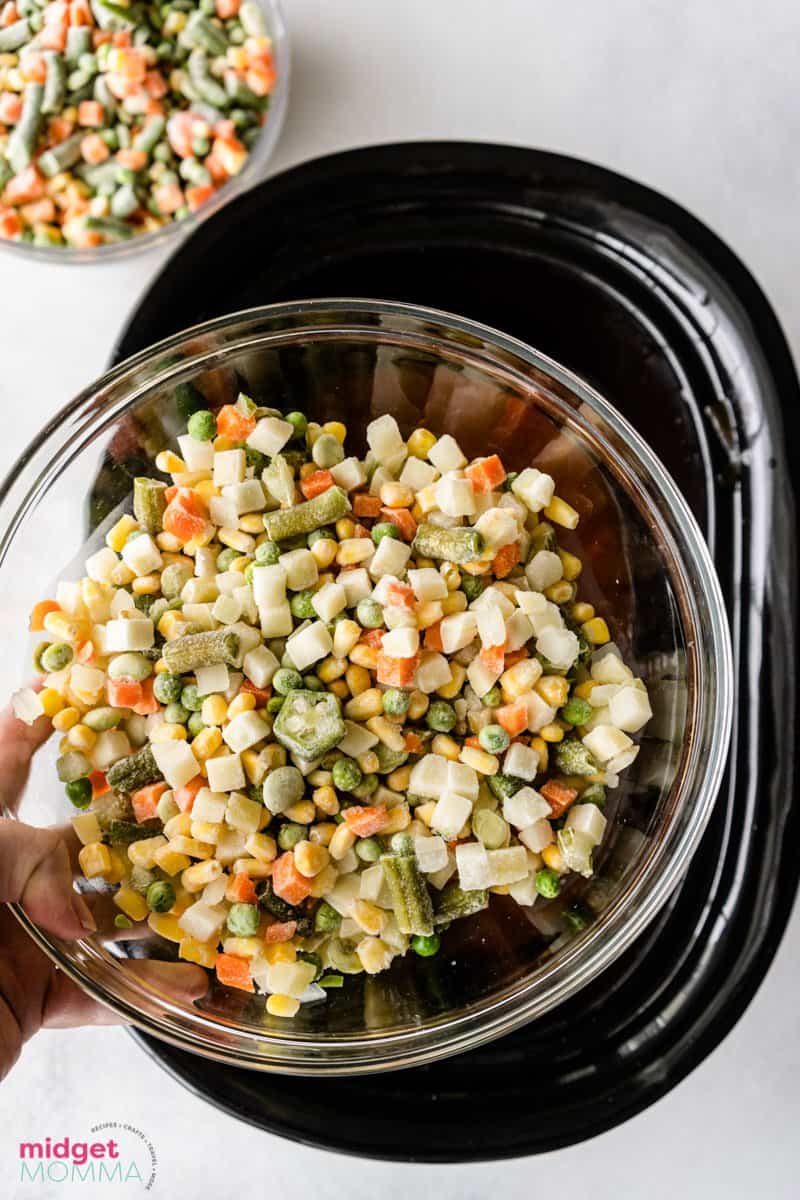 Add in the vegetables.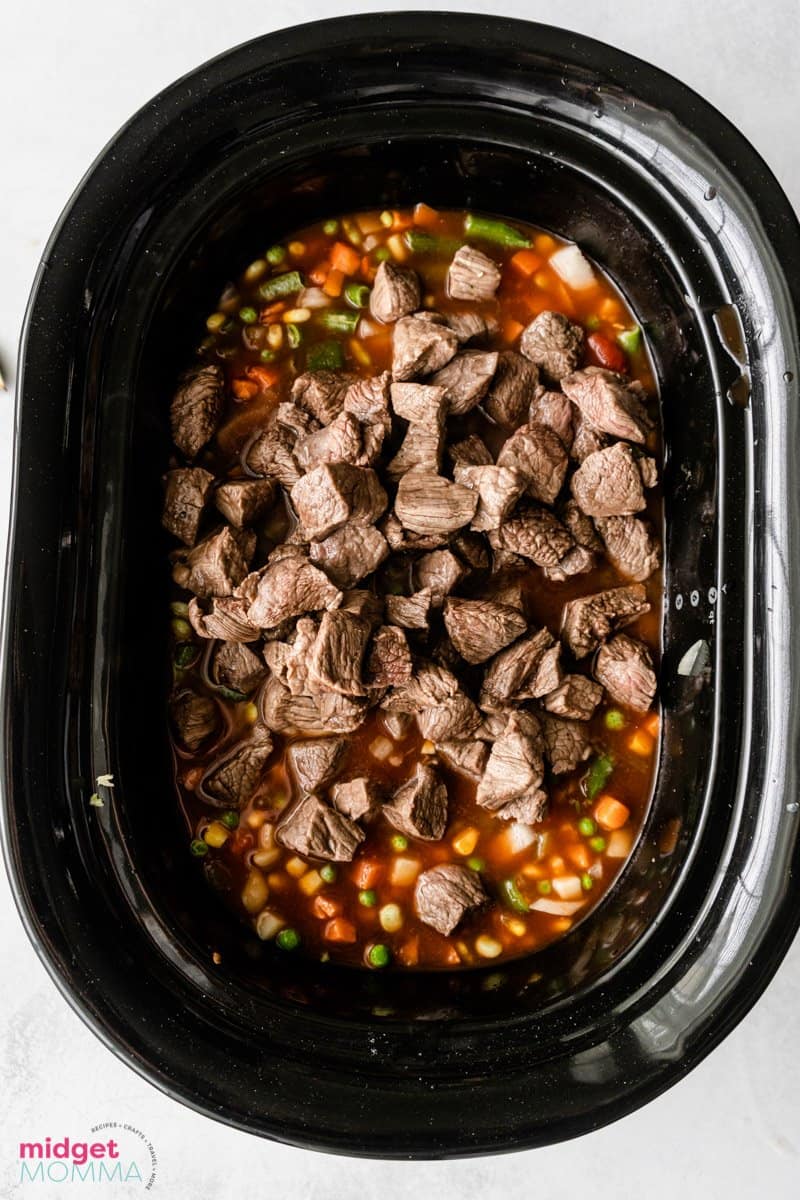 Then add the meat and the bay leaf and stir.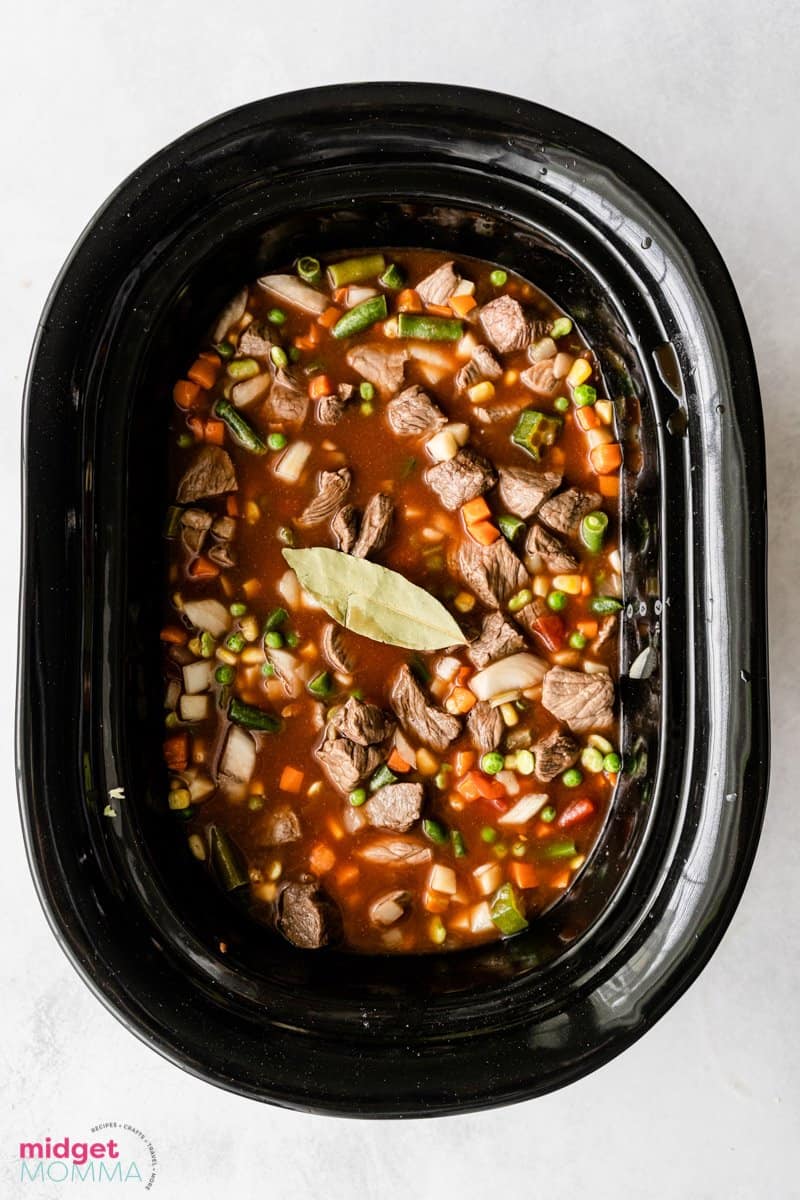 Cook on high for 4 hours or low for 8 hours.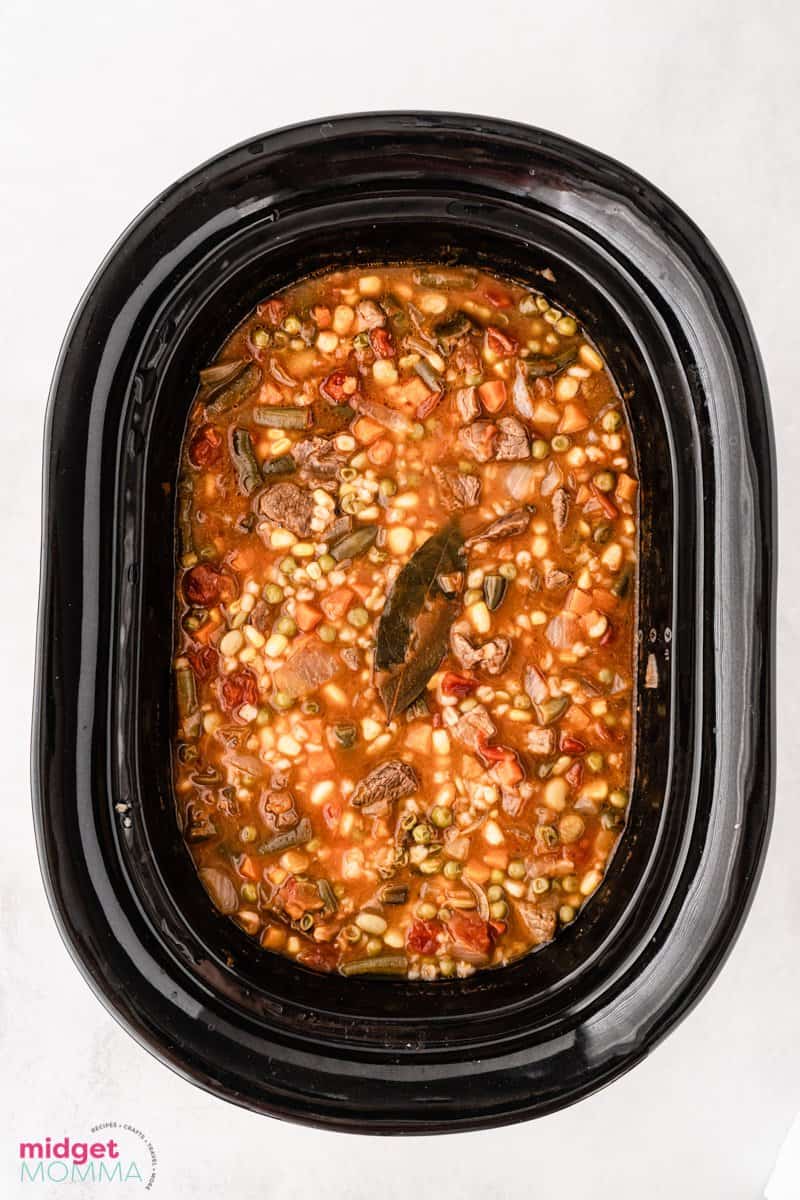 Once done cooking remove the bay leaf and serve as desired.
Easy Soup Recipes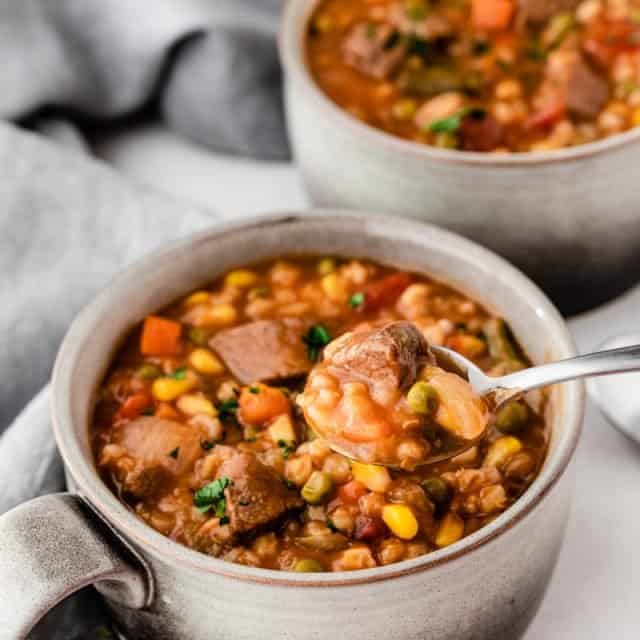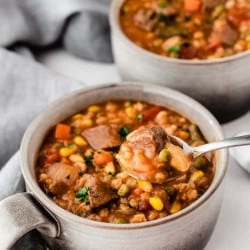 Crock Pot Veggie Beef Soup
Servings
Crock Pot Veggie Beef Soup is easily made in the crockpot. Just put all your Crock Pot Veggie Beef Soup ingredients in and let it cook.
Ingredients
2 pounds beef stew meat cut into 1″ chunks
12 ounces frozen Soup Vegetables
12 ounces frozen Mixed Vegetables
1 teaspoon Minced Garlic
15 ounces canned Diced Tomatoes
4 cup Tomato Juice
4 cup Beef Stock
1 Bay Leaf
1 large Onion chopped
1 cup Barley
Salt to taste
Pepper to taste
Instructions
Wash and chop the onion into small pieces. Chop the beef if needed into 1 inch chunks.In a large skillet on medium heat with a little bit of oil brown the stew meat.

Spray the slow cooker with nonstick cooking spray or line with a liner.

Pour the beef stock, tomato juice and diced tomatoes into the slow cooker. Next add in the barley, and garlic. Mix well so everything is combined.

Next, add your frozen vegetables, chopped beef, and stir to mix well. Then add the bay leaf to the top.

Place your lid on the Crockpot, and turn to low heat setting.

Cook for 8 hours.

Once done the cooking, remove the bay leaf and add salt and pepper to taste.
Calories: 151kcal | Carbohydrates: 31g | Protein: 8g | Fat: 1g | Saturated Fat: 1g | Sodium: 295mg | Potassium: 729mg | Fiber: 7g | Sugar: 6g | Vitamin A: 3942IU | Vitamin C: 30mg | Calcium: 57mg | Iron: 2mg
Crock Pot Veggie Beef Soup, slow cooker vegetable beef soup, vegetable beef soup
crockpot, Dinner, Soup
Makes 10 servings
5 SmartPoints per serving on Weight Watchers FreeStyle Plan