I love a good buffalo chicken sandwich. Normal they are deep fried so it's not a healthy dinner chose. I need a way to get the full buffalo flavor with half of the fat as a normal sandwich. Once I made this buffalo chicken I place it on some good bread and pressed it with my Panini press. Once it was done I opened it up and added tomatoes and lettuce. You can even dip the sandwich into some ranch dressing.
Crock Pot Buffalo Chicken Sandwich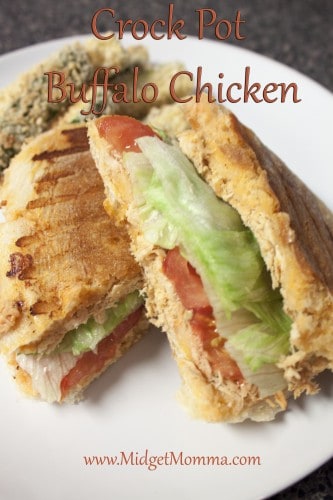 Crock Pot Buffalo Chicken Sandwich Ingredients
3 lbs raw boneless skinless chicken breasts
12 oz bottle of Buffalo wing sauce
1 oz packet of dry Ranch mix
Crock Pot Buffalo Chicken Sandwich Directions
Place the chicken breasts in your slow cooker. Pour the bottle of wing sauce over the top of the chicken. Sprinkle the packet of ranch mix over the top of the wing sauce. Place the lid on your slow cooker. Cook on low for 7-9 hours until meat shreds easily. Remove meat and shred it using two forks. Return shredded meat to the sauce. Stir to combine. Continue to cook on low for another hour so the meat can soak up the sauce.
Zero SmartPoints on Weight Watchers FreeStyle Plan
Points are for just the chicken mixture. Points will be added for bread, etc. added to the meat after cooking.
On Weight Watchers? Check out these 11 Zero Point Weight Watchers Dinner Recipes and this list of amazing Weight Watchers Recipes! 
Looking for More Weight Watchers Recipes? Check these out!
21 ONE Point Weight Watchers Recipes
17 amazing Crockpot Weight Watchers Recipes
21 5 Point or less Weight Watchers Dinner Recipes
17 Weight Watchers Breakfast Recipes
Make sure you also check out these other great summer time recipes