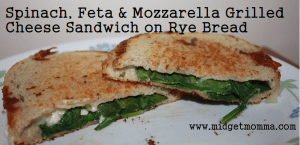 If you like this Pin it and share with your friends 🙂

I love grilled cheese but I have been looking for some new ways to get creative in the cooking department and adding more healthy options and veggies to our meals. I used rye bread but I am sure this would taste great on other types of bread too.
Ingredients: 
Fresh spinach leaves
Feta Cheese
Mozzarella Cheese
Rye Bread
Directions:
Spread butter or Mayo which ever one you use when making grilled cheese, I use Olive Oil Mayo on 2 pieces of bread
Heat skillet on medium/low and place bread mayo/butter side down
Top with a handful of spinach, a handful of Feta and a handful of Mozzarella
Put second piece of bread on top, cook until bottom side is brown and then flip and cook until that side is brown
Let cool on a plate for a minute or 2 and enjoy!
This recipe was inspired by the Feta and spinach Quesadillas I found on pinterest.
This post may contain affiliate links. Please read my disclosure policy here