When I was on vacation last year I had these amazing garlic Parmesan fries. They were so good that we had to order a another batch of the fries. Ever since than I was in love with the combination of garlic and Parmesan on my potatoes. When I trying to decide what favor potato chips I was going to make it was my first thought to use that same garlic Parmesan flavor from the french fries. Check out how I made my classic potato chips for all the tips you need to make the BEST Homemade Potato chips.
Garlic Parmesan Potato Chips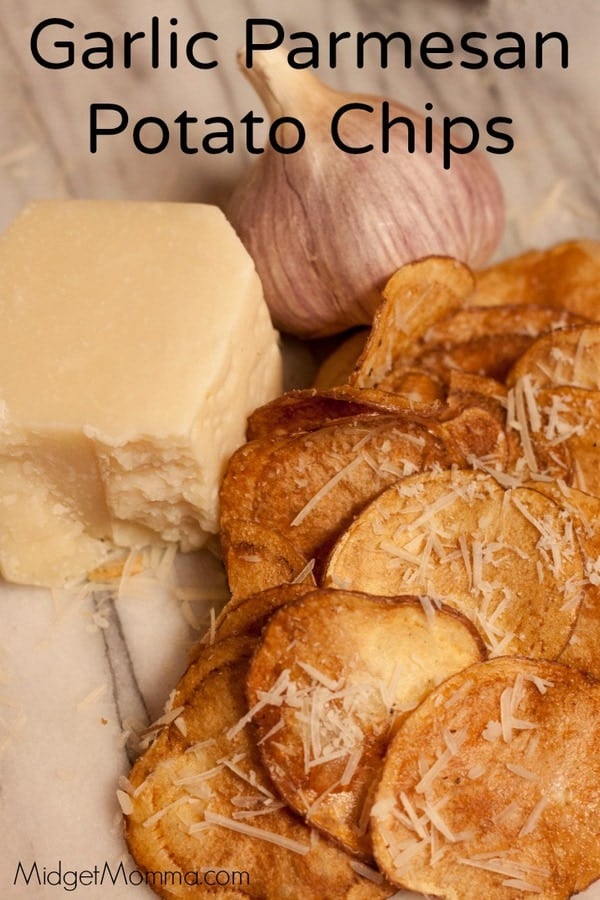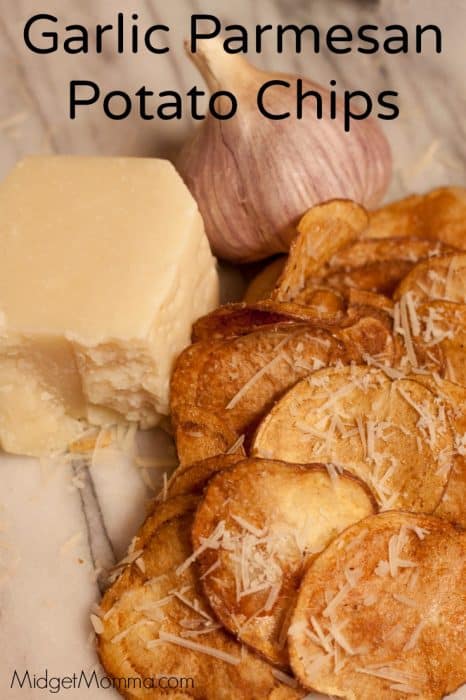 Garlic Parmesan Potato Chips Ingredients
1 pound Idaho or red potatoes
Peanut oil
Popcorn Salt
1- 2 tablespoons Garlic powder
1/2 cup Parmesan cheese
Garlic Parmesan Potato Chips Directions
Slice your potatoes so they are a 1/8 thick.
In a large mixing bowl fill it up with ice cold water place your potatoes in the water and let them soak for an hour.
Remove your potatoes from the water and let them dry in between paper towels or dishcloth. Making sure they are extra dry.
Heat your oil to 400° in a cast iron pan or fryer.
Working in small batches add your potatoes to the oil to create an layer of chips. When they start getting golden brown along the edges turn over and cook until their golden brown on each side.
Remove the potatoes from the oil and place them onto a sheet pan lined with a cooling rack let them sit for a minute and then transfer them to a bowl and season liberally with salt, garlic powder and cheese.
Continue this with the remainder of the potatoes.
Approximately 9 Weight Watchers SmartPoints