My husband is a peanut butter cup fanatic. When it came time to figure out what flavor cake I was going to make for his birthday it was a no-brainer. I had recently acquired this great giant cupcake pan from one of my friends who used it maybe once. I thought how fun would it be to make a giant extra chocolate Reese's peanut butter cupcake. Well, this cupcake turned out just as wonderful as it sounded. There was hardly a spec left on anyone's plates. The great thing with these giant cupcake pans is you really don't have to put in a lot of work to make a good looking cake. This here is the one that I love using the most!
You will want to use this Chocolate cake recipe or this trick to make a boxed cake mix taste like a bakery cake when making this cake.
The BEST frosting to use for this Reese's Peanut Butter Cupcake is my favorite Peanut Butter Buttercream 
Giant Reese's Peanut butter Cupcake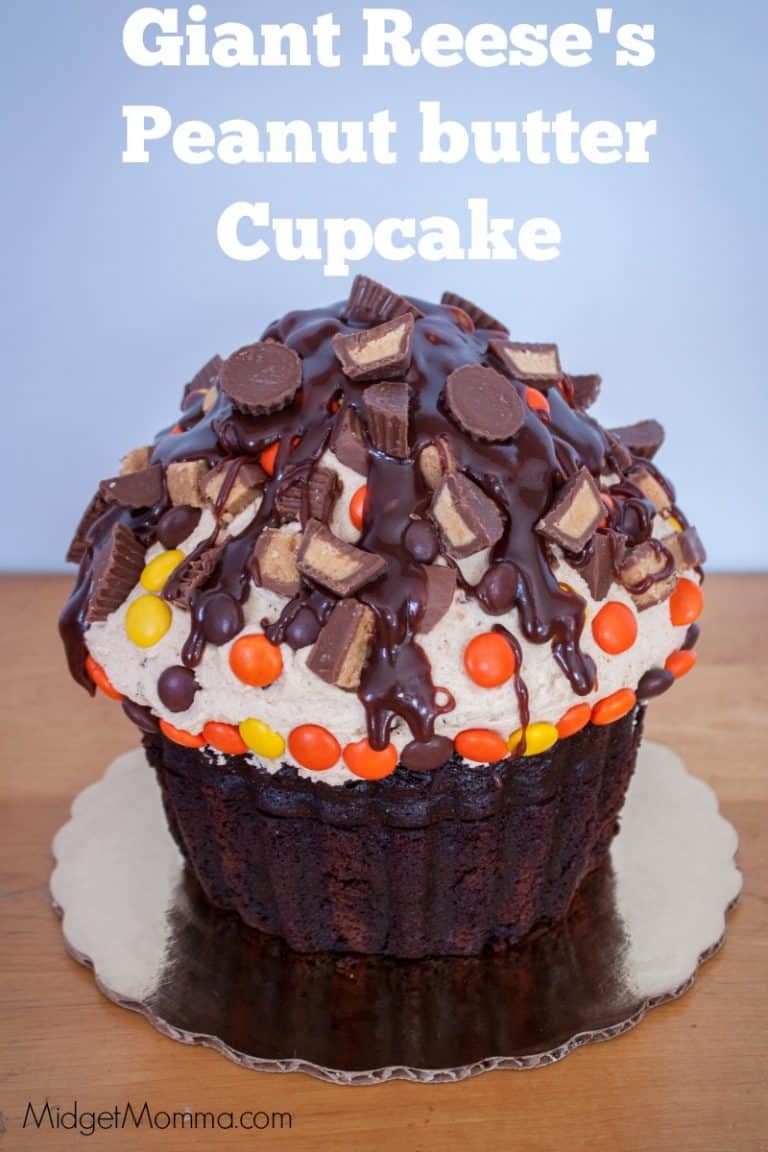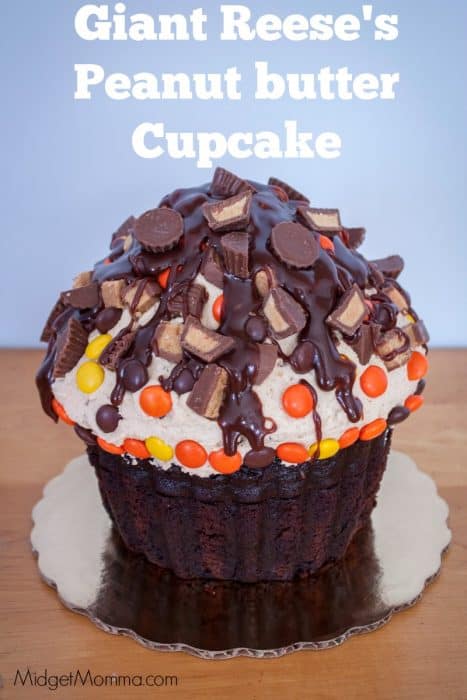 Supplies
Ingredients
Homemade Chocolate Cake Recipe Ingredients:
1 3/4 cup flour
2 cups sugar
1 cup cocoa
1 1/2 teaspoon baking soda
1 1/2 teaspoon baking powder
1 teaspoon salt
2 eggs
1 cup whole milk
1/2 cup oil
2 teaspoon vanilla
1 cup boiling water
Homemade Chocolate Cake Recipe Directions:
Preheat oven to 350 degrees. Spray your giant cupcake pan with nonstick spray.
Mix the flour, sugar, cocoa, baking soda, baking powder, and salt in a bowl.
In a separate bowl add the eggs, whole milk, oil, and vanilla.
Add the bowl containing the eggs, whole milk, oil, and vanilla to the bowl holding the dry ingredients.
Mix all together until fully incorporated.
Beat for 3 minutes on medium.
Slowly add the boiling water starting with a small amount then pour in the remaining boiling water.
The batter may be a little runny.
Pour batter into cupcake pan until each side is 3/4 full.
Reduce the oven to 325 degrees and bake for 60 to 70 minutes, once a wooden skewer comes out clean from the center.
Remove from the oven allowing to cool for 10 minutes.
Remove from the cupcake pan placing each on a wire rack to cool completely.
Peanut Butter Buttercream Ingredients
1  cup butter, at room temperature
1 cup creamy peanut butter
3 1/2 cups powdered sugar
4 tablespoons heavy whipping cream
2 teaspoons vanilla extract
pinch salt
Peanut Butter Buttercream Directions
In the bowl of your mixer beat the butter and peanut butter together on medium speed until nice and creamy.
Turn the mixer down to the lowest setting and slowly incorporate the powdered sugar into the butter mixture.
Once you have added all the sugar to the mix add the heavy cream, vanilla, and salt. Turn the mixer up to medium-high speed and continue mixing for 10 minutes until light and fluffy.
The buttercream can be stored at room temperature for up to three days or in the refrigerator for up to two weeks. When you bring it out of the refrigerator let it sit at room temperature for two hours. Than re-whip, it for ten minutes to bring it back to life.
Giant Reese's Peanut butter Cupcake Cake Assembly
With a serrated knife trim off the top of the cupcake half's so they create a nice flat surface.
Spread the 2/3 cup of buttercream on the top side of the bottom cake. Place the top of the cake on top of the buttercream.
Frost the cupcake top with the buttercream.
Take a handful of the mini Reese and cut them in half.
Sprinkle the Reese pieces, mini's half and whole minis over the top the cake.
Pour the hot fudge over the top of the cake so it drips over the candies.
65 Weight Watchers SmartPoints for 12 servings
If you love baking and are looking for more amazing and tastiness check these out! 
Join the newsletter
Subscribe to get our latest recipes right in your inbox every time we post a new one!