Have you been at the mall and smelled those awesome Pretzel Hot Dogs cooking and wanted one or gotten home from the mall and then wanted one? Well you are in luck because this Pretzel Hot Dog recipe will help you save money instead of buying them at the store and make you happy when you satisfy your cravings.
These Pretzel Hot Dog make a yummy snack or you can turn it into a fun meal. My toddler thought this were just the greatest thing ever. Of course if you would like to make them for a toddler make sure you cut the hot dog into quarters length wise and use less dough.
If you are a fan of Auntie Anne's make sure you also check out Auntie Anne's Copy Cat Pretzel Bites and Auntie Anne's Cinnamon Sugar Copy Cat Pretzel Bites
I use my KitchenAid Mixer  when making these Auntie Anne's Pretzel Bites Copycat – really I use my mixer for just about everything I do in the kitchen. If there is a use for it then I am using it! This is the mixer I have and not only is it awesome for when i need to mix things, or anything I am doing they come in a large variety of colors so you can easily match your kitchen 🙂 I have the cherry red one 🙂
Pretzel Hot Dog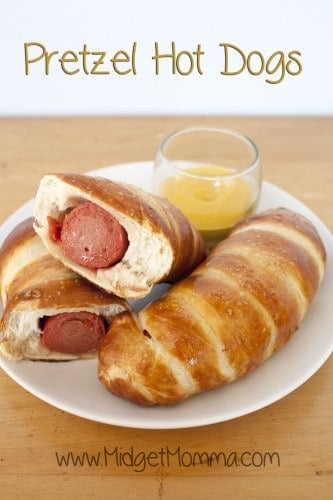 Pretzel Hot Dog Ingredients
2 cups milk
1 1/2 tablespoons (2 packets) active dry yeast
6 tablespoons brown sugar
4 tablespoons butter, melted
4 1/2 cups flour
2 teaspoons fine salt
1/3 cup baking soda
3 cups warm water
Coarse salt
8 tablespoons butter, melted
12 hot dogs
Pretzel Hot Dog Directions
Warm up the milk in the microwave for just about one and a half minutes. I use my pyrex measuring cups to heat it in. It should be about 110º. If it's too hot it will kill the yeast. You should be able to comfortably keep your finger in it.
Stir in the yeast and one tablespoon of the brown sugar and let it sit for about 10 minutes.
Add the butter and remaining sugar. Add the flour about 1 cup at a time and the add the fine salt. Kneed for about 10 minutes with a stand mixer or by hand.
Put it in a greased bowl and cover with greased cling wrap. Let rise for 1 hour in a moist, warm place until doubled in size.
Preheat the oven to 450º. Punch down dough.
Combine the warm water and baking soda in a wide bowl.
Divide the dough into 12 equal pieces.
Use your hands to roll and stretch the pieces of dough into ropes, about 12 inches long.
Wrap one piece of dough around each hot dog. Press the ends of the dough together to hold in place. Then dip in the baking soda water.
Place on a greased baking sheet and sprinkle with coarse salt.
Bake for about 6-10 minutes or until browned. Dip each in the melted butter while hot.
Looking for more snacks? Check these out! 
Tomato Basil Mozzarella Skewers
Join the newsletter
Subscribe to get our latest content by email.
This post may contain affiliate links. Please read my disclosure policy here