Cheddar Ranch Chicken is an easy to make chicken recipe that is perfect for dinner. Juicy chicken with ranch dressing and cheddar cheese on top that bakes in the oven for an easy dinner.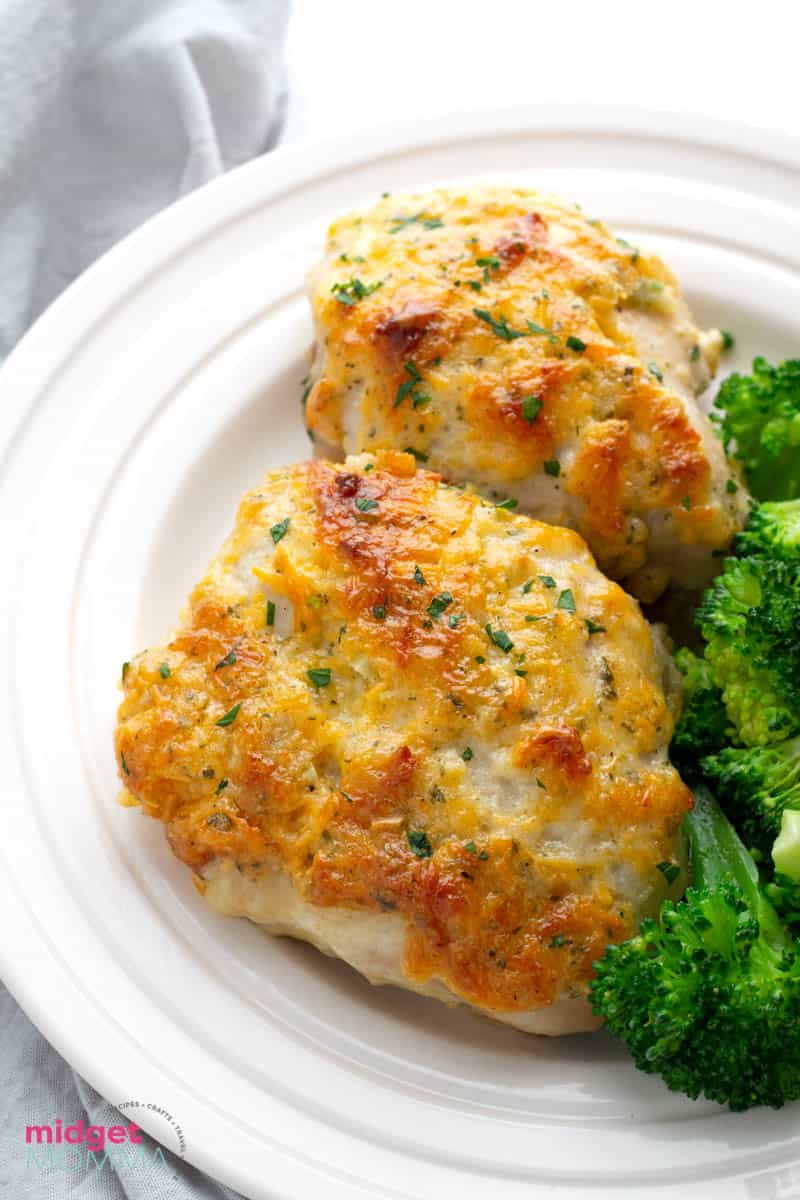 Cheddar Ranch Chicken Thighs Recipe
Cheddar ranch chicken that is baked in the oven this easy low carb chicken recipe will soon be a family favorite. Even if your family is not low carb, they are going to love this ranch chicken recipe. This ranch chicken recipe has been a staple in our meal plan for a long time and is a family favorite.
If you are looking for a quick and easy baked chicken recipe that is full of flavor then you are going to love this Cheddar Ranch Chicken Thighs Recipe. When I am running short on time, this Cheddar Ranch Chicken Thighs Recipe is quick to put together and pop in the oven to bake.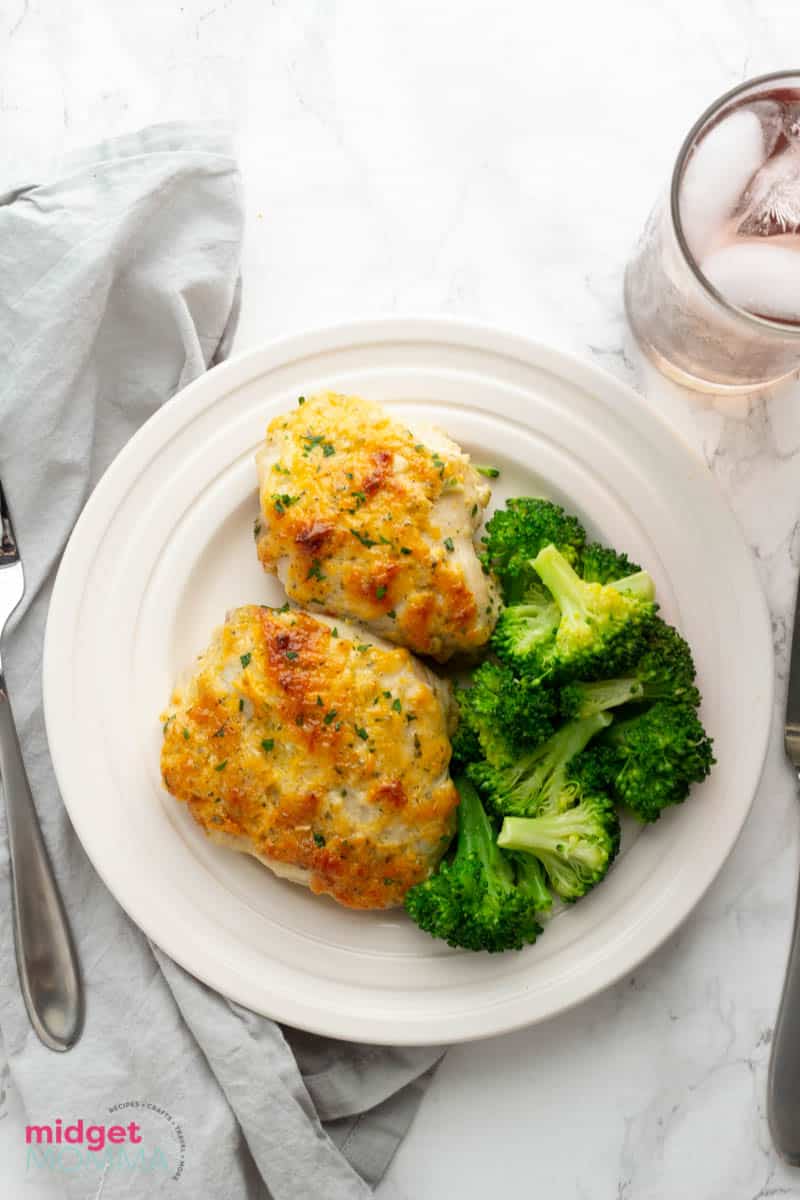 I can prep this dinner quickly or have one of the older kids prep dinner and then toss it in the oven. Then make a quick veggie or two to go with it and dinner is done!
This Cheddar Ranch Chicken Thighs Recipe has an amazing topping made with cheddar cheese, mayo, ranch and garlic. If you are thinking it is a little bit odd to have mayo because you don't like mayo I will tell you that you can not even tell it was used once you bake the chicken. The mayo makes this ranch chicken recipe super moist!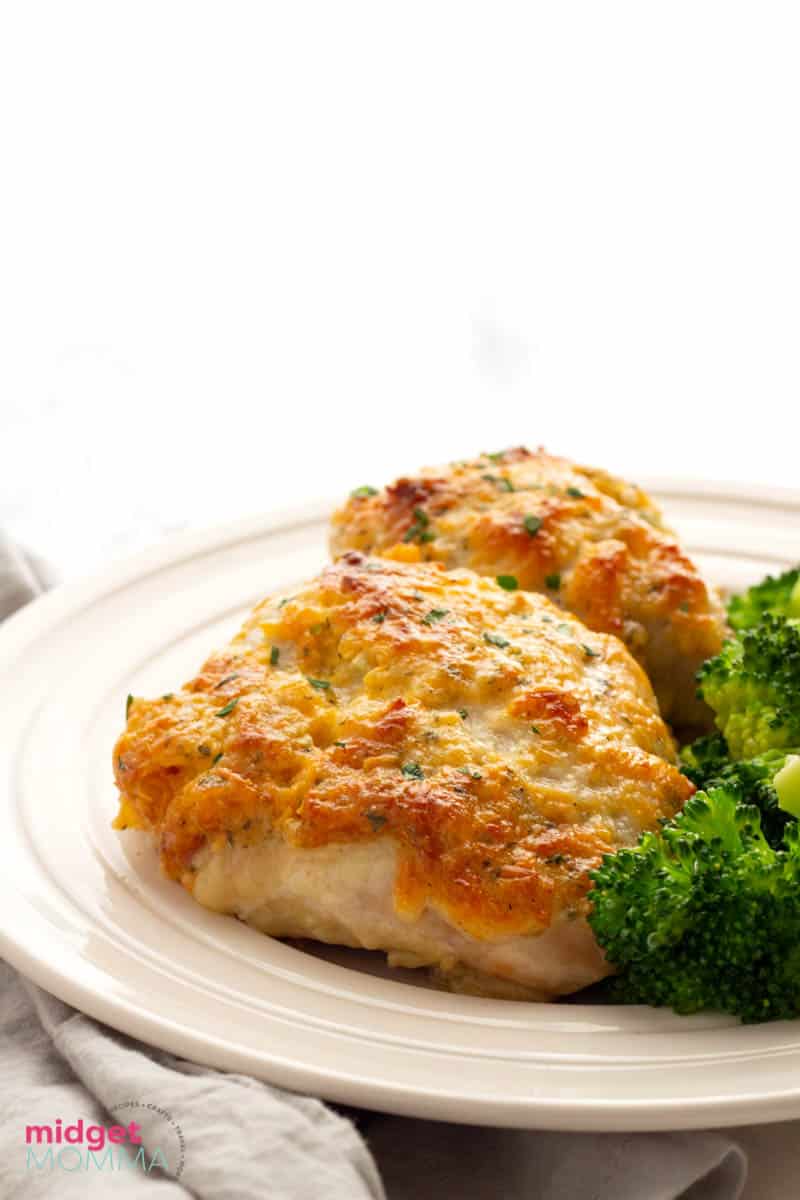 Can you use chicken breasts with this recipe?
The reason I use chicken thighs when cooking is because they cook faster then chicken breasts. On busy nights I don't have the time to prep chicken breasts or cut them thinner so they can cook faster. So my easy solution is to buy chicken thighs that are smaller, thinner and they cook much faster!
I use boneless and skinless chicken breasts the majority of the time I am making this ranch chicken recipe. I have used chicken thighs with the bone in them when I have found them on sale for a steal and the recipe works well. Just be sure to take off the skin when you are making them or the chicken will not have the flavors.
You can use chicken breasts in this recipe. To use chicken breasts for this recipe you will want to make sure they are thin sliced or you will want to bake the chicken longer to make sure the chicken is cooked all the way.
You can also use bone in chicken thighs when making this ranch chicken, we just prefer not to have to deal with the bone.
Can I use Ranch Dressing instead of powdered ranch seasoning?
If you do not have ranch powdered seasoning then you can use liquid ranch dressing, however it will add more liquid and does not have as strong of a ranch flavor.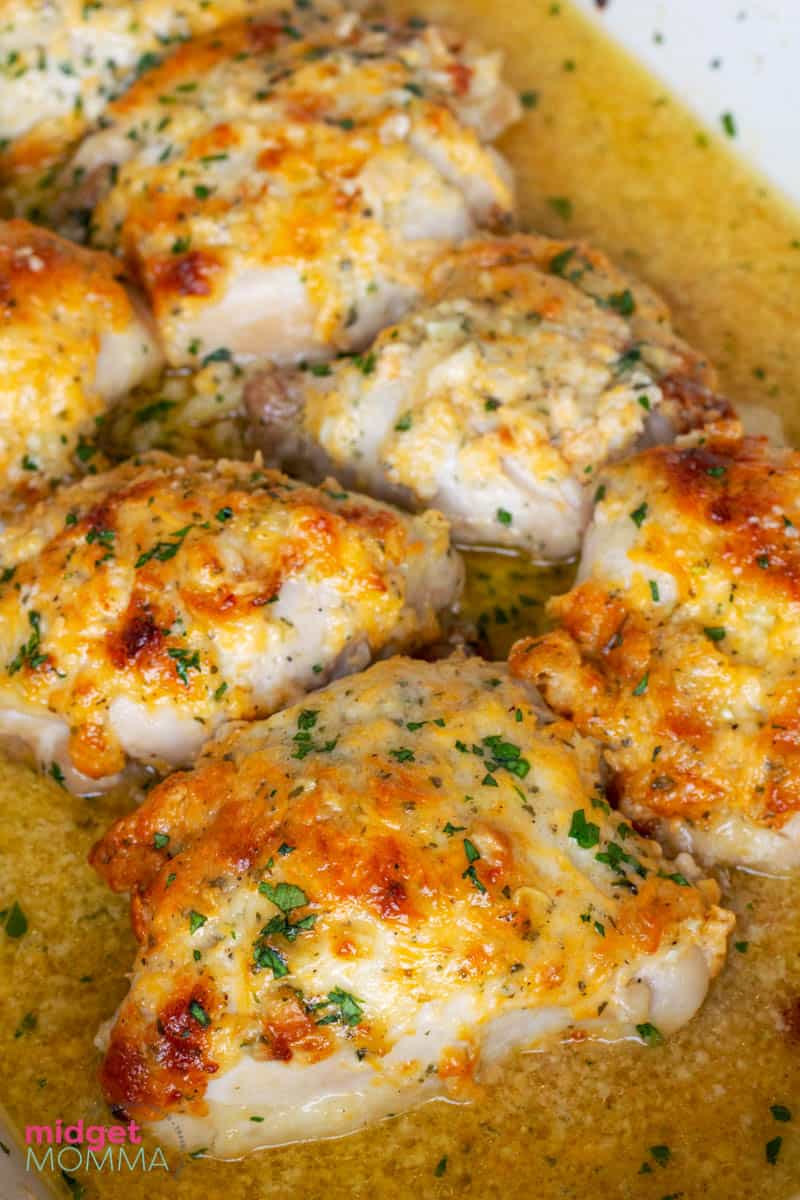 What to serve with Ranch Chicken Thighs
When making cheddar ranch chicken for dinner, it depends on my mood for what sides I make with it. I love making veggies to go with it and a salad. Normally my go to veggies are whole roasted cauliflower, microwave baked sweet potato, Roasted Brussel Sprouts and Crispy Baked Sweet Potato Fries.
If you are looking for more sides to go with it, my kids also love Garlic Rice (Made even easier if you use a rice cooker). If you want super simple, use a veggie steamer and make some steamed broccoli and top with butter!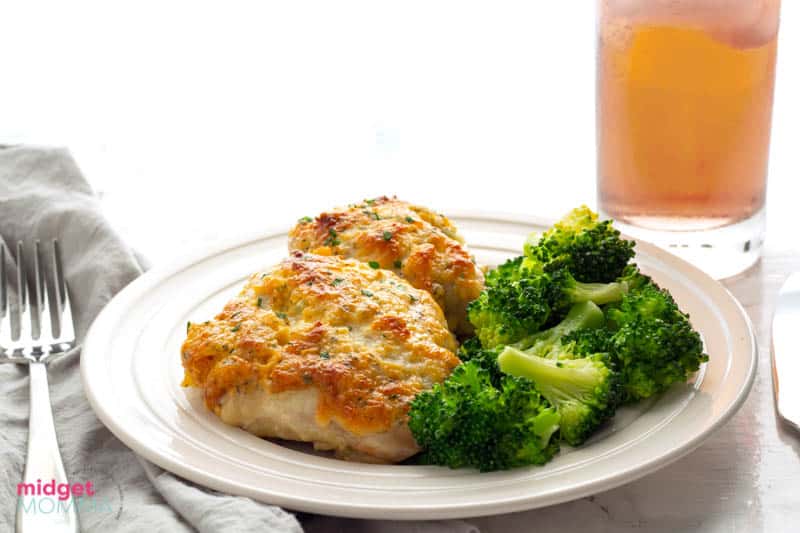 Chicken Ranch Chicken Thighs Ingredients
Chicken Thighs.
garlic.
mayo.
cheddar cheese.
ranch dressing.
If you are Keto or prefer not to use packaged ranch dressing you can easily use your favorite homemade ranch dressing instead of the package ranch dressing.
How to make Cheddar Ranch Chicken Thighs Recipe
It is really easy to make this ranch chicken. In a large bowl mix the ranch packet, garlic, cheese, and mayo.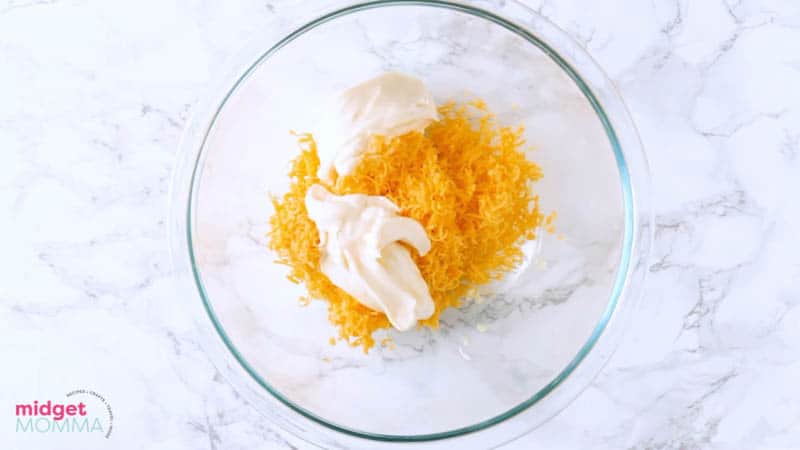 Place your chicken in the baking dish. When I bake my cheddar ranch chicken in the oven I use a baking dish. I prefer to use one that is deeper because there are a lot of juices that end up at the end when you bake chicken thighs.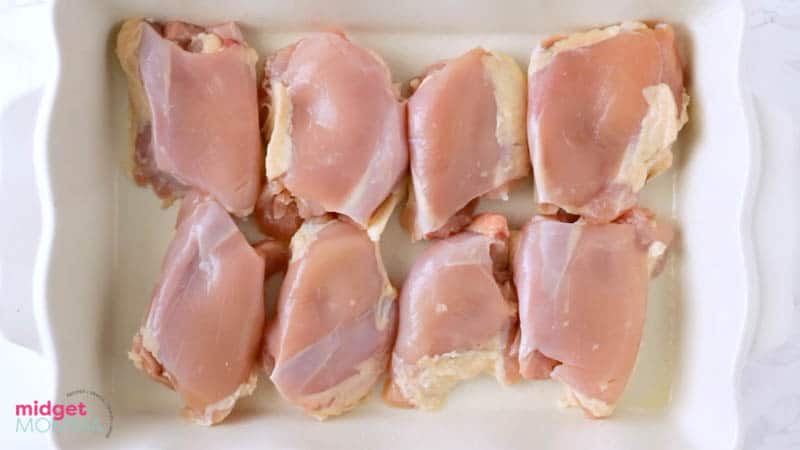 Then spread the mixture on top of the chicken.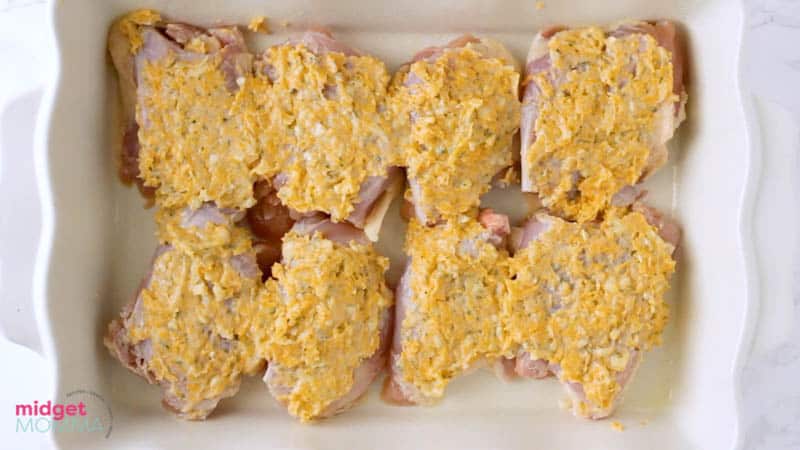 Bake your chicken in the oven while you make a quick side dish and dinner is done!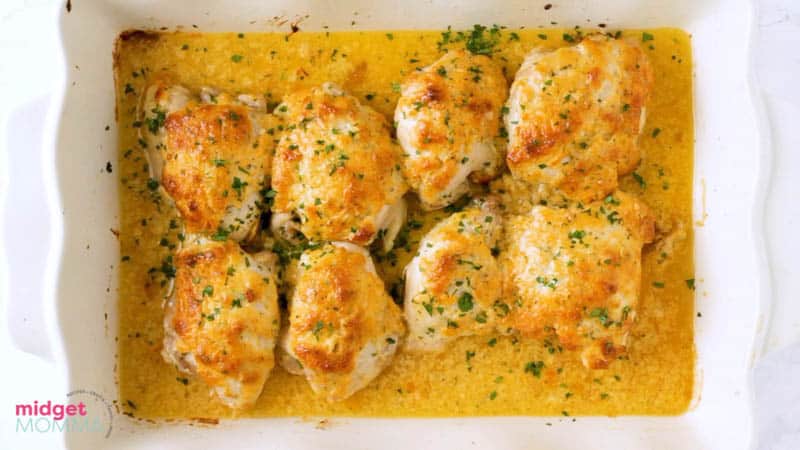 Easy Chicken Recipes
Kitchen Basics
These are essentials for pretty much every recipe! They also make great gifts for those just starting to cook or moving out on their own.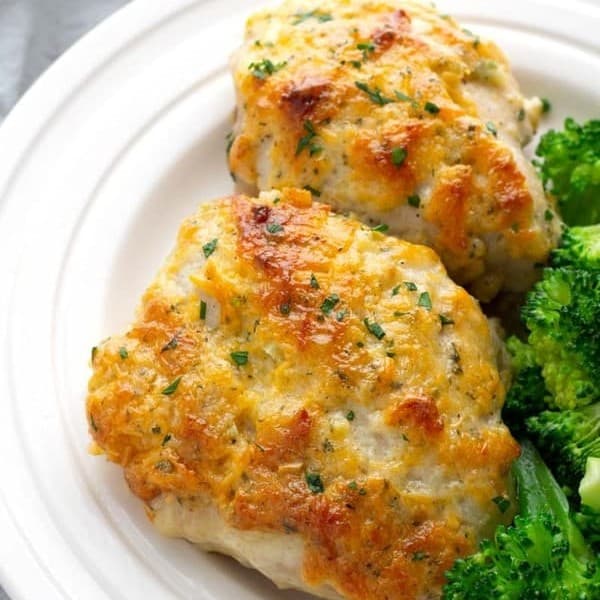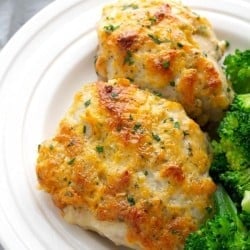 Cheddar Ranch Chicken Thighs
Servings
These Cheddar Ranch Chicken Thighs are a simple but tasty low carb dinner recipe. With only a few minutes of prep you will have dinner in the oven
Instructions
Preheat the oven to 400.

In a large bowl mix together your garlic, mayo, cheese and ranch.

Spray a glass baking dish with nonstick spray.

Place chicken thighs in the baking dish.

Spread mixture on top of chicken thighs.

Bake for 30 minutes at 400.
Calories: 804kcal | Carbohydrates: 1g | Protein: 44g | Fat: 68g | Saturated Fat: 19g | Cholesterol: 263mg | Sodium: 530mg | Potassium: 492mg | Vitamin A: 480IU | Vitamin C: 0.5mg | Calcium: 225mg | Iron: 1.8mg
Cheddar Ranch Chicken Thighs
Dinner
25 WeightWatchers SmartPoints on the Freestyle Program
To make your kitchen life easier make sure you grab the How Many Pints in a Quart? and all other liquid measurements printable chart!
Join the newsletter
Subscribe to get our latest recipes right in your inbox every time we post a new one!