The other day lunch time came around and I was soooo hungry and sooo craving Mexican flavors so I came up with this Keto Friendly Mexican Egg Bowl. Normally when I want Mexican flavors, I just right to making some nachos or a taco. However on Keto thats a no no no so I start exploring.
Exploring tends to start in my fridge, seeing what ingredients I have that I can combine to make something that tastes amazing. Then I start adding stuff together, and hoping the end result is something that tastes good. I can do this with ease normally however sometimes Keto recipes throw me thru a loop. There are hidden carbs that you wouldn't even think of sometimes. It is super important to look at your packages and your ingredients because I have been surprised a few times that something has carbs when I totally did not expect it to! Or it had a ton more carbs in it then I expected it to!
Salsa is one of those things you need to watch, some of them have really high carb amounts! I used Ortega Homestyle Salsa which has 2 grams of carbs per serving. I am sure there are ones that are lower, but that is what I had on hand.
I tend to do a lot of keto egg recipes like this Mexican eggs and cheesesteak scrambled eggs because it is so much easier with a bunch of kids in the house (since we homeschool) and us being so busy. Plus the kids like having eggs for breakfast so we already have them out. However eating the same ol' same ol' eggs gets rather boring. This Keto Friendly Mexican Egg Bowl was so good that I ended up making each of the kids their own after they took a bite of mine!
Now I am going to let you all know that I am Lazy Keto. I do not count macros, I sometimes go over my carb limits (my goal is to be under 20 grams of carbs but sometimes I need more coffee and creamer to get thru the day). I also don't measure all of the time. I know, I know, that is so frowned upon in the Keto community but I have to do what works to keep my sanity as a work at home mom who is homeschooling 3 kids with a toddler running around too.
Some of my other favorite Keto Friendly meals are:
Keto Friendly Mexican Egg Bowl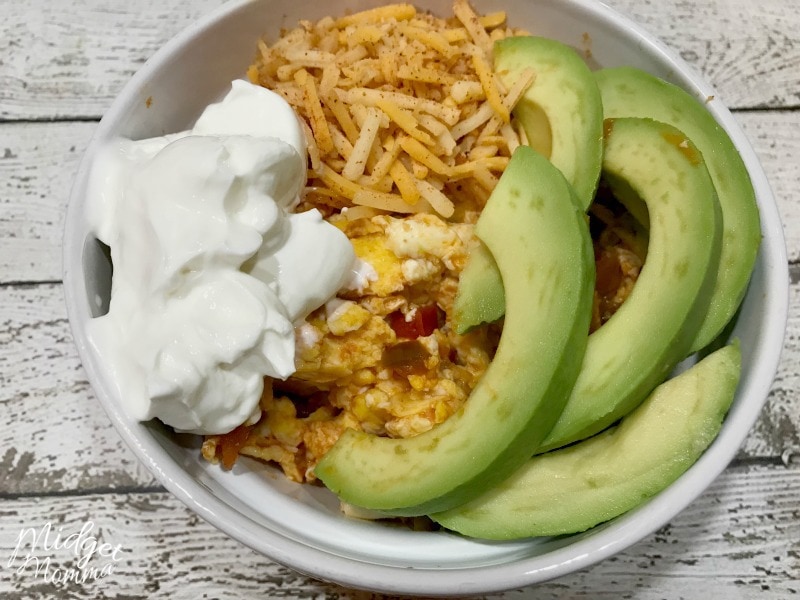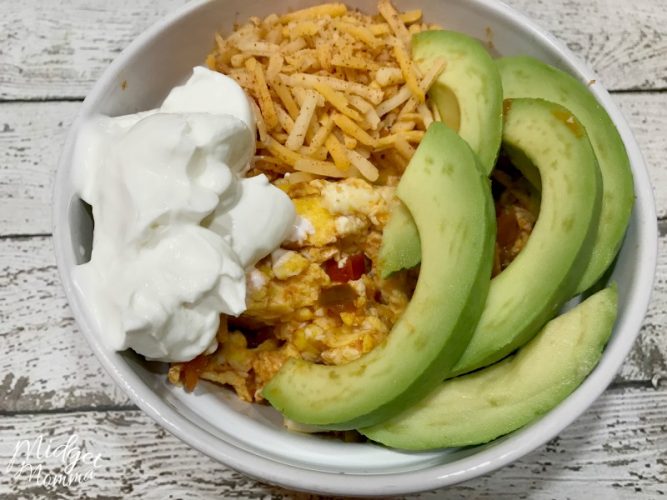 Keto Friendly Mexican Egg Bowl Ingredients:
3 eggs
3 tablespoon salsa
1/2 avocado sliced
1/4 cup taco blend cheese
2 tablespoon sour cream
1 tablespoon butter
Keto Friendly Mexican Egg Bowl Directions:
In a frying pan melt the butter. Once melted scramble your 3 eggs. Once the eggs are cooked add in salsa.
Pour eggs into a bowl and top with cheese, avocado and sour cream!
17 Weight Watchers SmartPoints per serving on the Freestyle Program.
Nutrition Information from My Fitness Pal App
calories 620
Total Carbohydrate 12 g – Dietary Fiber 5 g = 7 net carbs
Total Fat 51 g
Protein 28 g
Looking for More Keto Friendly Recipes? Check these out!
Make sure you also check out this Keto Shopping list for Aldi! It will totally make your shopping for Keto items so much easier!
Get Our Newest Keto Recipes!
Subscribe to get our Newest Keto Recipes by email.
Join the newsletter
Subscribe to get our latest recipes right in your inbox every time we post a new one!