Every year we make a visit to see Santa and get the kids photos taken. It has been a tradition since McKenzie was a baby and had her first Christmas almost 14 years ago. It is a tradition that I am going to continue until all of the kids argue with me, then I will bribe them. 😉
I wanted this year to be more then just saying Hello and getting a picture with Santa and was excited to partner with HGTV for this awesome Santa experience that you all can experience too!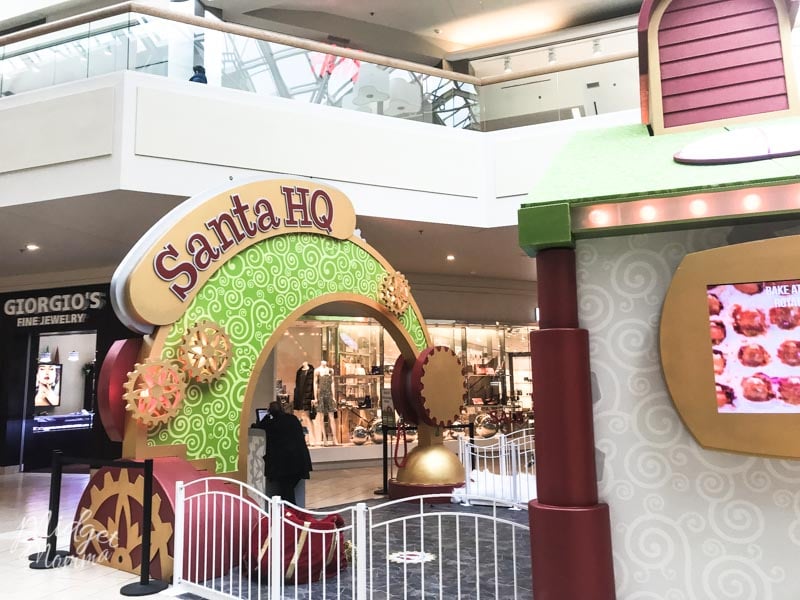 This year we took a visit to Santa HQ at the Freehold Mall in New Jersey, it is one of 15 malls around the country that you can visit Santa HQ for an extra special visit to Santa Experience. You can find a location near you here.
The kids and I put together this fun video to share with you our experience visiting Santa HQ and all the fun things you can do when you go!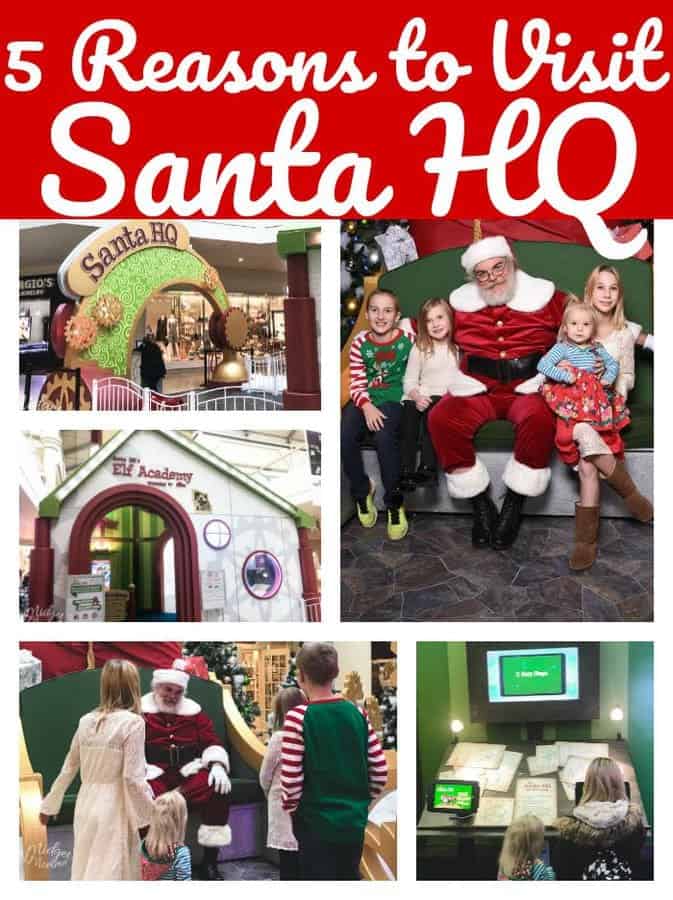 5 Reasons to Visit Santa HQ
Each Santa HQ location is set to with a dazzling array of holiday experiences on top of the traditional photo-op with Santa Claus you are going to love it! These are our 5 Reasons to Visit Santa HQ! 
Reason number 1….. 
Elf Academy at Santa HQ
Elf Academy, a new, family-friendly experience that features interactive technology to enhance the entire HGTV Santa HQ visit.
The Magic Mirror: Guests can transform into one of Santa's elves and virtually try on various elf outfits and take a photo.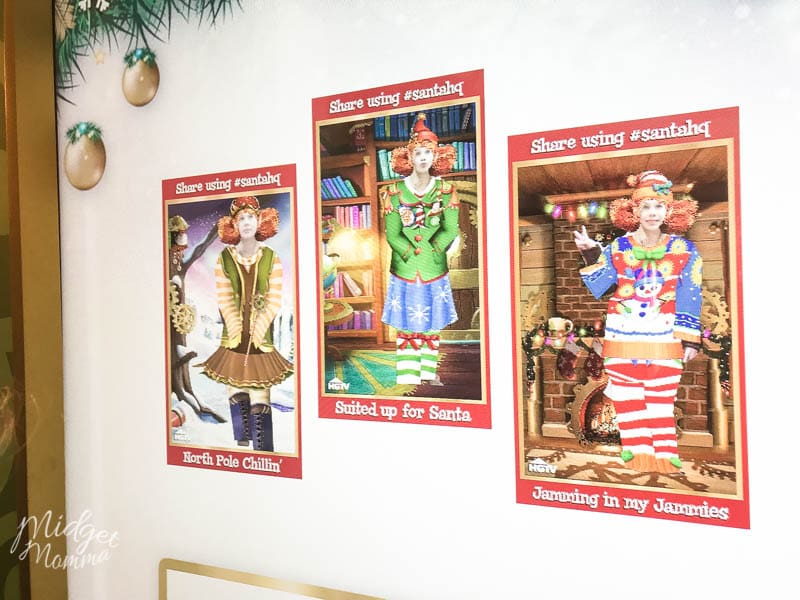 Elf-ID: Guests can create their very own customized Elf-ID card using the new Elf-ID app and the Elf ID is emailed to you!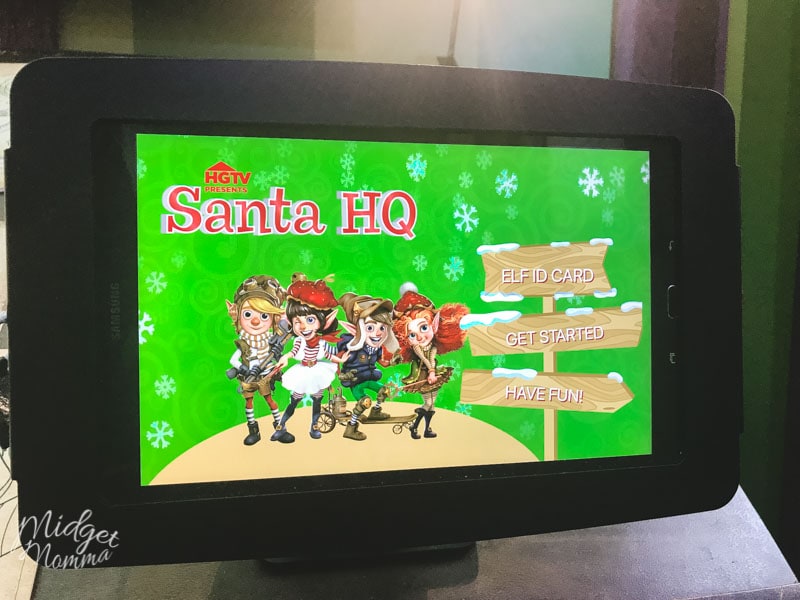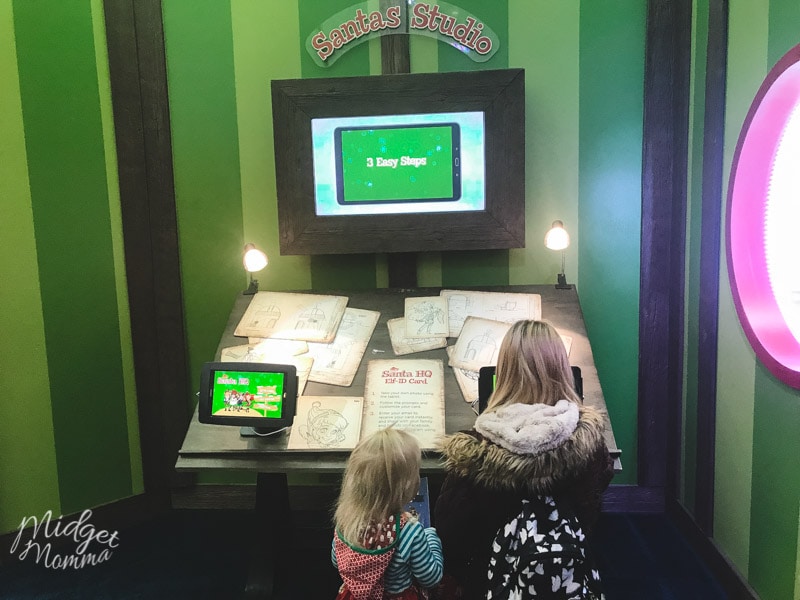 Elf-Ray Vision: Guests can explore Santa's Observatory through the use of special goggles that trigger a series of augmented reality experiences at multiple locations throughout Santa HQ including two triggers at Entrance Arch; one trigger on exterior of the Workshop; Toy triggers underneath the Christmas Tree in the Workshop, and enhanced triggers in the observatory.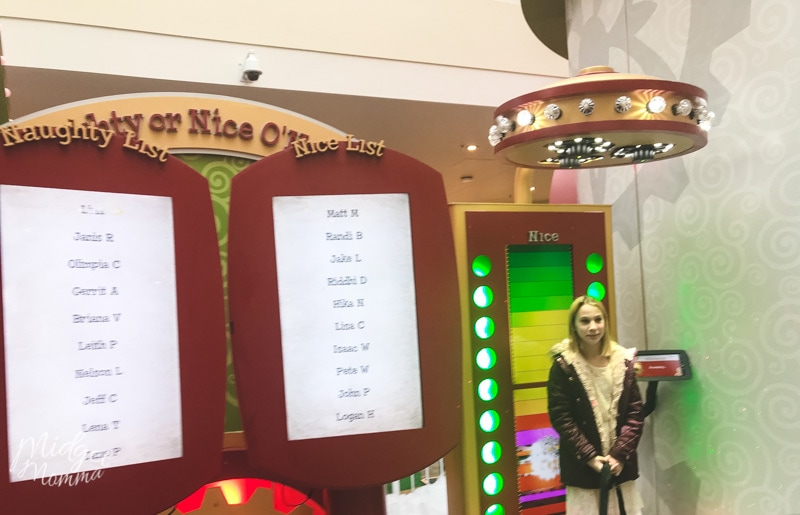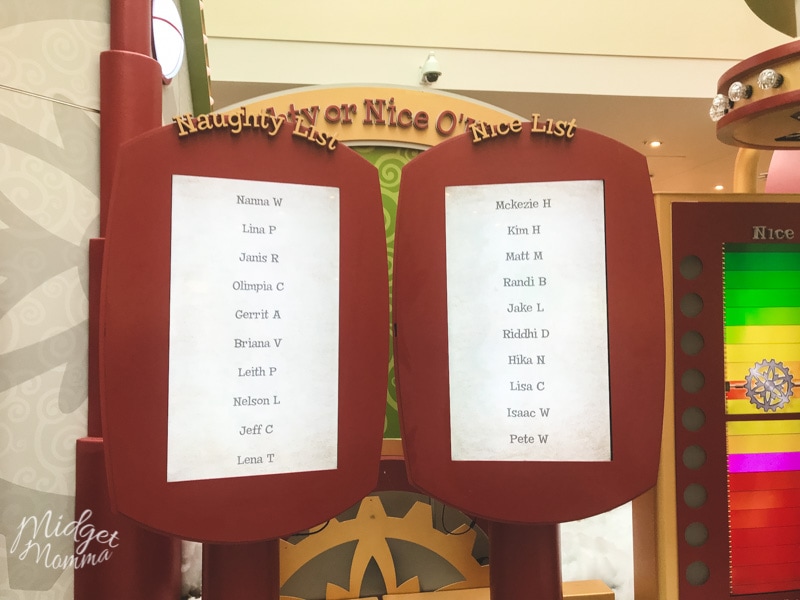 Naughty or Nice Meters: Where visitors can stand next to an interactive board to find out which list of Santa's they made.
Light Show: With more than 10,000 individual holiday lights synchronized to the tune of "Carol of the Bells" to create an illuminated orchestra.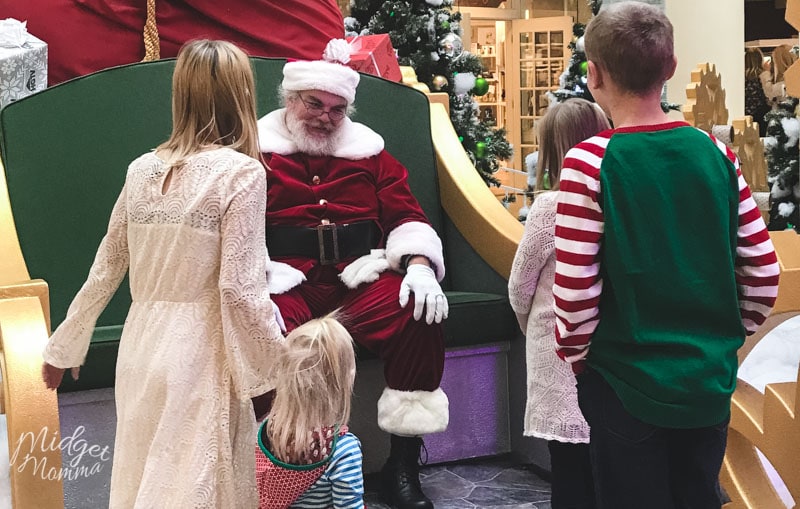 Reason number 2….. 
Photos with Santa at Santa HQ
I mean this one is an obvious in general, that you are taking a photo with Santa. But there are certain things that are quite important when you are taking the kids to get Santa photos and Santa HQ has them covered. At Santa HQ, Santa has a real beard… no need for me to say anything else on that one. ;). Santa was happy and he talked with the kids as well as just taking the photo with them. Those small details are important when taking the kids for their Santa photos.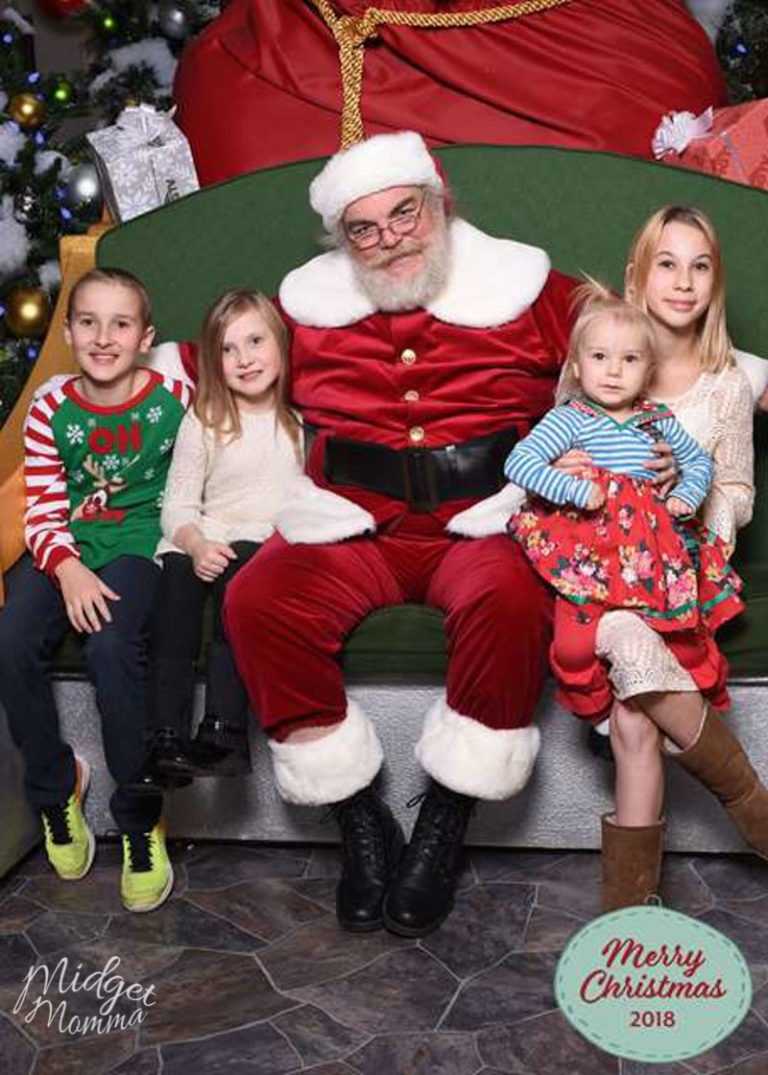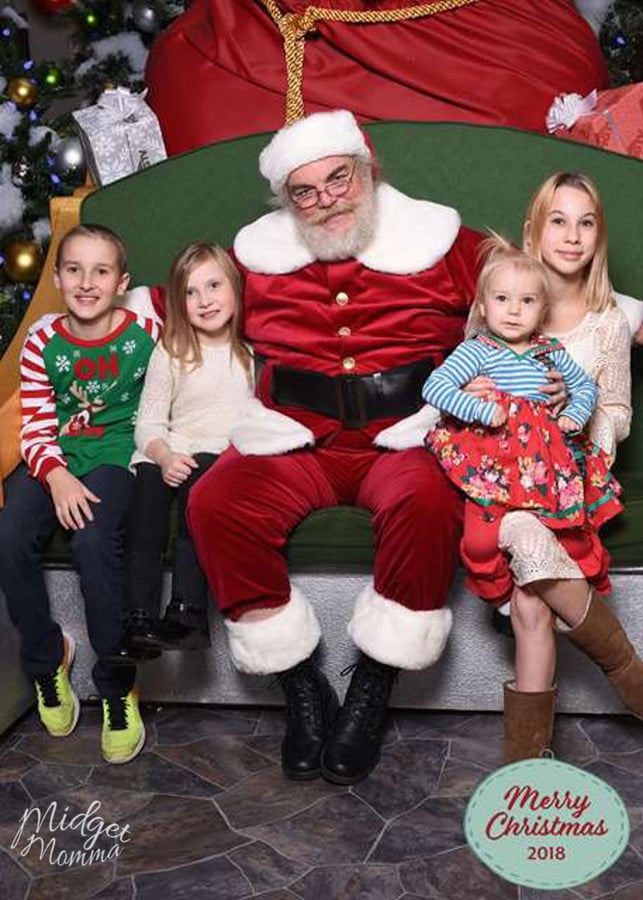 Reason number 3…
Make Reservations for Photos with Santa
Getting your photos taken with Santa has also never been easier! With the ability to make a reservation online ahead of time and a variety of photo packages to choose from, you don't have to worry about doing that when you arrive. Giving the whole family the ability to enjoy the full holiday fun experience. 
Just head on over here to make your reservation!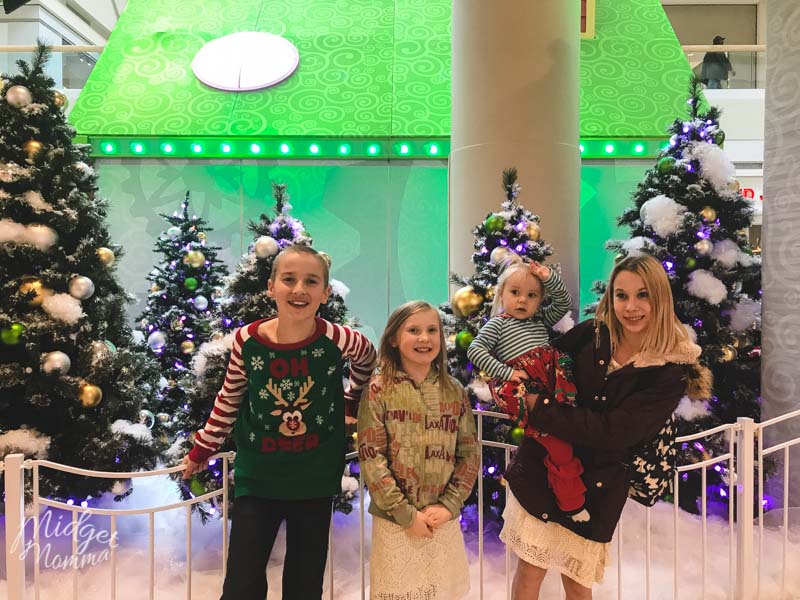 Reason number 4…..
TWO Photo Opps at Santa HQ
On top of getting your photo with Santa at Santa HQ, you can also take a Photo of the kids at "The North Pole".
To be honest there are lots of photo opps during the Santa HQ experience. Just about every activity the kids do is the perfect time to take a photo of them having an amazing time.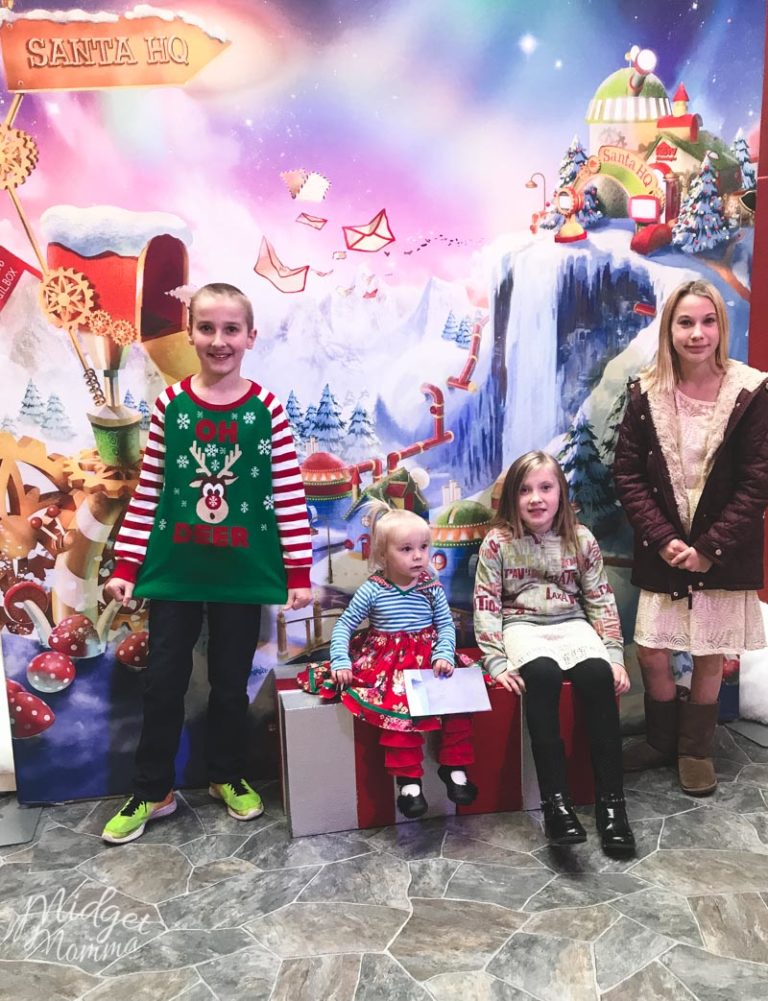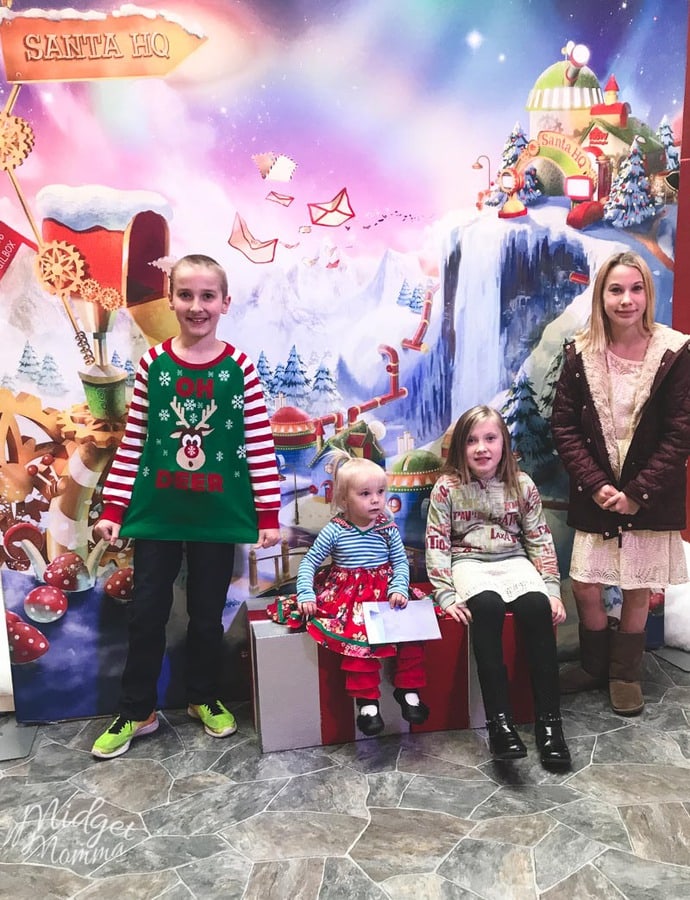 Reason number 5….
Helping others this holiday season!
If you have been looking for a way to help kids this holiday season and share with your kids about helping others you can during your visit to Santa HQ! With HGTV's Help Through Holiday Giving Drive you can donate new, unwrapped toys for local children in need right at Santa HQ!
In 2017, HGTV's Help Through Holiday Giving program collected over 66,000 toys benefiting local organizations like Forgotten Angel Tree, Salvation Army Angel Tree, Toys for Tots, and Spark of Love Stuff a Bus.
More Christmas Fun for Kids
Of course I am sure aside from visiting Santa there is a lot more fun that you want to do with your kiddos so be sure to check out all the Christmas Fun for kids that we have here at MidgetMomma.com!
I am sure the kids are going to want to call Santa, so you will for sure want to make sure you add Santa's Phone number to your phone. Plus you can also Facetime Santa if you want to!
Does Elf on the Shelf come to visit your house? If so make sure you check out these awesome Elf on the Shelf Ideas!
We have LOTS of elf on the shelf ideas too so make sure you check them out!
Elf on the Shelf Kitchen Ideas
50 Easy Elf on the Shelf Ideas
Elf on the Shelf Ideas from Reader Krystal!
If you are doing Elf on the Shelf, then be sure you also print out the Elf on the Shelf Rules
Looking for Christmas Crafts to do with the kids? We have lots of those too! So be sure to check out the Easy Christmas Crafts for Kids, for LOTS of fun Christmas Crafts Ideas to do with the kids.
There are so many tasty christmas treats that the kids will love and they are all perfect for any kids Christmas parties that you might have. Some of our favorite Christmas treats are Santa Hat Cupcakes and Whoville Cookies ! But you can check out the full list of Kid Friendly Christmas Treats and pick out your favorites to make with the kids!
If you are looking for cookie recipes we have you covered there too! Check out our Beautiful Christmas Sugar Cookies, 12 Days of Christmas Cookies, The Best Christmas Cookies Recipes, and Christmas Tree Desserts Recipes!