There is something about water parks and water rides that totally make an entire family act like they are 5 years old. I am not sure exactly what it is but I think it *must* be something in the water 😉 The kids and I are HUGE fans of water parks, water slides, water fun in general and in the Poconos well we are not going to find the waves that we love in the lakes but we can find them and more fun at the local Aquatopia Camelback Resort. If you are not local then this is going to make a great vacation spot, weather it be a weekend trip or a midweek trip it is one that I can say you are going to enjoy. If you are local it will make a great staycation when you visit Aquatopia.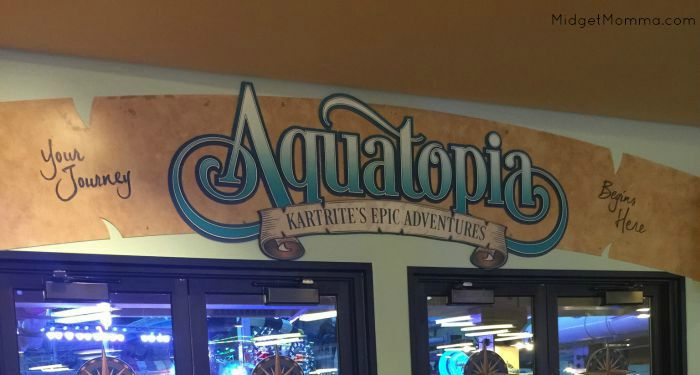 10 Reasons to make Aquatopia Camelback Resort A Vacation Spot
1. No day passes for locals at Aquatopia Camelback Resort 
As someone who is relatively close to this waterpark and resort and would be considered a local I am probably the odd one out when I say that I enjoy it that you can not just take a day trip to the indoor waterpark and that you must have a resort stay to use it. Ok I am sure people who are local are going to hate me for saying that but it comes with good reason behind it. While it might make an awesome day trip, the waterpark would be totally over crowded if people were able to get day passes.
When we stayed at Aquatopia Camelback Resort they were pretty much booked up for rooms and you could not even tell it when you were in the waterpark itself. The lines had small waits, the pools you could move around with ease and you did not feel like you were a tuna in a tuna can. It was enjoyable, it was fun and we were able to enjoy all of the waterslides that we wanted to with out crazy long lines and to many people. Even during the busy hours of the day, it was still enjoyable and easy to navigate amongst the other people. We all know with kids waiting in long lines is horrible, we also know that when we spend a good amount of money we want it to be worth it. Waiting 30+ minutes for a ride down a slide would not be a good experience at all.
If I am going somewhere on vacation then I want to be able to enjoy it, I want to be able to experience it and I want to be able to relax. We have been to waterparks where they sell day passes to and many times we feel overcrowded and like all we are doing is waiting. At Aquatopia we felt none of that.
2. With your stay at Aquatopia Camelback Resort you get Camelbeach Passes too
When you are staying at the Aquatopia Waterpark and Resort you will also get passes for everyone who is staying with you to go to Camelbeach as well. Camelbeach is open to the public for day passes, but you can swing it so that you go during the meal hours and have less people traffic to deal with and skip having to wait long lines. There is also a FREE shuttle that will take you from the resort to Camelbeach and then back to the resort.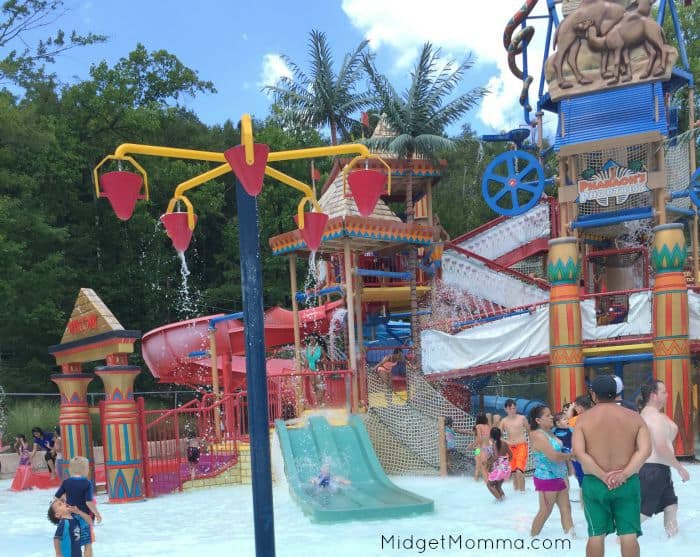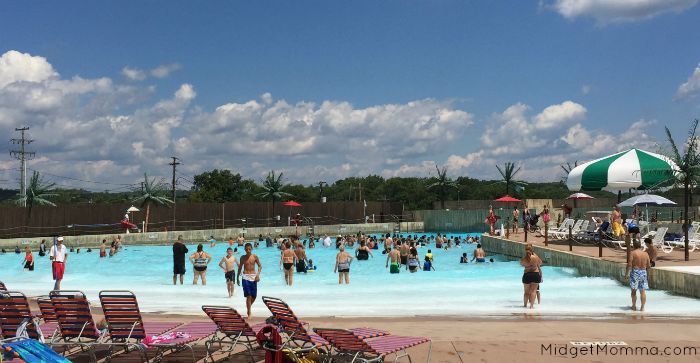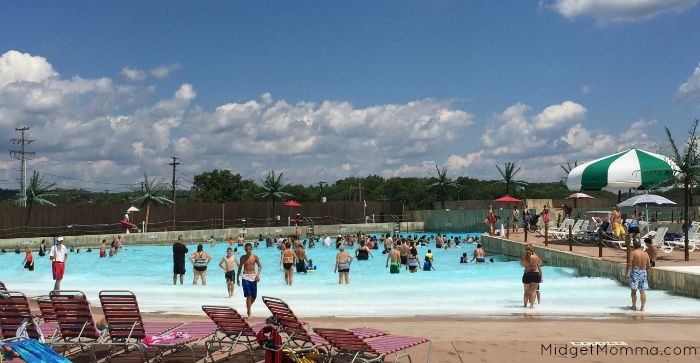 3.Waterslides & Pools at Aquatopia Camelback Resort 
When you are going to a waterpark weather indoors or outdoors lets be honest you are going there for the water slides and everything else is a bonus. The one thing you do not want is waterslides that you go down once and then the fun is gone. At Aquatopia the waterslides are fun no matter how many times you have gone on the same one.
There are also 7 pools total at Aquatopia, including the Mystic Springs indoor/outdoor family hot tub. There is also one where it is for adults only but you can swim right up to the bar!
Storm Chaser
Exciting, gravity-defying water-based coaster that exists in any indoor waterpark in the U.S. Expanding an adrenaline-charged 756 feet, it is North America's longest indoor uphill water coaster.
Venus SlydeTrap
A three- to six-person family rafting tube. The only combination family raft ride of its kind in the world, the Venus SlydeTrap fuses three exhilarating waterslide experiences into one slide. The 600-foot long, fully enclosed family rafting experience has a record-breaking sphere and open 'manta' wall ride.
The Himalayan
The fastest slide in the park, a head first ride on a mat slide.
Outa-Space Slide
Fully enclosed body slide with twists, turns and drops.
Skydive Plummet and Paradise Plunge
Two Free-falling body slides that you know it's coming but you won't know when. The trap door beneath you suddenly gives way, and down you go sliding with a TON of fun!
And More slides too!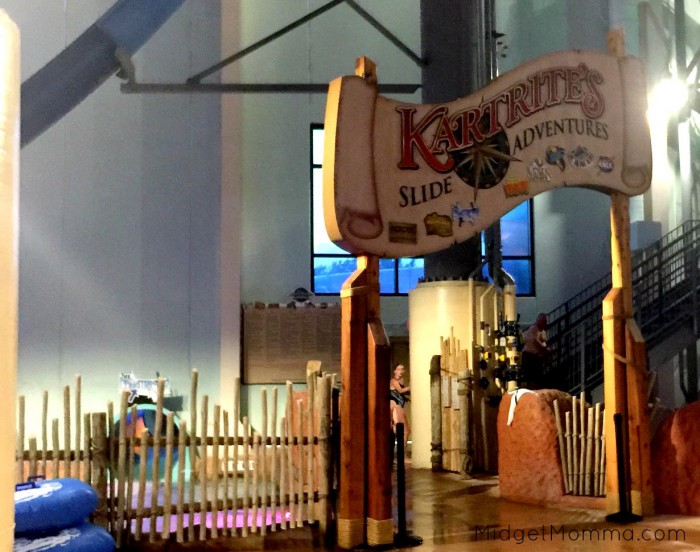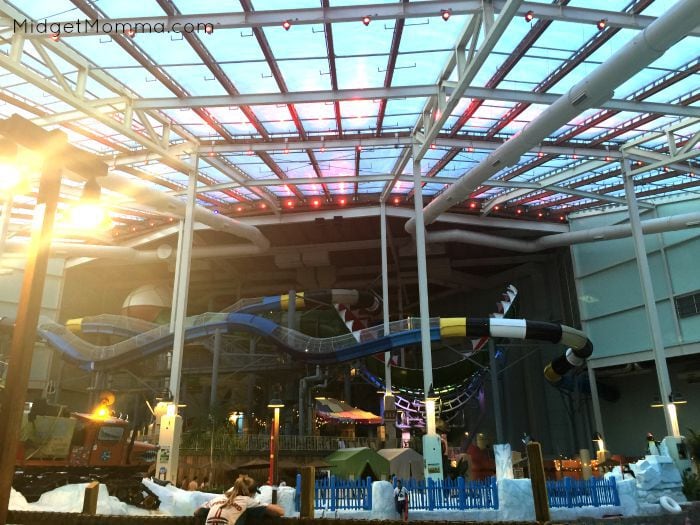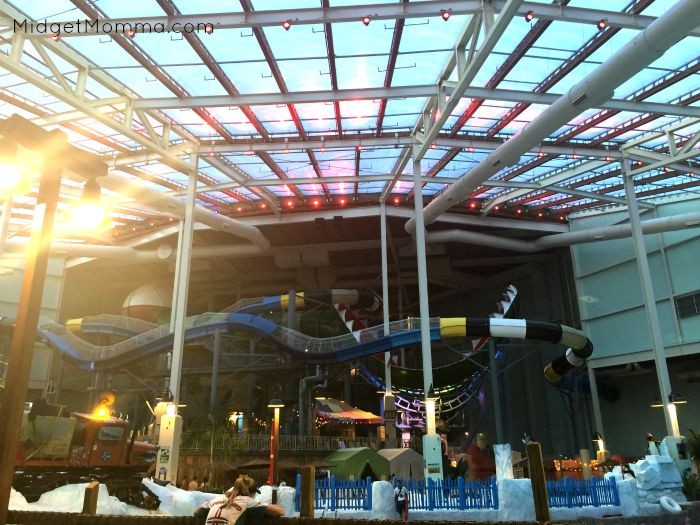 4. The Lodge at Aquatopia Camelback Resort 
They have rooms that can sleep up to 12 people so you can make sure that everyone you want to come can and the rooms are spacious enough that you don't feel like you are stepping on anyone. We had a 2 Queen bed room, with a bathroom and it had a fridge and a microwave. Plus the room had a couch which made it easy to sleep us all.
Several room styles include fireplaces, balconies, spacious lofts and even full kitchens in some of the two and three bedroom suites. There are 453 rooms and 16 different suite layouts to choose from.
5. Bombora FlowRider surfing simulator at Aquatopia Camelback Resort 
Many places we have gone to that have a surfing simulator charge you extra to do it. At Aquatopia it comes included with the cost of your resort stay.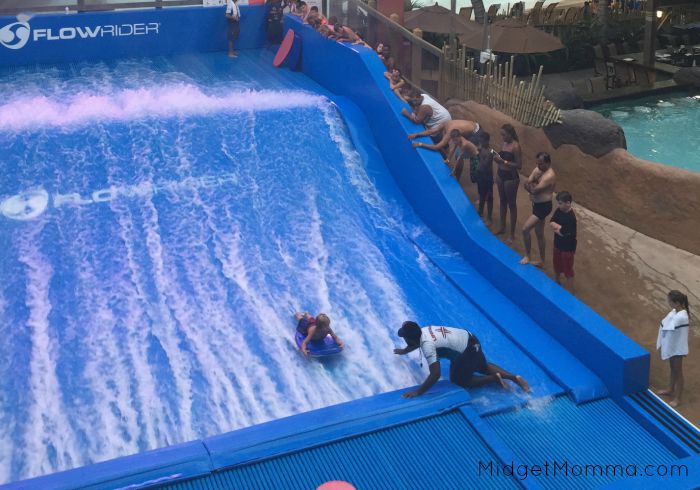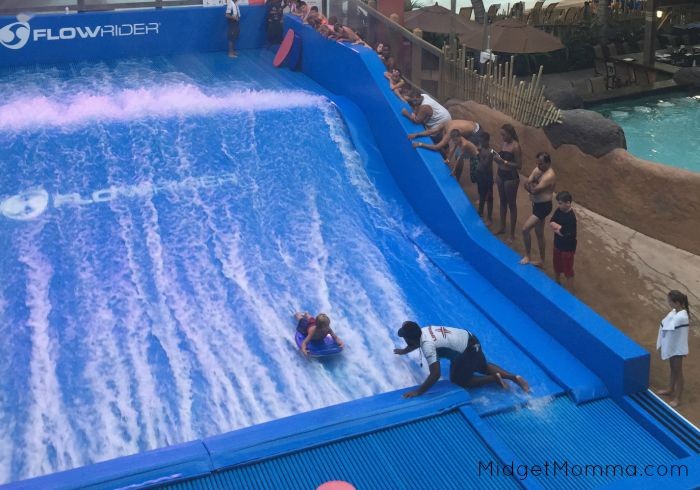 6. There is more then just water to enjoy at Aquatopia Camelback Resort .
Yes, the main feature when you visit is the awesome waterpark however there are also other things to do (well if you can get the kids to actually leave the waterpark that is).
The Ascent, a vertical rock climbing wall
K2 Klimb overhead ropes courses for adults and kids
Meh-Tah's (Not So) Mini Golf
Lazer Runner, black light laser tag
Polka Dot Pots children's arts and crafts
Oasis Kids Spa offering manicures and pedicures to the youngest of guests
Kartrite's Kids Quest, a themed soft play area for the littlest of adventurers.
Serenity Spa and Fitness Centre: Where the adults wanting to retreat for a massage, nail treatment or workout can find respite.
7. You don't have to leave Aquatopia Camelback Resort to eat.
There are multiple places with in the Aquatopia Camelback Resort that you can eat at. Every place we tried was fantastic. They have a buffet which was filled with many different foods and all were delicious and the dessert case was never ending. There is a coffee stand where you can also get pastries which makes getting breakfast a breeze and a midday coffee to keep up with the kids. Plus when you are inside the waterpark there is a restaurant there too so you don't even have to venture out of the waterpark to get food if you don't want to!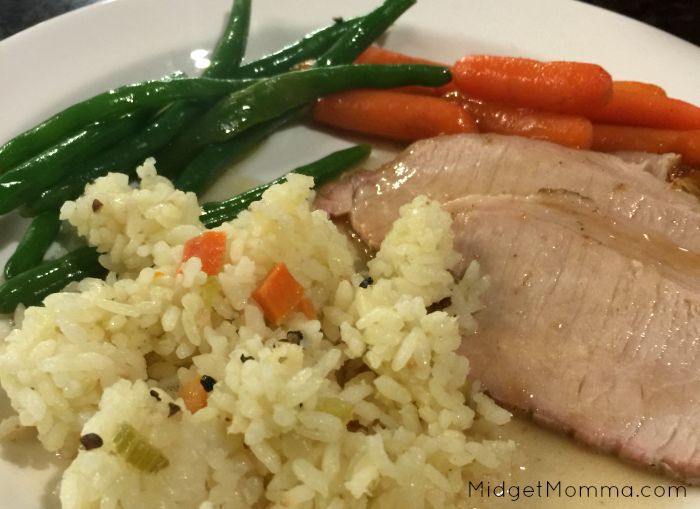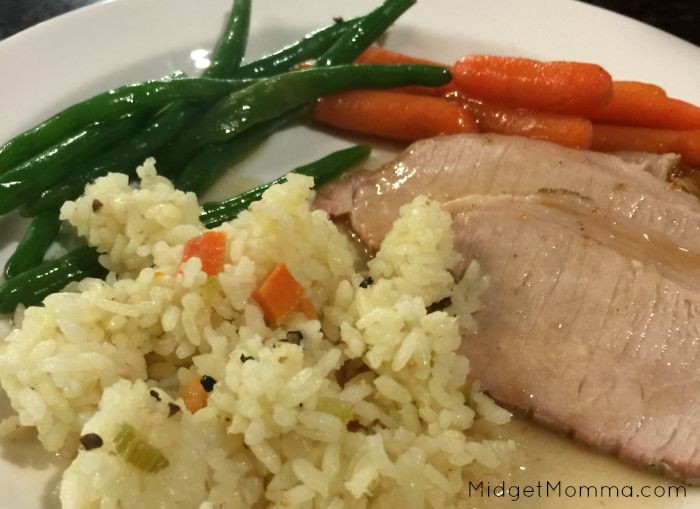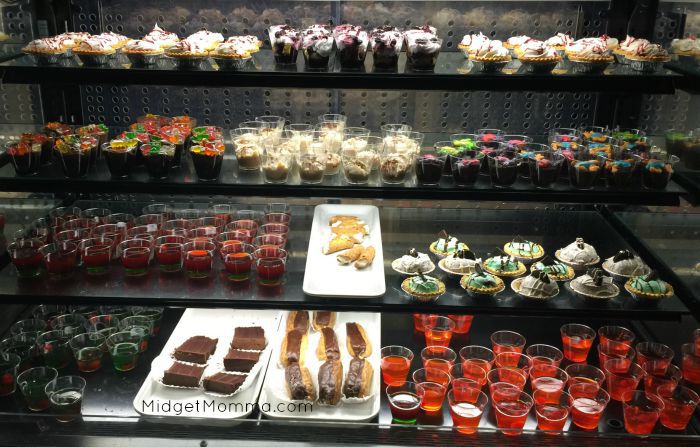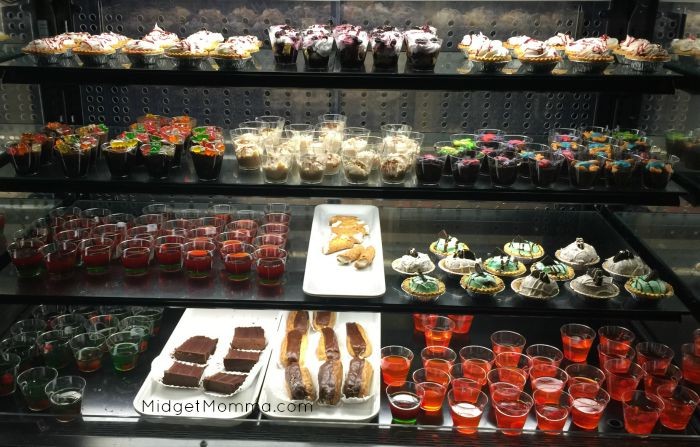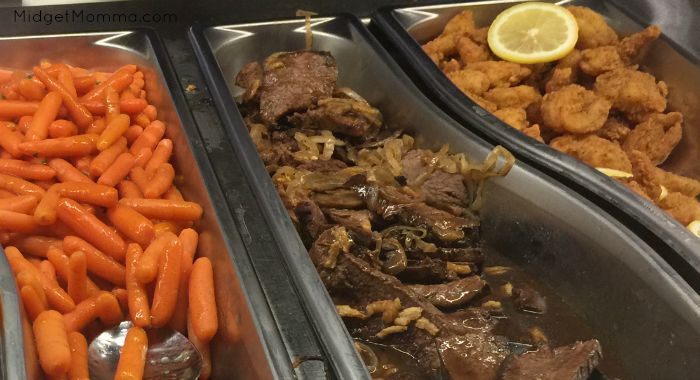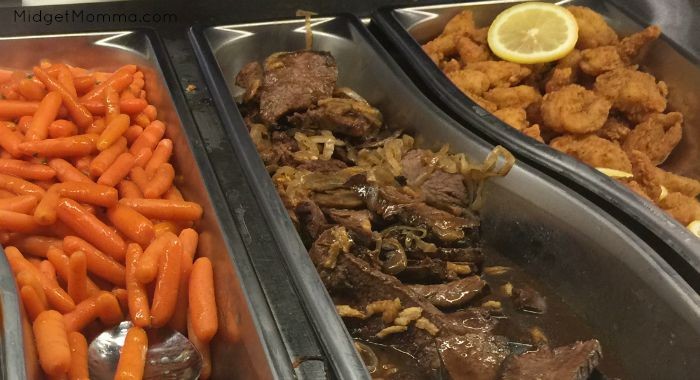 8.No room key.
Upon checking into the resort every member of your party gets a bracelet (don't lose it, they will charge you to replace it) but it is best to leave it on the whole time you are there. This bracelet shows you are a resort member, plus you use it as your room key. There is no need to worry about how you are going to carry your key when you are splashing around in the waterpark because you are wearing it!
9. Safety is important to Aquatopia Camelback Resort . 
When you are going to a waterpark we all have that talk on the way with the kids about how important water safety is. How following the rules is even more important around water. We have been to quite a few indoor waterparks and I am not always satisfied with the amount of lifeguards they have on duty. It ends up with me telling my older kids no you can not go to the deeper area because it is only me with you.
At Aquatopia there are more than 120 lifeguards, all of which are trained and certified through Ellis & Associates, the industry leader in aquatic safety, oversee the safety operations and regulations for Aquatopia Indoor Waterpark.
You do not need to worry about not bringing a floatation vest or floaties for the kids either, Aquatopia supplies Coastguard certified lifejackets at no charge for you to use while you are in the waterpark.
10. Family Fun for Everyone at Aquatopia Camelback Resort
At times we can go to places where it is for families but someone feels like they are left out because they are to small for a ride or the older kids saying they are stuck on "baby rides". At Aquatopia Camelback Resort even the slides for the little kids were fun for the big kids. While the older kids went on the slides my 5 year old couldn't go on, she didn't feel like she was left out as there were ones she could go on that were just as fun for her.
The family waterslide let us all enjoy a trip on a slide together and The Great Ka-Na-Gawa Wavepool we were all able to enjoy the waves together. Kartrite's Quest, the world's first 'Next Generation' fully themed and immersive multi-level exploration AquaPlay structure while designed for the younger kids with the splash area also has things that older members of the family can enjoy like water basketball. It has a 1,000 gallon, themed giant dumping bucket perched more than 52 feet overhead and 84 interactive water effects including: bubbler and geyser jets, rotating dumping troughs, hose jets, pull ropes, tipping cones, water guns, plunger jets, water wheels and water cannons.
For us we had 1 night at Aquatopia Camelback Resort and when we left the kids were begging to stay longer. You have use of the waterpark from the time you check in until the park closes on the day you check out. Plus they will let you enjoy the waterpark starting at noon on the day you check in. So you can really get a lot of time in the waterpark even if you are only staying one night. They have changing rooms and showers so if you are staying after you don't have your room anymore no worries you can still freshen up before your drive home. However I would suggest doing a 2 night stay at Aquatopia Camelback Resort and planning to get there as soon as you can enjoy the waterpark and then stay until the waterpark closes and wear the kids fully out if you can.
Looking for more fun in the Poconos? Check these out!