This Baked Ziti with Ground Beef is an easy weeknight dinner that's jam-packed with flavor! Tender noodles, ground beef, pasta sauce, Ricotta cheese, and mozzarella cheese combine in this pasta bake to make the ultimate comfort food. This ground beef baked ziti recipe is perfect for a quick weeknight meal or large gatherings.
Baked ziti with ground beef is a meal the entire family will love and it is super easy to make. Serve with a simple green salad and some fresh bread for a complete meal.
Baked Ziti with Ground Beef
Easy and delicious is something you all know I love. During the winter months, my go-to recipes are things that my whole family loves that are filling and are easy to make. It is snowboard season here in the Poconos and my kids are outside in the cold having fun so when dinner time comes I want something that is filling, healthy and easy to make after everyone gets home.
Everyone loves our best baked ziti recipe, because really it is the best. It is a huge hit with everyone who has tried it when I make it and it's a huge hit on Pinterest and with our long time readers. With this ground beef ziti recipe, we changed things up a bit and added some ground beef to make it even better.
This hearty dish is easy to make but perfect for a weeknight meal or if you are having dinner guests over. This recipe is also great for meal planning, meal prepping and the leftovers taste great the next day for lunch.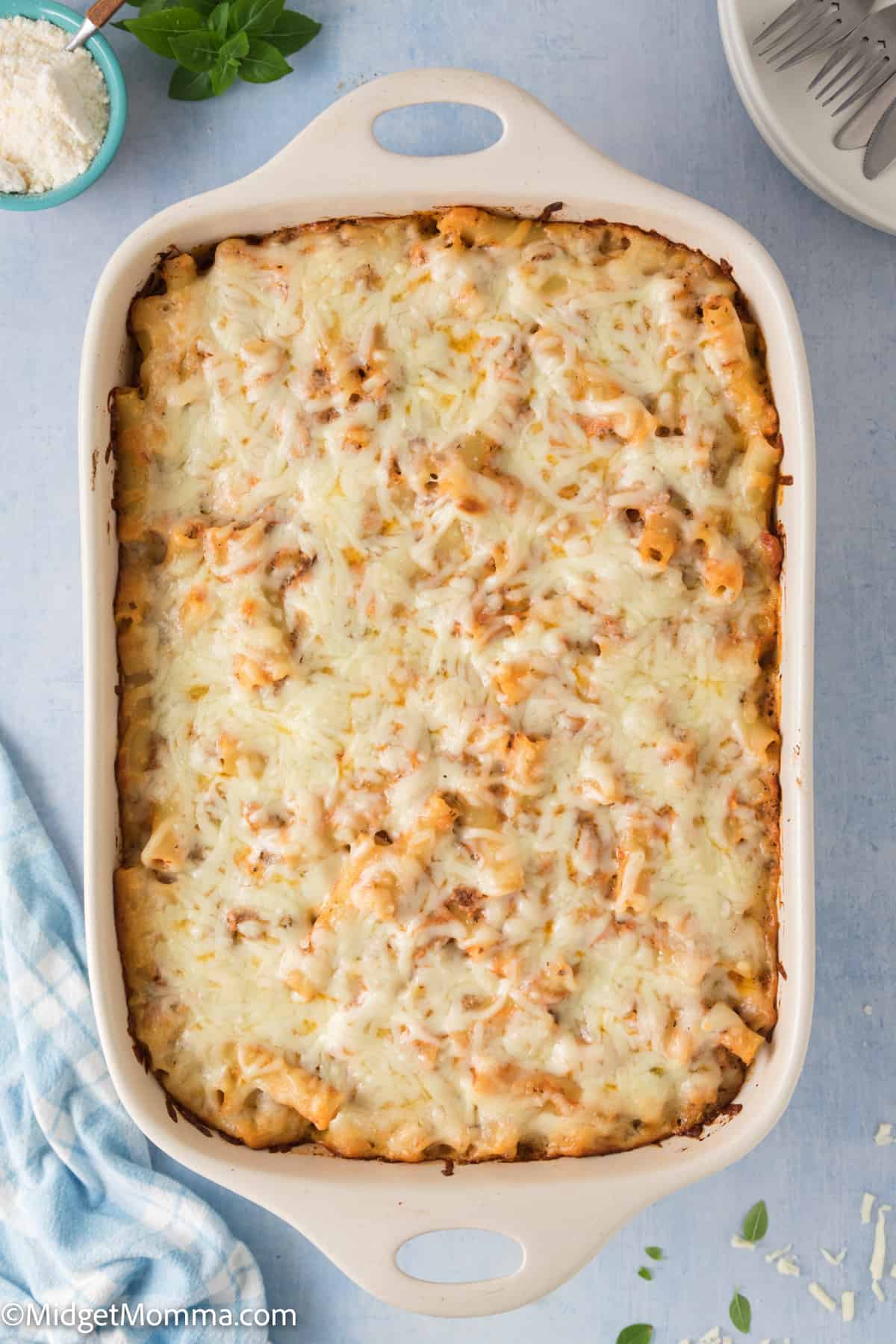 What is Baked Ziti?
Baked ziti is a simple pasta casserole that is made with ziti noodles (tubular pasta), tomato sauce, lots of cheese, and the perfect amount of ground beef. Sometimes this recipe is made with other things like sausage, chorizo, or other proteins. This is the perfect comfort meal.
Easy Ziti Recipes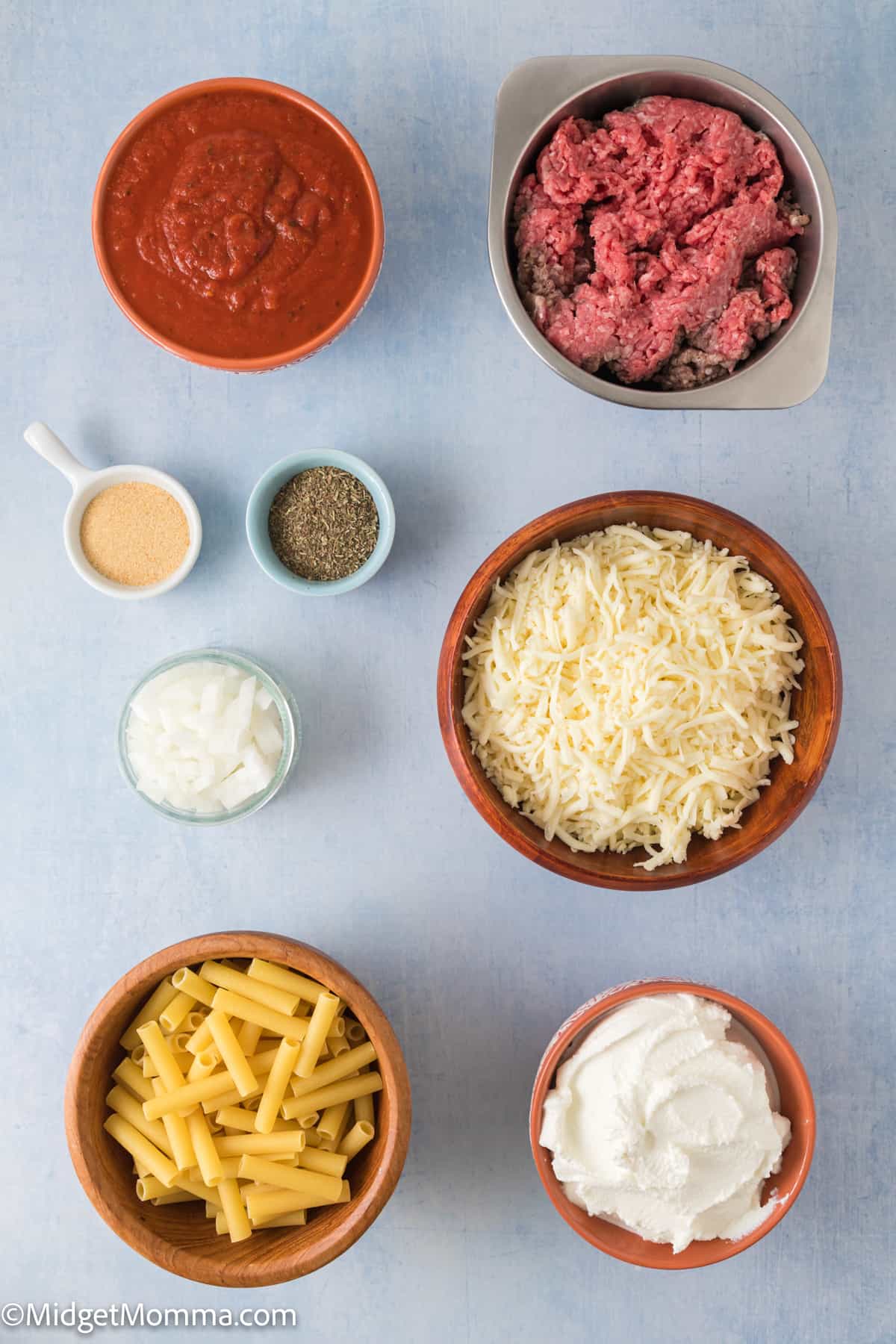 Baked Ziti with Ground Beef Ingredients
Ziti noodles. If you do not have ziti noodles on hand you can change out the pasta and use any small shaped pasta that you have on hand.
Pasta sauce. You can use any pasta sauce, homemade or jarred sauce will work with this recipe. You can use marinara sauce or any flavor pasta sauce that is a tomato-based sauce.
Mozzarella cheese. I prefer to use block mozzarella cheese and then shred it myself as it melts better but you can use pre-shredded mozzarella cheese.
Ricotta cheese. If you want your ziti extra creamy you can add extra Ricotta cheese.
Ground beef. While this recipe calls for ground beef you can change out the meat and use ground chicken, ground turkey, ground sausage or Italian sausage.
Onion. You will need a small onion, you can use white onion or yellow onion for this recipe.
Seasonings. For this easy baked ziti recipe you will need garlic powder and Italian seasoning.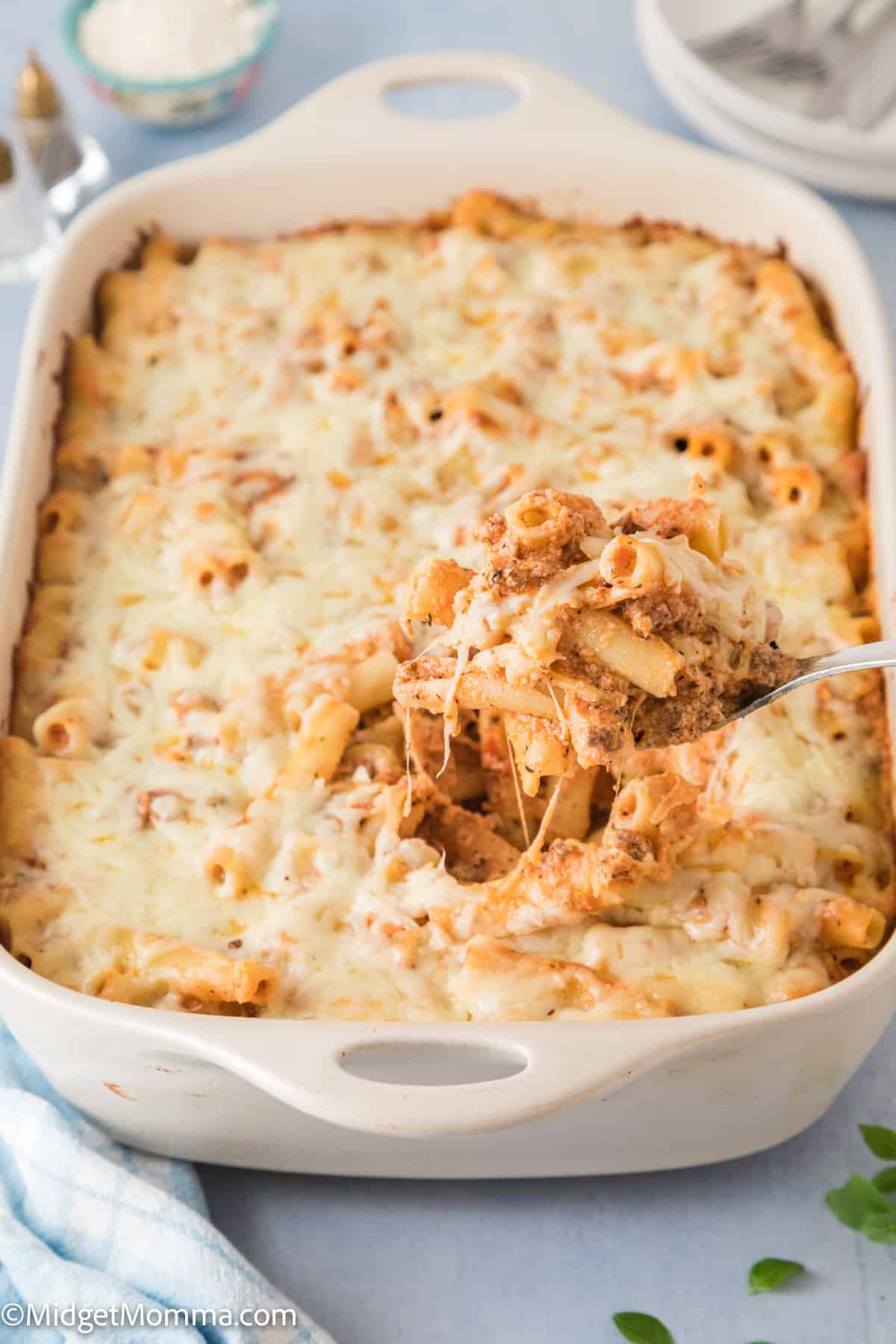 Tips for Making this Recipe
Spray the baking dish with nonstick cooking spray. You can use any type of cooking spray, but it is important to spray the dish so the pasta doesn't stick to the baking dish.
Don't over cook the pasta. When you are cooking the ziti noodles until it is just shy of al dente.
Cook the meat and veggies before hand. Cook the meat first and if you are adding veggies to your ziti then cook them ahead of time as well.
Shred your own cheese. While pre shredded cheese makes things easier it does not melt as well as using fresh mozzarella that you shred yourself.
What is Ziti Pasta?
Ziti is a type of pasta that is tubular in shape and similar to penne or rigatoni. It's perfect for casseroles because it soaks up all the flavors from the sauce and cheese. It also holds its shape during baking, making this dish even more enjoyable.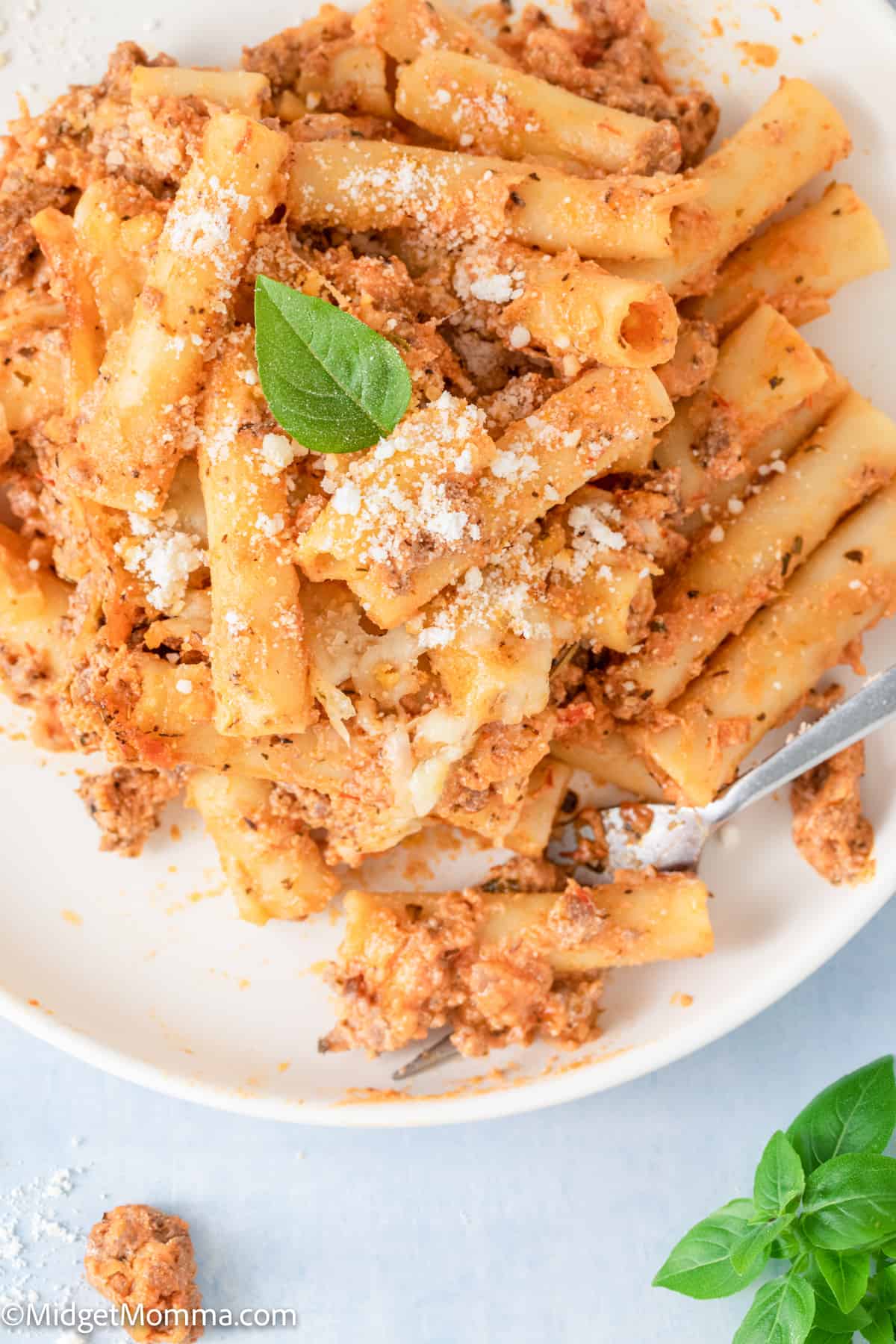 Can I Use a Different Pasta?
Yes, you can certainly substitute a different pasta such as rigatoni or penne. Keep in mind that the cooking time may vary slightly when using a different type of pasta. I would use a small pasta instead of something like spaghetti or lasagna noodle.
Variations to Baked Ziti with Ground Beef
Add veggies. This recipe is versatile and allows you to get creative with your ingredients. Feel free to add vegetables such as mushrooms, bell peppers, or spinach for a more nutritious meal. I love adding veggies to this dish because they go in seamlessly and even fussy children will eat their veggies with sauce and cheese. If you are wanting to add some veggies to your baked ziti cook them before hand, drain any water and then add them in before putting the baked ziti mixture into the oven. Personally, I love adding in spinach and with either sauté some fresh spinach with a little bit of garlic and butter or pop a box of frozen spinach in the microwave, drain the water out and then add it in.
Choose a different meat. You can swap ground beef for other things when you make this recipe. You can use other ground meats like turkey, chicken, or sausage. You can also use vegetarian options such as tofu or tempeh if you would like.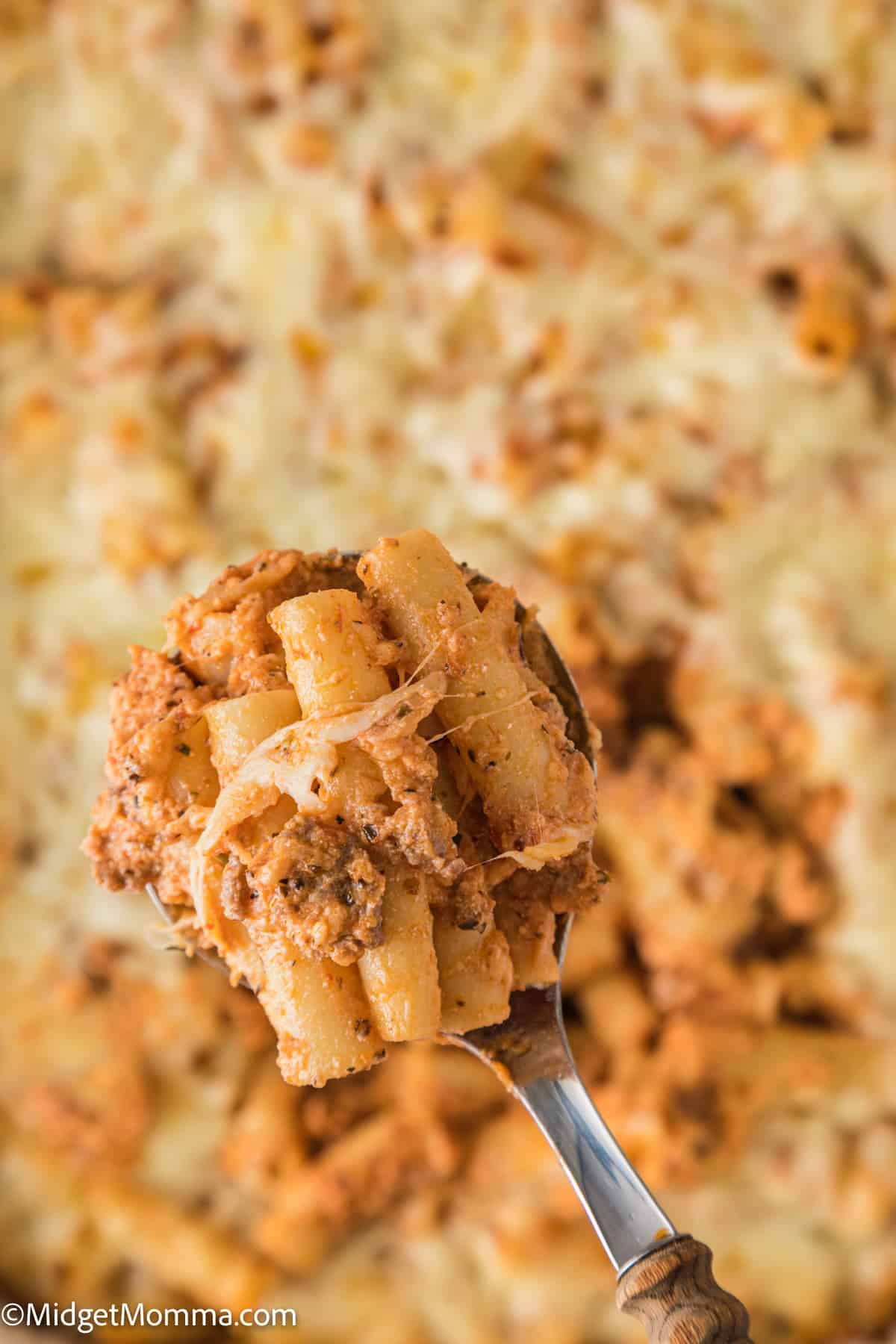 How to Make Baked Ziti with Ground Beef
Fill a large pot with water and place the large pot of water on the stove over high heat.
Cook the pasta according to the package directions.
While the ziti noodles are cooking dice the onion.
In a skillet over medium high heat add the ground beef and the onion and cook until the meat is cooked all the way thru.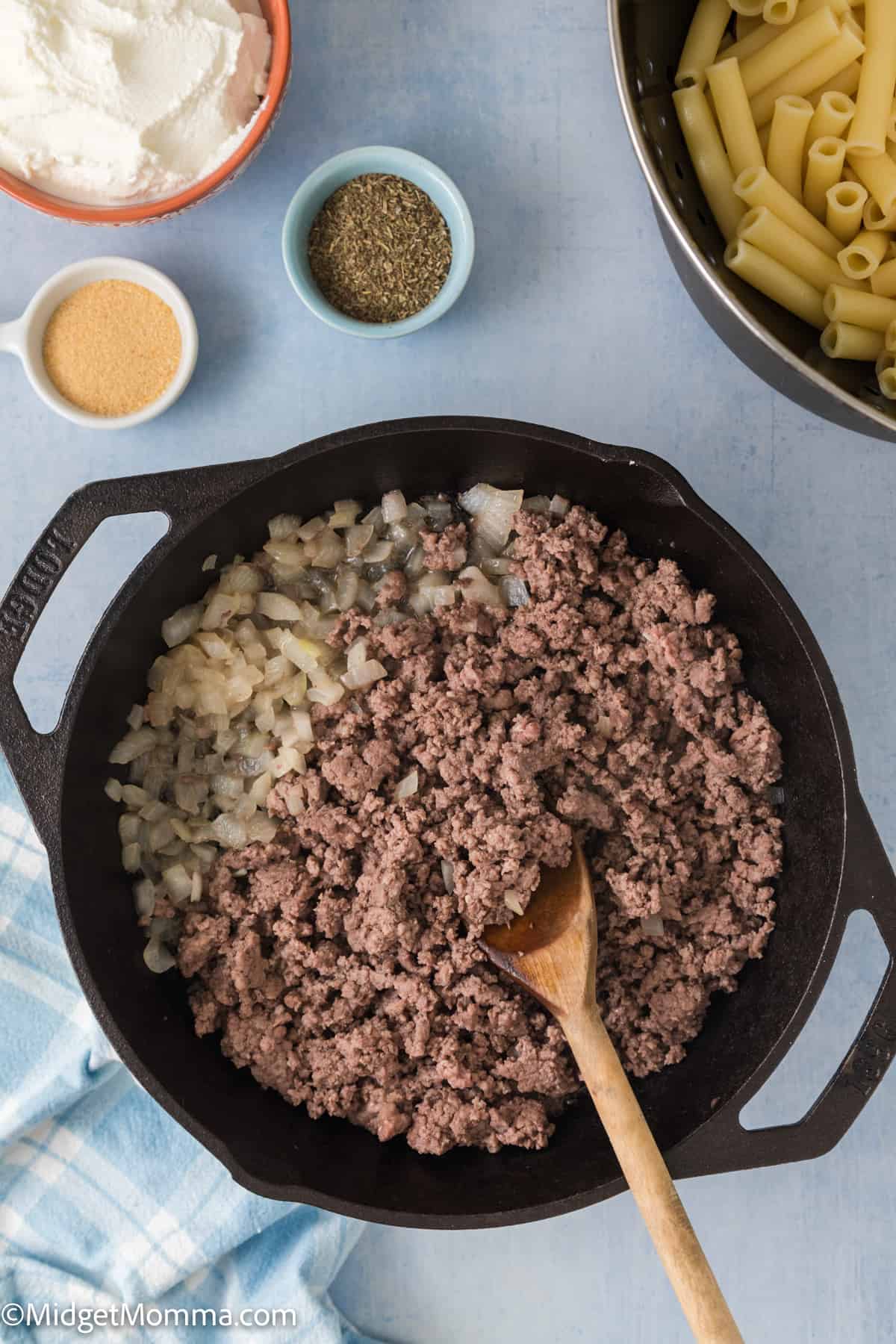 Preheat the oven to 350.
When the noodles are done cooking drain them with a colander.
In a large bowl add half of the mozzarella cheese, all of the Ricotta cheese, spices, ground beef, and the pasta sauce and mix well.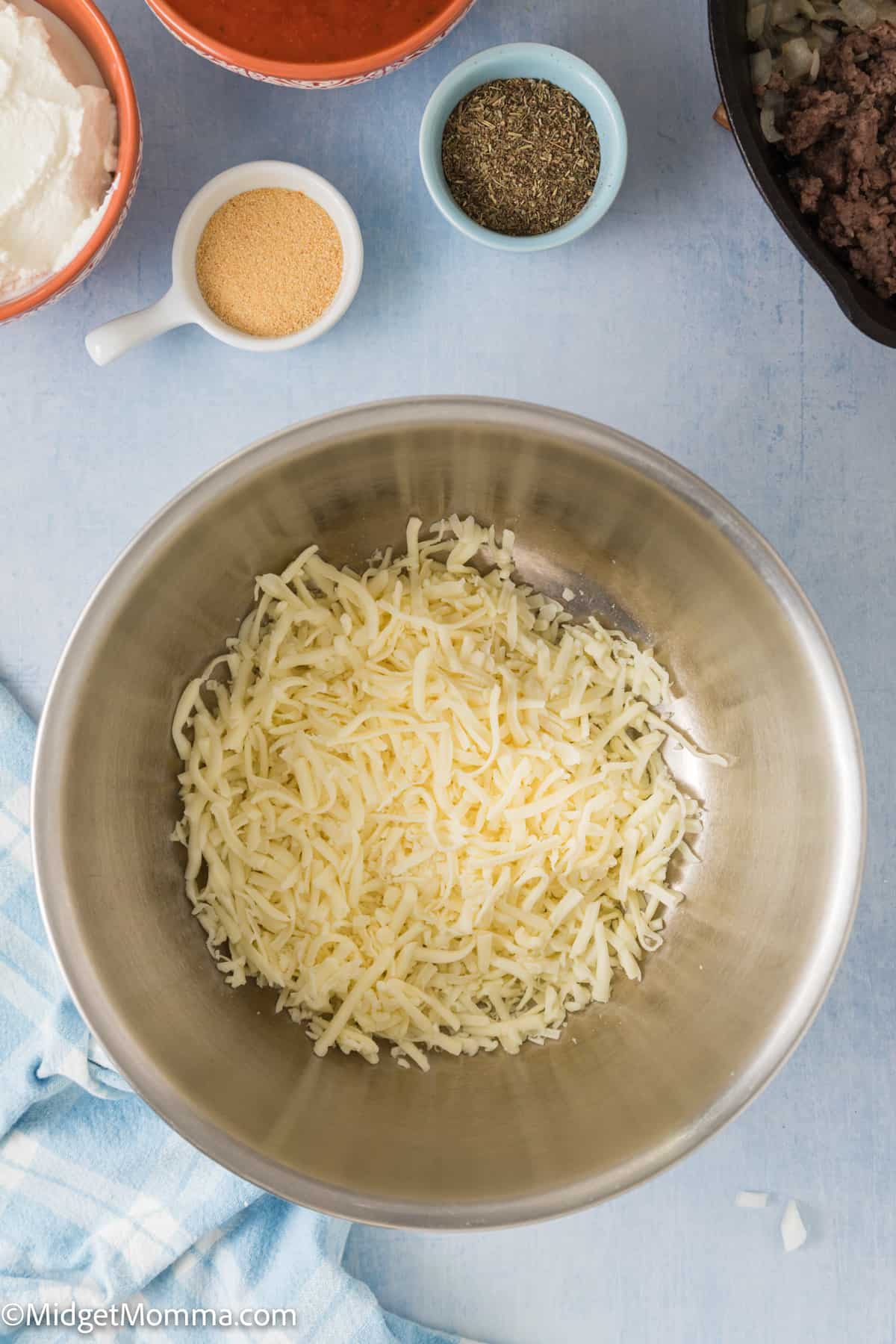 Add in the cooked ziti noodles and mix well to combine the noodles with the meat, sauce and cheese mixture.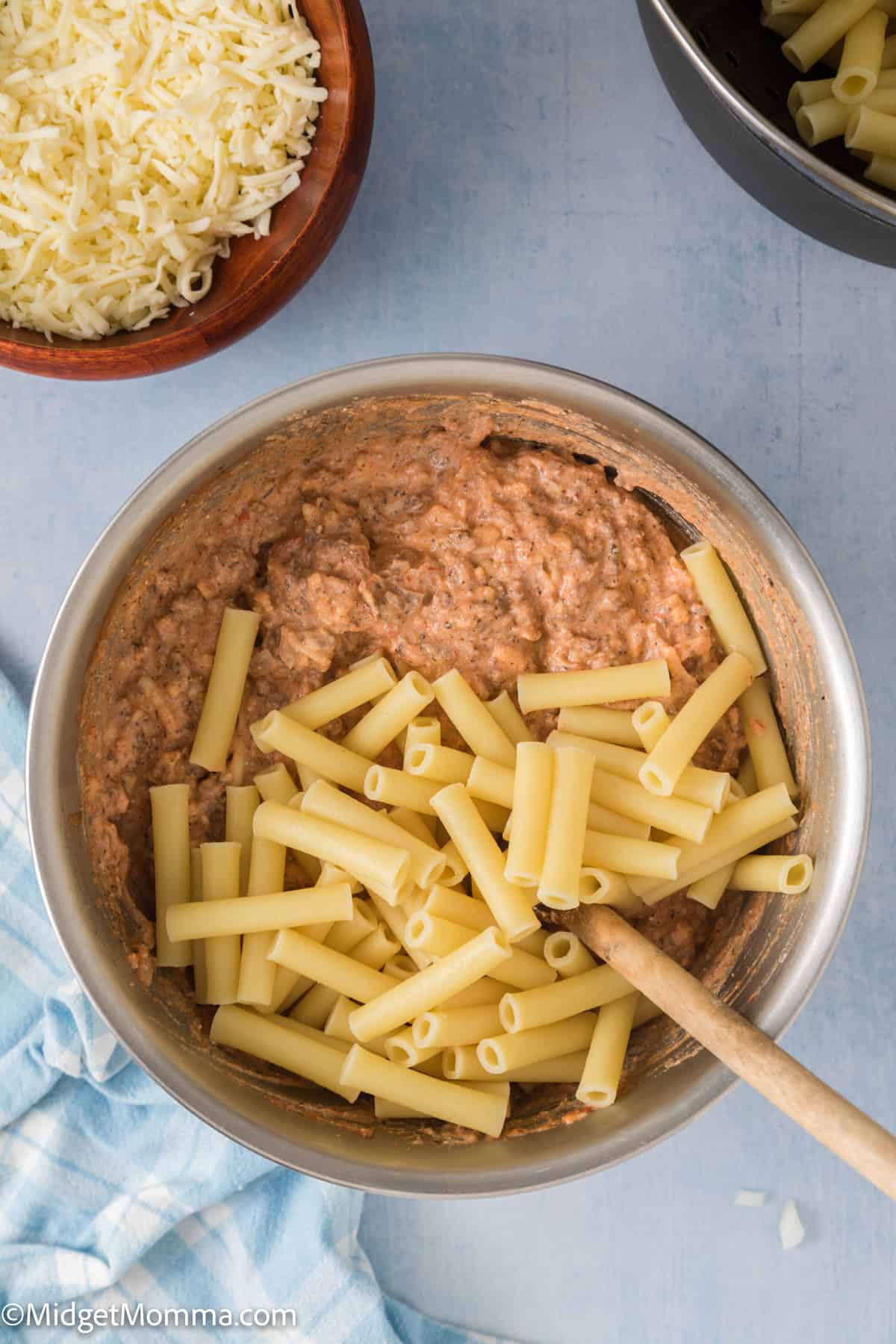 Spray a large casserole dish with nonstick cooking spray.
Pour the ziti mixture into the casserole dish.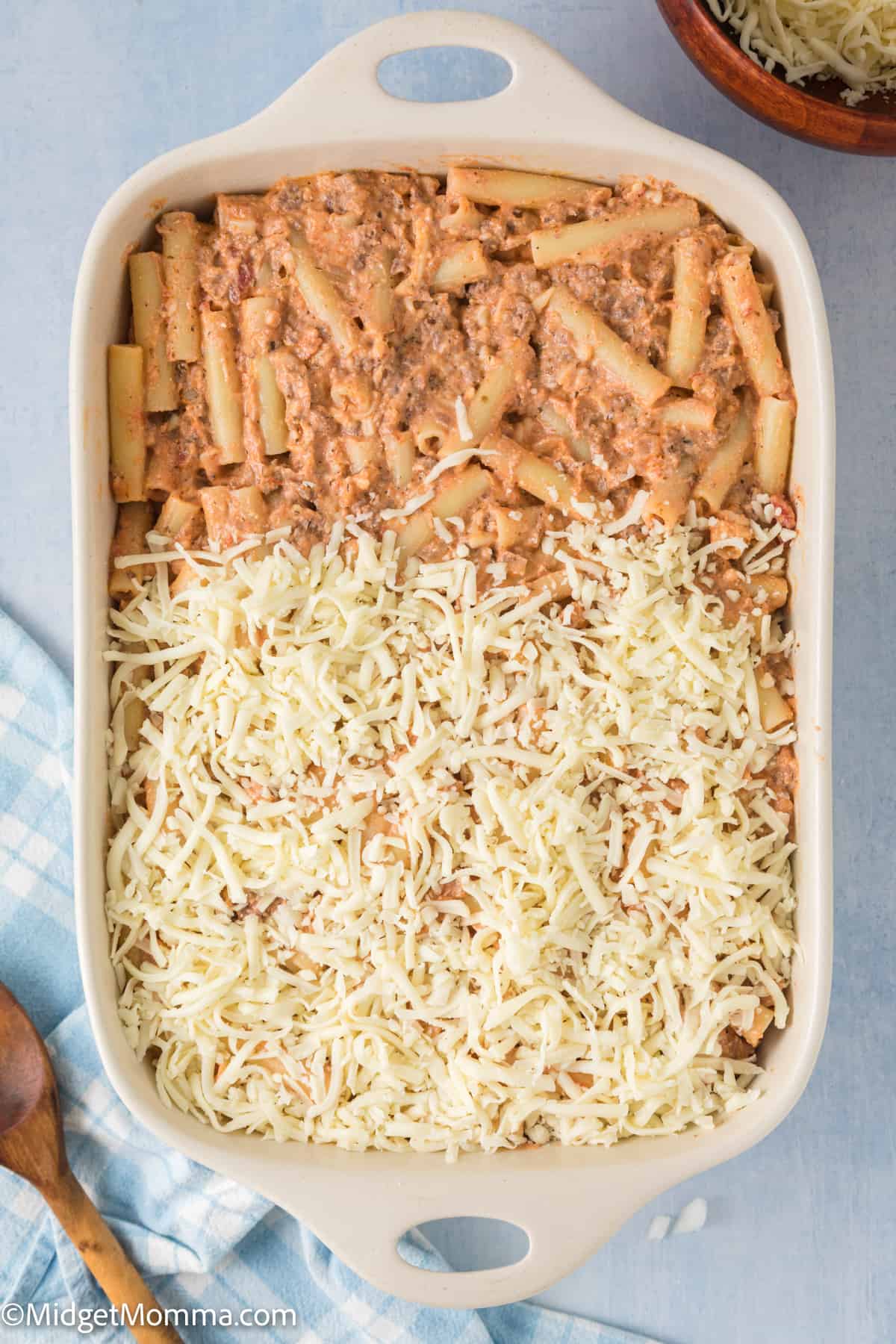 Sprinkle the remaining mozzarella cheese on top.
Bake in the preheated oven for 20 minutes until the cheese is melted and bubbly.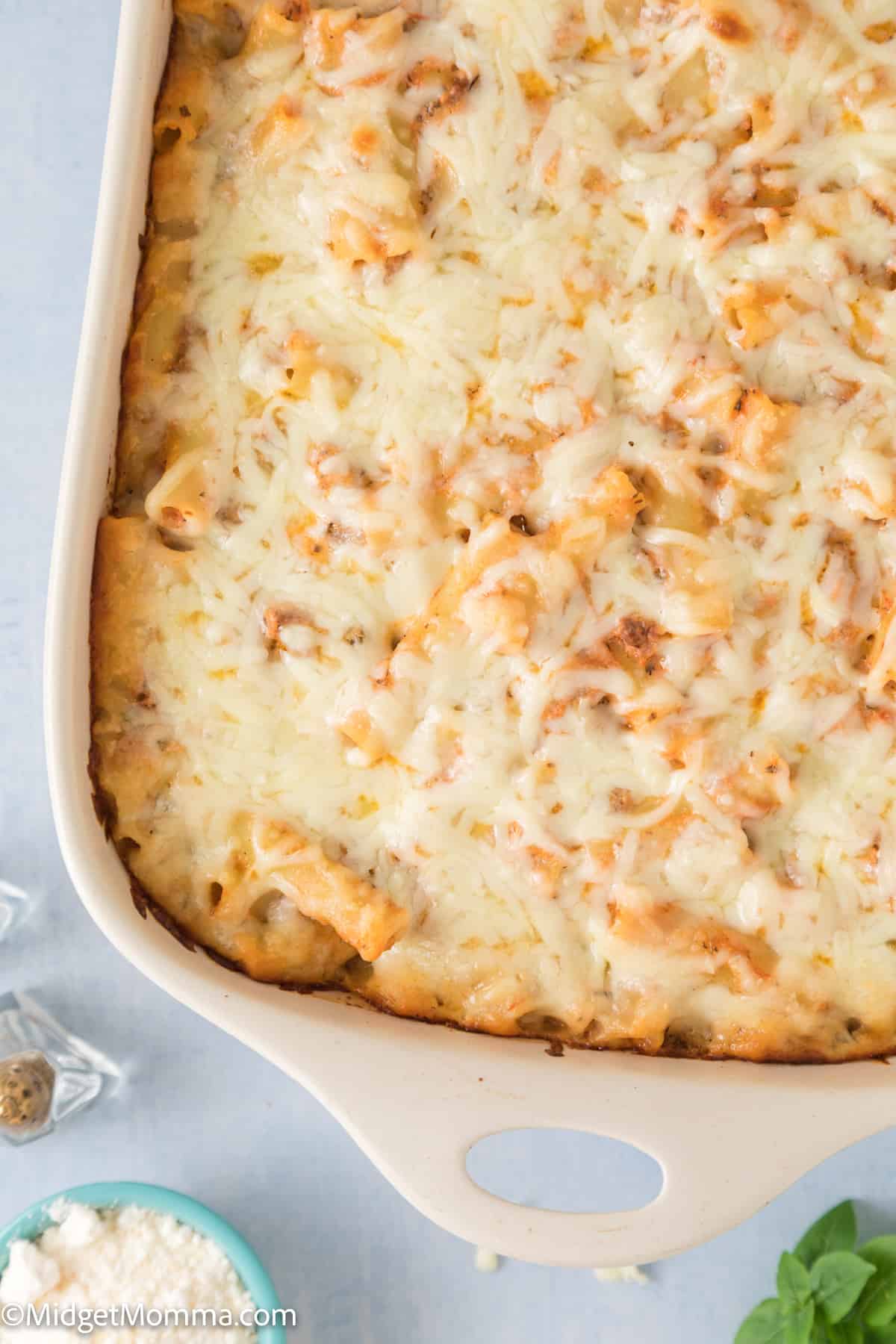 What to Serve with Baked Ziti
Normally when I make cheesy baked ziti for dinner I take the easy way and get a loaf of fresh Italian bread from the grocery store and make a fresh salad. If you are making this ground beef baked ziti recipe for a crowd then you will probably want to make things as as easy as possible, doing garlic bread and simple side salad will make this a complete meal.
However, there are many other side dishes to serve with pasta dishes like this one, check some of our favorite side dish recipes out!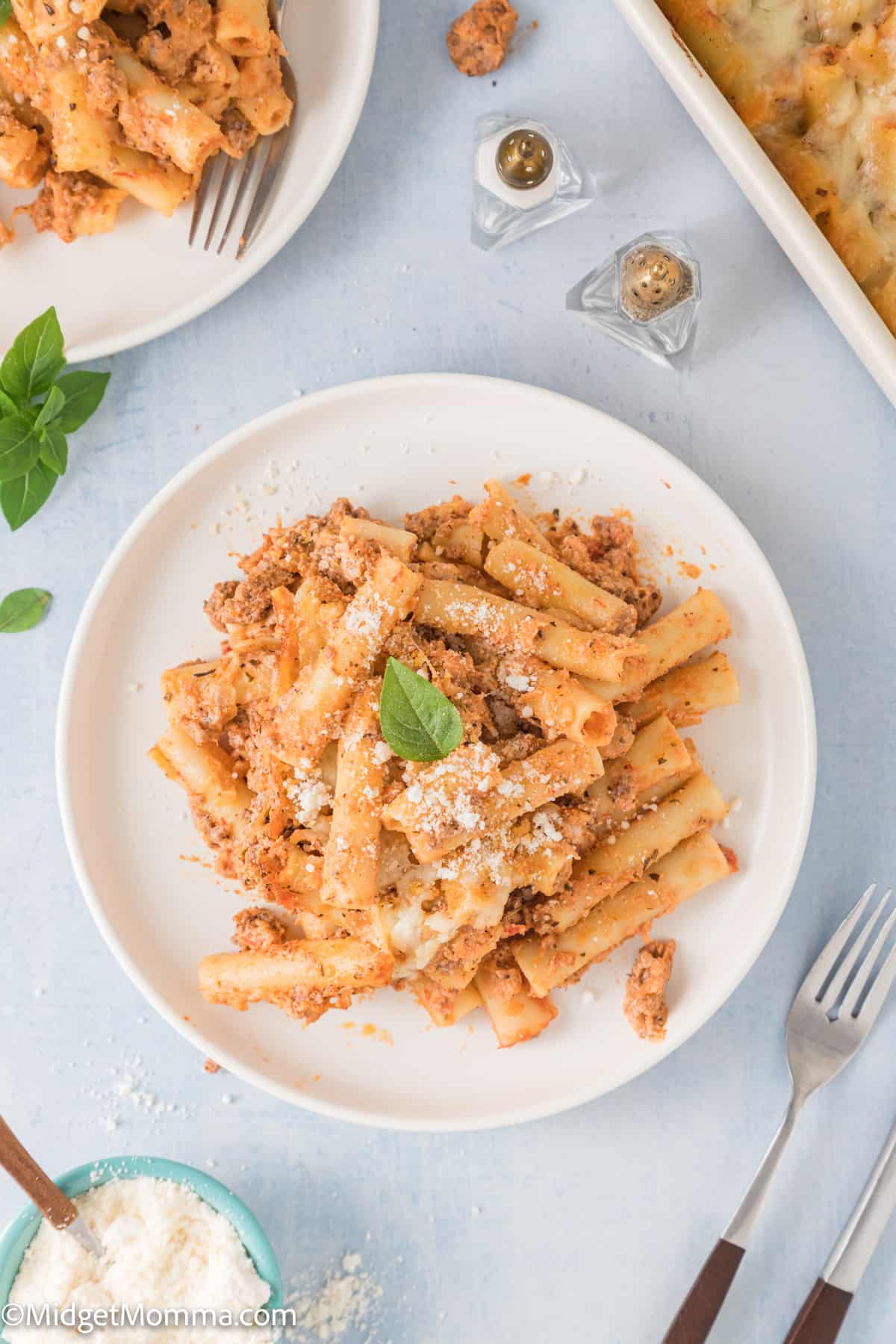 How to Store Leftovers
Leftover baked ziti with ground beef can be stored in an airtight container once it is cooled. Place it in the refrigerator for up to four days. To heat place leftovers on a plate and then heat in the microwave.
Can I freeze Baked Ziti with Ground Beef?
Yes! Freezer meals can be a lifesaver. By making a double batch of this recipe, and freezing one of them, I can cook once and the family eats twice. It is a great time saver and makes everything easier on our busy schedule.
How to Freeze Baked Ziti
To freeze the dish, prepare it up to the point of baking I like using aluminum foil pans so I don't end up with my casserole dishes in the freezer. Wrap tightly with plastic wrap, then aluminum foil, and label before putting it into your freezer.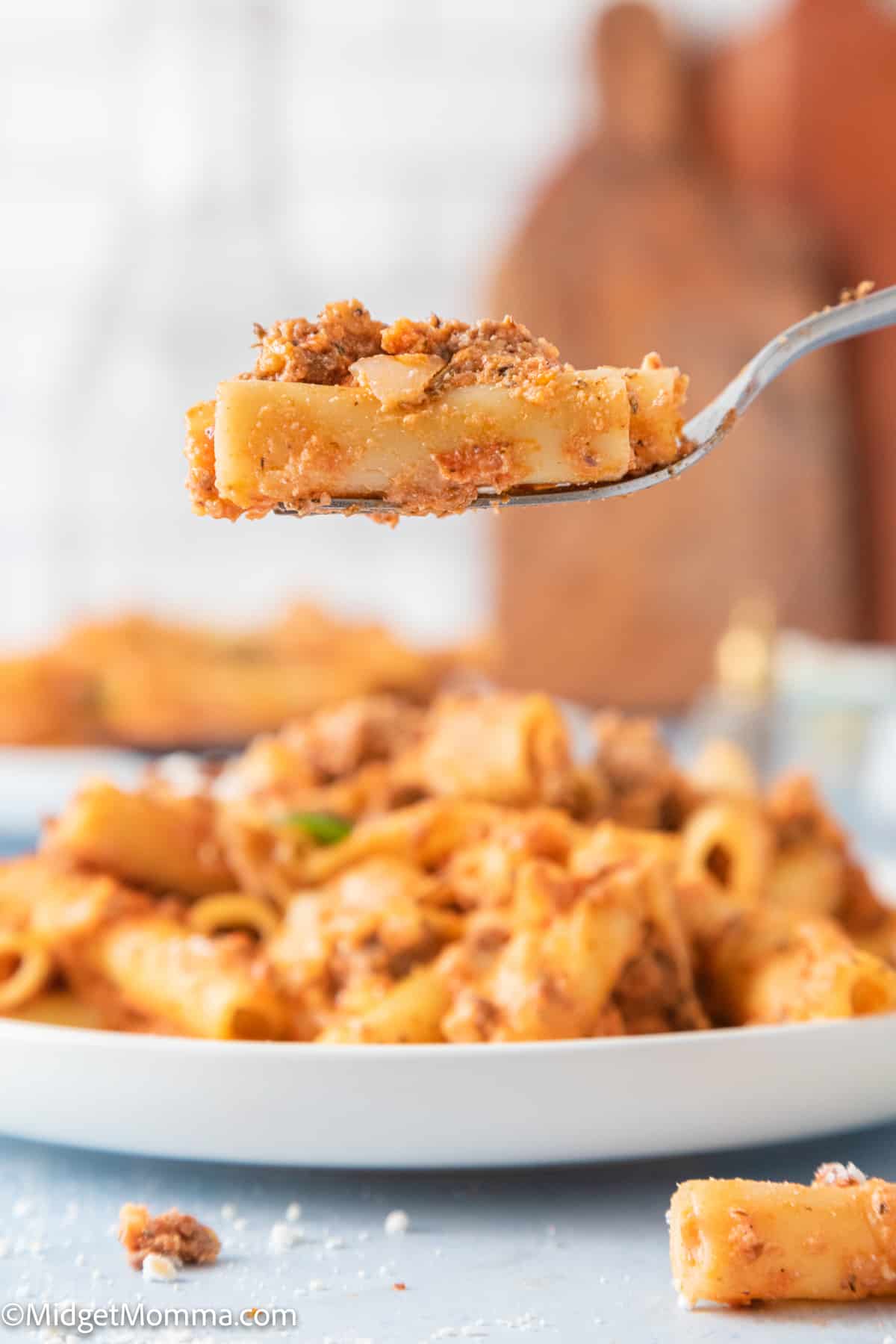 How to Cook Frozen Baked Ziti
When you want to serve the ziti, remove it from the freezer, and bake it at 350 for 1 hour.
How to Freeze Cooked Baked Ziti
If you have leftovers that you want to stick in the freezer it is simple to do. Allow the pasta dish to cool and then place individual serving size amounts into freezer bags (you can also use a food saver) and then store them in the freezer. Heat in the microwave for 2-4 minutes and then enjoy.
Easy Pasta Recipes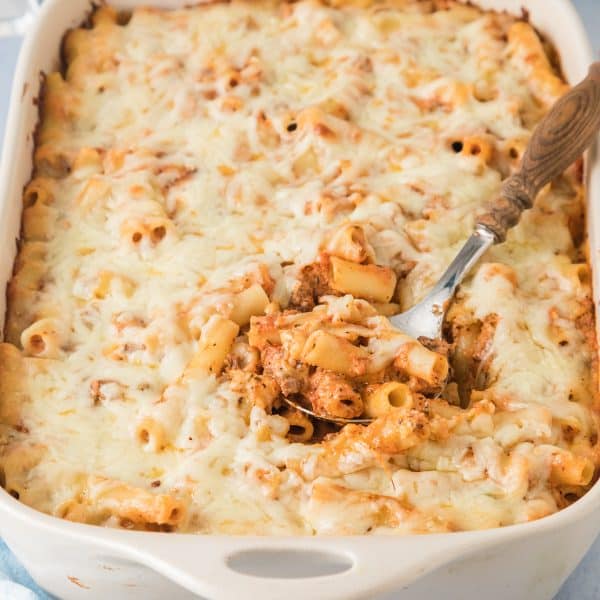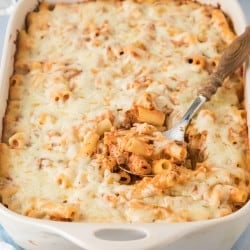 Baked Ziti with Ground Beef
Servings
This Baked Ziti with Ground Beef is an easy weeknight dinner that's jam-packed with flavor! Tender noodles, ground beef, pasta sauce, Ricotta cheese, and mozzarella cheese combine in this pasta bake to make the ultimate comfort food. This ground beef baked ziti recipe is perfect for a quick weeknight meal or large gatherings.
Ingredients
1 pound ziti noodles
24 ounces pasta sauce
3 cups shredded mozzarella cheese
15 ounces Ricotta cheese
1 pound ground beef
1 small onion
1 tablespoon garlic powder
2 tablespoons Italian seasoning
Instructions
Dice the onionIn a large skillet over medium heat cook the ground beef and onion

Preheat oven to 350.Cook the ziti noodles in a large pot, according to the package, and drain

.Pour the ziti noodles back into the pot.In a large bowl, add half the mozzarella cheese, the full container ofricotta cheese, spices, and ground beef, and the pasta sauce, and mix well.

Pour the ziti noodles into the bowl with the mixture and mix well.

Spray a large baking dish with nonstick spray and pour the pasta into the baking dish.Sprinkle the remainder of the mozzarella cheese on top.

Bake at 350 for 20 minutes
Calories: 746kcal | Carbohydrates: 69g | Protein: 47g | Fat: 31g | Saturated Fat: 17g | Polyunsaturated Fat: 2g | Monounsaturated Fat: 10g | Trans Fat: 0.5g | Cholesterol: 130mg | Sodium: 1004mg | Potassium: 919mg | Fiber: 5g | Sugar: 7g | Vitamin A: 1214IU | Vitamin C: 9mg | Calcium: 501mg | Iron: 5mg
baked ziti with ground beef, ground beef baked ziti
Dinner