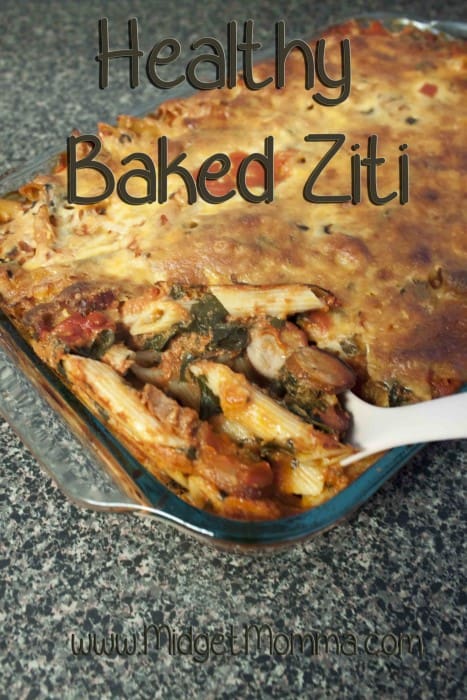 I love a good baked ziti but I wanted a way to have it without feeling so bad. It's also great because spinach is a sneaky way to get my daughter to eat a vegetable. I love making this as a freeze ahead meal. You have to different options, I know some people don't like to freeze pasta. So you can make it without any of the pasta and just freeze the sauce ahead of time, then just thaw the sauce and continue to make it as the directions. Or you can make it up until the point where you need to top it with cheese and freeze it. Once you have thawed the pasta all you have to do it top it with the cheese and bake it.
Healthy Baked Ziti Ingredients
1 box ziti pasta
1 Tbs. olive oil
1 package linked sausage
2 cloves garlic, minced or grated
1 15 oz can tomato sauce
1 15 oz can diced tomatoes
1 6 oz can tomato paste
3 Tbs. Italian seasoning
2 teaspoon salt
1 teaspoon sugar
1 cup frozen chopped spinach
1 cup fat-free cottage cheese
1-1/4 cup shredded mozzarella cheese
Healthy Baked Ziti Directions
Preheat the oven to 350 degrees.
Cook the pasta in boiling salted water for 7 minutes and drain.
While the pasta is cooking, you can start making the sauce. Heat the olive oil in the pan add the sausage and cook all the way through. Remove the sausage from the pan and slice the sauce, set them aside. Add the garlic to the pot, cook for 2 minutes.
To the pot add in the tomato sauce, diced tomatoes, and tomatoes paste, simmer for 2-3 minutes. Add the Italian seasoning, salt, sugar, spinach, and cottage cheese simmer for a few minutes. Add in the sausage and pasta and mix.
Coat a 9″x13″ pan with cooking spray and pour the pasta mixture in. Sprinkle the cheese on the top of the pasta. Place in the oven for 40 to 45 minutes, until the cheese is golden brown.