My go to "special dinner" is this amazing Shrimp Pasta Recipe. My dad has made shrimp pasta for as long as I can remember. Sometimes as a special dinner, sometimes just because but this shrimp pasta recipe is one that my dad has always made and I now make for my family.
If you are looking for really easy shrimp pasta recipes, this is one that you have to try. It tastes amazing, it is quick and easy to make and I have never had any complaints when I have made it.
Shrimp Pasta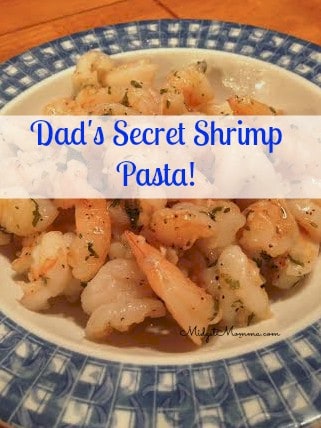 This shrimp pasta recipe is so simple to make. The whole meal is done in less then 25 minutes, so it makes the perfect quick and easy pasta recipe.
If I am making this shrimp pasta as the main meal then I add a salad, fresh bread and a veggie. If you are looking for some sides that go well with this shrimp and pasta recipe we have a few favorites. This roasted asparagus recipe is quick, easy and can be made while the rest of the meal is cooking, and this roasted brussel sprouts is one that everyone loves too. If you are looking for a tasty salad, this avocado BLT salad is one of our favorites!
There are also times that I make shrimp pasta a side dish. So you can make this shrimp pasta recipe however you choose to in your meal line up.
I like making shrimp pasta as a side dish more so because then we have a better chance of left overs the next day. Although it doesn't really make the chances of left overs and better because everyone goes for the shrimp pasta first and then the rest of the meal. So most of the time I actually wonder why I made it as a side dish instead of just the main meal. But hey, I tried to make it so we had left overs! LOL
My kids have asked me to make this for them to bring to school in their lunch boxes. Which I have done for them and just packed it in a thermos. I cook it the night before, heat it up in the microwave and then put it in the thermos in the morning. We have never had any taste differences or texture differences reheating this shrimp pasta recipe the next day, so if you are meal planning and wanting a tasty lunch this is a great recipe to add.
How to Make Shrimp Pasta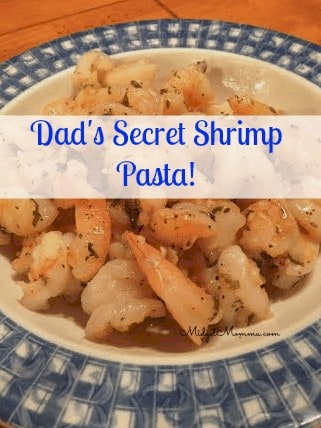 Shrimp Pasta recipe
This Shrimp Pasta recipe is super simple and easy to make with a combination of butter, salt, papper and shrimp.
Print
Pin
Rate
Servings: 5
Ingredients
2 pounds shrimp
1 pound linguini pasta
1 tablespoon parsley
1/2 teaspoon black pepper
1/4 teaspoon salt
1 stick of butter
Instructions
Peel raw shrimp. then chop into bite sized pieces.

Heat skillet on the stove on medium heat, while doing that add water to your pot to cook the pasta when water is boiling add the pasta.

Drizzle a small amount (about a tablespoon) of olive oil in the pan, add the stick of butter and let melt.

Once butter is melted add salt, pepper and parsley. Stir to mix well.

Add shrimp and cook until shrimp are cooked well, they will be bright pink when they are done cooking.

Remove from shrimp from heat. Drain your pasta and put back into the pot.

Add your shrimp with sauce into the pasta, just pour the whole thing all the shrimp pieces and sauce right on it.

Stir well to get the amazing sauce all over the pasta!
Nutrition
Calories: 520kcal | Carbohydrates: 67g | Protein: 48g | Fat: 4g | Cholesterol: 457mg | Sodium: 1533mg | Potassium: 347mg | Fiber: 2g | Sugar: 2g | Vitamin A: 65IU | Vitamin C: 8.5mg | Calcium: 282mg | Iron: 5.1mg
Share on Facebook
Pin Recipe
Tried this recipe?Mention @midgetmomma or tag #MidgetMommaRecipes
Looking for more shrimp recipes? Check these out! 
Shrimp Scampi Spaghetti Squash