Have a little boy on your shopping list? Are the a little boy between the ages of 3 and 5? If so then you are going to love this Gift Ideas for Little Boys Ages 3-5 list that we have come up with!
Gift Ideas for Little Boys Ages 3-5!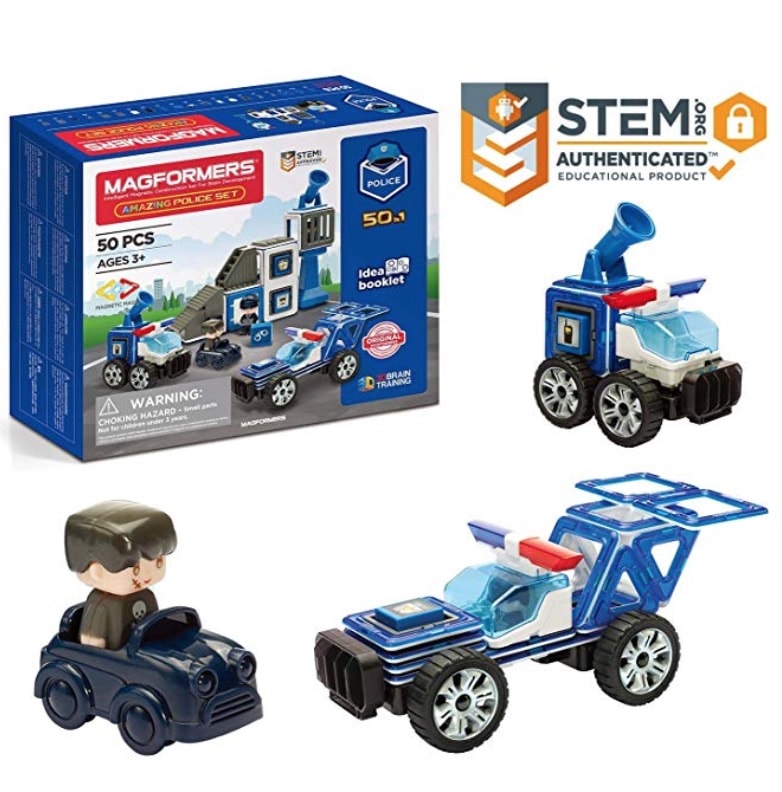 Magformers Amazing Police
The original and authentic MAGFORMERS. 8 triangles, 14 squares, 2 rectangles, 2 characters, 24 accessories including, siren, police vehicle, Wheels, accessories.
Stem accredited by STEM.Org. Perfect for brain development, critical thinking and education.
Step-by-step educational idea booklet with follow along ideas and instructions.
Neodymium Rare-Earth Magnets for guaranteed connectivity. Compatible with all MAGFORMERS shapes and accessories. Super strong, safe and durable BPA-free high quality ABS plastic. Conforms to CE, ASTM and EN71
Ages 3 years and up.
Buy it here.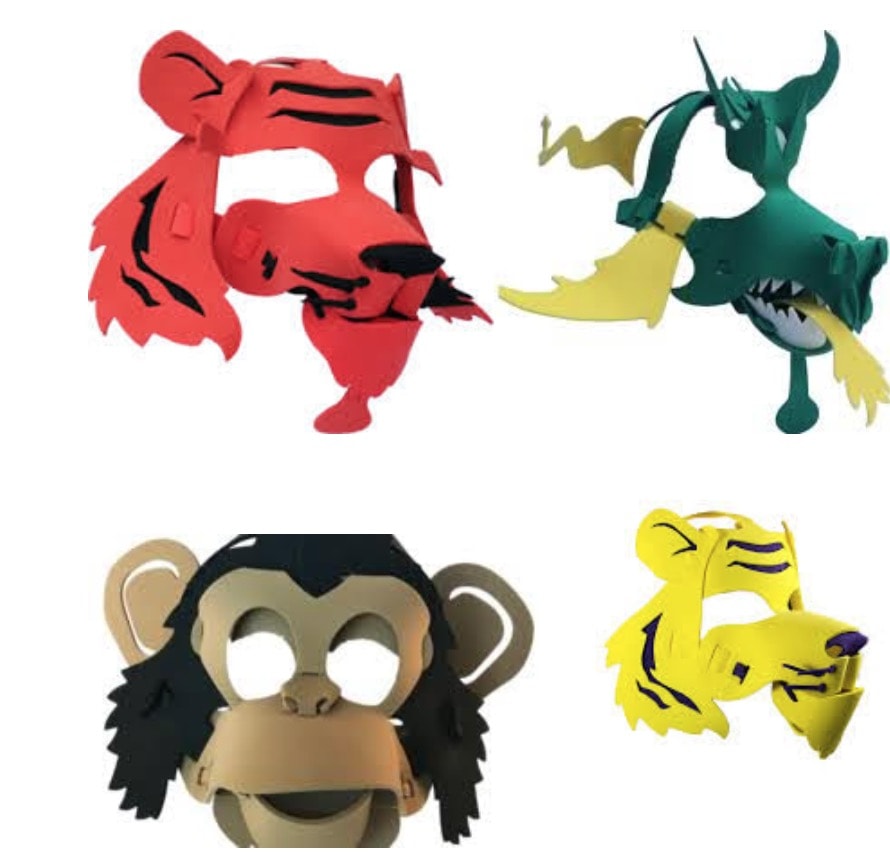 Go Fun Face! masks
Go
Fun
Face
! masks consist of a foam rubber material, making them soft, durable, and easy to wash. They are patented with one-of-a-kind, artistic designs that will have children roaring like lions. Why is dramatic play so important? It fosters social skills, imagination, and empathy through pretending to be someone or something they are not. This later results in tolerance and acceptance in the real world. Currently, 
Go
Fun
Face
! 
has seventeen animals and mythical creature to choose from. Many of which come in different color combinations. Masks retails for $22 and up. 
For more information, visit https://www.gofunface.com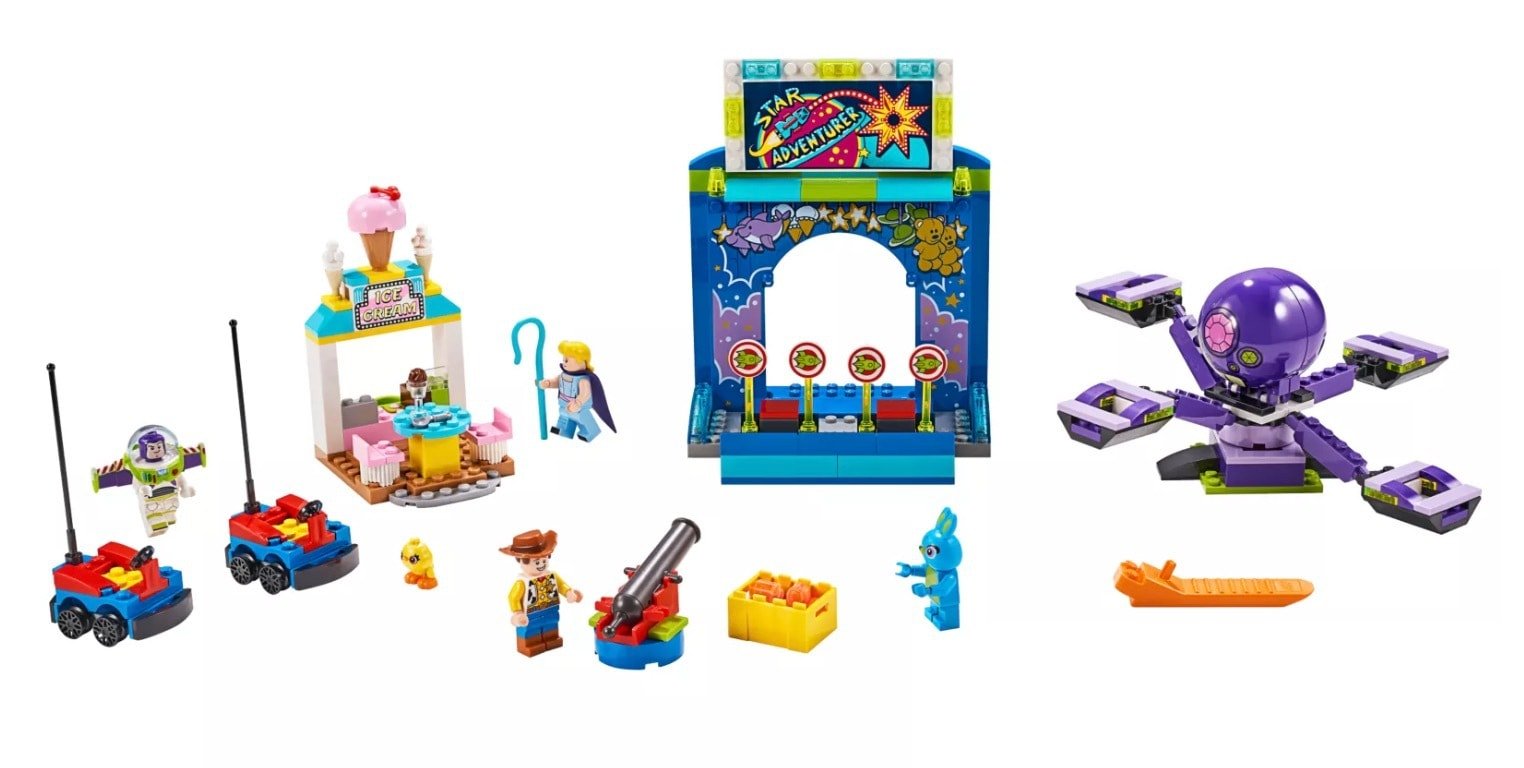 Disney•Pixar's Toy Story 10770 Buzz & Woody's Carnival Mania LEGO® 4+ set
Share the excitement and joy of a carnival with your child, with Disney•Pixar's Toy Story 10770 Buzz & Woody's Carnival Mania LEGO® 4+ set! This action-packed play set is specially designed to be fun and easy for preschoolers and smaller children, featuring a colorful carnival shooting game with a large sign and laser cannon, plus a special Starter Brick baseplate that gives first-time builders the experience and pride of constructing buildings, vehicles and more on their own. This fun preschool toy building set also includes a spinning Terrorantulus ride with adjustable arms, 2 bumper cars with Starter Brick chassis and an ice cream shop with register, table and benches and a sign. The included simple guide to build and play will also help your young carnival visitor understand the purpose of the building steps and grow their imagination and confidence for the perfect start to easy LEGO brick building in a familiar Toy Story setting. Includes Woody, Buzz Lightyear and Bo Peep minifigures, plus Ducky and Bunny LEGO figures.
LEGO® 4+ sets are made specifically to be fun and easy for youngsters, to grow their confidence, with simple steps for an easy start to LEGO brick building.
Includes 3 Toy Story character minifigures: Woody, Buzz Lightyear and Bo Peep, plus Ducky and Bunny LEGO® figures.
Features a carnival shooting game, decorated rocket elements that can be knocked down and separate, working cannon, plus a Starter Brick baseplate and decorated wall plate to get your child building and playing quickly with LEGO® bricks in a fun Disney
Pixar Toy Story world. Also includes an ice cream shop with register, a table and benches.
This cute set also includes a Terrorantulus ride that turns and has adjustable arms, plus 2 bumper cars with Starter Brick chassis.
Accessory elements include 6 studs, crate, 3 decorated rocket elements, large ice cream, 2 small ice creams, ice cream sundae, ice cream spoon, bucket and Bo Peep's shepherd crook.
Help your child replay exciting Toy Story movie scenes or make up their own stories.
LEGO® 4+ introduces your child to a wide universe of their movie favorites, TV characters and everyday heroes.
LEGO® 4+ play sets were previously branded as LEGO Juniors and can be built together with all LEGO construction toys for creative building.
This Toy Story 4 creative play set makes an ideal gift for preschoolers and youngsters.
Get it here.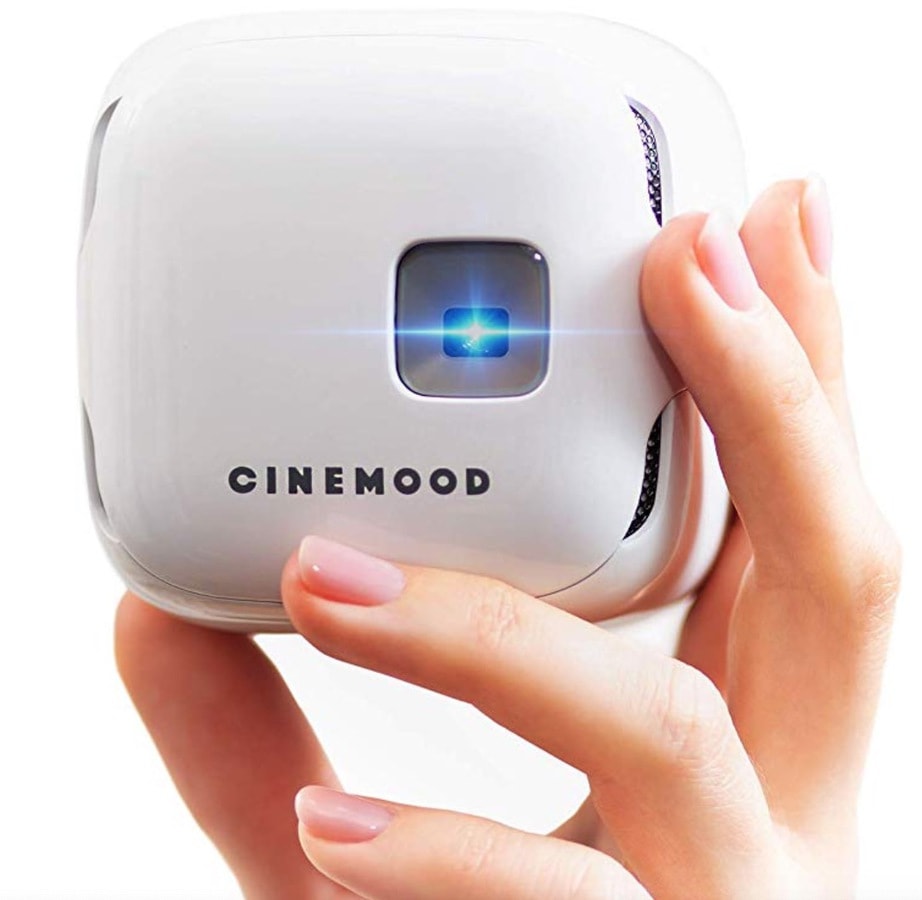 Cinemood
Create your own movie theatre anytime, anywhere! CINEMOOD is the world's first absolutely noiseless, 3" ultralight standalone projector, that converts any surface into a 12-foot magic cinema.
CREATE YOUR OWN MOVIE THEATER ANYWHERE YOU GO! 0.5lb, 3" portable, smart mini projector is kid-friendly, with easy directional button controls. It creates up to 12-feet projection in a darker environment.No connection to computer or wall outlet is needed.
EDUCATIONAL DISNEY CONTENT INCLUDED.Digital library includes 40 Disney e-books and 25 short safety videos and cartoons (does NOT include full-length Disney movies). Also, enjoy 75+ episodes of other fun cartoons,more endearing e-books, and shadow puppets.
A WORLD OF CONTENT AT YOUR FINGERTIP. Access and stream Amazon Prime Video, Netflix, AmebaTV, YouTube, and YouTube Kids directly from the CINEMOOD menu screen. Download Netflix or Amazon Prime Videos directly on CINEMOOD to enjoy anywhere, without WiFi.
BRING YOUR OWN CONTENT TO THE BIG SCREEN. Upload and play your personal videos and slideshow content with additional 8GB of storage space or use iOS screen mirroring functionality (protected DRM content not supported).
PERFECT TRAVEL COMPANION. With up to 5 hours of rechargeable battery life and no connection to a computer, phone or wall outlet needed, CINEMOOD is perfect for car rides, airplane trips, camping, backyard get-togethers and outdoor summer movie nights.
SCREEN TIME WITHOUT A SCREEN – BIGGER, BETTER, SAFER. CINEMOOD gives the eyes and brain a break, eliminating blue light, and providing a safer viewing experience than tablets, and TVs. Create a lasting impression not soon to be forgotten.
Get it here.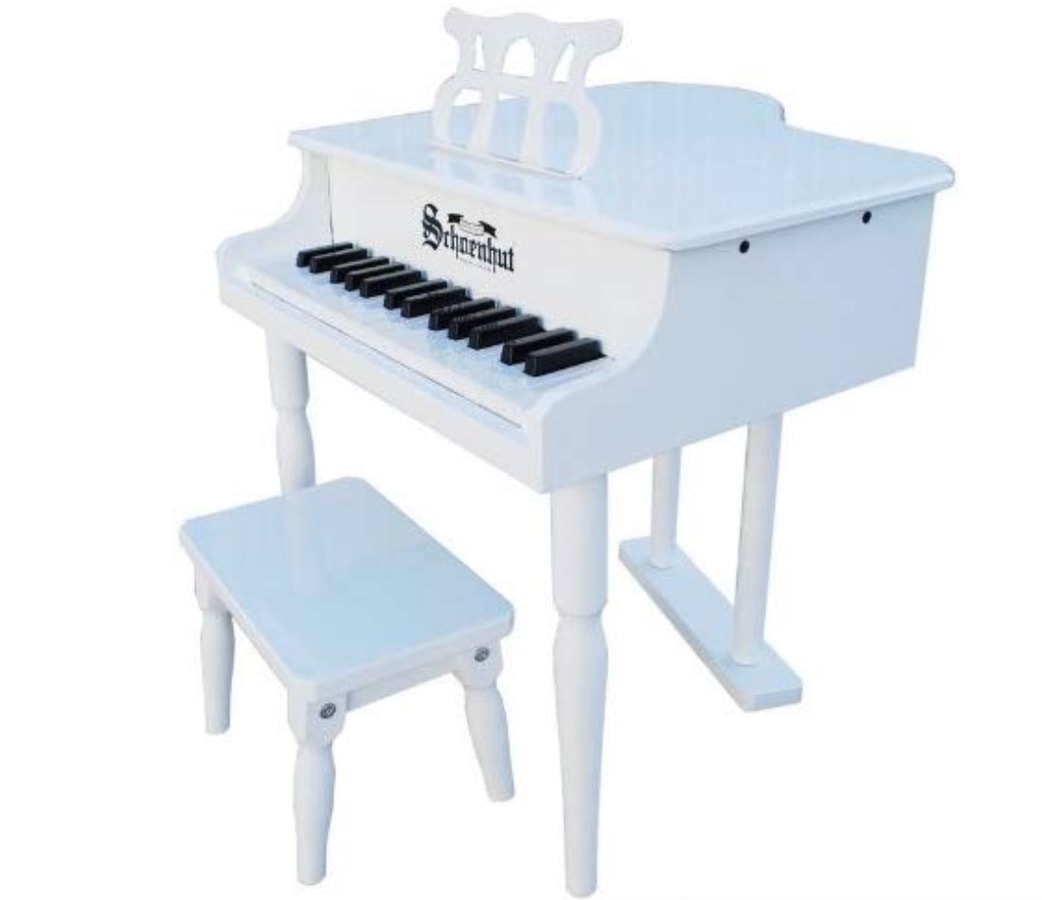 Schoenhut 30 Key Classic Baby Grand with Bench
Age range: Three and up
Chromatically tuned with a full two-octave span
Includes: Schoenhut's Learning System and Bench
Small hammers strike metal rods, producing lovely chime-like tones
The piano never gets out of tune and the tone never changes
Get it here.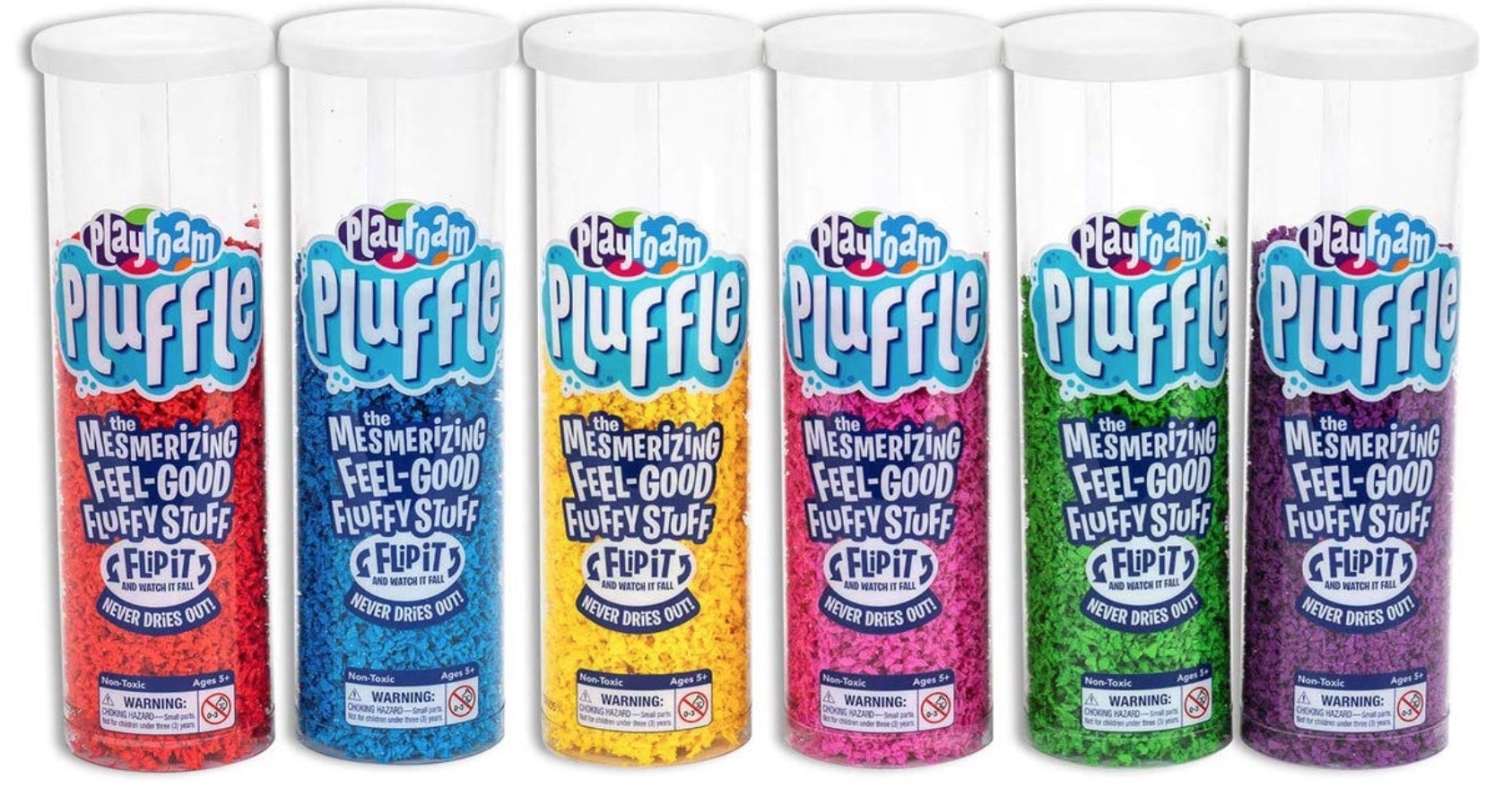 Educational Insights Playfoam Pluffle Bright Colors – 6 Pack
Mesmerizing, mixable, irresistible, weird but cool, feel-good foam fluffy stuff
Playfoam is non-toxic, gluten free, nut free, and never dries out
Comes in transparent flip and flow storage containers for extra mesmerizing fun
Great for sensory development play and more
Sticks together when compressed but does not stick to your hands
Get it here.

Learning Resources Yumology Science Sweet Kit
MAKE your own ice pops, juices, and tasty no-bake treats with this reusable sweets lab set!
LEARN sweet science including measurement, color mixing, and more STEM skills!
EXPLORE the full-color guide with seven kids' experiments!
CHILL, freeze, and eat – no heat or cooking required!
Great for any toddler ages 3+
Get it here.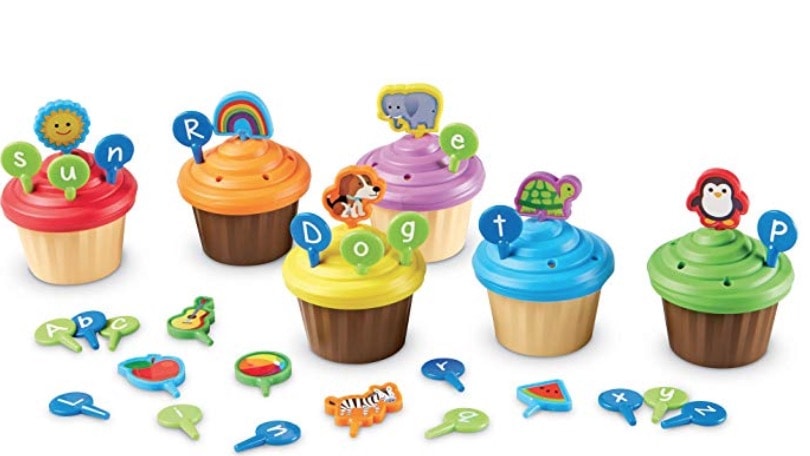 Learning Resources ABC Cupcake Party Toppers
DECORATE 6 pretend cupcakes with 52 letter and picture cupcake toppers!
LEARN early language skills: alphabet, beginning sounds, vocabulary, and more!
SERVE these fun toy cupcakes at tea parties and games of pretend!
STORE cupcake toppers inside of cupcakes for easy clean-up!
Great for any toddler ages 3+
Get it here.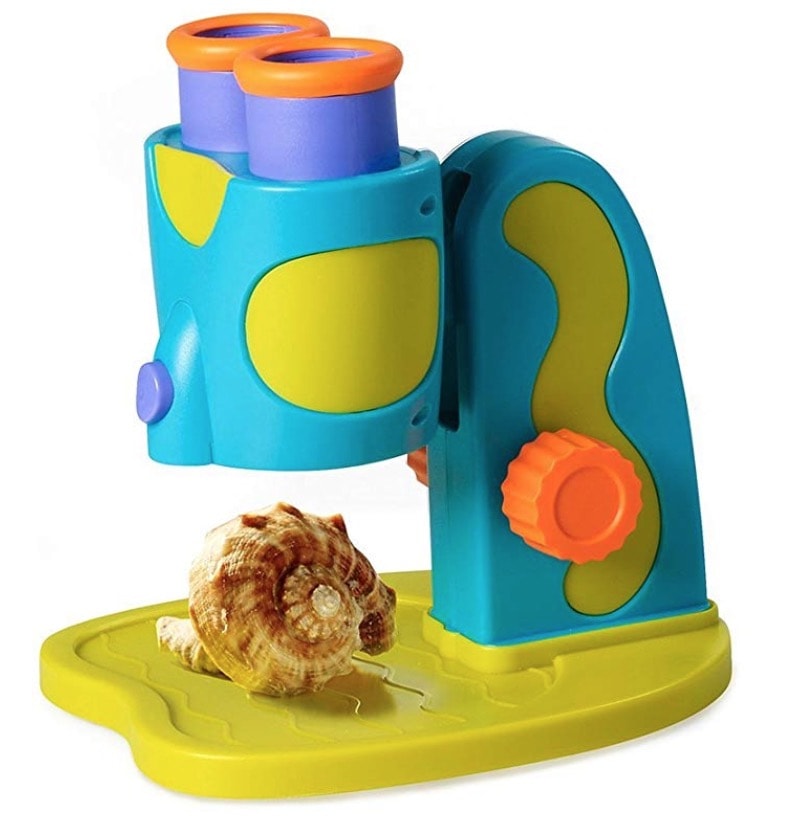 Educational Insights GeoSafari Jr. My First Microscope
INTRODUCTORY SCIENCE TOOL: The perfect first microscope for kids! Preschoolers can see a magnified hidden world with ease, thanks to 2 extra-large eye-pieces and a chunky, kid-sized focusing knob!
MAGNIFY UP TO 8x: Examine everything from a rock to a piece of pizza with this fully functional microscope! Features 8x magnification and includes LED light for enhanced viewing, non-skid feet, and sample tray. Requires 3 AAA batteries, not included.
PERFECT GIFT FOR PRESCHOOLERS: My First Microscope is a great introductory science toy and makes a great gift for boys and girls ages 3+.
AWARD WINNING: Winner of the Oppenheim Toy Portfolio Gold Seal, Parents' Choice Silver Award, and Toy of the Year Finalist.
OUR PLAYFUL PROMISE: Our team stands proudly behind our playful products, that's why we offer a 365 day risk-free guarantee on every purchase!
MADE BY EDUCATIONAL INSIGHTS: Since 1962 Educational Insights has been creating toys and games that ignite the spark in every child.
Get it here.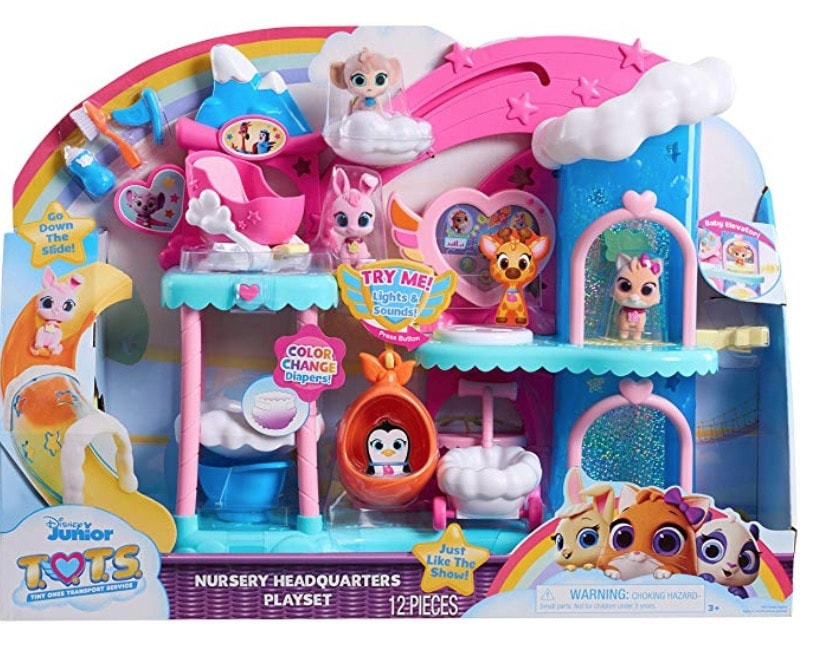 Disney Junior T.O.T.S. Nursery Headquarters Playset
• Inspired by the new Disney Junior series T.O.T.S. (Tiny Ones Transport Service)
• Cute baby animals are loved & cared for in the Nursery Headquarters until they're
ready to be delivered to their forever homes
• This multi-level playset features a lights and sounds baby monitor, a curved baby
slide, a kid-powered baby elevator, a cloud transport seat that brings baby to the
elevator, a secret trap door, and a removable swinging basket!
• Take the babies for a ride in the cloud cart, put them in the bouncy seat, or feed
them with the baby bottle when they get hungry.
• Includes 3 flocked babies featuring color changing diapers!
Get it here.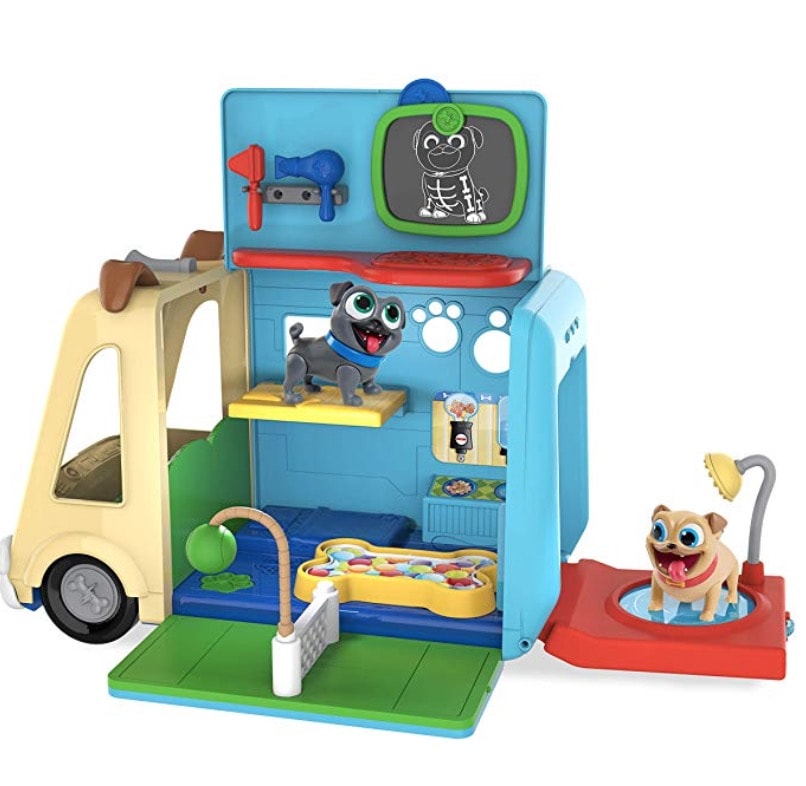 Disney Junior Puppy Dog Pals AWESOME Care Bus
• On Disney Junior's hit preschool series Puppy Dog Pals, fun-loving pug brothers and best pals
Bingo and Rolly love playing and exploring together!
• This new action-packed Bus has tons of kid-powered features and opens to reveal a play area,
featuring lights and sounds, and includes a check-up and grooming station
• Includes 3" poseable Bingo and Rolly figures that can ride on the bus, spin in the tub, play ball,
and jump up and down in the ball pit!
Get it here.
LeapFrog LeapStart Go System
Go beyond the basics with the new LeapStart® Go interactive learning system. This sleek, easy-to-carry stylus brings compatible books and activity sets to life and uses video to provide a deeper learning experience with select LeapStart® books and activity sets. Video makes complex content easy to understand and helps kids extend their learning beyond basic skills such as letters and numbers. LeapStart® Go also works with the full LeapStart® library of 25+ books (sold separately) that cover a variety of preschool through first grade subjects, plus new activity sets designed specifically for LeapStart® Go. These new sets teach more advanced, multi-curricular subjects, and use extra learning tools such as interactive charts and stickers to supplement the material in the books.
Available at major retailers including Walmart, Walmart.com and Amazon, and Target as a part of the LeapStart Go And School Success Bundle.
Get it here.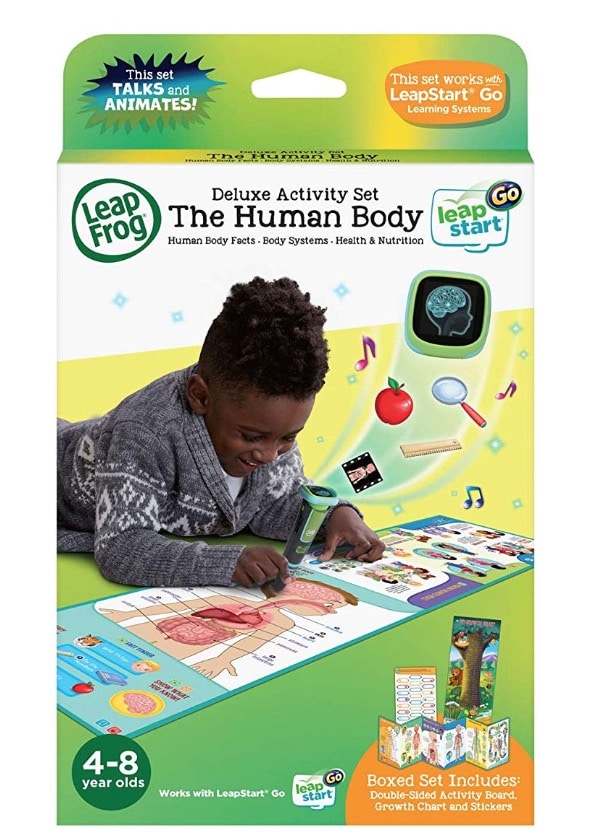 LeapFrog LeapReader Interactive Human Body Discovery Set (works with Tag)
Colorful, two-sided activity board features interactive pictures and words that introduce how the human body works and more through audio and video
Explore the different systems that make the body work and how to keep it healthy through good habits and balanced nutrition
Video learning lets kids watch the circulatory system work, see how neurons send messages in the brain and more
Play the Making Healthy Choices board game alone or with a friend to test your knowledge of nutrition and the human body
A computer with Internet is required to download books onto the LeapStart Go system. Intended for ages 4-8 years. Batteries not required
Get it here.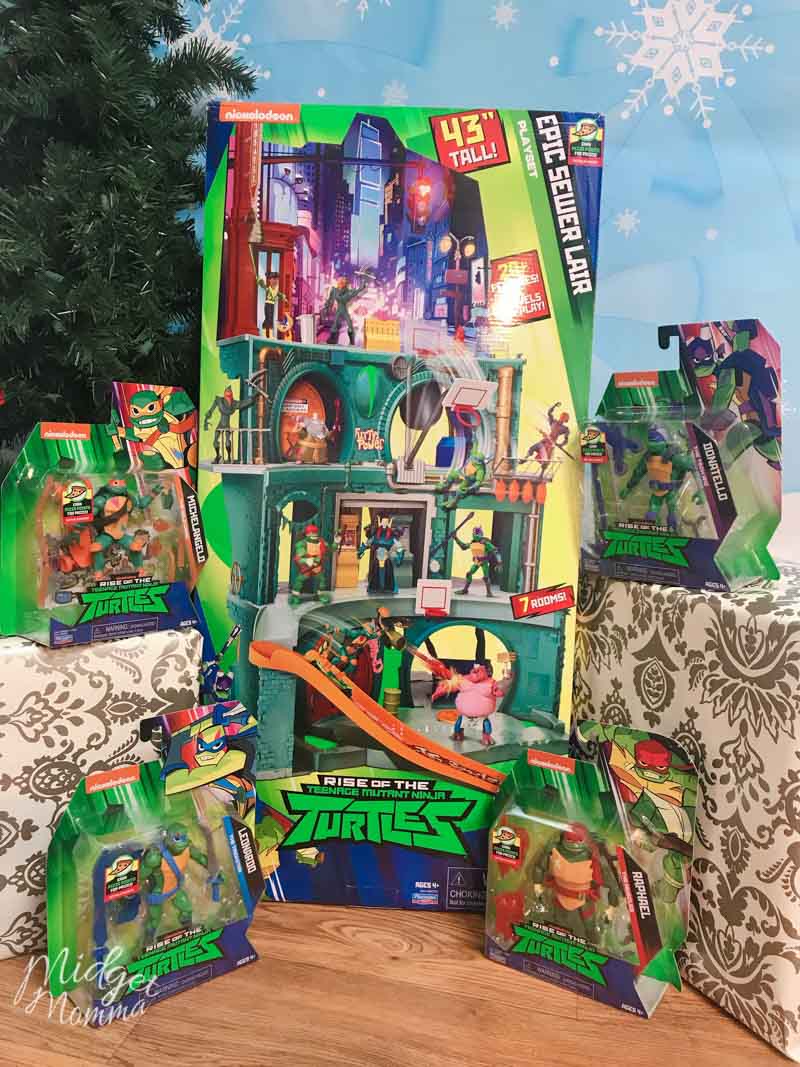 Teenage Mutant Ninja Turtle Gift Ideas
Rise of the Teenage Mutant Ninja Turtles Action Figure Assortment
Based on Nickelodeon's new animated series, Rise of the Teenage Mutant Ninja Turtles, the all-new, highly detailed action figures are uniquely sculpted and fully articulated, with heights ranging from 3.25" to 5.0″
The collection features the four Turtles, as well as new characters Baron Draxum, Meat Sweats and others introduced in the series.
Each figure comes with unique translucent accessories, and is compatible with most of the vehicles and playsets in the line.
Assortment includes:  Raphael "The Leader," Leonardo "The Trickster," Donatello "The Tech Wiz," Michelangelo "The Wild Card," Splinter "The Chill Master," April "Street Smart Best Friend," Origami Ninja "Confetti Commandos," Meat Sweats "The Tenderizer," Baron Draxum "The Maker of Mutants"
Recommended Age: 4+
Rise of the Teenage Mutant Ninja Turtles 43″ Epic Sewer Lair Playset
From the city streets at the top to the Turtles' underground lair below, this massive playset is based on Nickelodeon's new animated series, Rise of the Teenage Mutant Ninja Turtles, and is the biggest TMNT action figure playset ever, standing 43″ tall!
Kids can discover where Splinter and the Turtles live, play and train!
This deluxe playset is packed with over 20 features and includes four levels of play and seven rooms for training, kicking back, or taking out the bad guys!
Features include: Splinter's Dojo, Raphael's Weight Training Room, Leonardo's Rotating Weapon storage wall, Michelangelo's arcade, the catapult Basketball hoop, hidden projectile launchers for villain invasions, rotating skateboard ramp, collapsing balcony, and so much more.
Compatible with Rise of the Teenage Mutant Ninja Turtles basic action figures (sold separately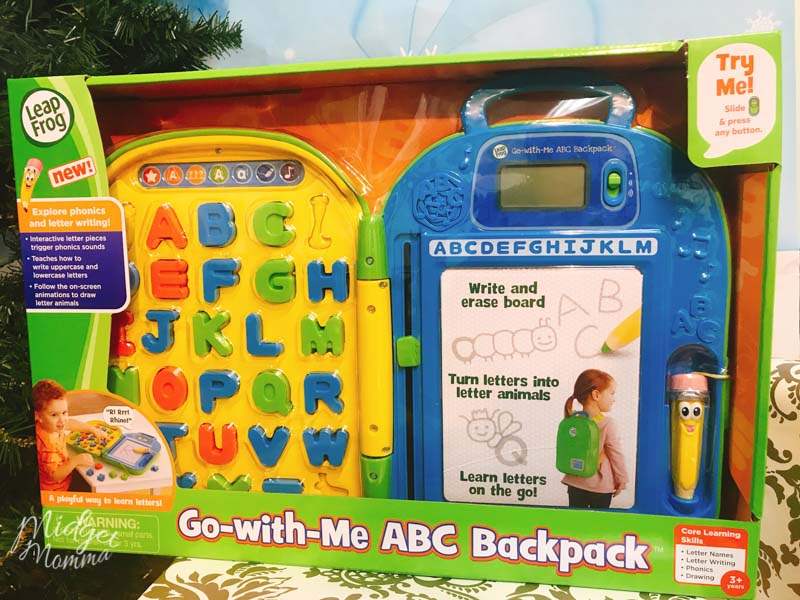 Embark on a learning adventure with Mr. Pencil and the Go-with-Me ABC Backpack™. This one of a kind toy lets toddlers interact with the alphabet in awesome ways. Using the write and erase board, kids can practice letter writing and drawing with Mr. Pencil. The screen shows how to write each letter step-by-step and then shows how to turn each letter into animals. Inserting the 26 letter pieces into the letter spaces teaches the letter name, letter sound, an animal that begins with that letter and more. Little learners can play seven different activities and when they're done, the plastic backpack holds all the pieces inside. Clip the backpack closed and wear like a real backpack for learning on the go. Draw, learn and get going!
Be sure you check out the rest of our Holiday Gift lists to help you get all of your holiday shopping done! You can see the full list of Gift Lists here, but here are a few to check out now!
Awesome Christmas Gifts for Girls(Ages 6-9)
More Christmas Fun for Kids
Of course lots of times the kids wants to Call Santa and they can with Santa's Phone number. If you want to make it even more fun the kids can also Facetime Santa!
Does Elf on the Shelf come to visit your house? If so make sure you check out these awesome Elf on the Shelf Ideas!
We have LOTS of elf on the shelf ideas too so make sure you check them out!
Elf on the Shelf Kitchen Ideas
50 Easy Elf on the Shelf Ideas
If you are doing Elf on the Shelf, then be sure you also print out the Elf on the Shelf Rules
Looking for Christmas Crafts to do with the kids? We have lots of those too! So be sure to check out the Easy Christmas Crafts for Kids, for LOTS of fun Christmas Crafts Ideas to do with the kids.
There are so many tasty christmas treats that the kids will love and they are all perfect for any kids Christmas parties that you might have. Some of our favorite Christmas treats are Santa Hat Cupcakes and Whoville Cookies ! But you can check out the full list of Kid Friendly Christmas Treats and pick out your favorites to make with the kids!
If you are looking for cookie recipes we have you covered there too! Check out our Beautiful Christmas Sugar Cookies, 12 Days of Christmas Cookies, The Best Christmas Cookies Recipes, and Christmas Tree Desserts Recipes!
Join the newsletter
Subscribe to get our latest recipes right in your inbox every time we post a new one!