If you are looking for gift ideas for girls we have you covered! With the help of my awesome kids we have come up with this amazing list of Christmas Gifts for Girls!
Figuring out Christmas Gifts for Girls can be a challenge, there are so many options out there to pick from and you never know if it is going to be a winning gift or not. That is why I am so glad that my kids are able to help me or we would all be lost! 😉
Christmas Gifts for Girls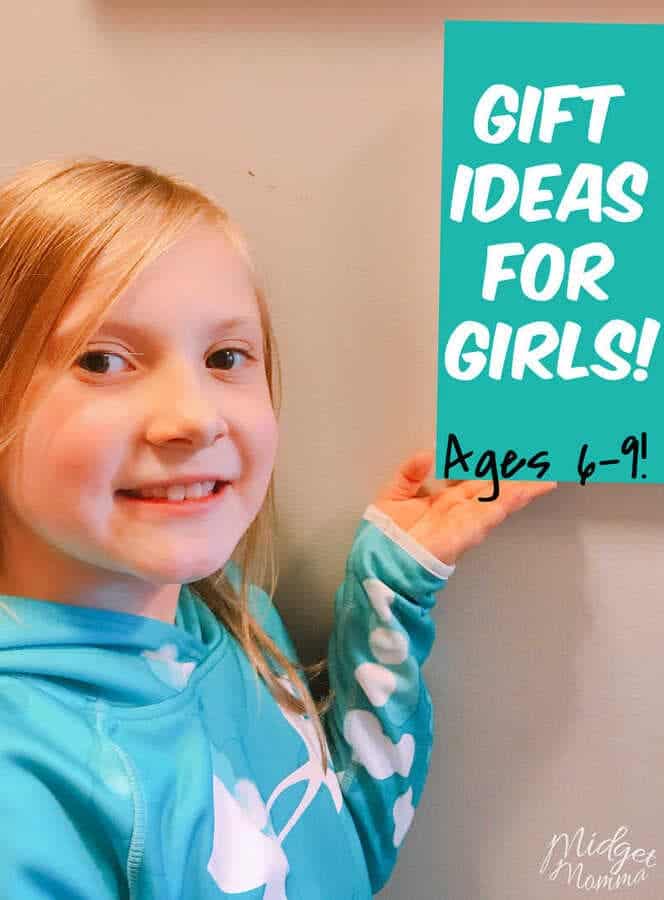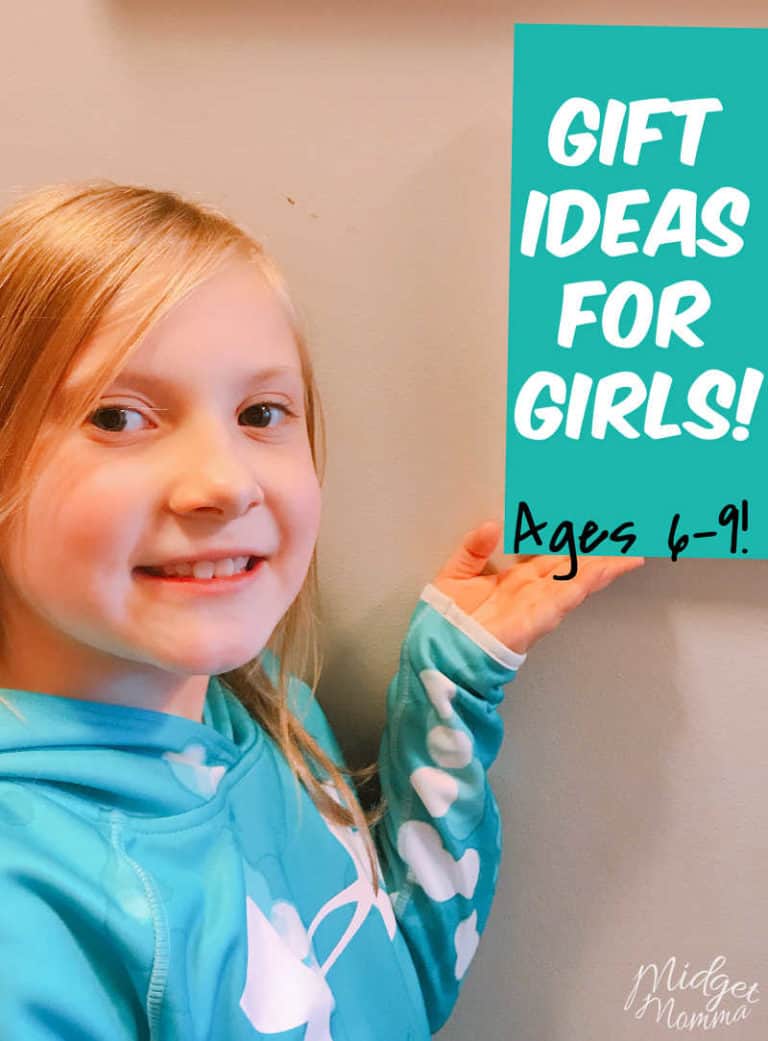 In this list of Christmas Gifts for Girls you will find gifts for 6 year old girls, gifts for 7 year old girls, gifts for 8 year old girls and gifts for 9 year old girls! I personally love the 6-9 age group for kids because the toys are fun, interactive and many of them help kids express their creativity!
Blind Bags Christmas Gifts for Girls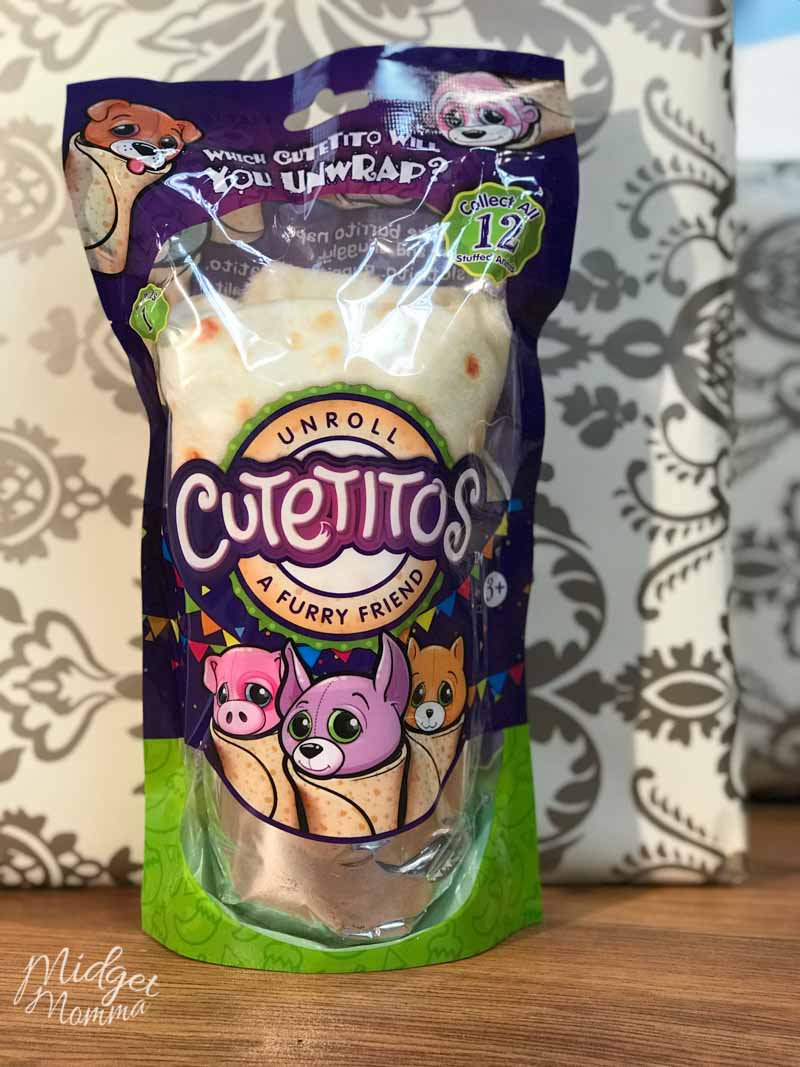 Cutetitos
•Adorable, collectible stuffed animals wrapped and hidden in burrito blankets that kids can unroll and discover!
• Based on the current trend of pets rolled up in blankets like burritos, now kids can collect all twelve different Cutetitos (including some super rare ones)!
• Each uniquely-wrapped burrito comes in large a Blind Bag, which is so exciting to open and unveil which Cutetito is concealed inside – it could be a Slothito,
Puppito, Bunnito, Monkito or others!
• More fun surprises include finding the Cutetitos' personality "Hot Spot" (mild, medium, hot or super spicy), their birthday and favorite "quotito".
Buy it here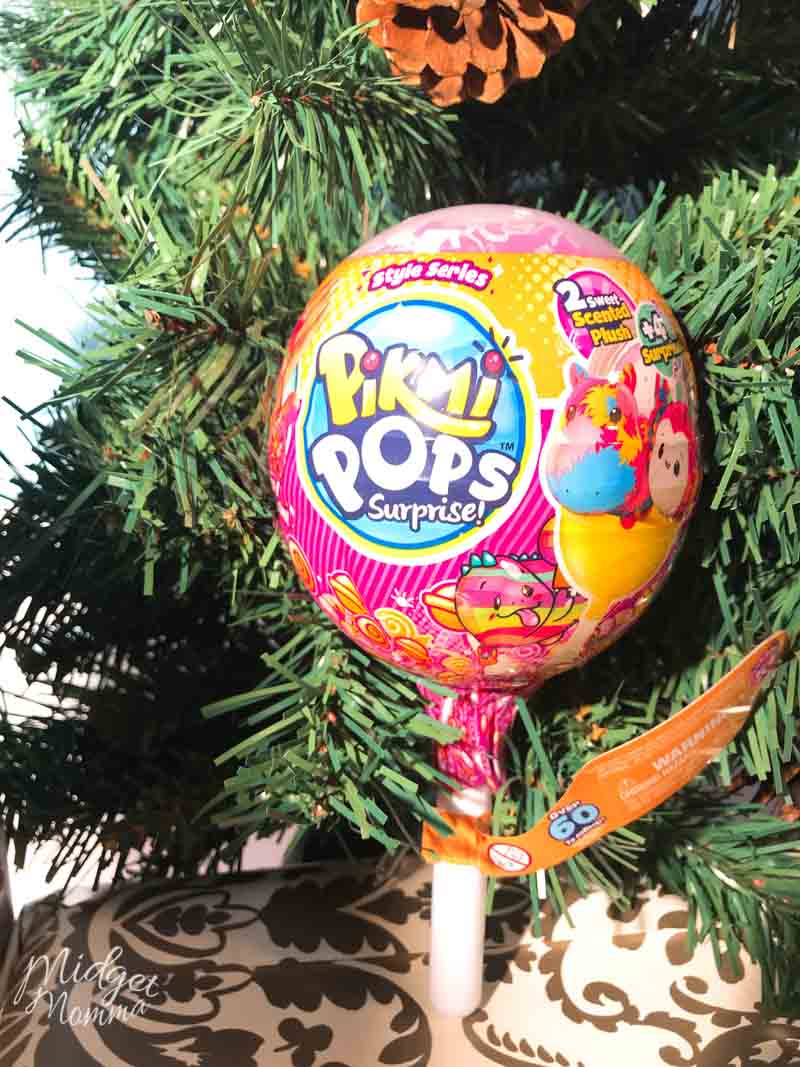 Pikmi Pops
Pikmi Pops is the only brand that combines collectible sweet scented plush with a range of mystery
items and an encouraging Sweet Message hidden inside an iconic lollipop vessel. Kids will love the
unique vessel that creates an exciting blind pack – making them eager to collect every scented plush
character! The
Buy it here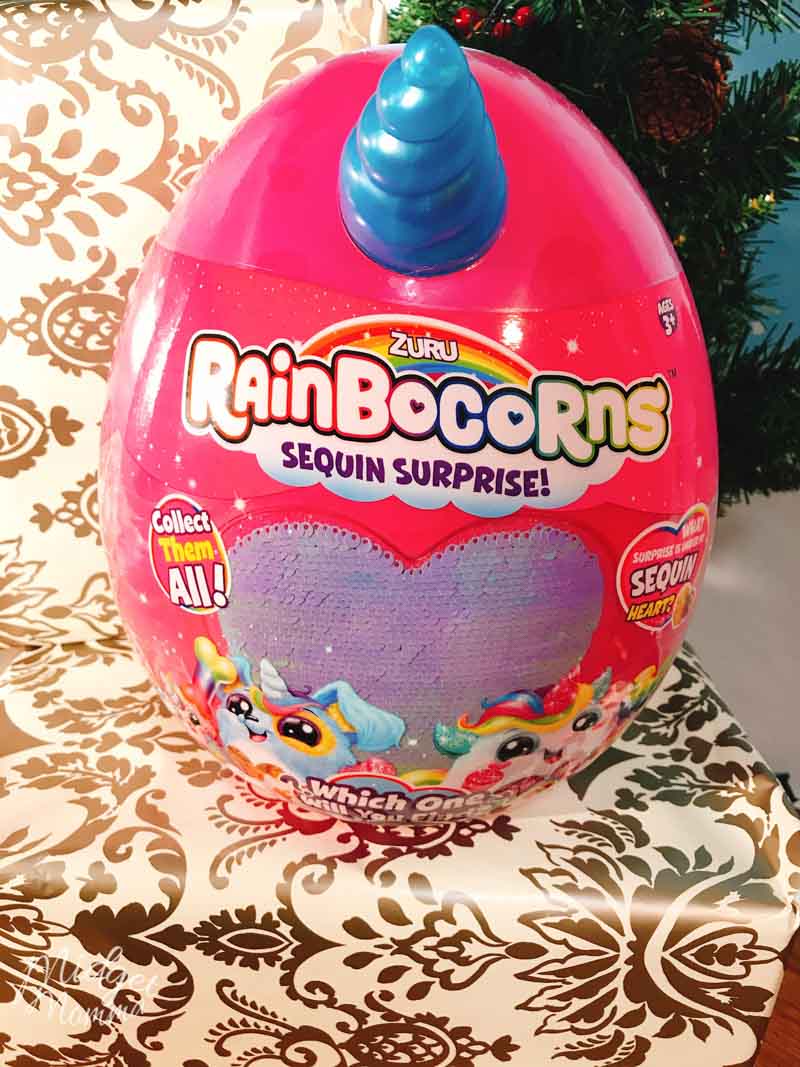 Rainbocorns
• Adorable collectible plush that are 'born' in mystery eggs and feature exciting elements, from reversible sequins to hair play to enchanted creatures.
• All 12 sequin hearts reveal different surprises and are removable to wear and share!
• The rainbow collection includes Puppycorns, Kittycorns, Unicorns, Bunnycorns, Monkeycorns and Hamstercorns.
• Each Rainbocorn comes with a baby Boo-Boocorn – a tiny collectible baby hidden in a secret egg for another layer of surprise. Collect them all, including the rare twin Boo- Boocorns!
Buy it here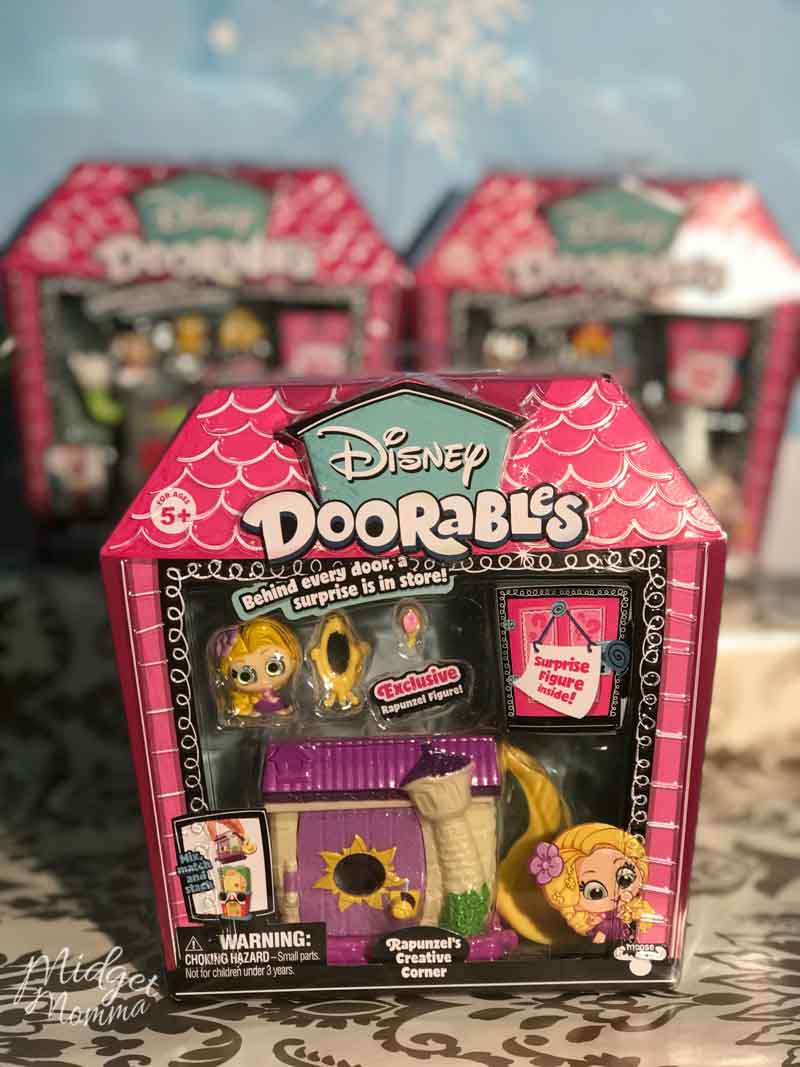 Disney Doorables
Through a collection of figures and connectable playsets, Disney Doorables empowers kids to become storytellers by uniting beloved Disney characters in one land – where surprise and delight await behind each door.
Buy it here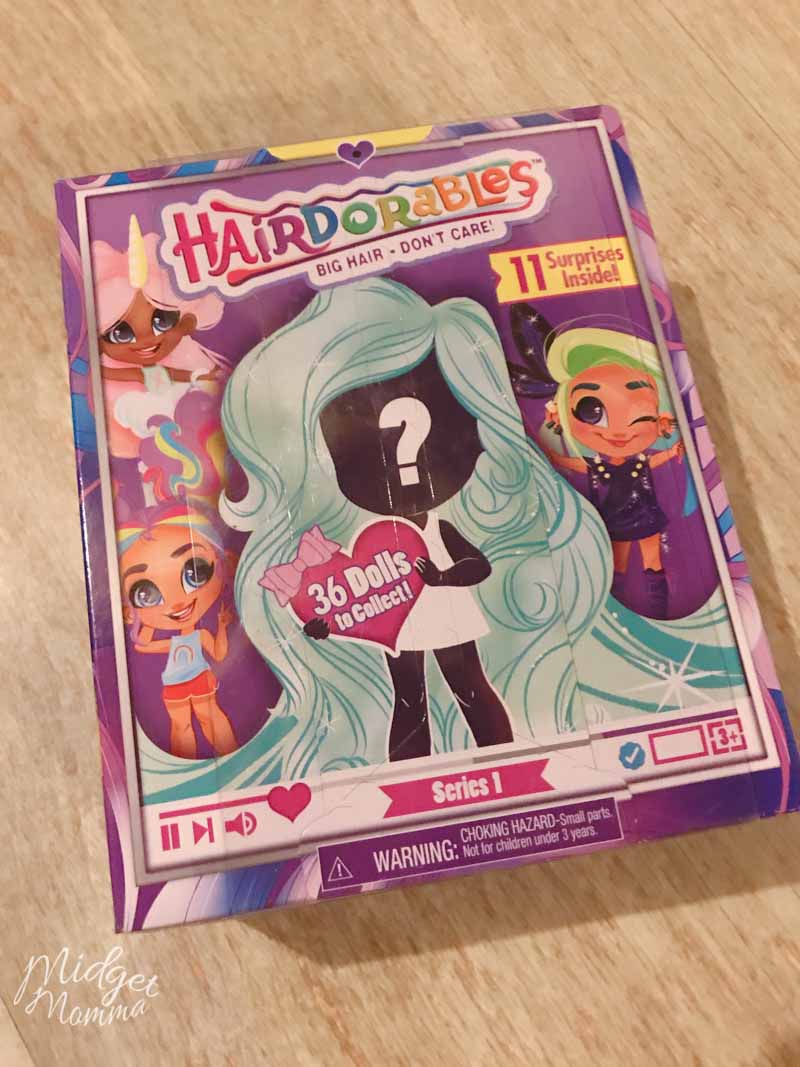 Hairdorables
• Hot new surprise dolls that combine fun, fashion and lots and lots of gorgeous colorful hair!
• Noah and her girl squad have "Big Hair Don't Care" attitudes and love to share their passions with the world via the Hairdorables channel on YouTube.
• Each doll is based on one of the 12 iconic girls from the Hairdorables videos, and these BFFs live up to the "Hairdorables" name with a variety of unique luxe hairstyles in vibrant colors!
• Just pull, peel, and reveal 11 SURPRISE accessories and fashions that unwrap the unique personality, style, and talent of the Hairdorables girl hidden inside!
• 36 Hairdorables dolls to collect in Series 1, including 2 rare and 1 ULTRA-rare, for mix-and-match outfits and endless styling possibilities
Buy it here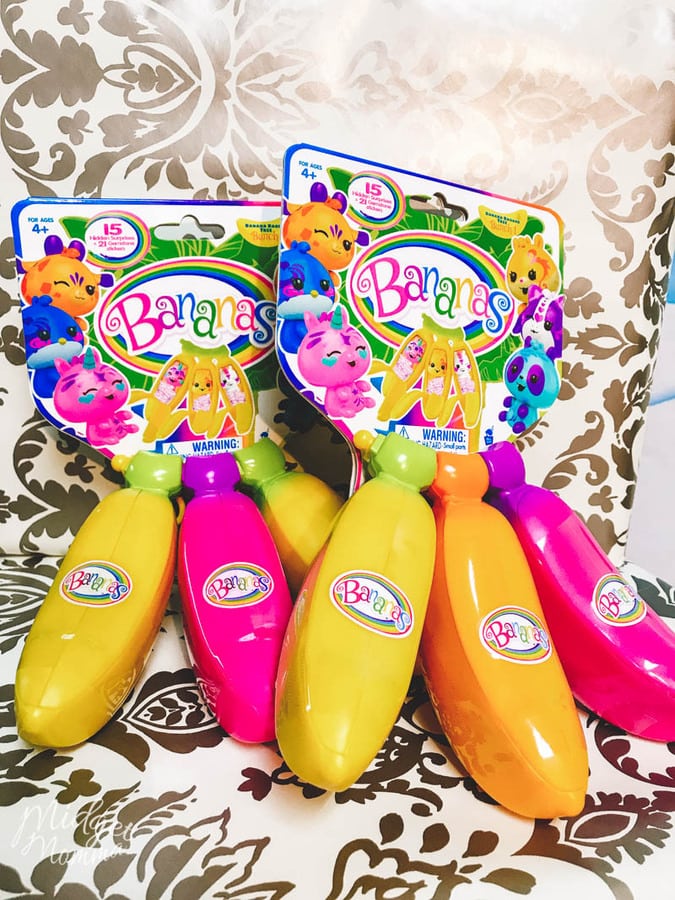 Bananas™
Smell-able, Peel-able Bananas™ from Cepia, LLC are an exciting new collectible line of six brightly colored and scented Bananas that look, smell and peel like a real banana! Peel the Bananas™ to reveal tons of mini surprises inside, including: a cute Crushie character, two mini squeezable friends, gemstone stickers to decorate the Crushie or Banana, a collector sheet with character stickers, and a hanging vine to display your Crushie friends. Keep on the look-out for the Rare and Ultra Rare Crushies to add to your collection! Display Bananas by hanging them on your backpack, or re-seal them to take on the go and trade with friends.
Buy it here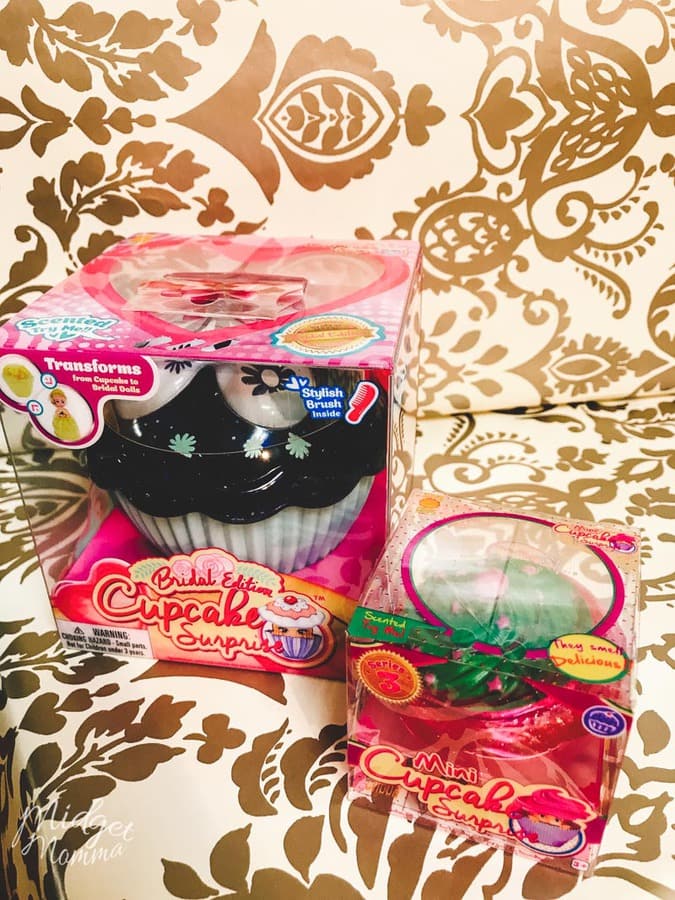 Cupcake Surprise Series 3 Minis!
To go along with your upgraded Series 3 Cupcake Surprise, you can sweeten your collection with new styles of Mini Cupcake Surprise dolls! Like the regular sized doll, the minis transform from cupcake to a true beauty. They are also available in many new styles and 6 different delicious scents and come with their own hairbrush. The scents are strawberry, vanilla, grape, chocolate, lemon, and peanut butter. Collect them all! They are perfect companions to the regular sized Cupcake Surprise dolls. Suitable for ages 3 and up.
Cupcake Surprise Series 3 — Bridal
Here comes the bride, all dressed in lace. Create your own fairytale wedding with the Cupcake Surprise Bridal Edition! With six new styles, beautiful lace dresses, pears and veil tiaras, these new editions are sure to be the most beautiful ones at the wedding.
Buy it here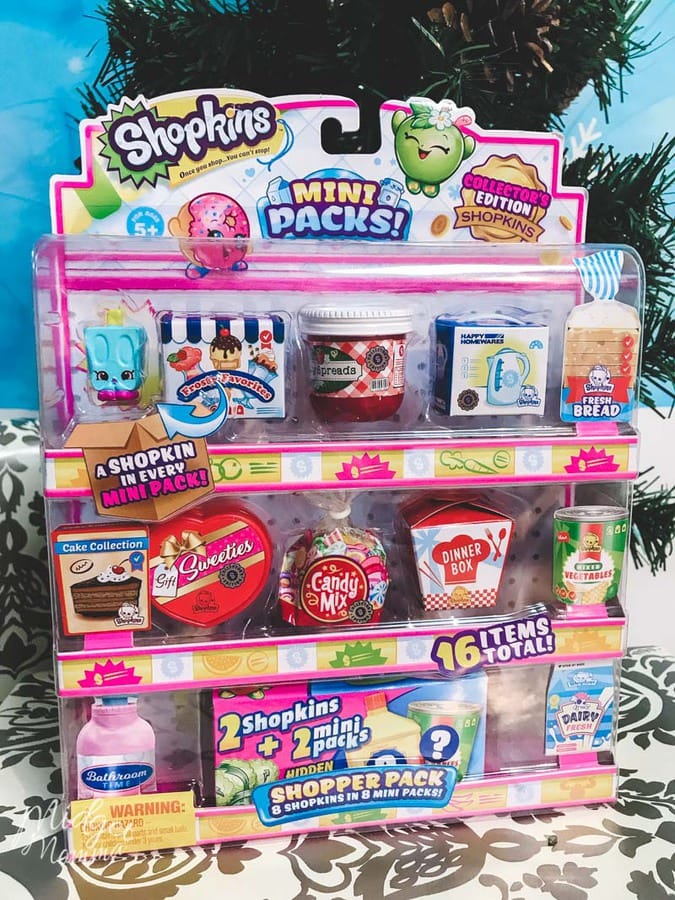 Shopkins Season 10 Mini Pack
Miniature, real-life inspired packaging with a mystery Shopkin inside!

Exact styles and characters included may vary from image

Includes 8 Mini Pack and 8 Shopkins

For the first time ever, Shopkins from Season 1 through 3 return in its original colors with a commemorative gold, silver and bronze medallion

Will you find the Limited Edition Fantabulous Favorites?
Buy it here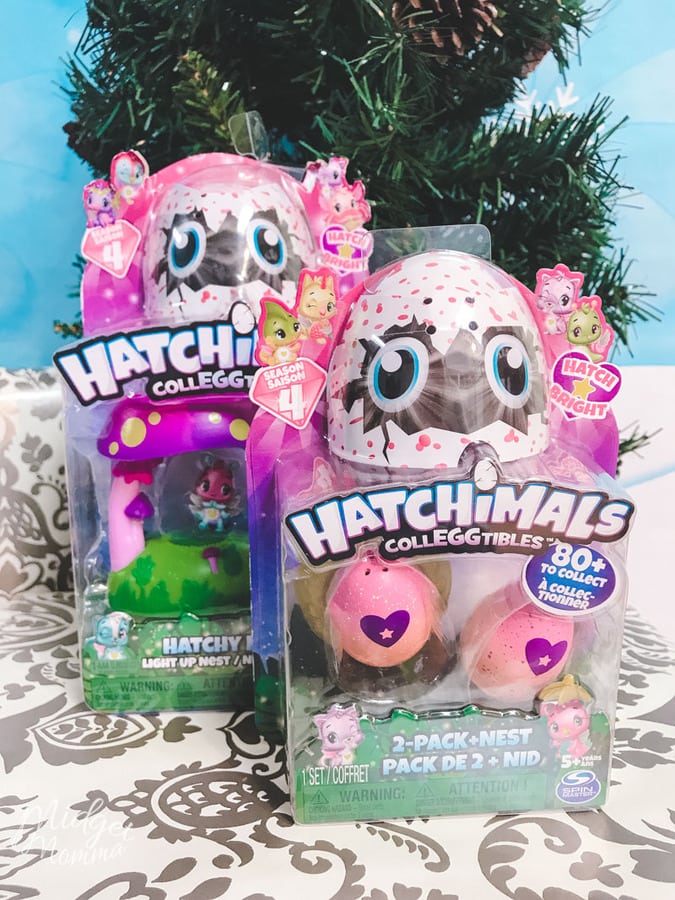 New Hatchimals CollEGGtibles have arrived! This season, you can hatch over 80 new friends who shine bright when you place them on a light! In this set, discover 4 in-egg Hatchimals and one out-of-egg Hatchimal!
Buy it here
Interactive Play gifts for Girls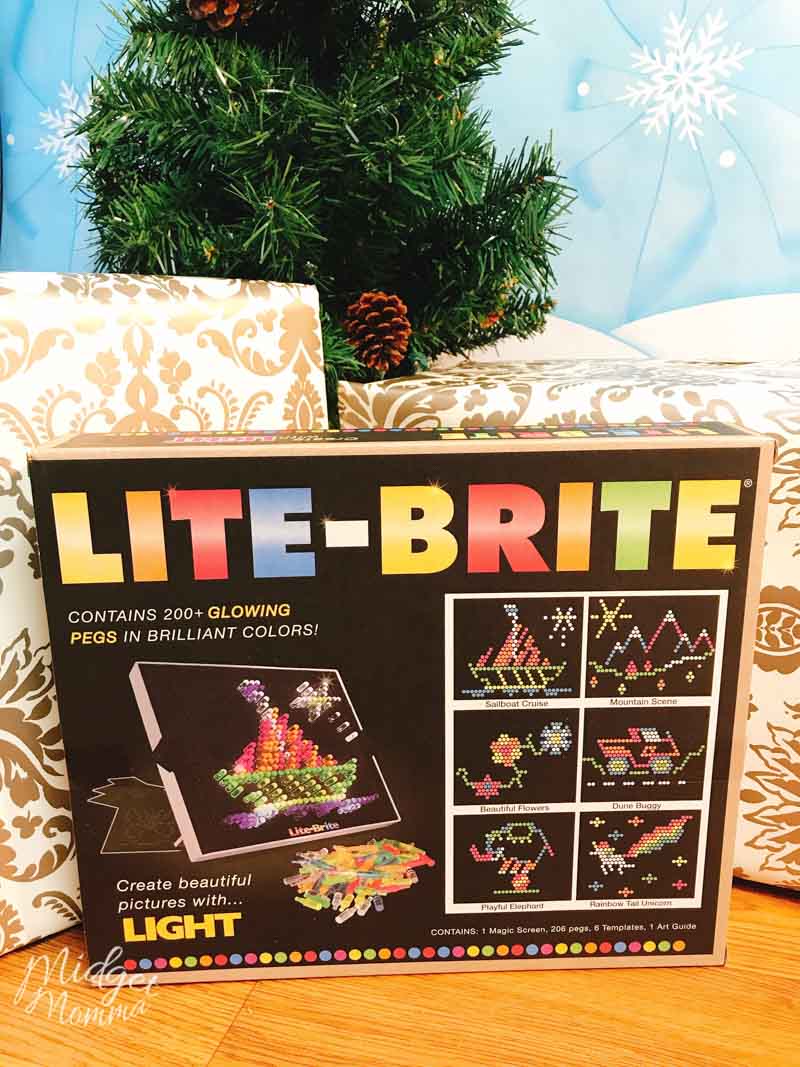 Lite-Brite Ultimate Classic
• The most fun and nostalgic way to create art with light!
• New retro-inspired styling resembles the original Lite-Brite from the 80's and now features a bigger screen, brighter pegs, and more templates including six retro patterns!
• Just insert the pegs into the templates or freestyle an original design – then press the button to see the creation light-up in four different ways, from steady to blinking.
• With an updated stand on the back, kids can easily create and display their masterpieces…then turn off the lights for the ultimate effect!
Buy it here
Circuit Mania
Fun with Conductivity, LED Light and Power! Learn all about conductivity, power sources and circuitry all with this fun, easy-to-do project right at home.These exciting projects help cultivate a host of important skills: problem solving, trial and error, following instructions, and the basics of circuitry and conductivity. Designed for STEAM learning, kids will be engaged and their creativity will flow with this easy to use kit. All key components are included: conductive tape, LED light, colorful construction paper, template and cell battery. Templates available in a flower, lighthouse, seahorse, unicorn, and rocket; and kids can collect them all! Ages 6 and up
Buy it here
Cute gifts for girls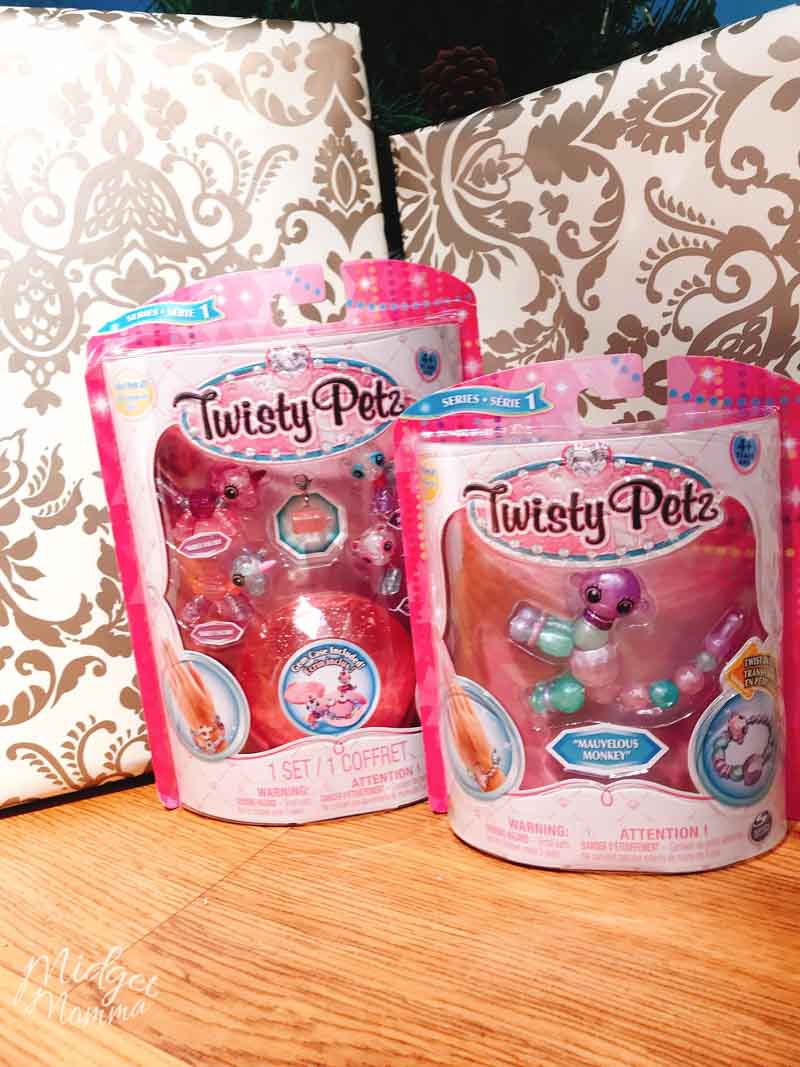 Twisty Petz
Twisty Petz are cute collectibles that transform from adorable animals into beautiful bracelets with a simple twist! Featuring beautiful gem details and sparkling finishes these stylin' bling bracelets are the perfect fashion statement. Simply twist your bracelet back to your pet friend to bring your Twisty Pet back to life! There are so many Twisty Petz to collect including Limited Edition Fuzzy in the Three Pack! Wear as a bracelet, necklace or put them on your backpack for the perfect bling accessory. They're sooooo charming!
Buy them here
Christmas Gifts for Girls who love to cook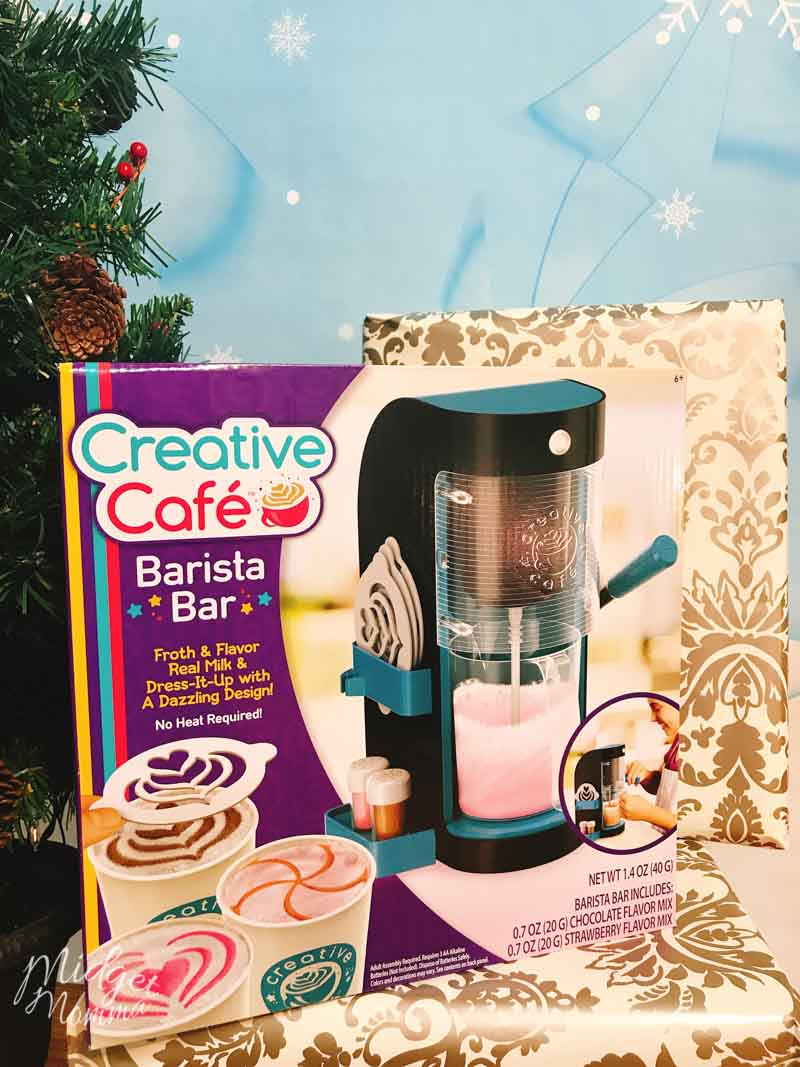 Creative Café Barista Bar
With America's passion for coffee drinks, it's no wonder kids want to play barista at home. With the Creative Café Barista Bar's frothing unit, kids can froth and flavor real or nut/soy milks to create chocolate and strawberry flavored, coffee-free "lattes" like the "Mock-iato" or a "Neapolitan latte".
The Creative Café Barista Bar is kid safe since it works without heat. Each set comes with three stencils in hearts and swirl shapes to decorate beverages with chocolate or strawberry powders to make "latte" art.
Buy it here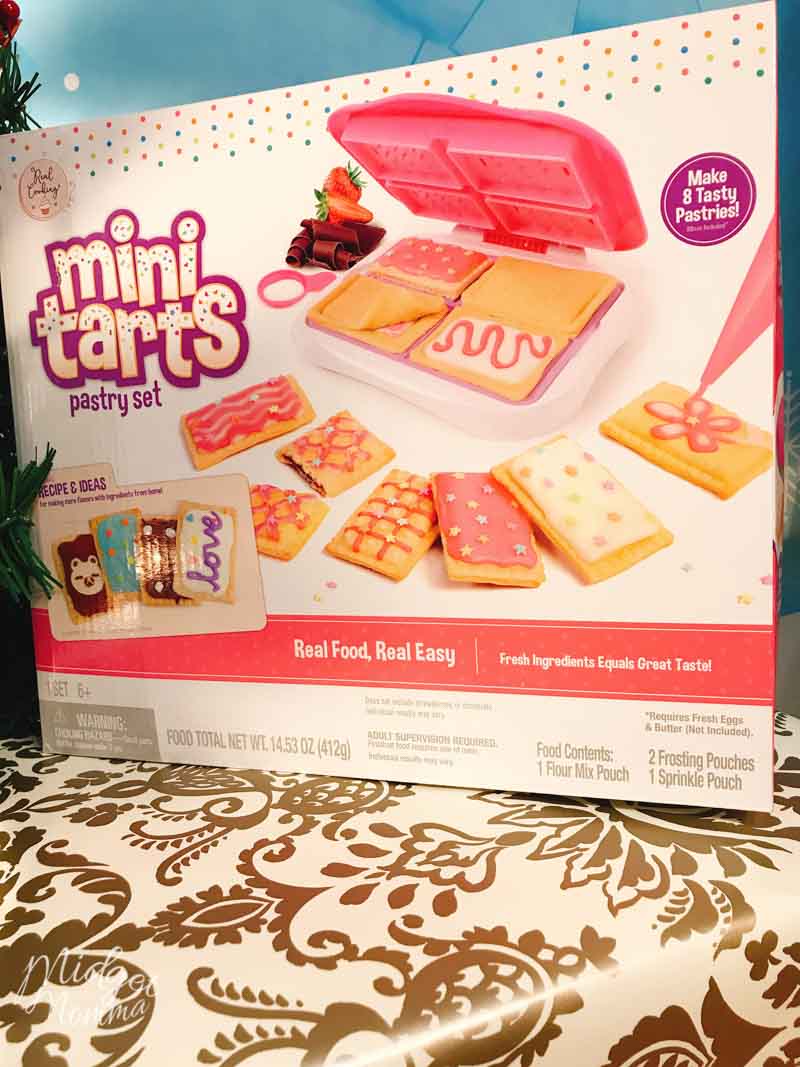 Real Cooking Mini Tarts
• From the Real Cooking line of creative DIY baking kits, come the Real Cooking Mini Tarts!
• Create your own delicious mini-tart pastries – everything you need comes in the set.
• Includes pastry maker and food ingredients to make a variety of treats, just grab milk and eggs from your fridge!
• You can also whip up custom creations filled with jam, chocolate marshmallows and more.
Buy it here
Craft Gifts for Girls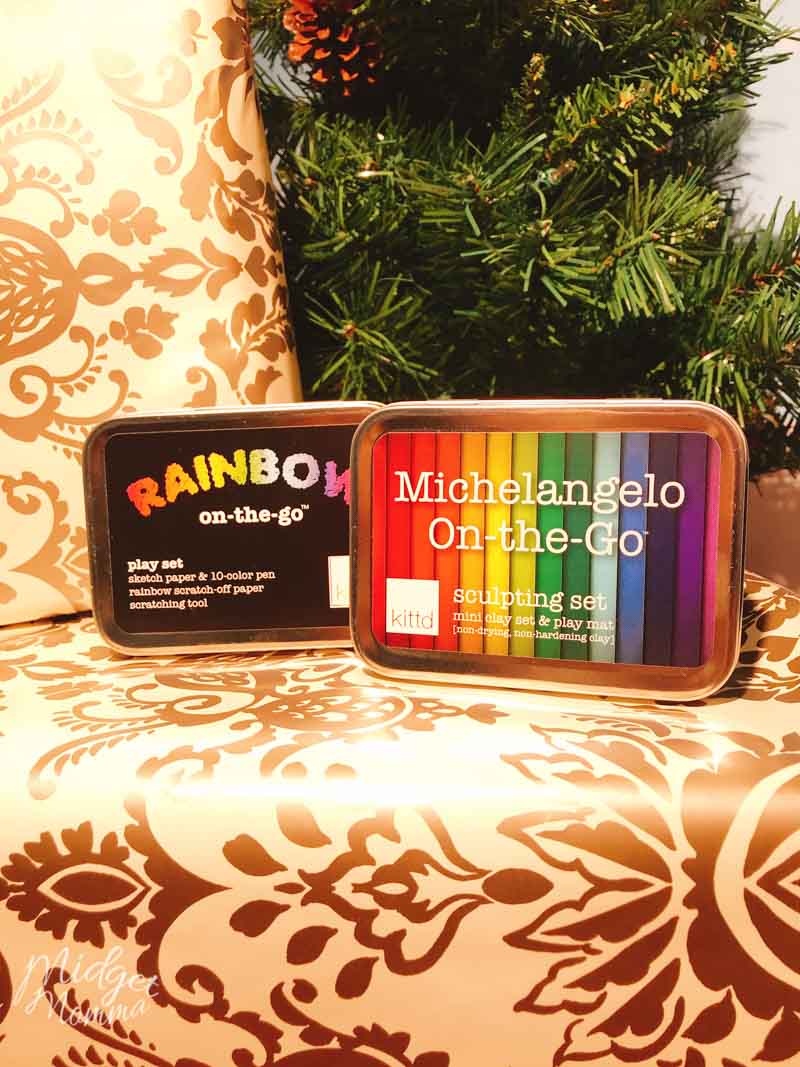 kittd Portable Art Sets
Portable playsets that kids will love! They are perfect for travel, restaurants, and keeping kids engaged in creative play! kittd is the brainchild of two moms who were sick of seeing their kids on electronics – who made the antidote!
Buy them here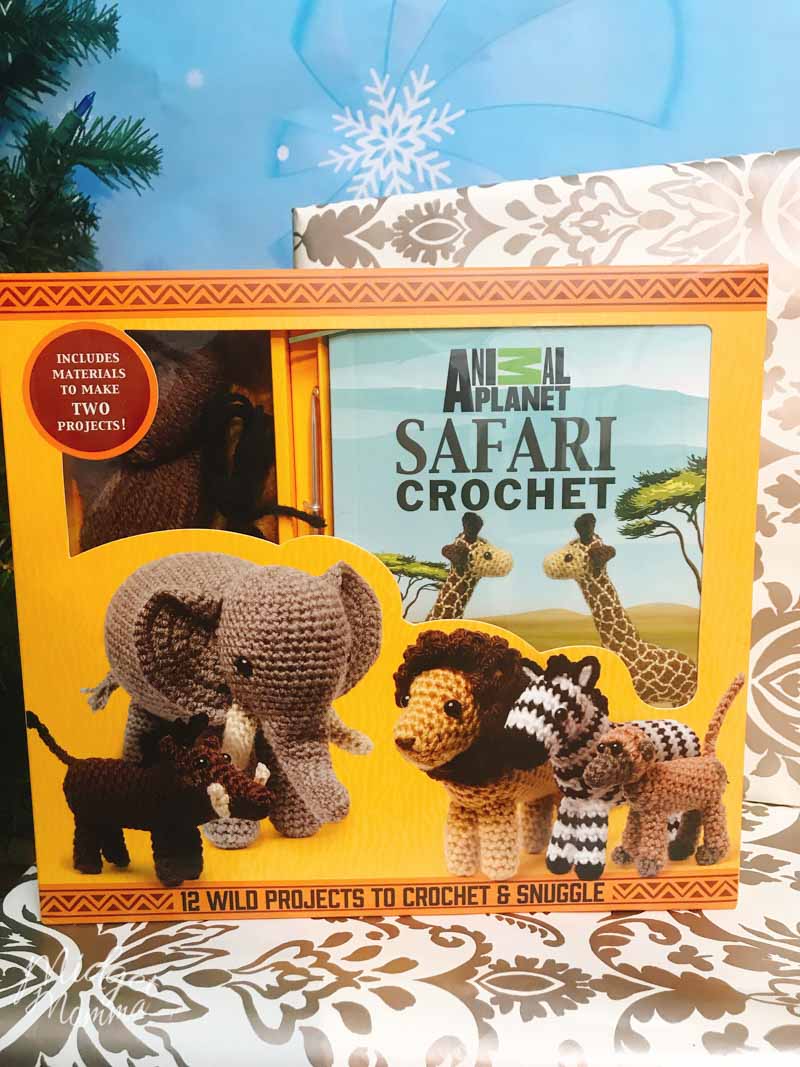 Animal Planet: Safari Crochet includes 12 adorable patterns for stitching up the animals of the Serengeti. The kit comes with a step-by-step instruction book with over 80 full color photographs and everything you need to make two projects, including a crochet hook, yarn, stuffing, eye beads, embroidery floss, and a tapestry needle. Fully licensed with Animal Planet, every project also features fun bits of info on the real animals. Create your own crochet safari with these super cute patterns! Possible projects could include: lion, giraffe, rhino, hippo, zebra, elephant, crocodile, ostrich, gazelle, warthog, baboon, and cheetah.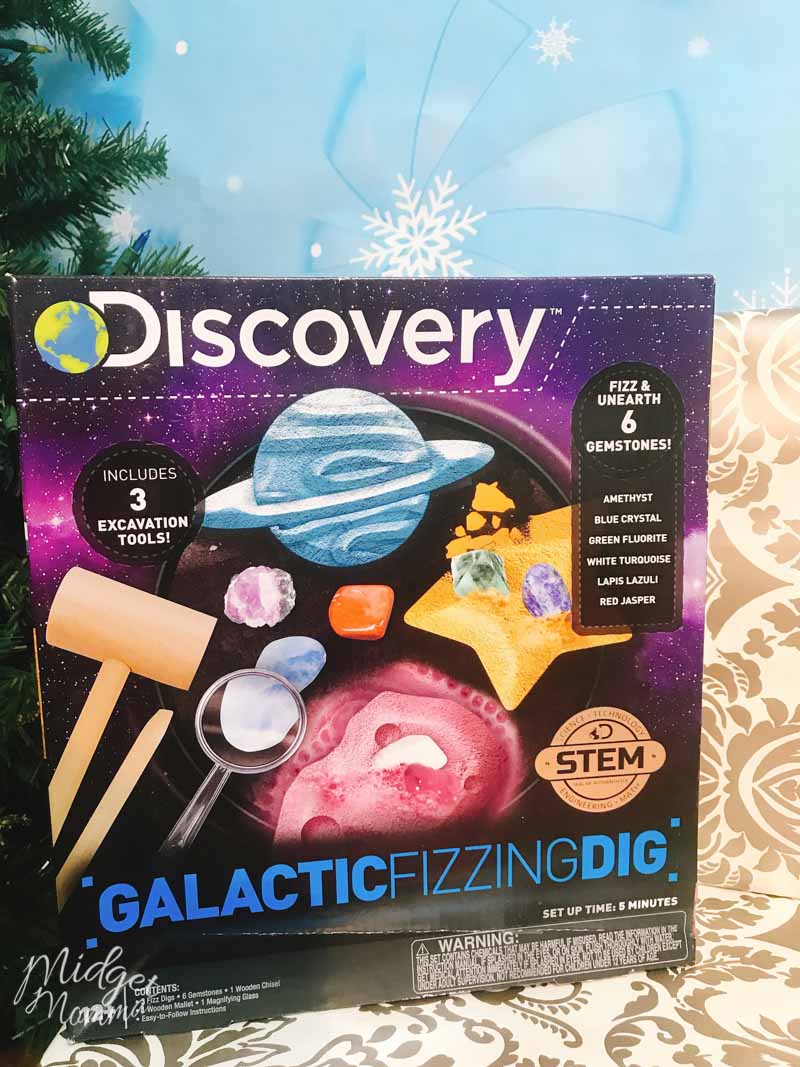 Discovery Galactic Fizzing Dig
Unearth 6 real gemstones: discover your inner archaeologist and unearth 6 real gemstones

Exciting reveals: dig your way through vibrant and fun shaped digs or place them into a bowl of water and watch a fizz, pop and bubble Reaction take place to reveal the gemstones

Learn to use excavation tools: 3 excavation tools included to get a real feel for digging and chiseling away

Fun fizzing dig shapes: Includes 3 colorful and fun shaped fizzing digs including a planet fizz dig, an asteroid fizz dig, and Star fizz dig

Identify gemstones: take a closer look at the patterns and colors of each gemstone using the magnifying glass like a true Gemologist
Hands on Gifts for Girls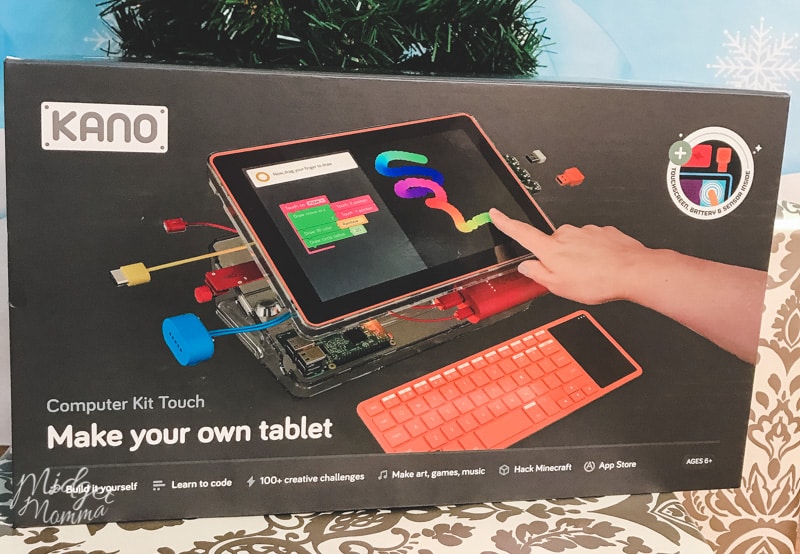 Kano Build-Your-Own Tablet is the perfect gift for your hands on kiddo!
Step-by-step build your own powerful laptop, a simple storybook shows you how. Look inside, plug the parts, bring it to life. Learn about HDMI, sound, pixels and processors.

All in one box. 10.1′" HD screen, Raspberry Pi 3, battery, DIY speaker, wireless keyboard, case and stand, memory, 3 USB ports, HDMI and power cables, sound sensor, stickers, Kano's operating system, apps, and exclusive coding challenges.

With playful projects and simple steps you'll learn to code art, music, apps, games and more. Don't just play Minecraft, hack it.

Browse the internet, use your favorite apps like YouTube, WhatsApp, Google Docs, Maps, Codecademy, Wikipedia and more.

For ages 6+. No technical knowledge required. Includes Lifetime Care and 1 year warranty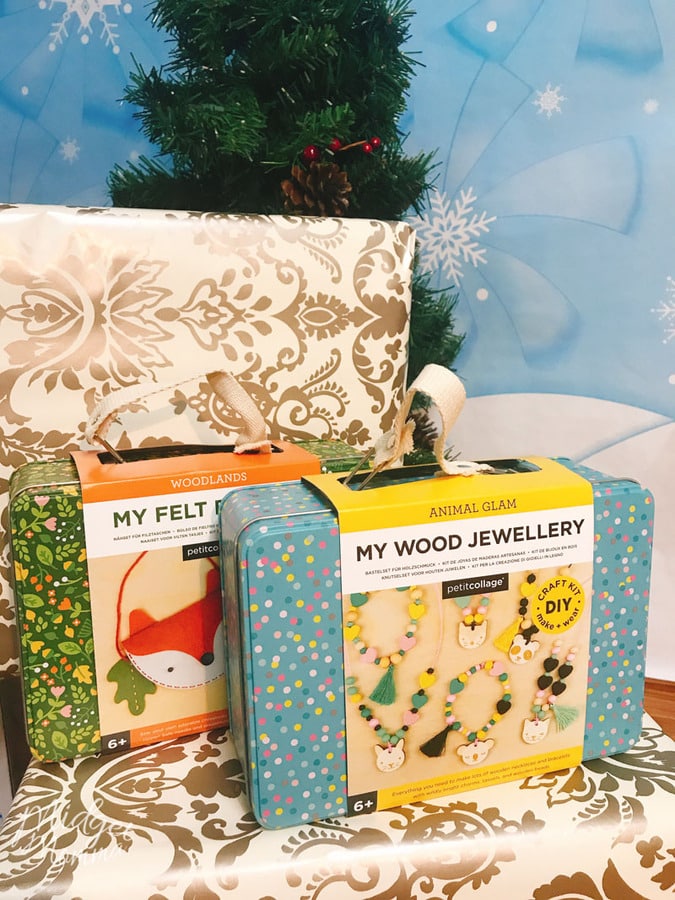 my wood jewelry kit
my wood jewellery set includes everything you need to make lots of wooden necklaces and bracelets with wildly bright charms, tassels, and wooden beads in this fun and easy craft activity. Includes 120 high-quality painted wooden beads, 25 painted hearts, embroidery thread, 5 colored tassels, a child safe safety needle, 5 laser-etched animal charms, and an illustrated easy to follow instruction sheet. No glue required!
my felt bag + coin purse kit
Make your very own stylish crossbody fox bag with matching acorn zipper purse in this fun and easy craft activity. Includes high quality pre-punched felt, embroidery thread, buttons, Velcro, child safe safety needle, and an illustrated easy to follow instruction sheet No glue required!
Buy them here – Use coupon code MIDGETMOMMA for 15% off.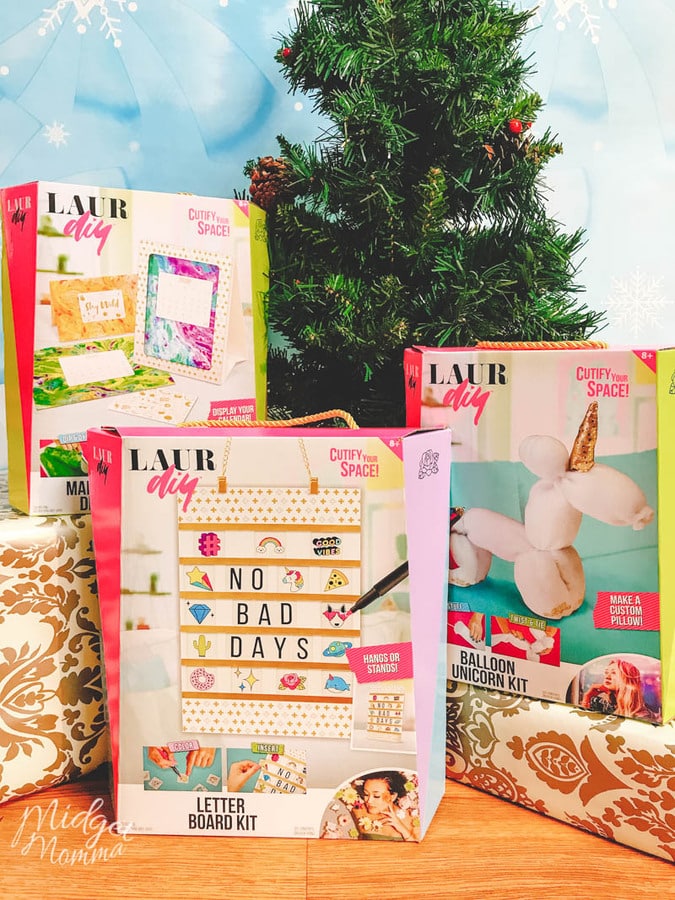 Laur DIY Kits
Balloon Unicorn Kit – to create a balloon-shaped plush unicorn with a gold horn and colorful and sparkly embellishments
Marble Desk Décor Kit – to create a marbleized desk calendar and stationery set
Letter Board Kit – to decorate and personalize the stylish board included and use it to write fun messages on
Buy them here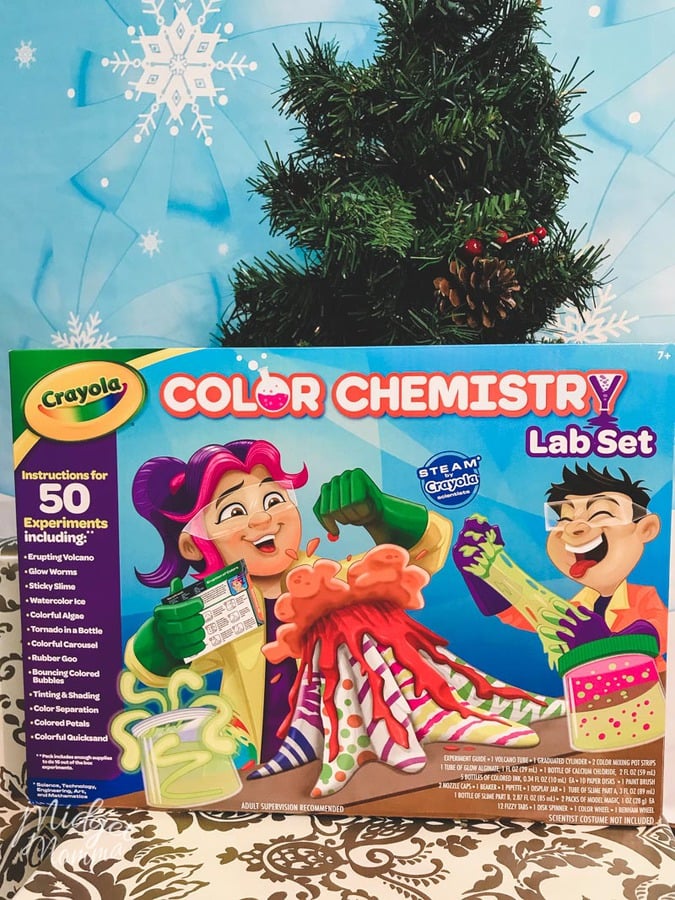 With 50 different colorful experiments designed by real Crayola scientists, this lab set teaches kids the magic of science, math and art through color and S.T.E.A.M principles. From an erupting volcano, to glow worms and slime, kids can embark on experiments using core Crayola products and household items, stretching their imaginations while also reinforcing their subject matter skills. For continued creativity, kids can use the included illustrative guide to conduct experiments again and again using everyday items.
Outdoor Gifts for Girls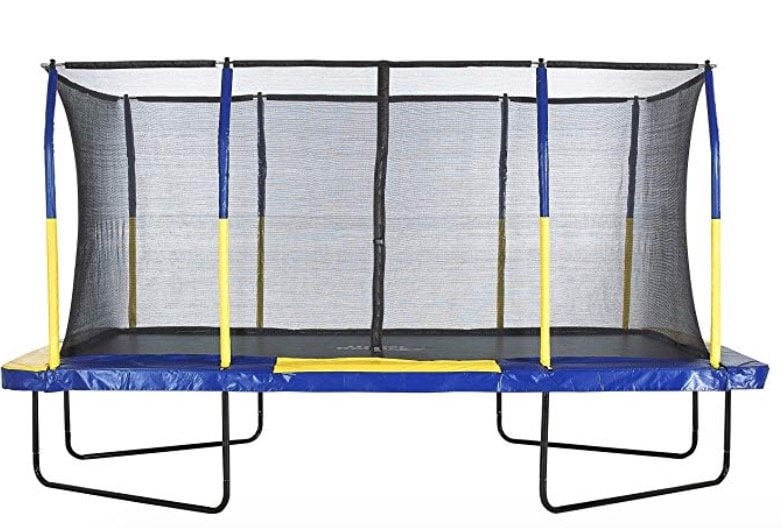 Upper Bounce Easy Assemble Spacious Rectangular Trampoline with Fiber Flex Enclosure Feature
Designed with a Top Flex Pole Enclosure System, Net runs through the top ring to ensure maximum stability and a stronger and longer life span! Constructed with heavy duty Black-coated steel for extra durability and Ultra bounce this trampoline gives an amazing amount of bouncy fun! 
NO COMPLICATED HARDWARE NEEDED – The EASY ASSEMBLE/DISSEMBLE feature makes it easy to put up and have the kids jumping quickly – since we all know they will be wanting to jump on it as soon as possible!
High Quality Jumping Mat has 8 row stitching which provides extra security that prevents the mat from tearing and guaranteed to enjoy for many years!
Buy it here!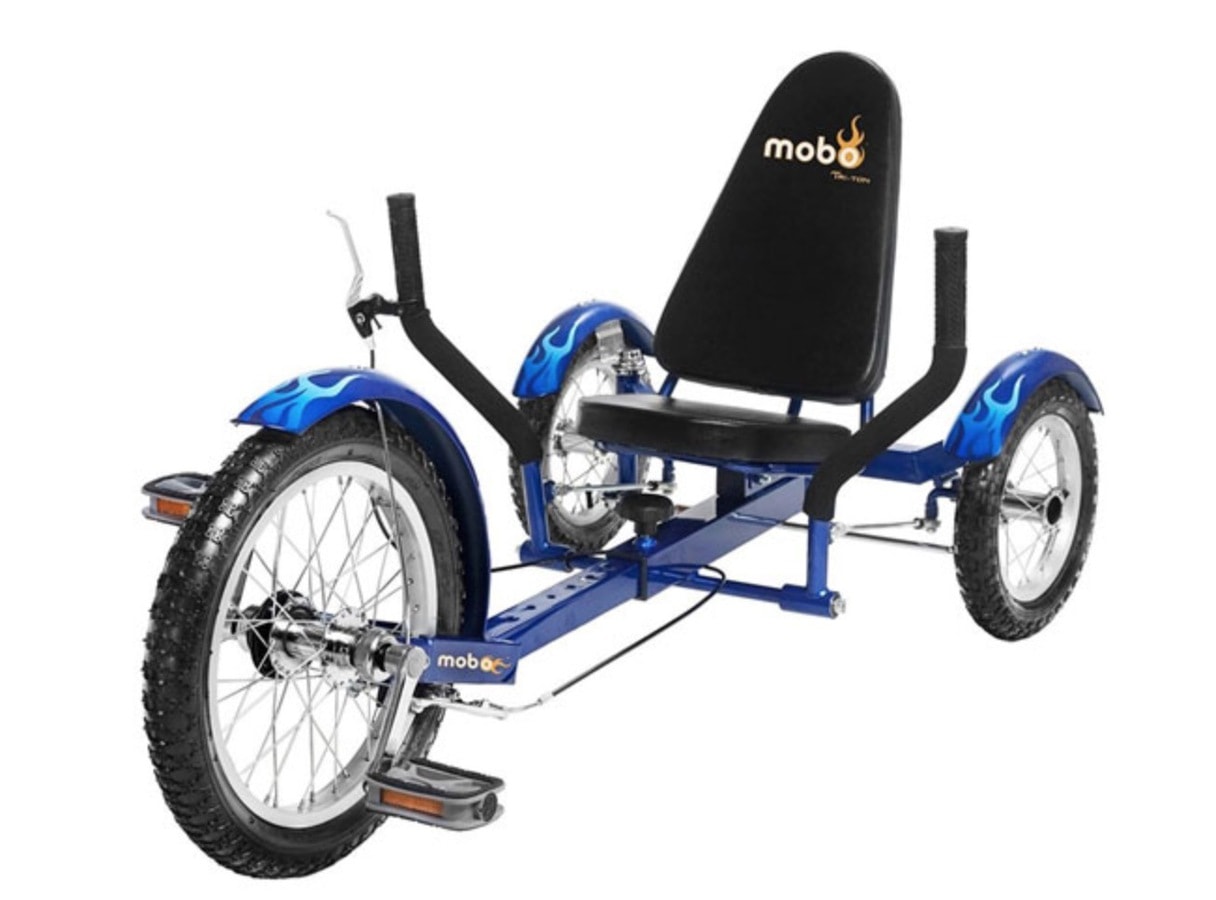 Mobo Triton – The Ultimate Three Wheeled Cruiser (Youth)
Original to the Mobo line, the Mobo Triton is the classic, ultimate three-wheeled cruiser. With the new innovative rear-wheel steering system and a sleek design, it is unparalleled in the world of three-wheeled cycling for youths. Incorporating a single-speed gear, recumbent style seating, and stress-free steering, this cruiser makes it the perfect companion for a brisk workout. Concerned about outgrowing this cruiser? No need to worry — the Mobo Triton has an adjustable frame to fit heights up to 5'2". Delivering quality you can trust, the caliper hand brakes, front free-wheel mechanism, and a stylish finish are just among many of its features. Don't just take our word for it – come and get your ride on today!
Buy it here
Lego Gifts for Girls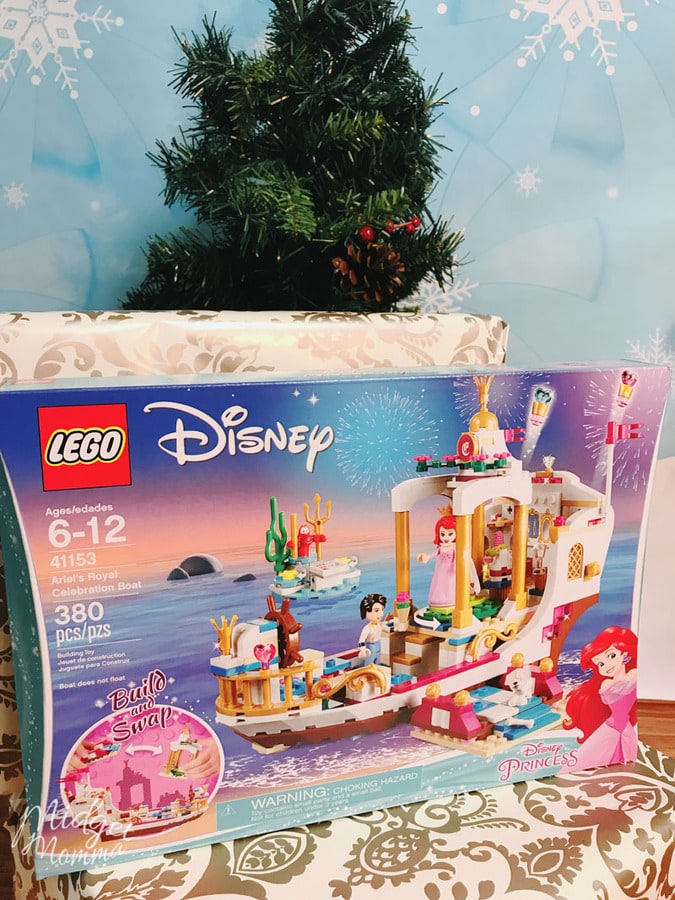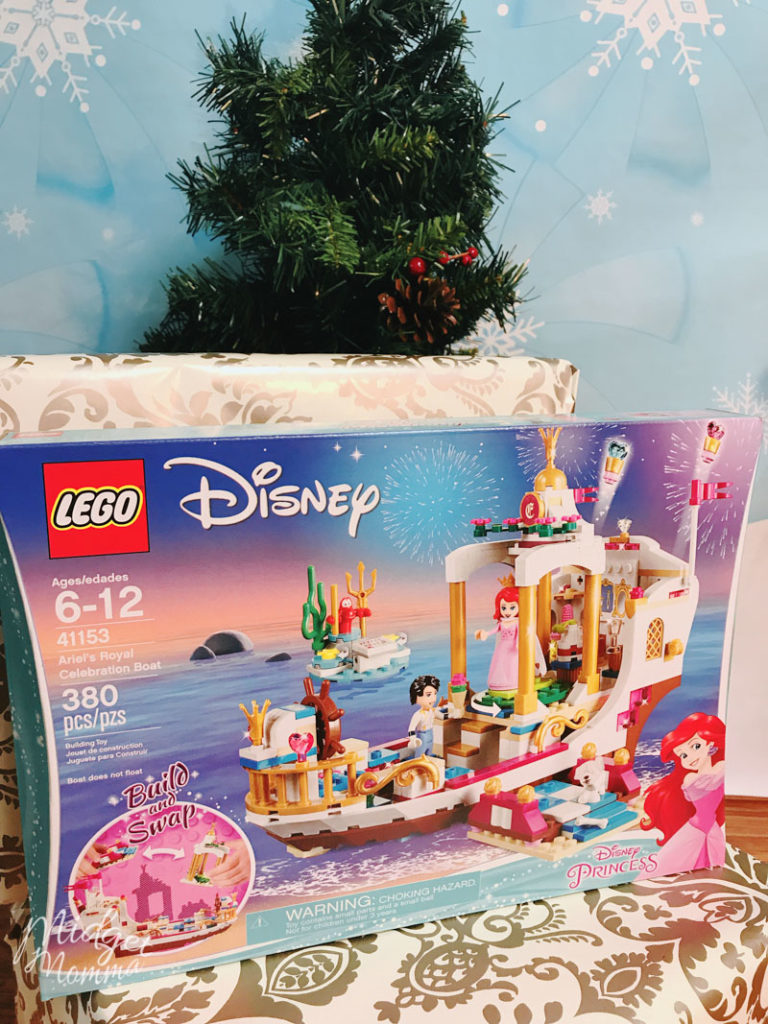 Ariel's Royal Celebration Boat
LEGO® l Disney Ariel's Royal Celebration Boat has everything you need to play out a happy ending for Disney's The Little Mermaid's Ariel and Prince Eric. Dance on the revolving dancefloor under the gazebo, spin Sebastian's starfish decks, discover secret treasure and launch the colored firework bricks. Get creative using the modular design of this great children's toy building set to easily move and swap sections within the model, or integrate the gazebo with other compatible LEGO l Disney construction toys to build your own dream creations. Includes 2 mini-doll figures plus Sebastian and Max LEGO figures.
Includes 2 mini-doll figures: Prince Eric and Ariel with her dress and white fabric cape, plus Sebastian the crab and Max the dog LEGO® figures.
Ariel's Royal Celebration Boat features a gazebo with revolving dancefloor, ship's wheel, vanity desk and firework launcher, plus a dock and Sebastian's island with turning starfish decks.
Accessory elements include a cake, glasses, crown, treasure chest, jewel, telescope, Ursula's contract tile, trident, hair bow, bone, firework pieces and a perfume bottle.
Customize this great children's toy building set by easily swapping and rearranging internal features such as the vanity, cake table and drinks table.
Move and rearrange the gazebo and dock to customize the boat, or combine, swap and mix this model with other compatible LEGO® l Disney construction toys to build your own dream creations.
Recreate the final wedding scenes from Disney's The Little Mermaid on this ornate boat full of features and secret places.
Help Ariel get ready for new adventures at the vanity desk, then put on her white wedding cape.
Spin Sebastian's starfish and help Eric and Ariel dance on the revolving dancefloor, then launch the colorful firework pieces as the celebrations continue!
Suitable for ages 6-12.
Ariel's Royal Celebration Boat measures over 6" (16cm) high, 9" (23cm) long and 4" (11cm) wide.
Sebastian's island measures over 1" (4cm) high, 1" (4cm) wide and 1" (4cm) deep.
Buy it here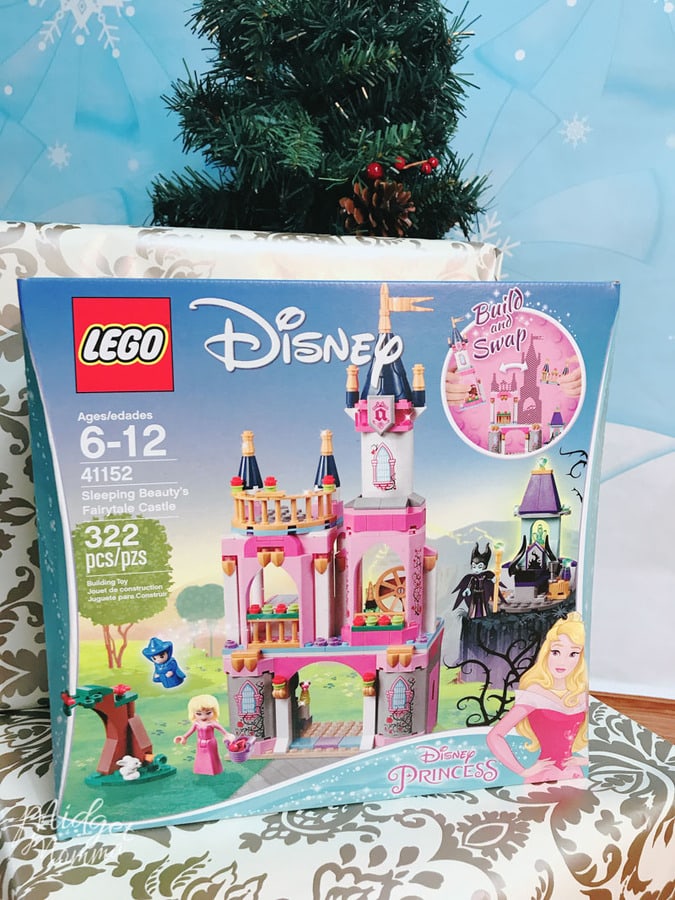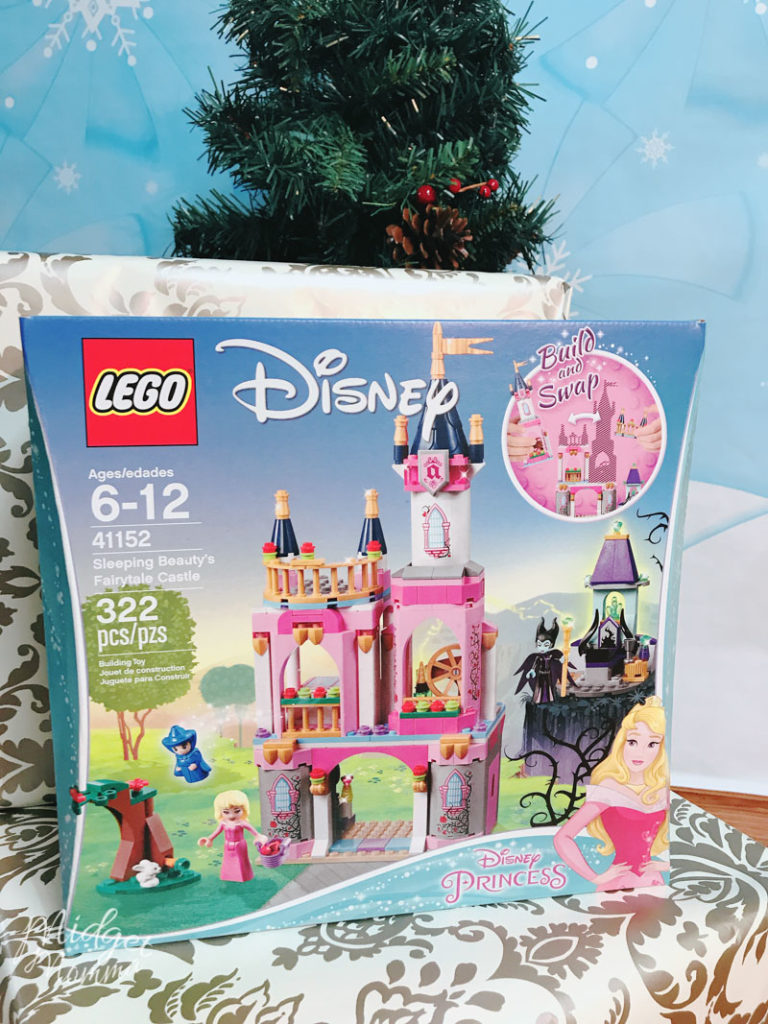 Sleeping Beauty's Fairytale Castle
LEGO® l Disney Sleeping Beauty's Fairytale Castle is easy to build and perfect for playing out favorite moments from Disney's Sleeping Beauty. There's a bedroom, spinning wheel, vanity and a special birthday cake. Maleficent's lair adds drama and excitement to the role-play action. Get creative using the modular design of this fun toy construction set to easily move and swap sections within the model, or rearrange the rooms of the castle and integrate them with other compatible LEGO l Disney buildable toys to build your own dream creations. Includes 2 mini-doll figures plus Merryweather and bunny LEGO figures.
Includes Aurora and Maleficent mini-doll figures, plus a good fairy and a bunny LEGO® figure.
Features a modular Fairytale Castle with a balcony, vanity and a bed with hidden storybook tile, plus Maleficent's lair with throne.
Accessory elements include a magic wand, crown, spinning wheel, hair bow, flowers, cake, mixing bowl, scissors, hairbrush, perfume bottle, basket, carrot, cherries and Maleficent's staff.
Customize the set by easily swapping and rearranging internal features such as the spinning wheel, vanity and cake table.
Move and rearrange the rooms and Maleficent's lair to create a new castle every time, or combine, swap and mix this model with other compatible LEGO® l Disney construction toys to build your own dream creations.
Recreate favorite moments from Disney's Sleeping Beauty with iconic details such as the spinning wheel, giant cake and birthday dress decoration.
Create your own stories about life in the castle with this fun toy buidling set, and discover a secret storybook tile under Aurora's bed.
Suitable for ages 6-12.
Sleeping Beauty's Fairytale Castle measures over 11" (29cm) high, 4" (12cm) wide and 2" (6cm) deep.
Maleficent's lair measures over 4" (11cm) high, 2" (6cm) wide and 2" (6cm) deep.
Buy it here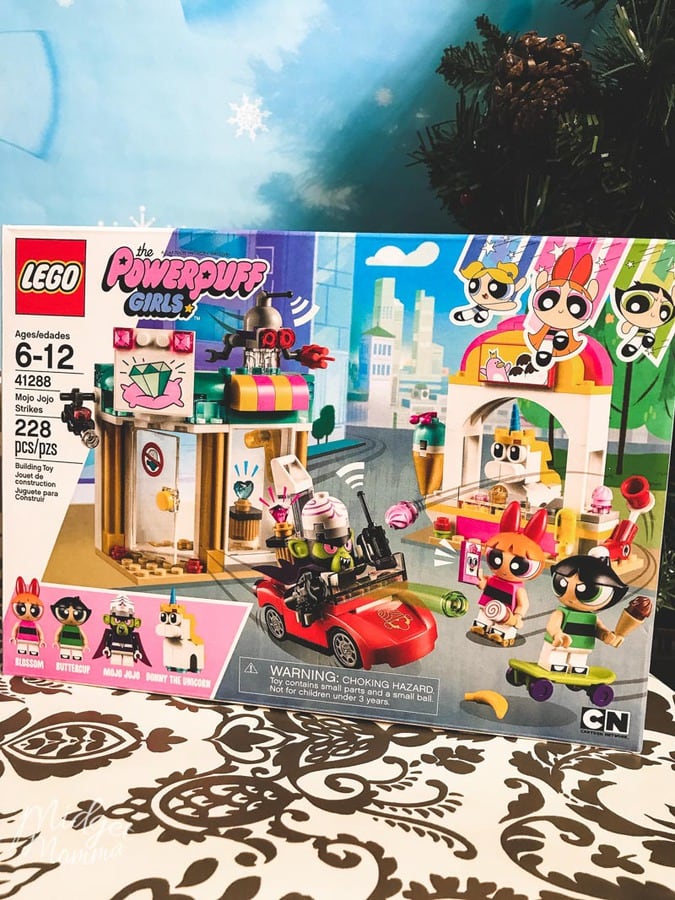 LEGO The Powerpuff Girls Mojo Jojo Strikes 
Defend Townsville with this fun and fierce LEGO® The Powerpuff Girls™ 41288 Mojo Jojo Strikes set! This cute set features an ice cream stand with counter and ice cream launcher, a jewelry store with opening door, rotating camera and breakaway wall, plus a getaway car with stud shooter, skateboard, a pair of roller skates, 3 minifigures, and robot and unicorn figures.
Includes 3 minifigures: Blossom, Buttercup and Mojo Jojo, plus Donny the Unicorn and robot figures.
This cool toy for kids features an ice cream stand with a counter and ice cream launcher, plus a jewelry store with an opening door, rotating camera and a wall to shoot off with the getaway car's stud shooter.
Getaway car features an aimable stud shooter, space for the robot or stolen jewels and a handle on the back for one of the Powerpuff Girls™ to hang on.
Push the button to launch ice cream scoops and toppings at Mojo Jojo and his robot.
Push the lever to break out the wall of the Townsville jewelry shop.
Throw the banana out of the car or use the car's stud shooter to trip up Blossom and Buttercup.
Accessory elements include a remote control, 2 ice cream cones, 6 ice cream toppings, skateboard, pair of roller skates, cell phone, 2 diamond elements, dynamite and a banana.
Play out fun adventures from The Powerpuff Girls™ TV series.
Getaway car measures over 1" (3cm) high, 2" (6cm) long and 1" (4cm) wide.
Ice cream stand measures over 3" (9cm) high, 3" (9cm) wide and 1" (4cm) deep.
Jewelry store measures over 3" (10cm) high, 3" (9cm) wide and 1" (4cm) deep.
Buy it here
Plush Gifts for Girls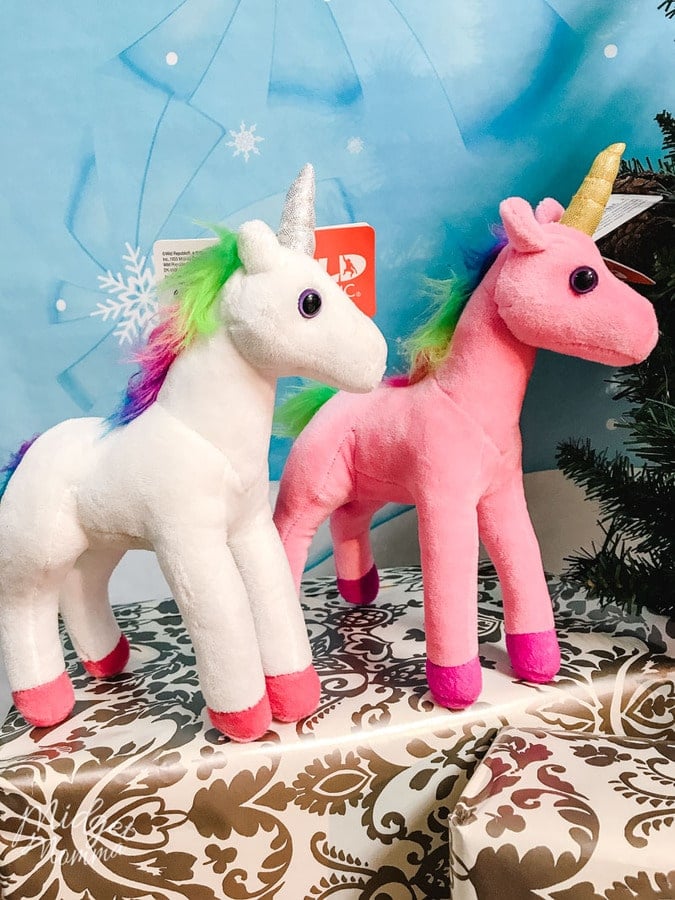 Cuddlekins Unicorn Plush
Standing unicorns are the latest addition to Wild Republic's popular Cuddlekins line. Irresistibly soft fabrics are perfect for petting and cuddling. Multi-colored mane and tail and embroidered beauty marks add style. Available in two designs: white stars unicorn and pink hearts unicorn. Unicorns are approximately 8" in size.
Buy it here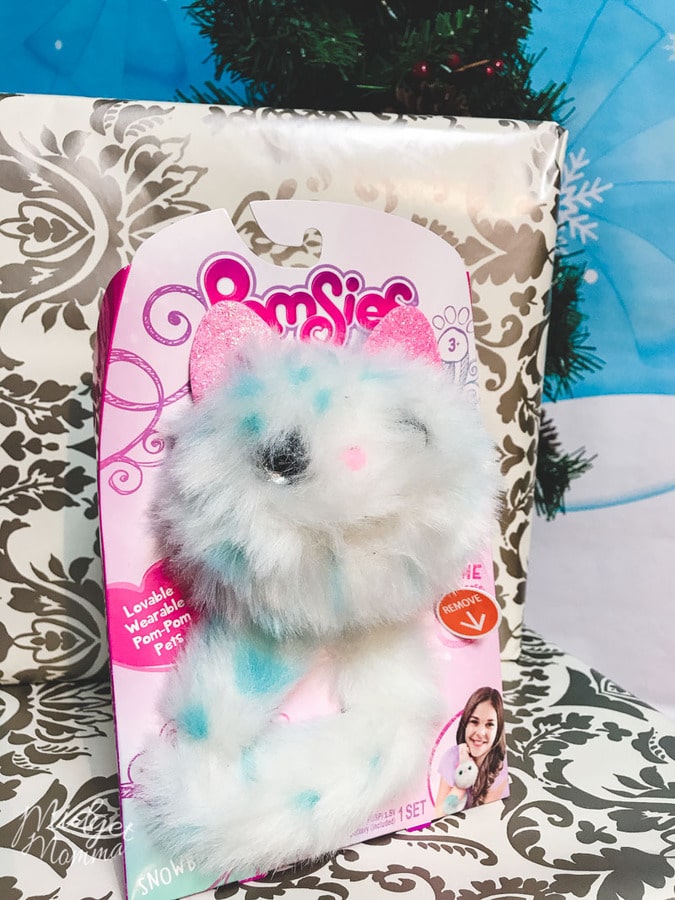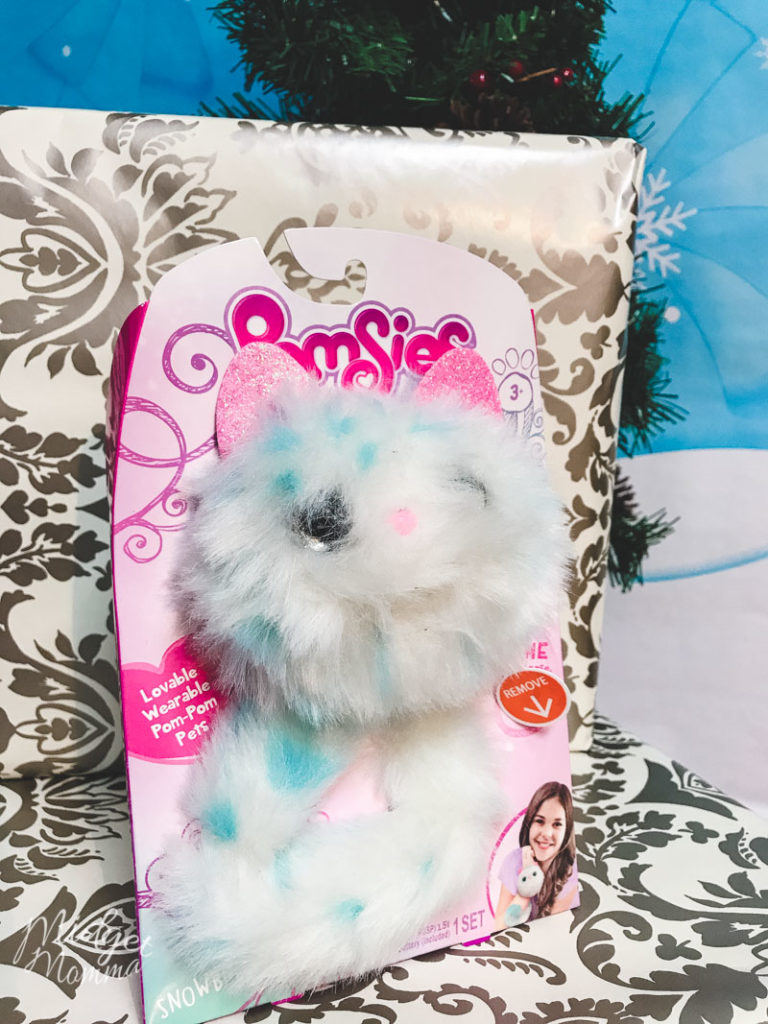 Pomsies. 
Pomsies will tell you when they feel tired, cold or Hungry with adorable light up eyes, purring and cute sounds…only you can give them what they need!

Take it to a new level with a special freeze dance mode you can Play with you and your friends!

Reacts to touch! Light up eyes communicate how they feel!

Touch sensors – pet them, hug them, love them. Over 50 cute sounds!

Twist and lock tail – a great accessory for your backpack, wrist, hair and more!
Buy it here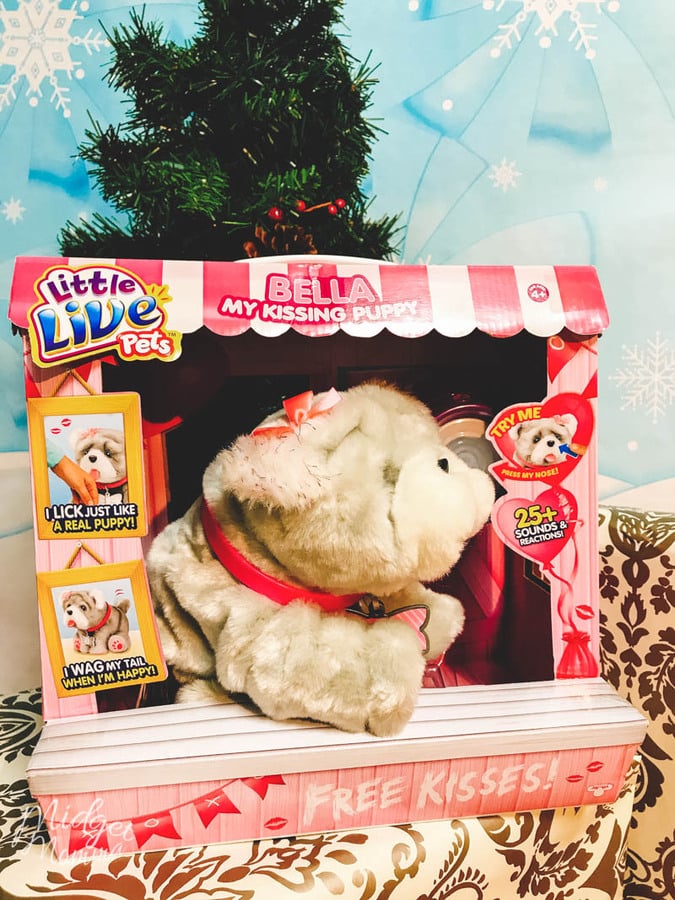 Bella the Kissing Puppy Live Pets Dog
I kiss and lick just like a real puppy!

I wag my tail when I'm happy!

I make cute puppy sounds

My eye close when I sleep

Comes with an adoption certificate

25+ sounds and actions
Buy it here
Video Games for Little Girls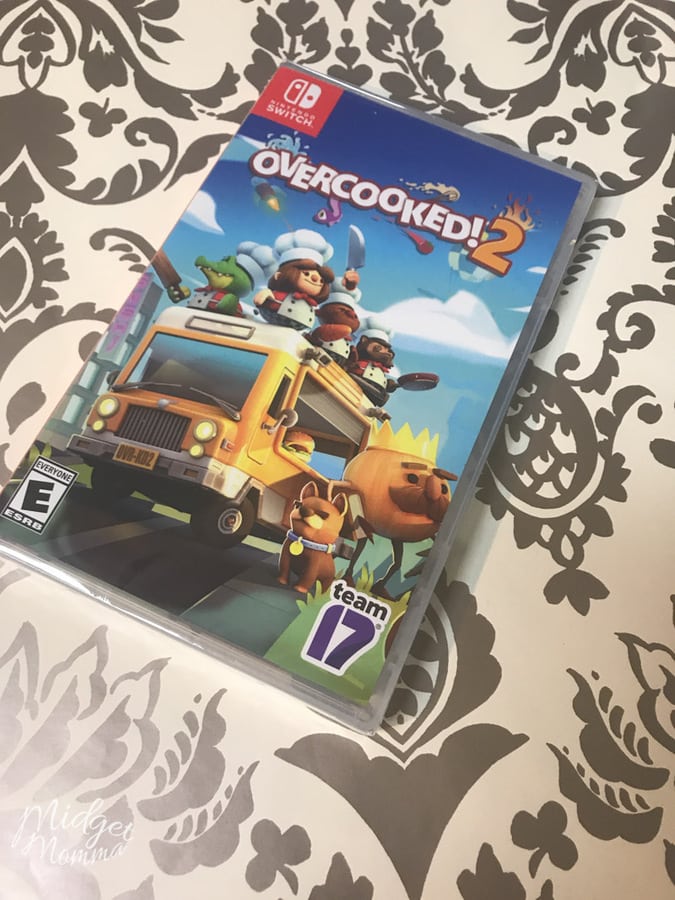 The sequel to the widely popular and critically acclaimed Overcooked!, this over-the-top couch co-op game is the perfect recipe for mayhem and entertainment for the whole family (up to four players). Overcooked! 2 is fun to play for all ages, rated E for everyone and awarded the Best Family and Social Game at E3 2018. Either working solo or as a team, players must prep orders while overcoming obstacles such as fire, collapsing floors, overbearing waiters and of course, the classic kitchen problem of floating work surfaces.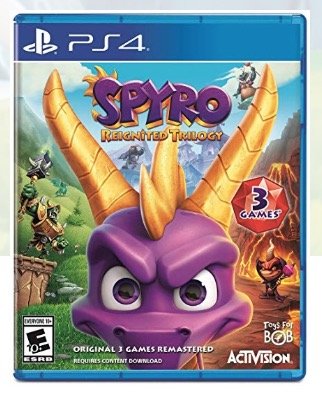 Spyro Reignited Trilogy brings the nostalgia to new levels through the return of the iconic purple dragon Spyro! As a fully remastered version of the first three titles – Spyro the Dragon, Spyro 2: Ripto's Rage!, and Spyro: Year of the Dragon – both new and original fans will have the opportunity to Spyro, now ready to fly high and burn baddies in scaled up HD visual fun!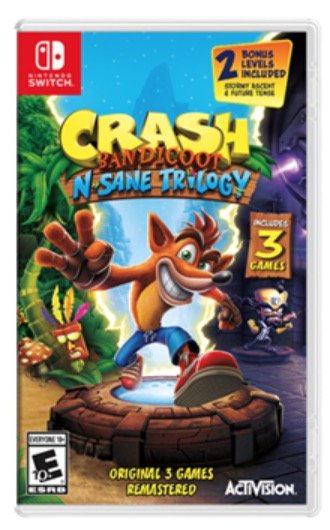 Crash Bandicoot N. Sane Trilogy – the record-breaking series remaster series featuring the super popular 90's character – is now available for the first time ever on Nintendo Switch, Xbox One and PC! Fans will enjoy the remaster of the first three titles – Crash Bandicoot, Cortex Strikes Back, and Warped – as they play as Crash or sister Coco in their fight against Doctor Neo Cortex!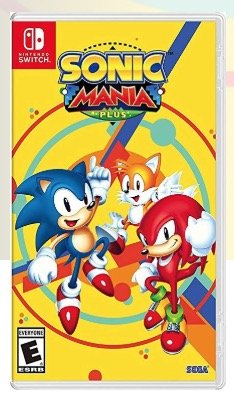 A true, classic Sonic experience: Gorgeous pixel graphics featuring a variety of new zones with iconic favorites from Sonic 1, 2, 3, Sonic & Knuckles and Sonic the Hedgehog CD.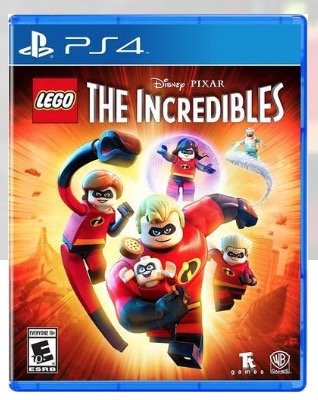 This extraordinary fun-filled adventure lets players control their favorite Incredibles characters and team up as a family to conquer crime and family life. Reimagined in LEGO form and featuring TT Games' signature LEGO humor, the game recreates unforgettable scenes and breathtaking action sequences from both Incredibles movies. With Mr. Incredible's unparalleled super strength, Elastigirl's flexible transformations and the rest of the gang's awe-inspiring gifts, teamwork has never been so much fun.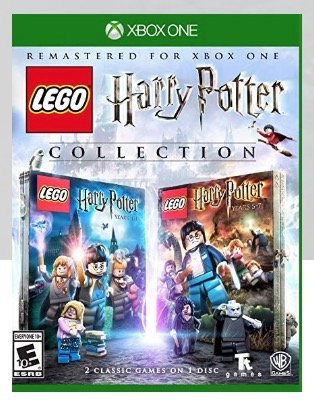 This new compilation brings LEGO Harry Potter: Years 1-4 and LEGO Harry Potter: Years 5-7 to the Nintendo Switch and Xbox One with both top-selling videogames remastered in one package! The collection unites the creative prowess of LEGO, and the expansive world of Harry Potter, with an exciting journey full of spell-casting, potion-making, puzzle-solving, lessons, dueling and much more for players young and old to enjoy.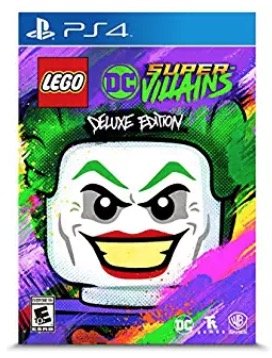 Become the best villain the universe has seen in this all-new LEGO adventure! For the first time, a LEGO game is giving players the ability to play as a super-villain throughout the game, unleashing mischievous antics and wreaking havoc in an action-packed, hilarious story written in collaboration with DC Comics. Joined by renowned DC Super-Villains: The Joker, Harley Quinn, Lex Luthor, Deathstroke, Killer Frost, Sinestro, and countless others from the Legion of Doom, players will set out on an epic adventure to ensure their villainy remains unrivaled.
Stocking Stuffers for Little Girls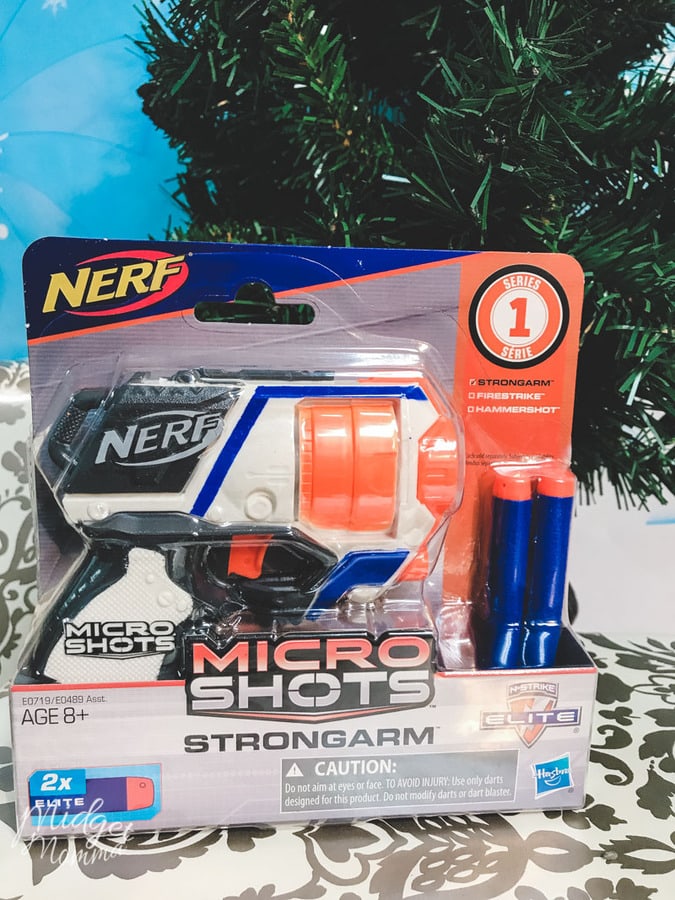 Nerf MicroShots N-Strike Elite Firestrike would make an amazing stocking stuffer! 
Mini version of a favorite Nerf blaster

Part of the collectible MicroShots series

Fires 1 dart at a time

Ages 8 and up

Includes blaster and 2 darts.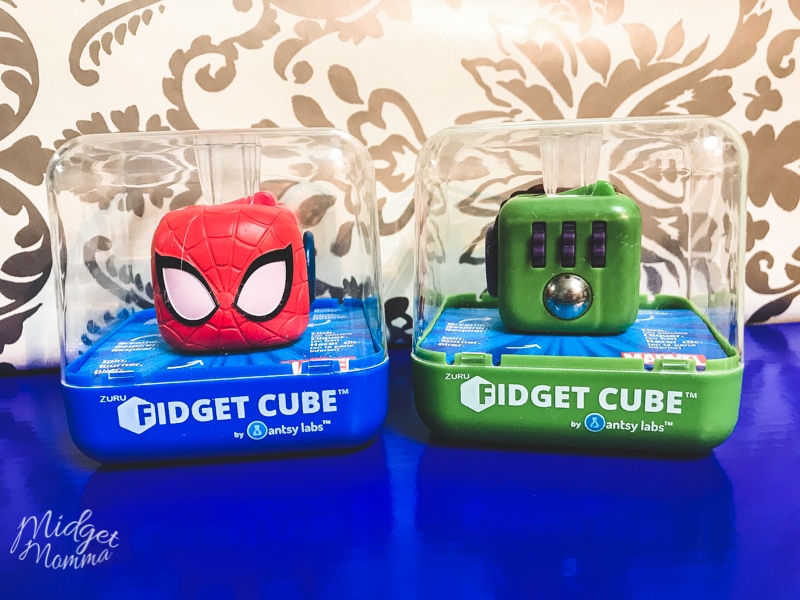 Marvel Fidget Cube. Featuring 6 functional sides, every inch of this Fidget Cube is perfect for the kids! It has various sides that let you Click, Glide, Flip, Breathe, Roll, and Spin to satisfy your different fidgeting behavior. Plus they come in awesome Marvel characters too!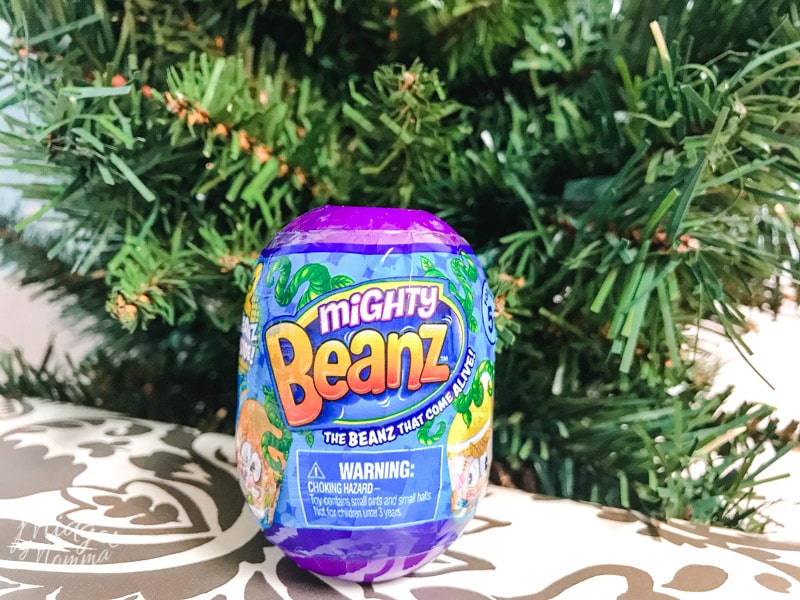 Mighty Beanz 2 Pack Pod Capsule. 
2 X MIGHTY BEANZ – 1 X COLLECTOR'S GUIDE – 1 X BEAN POD

Mighty Beanz – The Beanz that come alive! Flip 'em, Roll 'em, Race em!

"2 Mighty Beanz in a collectable container! 24 containers to collect!"

120 Mighty Beans to Collect! Find rare Mighty Beanz and Limited Editions!

Wild and wacky designs to collect! Collector's guide included!
Happy Salmon is the simple, fast-paced card game packed to the gills with high-fivin', fin-flappin' fun. Actions including the classic "High 5", the unifying "Pound It", the frantic "Switcheroo", and the delightful "Happy Salmon" will leave players doubled over in laughter.
Be sure you check out the rest of our Holiday Gift lists to help you get all of your holiday shopping done! You can see the full list of Gift Lists here, but here are a few to check out now!
More Christmas Fun for Kids
Of course lots of times the kids wants to Call Santa and they can with Santa's Phone number. If you want to make it even more fun the kids can also Facetime Santa!
Does Elf on the Shelf come to visit your house? If so make sure you check out these awesome Elf on the Shelf Ideas!
We have LOTS of elf on the shelf ideas too so make sure you check them out!
Elf on the Shelf Kitchen Ideas
50 Easy Elf on the Shelf Ideas
If you are doing Elf on the Shelf, then be sure you also print out the Elf on the Shelf Rules
Looking for Christmas Crafts to do with the kids? We have lots of those too! So be sure to check out the Easy Christmas Crafts for Kids, for LOTS of fun Christmas Crafts Ideas to do with the kids.
There are so many tasty christmas treats that the kids will love and they are all perfect for any kids Christmas parties that you might have. Some of our favorite Christmas treats are Santa Hat Cupcakes and Whoville Cookies ! But you can check out the full list of Kid Friendly Christmas Treats and pick out your favorites to make with the kids!
If you are looking for cookie recipes we have you covered there too! Check out our Beautiful Christmas Sugar Cookies, 12 Days of Christmas Cookies, The Best Christmas Cookies Recipes, and Christmas Tree Desserts Recipes!
Join the newsletter
Subscribe to get our latest content by email.
This post may contain affiliate links. Please read my disclosure policy here