Calling all parents of elementary students!
Pizza Hut has now opened their enrollment for their Pizza Hut Camp BOOK IT program which rewards kids (with free pizza!) for reading all summer long.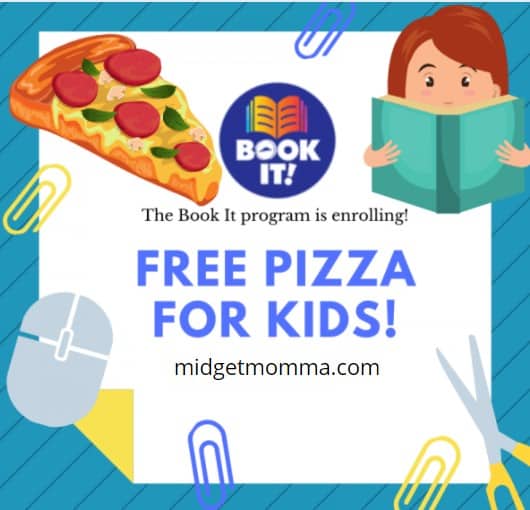 If you are a parent or teacher of students that will be in PreK-6th grades (ages 4-12) as of September 1, 2021, it is time to enroll in the Pizza Hut Book It Program for the summer!
Once signed up, use the parent-led summer reading program to track and reward your kids reading for June, July and August. When your kids meet their monthly reading goal, they'll receive a free one-topping Personal Pan Pizza from Pizza Hut! AWESOME!
Book It Program – Paper Version (for teachers only)
The paper version of the program is the same Book It program that has always been offered.
This paper program is only available for traditional school classrooms.
Teachers need to head here to enroll their own class and then Pizza Hut will ship all materials for your school in one box.
Materials are available on a first-come, first-served basis and paper enrollment will close when paper materials run out or on August 17th, 2021, whichever comes first. So be sure to enroll now!
The package will be addressed to the first teacher who requests paper at your campus.
Book It Program – Digital Version (for parents, homeschool families, virtual schools, or teachers)
Go here to enroll for the digital version of the 2021 Summer Book It program
Once the program starts on June 1st, parents will approve student participation through the online portal
Digital certificates, both emailed and printed, can then be redeemed by parents for dine-in, carry-out or delivery and online.
Teachers who choose the digital program will also have access to classroom mode, found under the reporting section of the classroom dashboard
Looking for more FREEBIES?
Free Starbucks Coffee Grounds for Gardeners
Kids Bowl FREE All Summer Long with the Kids Bowl FREE Program
FREE National Parks Pass for 4th Graders
FREE National Parks Pass for 5th graders
Weekly Writing Prompts for kids (FREE Printable Pack!)
Free Virtual Tour of Endeavour Space Shuttle at California Space Center