Looking for an amazing pasta dish that is done in under 30 minutes? This creamy spinach sausage pasta is the recipe you want to make tonight! This sausage spinach pasta dish has tender pasta, flavorful sausage, fresh spinach, and a creamy sauce that is so easy to make. Your family is going to love this amazing pasta dish!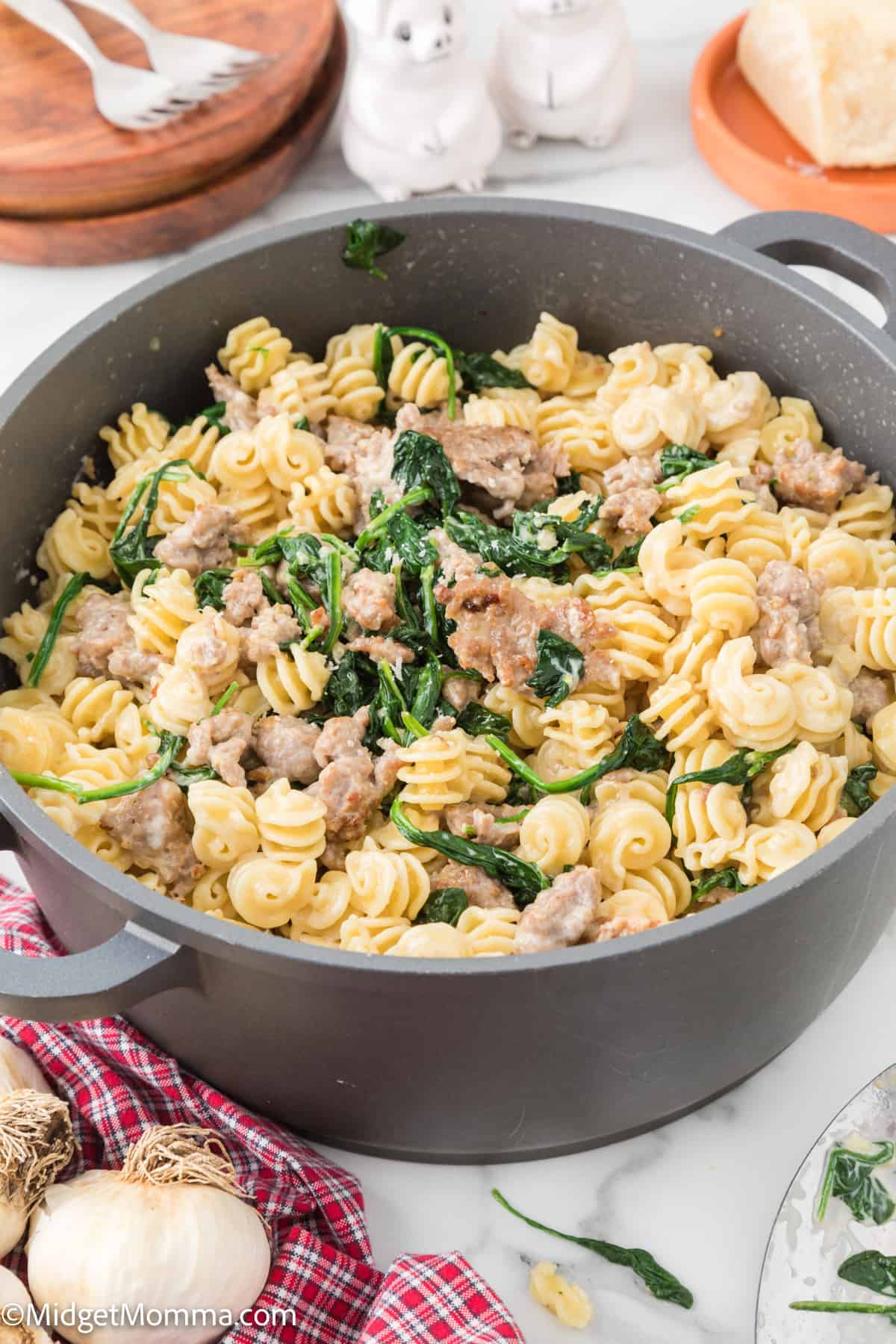 Creamy Spinach Sausage Pasta Recipe
This simple pasta recipe is one of our family favorites. Serve this dish up for your family and listen when they rave about the incredible flavors while knowing it was super simple to make. You can even prepare it ahead of time so that all you have to do is heat it up when it's time to eat.
If you're in the mood for a hearty, comforting pasta dish, this Creamy Spinach Sausage Pasta Recipe is just what you need! Tender sausage, fresh spinach, and a creamy sauce come together to create a delicious meal that the whole family will love. Plus, it's ready in just 30 minutes, so you can have dinner on the table in no time.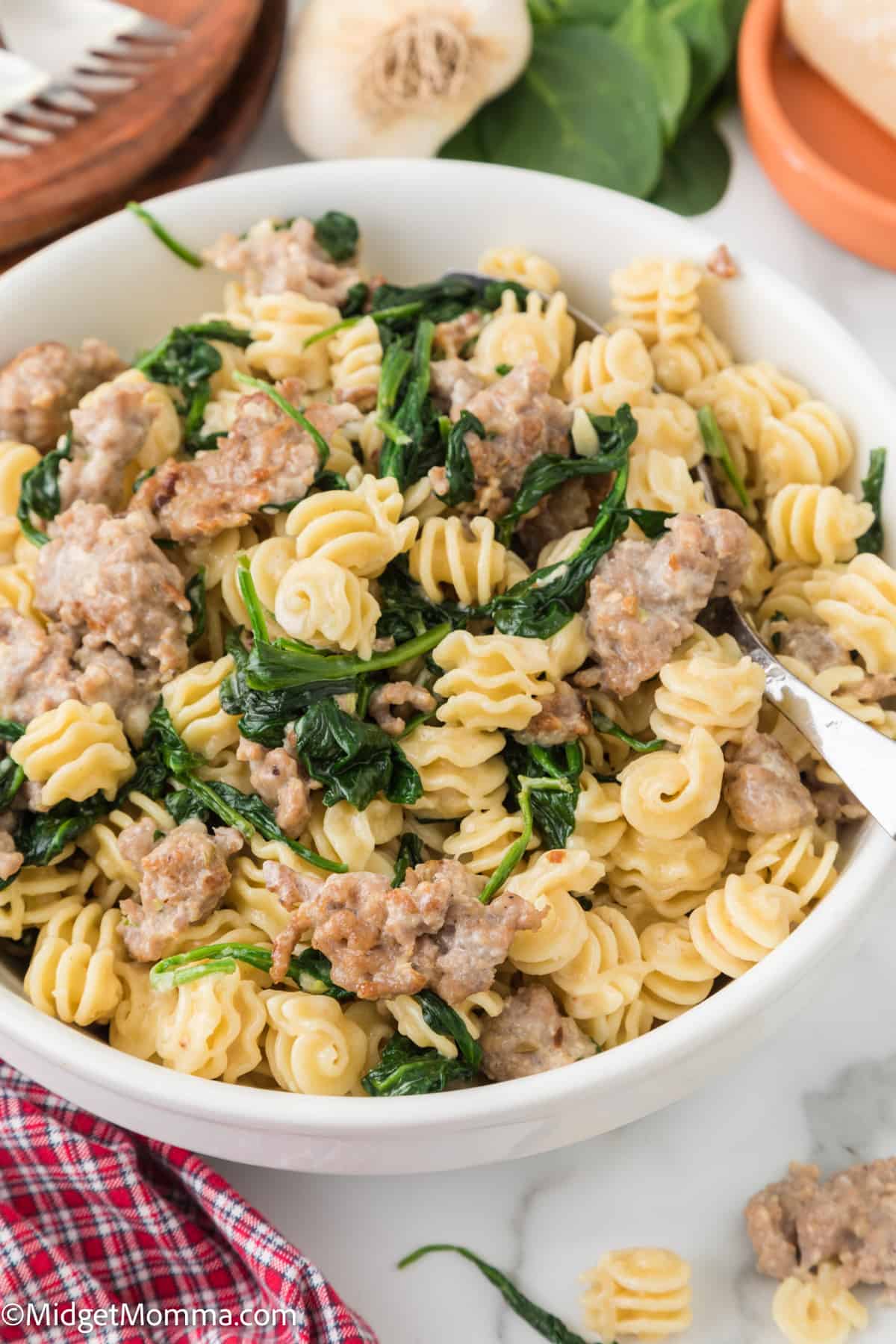 This Creamy Spinach Sausage Pasta Recipe is the perfect weeknight meal. It's quick and easy to make, but it's also packed with flavor. The sausage gives the dish a nice little kick, while the spinach adds a pop of color and nutrition. And of course, the cream sauce ties everything together beautifully.
This spinach sausage pasta came about one night when the kids and I were trying to figure out what to make for dinner. I had pulled out ground pork the night before from the freezer but never got to plan what I was going to make. The ending was this delicious sausage pasta that is the perfect easy weeknight meal.
This pasta recipe is the perfect comfort food as most pasta is. It has great flavor, it is easy to make and it was a huge hit with everyone in my house. I am so glad I wrote the recipe down while I made it so I could share it with all of you. This hearty pasta dinner is made with simple ingredients and makes the perfect dinner for busy weeknights.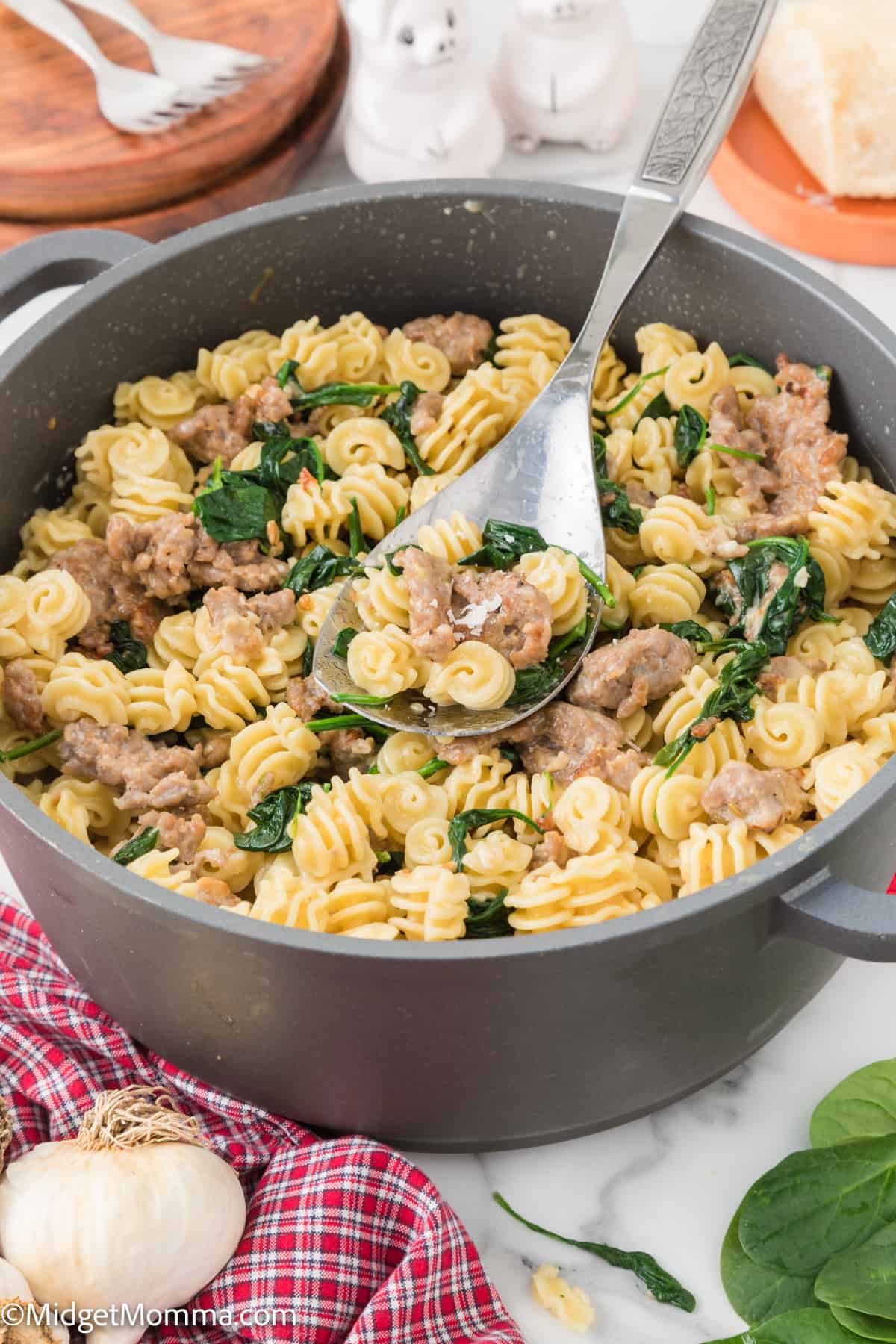 What Kind of Pasta is Best?
This recipe doesn't mention a specific pasta. That is because almost any pasta will work great. I really like noodles that have openings or large surfaces to grab the sauce. You can really use any pasta you have on hand though. Just make sure to cook it according to the package directions before adding it to this tasty pasta dish.
Some of my favorite types of noodles to use with creamy spinach sausage pasta are:
Penne pasta
Bowties
Fusilli
Cavatappi
Rigatoni
Conchiglie
Whole grain Pasta
chickpea pasta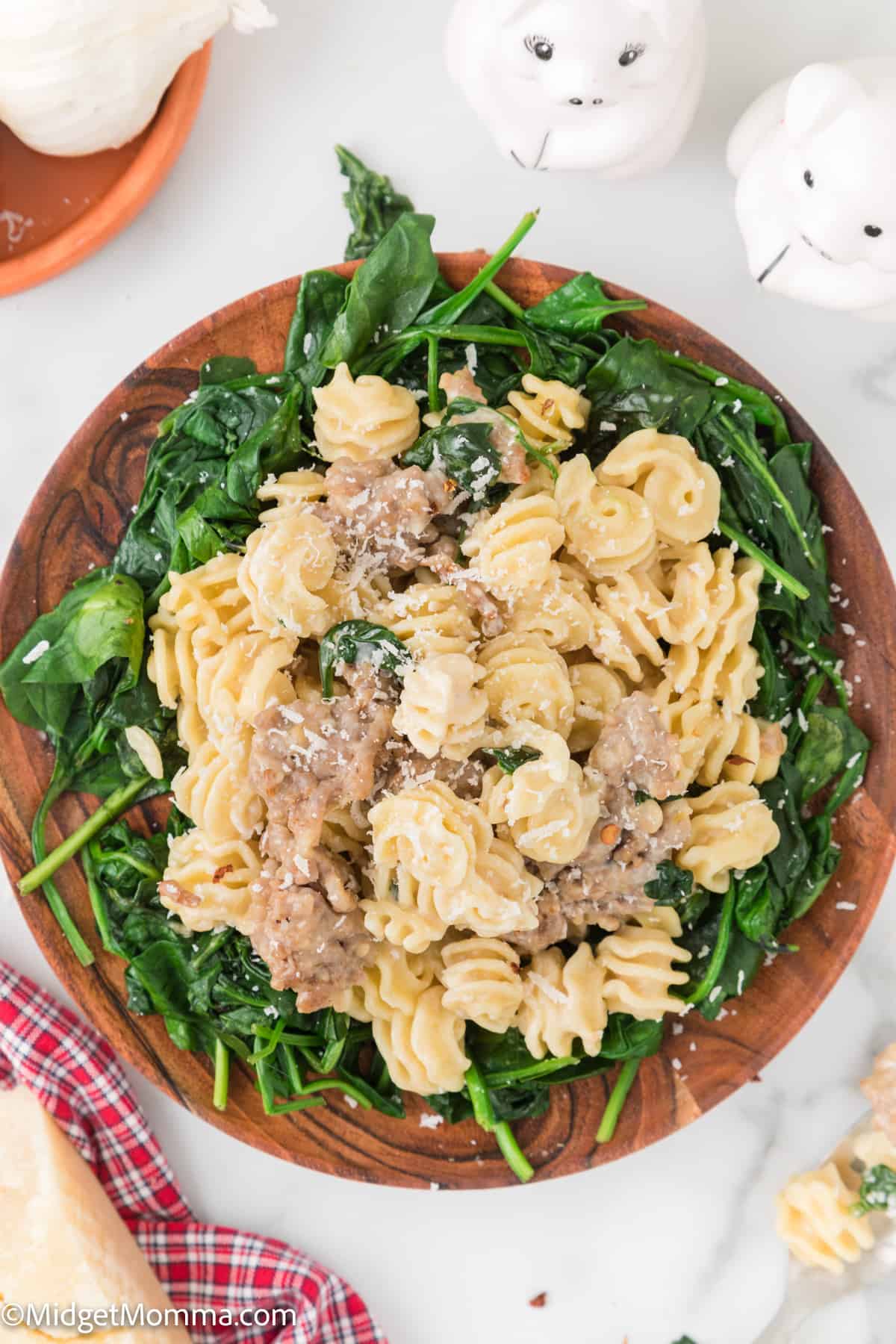 Tips and Variations for Sausage Pasta
Cook the pasta al dente. You do not want to overcook the pasta. You want it to be tender but you also want it to hold its shape and be a little chewy.
Half and Half instead of heavy cream. A lot of people like to lower the fat in the recipe, You can use half and half instead of heavy cream in this recipe. Keep in mind that it won't be as rich as it would have been with heavy cream.
Frozen spinach. I like to use fresh spinach when making spinach pasta however, that isn't always possible. Fresh spinach is more expensive and it might not be available. You can use frozen spinach instead of fresh. Be sure to get as much water out of it as possible. Let it thaw and drain it well. Take 2 clean towels and press the water out.
Add more veggies. I am using spinach in this spinach sausage pasta recipe, but you can totally add more veggies. Mushroom, red peppers, bell peppers, onions, peas, tomatoes, peppers, and broccoli can be made into this dish.
Gluten free pasta. If you love pasta but can't have anything with gluten, you can swap the regular pasta for gluten free pasta and still enjoy it.
Swap the meat. I am using sausage and you can change that up to any type of sausage that you like. Spicy sausage goes great with this sauce. Then you can also switch it to a type of ground meat, like ground beef, chicken, or pork. There is also ground sausage. Using leftover meats can also be added.
Make it vegetarian. While the recipe will still have cheese and heavy cream, you can remove the meat and use a plant based product instead.
Use hot Italian Sausage. If you want the pasta dish to have a kick use spicy or hot sausage.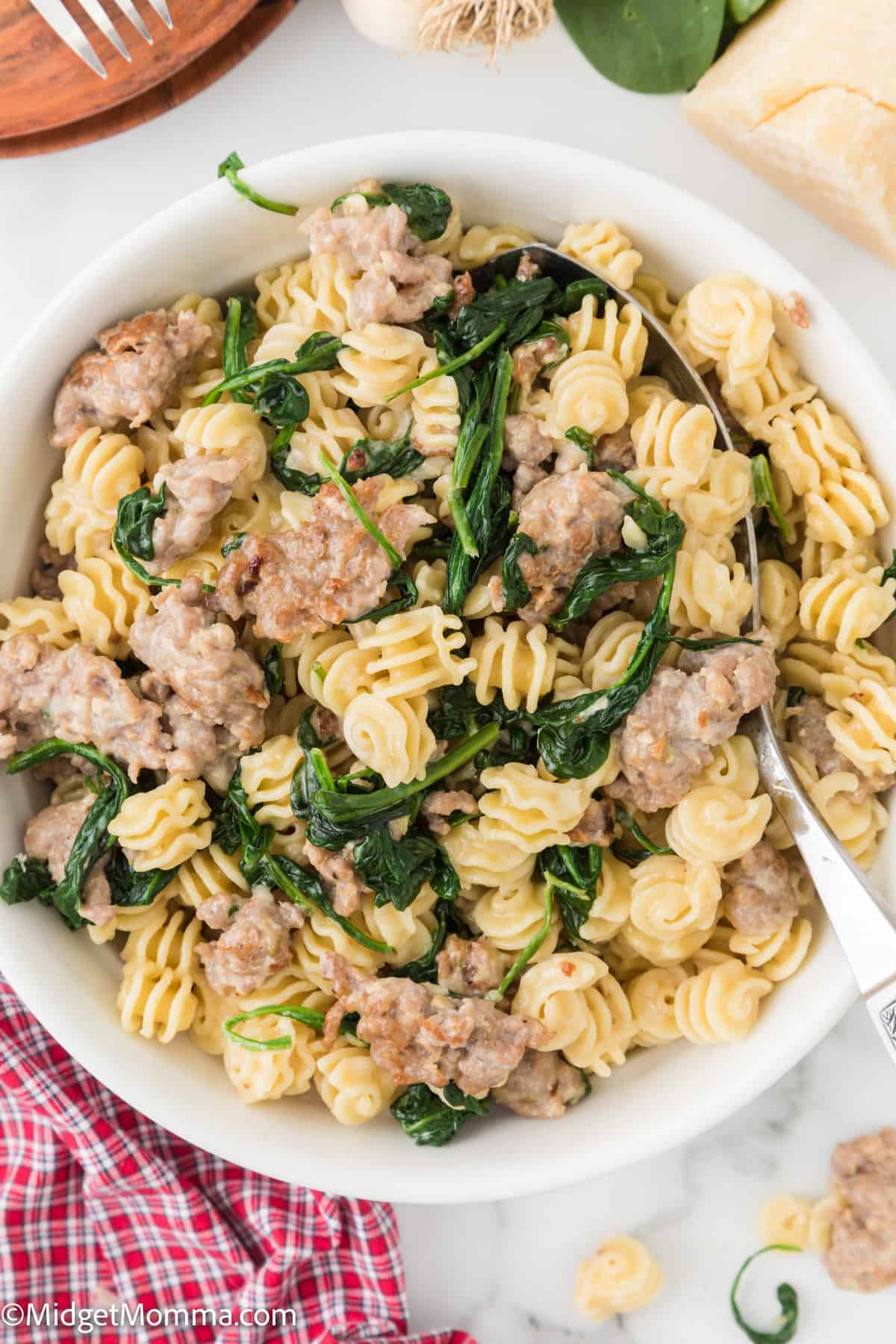 What to Serve with Pasta for dinner
Normally when I make pasta for dinner I take the easy way and get a loaf of fresh Italian bread from the grocery store and make a fresh salad. If you are making this sausage pasta recipe on a busy week night you will probably want to make things as as easy as possible, doing bread and salad will make this a complete meal.
However, there are many other side dishes to serve with pasta dishes like this one, check some of our favorite side dish recipes out!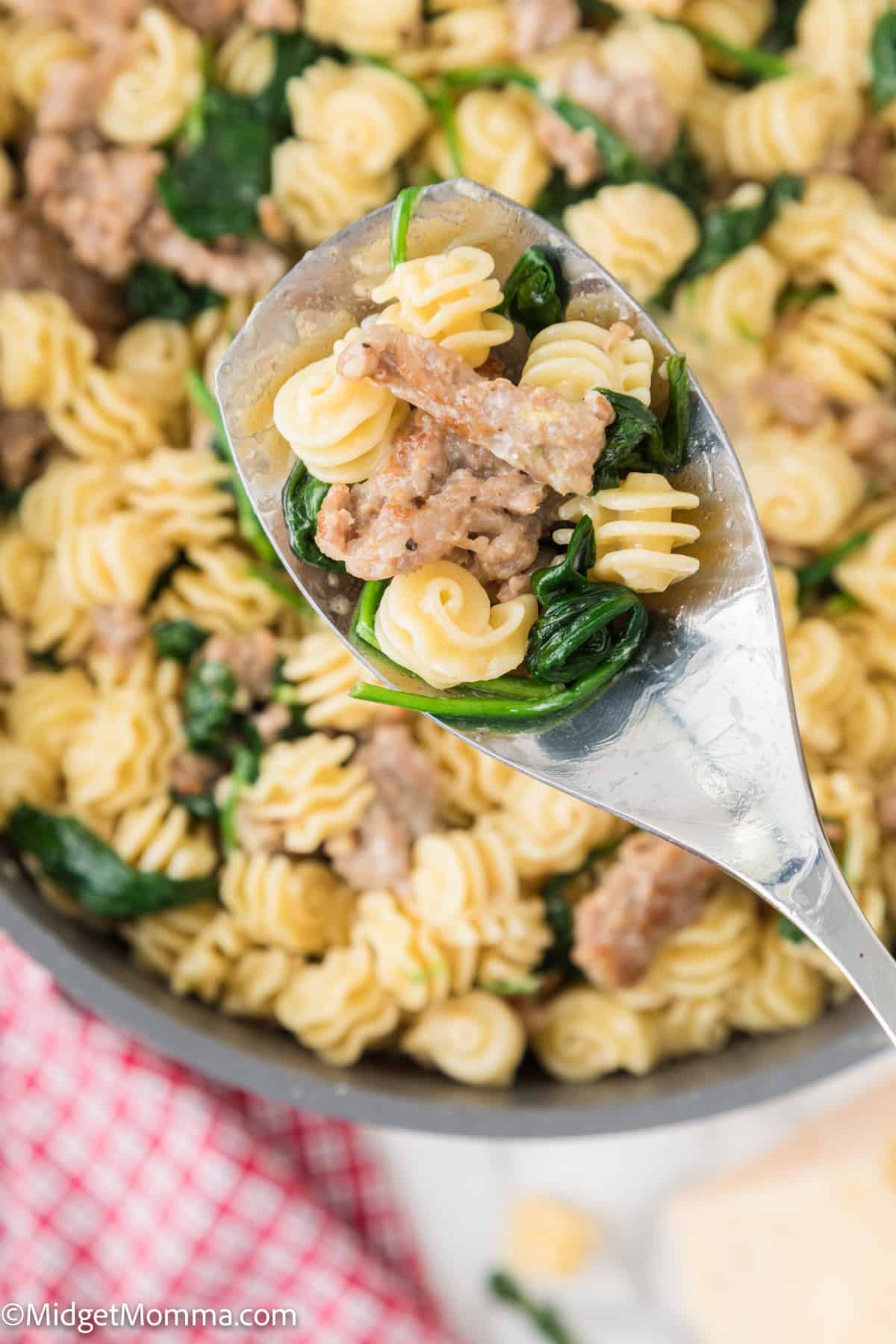 Storing and reheating leftovers
When stored properly, this meal can last for up to 4 days. Place the leftovers of the creamy sausage pasta in an airtight container.
When you reheat, you will want to add a splash of cream to the dish. This will loosen everything up and make it creamy again.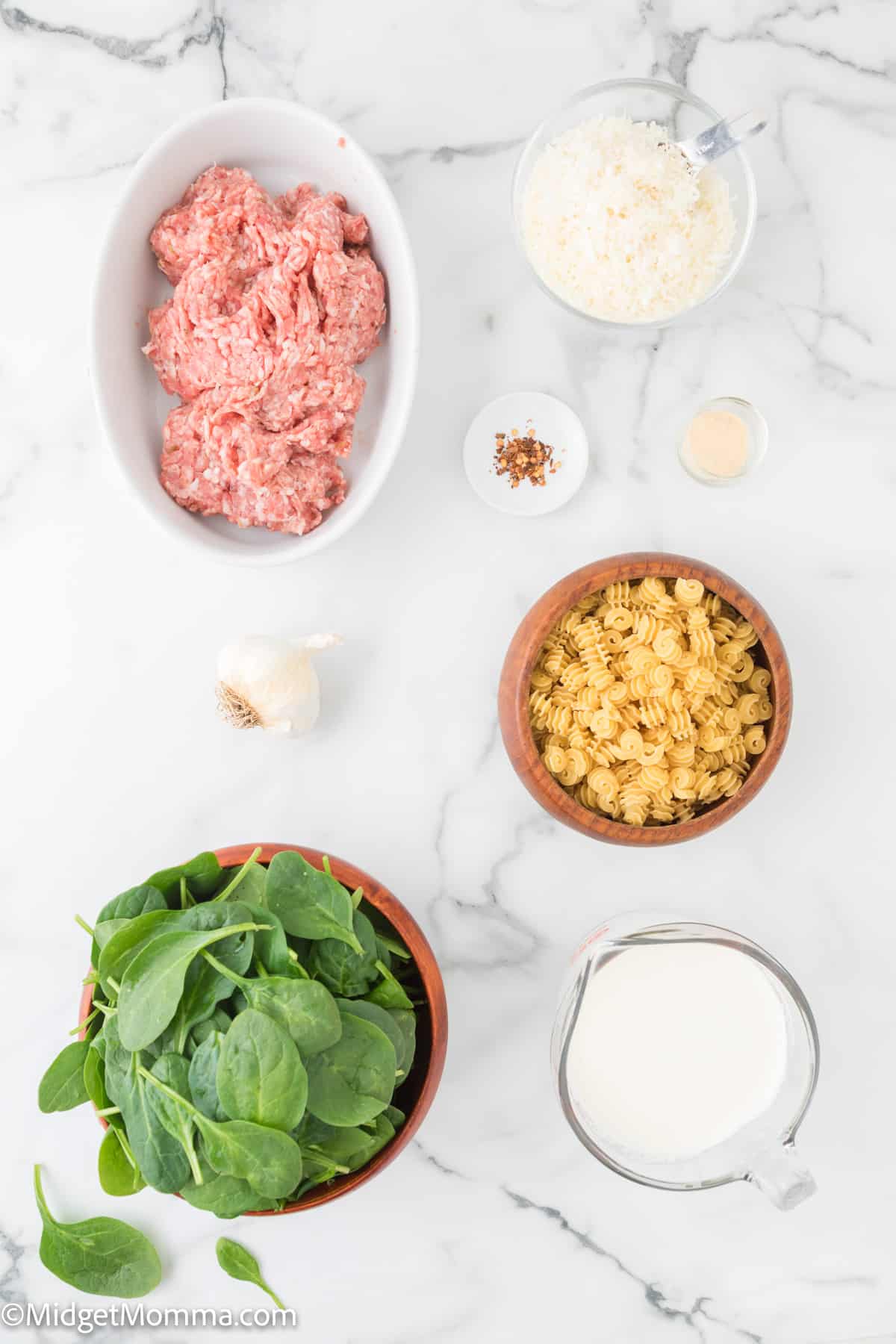 Ingredients
1 pound pasta
1 pound ground pork sausage
2 tablespoons minced garlic
1 teaspoon onion powder
1/8 teaspoon red pepper flakes
3 cups spinach or fresh baby spinach
1 cup shredded parmesan cheese
2 cups heavy cream
How to Make Creamy Spinach Sausage Pasta Recipe
Cook the pasta per directions on the box, drain when done cooking, and put the pasta back into the pot it was cooked in. While pasta cooks make the sauce.
In a large skillet over medium-high heat add the ground sausage, minced garlic, red pepper flakes, and onion powder.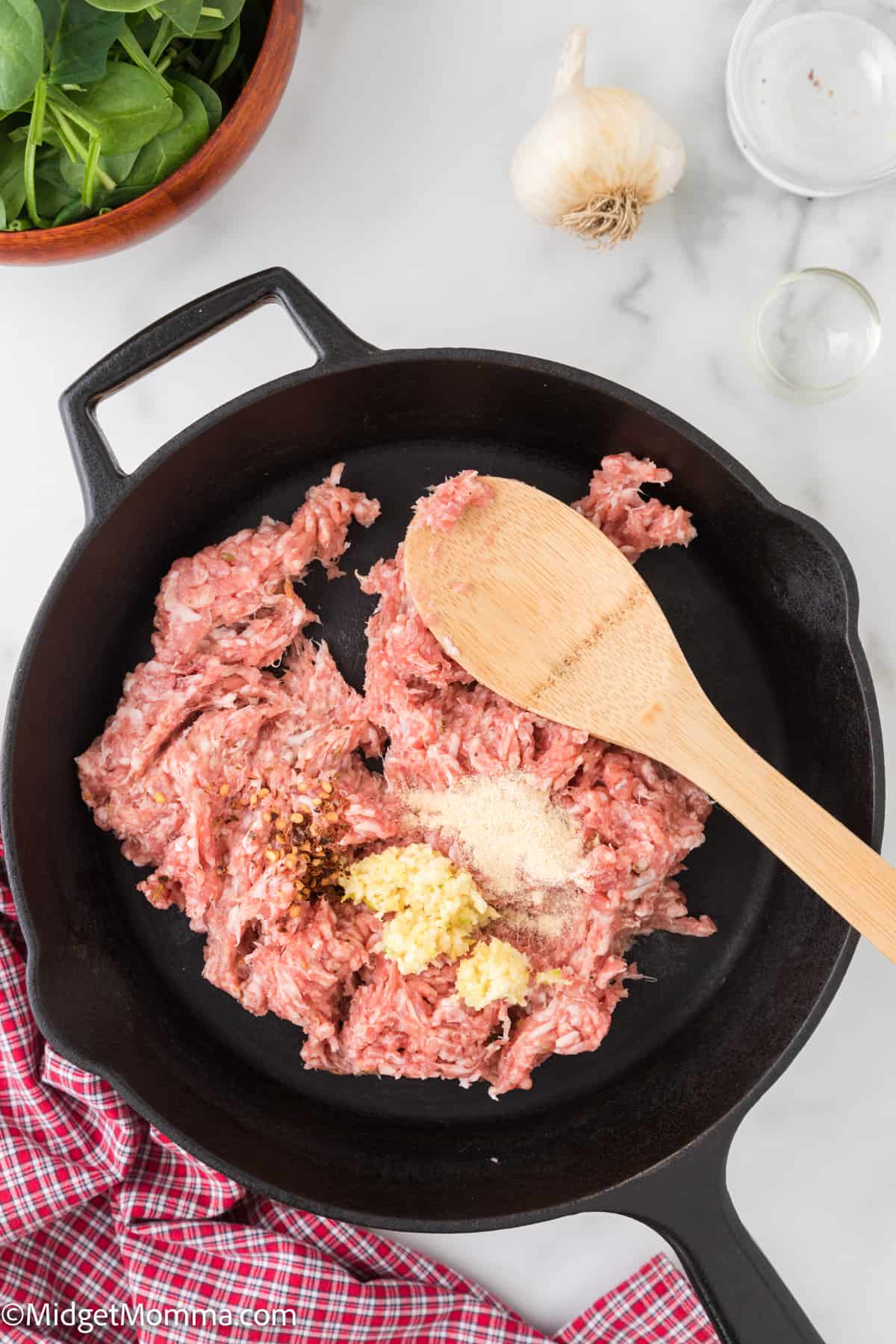 Cook sausage until the sausage is no longer pink.
Once the sausage is cooked add in the spinach and cook until limp.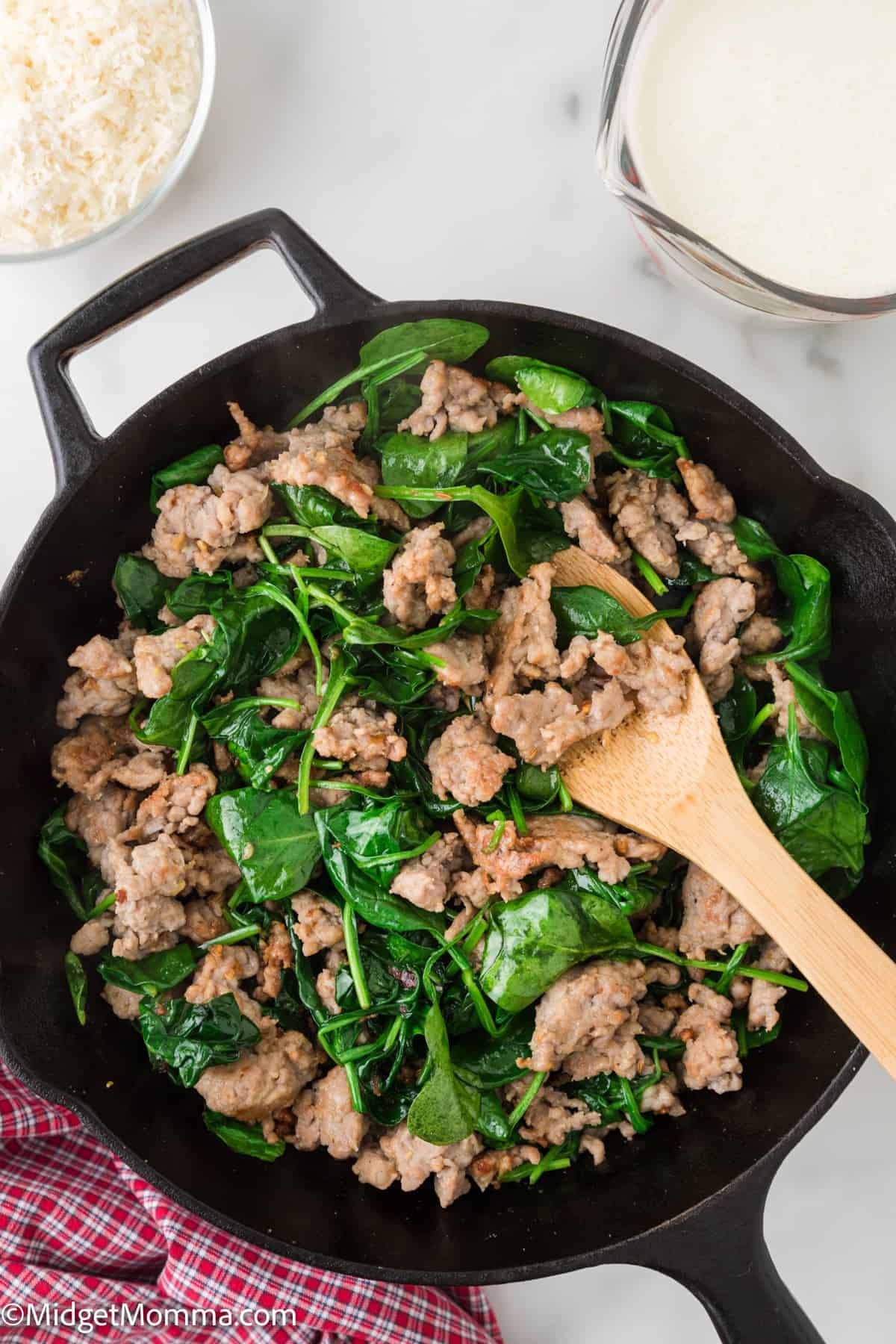 Add in the heavy cream and parmesan cheese, and stir until the parmesan cheese is melted.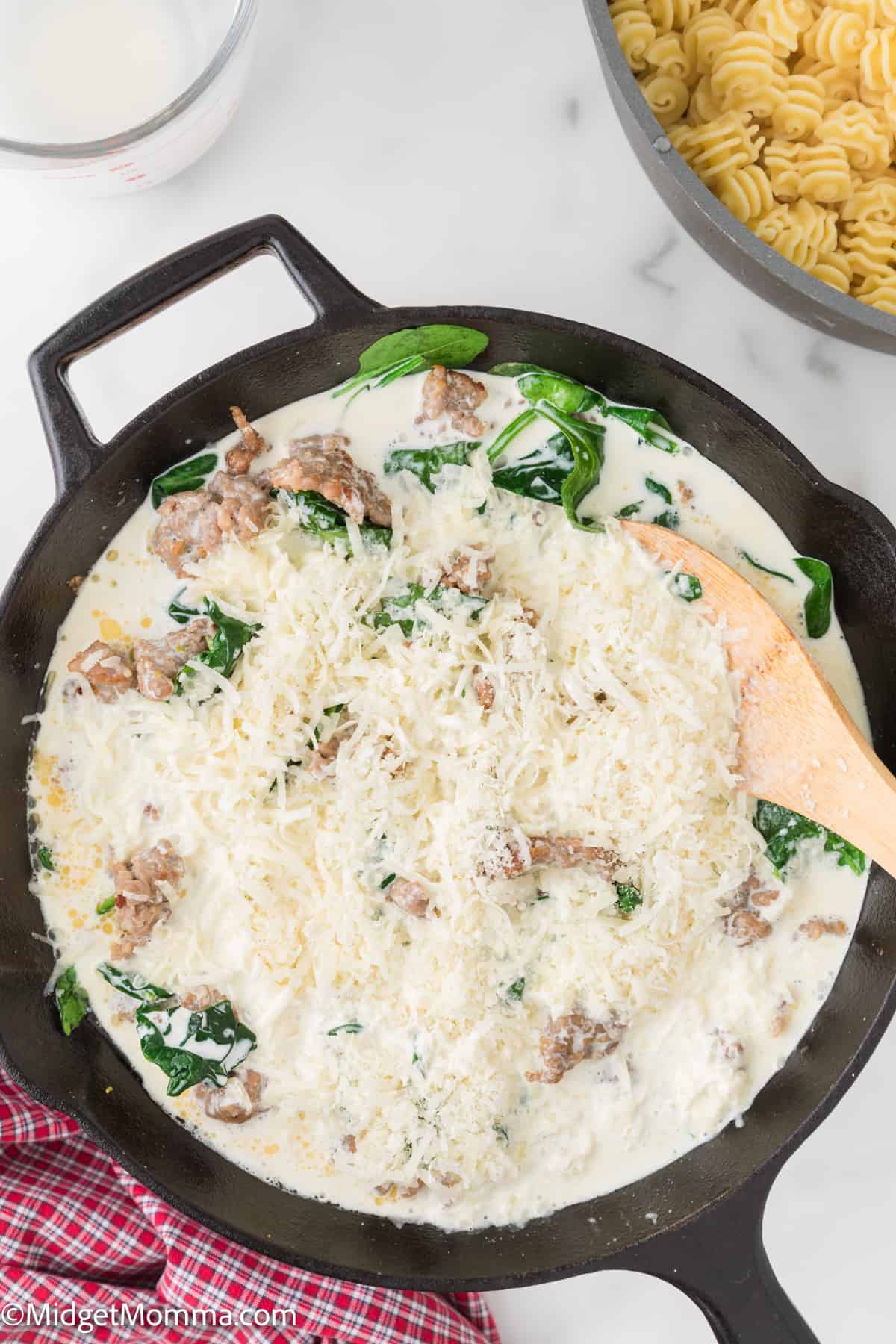 Pour the spinach and sausage cream sauce into the pot with the cooked pasta and mix well.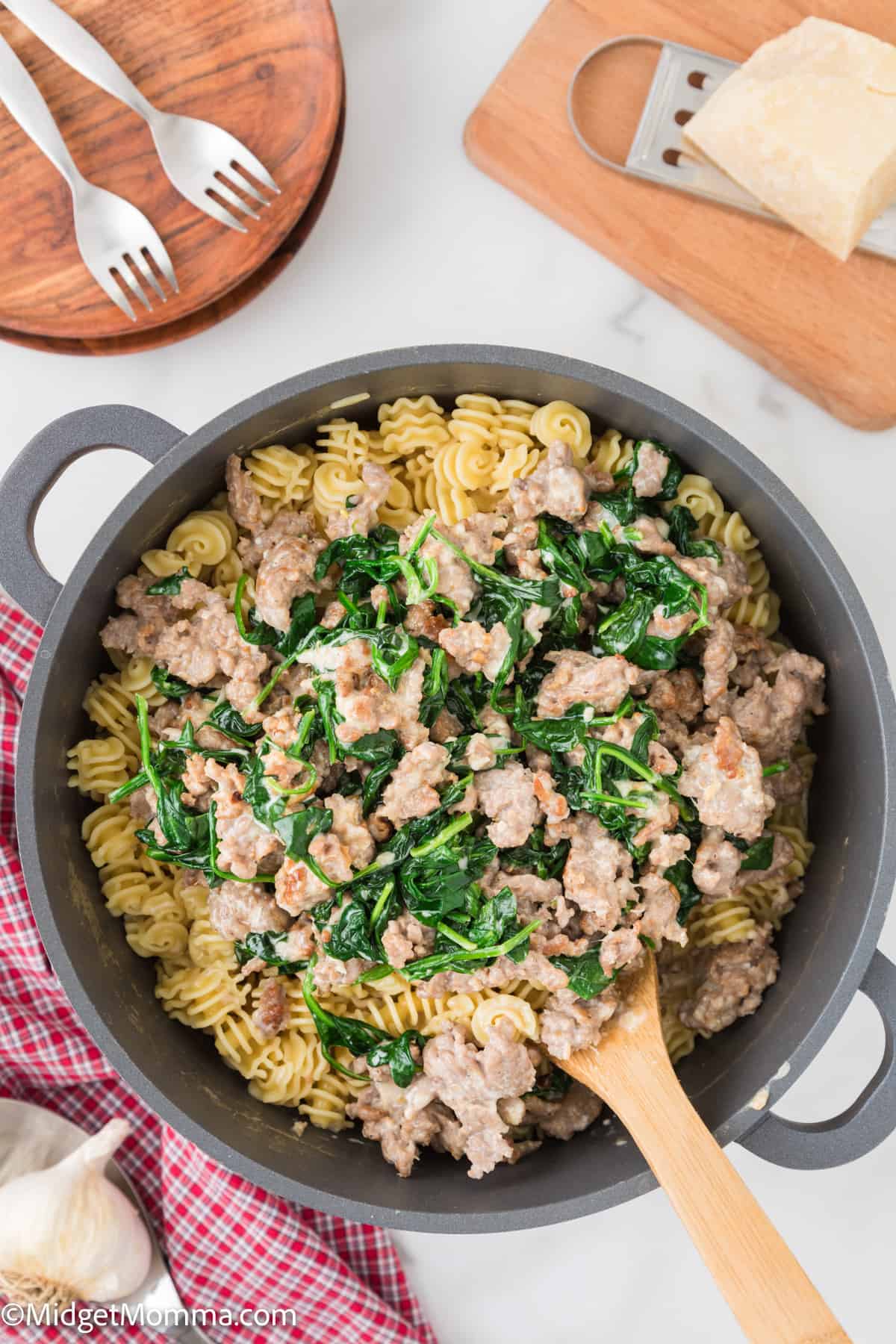 Easy Pasta Recipes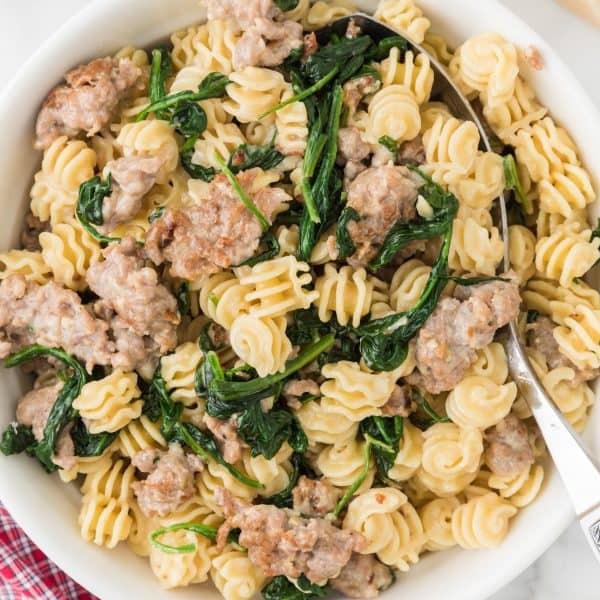 Creamy Spinach Sausage Pasta Recipe
This creamy spinach sausage pasta is easy to make and will leave you wanting more. Serve this dish up for your family and listen when they rave about how amazing it is. You can even prepare it ahead of time so that all you have to do is heat it up when it's time to eat.
Instructions
Cook pasta per directions on the box, drain when done cooking. while pasta cooks make the sauce.

Over medium heat in a skillet add the ground sausage, minced garlic, red pepper flakes, and onion powder.

Cook sausage until the no longer pink, when cooked add the spinach and cook until limp, add heavy cream and parmesan cheese, stir until the parm cheese is melted.

Mix with the pasta
spinach sausage pasta
Dinner