This holiday season, cozy up with a mug of Grinch hot chocolate! This rich and creamy white hot chocolate that is turned green with a few drops of green food coloring is the perfect drink to enjoy when watching your favorite Christmas movie, which in our house is the Grinch who Stole Christmas. The creamy white chocolate hot cocoa flavor combined with the perfect green color is so easy to make that even the Grinch would approve.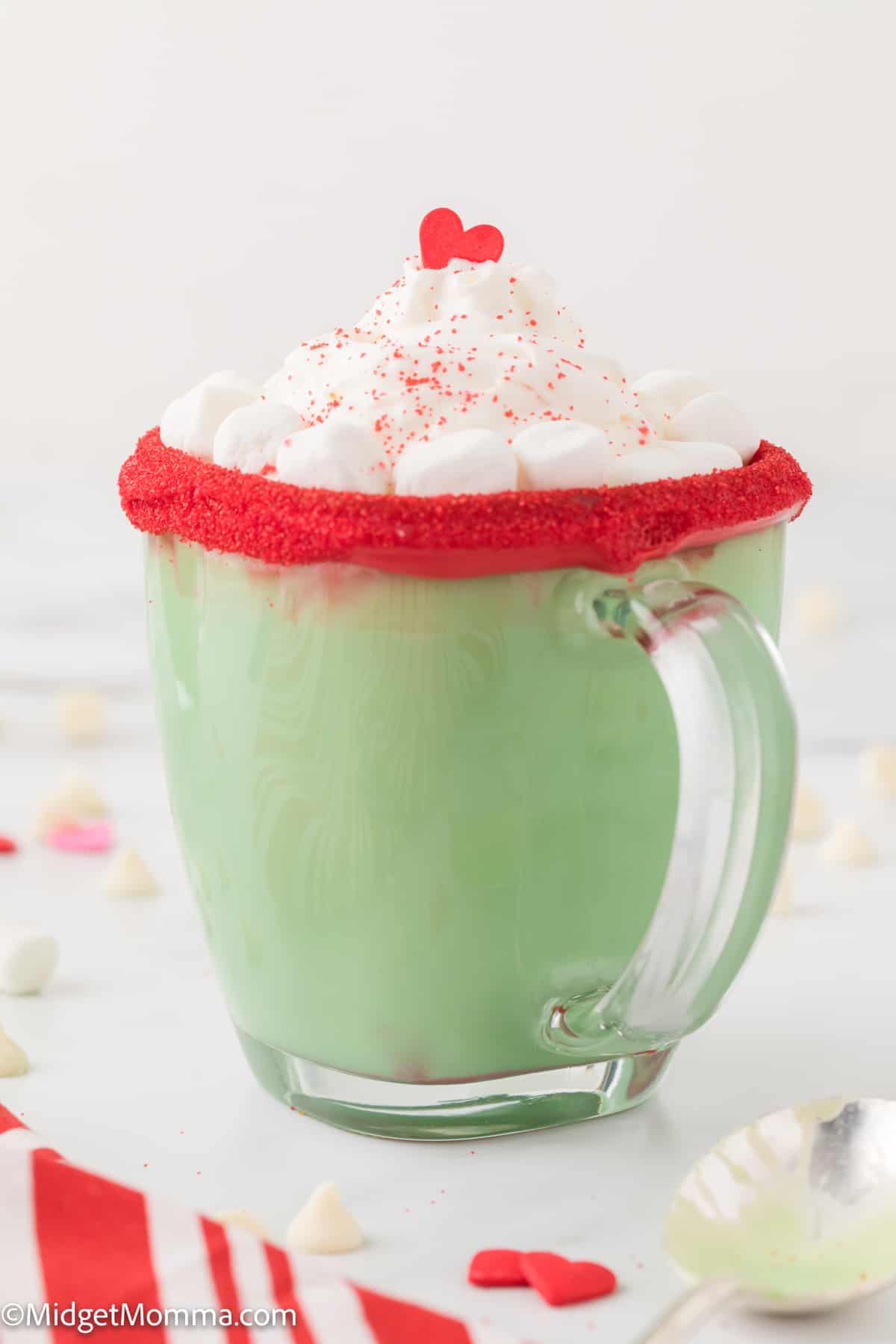 Grinch Hot Chocolate
Love the Grinch? Love hot chocolate? Then you're going to love this recipe for Grinch Hot Chocolate! It's the perfect drink to get you into the Christmas spirit. This recipe is easy to follow and will make a delicious hot chocolate that will warm your heart – and your stomach!
We love watching How the Grinch Stole Christmas movie each year and everytime we do I like to come up with a fun treat for us to enjoy. This homemade hot chocolate recipe made with simple ingredients was a big hit with the kids last year. While we enjoyed our movie we sipped on this Grinch hot chocolate recipe and it was perfect!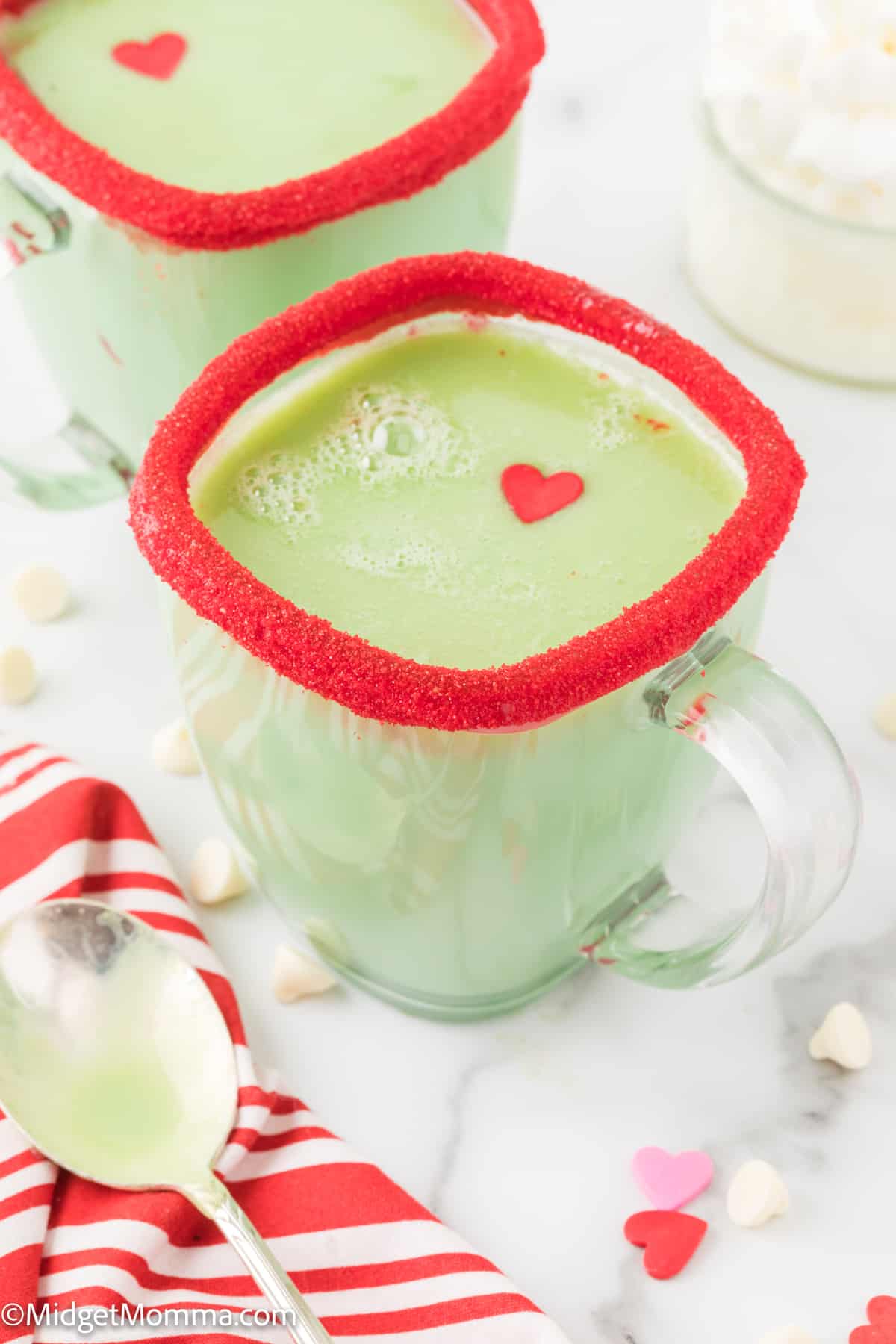 If you are looking for a hot chocolate recipe that the kids will love and will get everyone into the holiday spirit then you have to make this homemade white hot chocolate that is dyed green to make an adorable grinch hot chocolate recipe. This hot chocolate has a creamy rich flavor and is perfect for enjoying when you are watching the Grinch movie or having a fun Christmas party with the kids.
Once you make this easy Grinch hot chocolate recipe I am sure the whole family is going to want to enjoy it many times during the Christmas season, it is a delicious drink my whole family enjoys.
Grinch Recipes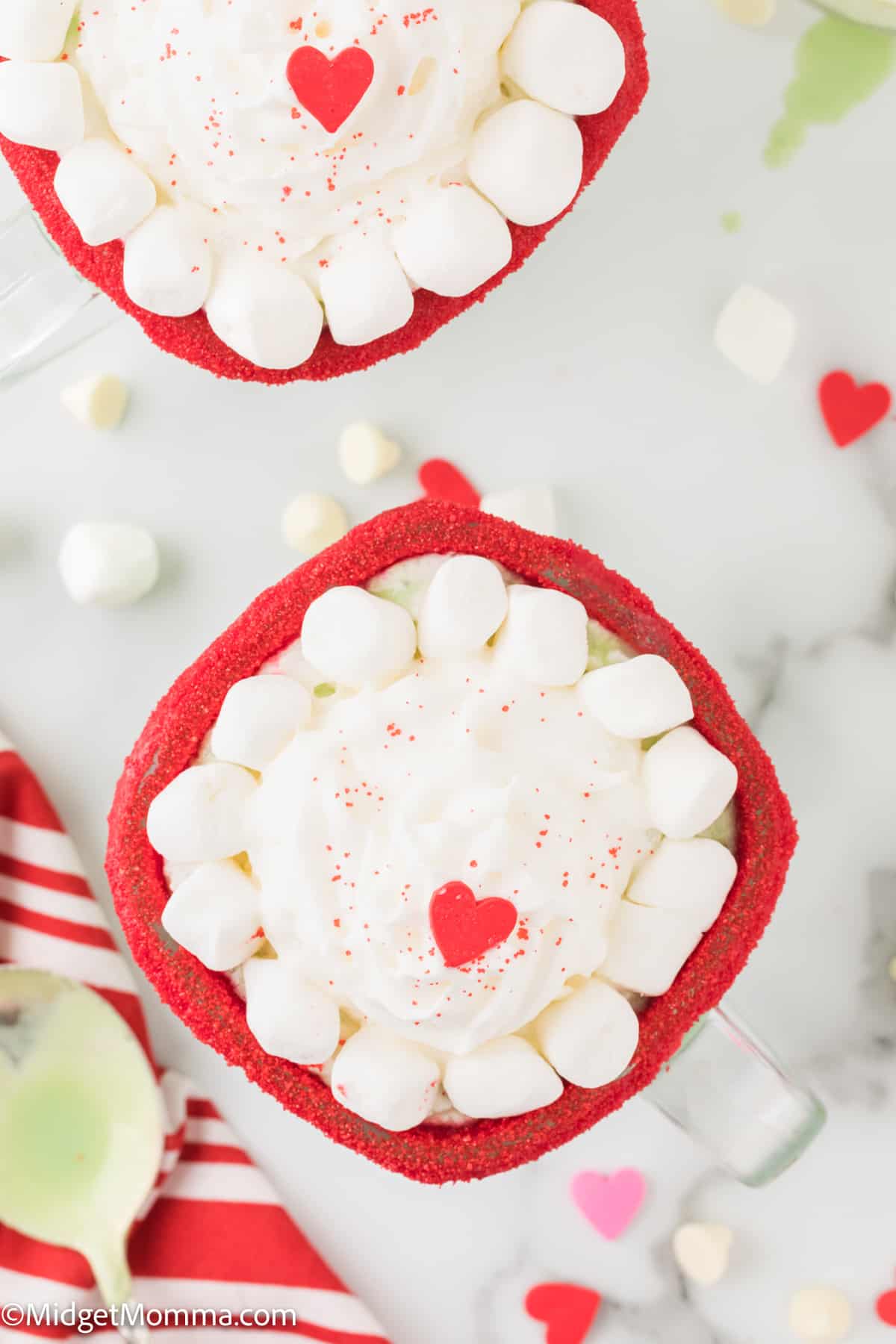 Can I Make hot chocolate Ahead of time?
I always think that hot chocolate tastes best when it is made fresh. However, it can be made ahead of time and stored in the refrigerator. It will last for about 4 days.
How to Store Leftover Grinch Hot Chocolate
If you have leftover hot chocolate, you will want to store it in the refrigerator. Wait for it to cool completely, then place it in an airtight container.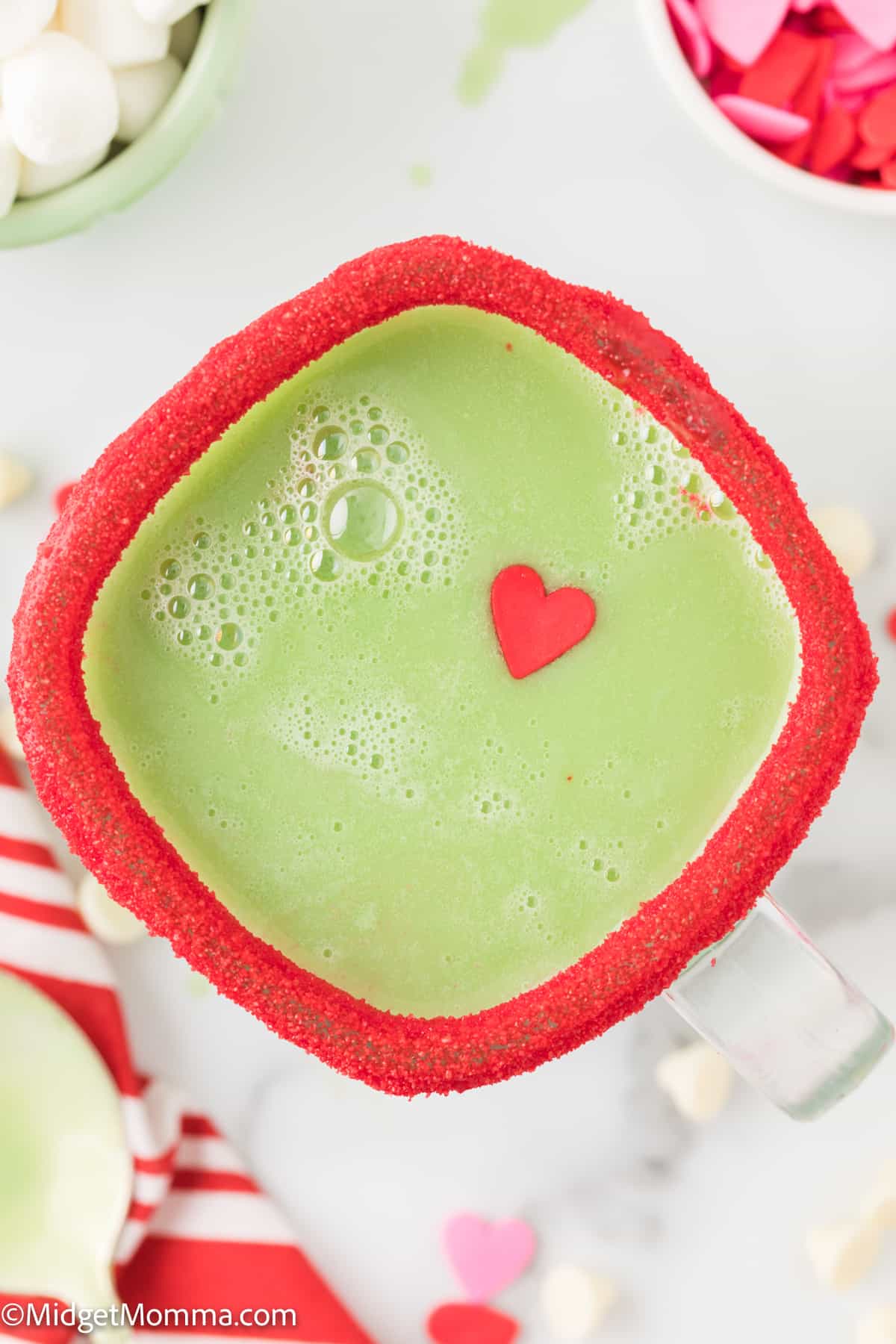 Variations
This is a simple white chocolate hot chocolate recipe. The best thing about that is how easy it is to add variations to the recipe. The hot chocolate is colored green to match the Grinch, but other than that, the sky's the limit on what you can do.
Change up the color. Of course, if you want to make the hot chocolate a different color, you can change out food coloring.
Add flavoring. You can add different extracts to create different flavors. The most common flavor is peppermint but you don't have to stop there. Almond, orange, and vanilla are all great additions. Just add a few drops at a time until you get the flavor that you want.
Top with whipped cream and marshmallows. This is the classic way to enjoy hot chocolate and Garnish the Grinch Hot Chocolate. Add things like sprinkles and candy hearts to represent the Grinch's growing heart, or used crushed peppermint candy canes.
Use Green candy melts. If you are in a pinch and want a short cut you can use green candy melts instead of white chocolate melts and green food coloring. I do find it gives the hot chocolate a different flavor and prefer to use a good quality white chocolate but candy melts will work in a pinch also.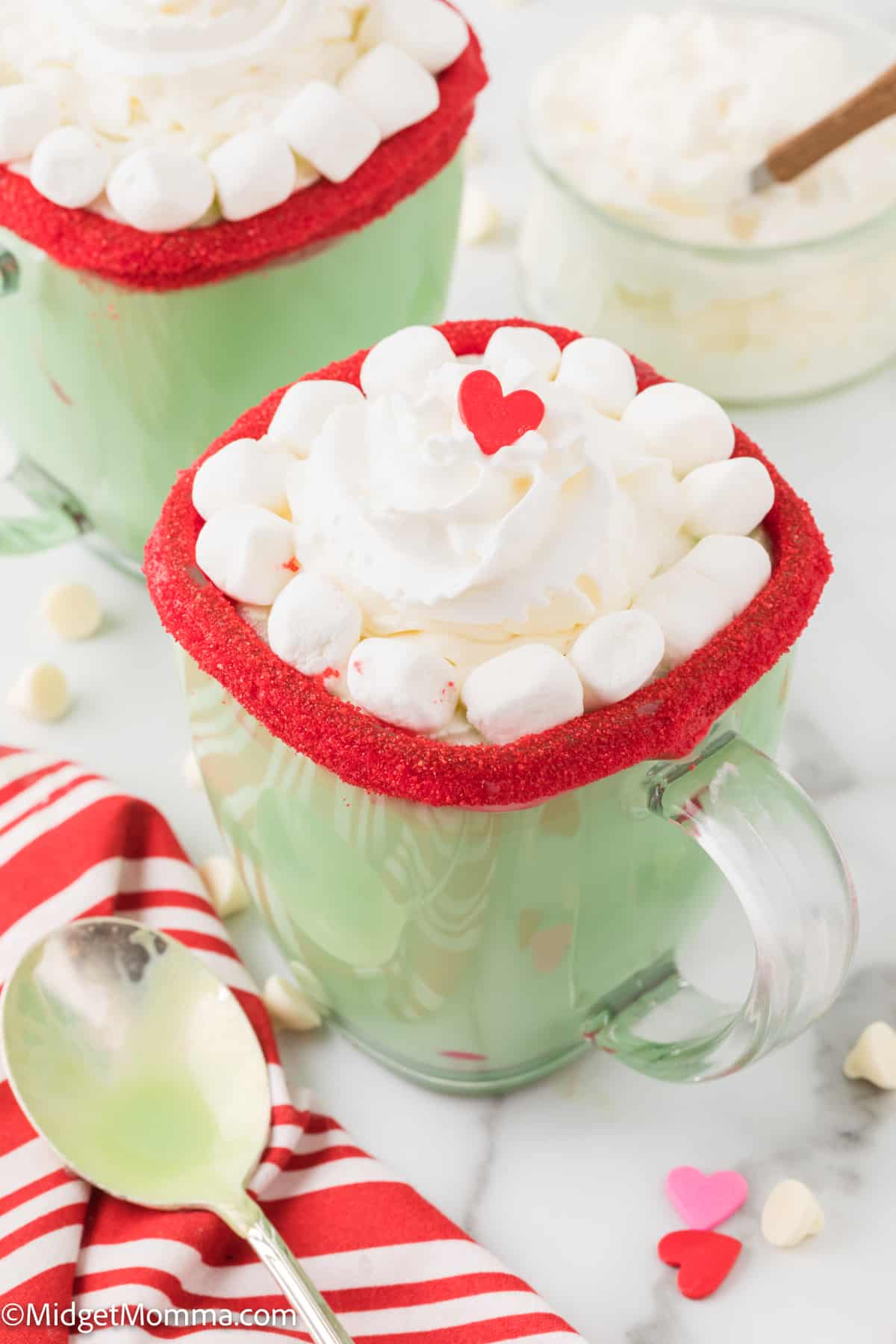 Tips and Tricks for Making the Homemade Hot Chocolate
The key to making a great hot chocolate is to use good quality chocolate. I like to use Ghirardelli white chocolate chips because they melt well and have a great flavor.
Another tip is to not let the milk boil. Boiling milk will make it grainy and no one wants that in their hot chocolate.
If you want a really smooth hot chocolate, you can use an immersion blender to blend it until it's nice and creamy.
How to Color Hot Chocolate
When you are making homemade hot chocolate you want to start with white hot chocolate and then use food coloring to change the color. You can make this hot chocolate any color you want to by changing out the food coloring from red to the color you want to make it, however since we are going for the Grinch theme we are going to use green food coloring.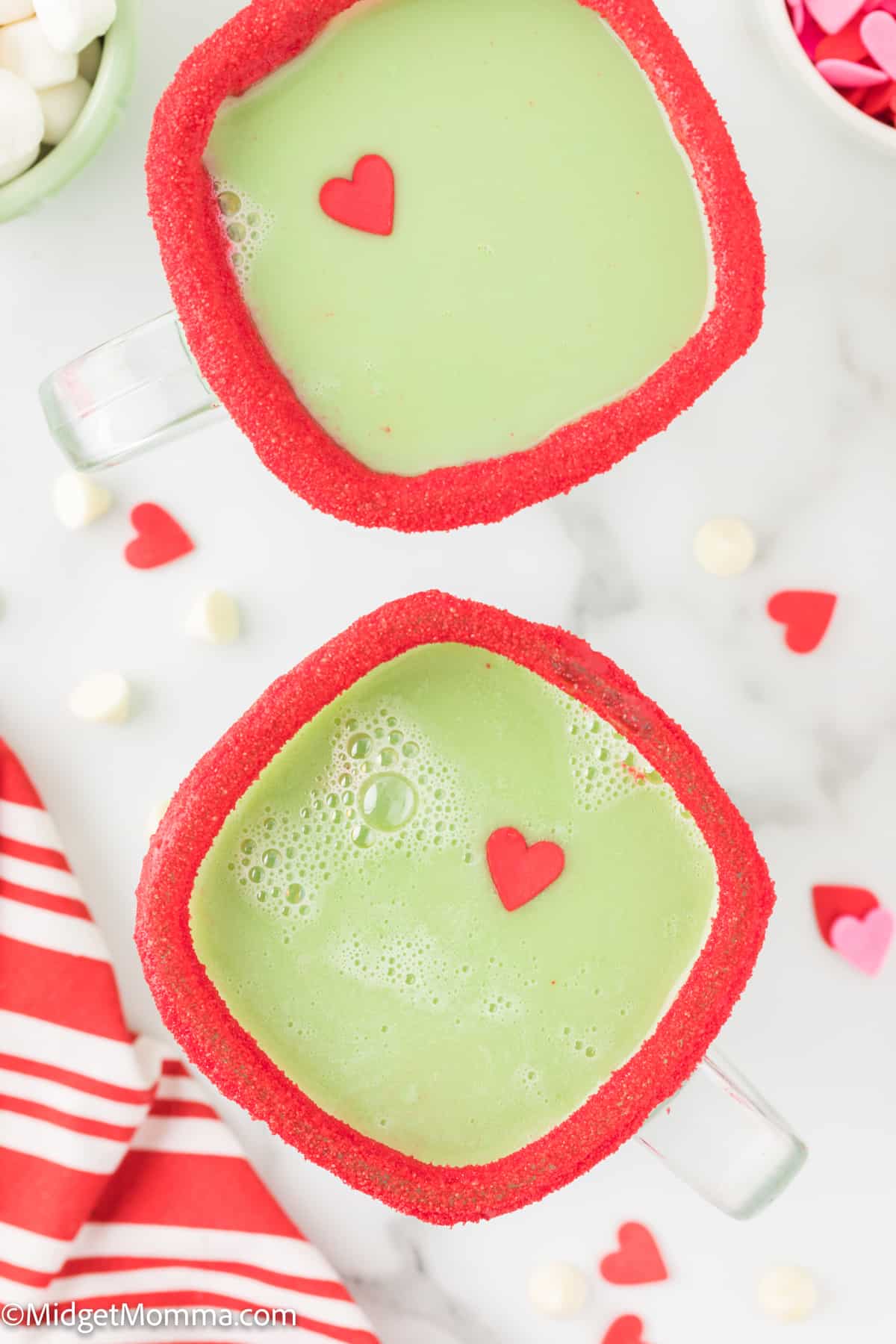 How to Serve Grinch Hot Cocoa
There are a few different ways that you can serve delicious grinch hot chocolate. To start you are going to want to pour the tasty hot chocolate into a mug then your finishing touches are where you can be creative. I like serving this green hot chocolate with whipped cream and red candy hearts or red sprinkles on top.
Top with whipped cream. You can use store bought whipped cream, or you can use heavy whipping cream to make your own homemade whipped cream.
Add Sprinkles. You can add green sprinkles, red sprinkles, or just a simple red heart sprinkle on the top of hot chocolate or on top of the whipped cream. You can also use edible glitter, I like using red edible glitter and green edible glitter.
Draw A grinch face. You can use chocolate syrup to draw the Grinch face on top of the whipped cream.
Dip the glass edge in colored sugar. If you want to make it really fancy use a clear mug, then dip the rim in colored sugar before pouring the green hot cocoa into the mug. Then top with whipped cream and sprinkles as desired.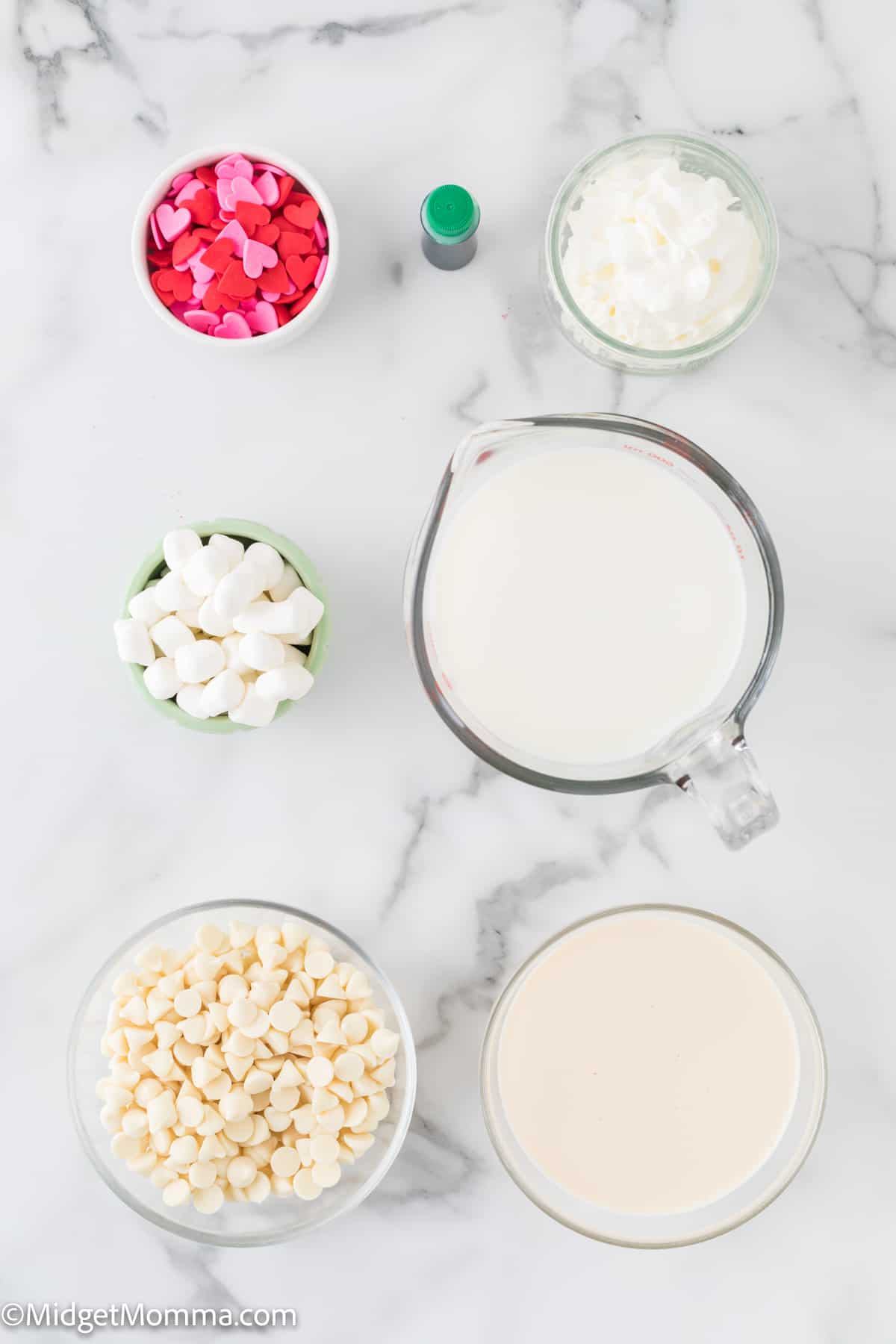 Grinch Hot Chocolate Ingredients
3/4 cup evaporated milk
2 cups whole milk
1 cup white chocolate chips
whipped cream
sprinkles
Green food coloring
How to Make Grinch Hot Chocolate
In a saucepan combine the evaporated milk and whole milk, turn the heat to medium heat on the stove and bring it to a boil. Keep an eye on the milk so it doesn't boil over.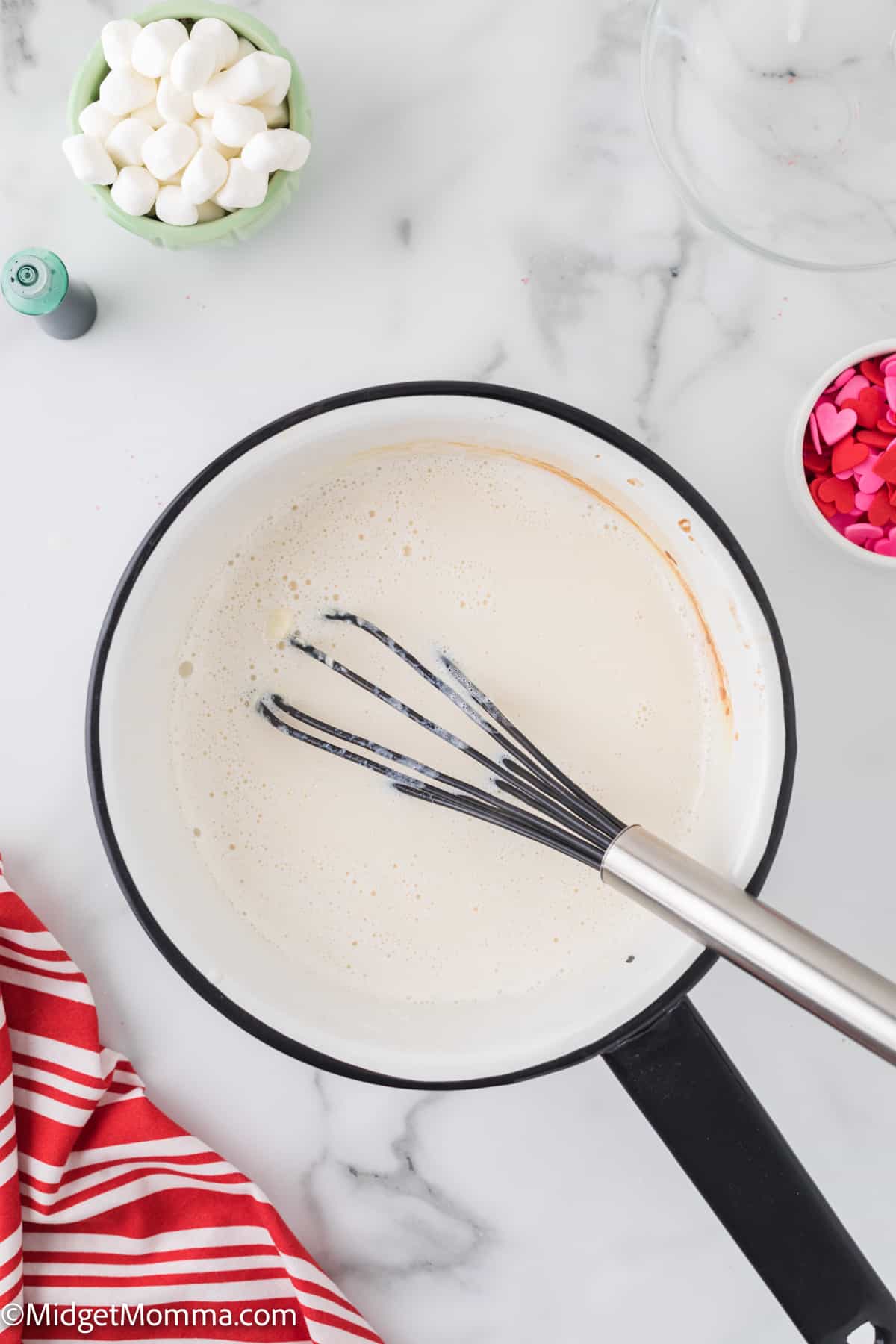 Remove the saucepan from heat and add the white chocolate. Stir until all of the white chocolate has melted.
Slowly add a drop of green food coloring to the warm milk one drop at a time until you get the green color you want.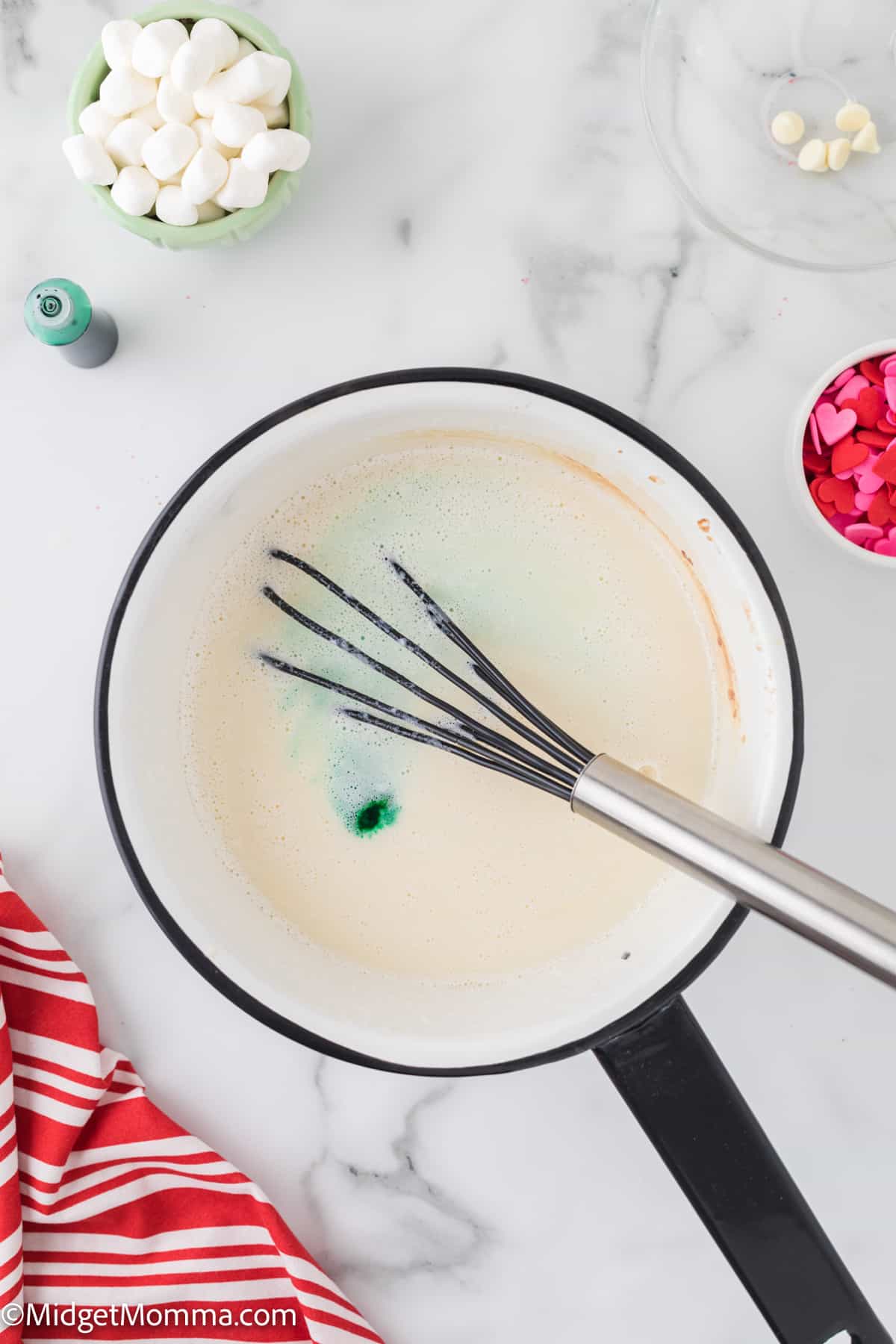 Pour into your glass and top with desired toppings. Including whipped cream, mini marshmallows, candy heart sprinkles, a red jumbo heart sprinkle, green sprinkles or red sprinkles.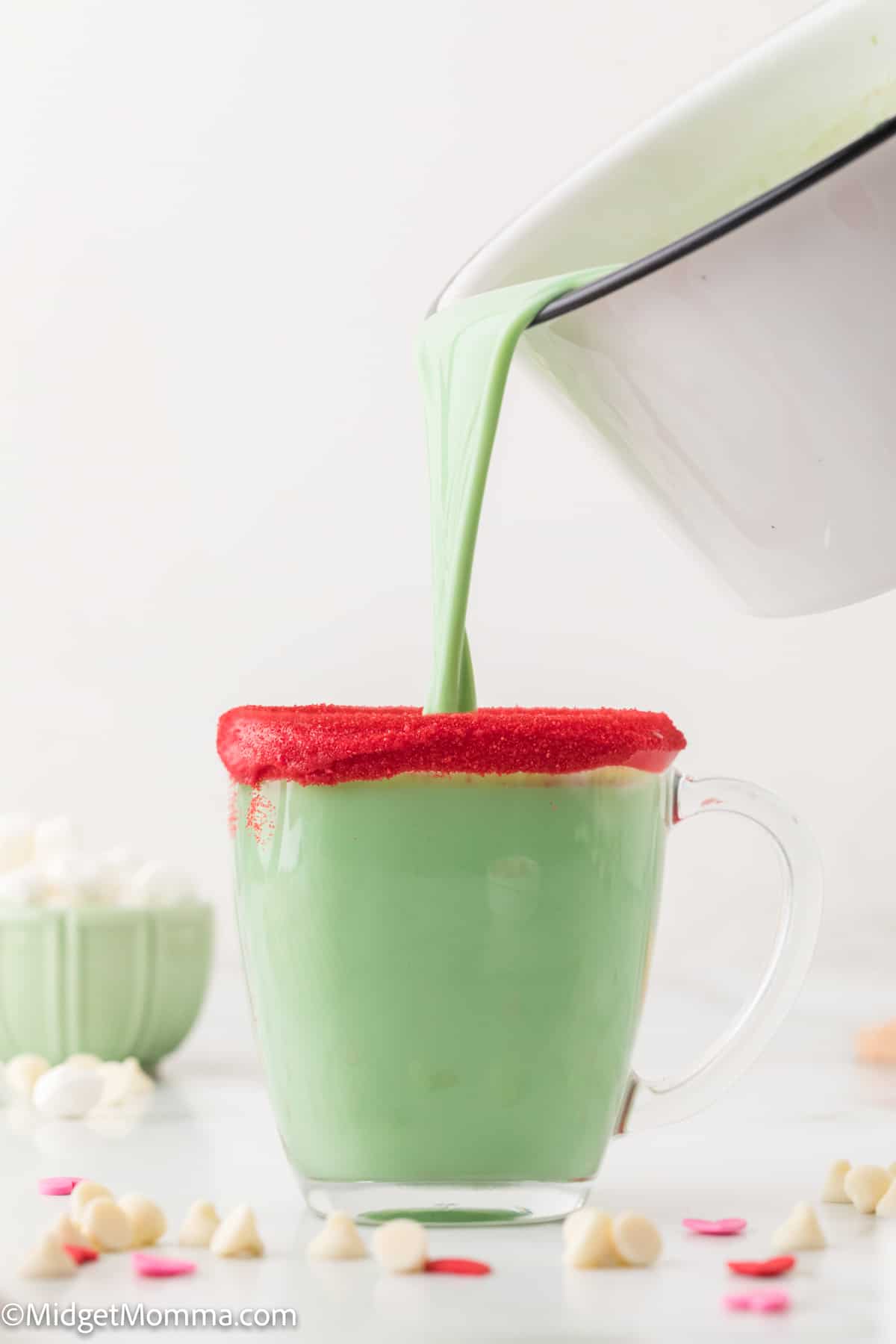 Hot Chocolate Recipes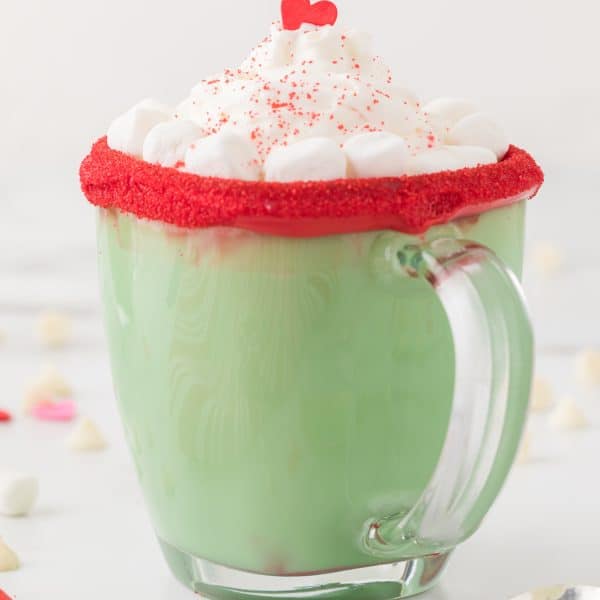 Grinch Hot Chocolate
Servings cups
This holiday season, cozy up with a mug of Grinch hot chocolate! This rich and creamy cocoa is perfect drink for chilly evenings. The white chocolate flavor combined with the perfect green color is so easy to make that even the Grinch would approve.
Instructions
In a saucepan over medium heat, bring your evaporated milk and whole milk to a boil. Keeping an eye on the milk so it doesn't boil over.

Remove the saucepan from heat and add in the white chocolate. Stir until all of the white chocolate has melted.

Slowly add a drop of green food coloring's in at a time until you get the green color you want.

Pour into your glass and top with mini marshmallows and candy heart sprinkles
Grinch Hot Chocolate
beverage