What better way to start your morning then with some FREE Disney+! Right now Verizon Wireless members get Disney+ for FREE!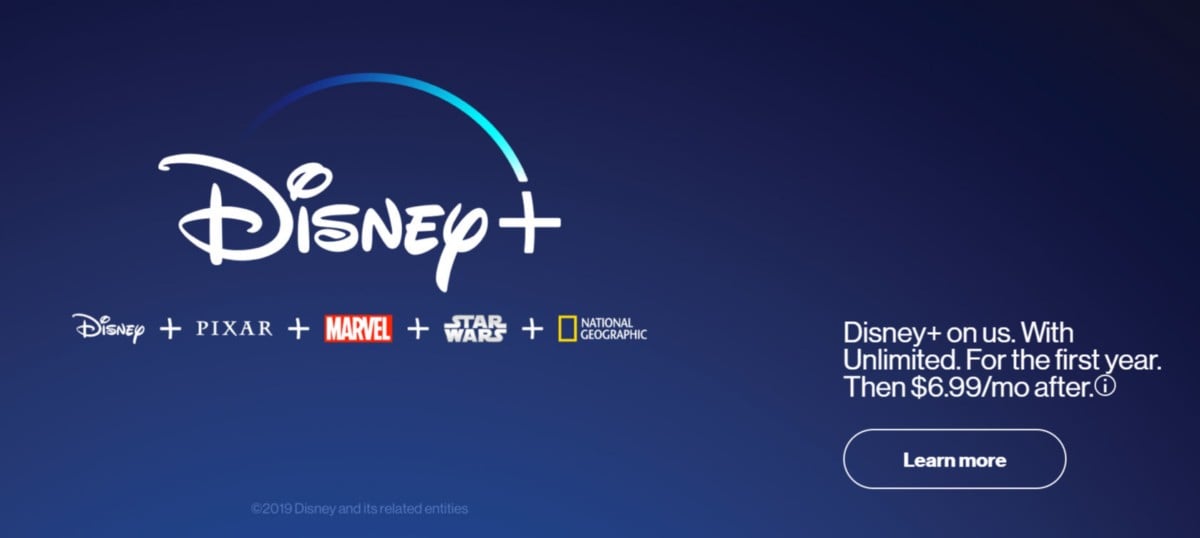 What is Disney+
Only Disney+ gives you endless access to your favorite movies and series from Disney, Pixar, Marvel, Star Wars, National Geographic, and more.
With Disney+, you get:
Classic films, the latest movies, and your favorite TV shows.
Exclusive new Originals from master storytellers at Disney, Pixar, Marvel, Star Wars, and National Geographic.
Unlimited downloads on up to 10 devices- take Disney+ with you.
Streaming on up to 4 devices simultaneously.
Select titles in stunning 4K HDR and Dolby Atmos Sound.
How to Get Disney+ for FREE
Hurry and take advantage of this offer from Verizon. You can get Disney Plus for a whole year on them , if you have Unlimited (Cell Phone Plan) or when you switch to Fios Home Internet after the first year it will be $6.99 a month!
Now that Disney Plus has launched it will be the only place to  stream everything from Iron Man to Moana, from Disney classics to exclusive originals.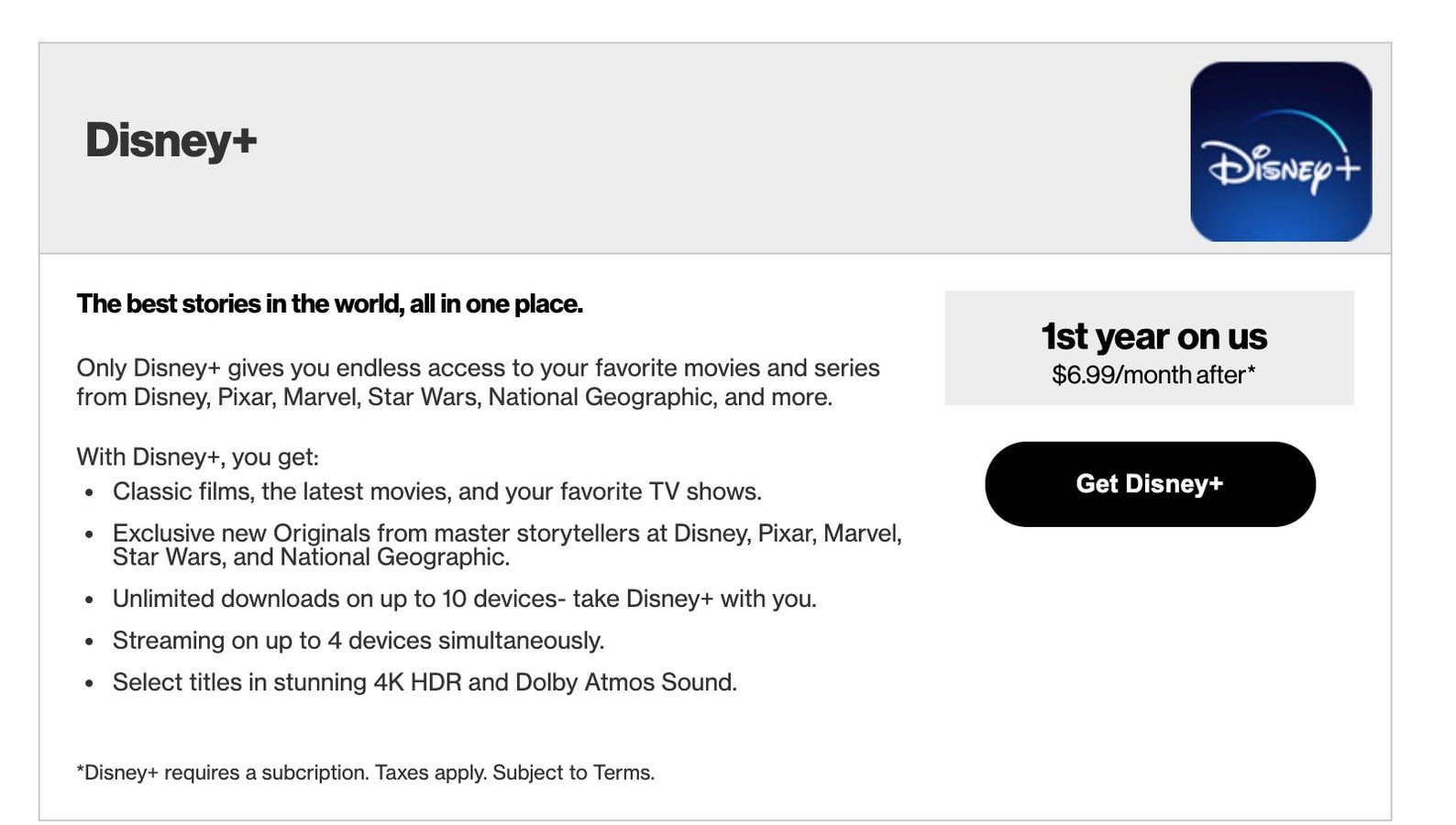 Who can get FREE Disney +?
Eligible plans include the Verizon Unlimited plan, Go Unlimited, Beyond Unlimited, Above Unlimited, Get More Unlimited, Do More Unlimited, Play More Unlimited, and Start Unlimited. Business accounts are not eligible.
Do you already have Verizon Unlimited? Super easy I just did this, just logon and add it! Don't have Unlimited?
If you do not have Verizon Unlimited you might want to look at switching, not only will you get Disney Plus for FREE but we also save over $70 a year compared to the old plan that we had with Verizon!
If you get Verizon Fios you will also get a FREE year of Disney+, The Disney+ on us offer is good for new Fios and 5G Home customers!
Can I get the FREE Verizon Disney+ if I prepaid for Disney+?
Yes! Sign into your Disney+ account, then in another browser sign in to your Verizon Wireless account. Click on redeem offer in your Verizon account and then connect the FREE Disney Plus with the prepaid . Disney+. Be sure to use the same login as your Disney Plus account and not create a new account when you are redeeming the Verizon Disney Plus offer.
How do you Stream Disney+?
All you have to do is download the app onto a device, or use a streaming device like Apple Tv, Roku or Amazon Firestick.
Where Can I download the Disney+ App?
Follow these links to get to the app area to download the Disney+ App it for that specific device if a download is needed. Not all devices will you need to follow a link to download the app, some you will need to search in the devices store.
Android TV
Desktop web browsers (Edge, Chrome, Firefox, Safari)
Google Chromecast
LG smart TVs
PlayStation 4
Samsung smart TVs
Sony smart TVs with Android TV
Love all things Disney? be sure to Check out all of the other Disney fun we have shared!
How to get Discounted Disney Gift Cards. All the tricks you need to know to get Disney Gift cards for less then they are worth to save a lot of money! Disney Gift Cards can be used when paying for Disney property hotels, Disney park tickets, food and more!
Disney Military Discount – All the Discount Military Members can get from Disney Tickets, Hotel and more!
Disney Tips – Secrets about Disney World from Disney Cast Members
Best Disney Hotels for Families – Going to Disney with the family? Check out these resorts that are perfect for families going to Disney world.
How to Ride More Rides at Disney World – Want to ride the most rides while at Disney? Be sure you check out these tips!
Weeklong Disney World Vacation Tips – Making your Disney World Trip a week long adventure? Be sure to check out these Disney vacation planning tips!
Bippity Boppity Botique – Everything you need to know about the Princess (and Prince Disney World Makeovers)
Disney free stuff – Everything you can score for free at Disney World – and so many of them are AWESOME!
Disney Packing List. Everything you need to make sure that you pack for your trip to Disney World. Plus a FREE Printable to help you keep track while you are packing!
Tips for Doing Disney World in the Rain! Don't let a little rain get in the way of your fun! You can still have an amazing time even when it is raining at Disney World!
5 Reasons to make a Chef Mickey's Dining Reservation. (It is perfect for the whole family!)
3 GOOD Reasons to upgrade to a Disney World Park Hopper Pass
Why you should make a Cinderella's Table Reservation. (It is perfect for the whole family!)