Feta, Bacon and Spinach Stuffed Mushrooms. With a combination of fresh spinach, feta, and bacon these Spinach Stuffed Mushrooms are the ultimate salty and savory appetizer! These are great for holidays and party appetizers, and each one is just a perfect bite!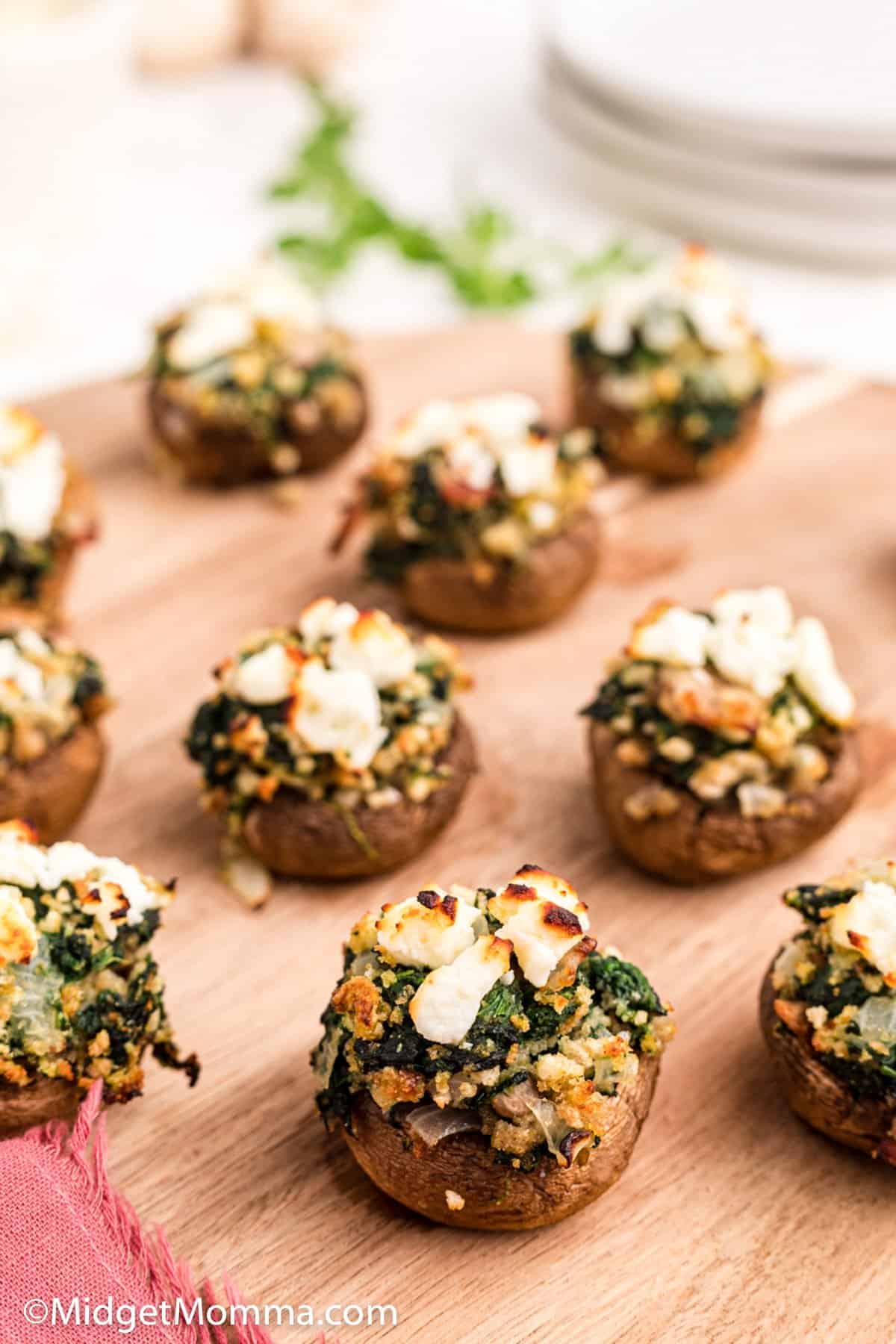 Spinach Stuffed Mushrooms
These delicious Spinach Feta Stuffed Mushrooms are full of all the "love or hate" ingredients. Mushrooms, spinach, and feta all seem to fall under the list of things people are either obsessed with or refuse to touch. For me, I personally love all of these, and when you combine the 3…oh my, what a delicious treat these easy stuffed mushrooms are! This easy recipe is perfect for a party or dinner!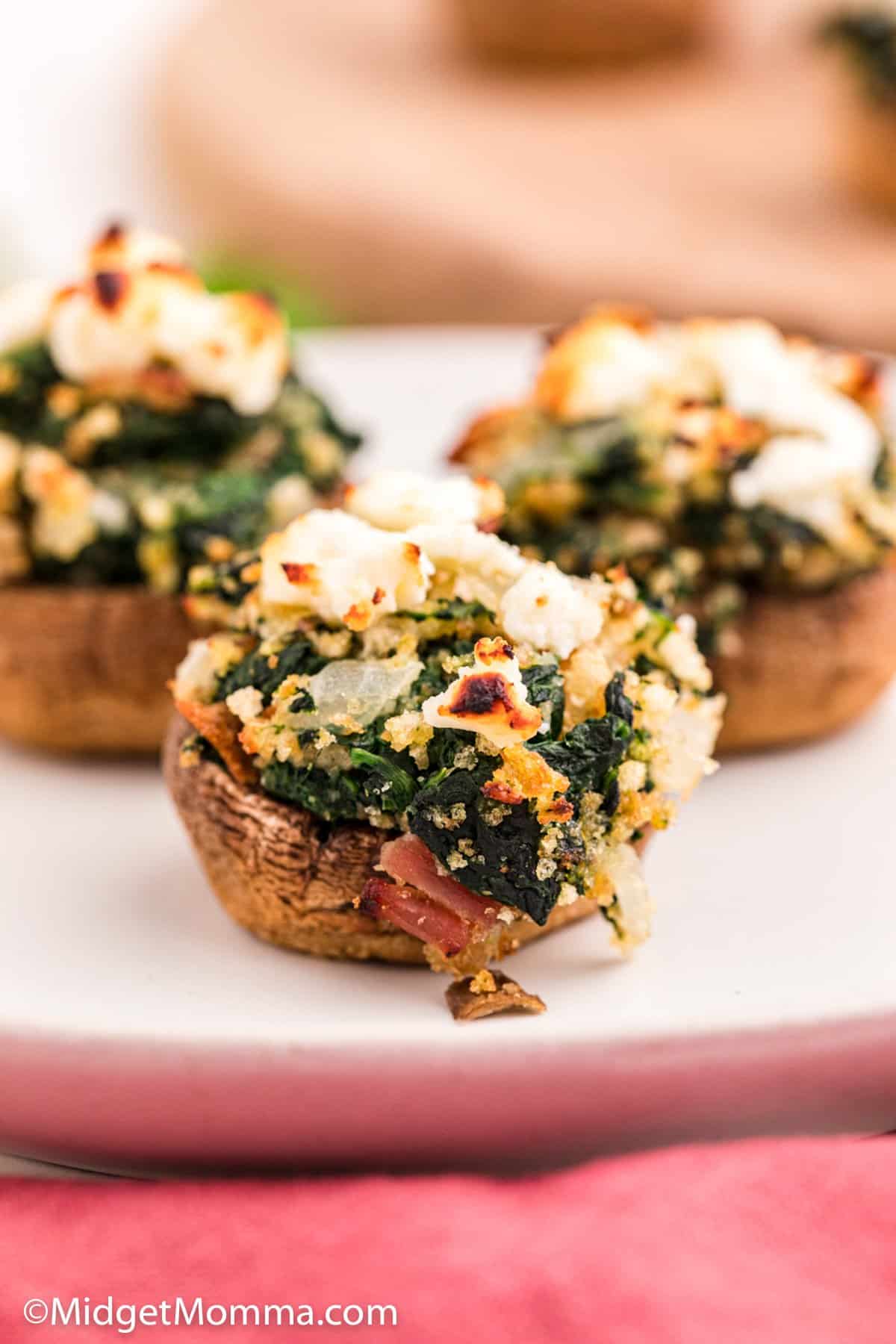 Stuffed mushrooms, in my opinion, make a great dinner or party appetizer. They're easy to make and you can change up the filling so you're not always serving the same thing. Each mushroom is the perfect bite-size appetizer so they're satisfying while not being TOO filling.
Stuffed mushrooms always remind me of steakhouse dinners so serving them always feels a little fancy to me! I have made many stuffed mushroom recipes and I think this is the best stuffed mushrooms recipe ever and any time I have made these for friends and family they have loved them.
These Spinach Stuffed Mushrooms also feature feta and bacon for a truly salty, savory, and unique flavor combination. Feta isn't something I use in too many of my recipes but it's SO good in this one!
Easy Appetizer Recipes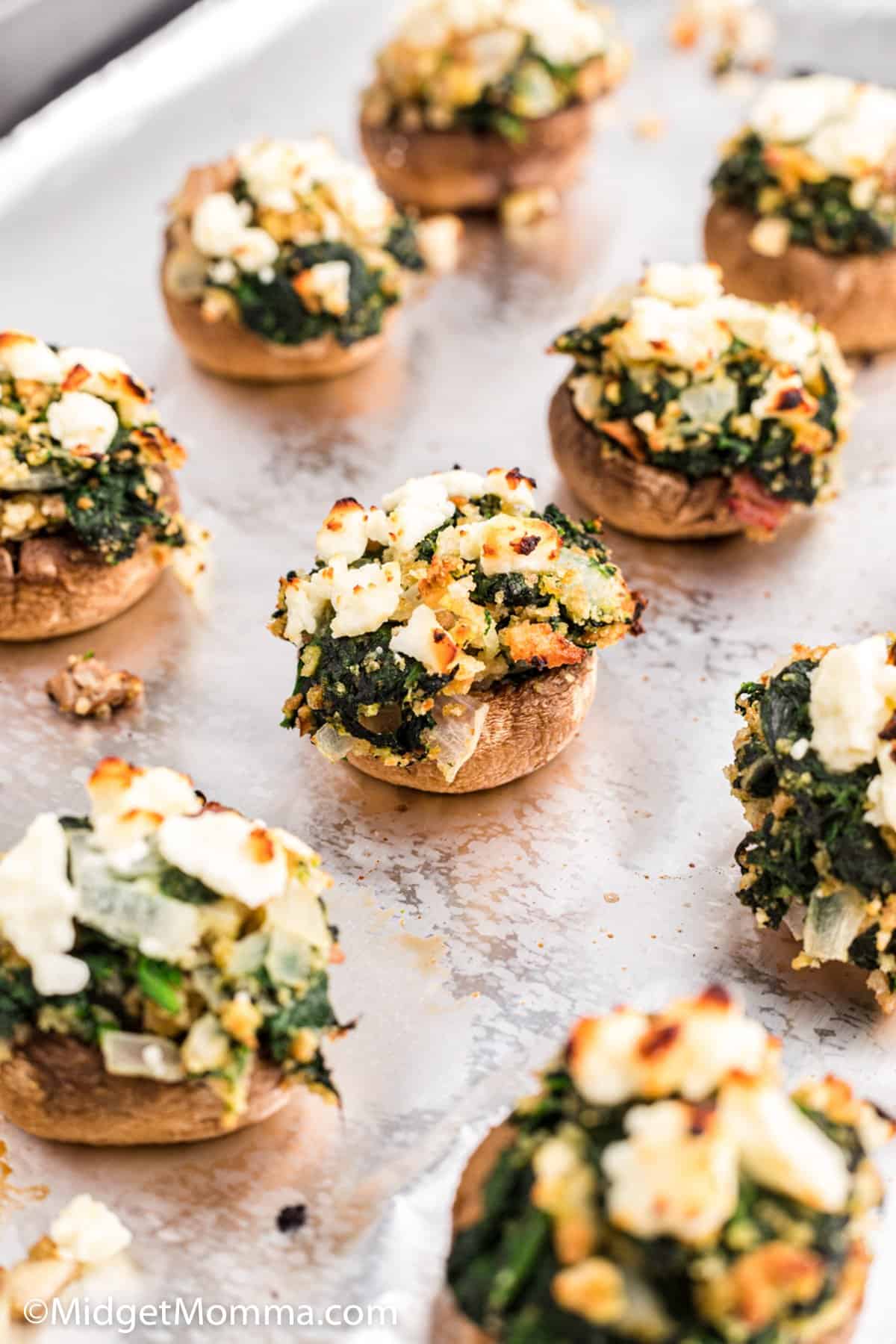 What to Serve with Stuffed Mushrooms
While I think spinach stuffed mushrooms are the perfect appetizer, they also make for an amazing side dish. There are lots of main dishes that pair well with easy stuffed mushrooms, if you are looking for a dinner recipe that goes well with stuffed mushrooms, check out some of my favorites.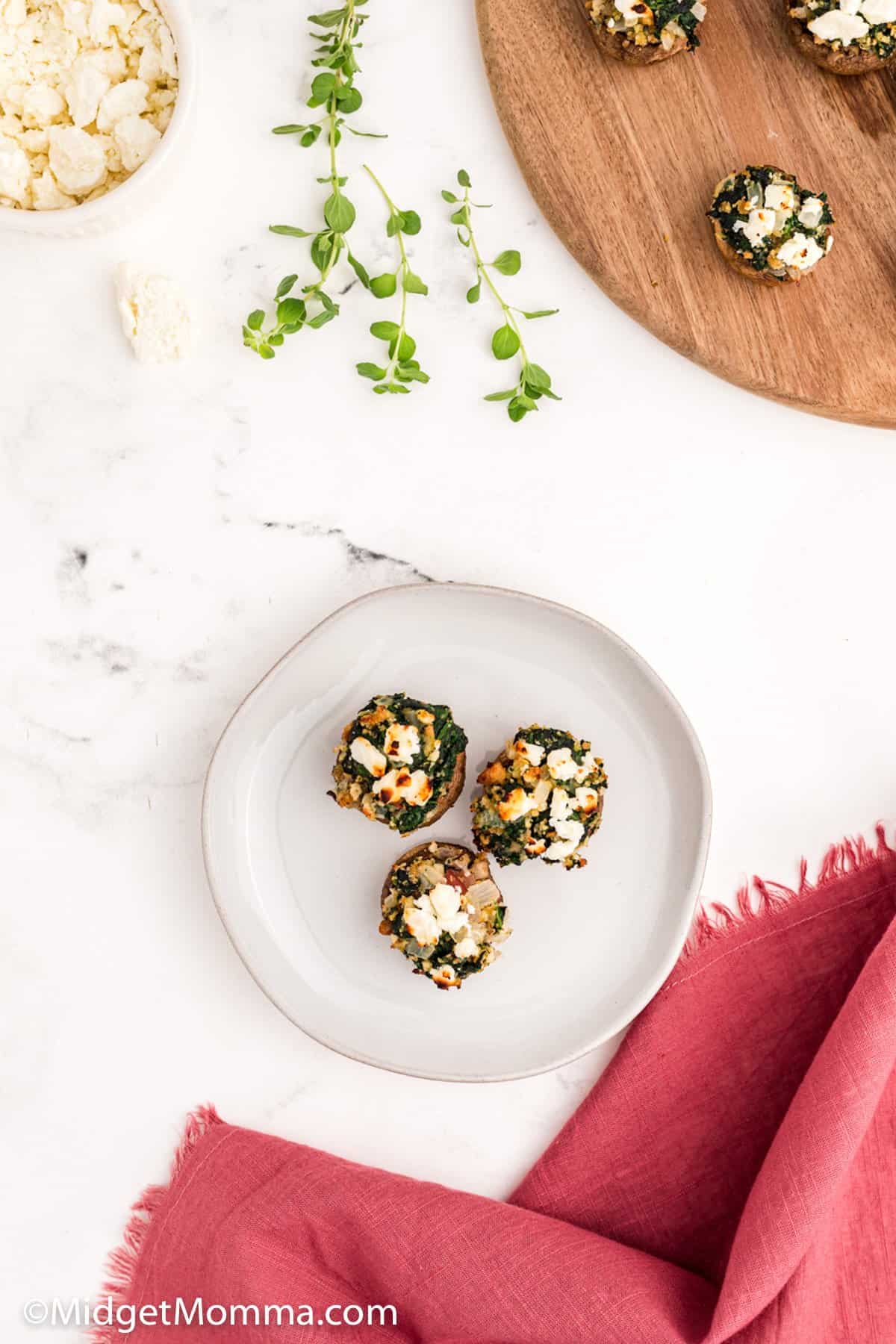 What are the best mushrooms for stuffed mushrooms?
White button or cremini mushrooms are the typically go-to's for stuffed mushrooms. You want ones that have a flat bottom and big enough opening for stuffing.
You can also stuff larger mushrooms like portabella but those are better when you're aiming for a meal instead of just a snack. Whatever mushrooms you choose, be sure they are fresh and hard, not soggy at all.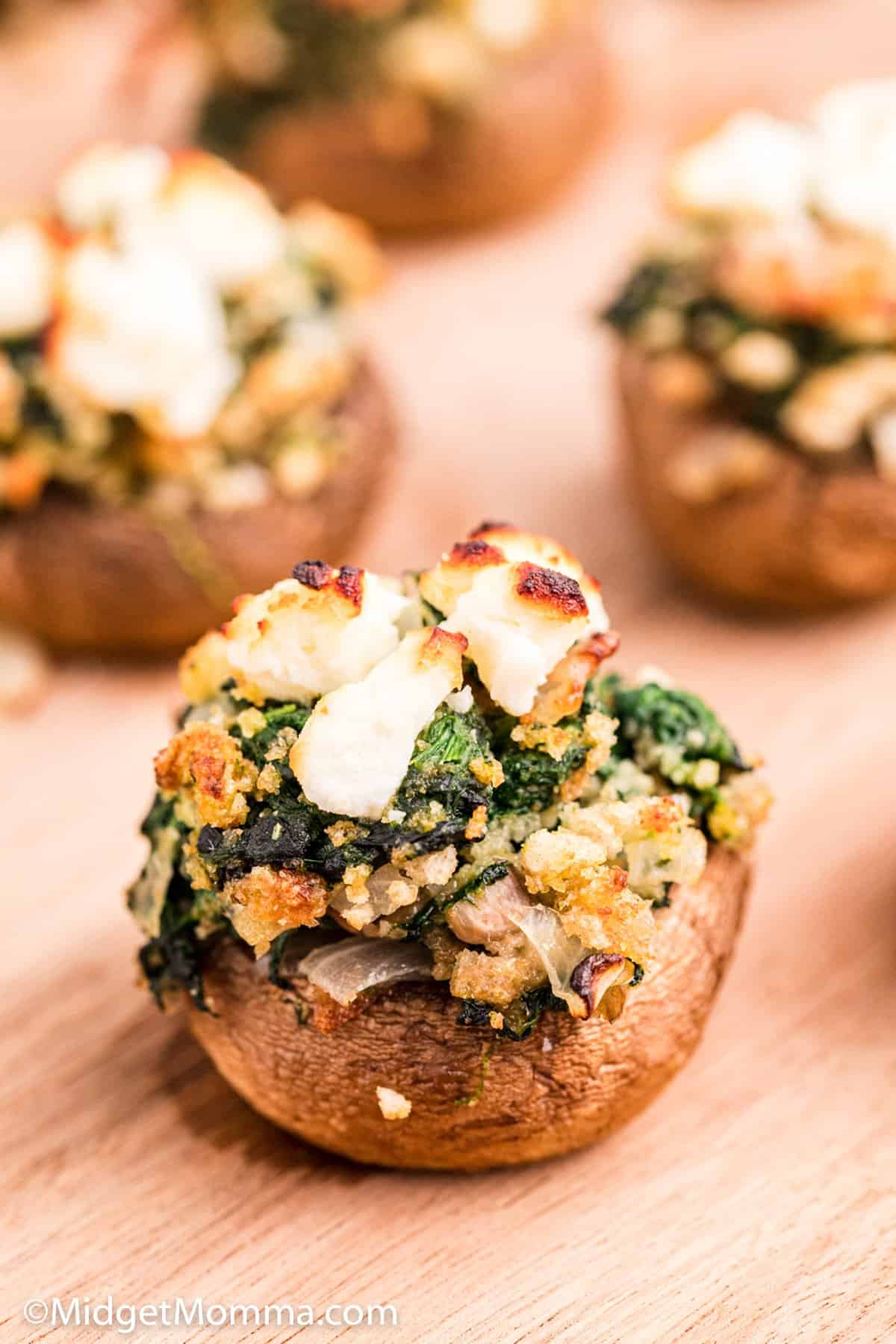 Stuffed Mushrooms Variations
Add Garlic. You can add garlic seasoning or fresh garlic in the pan when you are cooking the bacon and onions.
Change up the cheese. Gruyere, brie, mozzarella cheese, and goat cheese are great options if you do not want to use feta cheese.
Change up the mushrooms. It is best to use large fresh mushrooms, I like using flat mushrooms but you can also use white mushrooms or portobello mushrooms.
Change up the meat. I like using bacon, but you can also use ground sausage.
Add some spice. If you want the stuffed mushrooms to have a little kick you can add some red pepper flakes.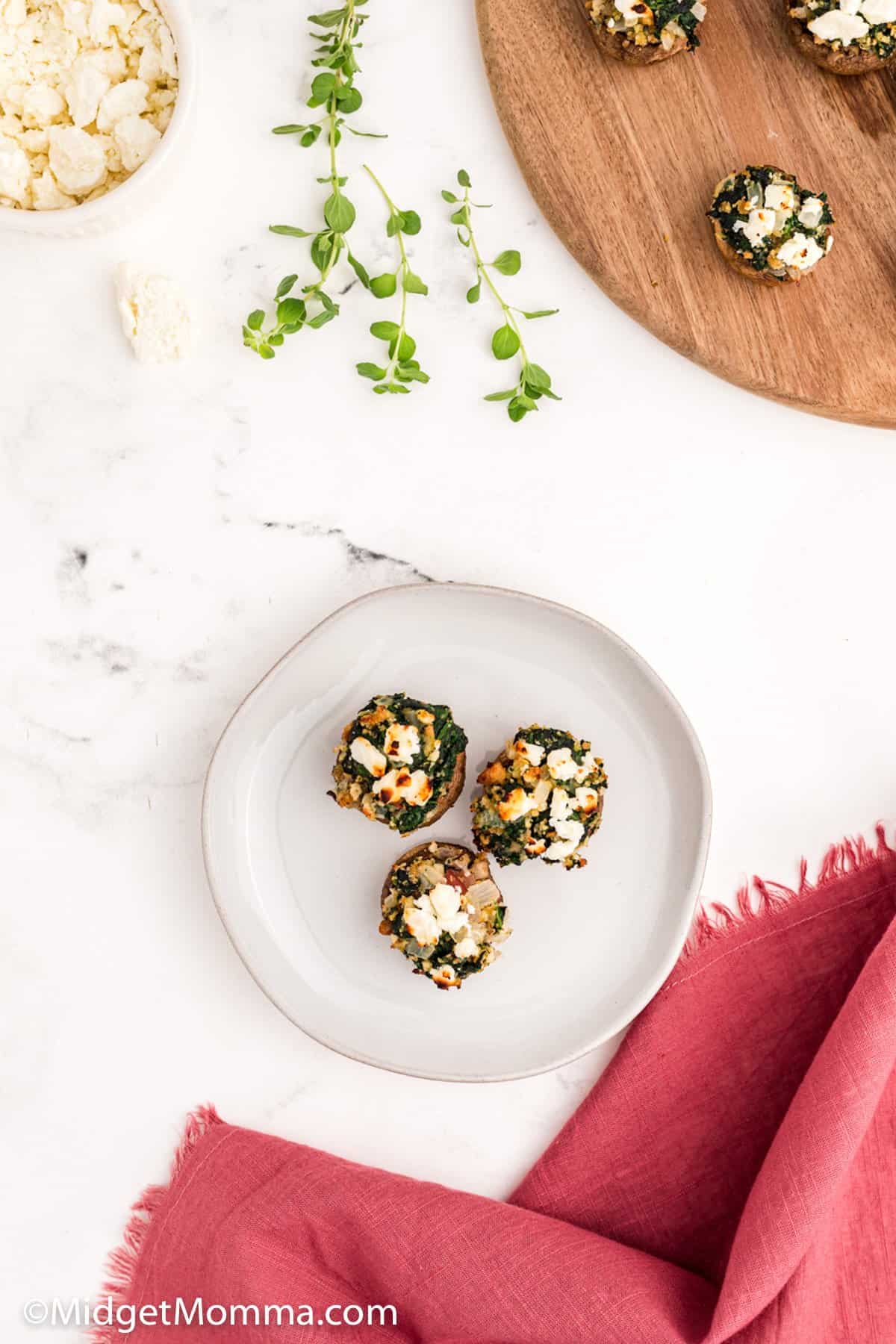 Can I Make These In Advance?
Yes, you can easily do all of the prep work and assembly of your stuffed mushrooms the night before. Just keep them wrapped tightly in the fridge and allow to come to room temperature or add an extra minute or two in the oven.
How to Store Stuffed Mushrooms
Any leftovers should be stored in an airtight container in the fridge. They will keep for up to 2 days in the fridge.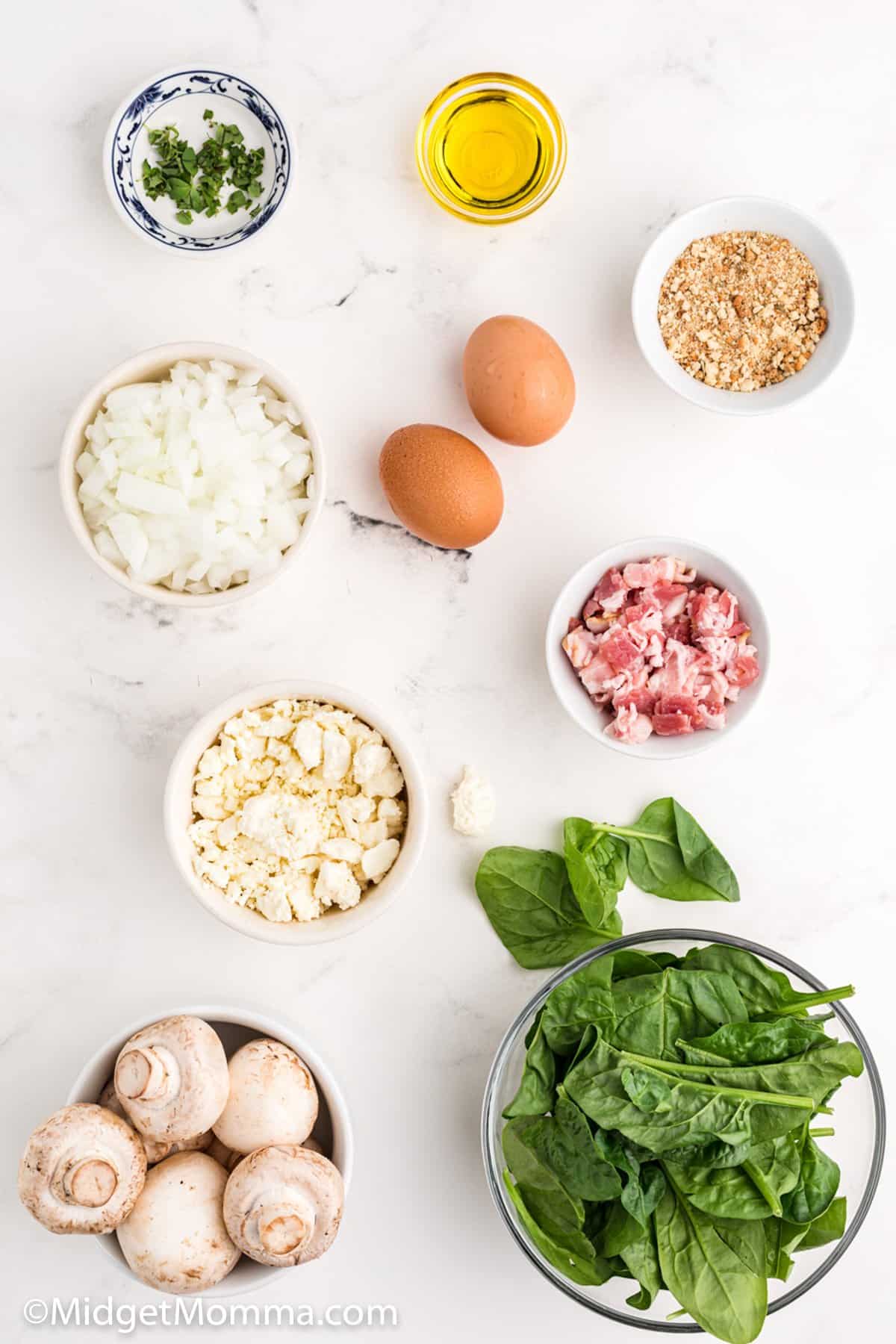 Bacon Spinach Stuffed Mushrooms Ingredients
12 large, flat mushrooms
1 pound small baby spinach leaves, well washed
3 strips bacon, cut into 1/4 inch pieces
1 medium onion, finely chopped
2 egg yolks, beaten
3/4 cup bread crumbs
1 teaspoon chopped marjoram
3 tablespoons olive oil or vegetable oil
1 cup feta cheese, crumbled
salt
black pepper
How to Make Spinach Stuffed Mushrooms
Clean mushrooms well. Remove the stalks and chop them finely.
Blanch the spinach by dropping it into a pan of boiling water for 1-2 minutes and then plunging into ice water directly after.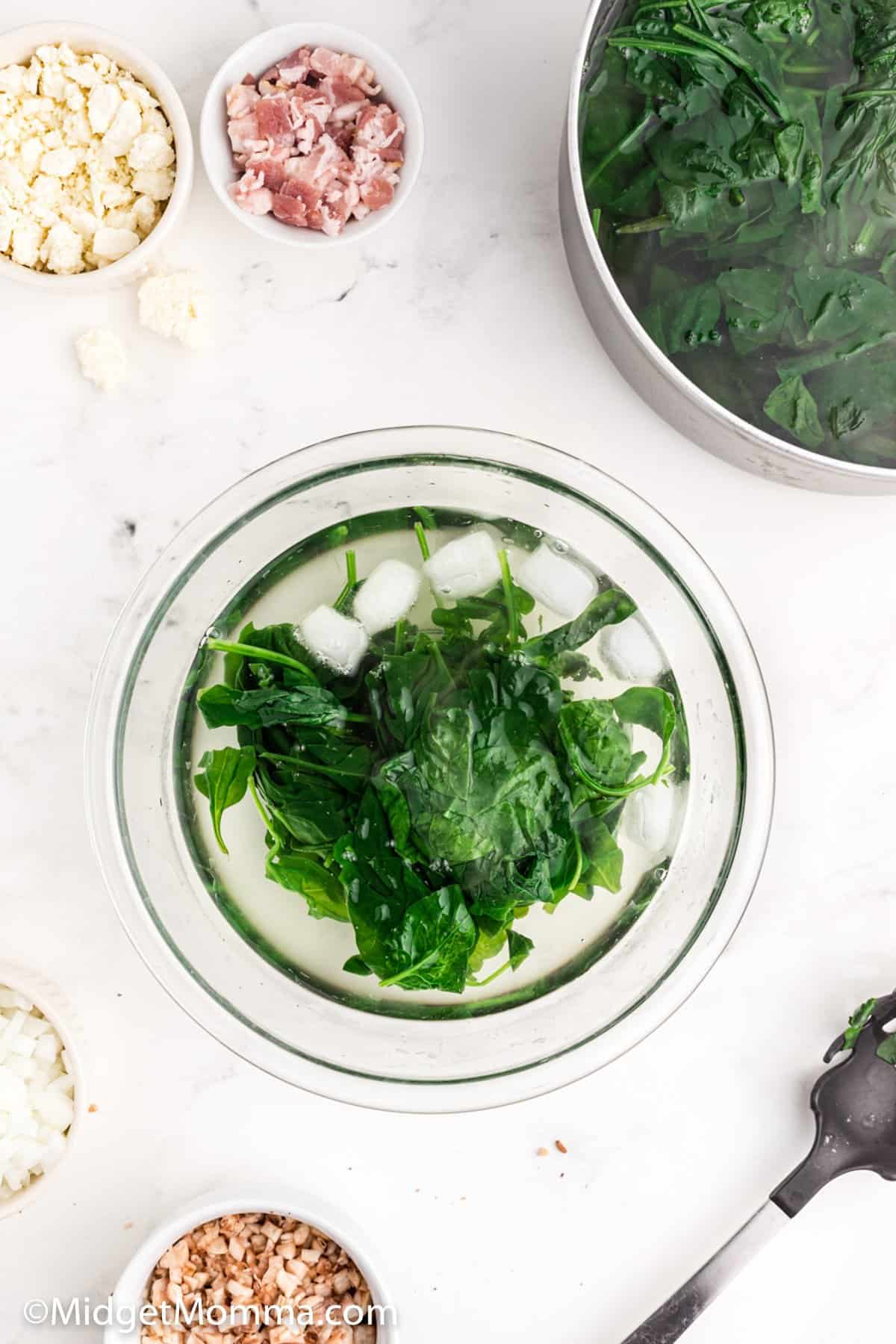 Squeeze the spinach dry in some paper towels and chop.
Wash the mushrooms and remove the stems from the caps and set aside and set caps on a baking sheet lined with tin foil.
In a pan over medium heat, fry the bacon pieces in a dry large skillet with the chopped onion until golden brown, then add the chopped mushroom stems a cook for a little bit longer. Remove from heat.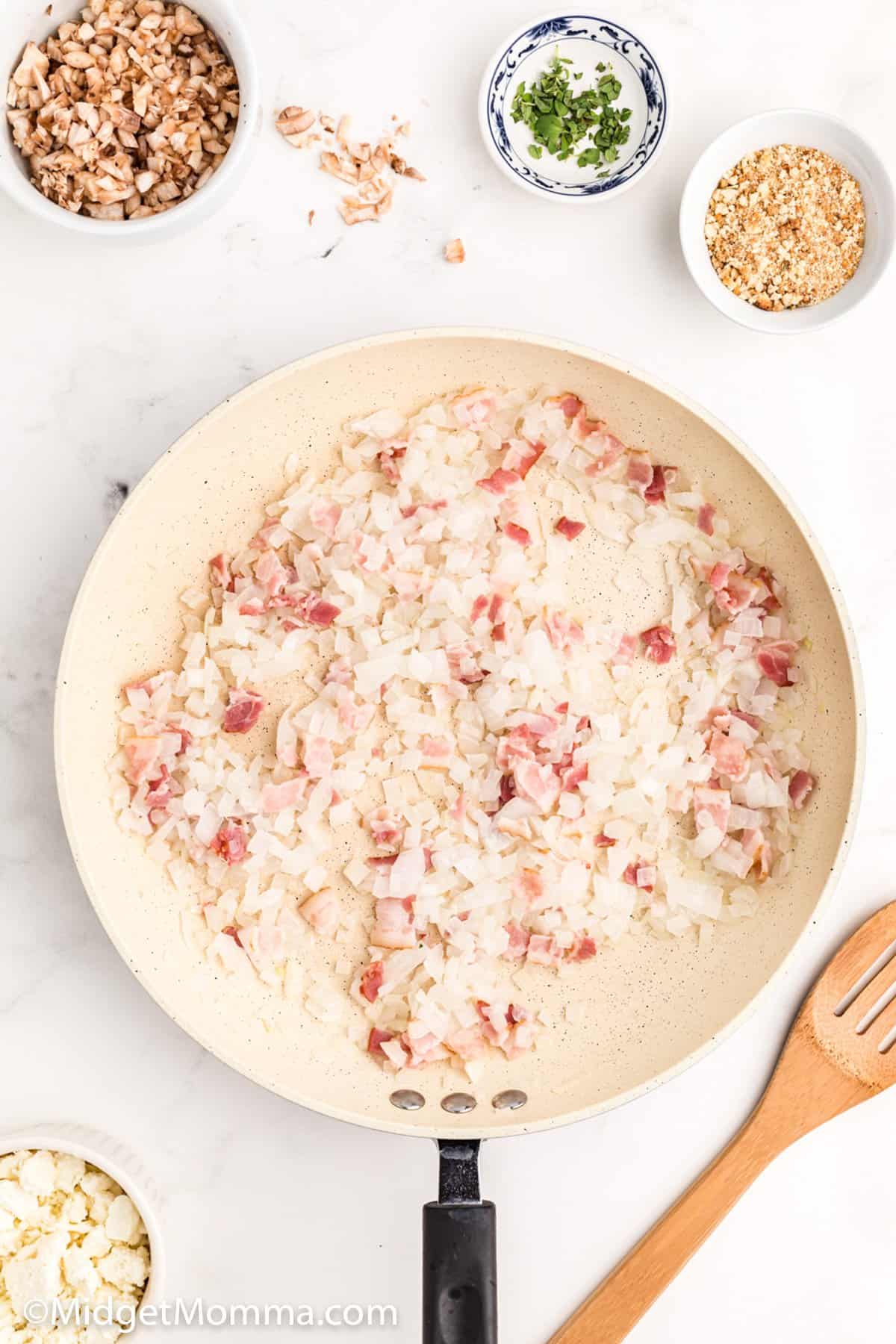 Stir in the spinach, egg yolks, bread crumbs, and marjoram, and season lightly with salt and pepper.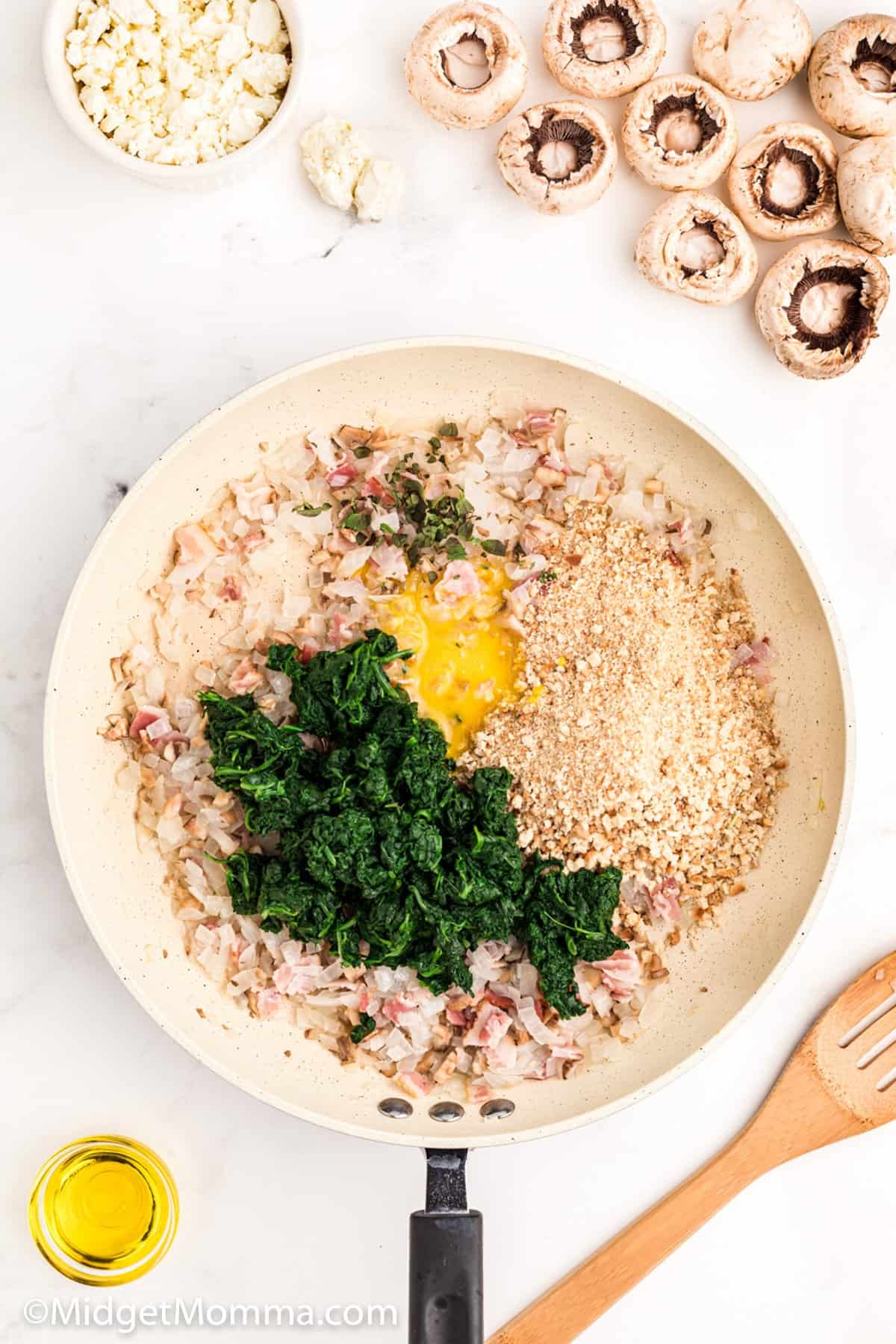 Brush the mushroom caps with oil. Spoon a heaping tablespoon of the spinach mixture into the mushroom caps.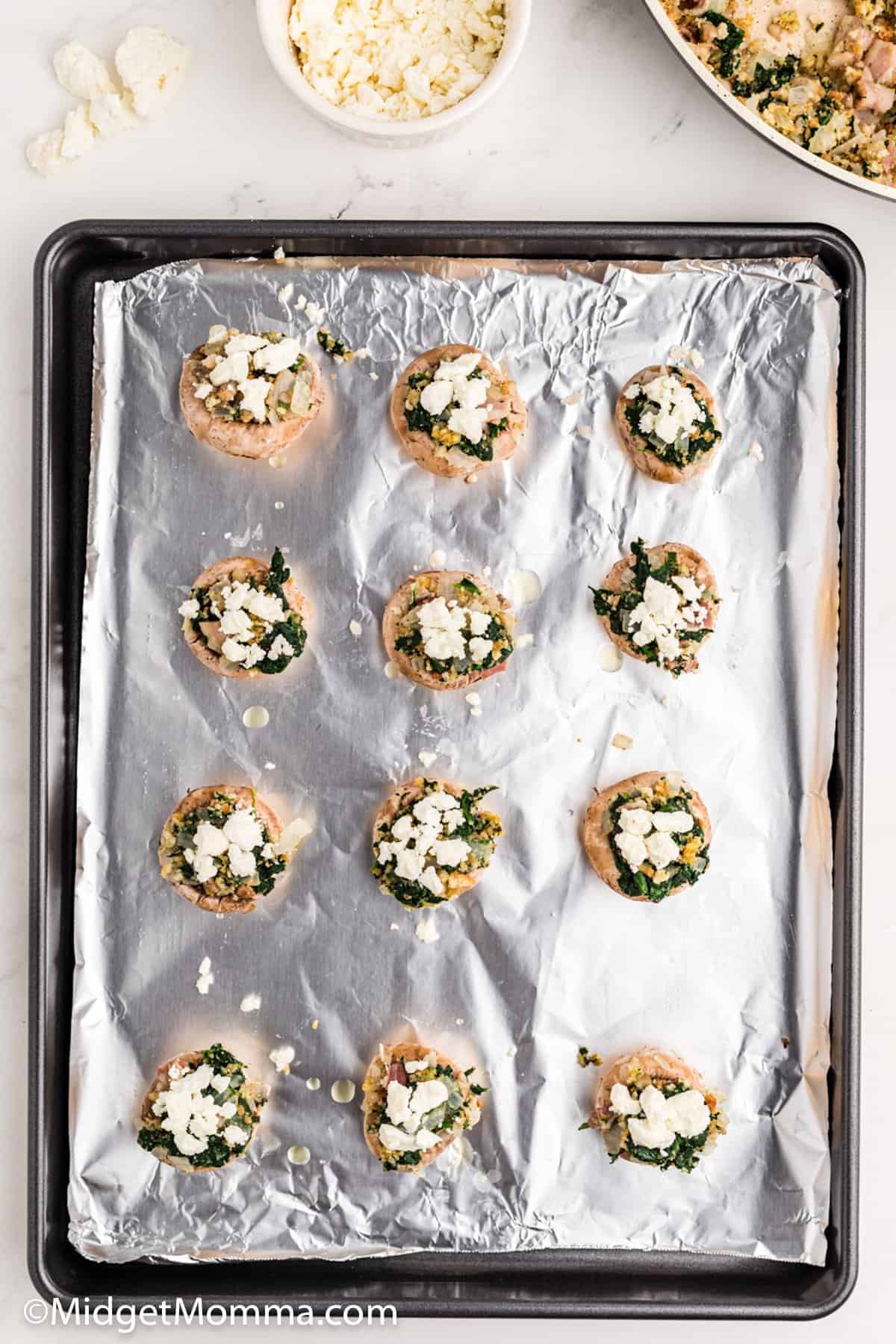 Sprinkle with feta cheese and cook under a preheated broiler for 10 minutes or until golden brown.
As a note – if your broiler has a high and low setting (like mine), use the low and keep them in a bit longer, otherwise the cheese gets done before the rest of the mushroom.
Easy Recipes You Will Love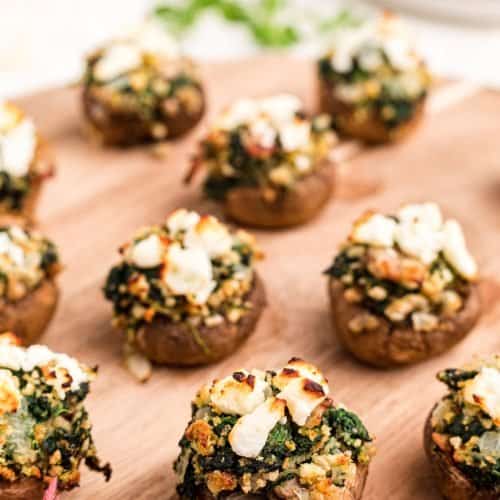 Spinach Stuffed Mushrooms
Servings
With a combination of spinach, feta, and bacon these Spinach Stuffed Mushrooms are the ultimate salty and savory appetizer! These are great for holidays and party appetizers, and each one is just a perfect bite!
Ingredients
12 large flat mushrooms
1 pound small baby spinach leaves well washed
3 strips bacon cut into 1/4 inch pieces
1 medium onion finely chopped
2 egg yolks beaten
3/4 cup bread crumbs
1 tsp chopped marjoram
3 Tbsp olive or veggie oil
1 cup feta cheese crumbled
Instructions
Wash the mushrooms well. Remove the stalks and chop them finely.

Blanch the spinach by dropping into a pan of boiling water for 1-2 minutes and then plunging into ice water directly after (this stops the cooking process).

Squeeze the spinach dry in some paper towels and chop.

Fry the bacon pieces in a dry pan with the chopped onion until golden brown, then add the mushroom stalks a cook for a little bit longer. Remove from heat.

Stir in the spinach, egg yolks, bread crumbs, and marjoram and season lightly with salt and pepper.

Place the mushroom caps on a baking sheet (I would cover it with foil to save yourself some scrubbing!) and brush lightly with oil.

Place heaping tablespoons of the mixture into the mushroom caps. Sprinkle with feta cheese and cook under a preheated broiler for 10 minutes or until golden brown.

As a note – if your broiler has a high and low setting (like mine), use the low and keep them in a bit longer, otherwise the cheese gets done before the rest of the mushroom! (I learned the hard way!)
Calories: 140kcal | Carbohydrates: 8g | Protein: 6g | Fat: 10g | Saturated Fat: 3g | Polyunsaturated Fat: 1g | Monounsaturated Fat: 5g | Trans Fat: 1g | Cholesterol: 47mg | Sodium: 258mg | Potassium: 323mg | Fiber: 1g | Sugar: 2g | Vitamin A: 3643IU | Vitamin C: 12mg | Calcium: 118mg | Iron: 2mg
spinach stuffed mushrooms, stuffed mushrooms
Appetizer