Sometimes you want those flavors of a big turkey dinner but without all that work, this Turkey Dinner Roll Up recipe is the perfect option. If I am in a rush to get dinner done then when I am making my Turkey Dinner Roll Ups I use boxed stuffing mix, however if I have extra time then I use my homemade herb bread dressing.
I want meals that are healthy and easy to make while having two toddlers running around, this Turkey Dinner Roll Up recipe is perfect for this. My whole family loves it too which also makes it a win win in our house 🙂 If you have leftovers they are also great for lunch the next day.
Turkey Dinner Roll Up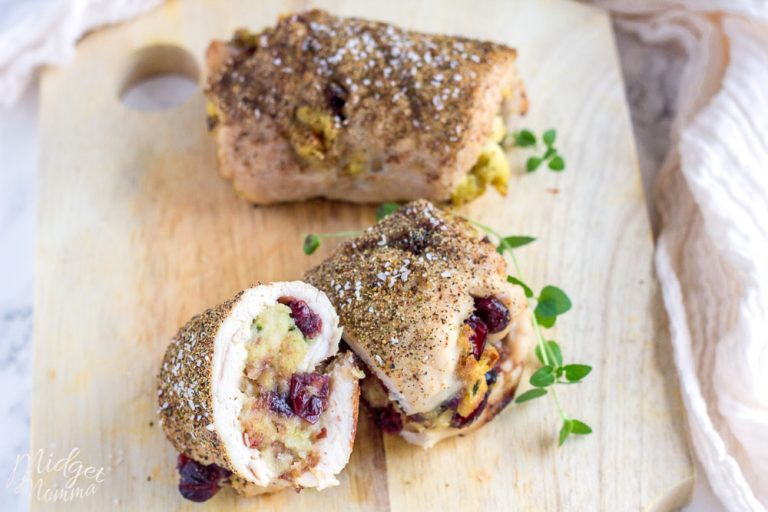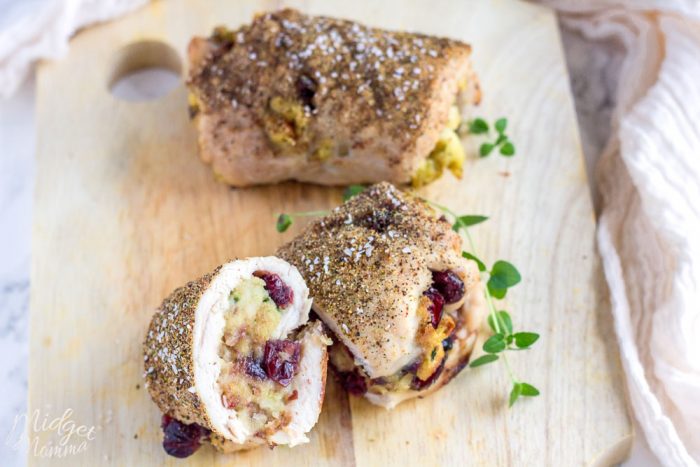 Turkey Dinner Roll Up Ingredients
1 package of turkey breast (around 2 pounds)
1 box of stuffing
1 cup of dried cranberries
2 teaspoon Mrs.dash table seasoning
salt and pepper to taste
Turkey Dinner Roll Up Directions
Preheat oven to 350F degrees and line a baking pan with foil.
Prepare your stuffing as per directions on the package or make the homemade stuffing you prefer in a large bowl. Once mixed well add the cranberries to the stuffing and set aside.
Place the turkey breast in between two pieces of plastic wrap and pound the breast out to 1/4 inch thick. You can use a rolling pin or a meat beater. Either one works and both get frustrations out 😉
Repeat with all the turkey breasts until they are all flat.
Spread a layer of stuffing on each breast and roll them up.
Place them in the pan with the bottom side down.
Sprinkle the turkey with the mrs.dash, salt and pepper.
Bake for 30 minutes or until it reaches 150F degrees.
Let the turkey rest for 5 minutes before serving.
This meal is great served with mashed potatoes and veggies. You can make these tasty homemade mashed potatoes , that are a favorite in our house!