If you are looking for the best Christmas cookies then you are going to love these Christmas Pinwheel Cookies. Also known as Whoville cookies! This fun Pinwheel cookie recipe are perfect for any holiday party. This is seriously the best Christmas cookies recipe ever and these pinwheel cookies are sure to WOW everyone who tries them! The bright color are sure to put anyone in the holiday spirit.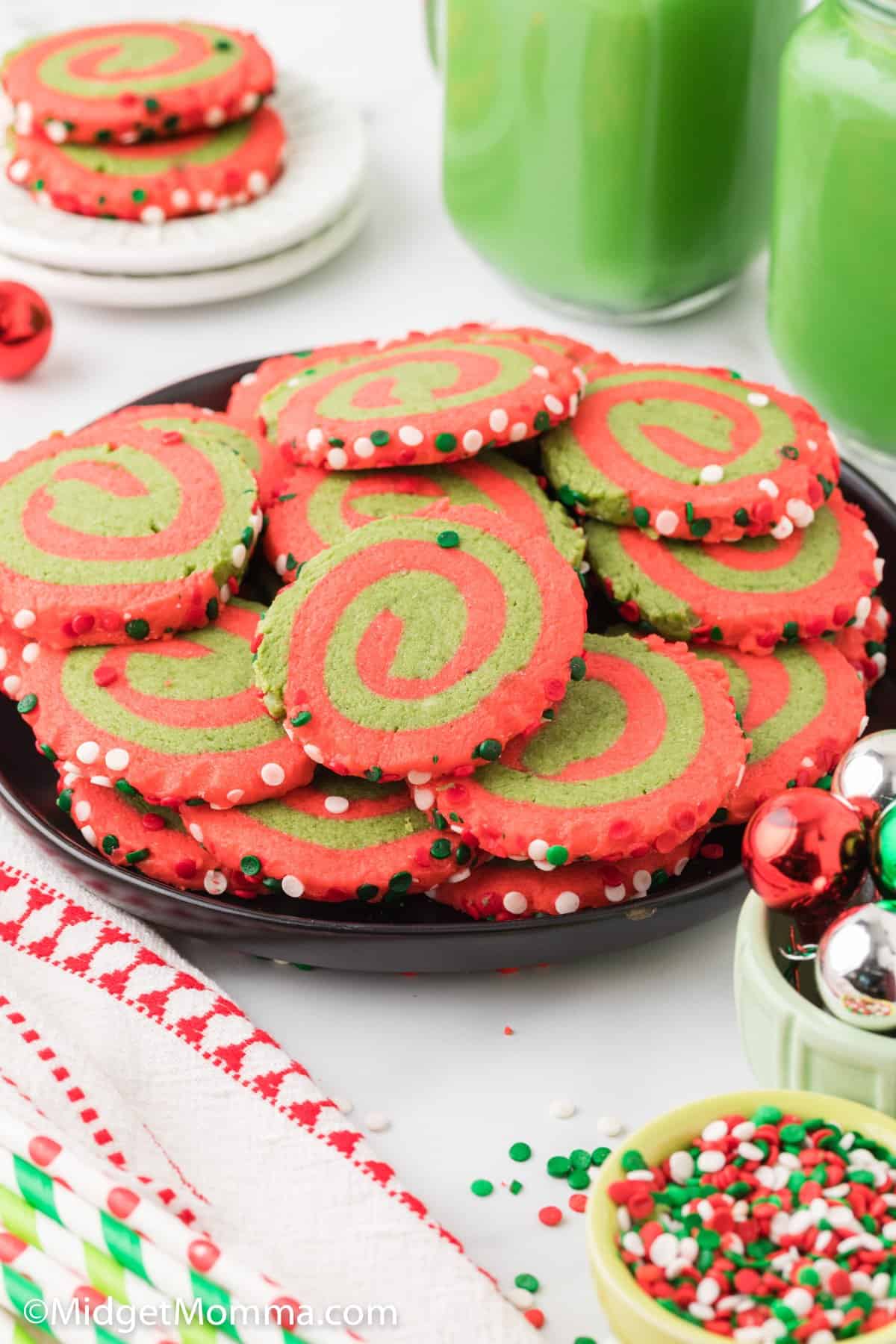 Christmas Pinwheel Cookie Recipe
Whoville Cookies are the perfect Christmas cookie to leave out for the Grinch to distract him from stealing your Christmas joy on Christmas Eve. You can change up the colors of this pinwheel cookie recipe to match any theme you have, but we keep them green and red in our house because tey are our special Whoville Cookies.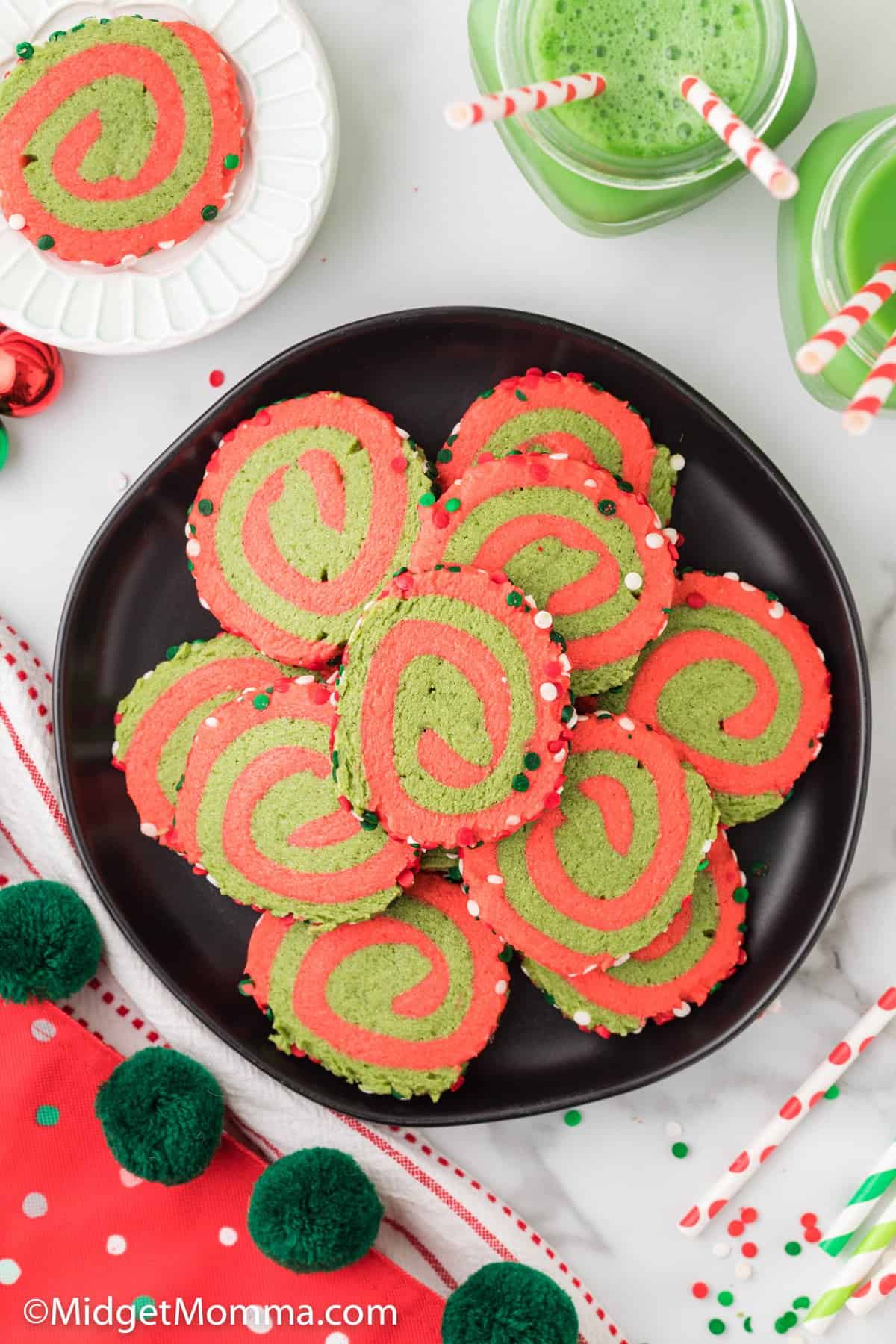 These Christmas sugar cookies are a fun take on pinwheel sugar cookies that are one of our favorite Christmas Sugar cookies to make. This Christmas sugar cookie recipe is one that my kids love for me to make each year, they are perfect for enjoying just because and everyone loves it when I bring them to cookie exchanges.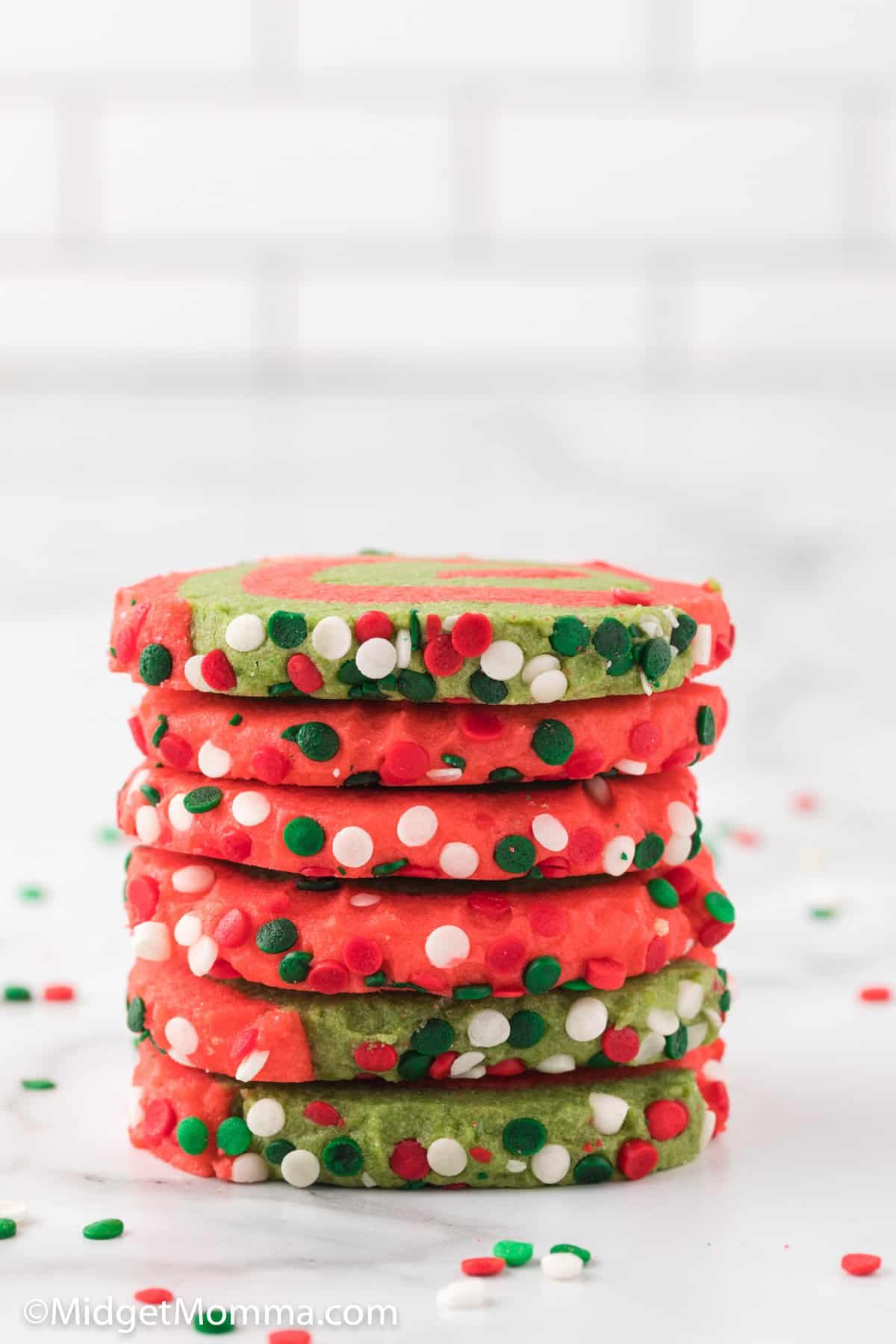 The Whoville sugar cookies are a fun, festive, and easy to make Christmas sugar cookie. Whoville Cookies look like they will take forever! We call them Whoville cookies in our house because we are big Grinch fans and love the Grinch movie. That is the movie that inspired this original recipe to be created. If you are looking for the original Christmas pinwheel cookie, also known as Whoville cookies then this is it. I know there are a lot of copycat recipes out there for these Christmas cookies, however, this is the recipe you want. We originally shared this recipe back in 2009 and it has been loved by so many people.
Don't tell your friends they don't take forever when you bring them to your parties, let them think you spent hours making these festive pinwheel cookies. If you love these make sure you also check out our Disney Frozen Ice Swirl cookies.
The Best Christmas Cookies Recipes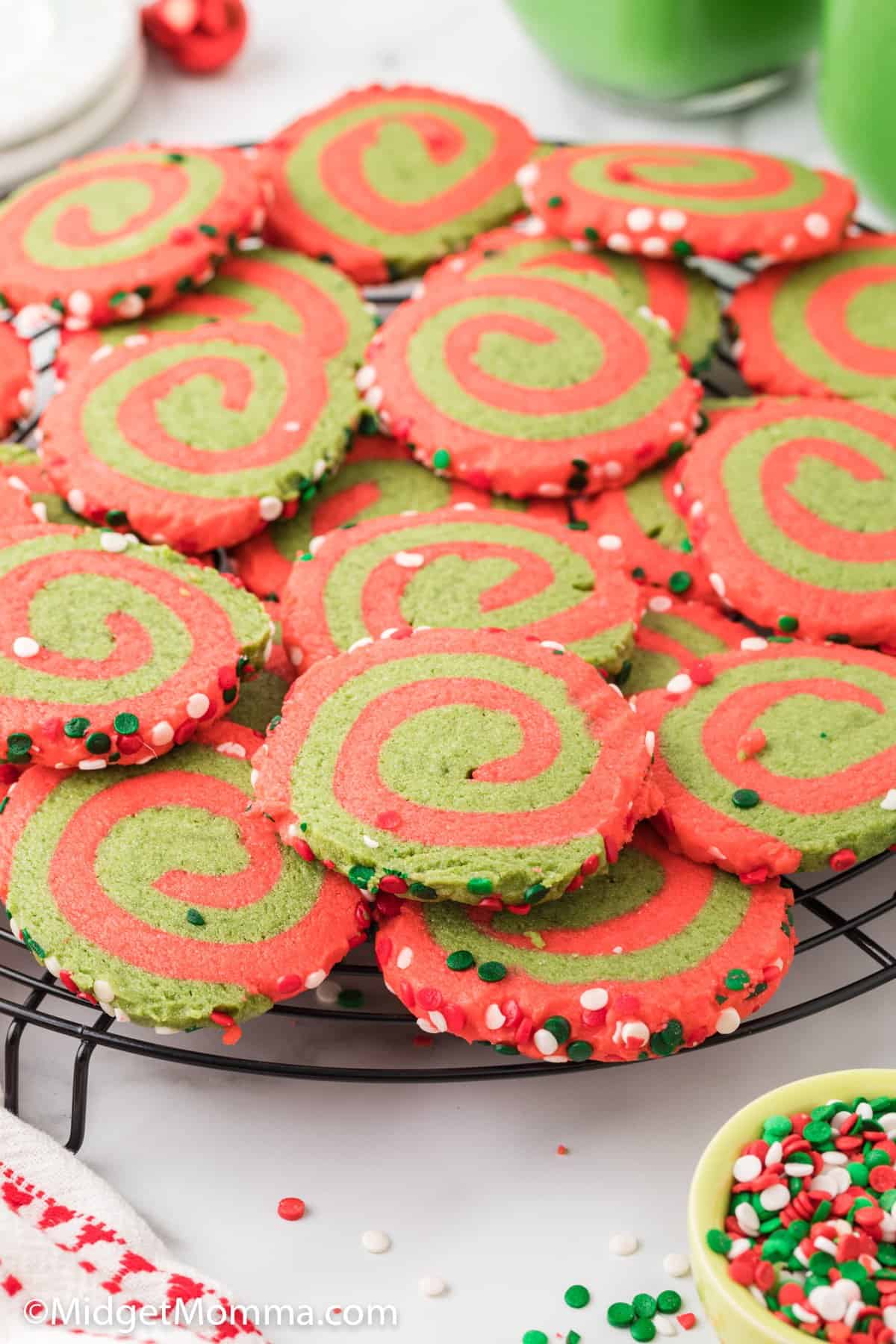 What are pinwheel cookies?
Pinwheel Cookies are a festive and colorful sugar cookies recipe that is made with sugar cookie dough, colored 2 different colors and rolled into a log., Then the cookie dough log is rolled in sprinkles and then sliced into cookie slices. They are then baked in the oven. These cookies are ones we make every holiday season and have made them for years. Red and green pinwheel cookies are our all time favorite Christmas cookie recipe.
Whoville Cookies are the best Christmas cookie to share with friends and family. Call them pinwheel cookies, Whoville Cookies, Christmas pinwheels, or any other name you want to, but know they are the best Christmas Cookie recipe to make this year.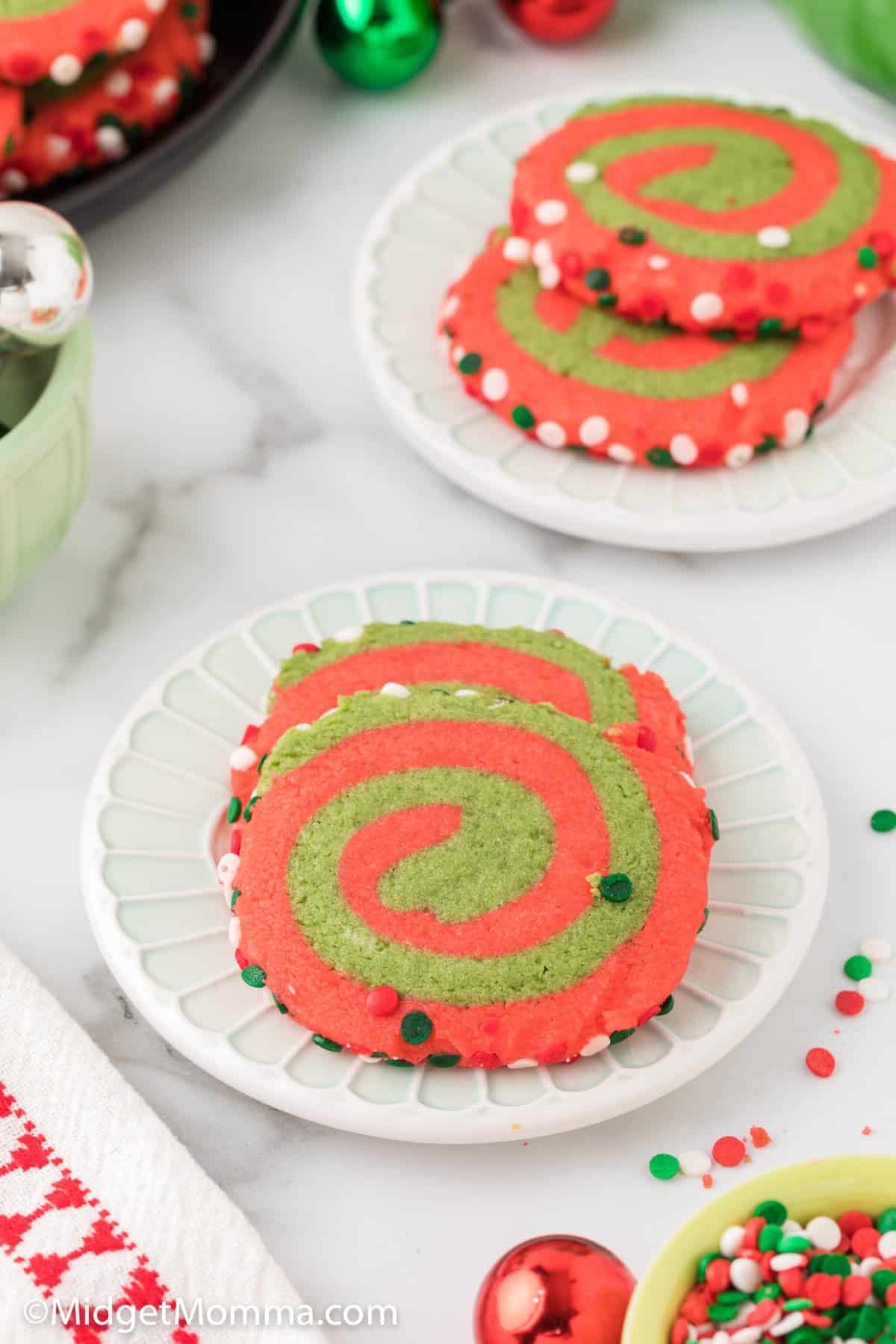 Tips for old fashioned pinwheel cookies
Chill time. Do not skip on chill time, the whoville cookies dough will be sticky, you need to make sure you are really keeping the dough cold to make the butter firm. After you roll it out the dough you need to place the dough in the fridge for at least an hour.
Use parchment paper. When you roll out the dough you want to make sure you are rolling it in between the parchment paper or wax paper or it will stick to your rolling pin.
Bright colors. You will want to use a good amount of food coloring to get the bright red and bright green colors of these easy pinwheel cookies. I suggest using gel food coloring but you can use liquid food coloring if that is all you have on hand.
Do I have to refrigerate the Pinwheel Cookie dough?
Yes! It is very important that you chill the pinwheel cookie dough at the times that the recipe says to otherwise you are going to have very soft cookie dough and it will make for runny cookies and not properly formed cookies.
How do you roll pinwheel sugar cookies?
When you are rolling pinwheel cookies it is actually quite easy. You will make each color dough you are using for the whoville cookies, then you will roll the dough into a flat piece and stack the dough colors on top of each other. Then using your hands roll the layered cookie dough into a roll.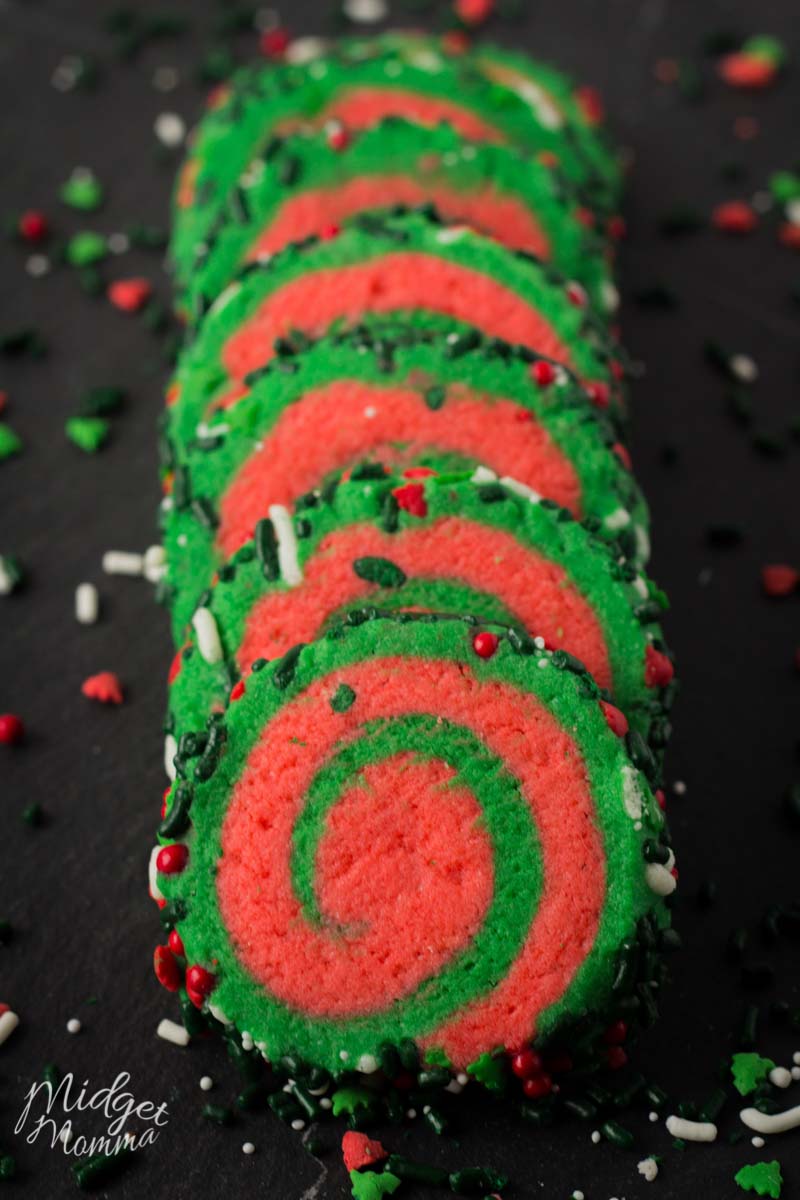 What are the best sprinkles to use?
You can use any sprinkles you want to when making whoville cookies, I stick with holiday sprinkles but you can also use nonpareil sprinkles.
How many cookies does this recipe make?
The recipe makes 4 dozen cookies.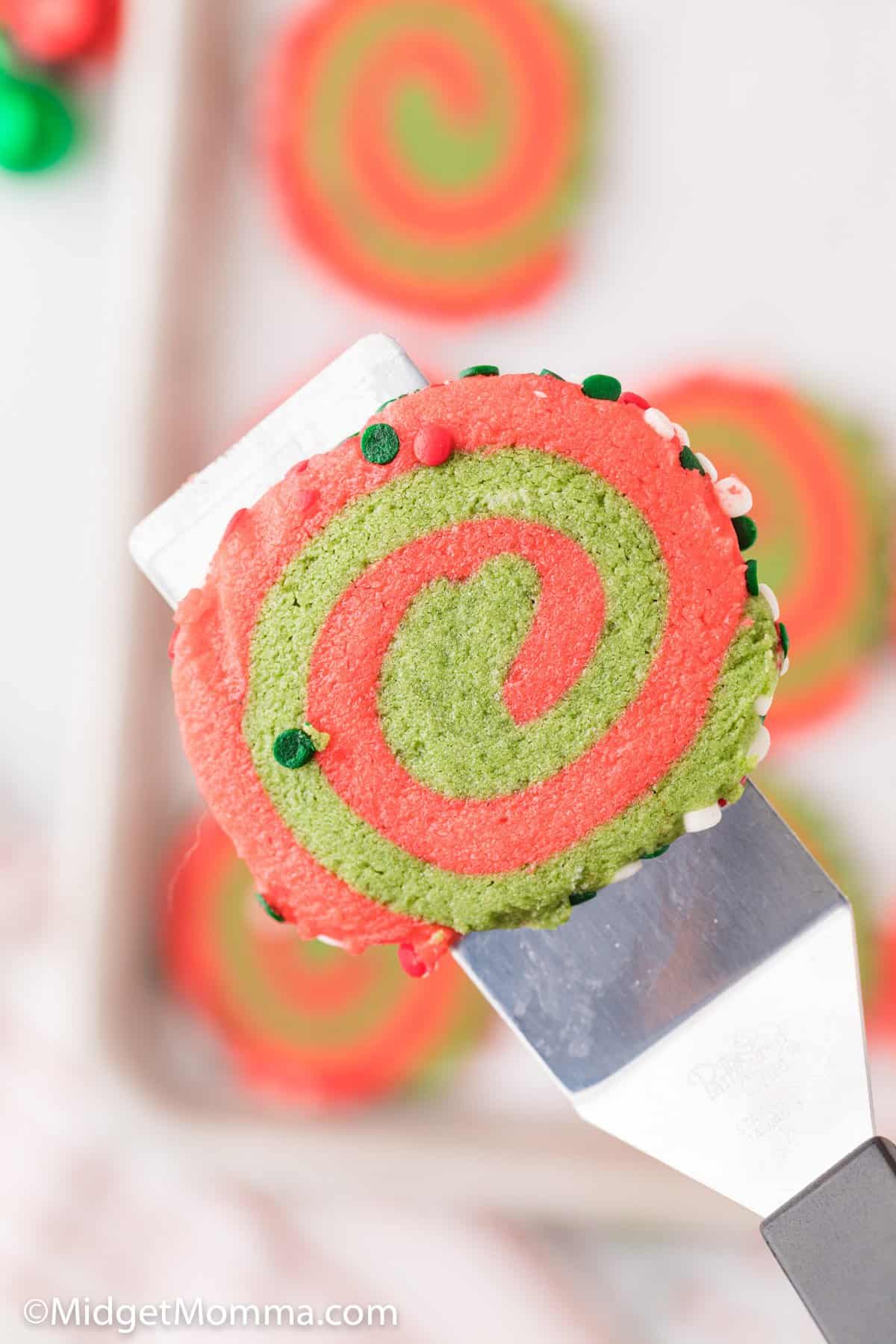 What if my cookie dough is sticky?
If for some reason the dough of these holiday pinwheel cookies is too squishy feeling you can add a 1/2 cup of flour to the dough after letting them chill for a little bit longer in the fridge.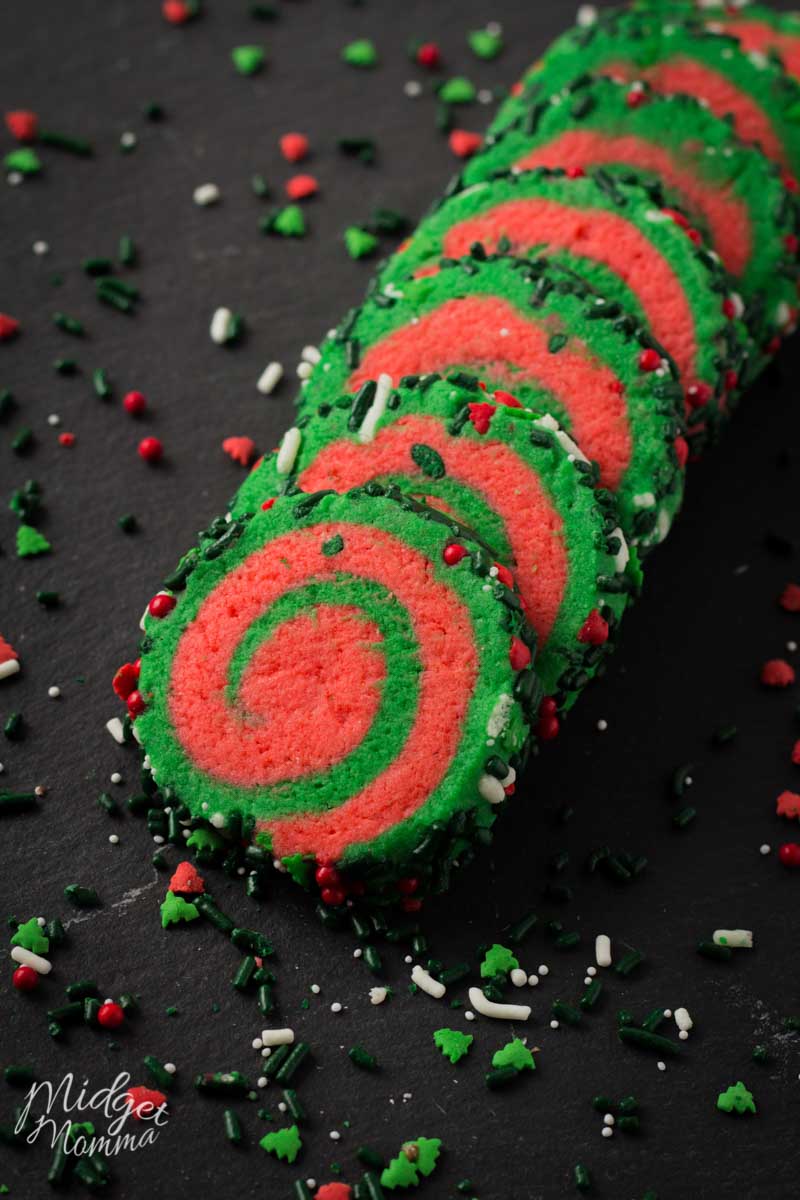 Pinwheel Cookie Flavor Variations
If you want to change the flavor of the pinwheel cookies you can easily by changing out the vanilla extract for a different flavor clear extract.
Make peppermint pinwheel cookies using Peppermint extract.
Almond pinwheel cookies using almond extract.
Make Coconut pinwheel cookies using coconut extract.
Make lemon flavored by adding lemon extract and some lemon zest.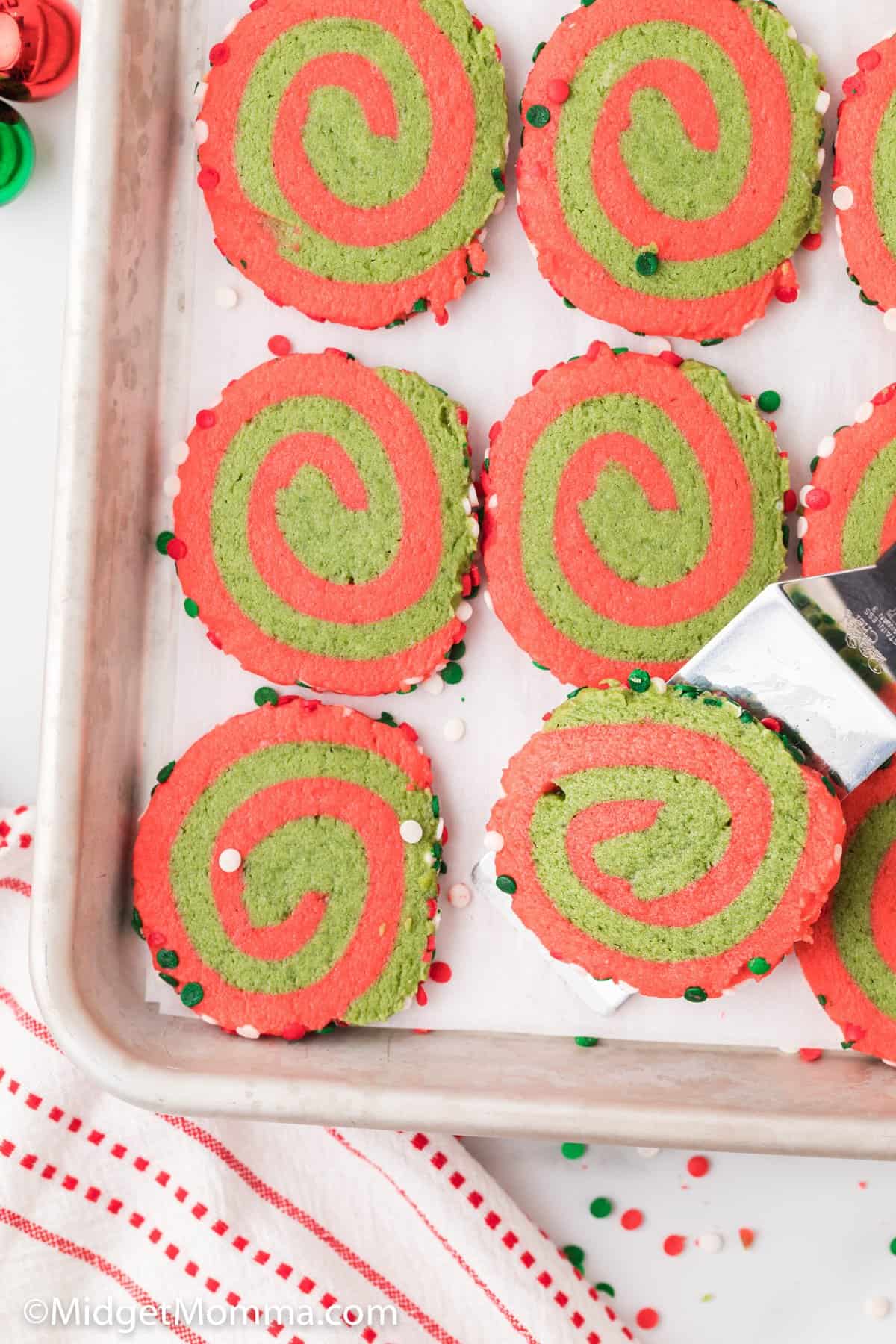 How to Store Pinwheel Cookies
Baked pinwheel cookies need to be stored in an airtight container. These cookies will keep for one week on the counter in an airtight container.
Can I Freeze Pinwheel Cookies?
If you are wanting to make the cookies ahead of time and freeze them you can. They will keep in the freezer for up to 3 months.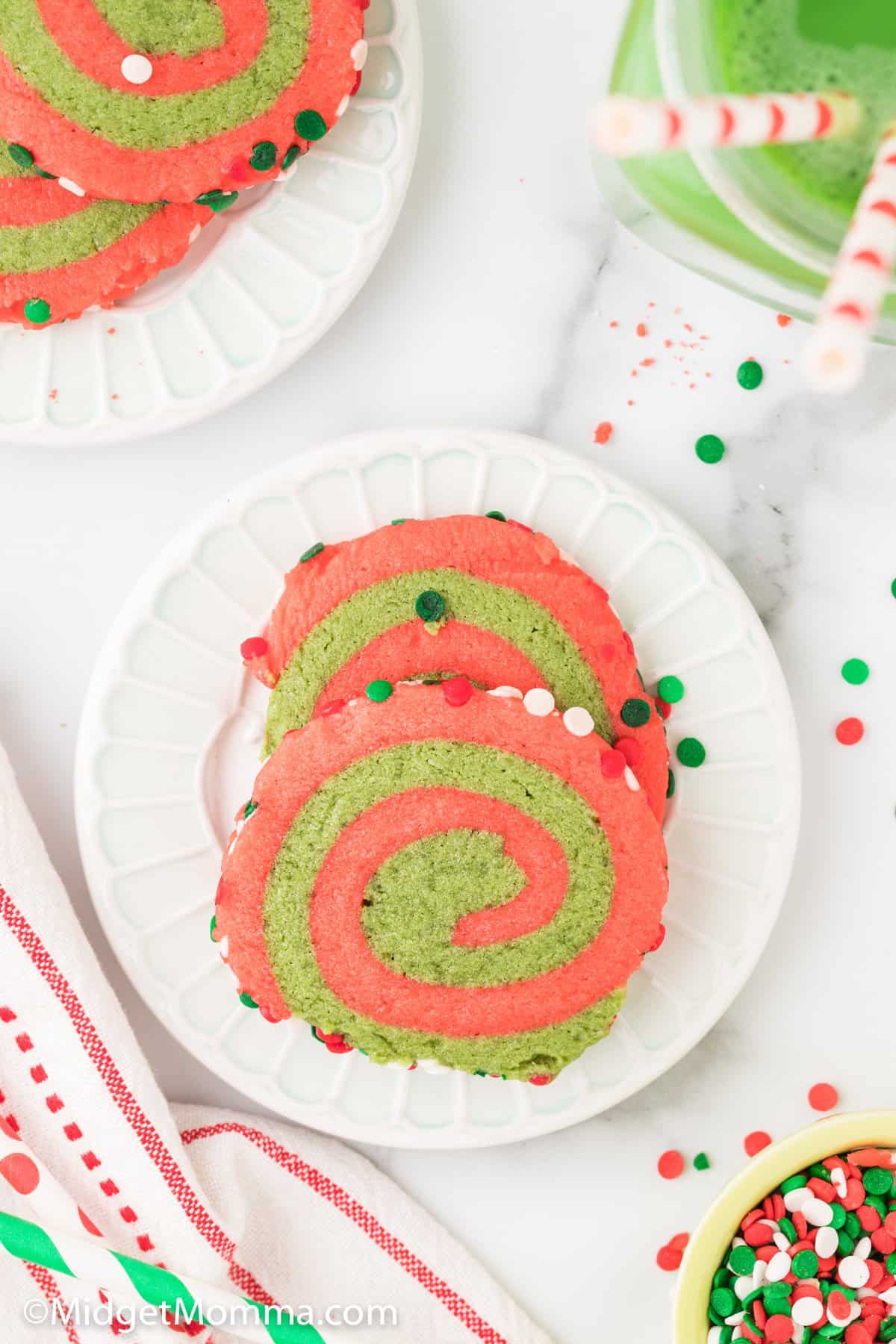 Can I make these cookies ahead of time?
You can make these pinwheel cookies ahead of time and then keep the cookie dough wrapped in plastic wrap for up to 2 days in the fridge. Just follow the steps until the rolling step, roll the dough together, and then wrap the sugar cookie dough roll in plastic wrap and store it in the fridge. Bake per directions when you are ready to bake them.
Can I freeze Pinwheel Sugar cookie dough?
You can freeze the cookie dough as a cookie dough log and wrap it well with plastic wrap and put into a freezer bag. Or you can slice the cookies and then place them on a cookie sheet and freeze. Then remove from the cookie sheet and place in a freezer bag and store in the freezer bag in the freezer. Before baking from being frozen, remove the cookie from the freezer and thaw for 30 minutes before baking. Unbaked cookie dough will keep in the freezer for up to 6 months.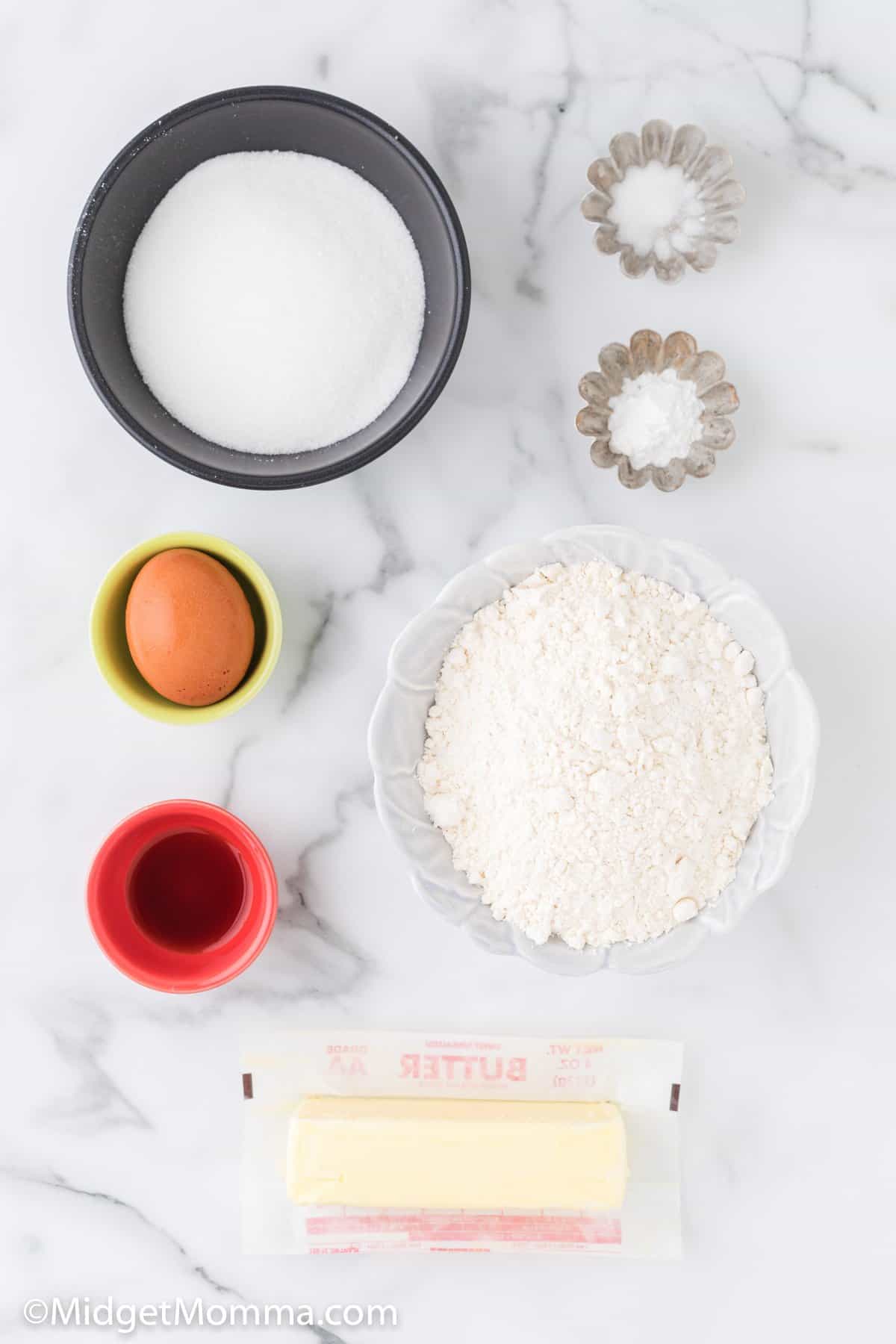 Christmas Pinwheel Cookies Ingredients
All purpose flour
baking powder
salt
granulated white sugar
butter
eggs
vanilla extract
Red food coloring
green food coloring (The brighter you want them the more food coloring you will use, I use 1/2 tablespoon per color of food coloring).
holiday sprinkles
How to Make Christmas Pinwheel Cookies
Add the sugar and butter into the bowl of a stand mixer and mix on medium speed with the paddle attachment of your stand mixer to combine butter and sugar until the mixture is fluffy. Normally takes about 5 minutes. If you do not have a stand mixer then you can use a large bowl and an electric mixer.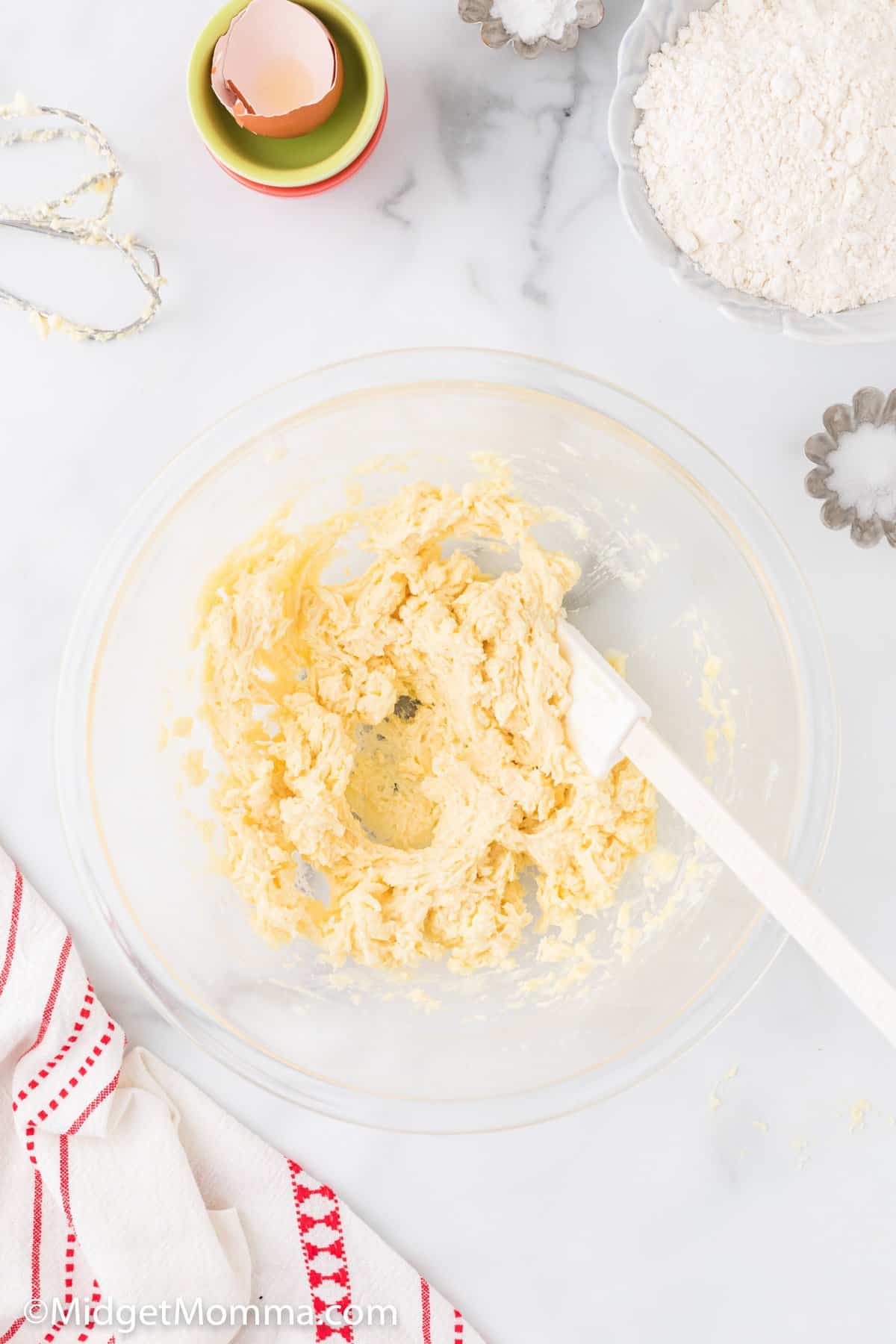 Once the sugar and butter are creamed together, add the egg and vanilla extract.
In a separate large bowl add the dry ingredients and mix well.
Next, add the dry ingredients (flour mixture) to the sugar and butter mixture, mix well.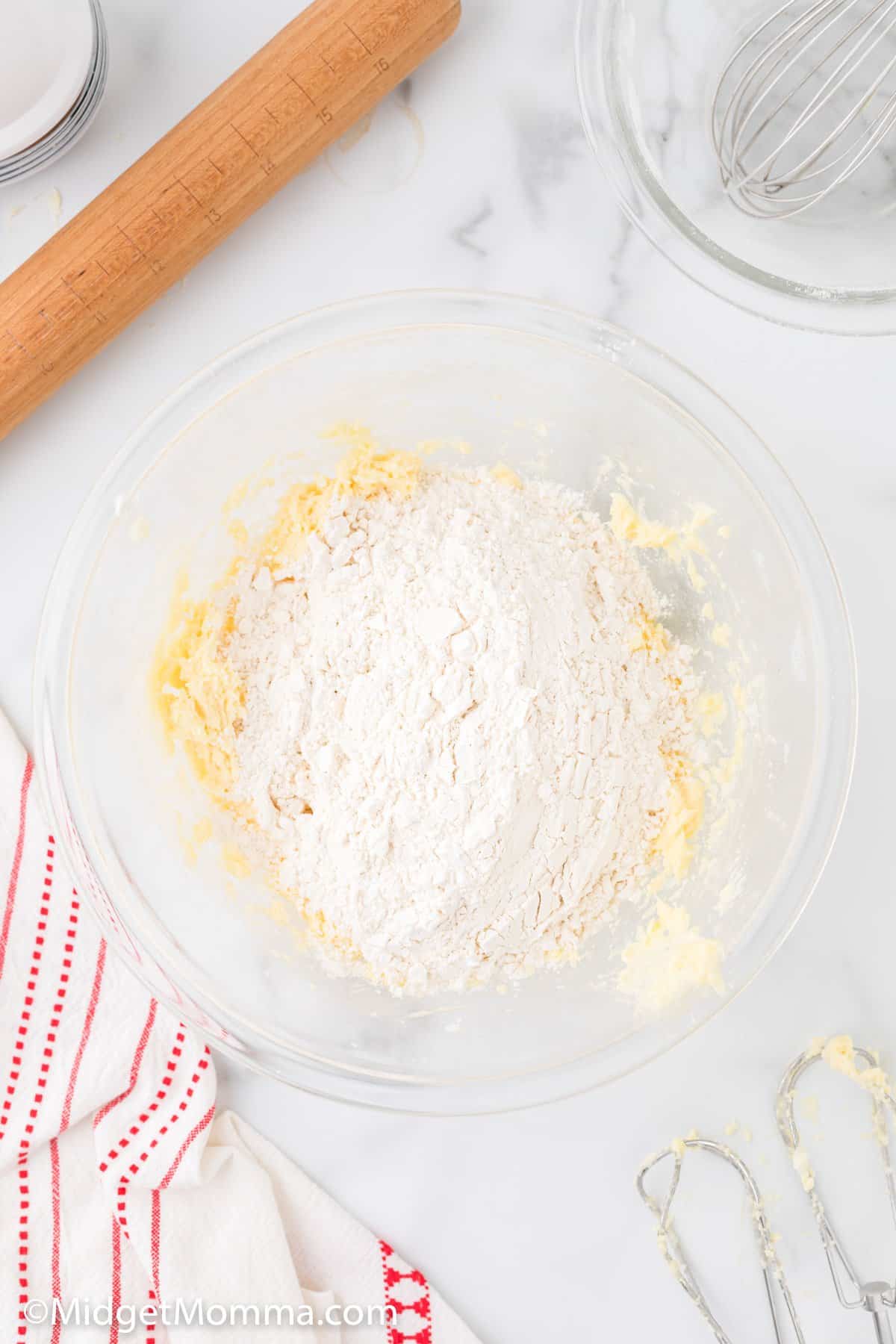 Once the dough is made, divide dough into two equal parts.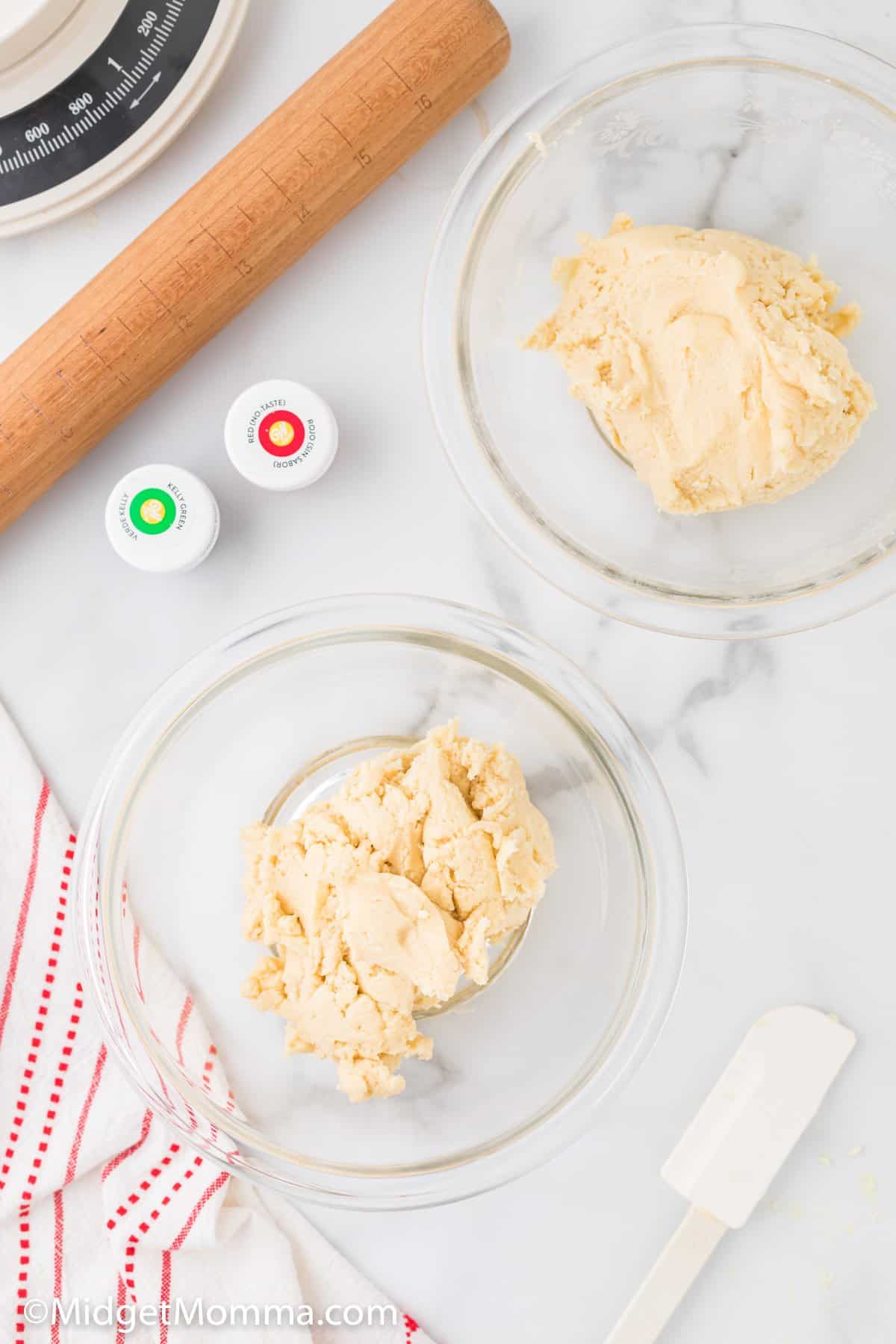 Using red food coloring color half of the dough red.
Color the other half of the sugar cookie dough green with the green food coloring.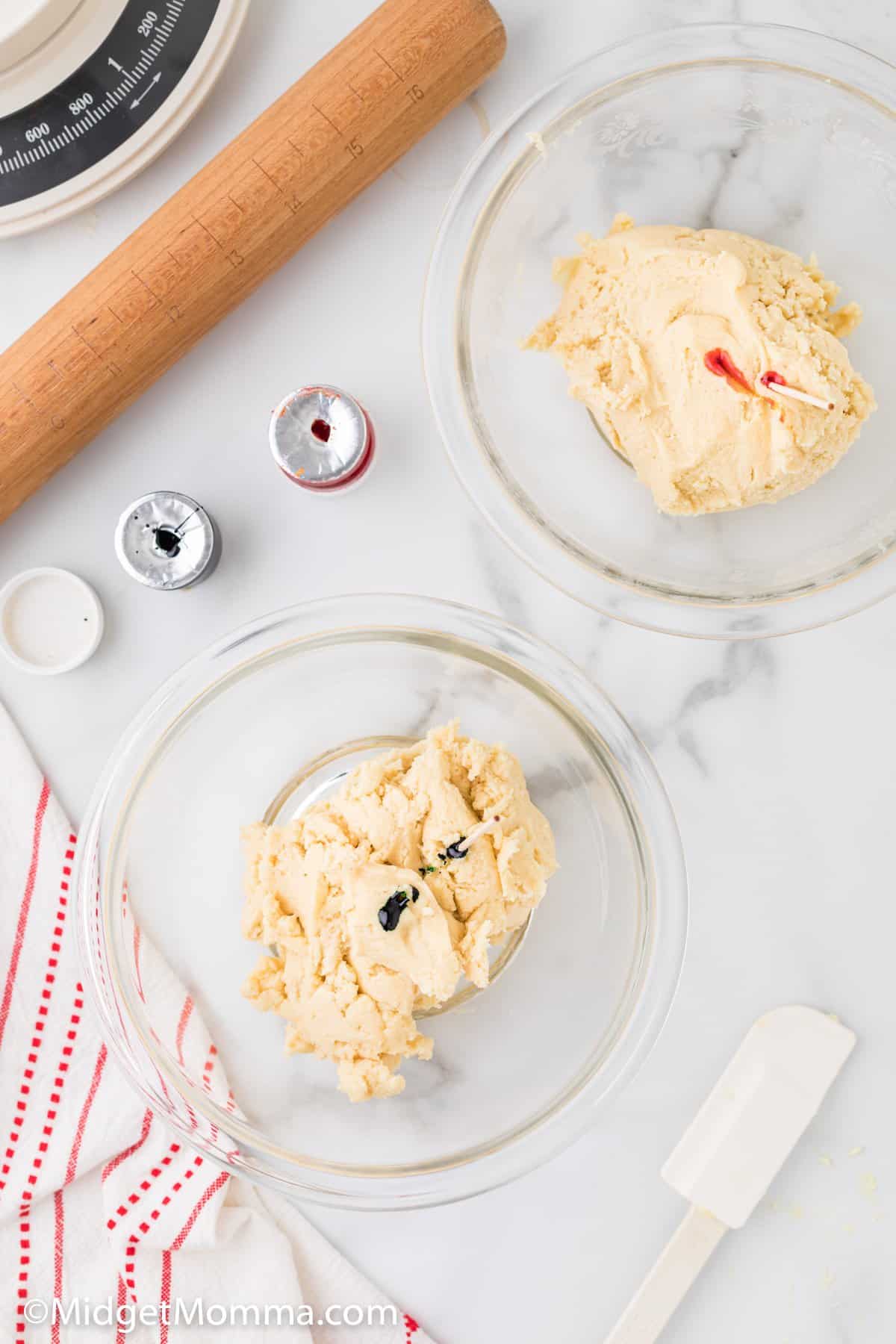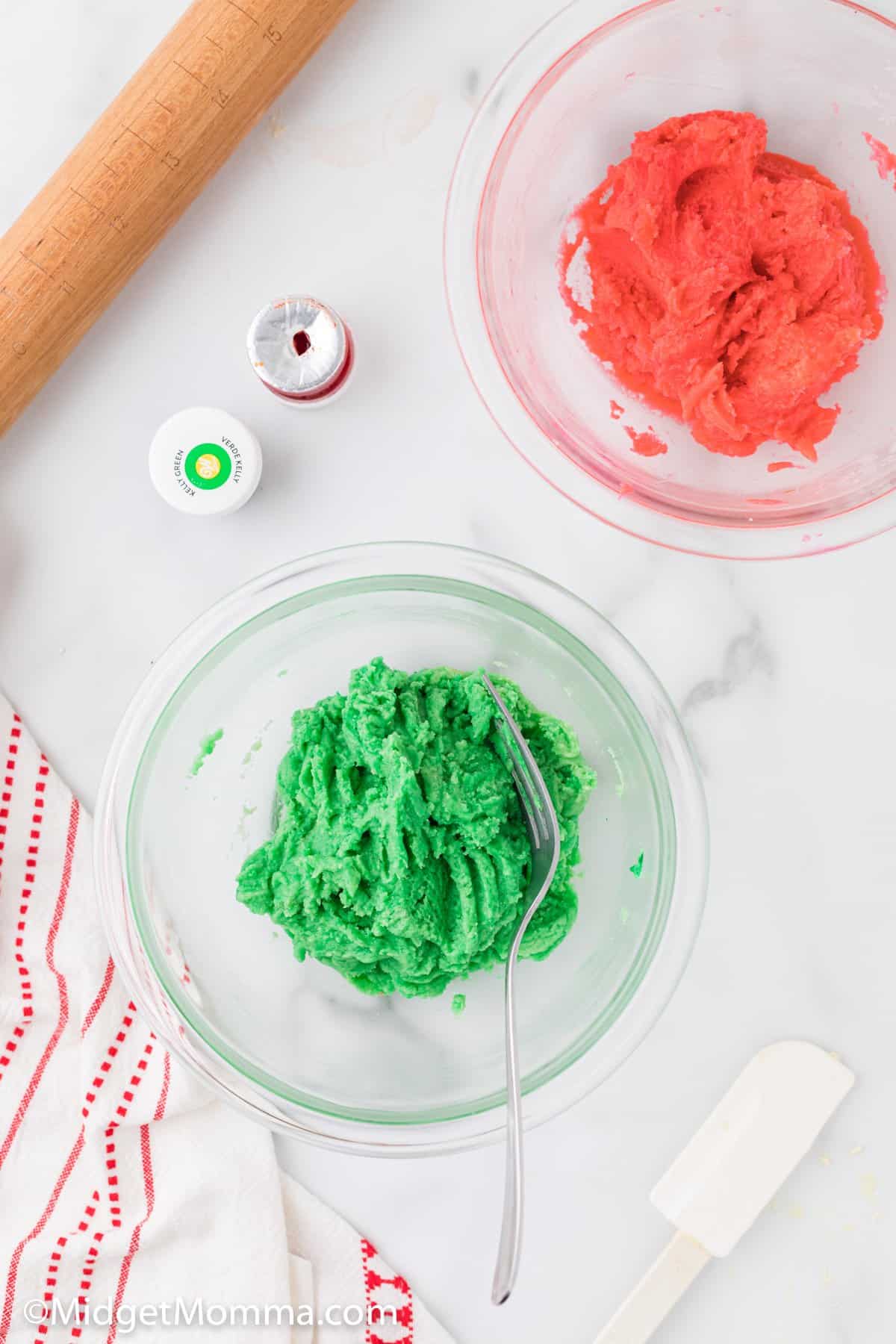 Put the freshly made red dough between two sheets of parchment paper and roll 11 x 9 inches rectangle and 1/4 inch thick.
Next, put the green dough between two pieces of parchment paper and roll out to an 11x 9 rectangle and 1/4 inch thick.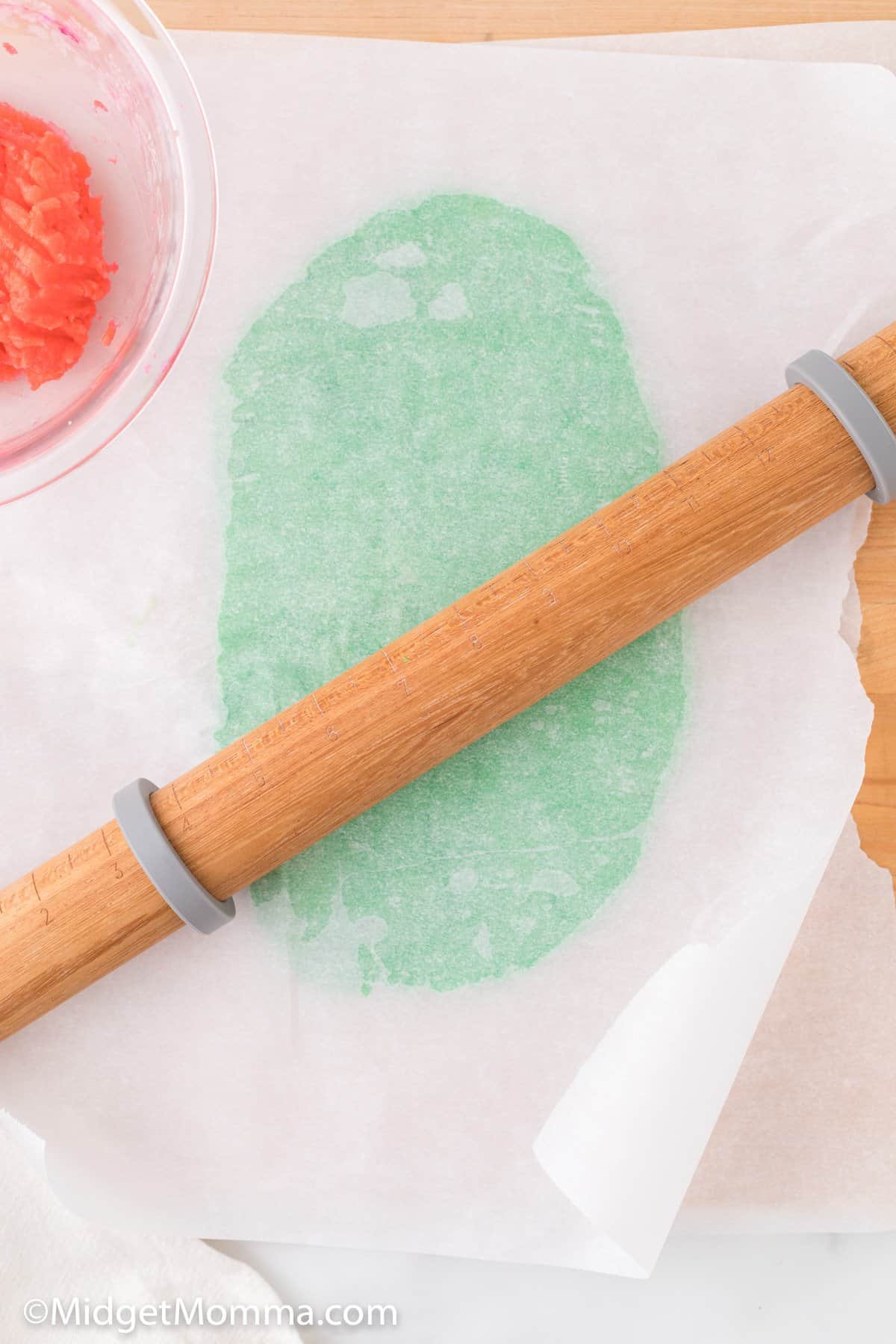 Place both pieces of dough, including the parchment paper onto a cookie sheet and place in the fridge for at least 10 minutes to chill the dough.
Once the dough is chilled, remove the dough from the fridge. Take the top piece of parchment paper off each piece of colored dough.
Lightly wet one side of each colored dough sheet with a tiny bit of water. You can do this with a brush or your fingers. You do not want it overly wet, but wet enough that the two dough pieces will stick together.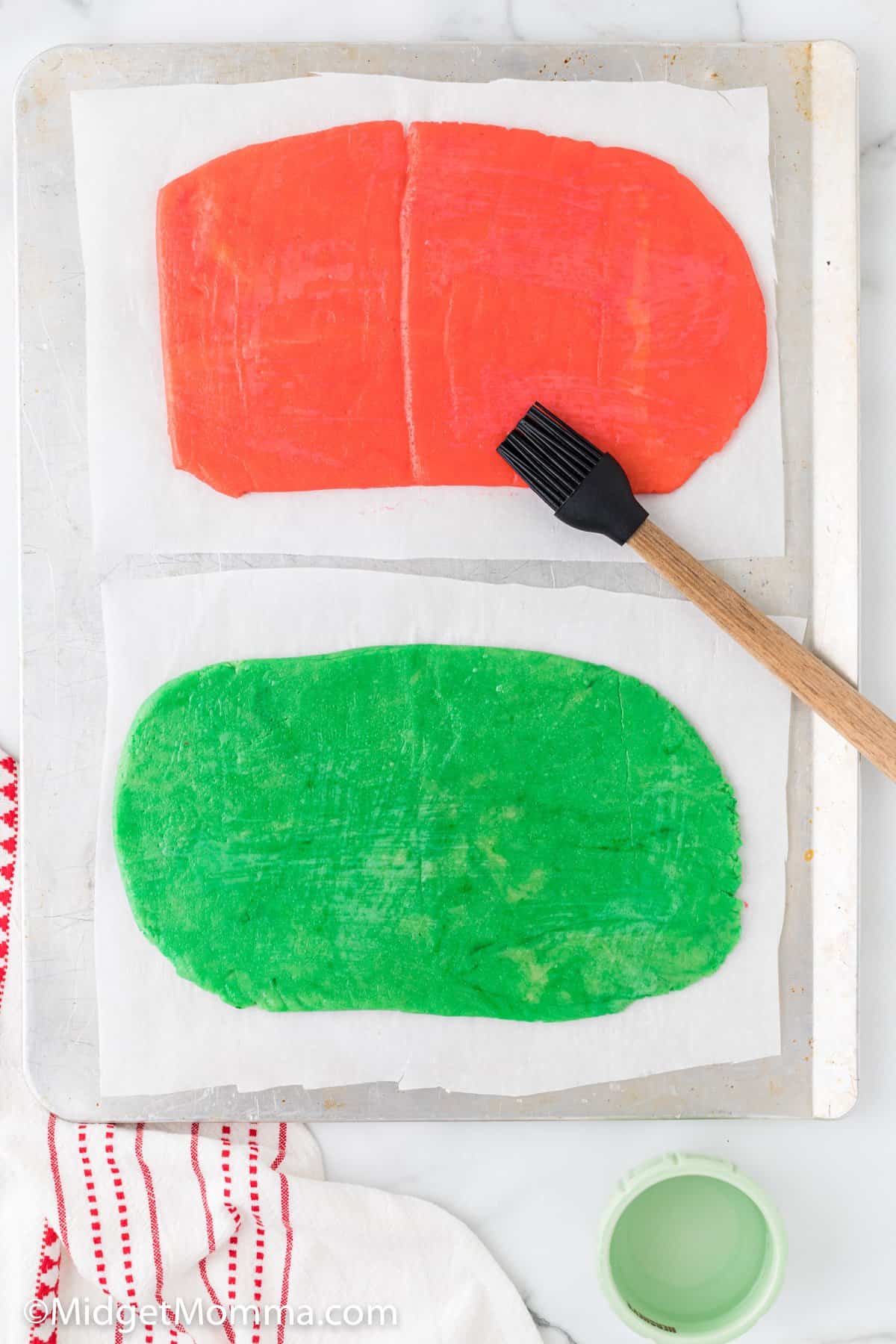 Stick the two pieces of dough sheets together with the wet sides of each touching and sandwich them together. Make sure while doing so the parchment paper is on the outside of each color.
Using a paring knife or a sharp knife trim the edges of the dough to make them the exact same size, so you have a red and green rectangle shaped cookie dough.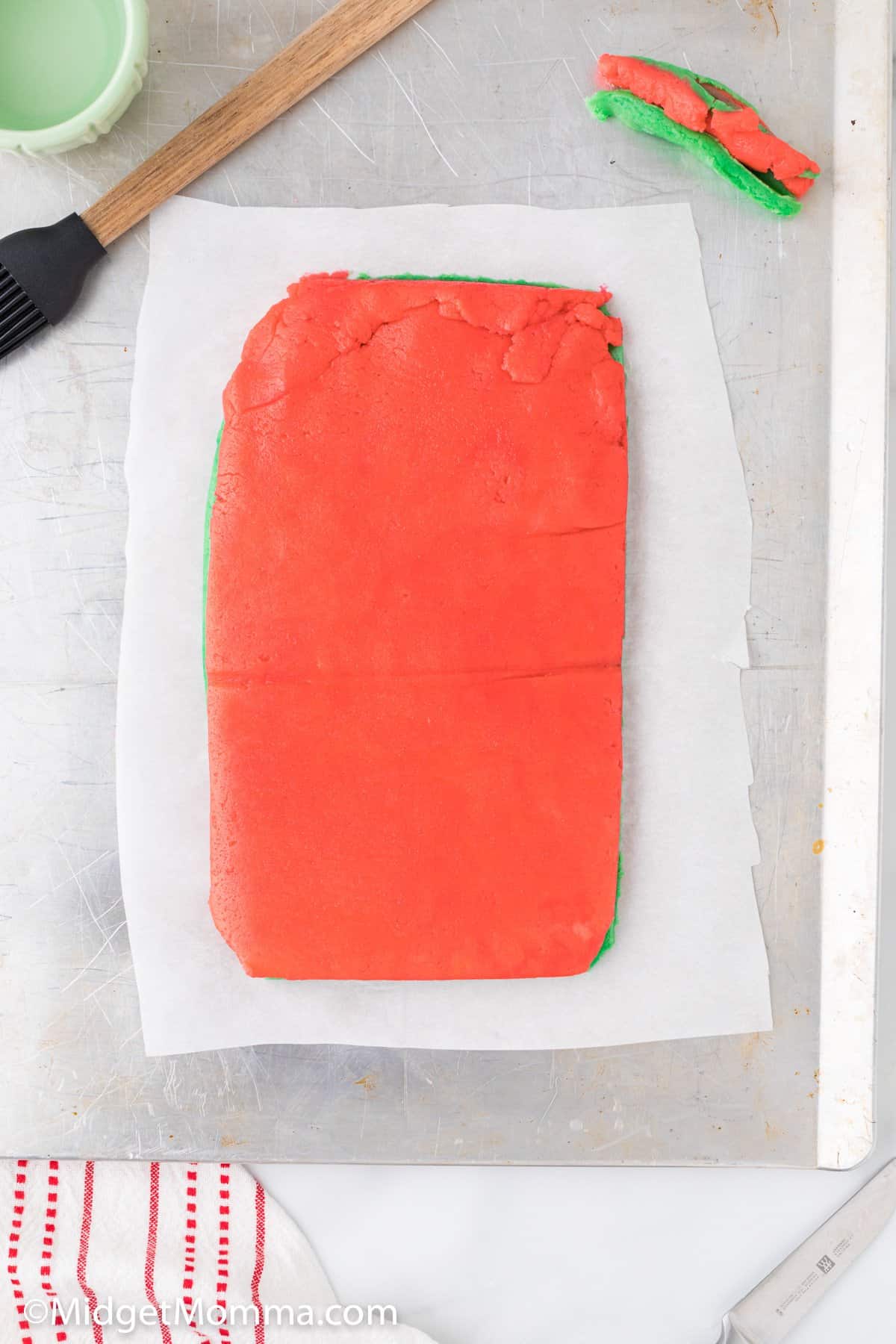 Remove the top layer of parchment paper, leaving the piece of parchment paper that is on the bottom of the dough still there and start rolling up and use the bottom layer of paper to pull it tight, remove the parchment paper as you roll the cookie dough log. If the dough tears while you roll you can just pinch it together, be sure to roll dough tightly to form a dough log.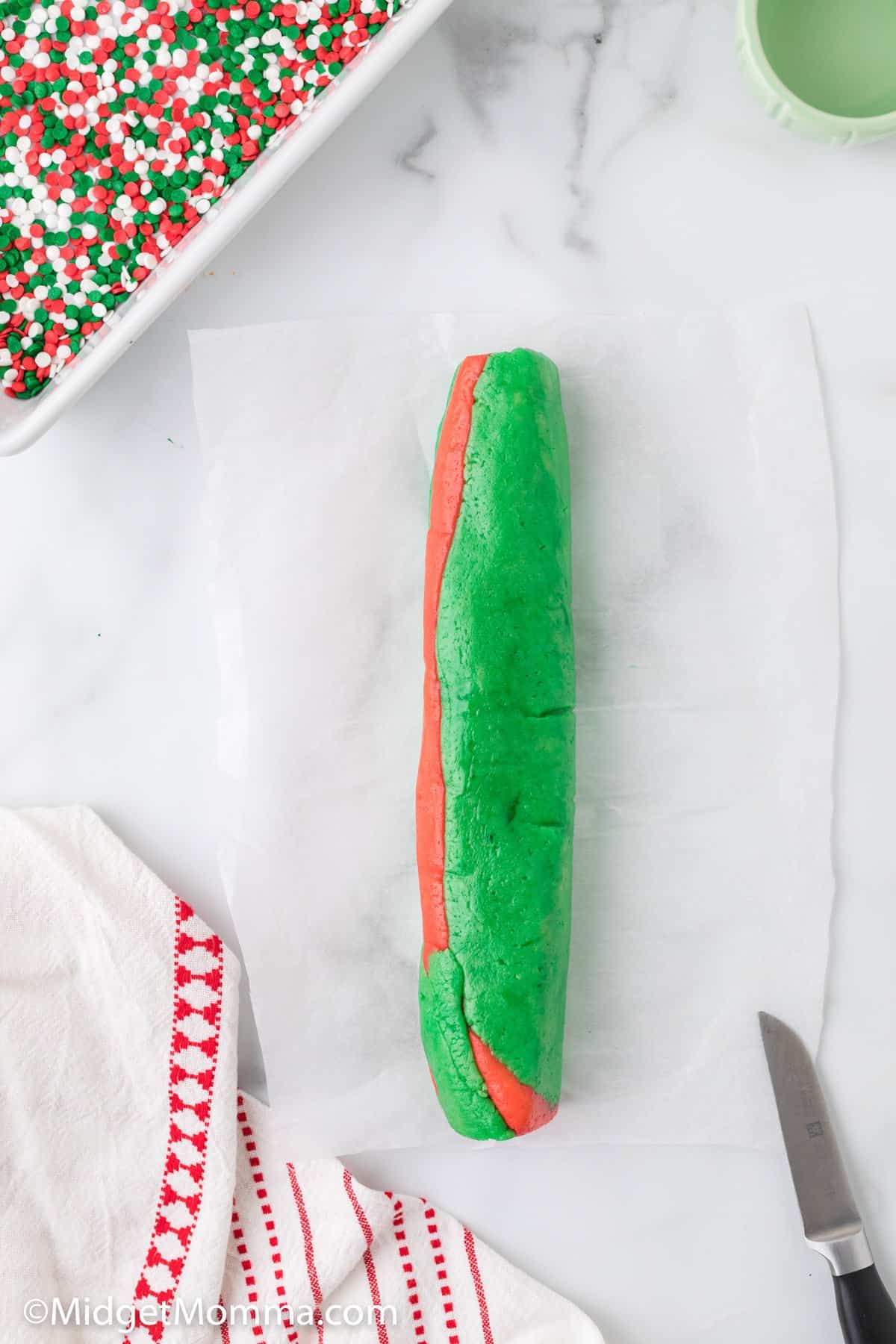 Pour the sprinkles onto a large platter and roll the roll of cookie dough in the sprinkles and press them in if needed so the cookie dough is fully covered with the sprinkles. You want the whole outside of the log to be covered in sprinkles.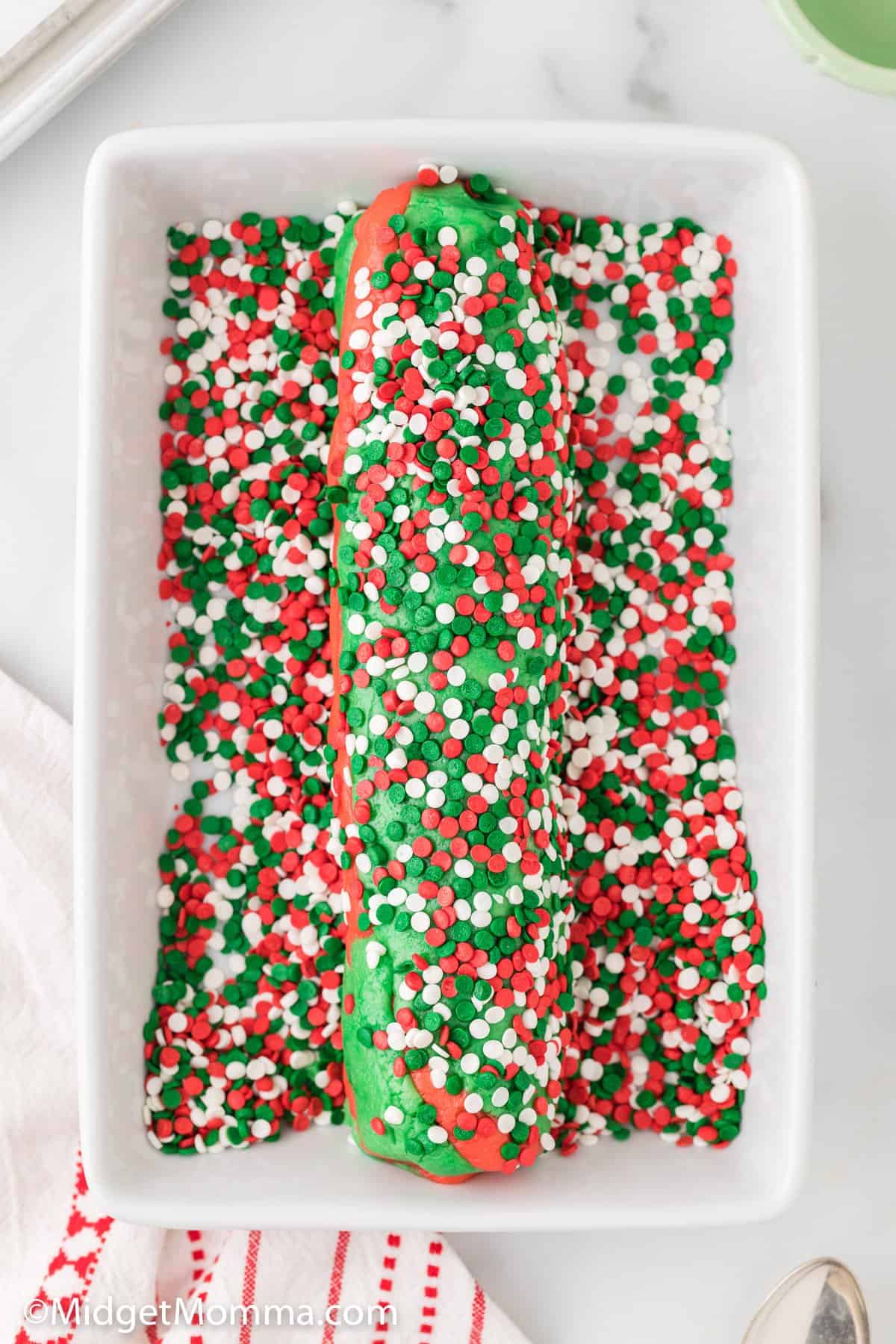 Place the dough log into the fridge for 15 minutes or longer to chill.
Once the cookie dough is chilled, remove it from the fridge, and using a sharp knife slice the cookie dough log into 1/4 inch thick slices. Before slicing the cookie dough, preheat the oven to 325°.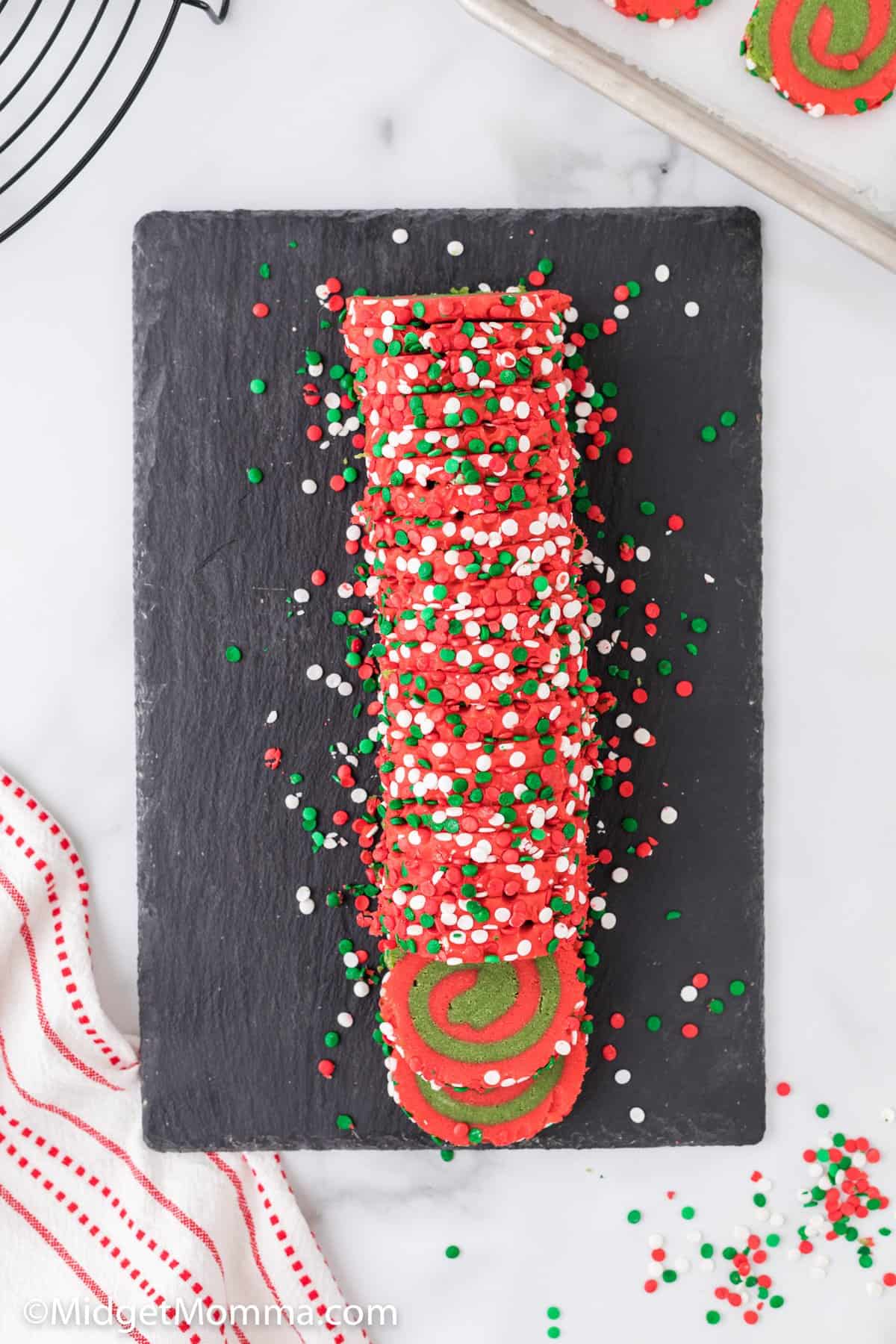 Place the unbaked cookies onto parchment paper lined cookie sheets.
Bake in the oven at 325° F for 10 -15 minutes.
Remove the cookies from the oven and allow them to sit on the baking sheet for 5 minutes. Then remove them from the baking sheet and cool on a wire rack.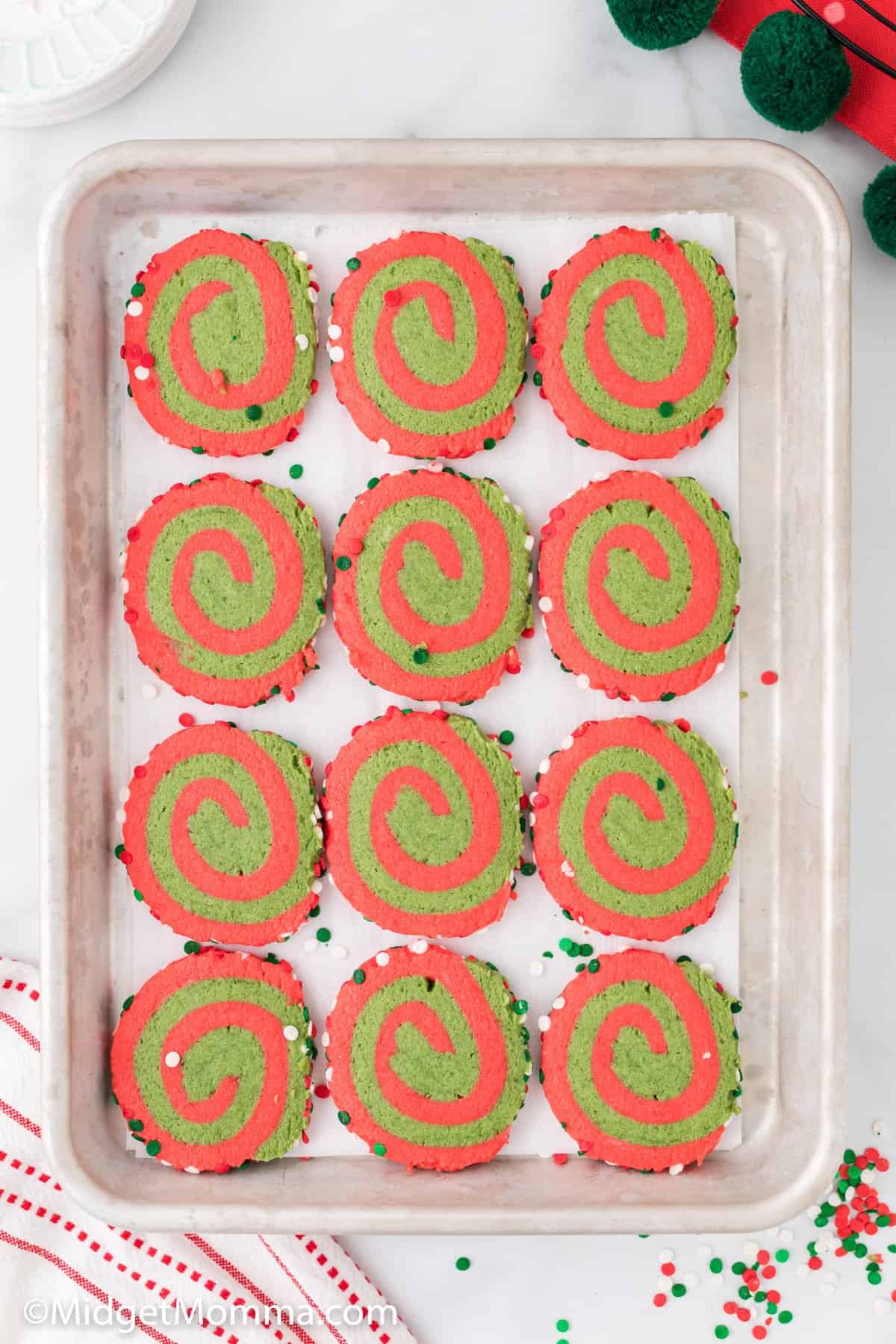 Best Christmas Recipes
Make sure you also check out 16 Christmas Themed Treats for kids, including Rice Krispie Trees, Santa hat cupcakes and more! Need more Christmas cookies? Check out 25 Days of Christmas cookies Recipes and 12 Days of Christmas cookies for more amazing Christmas cookie recipes!
Cookie Making Supplies
Want delicious cookies that come out perfect every time? Check out some of our favorite tools to make super easy cookies with fun decorations!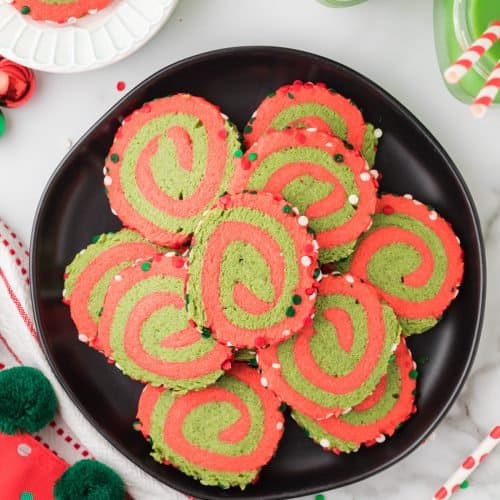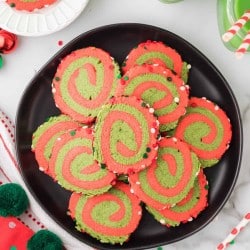 Whoville Cookies – Christmas Pinwheel Sugar Cookie Recipe
Servings cookies
Christmas pinwheel cookies (Whoville Cookies) are fun to make & delicious to eat. This Pinwheel Sugar Cookie is our favorite Christmas Cookie
Instructions
In a large bowl, Cream sugar and butter until fluffy, about 5 minutes.

Add eggs and vanilla.

Mix dry ingredients in separate bowl and add to butter mixture, mix well.

Separate the dough in half and color one part red and one part green.

Put one of the freshly made dough between two sheets of parchment paper and roll 11 x 9 inches and 1/4 inch thick.

Repeat with the other color dough.

Put the rolled dough including the parchment paper, on a cookie sheet and refrigerate for 10 minutes or longer.

Take the top layer off both dough's and lightly wet the tops. Sandwich the two colors together, using a paring knife trim the edges to make straight edges.

Remove the top layer of paper and start rolling up and use the bottom layer of paper to pull it tight. If the dough tears you can just pinch it together.

Poor the sprinkles onto a large platter and roll the log in the sprinkles and press them in. Place the dough into the fridge for 15 minutes or longer.

Slice the dough into 1/4 inch slices and bake on parchment lined sheets.

Bake at 325° F for 10 -15 minutes. Let cool.
Serving: 1cookie | Calories: 82kcal | Carbohydrates: 10g | Protein: 1g | Fat: 4g | Saturated Fat: 2g | Cholesterol: 17mg | Sodium: 57mg | Potassium: 28mg | Fiber: 1g | Sugar: 4g | Vitamin A: 128IU | Calcium: 10mg | Iron: 1mg
christmas, pinwheel cookie, whoville cookie
cookies
4 Weight Watchers Smart Points per cookie.
Join the newsletter
Subscribe to get our latest recipes right in your inbox every time we post a new one!