Ever have Cinnamon Sugar Tortilla Chips? Want to make some at home? Use this recipe for dessert tortilla chips to have a sweet treat that has a nice crunch. With only 4 ingredients, these cinnamon  tortilla chips are super easy to make as a quick snack everyone will love!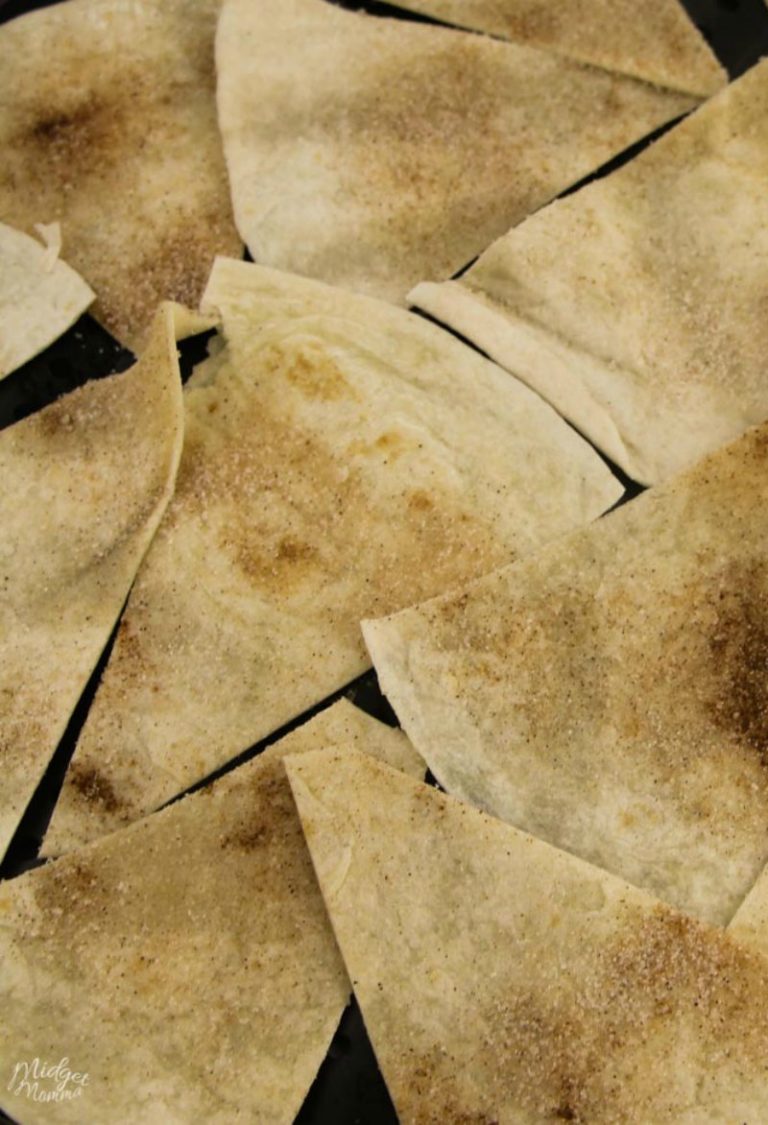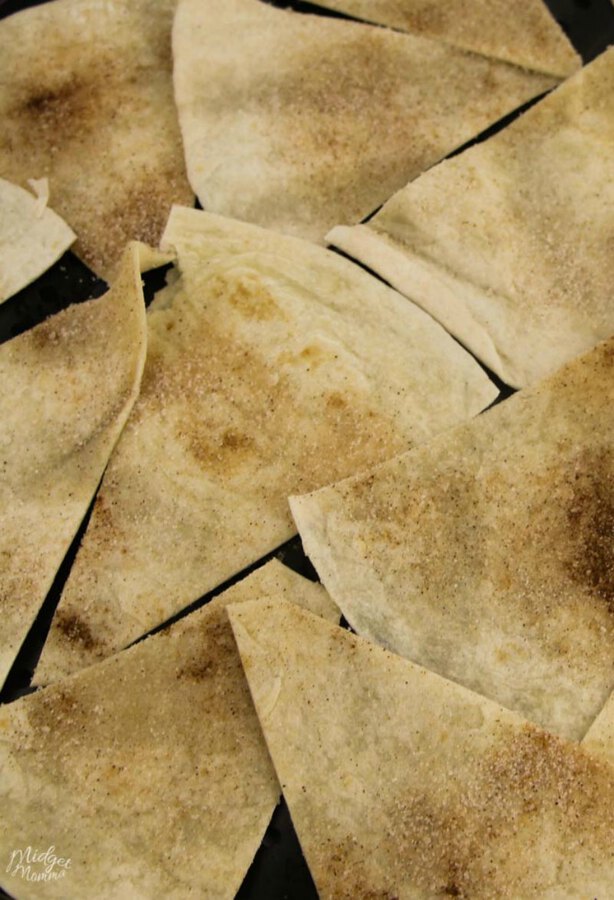 Cinnamon Sugar Tortilla Chips
Dessert Tortilla Chips are served at many restaurants. These tasty little chips are great for a quick snack or dessert. Since they are so easy to make, you can whip up a batch anytime. Serve these dessert tortilla chips with Strawberry Salsa Dessert. The two make a perfect combination.
When the kids are looking for something sweet, I know that I can make a batch of these cinnamon tortilla chips in no time. This recipe is so easy to make, even my youngest can help make it. This snack is so easy to make, the kids can even make them by themselves, and often times I have found my oldest in the kitchen making getting started with out me even helping her!
Looking for more snacks? Check these out!
Crunchy and Sweet Tortilla Chips
Sometimes, you need a sweet snack. Sometimes, you want a crunchy snack. With these tasty oven baked chips, you get both at the same time!
They get a the perfect crunch from being baked in the oven. They have the perfect sweet but not to sweet taste with the combination of sugar and cinnamon!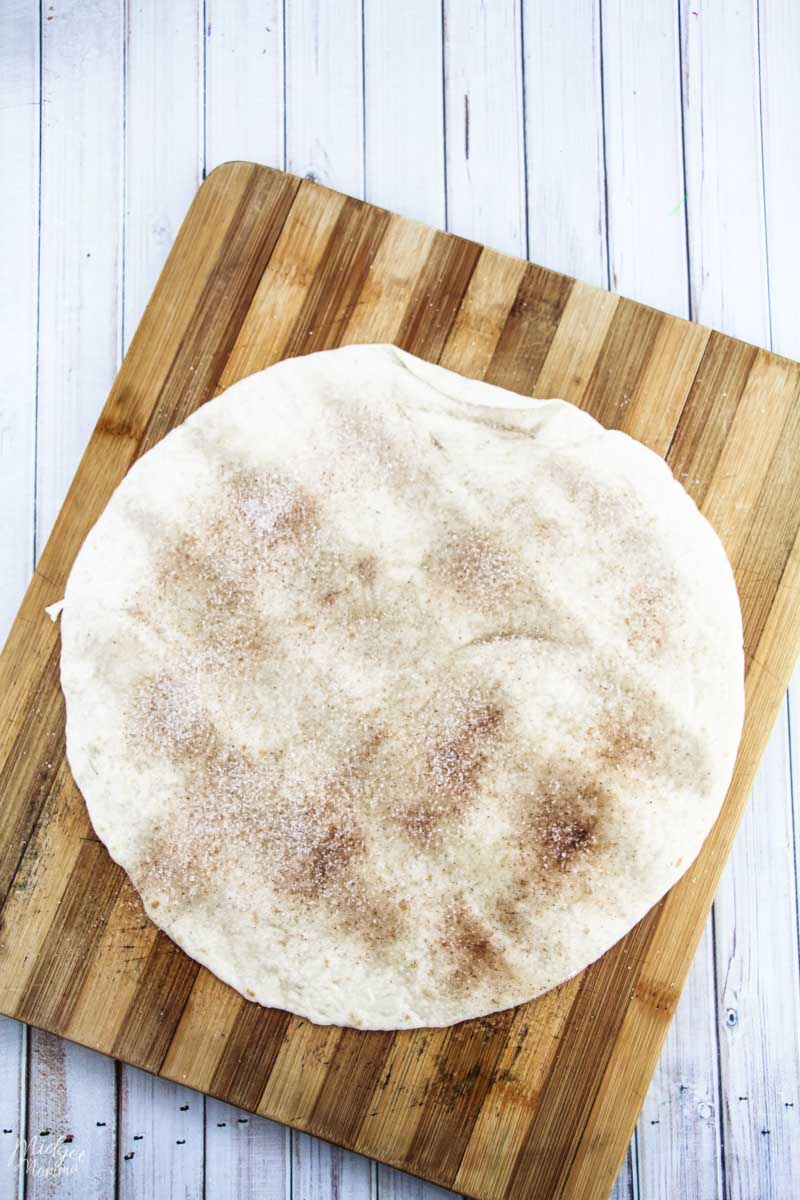 Gluten Free, Low(er) Carb, or Healthier Dessert Chips
If you have gotten cinnamon sugar tortilla chips from a restaurant or store-bought, you might see that most of them are made from flour tortillas. If you need a gluten-free version of these cinnamon sugar tortilla chips, you can make them using corn tortillas.
If you don't need a gluten-free version, but want a lower carb or healthier version, you can use low carb tortillas or whole wheat tortillas. By making these dessert tortilla chips at home, you can change it up to fit what you need.
How to Store Baked Cinnamon Sugar Tortilla Chips
If you have more cinnamon sugar tortilla chips that you can eat at one time, you can store the baked sugar and cinnamon tortilla chips for a few days in an airtight container. Since these dessert chips taste great fresh from the oven and eaten warm, or at room temperature, it is ok to keep them for a few days.
However I can not guarantee you that they will last that long! Most times I end up needing to make another batch because the kids LOVE dipping them in the strawberry salsa or really any fruit salsa for that matter!
How to Reheat Cinnamon Sugar Tortilla Chips
If you love these chips when they are warm, you can reheat them easily. Just lay the dessert chips on a paper towel lined plated and heat them for 15-20 seconds in the microwave. Although I have to admit I prefer them right out of the oven and tend to just make a full new batch.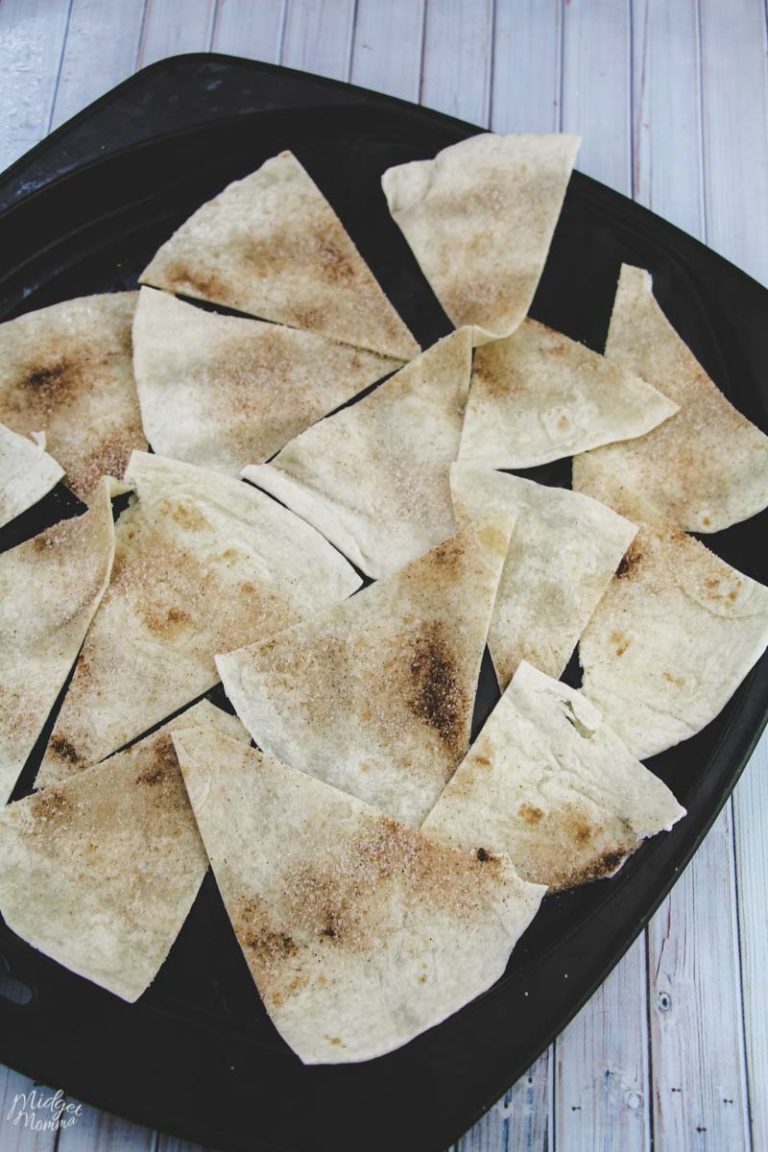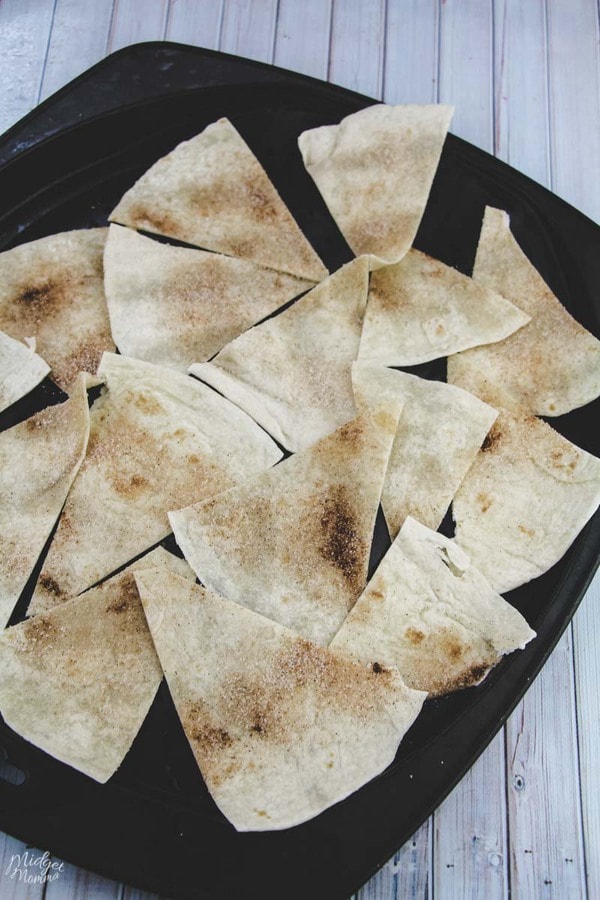 Cinnamon Sugar Tortilla Chips Ingredients
large tortillas
white sugar
cinnamon
Baking spray
How to Make Cinnamon Sugar Tortilla Chips
Preheat the oven to 350 degrees.
In a bowl combine the cinnamon and sugar and mix well.
Spray each tortilla with nonstick cooking spray or olive oil and then sprinkle the cinnamon and sugar mixture on to the tortillas.
Using a pizza cutter, cut the tortillas into 8 triangles.
Lay the tortillas on a baking sheet in a single layer, and bake for 5-8 minutes until golden brown.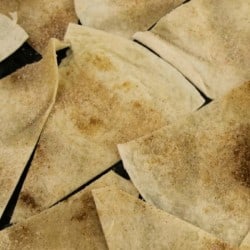 Cinnamon Sugar Tortilla Chips
These tasty Baked Cinnamon Sugar Tortilla Chips are perfect for any dessert dips, dessert salsas or dessert nachos you are making.
Instructions
Preheat oven to 350F

Combine the sugar and cinnamon together in a small bowl.

Spray the tortillas with baking spray and sprinkle on the cinnamon-sugar.

Use a pizza cutter to slice the tortillas into 8 triangle wedges each.

Bake the wedges for 5-8 minutes until golden brown.
5 Weight Watcher SmartPoints on the Freestyle program.
Looking for more Desserts? Check out these other tasty Dessert Recipes made with Strawberries!