I love gingerbread men so much I wish my whole kitchen was covered in them during christmas. I decided this year to take my love of baking and put that spin on my christmas wreath for my door and made this DIY Holiday Baker Christmas Wreath.
You can buy a premade wreath with all the berries but you can save a lot of money but buy all the parts separate and putting it together yourself. If you like up north where it's cold you can use a hot glue gun to put it together. Down in the south gorilla glue works best with the heat. Check out the way I like to hang my wreaths, Hanging wreaths with out damaging the doors.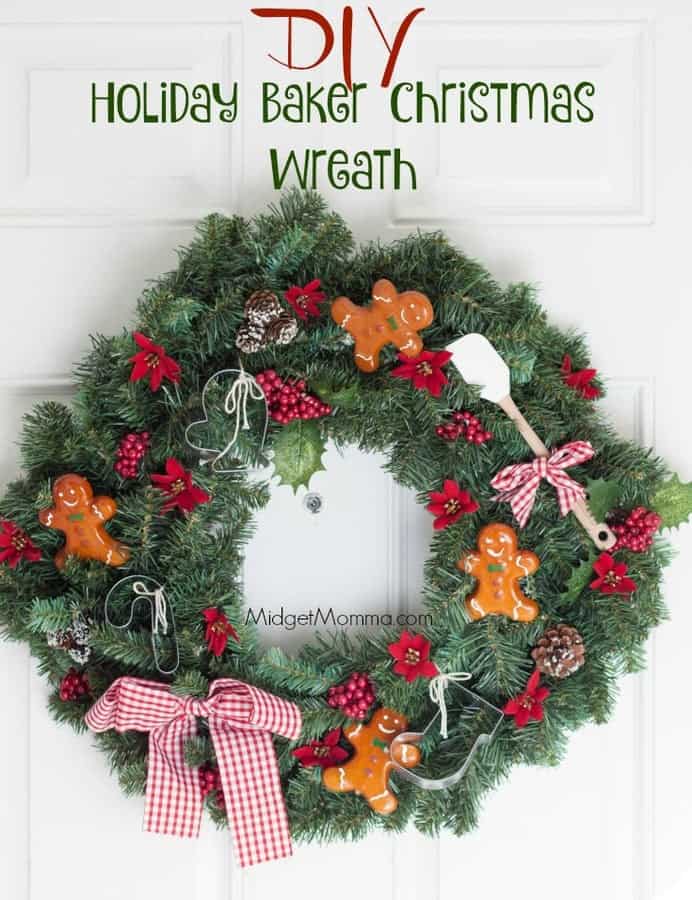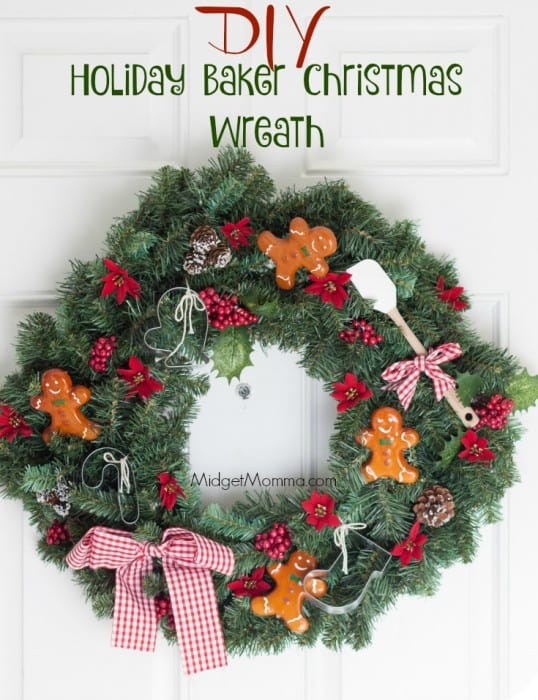 DIY Christmas Baker Wreath Supplies
Pine wreath
Gorilla glue
Metal cookie cutter
Decorative gingerbread men
Decorative berries
Decorative acorns
Mini wooden spoon
Red and white plaid ribbon
Twine
Fishing line
Twist tie
DIY Christmas Baker Wreath Directions
Fluff up all the pieces of pine of the wreath. Cut a 3 foot long piece, 1 1/2 foot piece, and 1 foot piece of ribbon. Cross the 3 foot ribbon like you're about to tie a knot.
Take the 1 1/2 foot piece and make a circle and place it on top of the other ribbon. Place your finger in the middle of the ribbons then pinch the sides to bring them to the middle.
Take your twist tie and secure the middle with it. Tie the 1 foot piece around the middle making sure you leave the twist tie out the back, cut off any extra ribbon.
Tie the bow to the wreath with the twist tie. Lay out all the decorations on your wreath in the layout you would like. Using your twine tie your cookie cutters to your wreath.
With the ribbon tie your wooden spoon to the wreath with a small bow.
Sprinkle your wreath with water so the gorilla glue will work.
Glue down the rest of your decorations. Tie a long string of fishing line or ribbon to hang your wreath.
More Holiday fun to check out!
There are so many tasty Christmas treats that the kids will love and they are all perfect for any kids Christmas parties that you might have. Some of our favorite Christmas treats are Santa Hat Cupcakes and Whoville Cookies !
You can Facetime Santa for a fun Santa Phone Call!
Elf on the Shelf Letter – Perfect Elf on the shelf printable letter that you can print out and have your elf on the shelf bring with him or her when he comes to visit! Plus this Elf on the Shelf Rules printable is awesome to print out and hang on the wall for the kids!
You should also check out these funny elf on the shelf ideas! There are over 135 Elf on the shelf Ideas that kids will love! If you are running short on time, then make sure you check out this list of Quick Elf on the Shelf ideas!
Plus be sure you check out these other fun things to do with your Elf on the Shelf!
Kitchen Elf on the Shelf Ideas
Dollar Store Elf on the Shelf ideas
But you can check out the full list of Kid Friendly Christmas Treats and pick out your favorites to make with the kids!
If you are looking for cookie recipes we have you covered there too! Check out our Beautiful Christmas Sugar Cookies, and Christmas Tree Desserts Recipes!
More fun Christmas Crafts
Santa Handprint Ornament
Reindeer Handprint Towel
Snowman handprint Ornament
If you are stuck on what to get gift wise make sure you check out our Gift Guides! 
Christmas Gifts for Girls (Ages 6-9)