Easy Oven Baked Salmon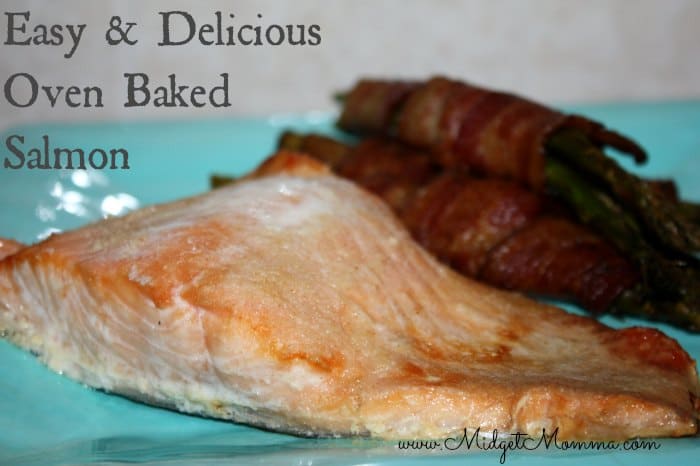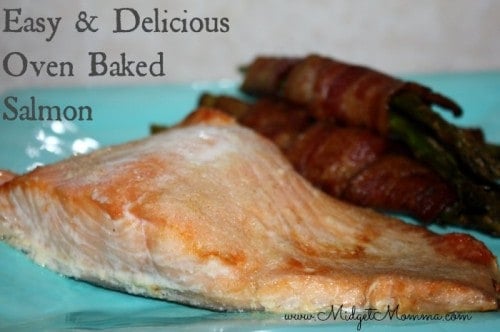 Salmon is one of our favorite fish to eat in our house, not only does it have a great flavor but it is soo easy to cook. Really it is hard to mess up baking salmon and no matter what it will taste amazing (even if you end up leaving it in the oven for a bit to long). When I make salmon it is normally the same way, this recipe that my dad taught me and because it is so easy and the flavor is awesome I don't experiment with other ways of cooking it. As my dad says "Don't fix what is not broken". Salmon with a few veggie sides is one of my go to meals for quick, easy and healthy and one that doesn't normally make for left overs because everyone enjoys it so much.
Ingredients Easy Oven Baked Salmon
Salmon Fillet- When I make it we normally need about 2 pounds for the 5 of us. You can use the Salmon steaks also if you want to.
Garlic Salt
Stick of butter Butter
Directions for Easy Oven Baked Salmon
Preheat your oven to 375
In a glass baking dish spray it with non stick cooking spray. Remove your salmon from the paper wrapping from the fish counter and the rinse in cool water. You want to make sure there are not any random scales or slimy stuff on it.
Place salmon in baking dish, sprinkle a generous amount of the garlic salt on top- you do not want to over load it but you want it to cover all areas of the fish but not be able to see it on there. Then get your stick of butter (When I do 2 pounds I end up using about 1/2 the stick of butter for each pound of fish) you want chunks of butter between 3-4 table spoons per pound of salmon. You can not really use too much butter because the butter melts with the fish as it cooks and goes on the bottom of the dish and it makes for an AMAZING Sauce to put on top of white rice.
Place baking dish in the oven and cook for 25-35 minutes. This all depends on the thickness of your filet. You will know when it is cooked all the way when you can take a fork and gently touch it and it flakes (falls apart).
Remove from the oven and serve. While you are serving it make sure to remove the skin from the bottom of the fish 🙂
Serve with veggies and white rice. We all enjoy taking the butter sauce from the bottom of the baking pan and putting it on our rice. It tastes so good 🙂
Looking for more recipes? Check these out!